This post may contain affiliate links! I will receive a commission, at no extra cost to you, if you purchase something recommended here.
If you think there's a lot to do during the day, there are just as many things to do in New York City at night.
As the "City That Never Sleeps," New York at night can be a wild ride.
Hungry at 12 a.m.? You can find far more than just fast food joints open at that hour, everything from late-night bar bites to gourmet meals if you know where to go.
Night owl? A ton of gyms are open 24 hours a day, so you can get a great workout in at 3 a.m. if that better suits your body.
Want some laughs before your adult game night? Hit a comedy club for one of their late evening performances, then rock up at an arcade bar and play all night.
I've spent more than three years living, working, and using NYC as my personal playground, and these are the most fun places to go in New York City at night that I've experienced.
The Best Places to go in New York City at Night
Wander around and take in the nightlife
As with any New York City guide you can find on my site, one of the best things to do in NYC at night is to go for a night walk and take in the city's energy at night.
Obviously, I want you to stay safe above all. Use your best judgment; if something seems "off," leave. Stick to well-lit streets, where you can tell there's a lot of nightlife activity.
My favorite neighborhoods for night walks in NYC are Noho, Soho, and Little Italy, the Meatpacking District into Greenwich Village and the West Village, and 30th Avenue in Astoria, Queens.
Stop into bars for a drink or pop into an ice cream shop and let the sounds and the sights of the city take over. These are all neighborhoods I've wandered around in at night on my own and with friends.
Admire those nighttime city views from an observation deck
Just how many NYC movies have ended with an iconic romantic moment looking out over the New York City skyline?
The five main New York City observation decks–the Empire State Building, Top of the Rock, The Edge, SUMMIT One, and One World Observatory–each offer late-night views.
It's pretty incredible to see the city the way it's all lit up at night from this high vantage point.
Or, if you're interested in going at sunset, you'll find their standard ticket prices have a small upcharge.
If you check out my guide to the best NYC observation decks, you can check to see what time each skyscraper's observatory closes.
Head to Madison Square Garden for a concert
Madison Square Garden, located near Penn Station on 34th Street and 7th Avenue, is recognized as "The World's Most Famous Arena."
The arena's 20,789 seats are converted into a performance venue for some of the biggest names in entertainment.
Billy Joel, a Long Island native, has a long-standing residency at the Garden, where he's been performing one night a month for years, and it's always sold out.
Almost every major music act has The Garden on its touring schedule, so check out the schedule of events to see if you can catch a concert while you're in town!
MSG is also home to the NBA's New York Knicks and the NHL's New York Rangers if you prefer sports.
Hit the stadiums for a night game
The Yankees, whose stadium is in The Bronx, and the Mets, whose stadium is in Queens, are the two Major League Baseball clubs in New York City.
Both stadiums are pretty accessible, and experiencing professional baseball games in their home stadium makes for a fantastic evening out!
To get to Yankee Stadium, take the B/D or 4 subway lines to 161st-Yankee Stadium or select Metro-North trains to the Yankee Stadium station.
To get to Citi Field to see the Mets play, use the 7 metro line, the Q48 bus, or the LaGuardia AirTrain to Mets-Willets Point.
Although the New York Jets and the New York Giants NFL teams don't play within the five boroughs, it's easy to get to their stadium for night games.
The MTA (Metropolitan Transit Authority) has a guide on their website on the best ways to reach MetLife Stadium from anywhere in the city.
As far as watching an NBA basketball game goes, you can visit the Barclays Center in Brooklyn for the New York Nets or Madison Square Garden for the New York Knicks.
You can find hockey games for NHL's New York Rangers here, too.
Enjoy a fine dining dinner out in Central Park
Although picnicking in Central Park is one of my favorite free activities in New York City, nothing quite beats a delicious sit-down meal at Tavern on the Green.
Found on the edges of the park's Sheep's Meadow in the Upper West Side of Central Park, this historic restaurant is a New York City fine dining experience institution.
The structure itself originated in 1880 when it housed around 700 Southdown sheep that grazed in the Meadow.
The simple barn was transformed into the stunning restaurant it is today by legendary NYC architect Robert Moses in 1934.
The restaurant has been featured in over 20 publications due to its outside dining, park views, and dancing floor.
Make dinner reservations at one of New York City's other incredible restaurants
With more than 20,000 restaurants within the five boroughs, the opportunity for you to try cuisine you've never encountered before is substantial.
Some of the most famous restauranteurs started in NYC, and when you're here, it's your turn to experience edible excellence.
Some of my favorite restaurants for a great dinner out are:
I also have a guide to a few of my favorite restaurants near the Eugene O'Neill Theatre in the Theater District.
Now that I'm living in Italy, it should come as no surprise to you that half of my favorite dinner recommendations are for Italian restaurants!
See the bright lights of the big city in Times Square
As beautiful as Time Square is during the day, it truly comes alive at night! It feels like it's as bright as day in the middle of the night.
More than 1,000 LED billboards light up the night skies with advertisements and information.
The bright lights on Broadway date back more than 100 years, when theater owners, restauranteurs, and shopkeepers started putting neon signs above their entryway to try and lure people away from their competitors.
Obviously, the practice grew into the larger-than-life presence that the lights of Times Square and 42nd Street showcase today.
It feels overwhelming in the best way to stand underneath the lights in Times Square and marvel at your surroundings.
Fly high above the city on a nighttime helicopter tour
Are you ready for a once-in-a-lifetime NYC experience? Fly high above New York City at night on a helicopter ride.
You'll see lights from the skyscrapers illuminating the sky in a beautiful display as you fly overhead.
There are several different helicopter flights available to take over the New York City skyline:
Read More
Watch a Broadway show
As a New York-based actor, this will always be my absolute favorite regardless of the weather or season.
Seeing a Broadway performance is one of the most famous things to do in New York City at night, and it's not to be missed.
If you're not sure what show to watch, look at the Playbill weekly Broadway show schedule to see what performances are taking place while you're in town.
Then stop by the TKTS Booth! You can purchase Broadway and Off-Broadway tickets for 30-50% less than you would pay at the box office.
The organization is run by the respected Theatre Development Fund. You can find the Booth in Times Square under the big red stairs.
I also have a whole guide on how to buy Broadway tickets and tips for seeing a show if you're interested in learning more before you go!
Dress in your best at an evening performance
Although dressing in your best is no longer required for a romantic evening out at the Broadway show, the Lincoln Center, Carnegie Hall, and the Metropolitan Opera are three places where you still need to dress to impress.
These three theaters are mainstay institutions for New York City's opera, symphony, ballet, and other performance arts.
A night out at the opera or the symphony is already a cultural experience. But, walking through the Met or Carnegie Hall doors all dressed up for the night takes experience and sends it into the stratosphere.
You can check the calendar of events for each theater and read their dress codes on their websites.
Watch a performance of Shakespeare in the Park at the Delacorte Theater in Central Park
Once summer arrives, Shakespeare in the Park is one of the best places to go in New York City at night.
Hosted by the Public Theatre, the free performance series of Shakespeare plays runs every year in the outdoor Delacorte Theater.
Although the show starts at sunset, you have to wake up quite early to stand in line to get your hands on a free ticket.
I mean, exceptionally early – you should be in line by 10 a.m. at the very latest (which should be pretty easy to do if you've moved to NYC alone.)
People even camp outside Central Park at the peak of a show's run to ensure they get a ticket.
Pro Tip: Try entering the mobile lottery for each performance on the TodayTix app to see if you can win a ticket instead of standing in line.
Go skating at Rockefeller Center
When you think of New York in the winter, ice skating at Rockefeller Center is almost always one of the first things that come up.
If you're visiting in the winter, ice skating at Rockefeller Center is an institution, and it's a quintessential NYC winter date.
Rockefeller Center has all the details about scheduling your skate on their website, including their opening dates and hours.
However, if you're coming to New York City this year in the spring or summer, the Rink at Rockefeller Center isn't closing up when the weather warms up.
Instead, you can go rollerskating! Flipper's Roller Boogie Palace will be open all spring and summer.
The first Flipper's Roller Boogie Palace debuted in Los Angeles in 1979. It closed only three years later, but its influence on pop culture lasted more than four decades.
The same family that founded the original location is now behind the cooperation with Rockefeller Center!
You can rent rollerskates on-site, and one dollar from each rental will be contributed to Saks Fifth Avenue's mental health charity.
See the city lights sparkle from a harbor cruise
One of the best New York City activities at night is getting out on the water and cruising around the city!
Enjoy a romantic sunset evening cruise or a romantic dinner cruise once it gets dark.
There are several options for you to choose from:
Sit in as a live studio audience member for your favorite late-night show
Seth Myers, Jimmy Fallon, Steven Colbert, John Oliver, and Trevor Noah. Even Saturday Night Live–OH MY!
Many of the late-night talk shows that film in front of a live studio audience in New York City have free ticketing rules to fill their theaters.
However, tickets are routinely issued and snapped up months in advance.
If you plan your vacation to New York City months in advance, you should be able to get tickets to your favorite late-night performance.
On 1iota or TVTaping, you may get free access to many of the shows in New York City that are searching for live studio audience members.
You can also attempt stand-by if you're prepared to get up and stand outside from early morning till late afternoon. This is only of my favorite things to do alone in NYC!
Bar hop around New York City's rooftop bars
After dark, you'll find New Yorkers at the bars–whether they be rooftop, speakeasy, or casual pubs.
The Standard Hotel's Le Bain and The Roof are outstanding, high-end spots for a night out.
Lucy's Cantina Royale and The Heights Bar & Grill are two of my favorite casual places with beautiful rooftop decks and great drinks.
The 5 O'clock Somewhere Rooftop Bar on top of the Margaritaville Resort Times Square gives you that beachy vibe without leaving Manhattan.
Rooftop Reds in Brooklyn is the city's first urban rooftop vineyard if you're more of a wine person.
The rooftop SERRA by birreria at the Eataly Flatiron location changes its decor each season, which is always beautiful to see.
There's no shortage of incredible rooftops to enjoy a drink!
Step back in time to a speakeasy
NYC speakeasies are ornately furnished bars nestled away in the most improbable of locales, harkening back to the Prohibition era in the United States.
You can find a watering hole like this today inside ice cream shops, under convenience stores, and even on the top floor of a Five Guys!
Quick History: Prohibition was a countrywide prohibition on the manufacture, sale, and transportation of alcoholic drinks that lasted from 1920 until the Twenty-First Amendment to the United States Constitution abolished it.
Speakeasies were similar to today's cocktail lounges. Members of the public could order illicit liquor and have it delivered in private.
The word "speakeasy" was coined to describe these subterranean bars, which operated under various names.
These are such cool places to go in New York City at night because part of the fun is actually finding and getting into the bar. A few of my top choices are:
Read More
Snuggle up for an outdoor movie night
In the summer, it seems like every public park or open rooftop in New York City has outdoor movie evenings, screening everything from new blockbusters to award-winning oldies in nearly every genre.
The NYC Parks department gets in on the fun with their Movies Under the Stars calendar of events with free showings at parks like Bryant Park, Washington Square Park, and more than 40 others around the city.
Summer movie evenings are also held at several rooftop bars and outdoor areas across the city. Pix on the Plaza, for example, is located close to the High Line at the Standard Hotel. The Rooftop Cinema Club is available at Embassy Suites' Skylawn rooftop bar.
The Intrepid Sea, Air, and Space Museum host summer movie evenings.
Other outdoor movies are played at drive-in theaters around, such as Skyline Drive-In in Greenpoint, Brooklyn, the Queens Drive-In at the New York Hall of Science, and The Bel Aire Diner in Astoria, Queens, which converts its parking lot for movie nights in the summer!
Or, head to the movie theater for the last showing of the day
Suppose it's too cold when you come to New York City or don't have a car and don't feel like picnicking at the drive-in. In that case, there's no shortage of fantastic movie theaters playing the latest releases.
Aside from your typical, run-of-the-mill trip to AMC or Regal to see a blockbuster film, cinephiles have a plethora of tiny, specialized theaters to choose from.
The Paris Theater, the city's last single-screen movie theater (recently spared from collapse by Netflix), broadcasts Netflix films on the big screen.
You may also go to theaters like Nitehawk Cinema in Williamsburg and Prospect Park, Brooklyn, or the Alamo Drafthouse Cinema in Lower Manhattan and downtown Brooklyn to enjoy full-service dining while watching the newest movie.
This is also an excellent fall activity in NYC!
Eat at the Bronx Night Market
The Bronx Night Market, which takes place every year for one night only, is one of those unique New York at night events you don't want to miss.
From street sellers presenting local delicacies to local artisan companies, chefs and restauranteurs from all across New York City provide a variety of delectable meals.
On their website, you can find all of this year's event date, hours, and vendors.
Step back in time at South Street Seaport
The South Street Seaport Historic District is located on Lower Manhattan's east side. Most ships stopped here during the peak years of the New York City shipping business when the city was home to the country's largest marine trade operation.
Today, the neighborhood features the South Street Seaport Museum, five historic vessels anchored in the Harbor. It has the city's highest concentration of surviving 19th-century commercial structures.
It truly feels like you're stepping back into a different time and place in this busy city.
After dark, it's a beautiful and peaceful place to enjoy a meal, window shop the boutiques, and enjoy the views of the Brooklyn Bridge, Brooklyn Bridge Park, and the promenade sparkling from across the East River.
Walk the High Line after dark
Thousands of visitors and New Yorkers spend the day on the High Line, but it's another experience to see it at night.
It's a 1.45-mile-long elevated park parallel to the former Eleventh Avenue Elevated railway line, which ran above the streets from 1933 until 1980.
Quick History: The initial subway line was built to provide commodities with direct access to many warehouses and businesses that developed along the route on Manhattan's West Side, starting in the Meatpacking District and extending through Chelsea to Hudson Yards.
After its closure in 1980, the elevated track was abandoned for decades until a successful campaign to repair the long-abandoned freight train line.
Now, this is one of the most expensive and desirable areas of the city, with new apartments being constructed here all the time.
The architecture here is really interesting–more futuristic in its design–and apartment windows are so large you're basically looking right in through the windows as you walk the High Line with your backpack at night.
If you enjoy peacefully people-watching, this is a great New York at night activity for you!
Experience Sleep No More
A "found space" in theatre is a location that was not initially used for theatrical performance but has now been repurposed as one.
In the case of Sleep No More, you'll be walking through the McKittrick Hotel, taking in several scenes from William Shakespeare's Macbeth.
The performances in this deconstructed rendition of the renowned play take place all around you as you roam through the "hotel."
As the show progresses, you'll find yourself right close to the actors.
You get to interact with the artists and the narrative in a manner that you would not in a more traditional theater. It's almost as if you've become a character in the story.
And since the production only runs at night, the darkness adds to the eerieness you'll feel as you explore the story.
Buzz around at an adult game night
If you tend to get competitive as you get tipsy as the night goes on, you need to hit a games bar with your friends!
New York City has several bars filled with all kinds of games, from arcade games to board games in all different styles.
Barcade is the "The Original Arcade Bar" that started in Brooklyn, focusing on American craft beers and entertainment. The arcade-style bar has locations in Manhattan, Brooklyn, and Jersey City.
Yes, there's a Dave & Buster's right in the heart of Times Square on West 42nd Street between 7th Avenue and 8th Avenue.
If you're a big D&B fan or just want an experience closer to adult Chuck E. Cheese, they're open every day until 1 a.m.
With locations on both the Upper East Side and Upper West Side, Hex & Co is your best bet if you love board games.
With more than 1,000 tabletop board games to choose from, you're sure to discover your new favorite game from among the classics.
Formerly known as Fat Cat, Cellar Dog is a new bar in the West Village that offers billiards, bar food, and great beer–everything you could want in a standard bar-going experience.
They also offer ping pong tables and shuffleboard for their bar patrons.
Read More
Ride the Wonder Wheel on Coney Island at night
Coney Island, renowned since the late 1800s for its beach days, the New York Aquarium, and its amusement park has been featured in literature, films, and music for its vintage vibe.
Luna Park at Coney Island was formerly America's largest amusement park, and it's still home to numerous well-known attractions.
Along with the modern additions, the 1920 steel Ferris wheel called the Wonder Wheel, and the B&B Carousell are open for you to ride.
And the Coney Island Cyclone, one of the oldest wooden roller coasters still in operation in the United States.
Although it's closed throughout the winter months, Luna Park opens for the season in early May with limited and officially kicks off after Memorial Day.
You can check out the schedule on their website to find out what days they're open late into the night!
Laugh your night away at a comedy show
As famous as the theater scene is in New York City, this is also one of the best places to see up-and-coming comedy acts and tried-and-true favorite comedians.
And, with many of the most famous comedians getting their start here in NYC, you never know what legend might show up to test out new material in an impromptu set.
Enjoy a jazz performance at Birdland
Excellent live music is everywhere in New York at night, whether by a busker on the street or inside a club.
Though there are some amazing jazz clubs in NYC, at Birdland, you'll be serenaded by some of the best modern jazz musicians at this iconic club.
Quick History: New York City has been the home of jazz music in the United States since the 1920s. When the club opened in December 1949, legendary saxophonist Charlie Parker, known to his friends as "Bird," was the resident headliner and inspired its name. Over the years, hundreds of jazz icons performed here. The original Birdland location closed in 1965, only to be reopened 21 years later.
The night's first performer usually begins around 5:30 p.m., and then the line-up is stacked with sensational performers.
You can see the calendar of upcoming performances, their food menus, and purchase tickets on their website.
Take a late-night ride on the Staten Island Ferry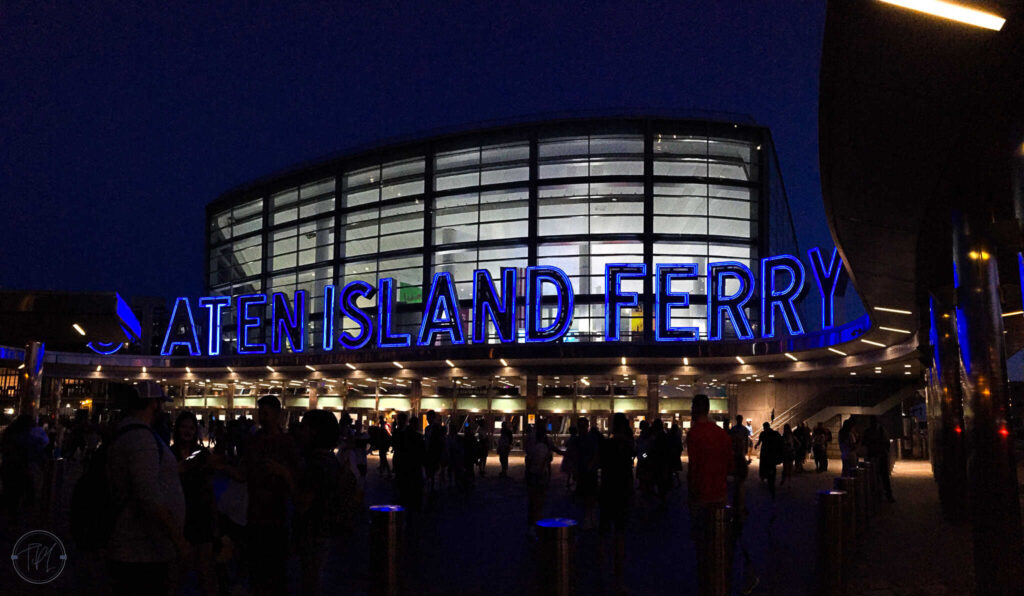 The Staten Island Ferry is really overlooked! It operates all night long, but it's also a completely free mode of transportation, running from Battery Park in Manhattan to St. George on Staten Island.
It provides a fantastic view of the Statue of Liberty without trekking out to Liberty Island. The voyage takes around 40 minutes one way.
If you're only riding the Staten Island Ferry for the free nighttime views of the Statue of Liberty, Ellis Island, and Lower Manhattan, feel free to turn right around and jump on the ferry to head back to Manhattan.
Or, you can spend your day at Empire Outlets, New York City's only outdoor outlet shopping mall just outside the Staten Island Ferry Terminal, and then take the Staten Island Ferry back to Battery Park in the evening once you're done shopping for the day.
This day trip is one of my favorite things to do in the summer in NYC!
Go glamping for a night on Governor's Island
With its rich history, huge park, and beautiful views of New York Harbor, Governor's Island offers one of the most extraordinary things to do in New York City at night that I've ever tried.
The 172-acre island, known to the Lenape as Paggank, which translates to "Nut Island," is a popular destination for visitors looking for a day away from the busy boroughs–but did you know you can stay there overnight?
Quick History: The island has served as an important military position since before the Revolutionary War. This history has continued into the twentieth century. Before the Coast Guard's duties on the island were stopped in 1996, it was a home for Coast Guard employees and their families.
But, are you ready to sleep in a luxury text, with the Statue of Liberty outside your front "door?" Collective Retreats now hosts an amazing glamping village on Governor's Island.
You can even see some stars because you're far enough away from the city's blinding light.
In my guide, you can read all about my experience and read everything you need to know about glamping on Governor's Island.
It was an absolutely incredible adventure, and I plan to do it again the first chance I have!
Collective Retreats also manages a restaurant on-site that serves brunch on weekends and lunch and dinner every day. Its food is unique and chef-designed.
Insider Tip: Instead of staying overnight, book a dinner reservation at Fire & Water Restaurant! They have a private boat that will pick you up in Manhattan and take you back and forth to the retreat. Riding in a private boat along the Hudson River at night? Yes please!
Have a late-night snack at one of the city's many food markets
Sometimes you just need that quick, late-night bite.
New York City has several food markets open late into the evening! You'll find many different food styles and flavors throughout each market hall.
Some of my favorites that are open at night include:
Take a late night walk through NYC parks
Of course, even though hanging out in a New York City Park is an awesome activity at any time of day, some of NYC's parks are peaceful places to unwind after a long day and take in the views.
Hudson River Park runs along the west side of Manhattan and is open every day until 11 p.m. It becomes Riverside Park towards the north end of the island, which stays open until 1 a.m.
Gantry Plaza State Park in Long Island City, famous for the Pepsi-Cola sign, is open until 10 p.m. and shows you views of Roosevelt Island and the east side of Manhattan.
Battery Park down in lower Manhattan is open every day until midnight. You can sit on the benches along the water and look out at the Statue of Liberty.
See the sunset from the Roosevelt Tram
Are you ready to fly over the East River with just a MetroCard scan? The Roosevelt Island Tramway was North America's first commuter aerial tramway, bringing you right to the center of Roosevelt Island.
It's beautiful to see the city and the sky from this unique vantage point, even more so once the sun goes down and illuminates the skyline with its golden hues before descending into darkness.
Read More
Wander around New York City's museums at night
A few of New York City's most renowned museums are open to the public on certain nights out of the week.
When you can wander these hallowed halls in the evenings, it almost feels like you have the museum entirely to yourself.
You can spend as much time as you want gazing at the artifacts that move you the most.
On Friday nights, The Whitney Museum offers free entry and is open to the public until 10 p.m.
The Metropolitan Museum of Art also stays open until 9 p.m., so you can choose between two of the most remarkable art museums in NYC to spend your evening.
Insider Tip: Different New York City museums provide free entrance hours throughout the year, allowing visitors to receive a free look at the many exhibition rooms. So, if you already intend to visit one of New York City's numerous museums, take advantage of the museums that provide free hours.
Learn all about sleuthing at SPYSCAPE
Are you fascinated by spy movies and covert missions? You need to spend an evening at SPYSCAPE.
This immersive museum, built by psychologists and a former head of Training at British Intelligence, provides a one-of-a-kind experience in New York.
You'll hear stories about real-life spies, learn about spy gear and technologies, and get the opportunity to put your talents to the test in interactive tasks.
With the last entry just 90 minutes before closing, it's the perfect first stop on the start of your New York at night adventure!
Shhhh–Don't Tell Mama you're at a cabaret bar!
In a city full of actors, artists, and entertainers, you'd best be sure we have our fair share of karaoke and cabaret bars!
Don't Tell Mama – One of the most notorious cabaret bars in New York City. It opened in 1982 in the Theatre District and has been a staple for the theatre community.
Iggy's New York – Open every day of the year on the Upper East Side. This karaoke bar also shows the major sports games, so you can sing away while keeping tabs on the scores.
Brandy's Piano Bar – Happy hour lasts until 8 p.m. at this Upper East Side bar, and then the live music continues until 3 a.m. There's a two-drink minimum but no cover charge to enter.
Mimi's Restaurant & Piano Bar – This East Village piano bar opened in 1956 and is one of the last remaining authentic Italian restaurant/piano bar combinations in NYC.
Learn about the spooky history of New York City on a ghost tour
In a city that's been around since the 1600s, you'll find a wealth of ghost stories in just about every neighborhood.
This Gangsters and Ghosts Tour starts on Mulberry Street, once the center of Little Italy, and explores the city's past in terms of its former gangsters and their ghosts.
You'll explore parts of Little Italy, Chinatown, and the West Village before ending your two-hour walking tour in Washington Square Park.
Dance the night away at one of NYC's nightclubs
If clubbing is more your scene, New York City has a wide range of nightclubs that suit every interesting taste in music and dancing you could look for.
Based on my and my friends' experiences, here is a by-no-means-exhaustive list of some of the top nightclubs in NYC to dance the night away:
Watch the sunset from one of the city's bridges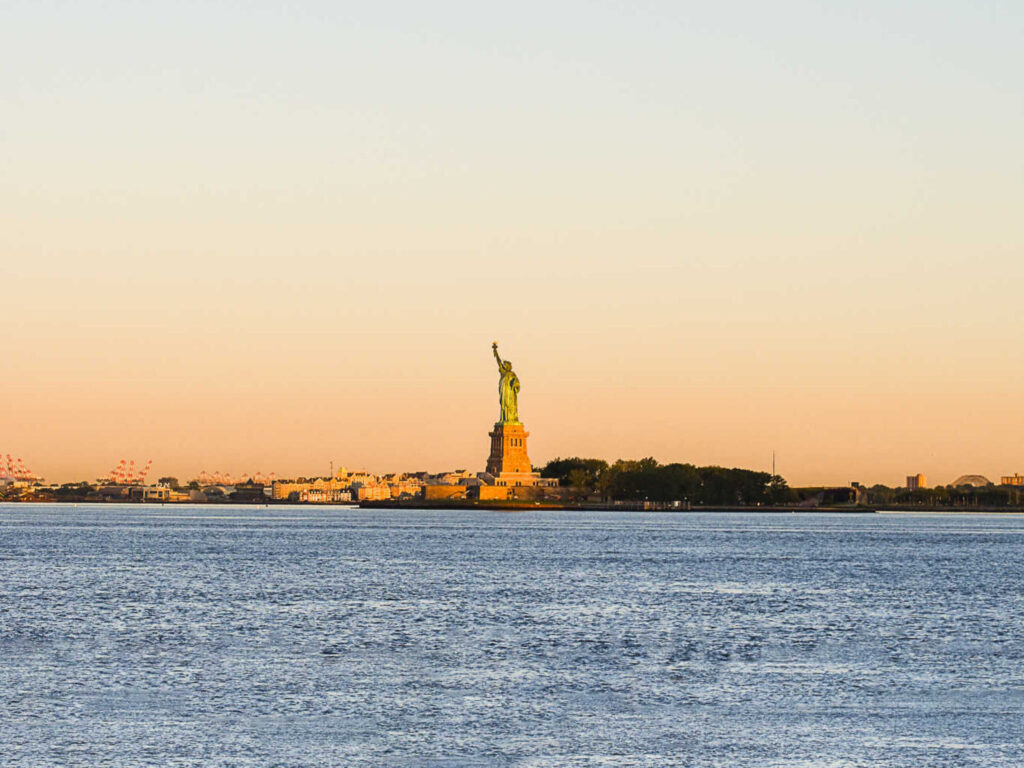 Most of New York City's bridges have a pedestrian walkway where you can walk safely across the bridge away from the cars.
Because they're literally suspended in the middle of the water between two halves of the city's whole, the sunset views from there are outstanding.
The Brooklyn Bridge, one of the most famous bridges in NYC, is a lot less trafficked at night. You'll find amazing views of the city skyline backdropped by the sunset.
And, it's kind of like having the bridge more or less all to yourself than you would in the middle of the daytime.
A lesser famous bridge but still showcasing incredible views of the city at sunset is the walkway from the Kozsciuzko Bridge.
It's a modern suspension bridge connecting Brooklyn and Queens, and you'll have a whole different skyline view from here.
Play your favorite sports long after dark at Chelsea Piers
Chelsea Piers, located at Pier 62 in Manhattan and overlooking the Hudson River and Jersey City across the river, is a vast athletic complex for more than 25 recreational sports.
Drop-in activities such as rock climbing, open gym, open skating, the driving range, and other sports are available at their facilities, which is open late into the night.
They even have a bowling alley called Bowlero that also offers an arcade and laser tag on-site that stays open until 10 p.m. on weekdays and through 1 a.m. on the weekends.
Their website has all of the most up-to-date information and hours.
Immerse yourself in magic at the Harry Potter Store
If you have a deep devotion to Harry Potter, visiting the Harry Potter Store right by the Flatiron Building in NYC will be an awesome experience.
The store is home to the largest collection of products from the book series in one place.
The store is home to a Butterbeer Bar, Ollivanders Wand Shop, a confectionary where you can find favorites like Chocolate Frogs and Bertie Bott's Every Flavor Beans.
With virtual reality experiences where you'll become part of the wizarding world and more, this should be a stop on any Harry Potter fan's night out in NYC.
Pro Tip: Make a reservation in advance to visit the Harry Potter Store. Their wait times can be exorbitant, so get in line as soon as you know you want to go. To get in their virtual line, need to visit the store first thing at 9 a.m. and scan the QR code found in front of the store to sign up for a timeslot.
Take a limo ride around New York City at night
Are you ready for the ultimate night out?
As you know, New York City is famous for its bright lights and nighttime skyline.
On this 2-hour private limo tour, you drive all over to see the city's iconic landmarks like Times Square, Rockefeller Center, and others, all illuminated for the evening hours.
Check out my list of the best NYC limo tours if you're interested in learning more!
Head over to New Jersey for panoramic nighttime city views
Sometimes the best way to see everything is to literally get out of the city.
On this New York City Skyline Tour by Night with Local Guide, a four-hour tour, you'll be taken over to New Jersey to capture the iconic view of Manhattan, Brooklyn, and Queens from the Hudson Waterfront.
A local guide will show you all of the best photography spots and teach you a little about the sites you're seeing along the way.
The tour also includes round-trip pick-up and drop-off from a Midtown Manhattan location.
One of the reasons why people love NYC is its incredible nightlife.
And when the night's over, you can head to your quiet NYC hotel for some quality, restful sleep!
From sunset to sunrise, you'll find phenomenal places to go in New York City at night. What are your favorite crazy things to do in New York City at night?
Lyndsay