This post may contain affiliate links! I will receive a commission, at no extra cost to you, if you purchase something recommended here.
No trip to New York City is complete without a trip to the theatre.
Yes, I'm sure you've seen a show before, but there's nothing quite like sitting in a Broadway house–I promise.
I've seen over 50 Broadway shows throughout my time living, working, and auditioning as a professional actor in New York City, and I still brim with anticipation as the lights start to dim.
Through all of these experiences, these are my best tips for attending a Broadway show and for how to buy Broadway tickets.
From big, bright classic American musicals to intimidate plays to more experimental works. New York theatre is one of a kind and worth experiencing, even just once.
However, I guarantee one production won't be enough!
Tips for Attending a Broadway Show
Check the performance start time, and be on time
I'm sorry to say that I once got the showtime wrong–and arrived to see Waitress halfway through the first act.
True story.
Check the start time, and then check it again, and then set an alarm to make sure you have enough time to get to the theater before the show starts.
Believe me, getting to the theater and finding out the show you were so excited to see is half over is the worst emotional rollercoaster. 
You can find an up-to-date weekly schedule of Broadway showtimes on Playbill, or on your ticket!
Silence your phone. Seriously.
You don't need your phone on during the production.
I always turn my phone onto "Airplane mode," which means it's still on but won't receive any calls or text messages while activated.
That way, you can make sure it won't ring during the show and quickly check your messages during intermission.
Also, it's really frustrating to be invested in a play and suddenly hear a phone ring; sometimes, the actors onstage will address phone offenders while in character. 
Keep your Playbill and your ticket as a souvenir
One of the most incredible aspects of live theater is that it's a lived experience.
Even if you see the same production again the next performance, you'll never see an identical show.
The only tangible objects you can keep as reminders of the exact performance you saw are your Playbill and ticket.
To protect these physical memories, I save all of my Playbills in a binder.
When in doubt, dress in "dressy casual"
Although Broadway doesn't have a standard dress code, theatre is a high art form.
Going to the theater was a place to "see and be seen" in the latest fashion for many centuries.
While you don't have to arrive in a suit or ball gown, honor the artists who have dedicated years of their life to the work you're about to see with a dressy casual outfit. 
According to Tan France's Teaches Style for Everyone on Masterclass:
"Dressy casual attire (also called smart casual) is a combination of relaxed and refined pieces—think blouses, dress shirts, button-downs, dress pants, dark jeans, and clean shoes. Along the spectrum of formality, dressy casual is one step above casual (jeans and t-shirts) and one step below business casual (office wear like dress pants and pencil skirts)." 
Read More
The Best Way to Buy Broadway Tickets in NYC
"It's great! I mean simply great. But the aggravation of my situation, I might as well get it off my chest" – Miss Marmelstein
However, a major caveat is that the New York theatre is expensive.
Long gone are the days when a balcony seat cost a mere $5.00.
Or, when you could walk into the box office 15 minutes before curtain and grab a great open seat for $20. 
Even though regular prices on tickets are steep, so many organizations strive to make theatre affordable today. It IS possible to see New York theatre, whatever your price range.
In this post, I'll be outlining pretty much every reputable way on how to buy Broadway tickets in New York City.
While I have some favorite ways to score deals on tickets, I've purchased through every avenue listed here and can speak to the convenience, price, and quality of the buying experience!
Box Office Tickets
Purchasing Broadway tickets from the show's box office is a beady experience.
If you're in New York City, you'll walk into the lobby of an unbelievably beautiful theater, go up to the ticket window, and make your purchase the "old-fashioned" way. 
You can only purchase tickets for the show that's running in that theater from its box office–so you can't walk into the box office for Hamilton and buy tickets for Harry Potter and the Cursed Child.
When you go through the box office, you're going to be paying the standard rate for whatever seat location you decide.
Depending on the show's popularity, the cheapest seats in the house–the back balcony or rear mezzanine–can range from $59-$89.
And the prices only go up from there.
Pro Tip: If you're looking to order tickets online, Telecharge is widely used by Broadway productions as their online box office. They were the first organization to sell Broadway tickets by phone and online and work directly with a show's box office to give you access to tickets on the exact dates and prices you'd receive in person. 
Before a show opens, tickets are available to pre-order.
You will be paying top dollar for those tickets, and if you're purchasing online, you might pay a pretty penny in fees and service charges. 
Unless the show is really popular and tickets sell out months in advance if you plan on buying tickets directly from a show's box office, do it when you arrive in NYC.
Even if the date you see the show is a few days away, this way, you don't have to pay processing and handling fees in addition to the ticket price.
If it's a highly popular show that you absolutely need to get in to see, this is really the only way to score tickets.
Yes, you'll pay top dollar, but you'll have a top-rate experience. 
A lottery for Broadway tickets is very similar to any other lottery–you enter online or put your name down in person.
The daily lotteries randomly select winners and the lucky few will have the opportunity to buy up to 2 tickets per person at a discounted rate for the performance you entered.
Many shows have moved to digital lotteries systems, but some still hold an in-person lottery. 
When you rush a show, you're waking up and standing in line at the theater to wait for the box office to open!
Rush tickets are drastically reduced to Broadway and Off-Broadway shows obtained by coming to the box office in person and asking for a Rush ticket.
Typically, only a limited number of these tickets are offered, so depending on the popularity of the performance, lines start to develop well before the box office opens for business.
You could be the next person in line, but if the final Broadway Rush ticket is gone, you're out. You'll have to go to the back if you get out of line.
I love rushing for Broadway tickets as a summer activity in New York City!
I've rushed for tickets in all seasons, and it's far more pleasant to stand outside a theater for two or three hours in the summer heat than it is to be outdoors in the frigid cold of winter.
And later, get out of the heat and head into the theater's air conditioning to see the show. It's truly a win-win!
Standing Room Only (SRO) tickets are usually only available to people who didn't win lottery tickets or a rush event.
This ticket entitles you to stand in the back of the theater to watch the show at a significantly discounted price.
So, no, you don't get a seat.
Not every Broadway theater offers this because some don't have the capacity for people to stand in the back.
Back in my college days, I did take a chance and see a few shows from the Standing Room.
And while I was thrilled to be in the room where it happened, it's tough to stand for the length of an entire show.
You have a place to lean, which helps, but it's not the same as sitting. 
You can find all of the up-to-date information on if a Broadway or Off-Broadway production offers an in-person or digital Lottery or a Rush program on Playbill.
Have you been to Times Square lately?
There's a giant red staircase right in the center of Duffy Square that you can climb and relax on if you're looking for a place to rest in the tourist center.
However, underneath the stairs is an outpost of the TKTS Booth. 
Operated by the Theatre Development Fund, the TKTS Booth sells same-day Broadway and Off-Broadway tickets between a 30 – 50% discount from its box office price.
While their main booth is in Times Square, they also have a lesser-known location at Lincoln Center!
If you want to view the day's offerings before heading over, you can download their app or visit their website to view the day's listed shows.
Remember, you can only buy tickets to same-day performances from the TKTS Booth (or next-day matinee performances,) and you're limited to what they have available that day.
More often than not, the offerings stay the same from day to day, but if you want tickets to a particular show, try to get there earlier in the day.
TDF Subscription
I can't believe I'm revealing my secret!
If you spend a lot of time in New York City and love Broadway show discount tickets, you'll love TDF.
The same organization that runs the TKTS Booth also allows qualifying individuals to access prime theater tickets at a significant discount. 
You'll get the most out of becoming a TDF member if you have easy access to New York City.
When you log into their portal, you're met with a list of available shows and the specific showtimes that you can purchase.
While available tickets are added almost every day, you're limited to the dates, showtimes, and price listed.
And no–you don't get to pick your seat. However, I've been a TDF patron for years, and I've always been very impressed by where my seats are.
Take a look to see if you meet one of several qualifications to become a TDF member, and if you do–apply!
The yearly subscription fee is considered a charitable donation for your taxes.
You get to support a significant New York City theatre organization, and you'll find some of the best discounts on tickets available.
TodayTix is an excellent resource for guests from out of town!
When you download their app, you can see what shows they have available for a moderate discount, but I've found that their service fees are a bit higher than preferred. 
Once you purchase through the app, you'll pick up your tickets in person from a TodayTix agent outside your theater before the show!
You can also apply for several lotteries through the TodayTix app.
Tickets for Young People
If you're under 30 years old, there are tons of ways to score affordable tickets!
HipTix from the Roundabout Theater Company, LincTix from the Lincoln Center, and 30under30 from 2nd Stage are all programs hosted through various theatre organizations to make Broadway financially accessible to young adults.
If you meet their age requirements, register on their designated site and start searching!
If you're figuring out how to buy Broadway tickets, then you should look into Ticketmaster.
If you're trying to score tickets to a sold-out show, you can find resale tickets for purchase here.
While you might get a deal, be warned; most ticket prices are marked up due to high demand. 
Pro-Tip: There have been problems with theatergoers accidentally purchasing counterfeit tickets in the past, so make sure to look out for verified resale tickets on Ticketmaster.
Although they offer the most limited selection among all the other options, you can still find some magnificent deals for cheaper tickets on Groupon!
They also have a selection of Off-Broadway tickets and various New York City attractions for purchase. 
Read More
What makes a theater a Broadway theater?
In New York City, for a theater to be considered a Broadway house, it must have more than 499 seats and be located in the Theatre District.
The Theatre District is a designation of streets in Midtown Manhattan that run from West 40th St to West 54th St, between Sixth Avenue and Eighth Avenue.
The only exception is the Vivian Beaumont Theater at the Lincoln Center on West 66th and Broadway. 
If you want to learn more about the street layout of New York City, take a look at my guide.
Broadway theaters are not all the same.
The Hayes Theater on 44th is the smallest Broadway house with 597 seats, while The Gershwin Theater on 51st is the largest with 1,933 seats. 
Most of the theaters are in what's known as proscenium style, meaning there's a proscenium arch between the audience and the action on stage.
As the audience, you create the "fourth wall," or you're "on the outside looking in" to the action happening onstage. 
We also have theaters like Circle In the Square, which is called a black box.
There is no proscenium arch at that theater—instead, the audience seating changes based on the needs of whatever show is currently playing.
The audience might surround the stage or three sides, but one or the audience might be seated on stage throughout the show.
Where are the best house seats in a Broadway theater?
Seat locations are personal preferences.
Where you'll want to sit in the theater can be based on several factors.
How is the theater set up? Do you need an aisle seat? How is your hearing? How is your eyesight? What are the needs of the show? How much are you willing to spend on your ticket for you and your entire family to sit together? 
All of these factors come together in a perfect storm to create your perfect Broadway ticket.
At this point, I've sat just about everywhere in a Broadway theater–from the last row of the balcony to the middle of the mezzanine; even the front row of the orchestra.
There's not a bad seat in the house in a smaller Broadway theater, but you might have obstructed views in a larger theater style.
Obstructed view ticket prices are usually a cheap ticket solution, but it's a risk.
It could be a minor as not seeing the last two feet on the far right, or the top of a box above you might cut into the top of your visibility. 
If you're buying tickets from the box office, the best thing you can do is ask the staff for recommendations.
They're incredibly knowledgeable about the peculiarities of their theater and the production currently running in it, and they'll guide you into a great seat.
What's the best way to buy Broadway tickets?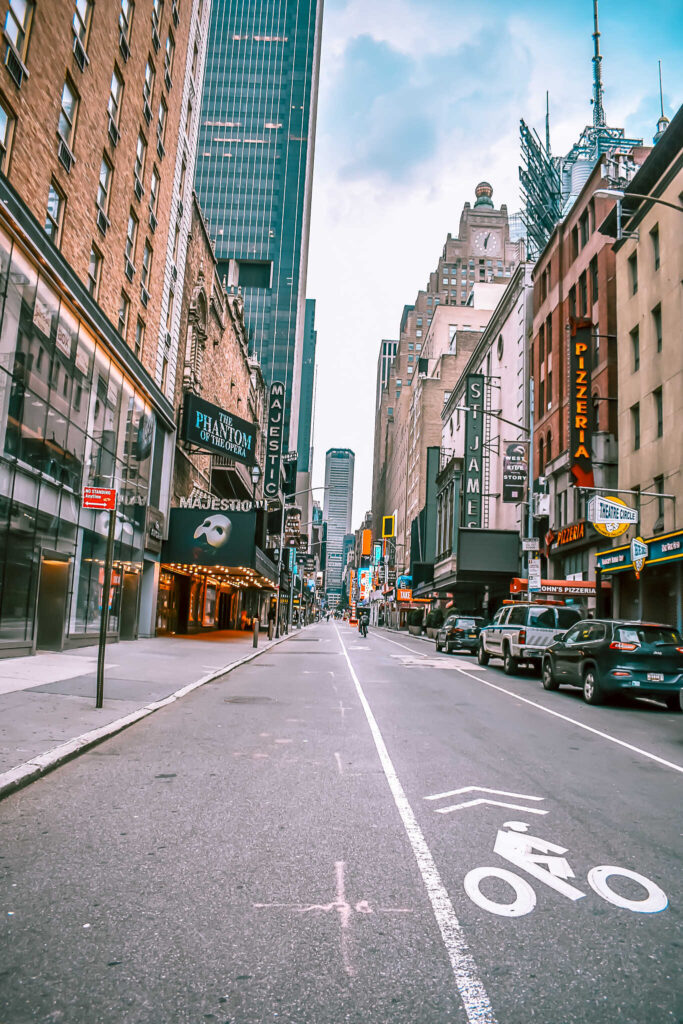 The best way to buy broadway tickets in NYC is by calling the box office or ordering online through Telecharge.
However, if you're interested in finding discounted tickets in advance, download the TodayTix app, look through Groupon offerings, or see if you can score a deal on Ticketmaster.
Finally, check the TKTS Booth or sign up for the ticket Lottery for same-day discount tickets.
Where to Stay in New York City After a Broadway Show
Budget hotel – The ROW NYC (Booking | Hotels | TripAdvisor) is a wonderful low-cost choice in Times Square. You'll have everything you need on-site, with a restaurant and a great food market called City Kitchen, two different exercise selections, and an internet café. You can also easily reach multiple metro lines from here, so you're never far from your destination.
Mid-range hotel – The Algonquin (Booking | Hotels | TripAdvisor) is located just outside Times Square and is now part of Marriott's Autograph Collection. The hotel was first built in 1902, but it gained prominence as a gathering spot for famous authors and artists after World War I. Every day, great writers like F. Scott Fitzgerald, Ernest Hemingway, Dorothy Parker, and Edna Ferber met for lunch at the hotel. If you're thinking about seeing a show as one of your winter date ideas in NYC, the lavish décor is enhanced over the holidays with a large Christmas tree in the lobby and garland throughout.
Luxury hotel – As one of the premier hoteliers in New York City, the Library Collection's Casablanca Hotel (Hotels | TripAdvisor) is on West 43rd between Sixth and Seventh Avenues, right in the heart of the Theater District. The hotel offers luxe touches only blocks from all the major transit hubs, including complimentary daily newspapers in the lobby, a terrace and library on the property, and deluxe room amenities.
Seeing a Broadway show is a must-do activity in New York City, no matter the time of year you visit or if it's a regular day or special occasion. Whether you want to see a musical or a play, I hope you're prepared with these tips for attending a broadway show, and you've learned the best way to buy broadway tickets in NYC!
Lyndsay