This post may contain affiliate links! I will receive a commission, at no extra cost to you, if you purchase something recommended here.
In NYC, the autumn season is packed with great fall activities and foliage tours from NYC, street fairs, and festivals for cuisine and culture. Here are some favorite fall festivals in New York City!
From top to bottom, the city is filled with food and fun for all ages, including those over the age of 21 *wink.*
New York Fall Festivals 2023
| Name | Location | 2023 Dates |
| --- | --- | --- |
| U.S. Open | USTA Billie Jean King National Tennis Center | August 22 - September 10, 2023 |
| Electric Zoo | Randall's Island | September 1 - 3, 2023 |
| New York Fashion Week | All around New York City | September 8 - 13, 2023 |
| Oktoberfest NYC | Watermark - Waterfront Bar on Pier 15 | September 8 - October 29, 2023 |
| San Gennaro Festival | Little Italy | September 14 - 24, 2023 |
| Superfine Arts Fair | The Market Line LES | September 14 - 17, 2022 |
| Taste of the Seaport | South Street Seaport | September 23, 2023 |
| Brooklyn Book Festival | Downtown Brooklyn | September 24 - October 2, 2023 |
| New York Film Festival | All around New York City | September 29 - October 15, 2023 |
| Broadway Flea Market & Grand Auction | 44th & 45th Streets between 7th and 8th Avenues | October 1, 2023 |
| Atlantic Antic Street Festival | Atlantic Avenue in Brooklyn | October 1, 2023 |
| Cider Week New York City | All around New York City | October 6 - 15, 2023 |
| New York ComicCon | Jacob K. Javits Convention Center | October 12 - 15, 2023 |
| The New Yorker Festival | All around New York City | October 6 - 8, 2023 |
| New York Coffee Festival | Metropolitan Pavillion | October 6 - 8, 2023 |
| New York Food and Wine Festival | All around New York City | October 12 - 15, 2023 |
| NewFest | All around New York City | October 12 - 24, 2023 |
| Open House New York | All around New York City | October 20 - 22, 2023 |
| BAM Next Wave Festival | The Brooklyn Academy of Music | October 29, 2023 - January 14, 2024 |
| Village Halloween Parade | Greenwich Village | October 31, 2023 |
| The Best of Brooklyn Festival | All around Brooklyn | Ongoing |
| WhiskeyFest New York | Marriott Marquis | November 9, 2023 |
| TCS New York City Marathon | All around New York City | November 5, 2023 |
| New York Comedy Festival | All around New York City | November 3 - 12, 2023 |
| Macy's Thanksgiving Day Parade | Central Park West to Macy's in Herald Square | November 23, 2023 |
September New York Fall Festivals
jeff horne from Richmond, VA, CC BY 2.0, via Wikimedia Commons
To kick off this list of the best fall festivals in New York City, we're starting with one of the most important tennis matches of the season.
The U.S. Open takes place at the end of every summer here in Flushing Meadows-Corona Park, Queens at the USTA Billie Jean King National Tennis Center.
The best tennis players from around the world come here to compete in one of the most important competitions of their season. If you love this racket sport, you won't want to miss attending a day of matches!
You can find tickets to one of the tournament's 25 matches on USOpen.org or Ticketmaster. Or, if you can't make it to Queens this year, you can watch coverage of the event on ESPN and ESPN+.
One of the last great summer activities in New York City is the first fall concert series! For three days at the start of September, Electric Zoo takes over Randall's Island with electronic dance music.
This music festival hosts world-famous live bands and DJs, with luxe perks for concertgoers who splurge for the VIP experience.
There are even After Party performances around New York City you can secure tickets to if you never want the party to stop.
You can find general admission and VIP tickets on their website.
If you love fashion, there are a few places in the world you probably dream of seeing—Paris, Milan, and New York City.
NY Fashion Week is your opportunity to see and be seen with the most fashion-forward people in the world.
Watch the runways set up all over NYC debut the latest season's styles for iconic brands like Michael Kors, Coach, and Fendi, as well as LoveShackFancy, Veronica Beard, and Connor McKnight, among others.
You can find the dates and locations for this year's Fashion Week on their official website.
And if you can't make it in person, or you can't secure a ticket inside, you can find information for streaming the runway shows online.
Unfortunately, we can't all be in Germany during their Oktoberfest celebration. But, that's why you have fall festivals in NYC!
Quick History: The first Oktoberfest kicked off in Munich, Germany, in 1810 when future King Ludwig I married Princess Therese of Saxony-Hildburghausen. People so enjoyed the festival held in honor of the marriage that they decided to repeat it the next year, and so on. By the 1890s, beer became the centerpiece of the event.
However, if you're visiting New York City in September and October, we've got the next best thing!
For almost two full months, you can head to Watermark Bar at Pier 15 on the weekends for entertainment, German food, and beer.
The bar holds true to traditional German beers you would find at Munich's official Oktoberfest, like Hofbrau, Weihenstephan, and Radeberger.
Aside from the Pier 15 Oktoberfest in NYC, you can also find other Oktoberfest events all around New York City throughout October.
The German-American Steuben Parade New York even hosts its own Oktoberfest in Central Park.
Every year, the population of Little Italy in Manhattan grows by thousands. For almost two weeks each September, the community comes together to celebrate the Feast of San Gennaro.
With an influx of Italian immigration to New York City in the early 20th century, the Neapolitan immigrants brought their patronage of Saint Januarius, the patron saint of Naples, with them.
Although it started as a one-day ceremony in 1926, this Little Italy September festival quickly grew into the 11-day festival we know and love today.
You'll find Italian favorites like cannoli, zeppole, and (my favorite) torrone, among other, more American treats. And, of course, there's a cannoli-eating contest. How could there not be?
The San Gennaro Festival happens on Mulberry Street in Manhattan's Little Italy. The best part? The entrance is free!
Most of the fine art market is inequitable. Artists with a notable name can command staggering prices on their works, while some emerging artists struggle to sell their art to support themselves.
If you enjoy supporting up-and-coming artists, you need to check out the Superfine Arts Fair.
Established in 2015, the art show connects more than 100 independent artists with patrons and art lovers who want to purchase their pieces.
They host 12 art shows per year all over the United States, so even if you miss this year's fall festival in New York City you'll be able to support the artists elsewhere.
You can purchase tickets to the Superfine Arts Fair on their website.
If you love local, you're going to love Taste of the Seaport. This family-friendly festival has everything. Tons of restaurants local to the Historic South Street Seaport open stalls to share their food.
They even have arts and crafts and pasta-making classes to keep the kids occupied while you partake. Enjoy a day out on the harbor with live music, artisan, and great food!
All proceeds from the day go towards funding for arts and enrichment programs at two local New York City public elementary schools.
Are you an avid reader? Then you'll love the Brooklyn Book Festival.
The week-long event celebrates authors, publishers, and booksellers from all around the world.
Their many free and low-cost events, panels, and meet-ups are specifically planned to explore diversity and introduce new and established works to fresh audiences.
Look out for their Festival Day, with more than 300 authors, and their Literary Marketplace, where you can find books from more than 250 independent and major publishers to discover your new favorite reads.
Now in its 60th year, the New York Film Festival held at Lincoln Center is a mainstay of fall festivals in New York.
New projects from some of the industry's leading creators are shown throughout the month-long event, and many of the talkbacks with the casts and creatives from these projects are free to the public.
They offer several different ticket types, depending on what kind of access to this year's films you're interested in.
From general Festival Passes to packages for Opening Night or Closing Night performances, all the way up to the most exclusive VIP Passes, which unlock your access to almost all events.
You can learn more about the various ticket types and purchase your pass on their website.
Read More
October Fall Festivals in New York
Hosted by Broadway Cares/Equity Fights AIDS, the Broadway Flea Market floods the streets of the Theater District for one day every fall.
Here you'll find hard-to-come-by Broadway memorabilia from recent smash hits to obscure shows from decades ago.
My favorite activity? Looking through thousands of plays for gems to rediscover.
You'll also find stands hosted by theatre organizations, dance schools, and currently running shows. If you stick around for the end of the Flea Market, you can watch the Auction.
And, it's an excellent opportunity to meet your favorite Broadway performers. You can purchase tickets to access hours, each with a different line-up of stars; otherwise, entrance is free.
As the oldest and largest festival in Brooklyn, the Atlantic Antic Street Festival is a tradition that encompasses four different neighborhoods–Boerum Hill, Brooklyn Heights, Cobble Hill, and Downtown Brooklyn.
Local restaurants take over a whole 10 street blocks, while vendors and live concerts and performances are open, and there's an entire block dedicated to activities for kids.
Apparently, New Yorkers like their alcohol in the fall!
Cider Week New York City is dedicated to cider – we're not just talking about spicy, delicious, hot apple cider. Good food, and cider brews!
Cider Week New York City began in 2010 as an exchange between American and French cider makers.
What started as business exchange and education developed into an entire week of tastings and food and cider pairings at bars all over New York City.
Check their events page for more information on dates, locations, and purchasing tickets.
Everyone's favorite convention is back! For three days this October, you can find your new fandom best friend at New York City's ComicCon.
Cosplay as your favorite fantasy character, attend panels with the casts of your favorite superhero movies (looking at your Marvel!) and listen to expert panels on talking about your favorite franchises.
You can find all the details and purchase tickets for this year's 'con on their website. And don't worry, if you can't attend in person this year, you can purchase a virtual pass to attend from home.
Hosted by the famous magazine, The New Yorker Festival is a week of panels, performances, and experiences, with some of the biggest names in comedy and politics right now.
The best part? Some of the festival's events will be streamed online this year, which means you can catch a selection of the incredible panels from the comfort of your home.
Bonus: if you subscribe to The New Yorker magazine, you're eligible to purchase tickets at their special pricing. Check out their Events Agenda for all of the details on what's coming up.
You're about to get super caffeinated. The New York Coffee Festival brings together tons of local roasters from around New York City. You'll also find stalls for favorite local bakeries and interesting coffee concoctions.
Are you interested in some coffee competition? At Latte Art Live, top baristas will throw incredible designs, all competing for huge prizes. Or, show up to Roast Masters, a totally new competition for excellence in coffee roasting and blends.
Do you want to more about the art of coffee? Attend a session of The Lab, a series of talks ranging from informational to innovative. You're sure to walk out having indulged in far more coffee than you expected.
You can find the Festival at the Metropolitan Pavillion in Chelsea. After that, since you're already in Chelsea, stop by the Starbucks Reserve Roastery for even more coffee!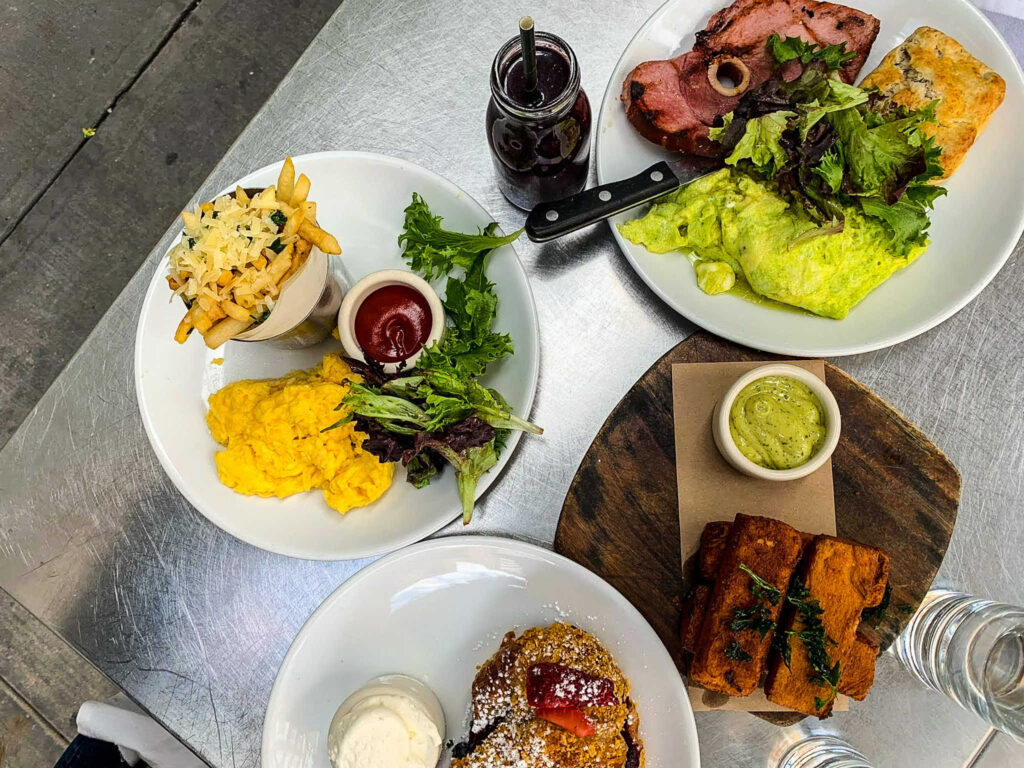 Food and wine. What more do you want? The New York Food and Wine Festival is an incredible opportunity to get up close and personal with your favorite Food Network and Cooking Channel stars.
Watch and learn as they cook and bake their creations into existence with 80 different tasting opportunities, classes, and events from 500 celebrity chefs.
The festival also hosts Walk-Around Tasting Events, where you'll have the opportunity to try samples from the top restaurants around NYC, Pier Parties, and Master Classes to learn from the best of the best.
And of course, you can enjoy Brunches & Lunches and Intimate Dinners.
Browse through the various ticket options to find the best choice for you.
For more than 30 years, NewFest has been showcasing LGBTQ+ stories and filmmakers in their film festival.
Established as a reaction to the AIDS crisis, the organization has since expanded to host programs throughout the year, in addition to the film festival.
This year, you can attend NewFest either in person or online, so no matter where you are you don't have to miss out. You can check out this year's festival line-up and purchase tickets on their website.
So, have you ever seen a really cool building in the city and thought, "I wonder what it looks like inside?"
Now, you have the opportunity. For two days, some of the most off-limits buildings in the city open their doors.
There are over 200 different sites open – free – for public viewing and tours to Open House guests. You can find different residential buildings, museums, private businesses, and universities on the list of viewable sites.
Now's your chance to catch a glimpse inside these structures you might not otherwise be able to see.
Make sure you plan ahead. Since the event is free, you might lose time waiting in line to enter.
If you want to avoid the wait time, you can purchase a tax-deductible Passport, which gives you skip-the-line access to events that don't require you to register ahead.
Ajay Suresh from New York, NY, USA, CC BY 2.0, via Wikimedia Commons
Each year, the Brooklyn Academy of Music celebrates new, innovative theatrical performances in their Next Wave Festival.
From the end of September through December, you can catch more than ten different productions including theater, dance, and art installations throughout their spaces.
You can check out this year's performance schedule and purchase tickets for the production you want to see on their website.
New York City knows how to celebrate Halloween. Starting on Sixth Avenue at Canal Street at 7 p.m., anyone is welcome to walk as part of the Village Halloween Parade totally free, but only if you're in costume.
And this is NYC, home to some of the best theatres in the world–and the best costume designers–you'll need to go all-out on your costume!
If you want to skip the masses, start lining up early, or VIP tickets are available for purchase which will place your walking position more towards the front.
Just by showing up in costume, you're entered into their yearly costume contest, and the winners are announced after the parade.
Read More
November Fall Festivals in New York
Did you know, every year you can vote for your favorite Brooklyn businesses to be crowned the best in the borough?
You can nominate your favorite Brooklyn-based small businesses to go up for the title in their corresponding category, and then vote for your favorites out of the top 10-15 nominees.
Since winners have already been announced for this year, don't let the year end without checking out some of this year's winning restaurants and bars, shops, theaters, and other recreational facilities!
You might just find your new favorite NYC at night activity, too.
If you've ever wanted a luxury whiskey experience, this evening event is your chance.
Hosted in Time Square's Marriott Marquis (Booking | Hotels), you'll meet master distillers and blenders who are on hand to talk about their whiskeys as you sample spirits from all over the world.
They also host seminars throughout the night with representatives talking about the process behind making your favorite whiskey brands.
You can purchase tickets on their website for general admission and VIP level, which gives you exclusive access to the Grand Ballroom an hour earlier than everyone else to start sampling sooner!
As the largest marathon worldwide, the New York City marathon draws top runners from around the world to complete through all five boroughs.
The race begins in Staten Island, where runners cross the Verrazzano-Narrows Bridge into Brooklyn, then up through Queens, entering The Bronx by way of Manhattan, before completing their 26.2 miles run in Central Park.
Fun Fact: One of the best things to do in the fall in New England is cheer on the Boston Marathon runners in Boston, Massachusetts!
The three days before the marathon is called Race Week, and if you're one of the incredible runners, you need to pick up your race materials at the Javits Center.
While you're there, walk through The TCS New York City Marathon Expo Presented by New Balance, which is the largest running expo in the United States.
Shop at the vendor booths, speak to experts at the NYRR Running Lab, and visit the ​​Runners' Wall and Celebration Wall.
If you're a spectator, one of the most inspiring things is to stand at any leg of the race and cheer on the runners!
Since 2004, over 200 comedians come together in New York City each year for the New York Comedy Festival.
If you love to laugh, you don't want to miss this!
Catch favorites like Conan O'Brien, Jenny Slate, Wanda Sykes, Tracy Morgan, John Mulaney, and more at more than 100 different shows throughout the city.
In addition to the many sketches and stand-up sets, the festival offers panels and workshops with the comedic geniuses, as well as film screenings, podcast recordings, and pop-ups.
From Madison Square Garden to small bars around the city, you're sure to find a laugh!
As fall's last hurrah, you can't miss the festivities of the Macy's Thanksgiving Day Parade.
The streets surrounding the Natural Museum of History are dedicated to the Parade on the day before Thanksgiving.
Here, you can actually watch the Macy's Thanksgiving Day Parade balloons being blown up, starting about 1 p.m.
The balloons are so big, and there are so many of them, that the process usually extends into the evening. While this used to be a more niche, local New Yorker activity, it's become more popular in recent years.
Then, get outside on Thanksgiving morning and watch the Macy's Thanksgiving Day Parade in person!
While the parade actually starts at 9 a.m., you absolutely need to wake up and get to the parade route early for a good spot, since these are the last major fall events in NYC for locals and tourists.
The parade route is traditionally from Central Park West to Macy's Herald Square and takes about 3 hours from start to finish.
The New York City holiday season starts after Thanksgiving. And with it–NYC's winter festivals!
If you're looking for something to do during the most wonderful time of the year, check out my list of great holiday tours in NYC and my guide to the best things to do in New York at Christmas!
New York Fall Festivals 2023: Wrap Up
In short – you have liquor. You have food. And, you have history. No matter your interests, you're sure to find fun at the fall festivals in New York City!
Which of these fall festivals in NYC interests you the most? Any festivals you love not mentioned here?
Lyndsay