This post may contain affiliate links! I will receive a commission, at no extra cost to you, if you purchase something recommended here.
Have you ever heard of the historic city of New Haven?
Located on the coastline of Long Island Sound, New Haven, Connecticut, was founded in 1638 as the first planned city in the United States. It served as a co-capital of the state during the Colonial era and is home to many distinguished organizations.
Nicknamed "the Elm City" due to the trees' prevalence, it's filled with academic excellence and culture. Several colleges, as well as three nationally-ranked regional theatres. Whether you enjoy wandering through historic New England cities, looking for some of the best activities in Connecticut, or are visiting one of the five universities in town, here is your guide for things to do in New Haven, Connecticut.
Map for this guide
Here is a map I created just for you to go along with the information in this guide!
Brown: Transportation
Red: Apizza
Orange: Restaurants
Yellow: Sweets
Purple: Things to do in New Haven
What are the best things to do in New Haven?
1. Head to Wooster St. and try New Haven's signature Apizza.
2. Walk around the Yale University campus.
3. Visit the Peabody Museum of Natural History.
4. Try out It Adventure Ropes Course at Jordan's Furniture.
5. Walk along Pardee Seawall Park.
6. Explore the historic lighthouse at Lighthouse Point Park.
7. Enjoy a show at one of New Haven's many world-class theatres.
8. Visit Louis's Lunch, the restaurant that created the modern-day hamburger.
9. Catch a concert at Toad's Place.
How to Get to New Haven, CT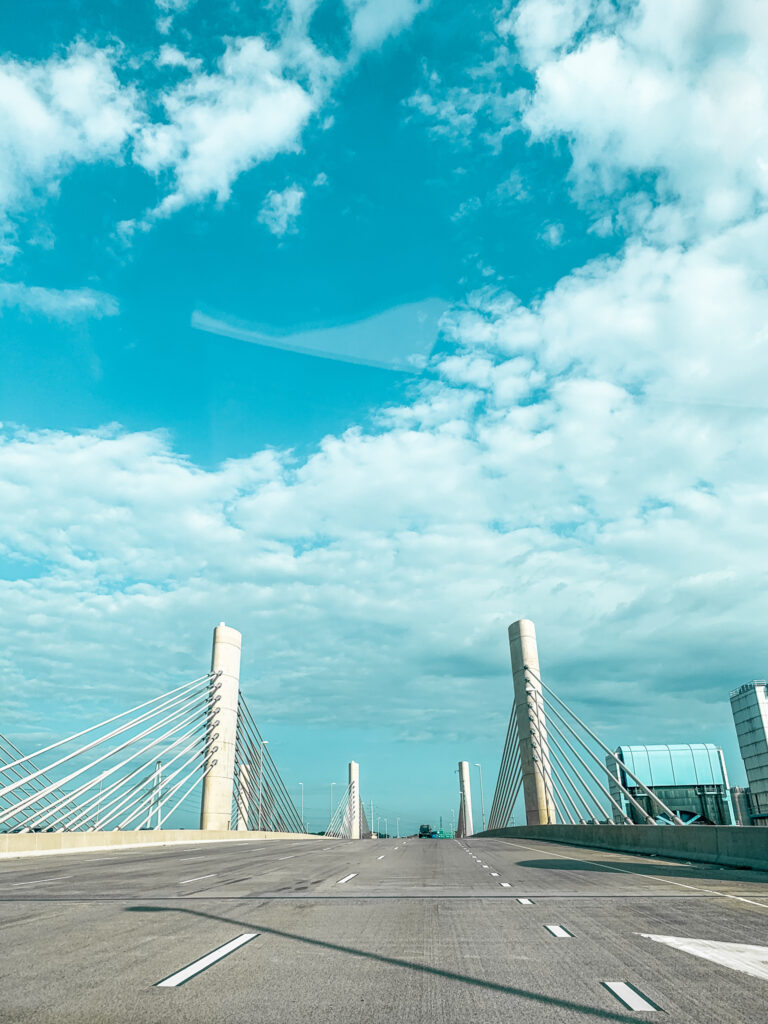 Trains will be your most convenient public transportation option to get to New Haven, especially if you're coming from New York City. Otherwise, adding a stop in for your New Haven itinerary is a great choice for your New England road trip, due to its connections.
New Haven is just off I-91 and I-95, and can be easily accessed by car. Unless you're spending all your time in downtown New Haven, many of the places on this list you'll need to drive to reach. Plan to rent a car or think about rideshare. Major companies like Uber and Lyft both operate in New Haven.
Read More: The Best Observatories in New York City
If you're coming up from New York City, the Metro-North New Haven train line is your choice. New Haven line trains leave Manhattan from Grand Central Terminal or Harlem-125th St, and it takes a little over 2 hours to arrive at the last stop. However, Amtrak trains also stop at Union Station in New Haven, so you have even more train options.
Where to Stay in New Haven, CT
Since I grew up right outside New Haven, I've never stayed in a hotel while visiting the city. However, there are some quality hotels and Airbnbs that are close to the city center and the Yale University campus.
Read More: The Best Travel Bags and Purses You'll Need to Explore the World
Where to Eat in New Haven, CT
New Haven, Connecticut, is full of incredible food influenced by the Italian-American population that calls this area home. They even have their own style of pizza, called Apizza, repeatedly ranked as the top in the United States. It deserves its own section!
Apizza
Honestly, pizza is already pretty perfect. However, there is a pizza style known to the small state of Connecticut that is truly the best around. The Apizza style was created by immigrants coming to New Haven, Connecticut, from around Naples, Italy, at the turn of the 20th century. It's a thin crust, coal-fired pizza, most similar to New York style. But, it's differentiated from its neighboring technique by its chewiness, shape, and toppings.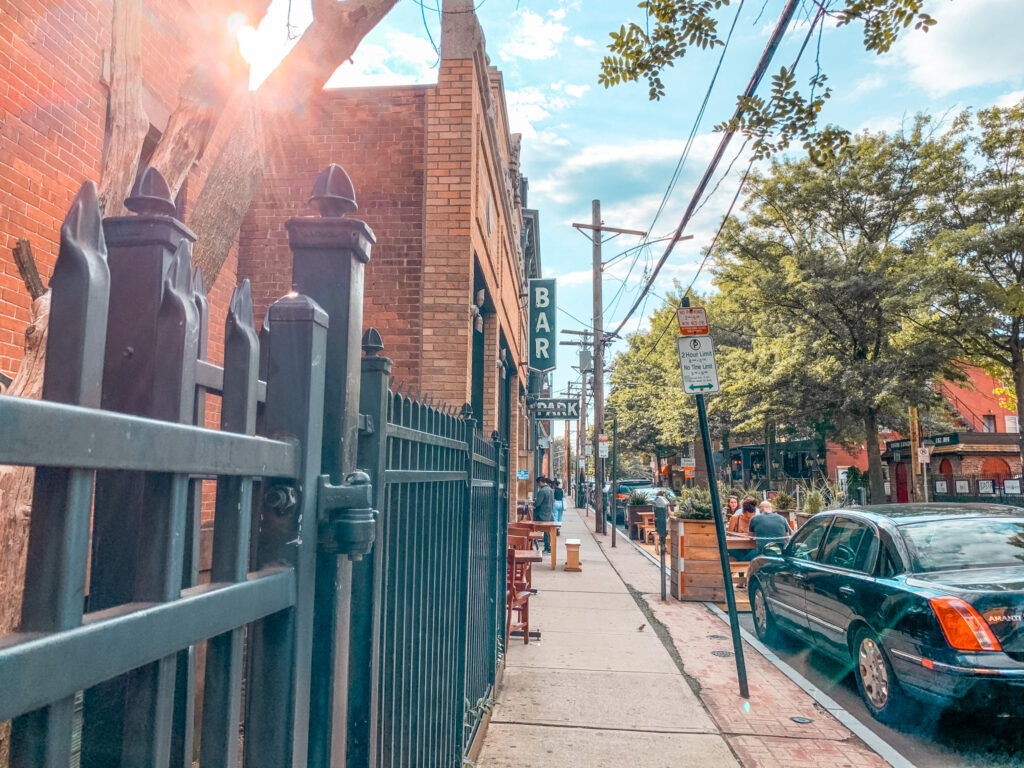 There are now several restaurants in New Haven, Connecticut that serve the style, like Sally's, Modern, and BAR (which has originated its own flair on the apizza style). However, Frank Pepe Pizzeria Napoletana originated the pie and is still widely considered the best. Pepe's signature Apizza is their white clam pizza with fresh littleneck clams on top of a white pizza. I promise it's delicious.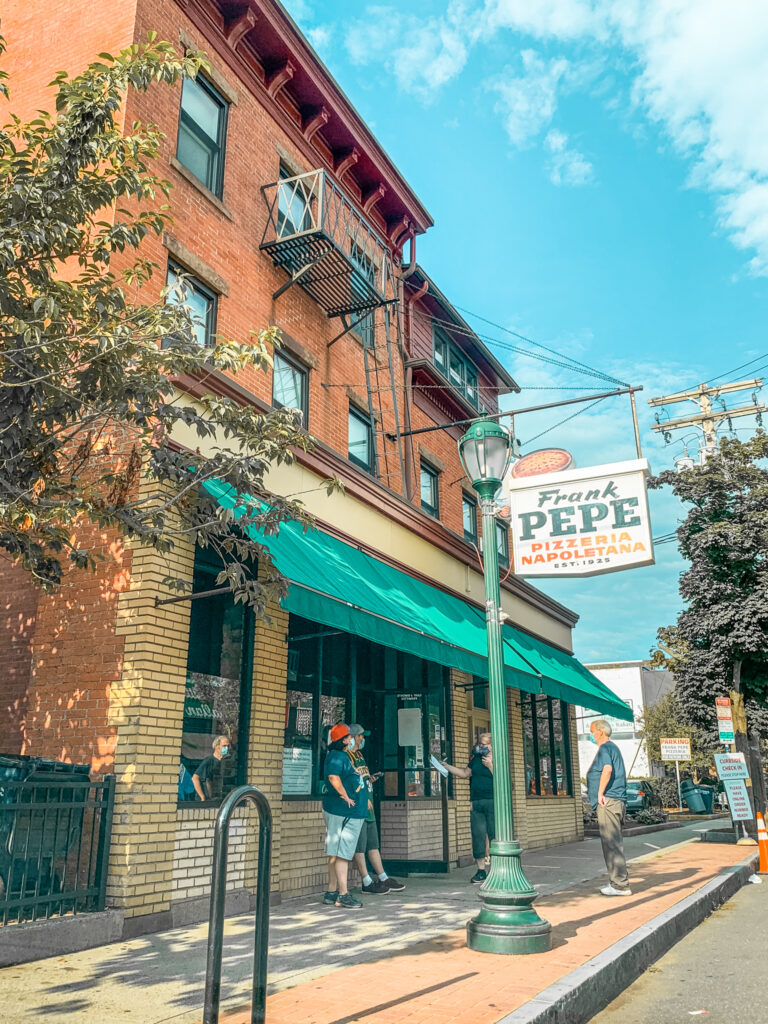 While the Apizza style has spread throughout Connecticut and to nearby New York's Westchester County, you need to add this to your New Haven itinerary and try it for yourself. On any given day, Apizza places have lines out the door, with locals and tourists alike vying for their spot at one of the storied booths to enjoy a fantastic pie.
Restaurants
Read More: 12 Last-Minute Travel Essentials You Can't Leave Without
Since Italian influence is strong in New Haven, fantastic Italian restaurants include Consiglio's Restaurant, Basta Trattoria, and Olives and Oil Wine + Cucina. And if you're looking for a fancier night out, Tre Scalini is one of the best.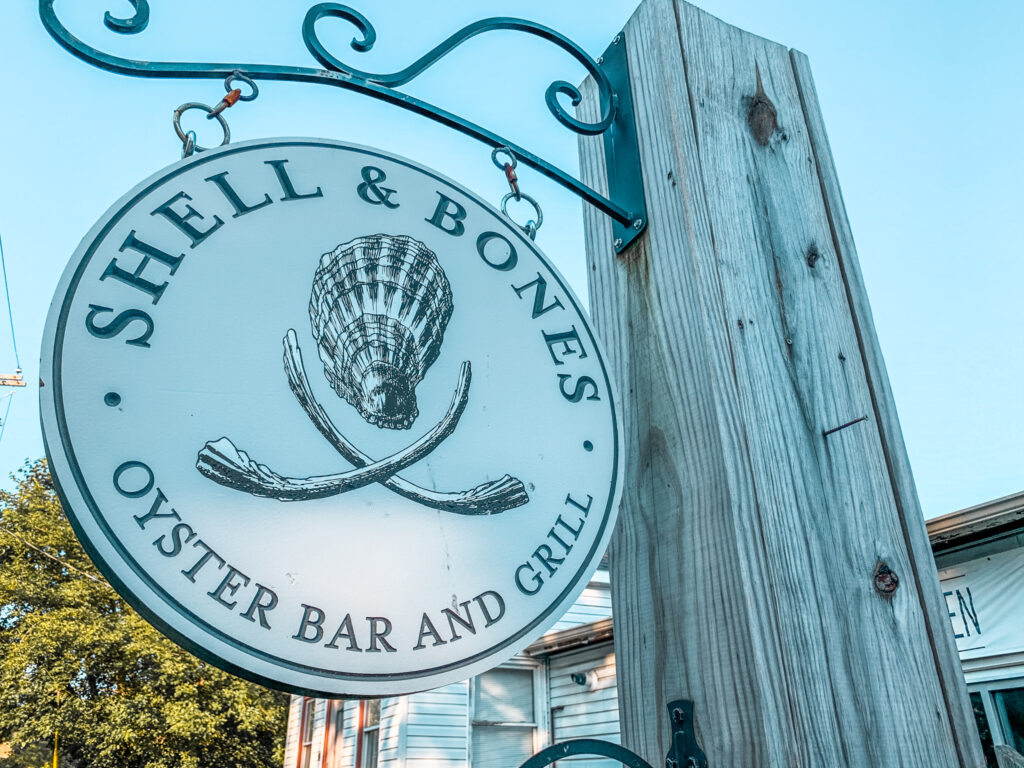 If Italian food isn't your favorite, New Haven also has a variety of other great styles. Shell & Bones Oyster Bar and Grill has phenomenal seafood, right on the water. Try Atticus Bookstore & Cafe for some great choices, including their vegetarian and vegan options.
Are you interested in an original? According to the Library of Congress, Louis' Lunch, opened in 1895, is recognized for originating the modern-day hamburger.
Sweets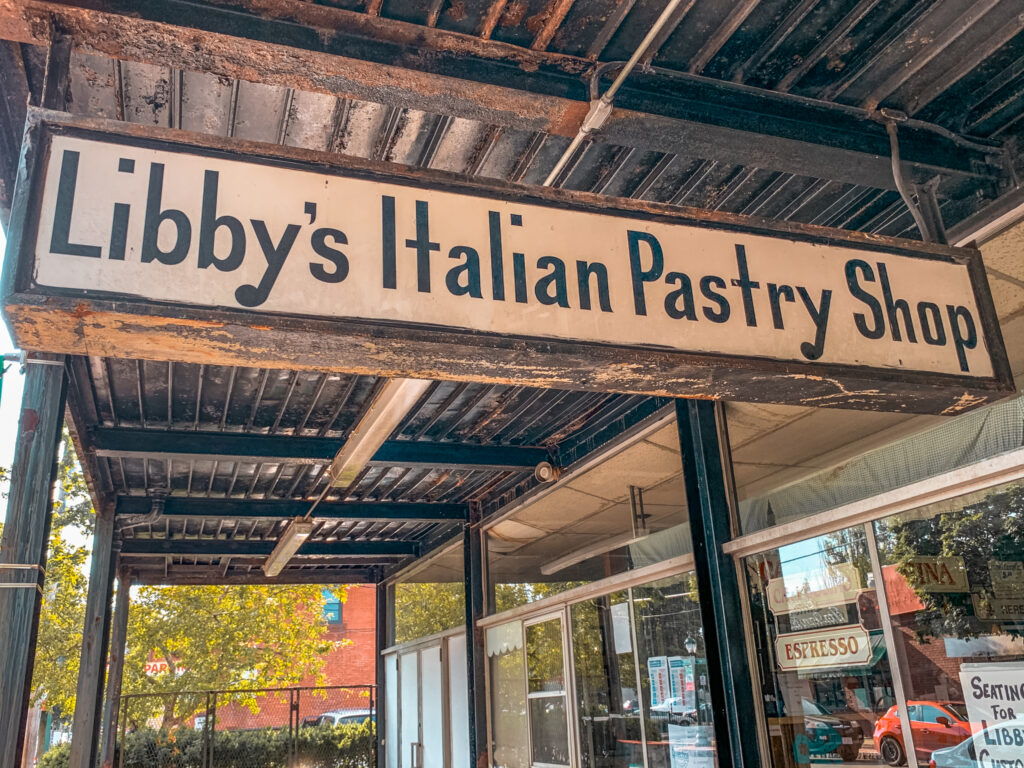 Bakeries, gelato, and coffee shops abound in the college town. There are at least seven coffee shops within walking distance of the Yale University campus. Donut Crazy is known for its wacky donut flavors. Libby's Italian Pastry Shop is a staple mom-and-pop bakery. Katalina's Kupcakes is home to rich, decadent cupcakes. Doughilicious has jumped onto the edible cookie dough trend. Even a favorite New York City cookie shop Insomnia Cookies has now made its way to New Haven.
Read More: Your Guide to Things to do at Turkey Run State Park in Indiana
Things to do in New Haven, CT
Take a tour of historic Yale University
Read More: Your Guide to 5 Days of Things to do in Williamsburg, VA
The Ivy League institution is a stalwart of New Haven, Connecticut. Yale University* traces its roots back to the 1640s when colonial clergymen established a school in the European tradition. It was formally named Yale College in 1718 for a Welsh merchant and benefactor of the school, Elihu Yale. It's the third-oldest university in the United States, behind only Harvard University and the College of William and Mary. Throughout its history, it has been a place of incredible academic study, achievements, and has produced numerous notable alumni.
Although you can choose to wander the campus at your leisure, you can also opt to take a free tour of the historic campus, led by current students. The tour leaves from the Visitor Center daily. The campus architecture is beautiful, and it's a pretty fantastic walk through the storied academic grounds. You can also register online for a free virtual, interactive tour of the campus.
You can also visit any of the University's museums, most notably the Yale University Art Gallery*, Yale Center for British Art*, and the Peabody Museum of Natural History*.
*During the COVID-19 pandemic, Yale University and all of its facilities are closed.
Explore prehistoric fossils at the Peabody Museum of Natural History *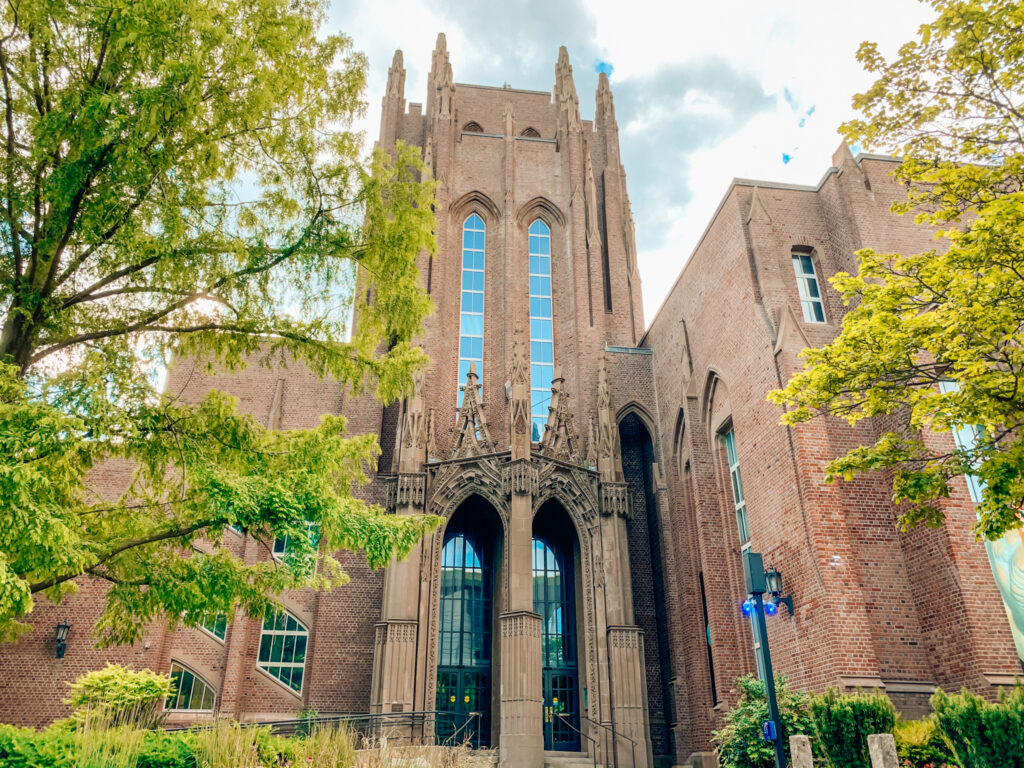 Looking for things to do in New Haven about dinosaur history? The Peabody Museum of Natural History at Yale University is a great place to spend your time. Founded in 1866, today, the museum has several world-renown collections. The most well-known is in The Great Hall of Dinosaurs. It features many skeletons, including a mounted Brontosaurus skeleton and The Age of Reptiles mural by artist Rudolph Zallinger.
The museum offers tours of various exhibits included with your admission ticket on Saturdays and Sundays.
Spend a day at the various New Haven Colleges and Universities
Although Yale University is the most historical of the higher education institutes in New Haven, there are many other colleges in town. The University of New Haven, Albertus Magnus College, and Gateway Community College all call the city of New Haven home.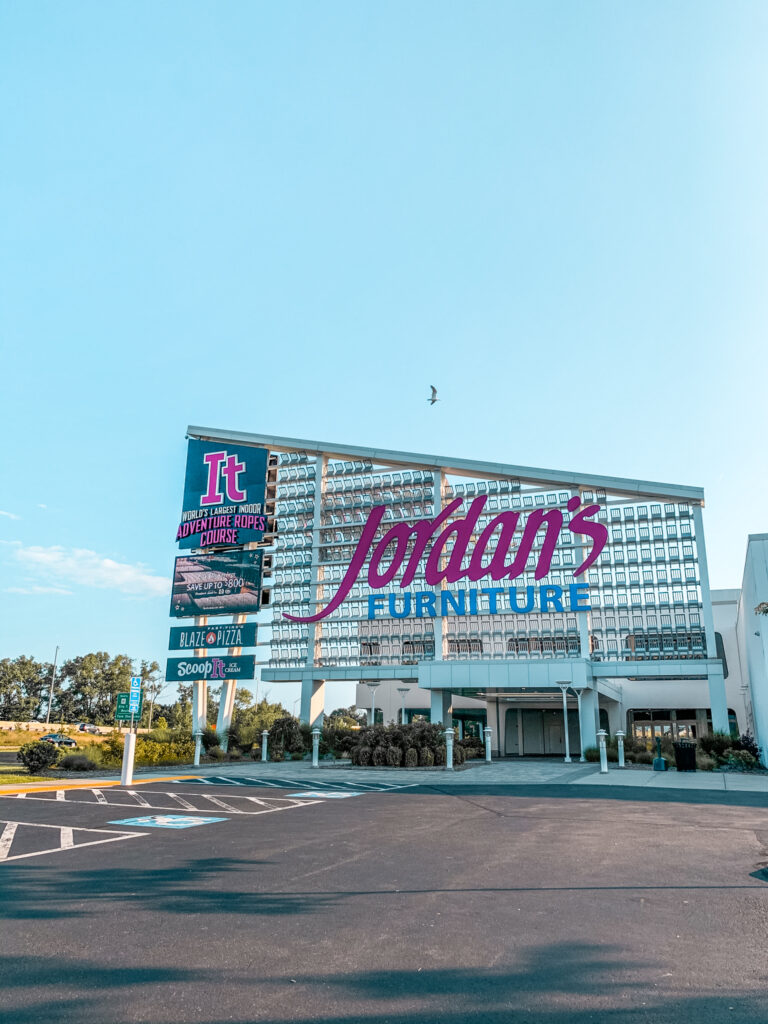 This is one of the most exciting things to do in New Haven, Connecticut. It's something you'll need to see to believe! Housed in the former New Haven Register newspaper's building, Jordan's Furniture is a chain of furniture stores in New England.
Within each of their stores, they house different attractions. Their New Haven, Connecticut location houses It Adventure Indoor Ropes Course, boasts the largest indoor high ropes course in the world. It's incredible! With two ropes courses and a bunch of different adventure activities, including climbing walls and zip lines, it's undoubtedly an exhilarating experience.
Pardee Seawall Park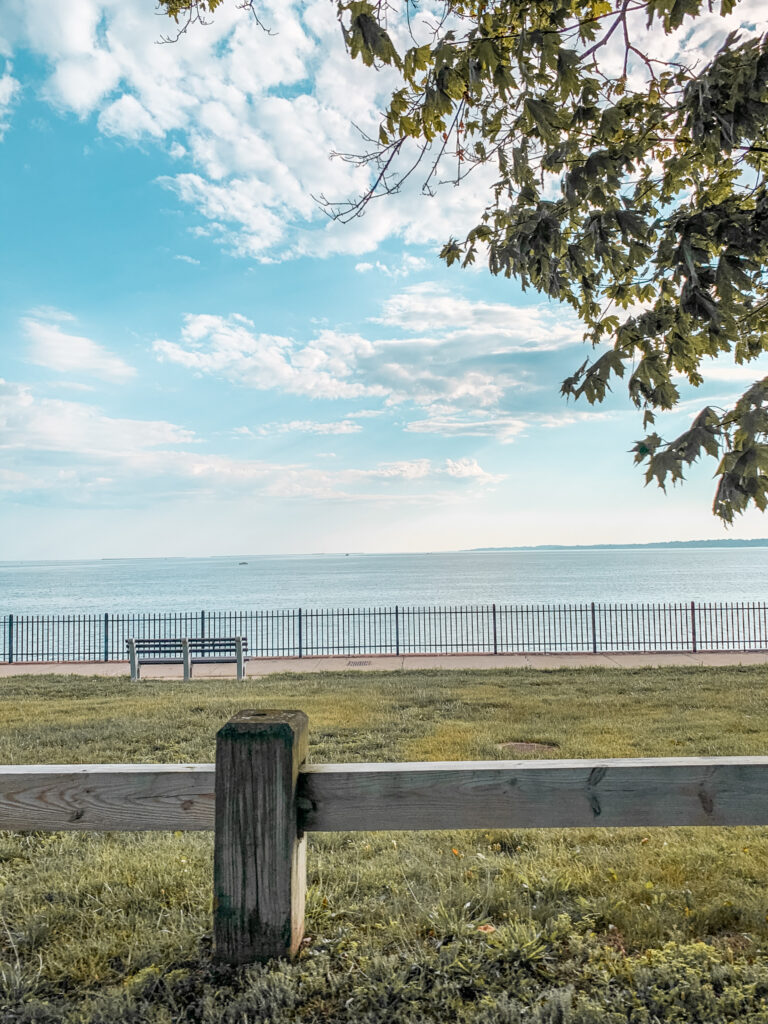 This 1.3-mile park is located right next to the coastline and offers beautiful Long Island Sound views. Walk, bike, or relax on benches, conveniently located along its path. It's one of the best things to do in New Haven, Connecticut on a beautiful, leisurely day.
Lighthouse Point Park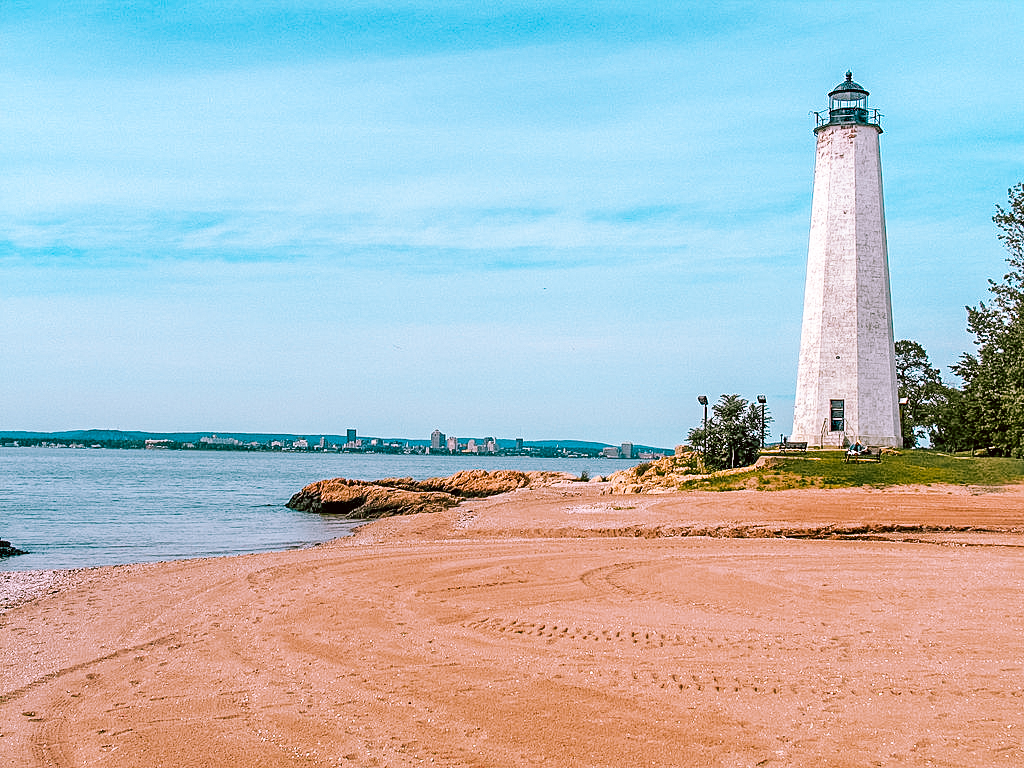 Read More: The Best New England Winter Getaways
Situated on Long Island Sound, the park is built on the site of a Revolutionary War battle. It's a beautiful area to add to your New Haven itinerary.
There are two main features of Lighthouse Point Park. First, the Five Mile Point Lighthouse, originally built in 1805 and decommissioned in 1877, was added to the National Registry of Historic Landmarks in 1990.
Secondly, the park's antique Carousel was built in 1916 in the folk art style. After closing in the 1970s due to weather damage, the City of New Haven restored the Carousel a decade later and it became listed on the National Registry of Historic Places. It has 72 restored mounts on a 60-foot platform and is decorated with paintings that represent New Haven.
Catch a performance at one of New Haven's award-winning theaters
There are three world-class theaters in New Haven – the Shubert, the Long Wharf, and Yale Rep.
Opened by the turn of the 20th Century theatre moguls, the Shubert brothers, the Shubert Theater in New Haven, Connecticut, was originally a testing ground for new shows before they opened on Broadway. To date, more than 300 productions have opened at the Shubert before making their Broadway debuts, including Oklahoma!, The Sound of Music, and My Fair Lady.
Today, the Shubert hosts several different projects throughout the year, including Broadway "out-of-town" tryouts and national tours, ballets, and concerts. If you happen to be in town on the first Thursday or Saturday of the month looking for things to do in New Haven, the theater offers a free tour to the public at 11 a.m.
In 1965, a new performance space, using borrowed movie theater seats, opened in a vacant warehouse on New Haven's harbor. Today, it's known as the Long Wharf Theater. Showing six plays per season operating in its two performance spaces, the theater was also the recipient of an honorary Tony Award, New York City theatre's highest honor, in 1978 for its Excellence in Regional Theatre.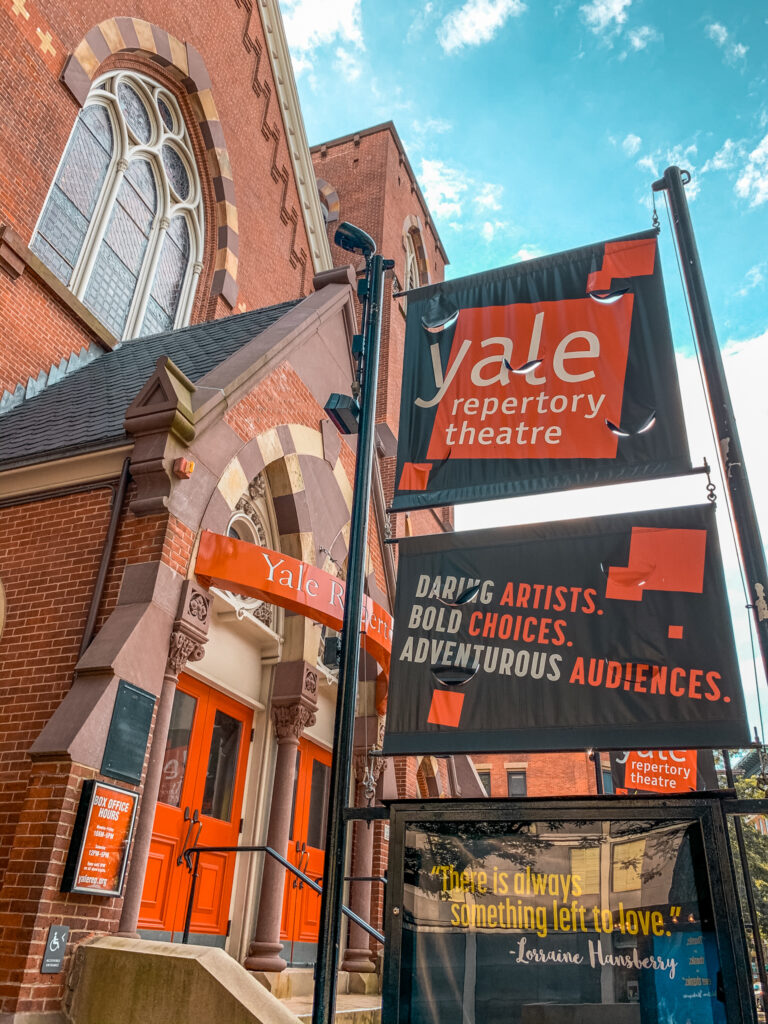 Yale University has one of the highest regarded theatre programs in the country – it only makes sense they would have phenomenal performances. Yale Rep is Yale School of Drama's professional-in-residence company and has also won a Tony Award for Excellence in Regional Theatre. They've had seventeen productions transferred to Broadway, and boast more than 100 premieres since opening in 1966.
Day Trips from New Haven
New York City
Read More: Your Guide To New York City Museums Free Admission and Pay-As-You-Wish
You can easily add a day trip to New York City into your New Haven itinerary. Head to Union Station and take a Metro-North train headed south into Grand Central Terminal. If you're interested in learning more about the Big Apple activities, check out my list of free things to do in New York City.
Sample 3 Day New Haven Itinerary
Day 1
Today is a Yale day! Breakfast at one of the coffee shops walking distance from the campus. Then, head to the Yale University campus for a tour of the grounds. After, you can spend the afternoon wandering through the Yale University Art Gallery. Head to dinner at Tre Scalini or Consiglio's before your show at one of the three historic New Haven theaters.
Day 2
Today is all about the apizza. While Pepe's is my favorite, you can choose any of the famous apizza places on Franklin Street for a pie or two. Then, walk over to Libby's Italian Pastry Shop for dessert before heading to Pardee Seawall Park and Lighthouse Point Park for a beautiful walk by the water. Then, over to BAR for dinner to try out the apizza style with flair.
Day 3
Today is for the adventurous things to do in New Haven, Connecticut. If you've always wanted to visit New York City, this would be your day to train in and explore. Otherwise, head to the Peabody Museum to observe the world-class paleontology collections. Lunch at Atticus Bookstore & Cafe before spending your afternoon at It Adventure Ropes Course at Jordan's Furniture to test your skills on the high ropes. End your New Haven itinerary with a beautiful dinner at Shells & Bone.
From the gorgeous grounds and history at Yale University to absolutely incredible food–if you're taking a road trip through New England, make sure you take a stop off in New Haven, Connecticut.
What are your favorite things to do in New Haven, Connecticut?
Lyndsay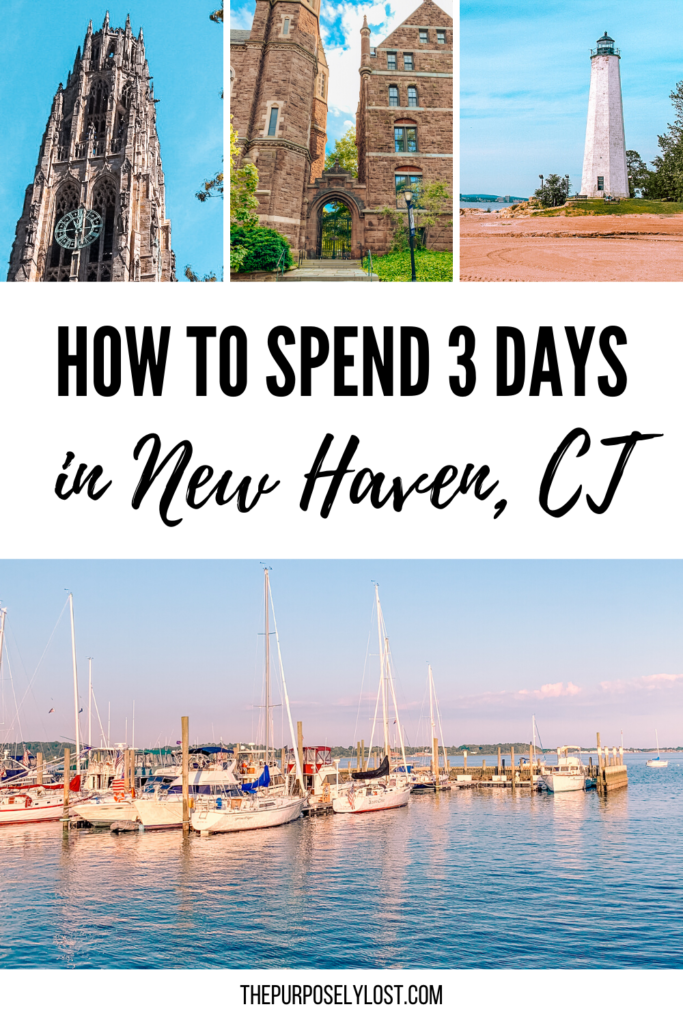 Please follow and like us: