This post may contain affiliate links! I will receive a commission, at no extra cost to you, if you purchase something recommended here.
When you come to New York City, you must try riding the subway. Not only is it a rite of passage for your first experience in the Big Apple. But it is also the most efficient and cost-effective way to travel throughout the boroughs. As with anything, however, there are some things to consider when navigating the New York City subway system. I promise it's not as scary as you think!
A brief history of the New York City subway
The start of New York City's subway system, as we know it today, was first opened on October 27, 1904, by the Interborough Rapid Transit Company (IRT). The line ran in Manhattan for just over nine miles. Stretching from City Hall all the way up to 145th Street. Soon after, there was a great New York subway expansion. Initially, three companies operated different lines. IRT, and the Brooklyn-Manhattan Transit Corporation (BMT) was privately owned, while the Independent Rapid Transit Railroad (IND) was city-run. For a long time, they operated independently from one another, which spurred competition to build additional train lines.
Finally, on June 15, 1953, New York State decided to consolidate all the different transits under one body. It formed the public New York City Transit Authority, now known as the Metropolitan Transportation Authority (MTA).
Today, the MTA encompasses the subway and bus routes. The former IRT tracks are now the numbered subway lines (1/2/3, 4/5/6, 7) and the shuttle from Times Square to Grand Central Terminal. While the old BMT and IND tracks create today's lettered lines (A/C/E, D/B/F/M, N/Q/R/W, J/Z, G, L) as well as the Rockaway Park and Franklin Avenue shuttles.
If you're interested in learning more about the subway's history, head to the New York City Transit Museum. Located in an old, now unused subway station, the museum showcases the system's history from its beginning. You can also relive yesteryear by exploring vintage train cars.
Read More: Your Guide To New York City Museums Free Admission and Pay-As-You-Wish
Navigating the New York City subway map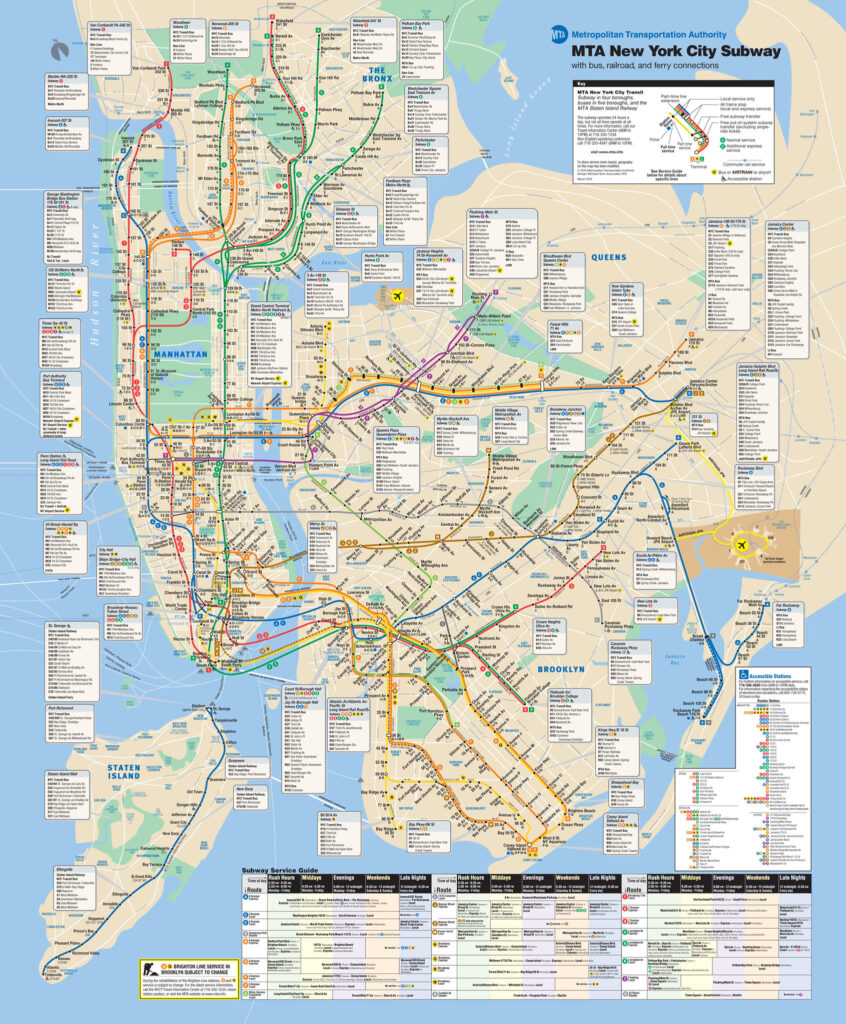 Throughout most of Manhattan, there is more than one train running on each line. It's only when you start moving into the outskirts of Manhattan and into the boroughs of Brooklyn, the Bronx, and Queens, where they start to split.
For example, the Blue line has three trains – the A, the C, and the E. Each has its own two terminal stations, meaning the ends of its lines. Although all three trains start in Manhattan (at different stops,) the A and C end in Brooklyn, while the E stops in Queens.
When in doubt, look at the map. It will tell you everything you need to know about navigating the New York City subway. What train stops where, if its express or local, and if there are any different subway lines that you can transfer to at a station.
What's the difference between local and express trains?
When you look at the subway map, look at the dots that delineate the stops on a line. If you look closely, you'll notice black spots and white dots that mark each station. If the circle is white, that means it's an express stop. Every train on the line will always stop at that station. Alternatively, if the circle is black, it's a local stop. Only specific trains will stop at that station, as well as stop at express spots. Since local trains have more stops to make, the ride is longer than taking an express.
For example, if you're trying to take the subway to One World Trade Center from Times Square, you can choose any of the downtown red line trains. The local 1 or either the 2 or 3 express trains from Times Square-42nd St to Cortlandt St-World Trade Center.
Although this might sound confusing, every New York City subway map is marked with exact information. Look at the station you're heading to, and it will tell you exactly which train lines stop there. Even New Yorkers have to break out a map sometimes to confirm if they need the local or the express!
What's the difference between uptown and downtown trains?
This might sound like common sense, but for the most part, uptown trains run north in Manhattan, and downtown trains run south. However, this is almost exclusively for Manhattan. While there are some places in the Bronx and Brooklyn where subways run north to south, Queens and most other areas of Brooklyn are running in almost every direction. Instead, you'll figure out your direction based on whether the train is Manhattan-bound, or (insert name of terminal subway station here)-bound.
Please make sure you know where you're going. And you've read the signs before swiping into the subway. Unfortunately, there are many stations where you can only access one side of the platform once you've swiped in with your MetroCard. This means there's no underground connector from one platform to the other. You'd have to pay again to get to the other side.
If you accidentally access the wrong platform, you have a few options to remedy the problem. The first, unfortunately, is to waste your original $2.75 and pay again to get to the other side. If you're on a timetable, this might be your best bet. However, if you're up for a little adventure, your other option is to take the next subway to its closest express stop and transfer underground there. While you lose a little bit of time, you save the swipe!
How do I know which subway line to take?
While there are many different apps to help you in navigating the New York City subway, the app Citymapper is my personal favorite subway trip planner. It's free in the App Store, and it doesn't have any hidden fees once you download the app to use it.
I personally use it at least six times a day. To check when my trains are arriving, if there are any delays, or to decide which exit of the subway station I should leave through. Yes, this app even tells you which is the best entrance and exit for the stations you're using to get to your destination.
Simply input your current location and where you want to go. Citymapper will list out all the different ways to get there and the times that it would take. Not only will it list out all of the various subway routes you can choose to get to a location, but it will also tell you bus routes, driving directions, bike routes, and if it's available, tram or ferry routes.
Also, if you're underground or don't have service for whatever reason, the app has offline maps to help you master navigating the New York City subway and the bus system. This means you'll never be stuck underground, not knowing which way to go.
How do you pay for the NYC subway?
When you arrive at a subway station, you can opt for a subway station booth (if your station has one) or use any of the machines to buy a MetroCard. There are three different card MetroCard purchasing types:
The first is a single ride card. Single rides on the subway are $2.75 each, and there's a $1 fee for a new card. You can put as much money as you'll need on your MetroCard. So if you plan on taking 5 trips, you can load your card up with $13.75. A single ride MetroCard can be swiped up to four times back-to-back at the same subway station. This means if you're traveling with someone else, you can share the same card.
Alternatively, you can purchase unlimited weekly and unlimited monthly cards. This means you pay one flat fee, $33 for a weekly or $127 for a monthly, and you can ride the New York City public transport system as often as you need to during that time. This is best for residents of the city, and tourists with busy itineraries. An unlimited MetroCard cannot be swiped back-to-back at the same station. If you're seeing the sights with others, you will each need your own unlimited card.
A new addition to the system is OMNY machine readers. If you have a contactless card or a smartwatch attached to your card, you can now tap it against an OMNY reader, without the need for a physical MetroCard. However, the system is still relatively new. It's not a guarantee that every station turnstile will have a contactless reader. I always recommend you keep one physical card with enough money on it for one extra ride. That way, you have the option to make an unexpected stop off, or if the station doesn't have any active OMNY machines.
Before you purchase a MetroCard, it's essential to analyze how you want to travel throughout New York City during your trip. First, calculate how many times you think you'll need to ride the trains in the time your visiting. MTA even has a subway cost calculator on its website. If you're coming for more than three days, or you plan to do a lot of subway travel, prepare to purchase a weekly unlimited MetroCard. That way, you can take the subway as many times as you'd like within the seven days.
On the other hand, if you're only taking a day trip, or you're staying in the heart of Midtown and you don't plan on going very far, it probably makes the most sense to pay for each ride. New Yorkers say that as long as you use the MetroCard for more rides than the cost of paying for each individually, it makes sense to have the freedom of the unlimited card. You can also use your single ride and unlimited MetroCards on New York City buses, for even more transportation options.
Is the NYC subway safe at night?
A fun story ahead. When I first moved to New York City, I did not leave my apartment when it was dark out. For the entire first month. It wasn't until I got a late-night job that forced me to travel after the sun went down.
Looking back, I was far too afraid of the unknown. Just like anything else, navigating the New York City subway can be safe after dark. But use your best judgment. Safety First. If you don't feel confident in your subway expertise after dark, I recommend taking a car service back to your accommodation. Taxis, Ubers, or Lyft are great alternatives to utilize at night.
If you do find yourself alone on the subway car at night and uncomfortable for your safety, walk to the train car closest to the operator. This way, you'll be closer to someone alert and on the job if you're feeling uneasy.
Does the subway operate at the same schedule at night or on the weekends?
As lovely as that would be, the answer is no. Most of the subway's maintenance work happens at night and on the weekends, so be prepared. Check for alerts on the MTA's website to see if there's a suspended schedule or delayed subway service to your station. Or, on any of the other subway lines you might take. Make sure you allow extra time to travel anywhere on the subway, especially if you have timed tickets.
This is so much. Should I just drive in NYC?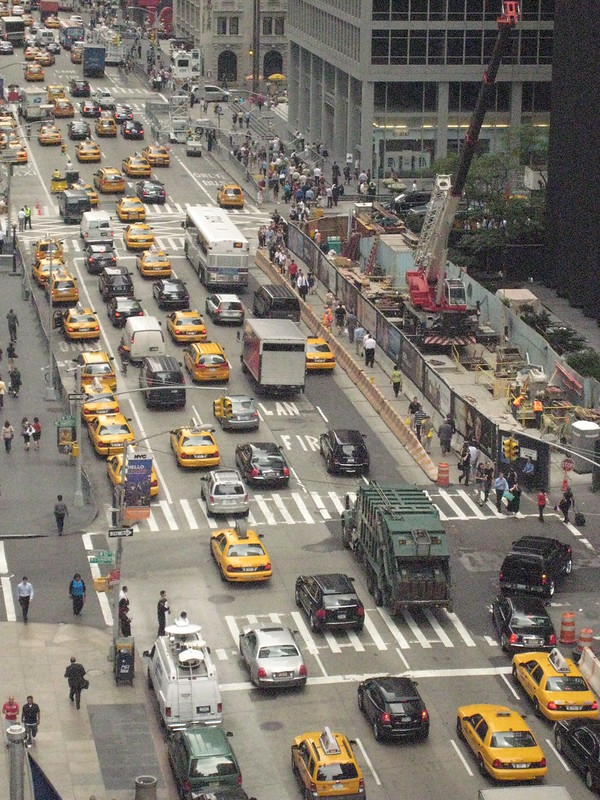 Read More: 5 Historic Streets in Manhattan You'll Want to Discover
While the convenience of having your own vehicle is nice, I do not recommend you drive to Manhattan. Parking lots are costly, and many do not accommodate for multi-day parking.
Or, if you decide to drive to your points of interest, you might spend an hour just trying to park on the street at each place. If you do decide to drive into New York City for your trip, I recommend you book accommodation that has a combined parking fee; or, stay in one of the other boroughs that are not Manhattan. Hotels will be a bit cheaper, and parking will be a little easier to find. But I promise, navigating the New York City subway isn't too hard!
It's a lot to learn. Honestly – 24 hours a day, 7 days a week – navigating the New York City subway is challenging. But, once you master the basics and take a few trips, you'll be confidently swiping through a turnstile on your way to adventure!
Do you have any other additional tips for navigating the New York City subway system?
Lyndsay
Please follow and like us: