This post may contain affiliate links! I will receive a commission, at no extra cost to you, if you purchase something recommended here.
New York City is one of those places that is hard to experience unless you've been there.
However, movies or TV shows set in New York City give us a glimpse into the life, heart, sights, and sounds of the Big Apple.
I asked some of my favorite bloggers what movies and TV shows set in New York inspired their love of the city.
Hopefully, on your next rainy day, you'll take a moment to explore the city through the eyes of these features.
Movies Based in the Big Apple
Submitted by Angie Weldy from Nothing Time Five is Cheap:
I was 7 years old when the movie Annie came out. My Granny started calling me Annie, and I still have a little notepad from the movie that she gave me. That was the beginning of my affection for the film. Plus, there was a dog!
Fast forward 11 years. I got to go to the Big Apple for the very first time with a youth group! Someone gave me a personal alarm to wear because they were afraid for me. I wore it for one day…maybe only part of that day. Then I shoved it in my suitcase and enjoyed the rest of my trip. My favorite memory is being in Central Park. I had no idea before then just how big and beautiful it was!
Now that I'm older, I have a new appreciation for the movie for two reasons. First, I'm an adoptive mom now. So literally anything about children wanting a family gets me. I wanna be Mama Warbucks and bring all the kids to MY house! Also, I'm a frugal mama who always roots for the underdog. That's my jam. Seeing Daddy Warbucks use his wealth for the good of others and Annie and her friends finally find love? That's the perfect recipe for me!
You can stream the 1999 version on Disney+, or rent the 1982 version on Amazon Prime Video.
Submitted by Sarah Barthet from Dukes Avenue: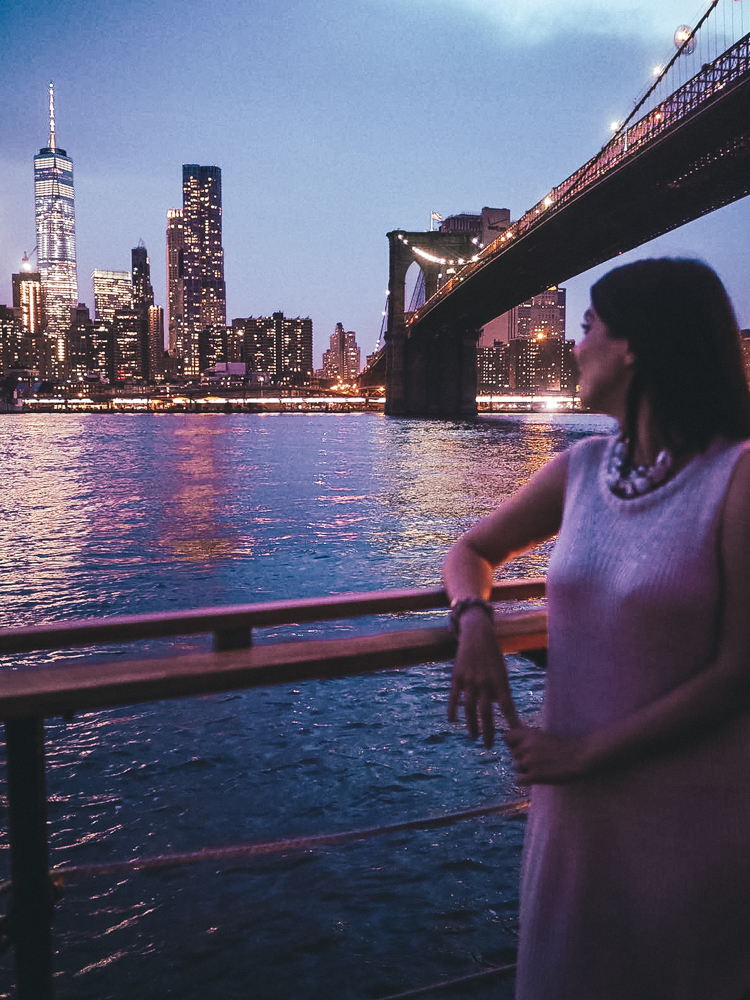 The Devil's Advocate is one of my favourite movies of all time. A movie about an aspiring defense lawyer that accepts a high-position at a top New York law firm that isn't all it seems. It showcases the very best of New York City, and the very worst in humans that play at the top of society's food chain. The script is absolutely genius and slowly reveals how vices can bring about downfall to even the most successful.
Without wanting to give any more of the story away, the movie features some of the best locations in NYC, from the most luxurious residential addresses to shots of Central Park, the New York skyline, and the subway. Somehow, they also managed to film some scenes in mid-town Manhattan with streets that had been entirely deserted. The incredible rooftop and skyscraper scenes were some of the first that made me want to visit New York.
Since watching the movie for the first time around 15 years ago, I got my first opportunity to visit a few years ago through my career in finance. Although I have now visited more times than I can count, that skyline never gets old. I take every opportunity I can to photograph them. If you need a movie to make you fall in love with both the real-life luxury and grit of NYC, this is the movie for you. Plus, Al Pacino gives an amazing performance!
Rent The Devil's Advocate on Amazon Prime Video or YouTube.
Submitted by Samantha Haviland from The Paperback Collector:
You've Got Mail is my absolute favorite movie. It's got Meg Ryan and Tom Hanks. It centers around books and bookstores, and it's set in NYC. I grew up watching it on repeat, so it was only natural that I would one day move to the city I used to idolize from afar. Afar being a small little town in Northern California, about as far from New York as you can be while remaining in the US.
You've Got Mail showcases the hustle-bustle of the city streets, the daily grind of a woman trying to maintain a small business when obstacle after obstacle is thrown her way, and the beautiful Big Apple in fall. Good ole Hanks even says, "Don't you love New York in the fall? It makes me wanna buy school supplies." I LOVE SCHOOL SUPPLIES.
NYC in fall is the loveliest thing. Browning leaves throughout the oasis that is Central Park, a slow haven in the middle of a sea of skyscrapers. New York is everything I wanted and nothing I expected. I didn't think I'd fit in all that well, but my own brand of stop and go and wait and RUN fits right into the sea of the city. I had to try living here, and I was not disappointed. Still want a townhouse like Meg Ryan's, though!
You can find You've Got Mail streaming now on Fubo or CBS All Access.
Submitted by Lyndsay from The Purposely Lost (me!):
Next, to continue the love of Tom Hanks and Meg Ryan rom-coms! Sleepless in Seattle is another beautiful movie to talk about New York City. While yes, the majority of the film does take place in Seattle, Washington, the finale of the movie happens on the iconic 86th floor of the Empire State Building. Jonah, Tom Hanks's character's son, gets on a plane and flies from Seattle to New York City to meet the penpal he wants his father to end up with on the top of the Empire State Building.
Moreover, the Golden Age Hollywood film, An Affair to Remember inspired this moment at the end of the movie. It's from 1957 starring Cary Grant and Deborah Kerr, which also showcased New York City from a bygone era. The two lovers meet on a ship heading for New York. They agree that if in six months, they've ended their other romantic relationships and want to be together, they'll meet at the Empire State Building. The classic was nominated for 4 Oscars.
Standing on the observation deck looking out at the city from all sides. Or, looking at the immense tower from the ground. Every time I pass the Empire State Building, whether it's on my way to or from work, or showing it to a friend visiting the city for the first time, I am always in awe of the incredible tower and its history – like that it was once the tallest building in the world!
Stream Sleepless in Seattle on Fubo or Showtime, and An Affair to Remember on HBO Now.
Read More
Submitted by Heather Markel from Heather Begins:
I'm from New York, and I love how this movie literally transports you to so many neighborhoods and to an inner and outer experience of the city. You journey from inside palatial hotel bathrooms imagining crashing a wedding. Then, to Madison Square Park and lower Manhattan, dreaming about a meal in a cozy restaurant or a walk along city streets. One of my favorite scenes moves us from inside the public library to the viewing level of Rockefeller Center with a spectacular view of Manhattan and unforgettable skylines.
The story is one about fate versus free will. That last scene, walking freely along Fifth Avenue, connects me to the sights, sounds, and freedoms that walking along the streets of New York brings all of us.
Find The Adjustment Bureau streaming online at HBO Now, HBO Go, and Cinemax.
Submitted by Michaela Groth:
A film that inspired my love and infatuation with New York City would be The Great Gatsby. I've always had a yearning for city life and that movie (the 2013 version) came out the year I was going into college to study Musical Theatre. Although it glorified and celebrated party life to an incredible standard, it really wasn't the partying that resonated with me most about the film. I was more intrigued by being one of many and the concept that even in a house full of partying individuals, everyone has their own story and is living their own drama.
I had traveled to NYC a few times before moving there – after graduation on high school and family day trips – as well as participating in a two-week college program. And each time I was there, I was able to experience that exciting Gatsby environment firsthand as I witnessed people mindlessly moving throughout their day to their own beat. Like a cog, in an ever-working machine. When I finally moved to New York City, I was able to immerse myself into its ever-moving culture and suddenly found that I, too had become one of those partying thousands.
I'd say that it was what I expected in regards to the fact that the hustle never stops, especially in NYC. It remains true that I feel like a whole new person after walking the streets of the Big Apple, and I find it a relief and a comfort that if I'm ever feeling overwhelmed, I can simply step onto the street and remember that I am never alone.
Rent The Great Gatsby on Amazon Prime Video or YouTube.
TV Shows Set in New York
Submitted by Clara from Petite Capsule:
The TV series, "How I Met Your Mother," inspires me to visit New York City. After Ted's promotion of the Empire State Building, I want to go to its viewing deck to see a panoramic view of the city. Like Marshall, I want to go on a food adventure in search of the best burger in New York City, including trying the burgers at Paul's Da Burger Joint and Corner Bistro. I also want to eat one of the best hot dogs in New York from Gray's Papaya like the gang's New Year Eve adventure and eat a cupcake baked by Ted's girlfriend Victoria, who worked at the Buttercup Bake Shop. I want to get a drink at McGee's, the bar that inspired MacLaren's on How I Met Your Mother, where Ted, Marshall, Lily, Robin, and Barney spent most of their time eating, drinking, and hanging out together.
New York is also a leading metropolis for the arts. I would love to visit the galleries and museums, including the Museum of Natural History, where Barney didn't really knock over the whale. It is a great TV show set in New York to spark your interest in the city.
"How I Met Your Mother" can be streamed on Hulu.
Submitted by Jenny Javitch from Global Game Plan:
Several years ago, while I was preparing to move to New York City for a summer internship, my professor recommended that I watch a PBS documentary titled "American Experience: New York." It was a pretty big time investment (14.5 hours separated into 8 sections) but was well worth it since I learned about New York's history from its inception until 2003.
Although I had visited NYC before that summer and have traveled there many times after, it was my first time experiencing New York simultaneously as a local and a tourist. I had plenty of time to learn my way around the subway (one of the best transportation systems in the world), explore the wonders of Central Park, and visit important historical places such as the Tenement Museum and the African Burial Ground.
Watching an outdoor movie on the lawn in the shadow of the famous Brooklyn Bridge. Walking along the Coney Island boardwalk or past the New York County Courthouse that's depicted in countless movies and TV shows about the city, are just a few examples of how New Yorkers can engage with history in modern times.
New York is truly the city that never sleeps; it has something for everyone and is a place I love to visit over and over again.
You can view all 14.5 hours of "American Experience: New York" streaming on Amazon Prime Video.
Submitted by Danielle Flood:
So, "Friends" is one of those TV shows set in New York where, even though it was filmed on a soundstage somewhere in LA, they still made you feel like you knew New York. Ross teaches at New York University. Rachel mostly works for Ralph Lauren, but her first big fashion job was at Bloomingdales, an iconic department store that originated in New York City. Central Perk feels like any neighborhood coffee shop you'd find in Greenwich Village.
I also love the friends aspect of "Friends." Very different people with very different life experiences manage to become the best of friends and support each other through the ups and downs of life. Which can be equally hard and rewarding in NYC.
Staying connected with friends while living here is really difficult, but their tight-knit friendships are a reminder of how important it is to keep your friends close and get out and see the city we take for granted!
Submitted by Rebecca from Jade Photography and Film:
I visited New York City in 2016, and it was such a magical life-changing experience. With my love for film/TV, Friends is the perfect TV show set in New York for me!
You can stream "Friends" on DirectTV, Fubo, or Sling TV.
Read More
Submitted by Erin Confortini from Erin Abroad:
"The Carrie Diaries" is a coming-of-age TV show about a girl from Connecticut beginning her career in the city after high school! It is supposed to be a prequel to the famous "Sex and the City" series, following Carrie Bradshaw as a teen. This show is super inspirational to any "small-town girl" looking to make a move to a big city like NYC. The show follows her experiences trying to make it in the city while balancing a normal life a train ride away in Connecticut. It will make anyone dream of picking up and moving to NYC for a career of their own!
Watching "The Carrie Diaries" as a Senior in high school, I dreamed of picking up after graduation and moving there to start my career (and even submitted an application to NYU). While I can't say for sure if having a career in the big city is all that this show makes it out to be, it sure can make a girl dream about it!
"The Carrie Diaries" is only a few seasons long. It is an easy watch because of how short it is, and you will definitely be wanting more at the end!
Stream "The Carrie Diaries" on the CW Network.
Submitted by Chi Li from Petite Dressing:
I love NYC for its diversity and energy.
First, diversity. People from different countries and cultures gather here. New Yorkers are not known to be the nicest people in this country, but they are the most tolerant and accommodating in terms of other cultures. That is why people from all over the world mingle here and feel home in NYC.
I have also lived in other major metropolitan cities like London, but it feels different there. Even though people are also from all over the world in London, it feels like each culture is in their own subdivision, and you do not feel the same level of culture mixing like in NYC.
Second, the energy level we feel in NYC is no comparison to anywhere else. New Yorkers are super motivated and have the drive I haven't seen elsewhere. Everyone comes here with a big dream they want to make true. Whether it's aspiring actors and actresses, or young graduates from college, or a cab driver from Fiji, everyone comes to New York with a dream that they want to change their life and change the world. That is why every morning on my train to Manhattan, I feel the energy level that is only unique to NYC. New Yorkers walk fast, talk fast, and get things done fast. Because we always want to do more and do better, and we never want to stop.
In conclusion, As far as TV shows set in New York City go, "Sex and the City" embodies the city's diversity and energy to me.
Submitted by Lucile Hernandez Rodriguez from Lucile HR:
"Sex and the City" has to be the show that made me fall in love with NYC. Especially that famous stoop in Carrie Bradshaw's apartment. I love how she would sit on the steps; I even used to do that a lot when I finally moved to NYC. It didn't disappoint. It's how I expected it to be – New York City, a place where you can truly be yourself.
Furthermore, it's been decades since the show aired. But, fans continue to associate NYC's West Village townhouses with the lifestyle of the show's female leads. When I got to the townhouses, I just had to have my photo taken while sitting on the steps.
There's also a tour of some of the iconic locations featured in the show, including Carrie's apartment stoop. If you happen to be in the area and want your photo taken, do it mindfully though. Some of the people who own the buildings don't like a lot of tourists flocking their steps.
You can stream "Sex and the City" on Amazon Prime Video.
Read More
Submitted by Kanupriyaa Choudhary-Legha from Sunset Jeans:
"Gossip Girl" catalogs the lives of five teenagers attending one of the prestigious schools on the Upper East Side. The show focuses on the lives of the wealthy in New York City, filled with socialite brunches, drama, and of course, lots of gossip.
Each set in "Gossip Girl" has been chosen to suit the needs of the show. It authentically portrays the architecture and beauty of New York. From glimpsing the New York skyline from a rooftop tea party to the characters meeting on the steps of the Met every morning before school. The theme of New York and its fast-paced life is ever-present in the show. I particularly love how the sets change in every episode. We get to see everything from the pizza parlors in Brooklyn to speakeasy clubs on Broadway.
What made the allure of New York City more powerful was how luxurious and glamorous it was portrayed to be. Having visited New York multiple times, I know for a fact that the city is not all that glamorous. But, the excitement and electricity the show captures, that is abundant here. It is a melting pot of people from over 100 countries, and no other city, in my opinion, will ever compare to New York.
If you like mindless shows to binge on, which admittedly is one of my guilty pleasures, then "Gossip Girl" is one of those perfect TV shows set for inspiring travel to New York City.
Submitted by Summer from Traveling Summer:
As much as I hate to say it, I love "Gossip Girl." Sure, it's a soapy high school drama, but it's also a love letter to NYC. By watching TV shows set in New York, I've found so many of my favorite Big Apple locations. The Campbell Apartment, my top NYC speakeasy-style bar, was featured in one of the early episodes. A little googling later, and I was sipping a Prohibition Punch from the storied watering hole.
Many beautiful vantage points in Central Park are also used. Such as Bethesda Terrace – a must-see for the beautiful artwork in the tunnel. Many top tourist hits like Grand Central Station, Metropolitan Museum of Art steps, and the Empire State Building make an appearance. But, the show also highlighted local favorites such as Veselka, a (now defunct), a Polish restaurant known for its pierogies. Many other top restaurants get a mention, such as Butter and Gramercy Tavern. In fact, "Gossip Girl" can give you a complete guide for NYC food, drink, art, historic spots, and more.
Find all six seasons of "Gossip Girl" streaming on Netflix.
Submitted by Lyndsay Crescenti:
Nestled within the former RCA building, 30 Rockefeller Plaza, lurked the setting for "30 Rock." If you love SNL, another one of those classic TV shows set in New York City, "30 Rock," showcases the on-screen and off-stage antics of creating a fictitious variety sketch show. It makes sense that it's the brainchild of Tina Fey, best known as a former cast member of SNL and the creator of Mean Girls (both the movie and the Broadway musical!)
One of my favorite parts of "30 Rock" was Jack McBrayer's character, Kenneth. Kenneth is part of the NBC Page program, which is an internship at NBC for early career development. These year-long rotations allow Pages to get hands-on experience in many facets of the interworkings of the network. However, my favorite part? The Pages are the tour guides of the NBC facility! Back before I became a New York City tour guide, I wanted to become an NBC Page so that I could give tours of NBC Studios.
Now, when I'm leading a great tour of Rockefeller Plaza, I look up to see 30 Rock towering above me, or the Christmas tree, depending on the time of year. I am in awe of the history, the artistry, and the journalism happening within that building every day.
You can stream "30 Rock" on Amazon Prime Video or Hulu.
Are your favorite movies or TV shows set in New York City mentioned here? Let me know below! I'm always looking for more fantastic features to add to my list!
Lyndsay