This post may contain affiliate links! I will receive a commission, at no extra cost to you, if you purchase something recommended here.
There's something special about exploring New York City by yourself.
I cherish my alone time in New York City. When I have a few hours to myself after giving a tour, instead of going straight home to sit in my apartment, I use the Big Apple like it's my personal playground.
I wander into shops, I visit museums, or I get purposely lost and discover my new favorite hidden gem. 
New York City is known as a mecca of art, fashion, food,  theater, museums, shopping,  nightlife, and just about everything else.
But here's the real magic.
When you're exploring the city alone, you're free to explore it at your leisure. There's no rush to meet friends or family before dinner, and you can take as long as you'd like to shop, dine out, visit museums, or just walk around town.
With hundreds of restaurants serving delicious cuisine from every corner of the globe to parks and green spaces where you can relax and unwind, you truly won't run out of things to do in NYC alone.
Quite frankly, I think you'd be missing out if you don't experience the sights, sounds, smells, tastes, and experiences unique to this incredible city by yourself at least once in your life!
The Best Things to do in NYC Alone
If you're looking for what to do alone in NYC, this list will give you so many ideas to get you moving!
1. Spend as much time in one of New York City's incredible museums as you want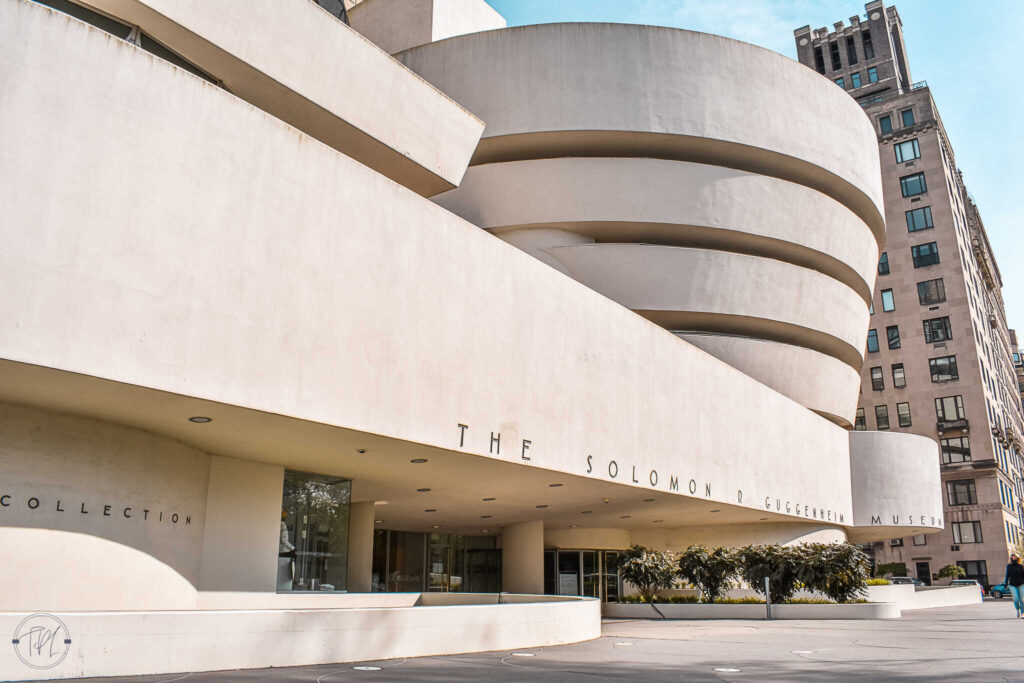 New York City has many museums filled with thousands of significant and iconic historical artifacts spanning thousands of years.
One of the best things to do alone in NYC is to choose one of the museums you've always wanted to visit and spend as long as you'd like exploring each room.
Stand and stare at famous artwork for hours, and read every plaque underneath every artifact. Some museums even offer free visiting hours!
2. Take a tour of the Statue of Liberty and Ellis Island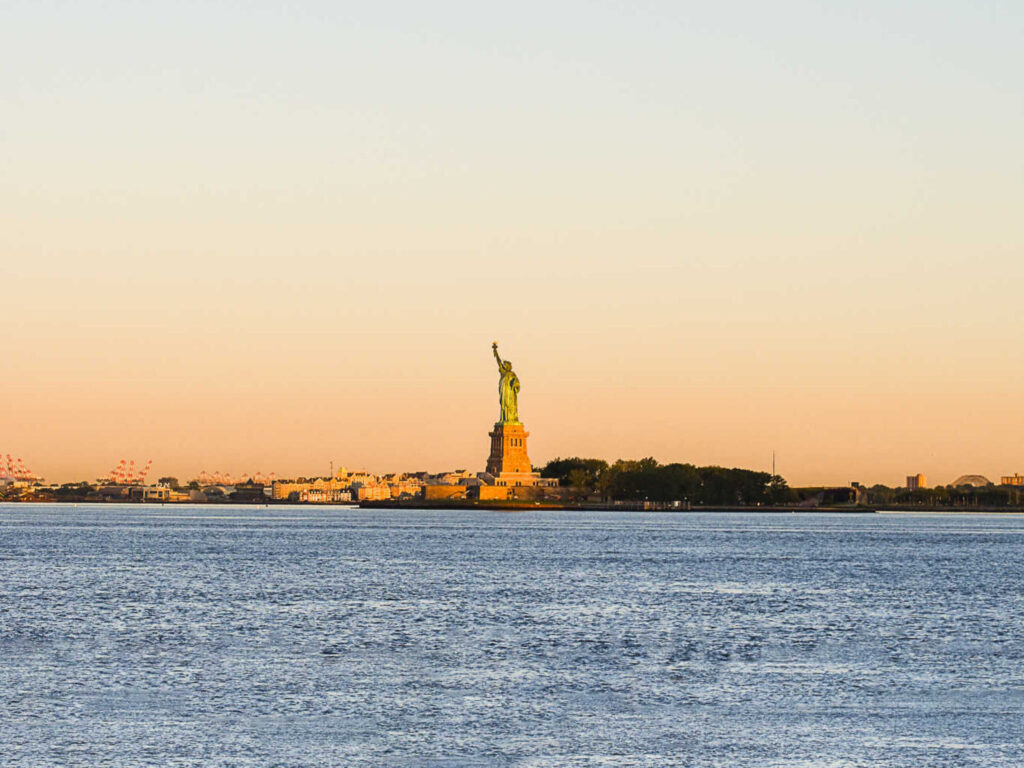 The Statue of Liberty is an iconic symbol of freedom in the New York harbor. Designed and cast in Paris by French artist Frederic Auguste Bartholdi, she stands tall as a beacon of hope for millions around the globe, both when the city was a center for immigration to the United States through today.
Fun Fact: The inside of the Statue of Liberty was designed by Gustave Eiffel, the same name who designed the Eiffel Tower in Paris, France.
Ellis Island opened in 1892 to process immigrants arriving at the Port of New York from around the world.
Since the processing center closed in 1954, Ellis Island has been transformed into a museum that more than 2 million people visit yearly to learn about immigration and American history.
If you decide to take an official ferry with CityExperiences Statue City Cruises (previously Statue Cruises) to visit these two landmarks, you can spend as much time as you want to explore each of these landmarks and their museums on your own.
Walk inside Lady Liberty's pedestal on Liberty Island, and spend time researching your family's history in the Ellis Island Museum on Ellis Island.
Or, if you'd rather spend your alone time in a group, you can take a guided tour of the Statue of Liberty and Ellis Island.
3. Take a guided walking tour of New York City
Just because you're trying to figure out what to do in New York City by yourself doesn't mean that you actually need to be alone.
Sign up for a guided walking tour of New York City and spend a few hours with a licensed guide to learn about a neighborhood in the city that has always fascinated you.
Maybe you're interested in the history of LGBTQ+ rights and the Stonewall Inn–take a Greenwich Village walking tour.
4. Walk the High Line
Spend your time exploring New York City alone with thousands of strangers walking the High Line.
It's a 1.45-mile-long elevated park that runs parallel to the former Eleventh Avenue Elevated railway line, which ran above the streets from 1933 until 1980.
The initial subway line was built to provide direct access to many warehouses and businesses along Manhattan's West Side route, starting in the Meatpacking District and extending through Chelsea to Hudson Yards.
After its closure in 1980, the elevated track was abandoned for decades until a successful campaign to repair the long-abandoned freight train line.
Diller Scofidio + Renfro teamed with James Corner Field Operations, an outstanding architect and urban planner, to create a public park to revive the underutilized area.
Corner and his colleagues designed a park that evolves throughout its length, with various gardens along the rails, several sitting areas, and observation points overlooking the city streets and the Hudson River.
If you're visiting NYC in the spring, that's the best time to visit the High Line–when all the flowers bloom.
5. Read a book in Bryant Park – or any park, really
If you're spending some time alone, deep dive into that now on your nightstand for way too long.
And if it's a nice day, grab a chair in Bryan Park or lay a blanket down in Central Park or Prospect Park or Governor's Island and have a little picnic while reading the day away.
6. Treat yourself to a great meal at a restaurant you've been dying to try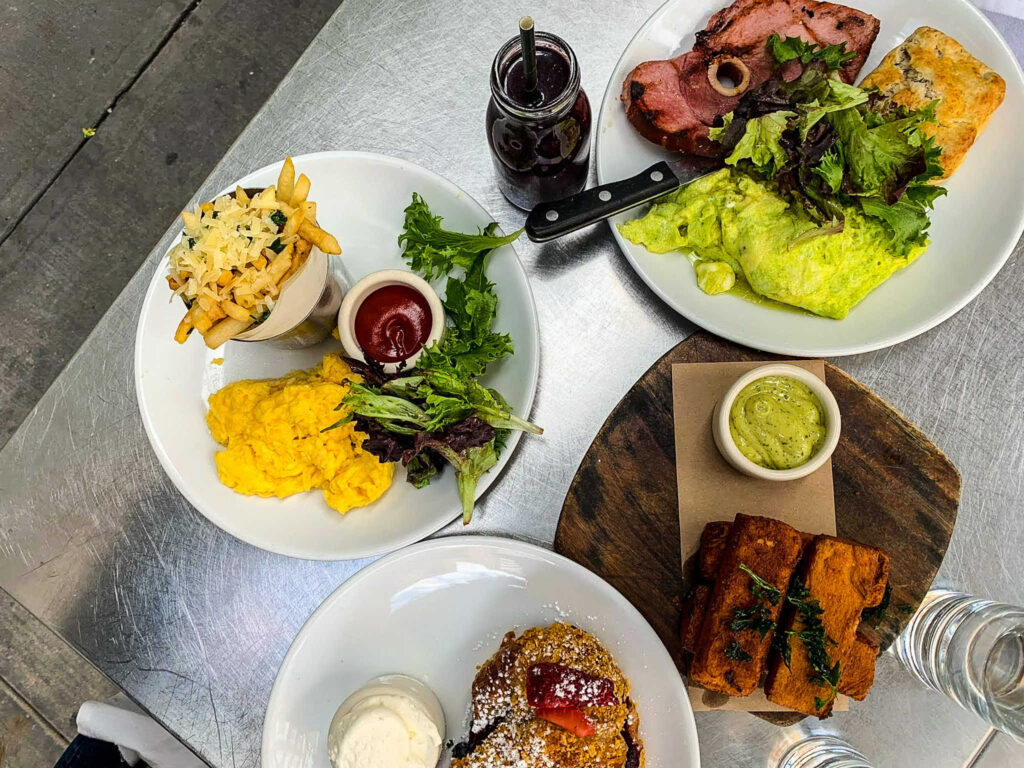 With so many phenomenal restaurants in New York City, pick the one you've always been interested in trying and indulge in a solo meal.
I don't know about you, but I really enjoy eating alone.
You can choose whatever restaurant you have been dying to try and indulge in whatever food you want because no one is judging you but you.
7. Go on a thrift-shopping spree
If you have the whole day to yourself in the air city, go thrift shopping.
With all members of social class represented within the five boroughs, you're sure to find some high-quality, eclectic pieces in thrift shops.
Some of my favorite stores are Crossroads Trading, AuH2O, and Buffalo Exchange.
But if you want a little guidance, you can jump on this vintage thrift shop tour.
8. Hit the beach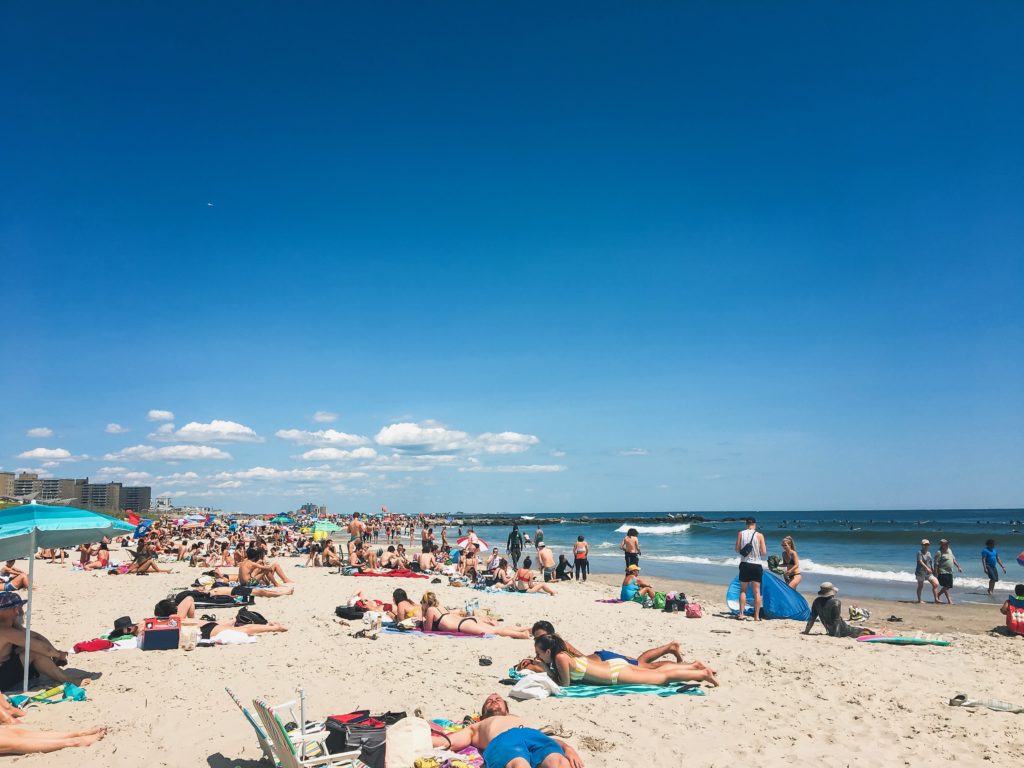 Did you know New York City has several beautiful beaches you can get to with only a swipe of your MetroCard?
Rockaway Beach is right off the A-Train in Queens, Brighton Beach is off the F train in Brooklyn, and Orchard Beach is up in the Bronx.
Pack a little beach bag and lay out in the sun for one of my favorite summer activities in New York City.
9. Watch a Broadway show
Watching a Broadway show alone is one of my all-time favorite things to do in NYC by yourself.
There's nothing like the feeling of sitting in the theater watching momentary magic in the collective experience.
Theater can be life-changing, but seeing a show on your own takes that experience to a whole new level.
Check out Playbill's weekly list of Broadway performance times. Or, go to the production's website to see the showtime calendar ahead of time if you already know what show you want to see.
Otherwise, stop by the TKTS Booth if you're indecisive! A selection of Broadway and Off-Broadway tickets are available for 30-50 percent cheaper than box office prices.
You can find them beneath the red stairwell in Times Square.
And if you want to take yourself on the ultimate solo date experience–dinner and a Broadway show–you can find my list of favorite Theater District restaurants here.
10. Enter the lottery for a Broadway show you've been dying to see
When you're thinking about activities alone in New York City, waking up early and rushing a Broadway show is a great way to use your alone time.
Rush tickets to Broadway and Off-Broadway performances can be obtained by visiting the box office in person and asking for a Rush ticket.
Typically, only a limited number of these tickets are offered, so depending on the popularity of the performance, queues tend to develop well before the box office opens for business.
If the last Rush ticket is sold, you're out; you'll have to buy the ticket at full value or see if a discounted ticket is available at the TKTS Booth.
Check out Playbill's website for the most up-to-date Rush policy for every Broadway and Off-Broadway performance, and read my advice on how to get Broadway tickets if you don't want to get up early to rush!
Are you making plans for next year's Broadway convention? Check out my guide to finding out what to anticipate at your first BroadwayCon!
11. Head to the movies
If your NYC budget doesn't allow for seeing a Broadway show, head to the movies by yourself instead.
Relax into one of New York City's plushy movie theater seats and treat yourself to a blockbuster film.
It's a great way to spend a few hours alone in NYC, especially on a cold winter day.
12. Try new foods at Chelsea Market and then head across the street to a special Starbucks
Have you ever wandered around inside Chelsea Market? It's always swamped inside.
As it should be since everyone wants to try the different phenomenal foods.
But when you're finding things to do in NYC alone, you can leisurely peruse the different shops and vendors until you discover something you really want to try.
Once you're done at Chelsea Market, head across the street to the Starbucks Reserve Roastery. One of only six in the world, it offers a very different experience than what you'd find at a typical Starbucks.
13. Walk the Brooklyn Bridge
The Brooklyn Bridge, which stretches from Lower Manhattan across the East River and into Brooklyn, was formally opened in 1883.
It was designed by John A. Roebling, but after he became ill, his wife Emily Warren Roebling actively directed the project's completion.
The walk is slightly more than a mile long, and you can walk or ride your bike over the bridge.
On either side, you can explore City Hall Park in Manhattan, and the 9/11 Memorial is only a half-mile away, or Brooklyn Bridge Park in Brooklyn.
14. Be a studio audience member at your favorite live taping
To fill their theaters, many of your favorite shows that film in front of a live studio audience in New York City have free ticket policies. Yes, that includes favorites like SNL, Jimmy Fallon's Tonight Show, and Seth Meyers' Late Night.
However, tickets are routinely issued and snapped up months in advance.
If you're able to plan that far ahead, you should be able to get tickets to your favorite show's taping. Check 1iota or TVTaping to see what shows have available tickets, and reserve your spot.
You can also attempt securing a stand-by ticket if you're prepared to get up and stand outside from early morning till late afternoon. And you might even have a better chance since you're going solo!
15. Wander inside the New York Public Library
The Stephen A. Schwarzman Building, the main branch of the New York Public Library located on the corner of 42nd Street and 5th Avenue, is a unique place to go when you're looking for free things to do in New York City.
Aside from marveling at the architecture of the building, the library offers free one-hour guided tours at 11 a.m. and 2 p.m. Monday through Saturday.
16. Play the day away at Chelsea Piers
Chelsea Piers is a huge sporting complex on Manhattan's Pier 62 that offers more than 25 leisure activities.
It's one of my favorite New York City experiences since they have everything from a fitness center to golf.
Drop-in activities such as rock climbing, open gym, open skating, the driving range, and other sports are available at their facilities.
Their website has all of the most up-to-date information and hours.
17. Relax on the grass at Four Freedoms State Park on Roosevelt Island
Have you ever visited Roosevelt Island?
You can either take a subway or the Roosevelt Island tramway from the east side of Manhattan to the center of Roosevelt Island. You'll catch beautiful views of the East River as you fly overhead.
You'll find Franklin D. Roosevelt Four Freedoms State Park on the island's southern tip.
Peek at the ruins of the 19th-century smallpox hospital or relax in the park with incredible views of both Gantry Plaza State Park in Queens and the United Nations building in Manhattan.
18. Take a day trip out of the city
I don't blame you, sometimes we've had enough of New York City, and you need to be around fresh air and more trees.
Jump on a metro north train; there are several day trips out of the city you can take.
If you enjoy hiking, check out Bear Mountain State Park. It's one of New York's largest parks, featuring over 100 miles of trails to explore for hikers, bikers, and horseback riders.
It's an excellent opportunity to get away from the city and see nature up close, with breathtaking views of the Hudson River.
You can also spend the day up in Poughkeepsie or over in one of the charming Connecticut towns near New York City.
19. Visit the animals in the Bronx Zoo
Formally opened on November 8, 1899, the Bronx Zoo is the place to go if you want to get up close and personal with your favorite animals. It is the largest urban zoo in the United States, with approximately 6,000 animals.
For an extra fee, you may participate in Wild Encounters (private experiences with animals such as rhinos, sloths, penguins, and cheetahs) and Treetop Adventure, an aerial ropes course.
Spend your alone time observing your favorite species as they interact with each other.
20. Step back in time at the Cloisters
The Cloisters, located in Fort Tryon Park in Upper Manhattan, is a fascinating museum that transports visitors to Medieval Europe.
The museum, a part of the Metropolitan Museum of Art, houses almost 5,000 works of European art dating from the Byzantine period through the early Renaissance.
The museum was created in the medieval European monastery style by architect Charles Collens.
Visitors can meander around the tranquil gardens and listen to the birds or pick up a guide and tour the museum grounds to discover everything it offers.
It's a really intriguing space to experience when you're looking for things to do in NYC alone.
21. Climb to the top of Outlook Hill on Governors Island
One of my favorite places to go in NYC alone is Governor's Island. When I have a day to myself to just wander, it has a rich history, vast parks, and a stunning view of New York Harbor.
The 172-acre island, known to the Lenape as Paggank, which translates to "Nut Island," is a popular destination for people looking for a day away from the busy boroughs.
Take a bike ride along the 2.2-mile Promenade, picnic at Picnic Point, browse the galleries in the Arts Center or stroll outside to see any of the island's transforming public art.
Climb to the top of Outlook Hill for the gorgeous view in the picture above. It's a popular destination for New Yorkers now that it's open all year.
Or, if you're interested in staying overnight for an ultimate solo getaway, you can book a glamping experience.
Spoiler alert–I had a fantastic time, and it's one of the most extraordinary experiences I've ever had in NYC!
Ferries leave from The Battery Maritime Building in Lower Manhattan daily and on weekends from Pier 6 in Brooklyn Bridge Park and Atlantic Basin in Red Hook.
Adult tickets are $3, but children under the age of 12 are free, as do seniors over the age of 65, military members, NYCHA residents, IDNYC holders, and Governor's Island members.
22. Become a wizard at the Harry Potter store
If you're a major Harry Potter fan, visiting the Harry Potter Store in New York City near the Flatiron Building will be an unforgettable experience.
Around the corner from Madison Square Park and the Flatiron Building, the shop provides the most comprehensive array of merchandise from the series in one location.
The shop has a Butterbeer Bar, an Ollivanders Wand Shop, and confectionery with favorites like Chocolate Frogs and Bertie Bott's Every Flavor Beans.
And, with virtual reality activities where you'll become part of the wizarding world, this should be a stop for any Harry Potter fan with a day on their own in NYC.
Pro Tip: Make a reservation to see the Harry Potter Store in advance. Their wait times might be lengthy, so get in line as soon as possible.
23. Treat yourself to the ultimate self-care day
What better way to spend "me" time than to have a massage?
From the moment you step inside the Aire Ancient Baths in TriBeCa, you'll be steeped in luxury.
Spend some time bathing in the warm baths before and after a relaxing massage within the redesigned 1883 textile mill made to look like an Ancient Roman bath.
24. Spend a few hours savoring a cup of coffee at your favorite shop
One of my favorite solo things to do in NYC on a sunny or rainy day here in the city is to bring my laptop to a coffee shop and watch the world go by outside.
Try spending a few hours catching up on work in a place that's not your home office, or sip on a coffee as you read a book.
25. Actually browse through the stacks at your favorite bookstore
Don't you always wish you had more time to read the inside flap of every hardcover you pass in your favorite local bookstore?
Well, on a day alone in New York City, you have the freedom to do just that.
Spend some time browsing the best sellers and latest releases to find your new favorite.
26. Wander around Little Island
Little Island is a fantastic new island that opened near the High Line. It's adjacent to Pier 54, which was built at the beginning of the twentieth century to dock Cunard and White Star Line cruise ships.
Fun Fact: Pier 54 is well-known for its involvement in two significant historical events. Survivors of the RMS Titanic returned to New York City in 1912 on the RMS Carpathia, which docked at Pier 54. The RMS Lusitania then set sail from this pier on her fatal journey in 1915, sinking off the coast of Ireland and leading to the United States' entry into World War I.
As you approach the park's grounds, you'll feel like you are entering a futuristic garden filled with different trees, shrubs, grasses, and flowers.
The park also has an outdoor amphitheater, a playground, walking trails, green areas, and panoramic views of the new park and the surrounding skyline.
27. Marvel at the view from an observation deck
If you've never seen the amazing view from the top of an observation deck in New York City, you're missing out!
I have a whole post dedicated to helping you choose which observation deck you should visit on your day alone in New York.
28. Take the Staten Island Ferry to the only outlet shopping mall in the city
The Staten Island Ferry runs from Battery Park in Manhattan to St. George on Staten Island. The 40-minute voyage is totally free and provides a fantastic view of the Statue of Liberty.
Once you reach Staten Island, take a short stroll through the ferry terminal to the Empire Outlets, New York City's only outdoor outlet shopping center.
You can definitely spend a few hours here in New York by yourself by checking out the stores and shopping!
Whether or not you're a cookie connoisseur, I'll bet there's a New York City cookie you've been longing to try. This might be the sweetest option on this list of things to do in NYC on your own.
Although my personal favorite is Chip City in the West Village or Astoria, I have friends who swear by Schmackary's and Levain cookies. Take yourself out for a sweet treat and enjoy.
30. Get lost inside Macy's
The flagship Macy's on 34th Street in Manhattan has more than seven shopping floors!
You can find everything from housewares and other home furnishings, restaurants, and of course floors and floors of clothes.
Most of the second floor is just for shoes! You can easily lose hours wandering around here on your own.
31. Binge-watch classic TV at the Paley Center for Media
Have you ever wished you could watch a particular episode of a long-forgotten TV show or movie set in New York City that you used to like as a kid?
The Paley Center for Media is a museum where you can get lost in repeats of your favorite TV shows, radio broadcasts, and even tapes from previous Olympic Games.
The Museum of Broadcasting, located immediately outside Rockefeller Center, was created in 1975.
The Paley Center for Media was renamed in 2007 to incorporate all types of media entertainment, such as television, radio, film, streaming, podcasting, and more.
You'll start by browsing The Archives, a database containing over 160,000 recorded broadcasts.
Then once you've decided on a show to watch, you can sit back and watch it alone (or in a small group of up to four people.)
Admission is free for the first 1.5 hours, although a recommended donation is appreciated.
Insider Tip: Visit the Paley Center for Media for one of their many scheduled screening events on one of their theater-sized screens. Their films are also free, but seating is on a first-come, first-served basis, so arrive early.
32. Visit the 9/11 Memorial
The 9/11 Memorial and Museum is one of the most powerful places you can visit in New York City.
Following the terrorist attacks on September 11, 2001, the area known as Ground Zero in the Financial District was transformed into the 9/11 Memorial & Museum.
The Reflecting Pools are positioned where the original Twin Towers originally stood.
Visitors can walk around and see names of those who died on 9/11 and in the World Trade Center bombing of 1993. Visit the 9/11 Memorial Museum, the Survivor Tree, and the Memorial Glade.
You can choose to walk the grounds on your own and then head into the museum or learn the in-depth history of the day's events by taking a guided walking tour.
33. Get your daily dose of laughter at a comedy show
As famous as Broadway is, NYC is also one of the most incredible destinations to watch up-and-coming comedy talents and well-known comedians.
And, with many of the world's most renowned comedians getting their start in New York, you never know who will turn up to try out new stuff in an impromptu performance.
34. Gather your thoughts in Central Park
Did you know Central Park was designed like the human mind? The idea is that thoughts are not linear; therefore, Central Park has no straight paths.
Although most people have only explored the southern sections, you should spend some time wandering around exploring the northern areas of Central Park.
You may even stumble upon the North Woods Loch Waterfall if you do!
35. Take in the skyline from the water
I always say that you need to see the New York City skyline from a river at least once!
Manhattan and Staten Island are islands, whereas Brooklyn and Queens are formally part of the Long Island landmass (but yes, there are huge differences between the boroughs and the island they reside on.)
If you're looking for a truly luxurious morning, take a skyline and champagne brunch cruise.
There's something decidedly decadent about having brunch on your own at an outdoor space, enjoying the warming sun rays.
You'll see priceless city skyline views while sipping on bubbly booze and treating yourself to the midmorning meal essential to an authentic bougie New York City experience.
I mean, really, what's better than brunch?!
36. Catch a New York City sports game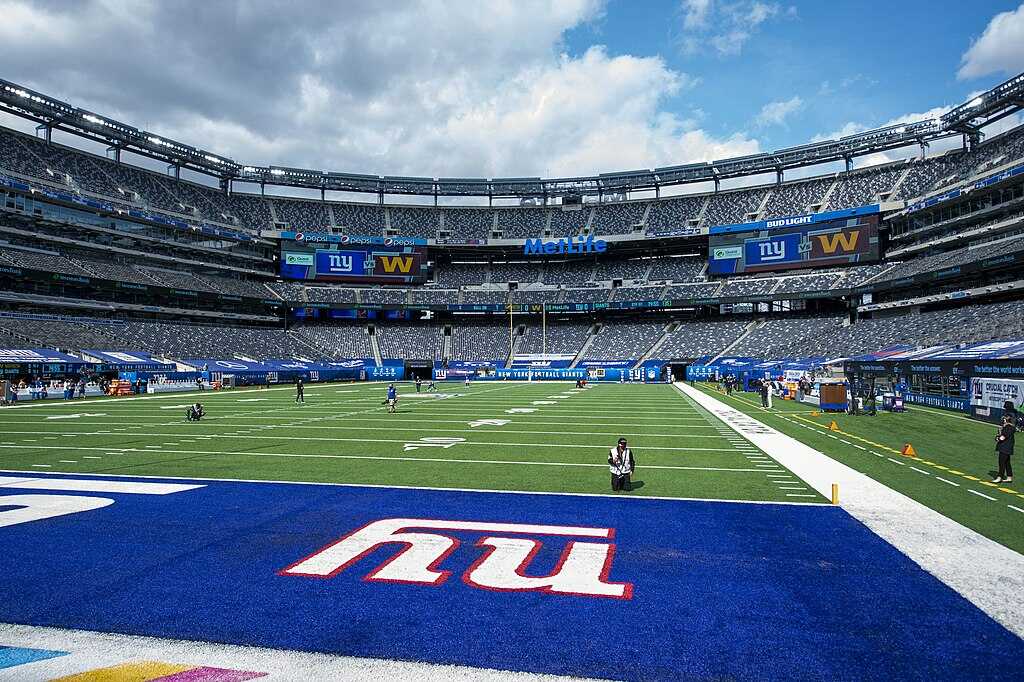 Want to root root root for the home team? If you don't go, it's a shame *wink*
New York City has several sports teams encompassing all seasons, so you can catch a home game if you're here alone.
For baseball, we have the New York Yankees and the Mets.
We have the NHL New York Rangers and the Long Islanders for hockey.
For basketball, we have the New York Knicks and Nets.
And for football, we have the NFL's New York Giants and Jets.
37. Attend a street fair or seasonal festival
Last but not least, on this list of things to do in NYC alone, check out one of the many street fairs and festivals happening almost every day around the city.
If you're here in the fall, I have a list of my favorite fall festivals throughout the autumn months all over New York City–as well as for the winter.
No matter the season, you can find a great outdoor market featuring local artisans and businesses selling unique handicrafts, artworks, and foods.
The Best Things to do Alone in NYC: FAQs
What are the benefits of spending time alone in New York City?
Whether you're moving to NYC alone or you have a few hours to spend by yourself while you're waiting, one of the best parts about doing things alone in New York City is that your time is entirely your own.
There are countless museums, galleries, parks, restaurants, cafes, bars, clubs, theaters, and other attractions that will keep you busy for days.
And, since you don't need to accommodate anyone else's needs or schedule, you get to choose what you want to do, when you want to do it.
Is New York City good for solo travel?
Yes, New York City is an excellent destination for solo travelers due to its size, diversity, and affordability.
It has everything you need to explore the city without worrying about being alone.
Plus, since you won't be relying on anyone else to enjoy these activities with you, you'll get to fully immerse yourself in them. 
Is it safe to go to NYC alone?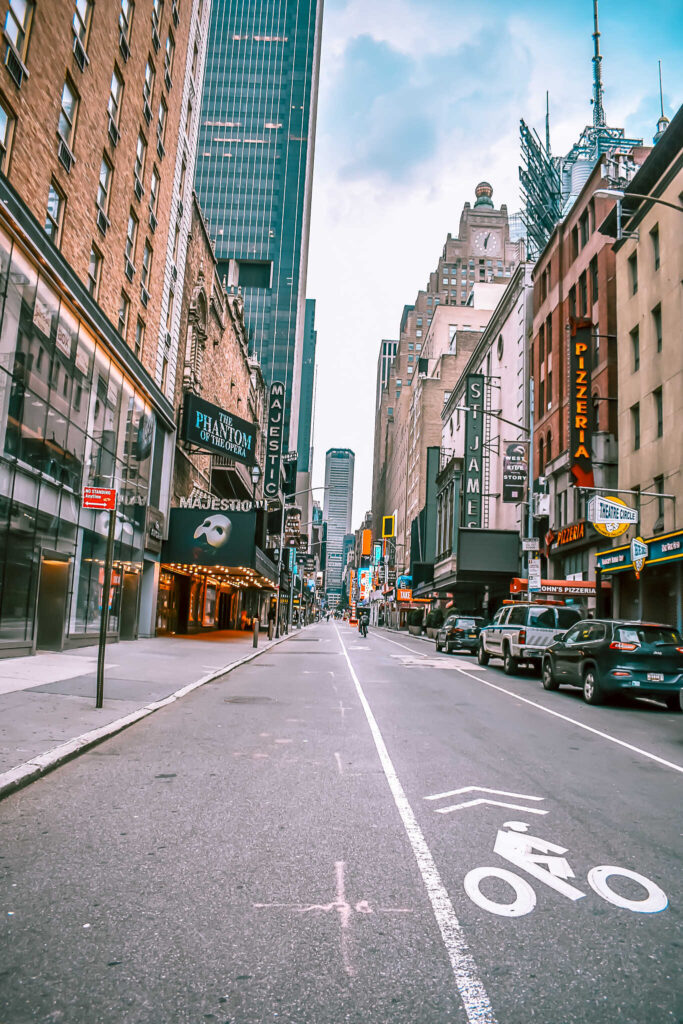 As with any major metropolitan area, there are risks to visiting a city alone. However, generally speaking, New York City is a safe city to visit by yourself.
In fact, I recommend it because it gives you an opportunity to meet new people and experience different cultures while learning more about yourself.
However, be aware of your surroundings at all times, especially when walking around unfamiliar neighborhoods.
NYC Solo Activities: Wrap-Up
Whether you're planning to visit New York City solo or you just want to make the most of your trip, I hope this helps you plan your next adventure.
What are your favorite things to do in NYC alone?
Lyndsay