This post may contain affiliate links! I will receive a commission, at no extra cost to you, if you purchase something recommended here.
Many people say they'd love to live in New York City, but few follow through.
Why?
Fear.
Worrying that they won't find people who share the same interests or that they'll be overwhelmed by the sights, sounds, and sheer volume of people.
Fear of the unknown can be paralyzing.
When I first moved to the Big Apple, I was so worried I'd have a hard time making friends in NYC.
It's hard putting yourself "out there."
But, New Yorkers are incredibly diverse. They range in age, race, religion, gender, sexual orientation, and political affiliation.
You'll find people who love the same books, movies, and music as you do.
Those who follow NYC sports teams like a religion and people who have a passion for travel, or politics, or philosophy.
You will find people you connect with.
Whether you just moved to New York City on your own or want to make new friends, if you're wondering how to make friends in NYC, I have a list of ideas and resources to help you.
How to Make New Friends in New York City
1. Join all the interesting Facebook groups
Take advantage of all the free resources when trying to make friends after moving to New York City alone!
There are Facebook groups for just about every niche and interest in New York City. There are also several Facebook groups for expats living in NYC who are interested in making friends.
You can do a general search on Facebook like "events NYC," "meet up NYC," or any of your specific interests + NYC to find these gems.
Or, if you're a Redditor, you can check out the subreddit r/nycmeetups for more meetup opportunities.
Reach out to your circle of friends. Do they know anyone living in NYC that you would get along with?
Then go forth, and meet up with this potential friend.
If your friend is already friends with this person, then it's like your brand new friend has already been vetted by friendship.
Some of the best experiences I had while making new friends in NYC was getting set up on "friendship dates" by mutual friends.
3. Check out NYC meet-up groups
Along with Facebook groups, there are other ways to meet up with New Yorkers.
Websites and apps like Eventbrite or MeetUp are awesome apps to make friends in NYC, since they're made for people to meet and enjoy a common interest while making new friends.
All different kinds of meetups and NYC social groups are promoted on these apps.
From film clubs, book clubs, and board game nights to attending cocktail parties or festivals and events around NYC together, you have a ton of different options based on your interests.
These apps and websites will be some of your best resources for finding engaging events to meet new people in New York City.
4. Enroll in a regular class
Do you remember how easy it was to make friends in school? The same can be true for adult school.
Whether you enroll in a weekly gym class, language immersion course, cooking class, or pottery class, find an activity that piques your interest and commit to going at least once a week.
You'll find yourself surrounded by other people interested in learning the same things.
5. Sign up for a class with the Brooklyn Brainery
Speaking of classes, the Brooklyn Brainery is a community-driven organization that hosts casual classes for adults all over NYC.
Throughout the month, they teach one-off lessons in many different fields. Everything from cooking, jewelry making, buying real estate in New York City, photography, and communication skills–nothing is off-limits.
With both in-person and virtual classes, and the price per class rarely exceeding $50, it's a great low-commitment opportunity to meet cool people and learn a new skill.
6. Get involved in NYC volunteer opportunities
Joining a volunteer association is another easy way to make friends in NYC.
It's a great way to meet new people, learn new skills, and give back to your community.
Nonprofit organizations like the Bowery Mission are always looking for volunteers to donate their time.
When I first moved to New York City, I volunteered for Broadway Care's Bucket Brigade as a way of meeting new people and connecting with the professional theater community.
7. Try Bumble BFF
Did you know you can use Bumble for more than just dating?
Aside from your dating profile, Bumble BFF is an opportunity for you to connect with other women for meaningful friendships.
I've used Bumble BFF when living abroad in Italy, and I've made connections with women from all over the world who are interested in making new friends.
8. Work at a coworking venue
Working alone can be lonely if you are a remote worker or self-employed.
If it makes sense for your workflow, spend a day or two a week working from a coworking space.
Many coworking facilities in NYC host happy hours after traditional workday hours are over, which is a great way to network with other professionals.
9. Join a recreational sports league
Recreational sports leagues are an excellent opportunity to start making new friends in New York City.
Whether you love playing a pickup game of basketball, or kicking the ball around on a soccer field, joining a recreational sports league allows you to regularly play your favorite sport and build camaraderie with your teammates and opposing teams.
You can check out Zog Sports or Volo Sports to find different rec leagues going on right now that you can join.
10. Pick up some shifts with a staffing company
In NYC, there's no shortage of cool events that need to be worked and staffed.
If you have experience in the food industry, join a catering company's roster and take on a few shifts each month.
Or, if you prefer talking with people, reach out to join a brand ambassador staffing company instead.
It's an opportunity to make a little additional income while meeting new people.
11. Be an extra for NYC T.V. shows and films
When you watch your favorite T.V. show or movie, do you notice all of the extra people standing around in the back of the scene?
Those people are called "extras" or "background actors" to help establish and fill the scene.
There are a few reputable background casting companies you can sign up with, like Central Casting New York and Grant Wilfley Casting, or you can find opportunities on your own through Backstage.
Once you fill out your profile and apply, they will contact you if they think you'll be a good fit for the filming requirements.
Since there's a lot of downtime on set, you'll have an opportunity to connect with the other extras you're filling with that day while getting paid to be on camera.
12. Take part in The Secret Science Club
Are you a fan of science, space, and the unknown?
Then you'll love The Secret Science Club.
Located at the Bell House in Brooklyn, this club provides an amazing monthly lecture series on some of the most mind-blowing scientific topics.
The lectures are free and open to anyone with an interest in science.
Afterward, you can stick around to chat with the 300+ other attendees and ask questions about the night's discussion.
You can find more information on their website.
Read More
Tips for Making Friends in NYC
If you're interested in learning more about the psychology behind creating new friendships, check out the book Platonic: How the Science of Attachment Can Help You Make—and Keep—Friends by psychologist and friendship expert Marisa Franco.
👉 Don't be afraid of rejection
The legendary New York Yankee Babe Ruth said, "never let the fear of striking out keep you from coming up to bat."
I know putting ourselves "out there" in social situations is scary. We're making ourselves vulnerable to others' thoughts and judgments. But this is one of those cases where you need to try to succeed.
👉 Do activities together with new acquaintances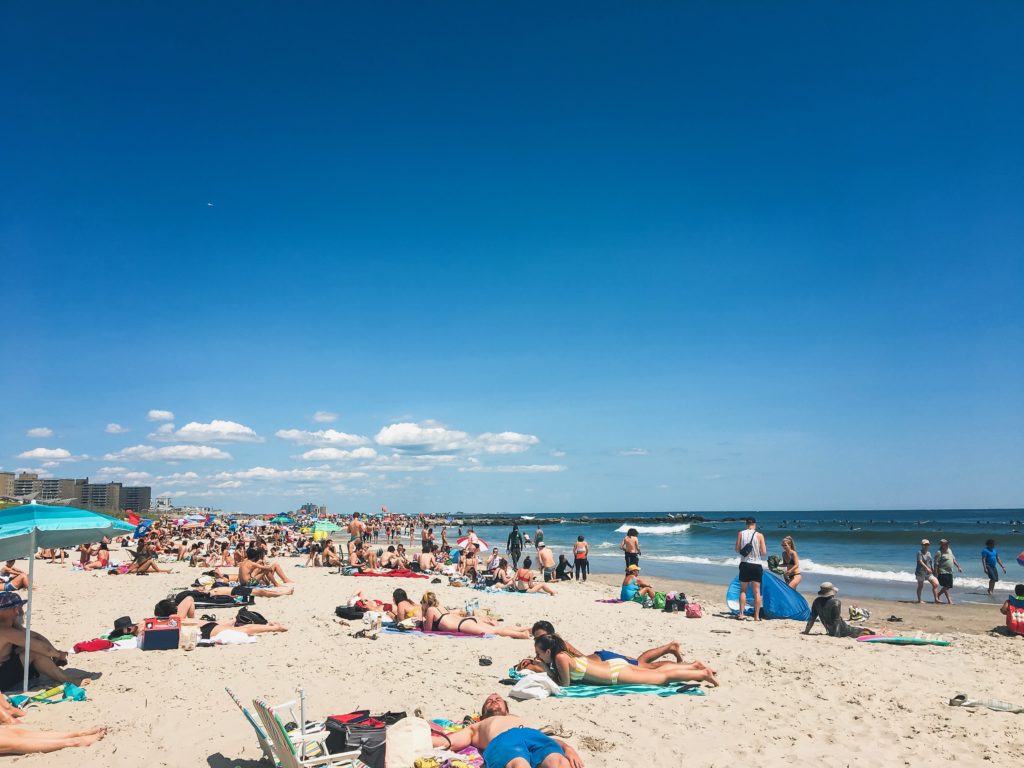 According to friendship expert and psychologist Marisa Franco:
"…Capitalize on something called the mere exposure effect – our unconscious tendency to like people simply because they're familiar to us…And so then you generate what's called exclusivity, which is memories and experiences with this person that you don't have with other people, which is the foundations of friendships really forming." – Life Kit, Episode 526 – "How to show your friends you love them, according to a friendship expert"
That's why taking a class or joining a weekly meetup group is beneficial in your quest to make new friends.
When you see someone repeatedly over a period of time, it's helpful to forge new connections.
Invite them out for coffee or lunch or even an afternoon exploring Central Park–it's the perfect opportunity to get to know someone better and build meaningful friendships.
👉 Use apps for making friends
Take advantage of apps like Bumble BFF, Meet Up, Eventbrite, and others. In this case, apps are our friends.
Its purpose is to create environments where you can connect with new, like-minded people.
👉 Keep in touch around a mutual interest
Once you've made a connection, it's up to you to keep in touch.
Life gets busy, people second-guess themselves, and somehow months pass by and you haven't spoken to them again.
If you want to maintain a new acquaintanceship and nurture it into a new friendship, it's up to you to reach out and keep that connection alive.
👉 Be Authentic
This is not a mid-2000s high school dramedy where the main character lies about who they are to fit in, but it all works out in the end.
This is real life, and authenticity fosters genuine connection.
You don't want to waste your time making friends with people that you don't actually connect to.
It's OK to meet people and realize that you don't get along.
Better to be authentically you and find people you can genuinely connect with than acquire lots of fake friendships built on half-truths.
👉 Play the YES game
Do you know that Jim Carrey movie where he has to say yes to everything, and hilarity ensues?
Play that game in real life!
Obviously, don't put yourself in any position where you don't feel comfortable, but explore the outer reaches of your comfort zone by saying yes to unexpected opportunities that come your way.
👉 Persistence and initiative are key
It's not that someone doesn't like you or didn't like you when they met you, but most people are concerned with themselves.
If you meet a potential new friend, don't be afraid to be the first person to reach out.
In the friendship dating game, playing games are not your friend.
Reach out to the incredible new people you meet, and don't be discouraged if they can't meet up for coffee this week; try again next week.
👉 Become your own best friend
The process of making friends in NYC IS difficult.
However, this is an opportunity for you to re-discover yourself. Self-care is essential throughout this process.
What an incredible opportunity you have!
You're meeting new people; you're having new experiences. Every day is an adventure.
This is not only an opportunity to make new friends but also to turn yourself into your own best friend.
Read More
How to Make Friends in NYC: Wrap-Up
If you live in New York City, you have access to a lot of amazing ways to meet new people from all walks of life.
To expand your social circle, you need to get out and start having conversations with people–but you have so many resources to help you out!
There are so many different ways to make new friends in New York City, from joining clubs to volunteering to checking out meetup events.
And who knows, you might just make a few new life-long friends along the way.
Lyndsay