This post may contain affiliate links! I will receive a commission, at no extra cost to you, if you purchase something recommended here.
Even though I've moved to Italy, I'm still a New York City tour guide at heart (and by license!) The other day I was chatting with a girl from Milan, and she asked me how to understand NYC streets.
Now, I'm sure you're familiar with our grid system.
5th Avenue splits Manhattan in half, and the numbered streets change East or West according to which side of 5th Ave they're on.
Until you move into upper Manhattan, when some avenues start to change names, or lower Manhattan, when all of the streets have names, you will find this well-marked grid.
The Commissioner's Plan of 1811 laid out Manhattan island in the incredible and infamous grid system that we know, or don't know, but still love today.
It's truly a mark of genius. They decided to leave what was already here and add new. But of course, they were hacking through farmland and property borders to do it.
However, because of the success of these gentlemen more than two hundred years ago, today, we have an incredible system for getting around Manhattan.
What was New York City like before the grid system?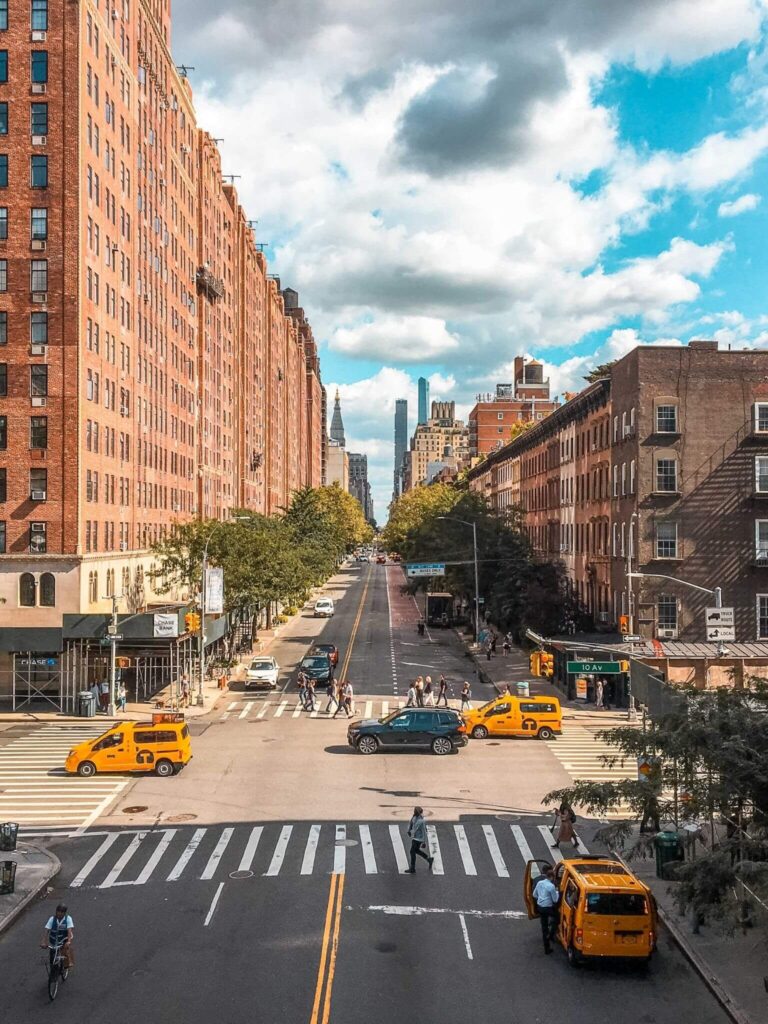 The oldest parts of Manhattan were first established by Dutch colonists in 1624. That's right, the Dutch were the first people to settle on Manhattan–the British overtook the colony 40 years later.
Fun Fact: Wall Street, also the moniker for one of the most famous financial districts in New York City, is an actual street where the Dutch built an actual wall to keep out British and Native American invasions. Ironically, the British came to conquer the colony by sea, so the wall–which was probably more like a fence–wasn't very helpful.
After the British took control and the city continued to grow, the streets of New York City were haphazardly created based on land ownership boundaries and sub-communities within larger neighborhoods.
In 1794, city officials asked two surveyors to survey the city's streets. They went beyond the scope of the project, recognizing that Manhattan would only continue to grow.
This prompted the city to create a commission to determine the best way to plan out the rest of the island for inhabitation.
The Commissioner's Plan of 1811
After 17 years, the Commissioner's Plan of 1811 was established as the best course of action for the New York City street layout you know and love today.
Fun Fact: There are so many interesting stories about how the commissioners came up with the plan. Hacking their way through vegetation to plot out the as yet untouched areas on the island and marking out the land with hundreds of marble columns. Take a listen to The Bowery Boys podcast episode #122 if you want to learn more.
They ended up creating a grid system that worked well enough to accommodate the city's growth over time.
Since then, the New York grid system has been updated several times and now includes a few exceptions.
But, as long as you know the basic rules, you'll be fine navigating the city.
Read More
The Streets of Manhattan
"I'm at the corner of first and first. Wait a minute. How can the same street intersect with itself? I must be at the nexus of the universe!" – Seinfeld, season 9 episode 19
Cosmo Kramer said it best. The system starts at the cross street of 1 Ave and East 1st Street.
And although it has some variation, for the most part, the system continues all the way up to 155th Street and beyond.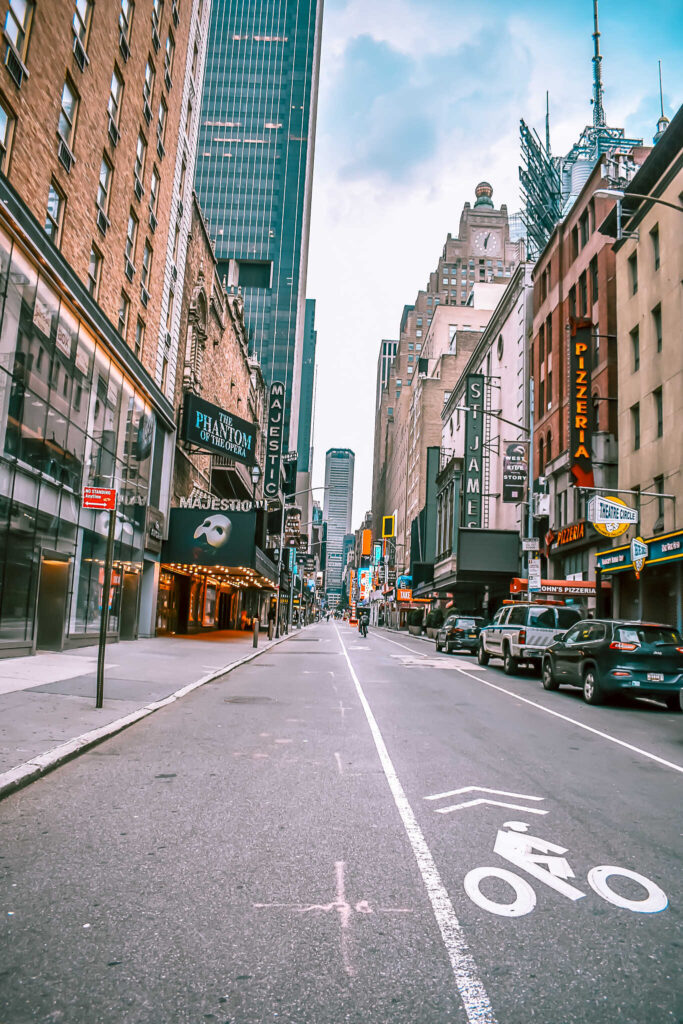 Driving Direction for Streets
Most streets in Manhattan are only one way for drivers. Even-numbered streets drive west to east, and odd-numbered streets drive east to west.
What does "uptown" mean?
Uptown is any part of Manhattan north of 14th Street.
It's the first street that passes completely uninterrupted from east to west.
What does "downtown" mean?
Downtown means any part of Manhattan south of 14th Street.
You'll notice on the map that streets south of 14th Street have other named streets that intersect it or don't follow the exact grid outline.
Many of them were pre-existing streets that the Commissioner's Plan decided to include within their plan of Manhattan. Or even accounted-for property lines belonging to wealthy New Yorkers of old.
The Avenues of Manhattan
Fifth Avenue is the dividing line of Manhattan. Streets east will be marked with an E, and streets addressed west of the line will be marked with a W.
If your address is 19 W 21st St, you'll need to head to the west of Fifth Avenue on 21st until you come across #19.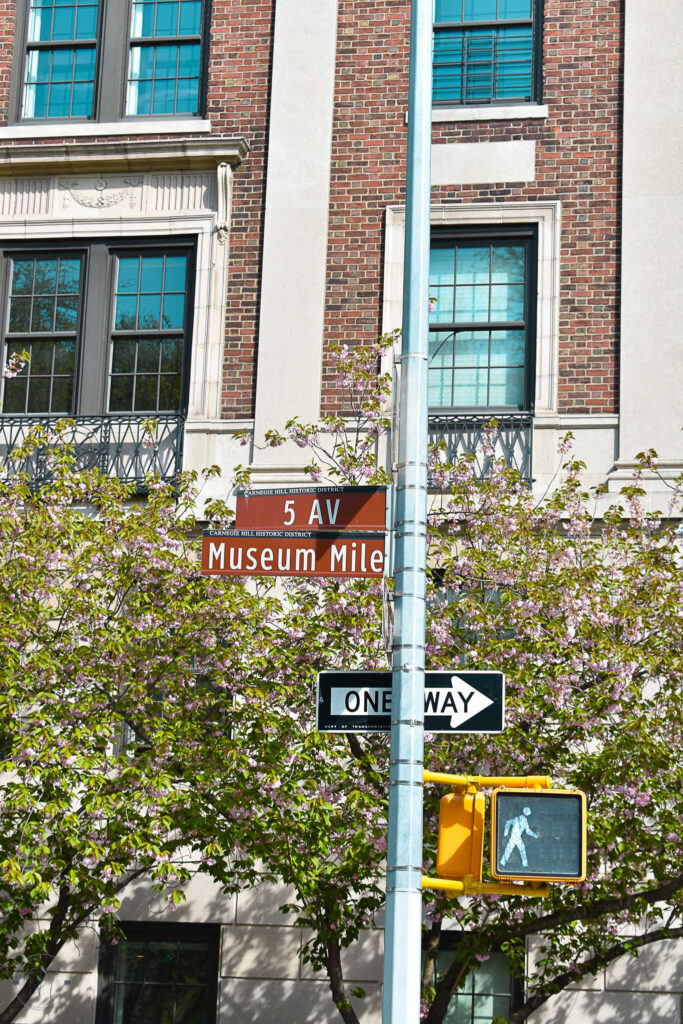 Fifth Avenue
Fifth Avenue, the original home of the Manhattan elite, now a major shopping district, cuts the island in half.
If you're standing at the base of 5th Avenue, under the Triumph Arch in Washington Square Park looking north, any of the streets on your left going up will be preceded by a West, and anything to your right will have an East in front of the title.
This system was the true genius that developed out of the Commissioner's Plan because it outlined the island in a way that made logical sense for people to travel.
Driving Directions for Avenues
Like streets, most avenues are also one-way roads for drivers. Even-numbered avenues and Lexington Ave drives south to north, and odd-numbered avenues and Madison Avenue drives north to south on Manhattan. Park Avenue is the only one where you can drive in either direction.
Manhattan Avenues East of Fifth
Although all of the streets and avenues are broken up into exact measurements, it was believed there was too much of a gap between avenues on the East side of Manhattan.
Due to this, there are more avenues on the East side of Manhattan than the West. (Why they didn't feel the same about the West side is beyond me!)
Instead, York Avenue follows the East River coastline (with a small area that includes an East End Avenue up in the East 80s streets.) Then there's 1st Ave, 2nd Ave, 3rd Ave, Lexington, Park, Madison, and finally 5th Ave.
Yes, a little confusing because we're missing 4th Avenue. No, you didn't get lost; it's not there.
Or, more precisely, it was renamed Park Avenue South. There is a 4th Avenue, but it only lasts for six blocks and doesn't follow the pattern.
Manhattan Avenues West of Fifth
West of 5th Avenue on Manhattan is a bit more straightforward. Kind of.
Starting at the Hudson River, we have 12th Avenue, 11th Avenue, 10th Avenue, 9th Avenue, 8th Avenue, 7th Avenue, and 6th Avenue before we arrive at 5th Avenue.
Exceptions to the Rules
For the most part, the system outlined here is how the New York City street layout works. However, there are exceptions to every rule. Always keep a map handy and check your route in advance.
Broadway
The avenue Broadway is an example of this. You might know the title as an alternate name for New York City's Theatre District, but Broadway is also a boulevard.
It started as the Native American Wickquasgeck Trail and was expanded several times over the years into the major road it is now.
Since it was established before the Commissioner's Plan, it operates on a diagonal crossing from east to west on Manhattan.
However, they made this a feature. Every place where Broadway crosses an avenue, you'll find a square.
Union Square – Broadway, Park Avenue & East 14th Street
Madison Square – Broadway, Fifth Avenue & East 23rd Street
Herald Square – Broadway, Sixth Avenue & West 34th Street
Times Square – Broadway, Seventh Avenue & West 42nd Street
Columbus Circle – Broadway, Eight Avenue & West 59th Street
Lincoln Center – Broadway, Ninth Avenue/Columbus Avenue & West 65th Street
Verdi Square – Broadway, Amsterdam Avenue & West 72nd Street
Two-Way Streets
Although most streets are one-way, there are several major streets that have car traffic moving in both directions.
You'll find this on 14th Street, 23rd Street, 34th Street, 42nd Street, and 59th Street.
Avenues North of Central Park
Both sides stick to the pattern, and the East side even continues calling them the same names, but the West side changes and keeps the new name all the way to the northern tip of the island.
Sixth Avenue becomes Malcolm X Boulevard
Seventh Avenue becomes Adam Clayton Powell Jr Boulevard
Eighth Avenue becomes Central Park West
Ninth Avenue becomes Columbus Avenue
Tenth Avenue becomes Amsterdam Avenue
Eleventh Avenue becomes West End Avenue
Twelfth Avenue becomes Riverside Boulevard
Insider Tip: If you want to sound like a real New Yorker, call 5th Avenue along Central Park Central Park East, 59th Street along the park Central Park South, and 8th Avenue along the park Central Park West.
Streets Above Central Park
Although the Commissioner's Plan originally plotted out Manhattan up until 155th Street, Manhattan runs up to 220th Street.
However, once you move north of Central Park, the city streets shift again and are not nearly as orderly.
Just like in the neighborhoods below the grid, your best bet is to use a map to help you navigate New York City streets.
Read More
How do you get from one end of Manhattan to the other?
The best way to get around Manhattan is by the NYC subway. The New York City public transportation system is one of the only transit systems in the United States that operates 24 hours a day, 365 days a year.
Whether you've never used it before or need a refresher, I have a complete guide on how to use the New York City subway.
However, if you only need to move short distances, your best bet is to walk or bike.
New York City has something called CitiBike, a program where you can rent a bike for only as long as you need it, pick it up, and drop it off at designated places.
You can download the CitiBike app or look in your Lyft app for locations and secure your bike.
Insider Tip: If you're not confident enough in your biking skills, take a class with Bike.nyc. This organization offers free bike riding classes for adults, where all you need to do is show up, and they'll provide the rest! You can check out their class schedule on their website.
Walking is my preferred choice, though! I've walked from the top of Central Park down to Greenwich Village before and any distance in between.
Being part of the city and watching as the architecture and neighborhoods change as you go is one of the best experiences.
How do I find my building?
The NYC street numbering system is based on the distance from the center of the island–5th Avenue.
Generally, the building numbers can be followed with a simple trick. At 5th Avenue, the building numbers reset.
This means that yes, you can find both 1 West 51st Street and 1 East 51st Street across the street from each other.
Odd-numbered buildings will be on the north side of the street, and even-numbered buildings will be on the south side of the street.
It takes people a long time to understand how to navigate NYC streets, so if you haven't managed to do it after your first trip here, don't worry.
Tips to Help You Learn the New York Grid System
There are hundreds of streets in the city, and navigating them all can seem overwhelming. However, several tips can help you learn the streets of New York.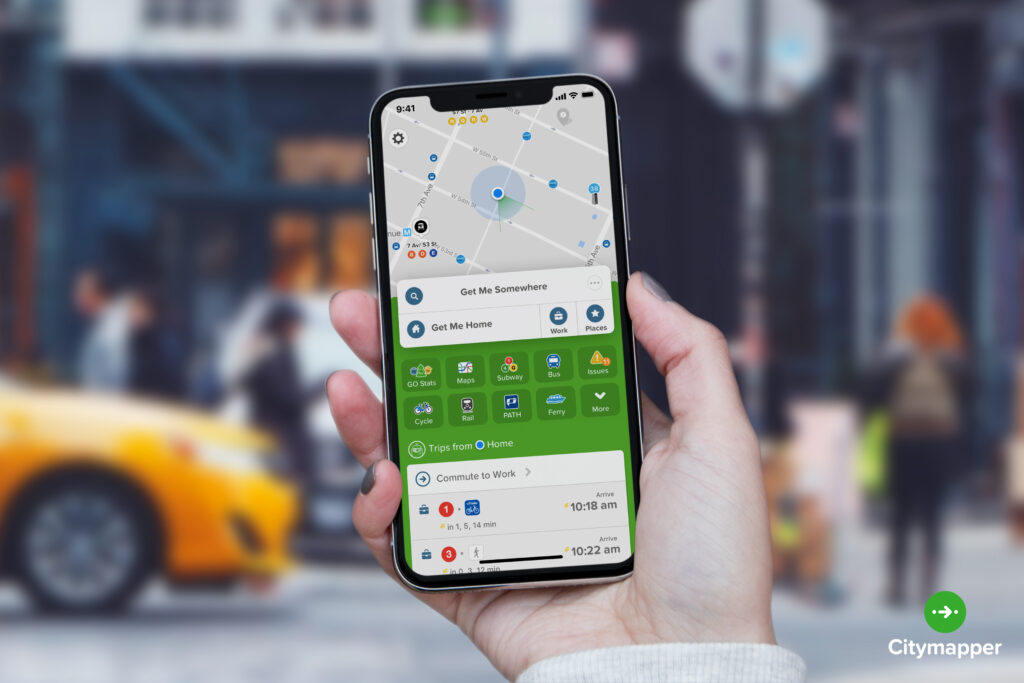 Use map apps
Maps are essential tools to use when learning the streets of New York. My two favorite apps are Citymapper and Google Maps.
Citymapper is free in the App Store, and it doesn't have any hidden fees once you download the app to use it.
Simply input your current location and where you want to go, and Citymapper will list out all the different ways to get there and the times it will take to get there.
Not only will it list out all of the various walking and subway routes you can choose to get to a location, but it'll give you bus and bike routes, driving directions, and tram or ferry routes if available.
It also has an offline subway map for you to refer to if you're stuck underground or in a subway station without service.
And of course, Google Maps is another universal app to help you figure out which subway lines to take in New York City. You can download a map for offline use in Google Maps, too.
Ask for Help
Sometimes, you may feel overwhelmed by the amount of information that you need to memorize or remember about the streets of New York.
When in doubt, ask for help. New Yorkers get a bad reputation for being rude, but they're usually in a hurry and stick to themselves.
That's not to say they won't help you if you ask!
If you want to meet a New Yorker who will be more than happy to answer your questions, take a walking tour with a licensed tour guide.
I always loved when guests would ask me more specific questions for advice and recommendations while walking from tour stop to stop, and it's literally our job to teach people about the city we love.
Get Lost
When you're trying to learn the streets of New York, getting lost is inevitable. It's essential to embrace this part of the experience.
Getting lost helps you understand the city's street grid better, and it allows you to experience some incredible areas of the city you might have missed otherwise.
I actually stand by this idea so much that you're currently reading this on a website called The Purposely Lost *wink.*
Guide to the NYC Grid System: FAQs
How many avenues in NYC?
Manhattan, the heart of the city's business and cultural districts, has the most significant number of avenues, with 12 major north-south avenues running the length of the island.
However, depending on where you are on the island, these avenues might consolidate or go by a different name.
The other four boroughs, Brooklyn, Queens, the Bronx, and Staten Island, also have their share of avenues, although the number and naming conventions differ somewhat from Manhattan.
How many streets in Manhattan?
Manhattan alone has 220 streets, running east to west, creating the Manhattan street grid.
The other four boroughs, Brooklyn, Queens, the Bronx, and Staten Island, also have a vast network of streets, each with their unique character and charm.
What street divides east and west in NYC?
On Manhattan, 5th Avenue divides the east side from the west side in NYC.
How long is New York City?
The question "how long is New York City?" is a bit difficult to answer as it is not referring to a specific measurement.
New York City is a large metropolitan area comprised of five boroughs: Brooklyn, Queens, Manhattan, the Bronx, and Staten Island.
The total land area of New York City is approximately 305 square miles (790 square kilometers), with a population of over 8.468 million people as of 2021. 
However, the length of Manhattan is over 13 miles.
How long is a NYC block?
New York City's street grid system features numbered streets that are 60 feet wide, with about 200 feet between each pair of streets, creating 2,000 long, narrow blocks.
Each combined street and block is approximately 260 feet, with 20 blocks per mile.
Although fifteen crosstown streets are 100 feet wide, the overall width of crosstown blocks is irregular, with some as wide as 920 feet and others as narrow as 610 feet.
The avenues Lexington and Madison were incorporated later, after the initial plan.
Understanding NYC Streets: The New York Grid System Explained Wrap-Up
It takes time to learn how to understand NYC streets, but patience will pay off. Once you master the streets of New York, you'll never want to leave!
Lyndsay
Read More