This post may contain affiliate links! I will receive a commission, at no extra cost to you, if you purchase something recommended here.
"If I can make it there, I'll make it anywhere. It's up to you, New York, New York!" – Frank Sinatra
Although there's no shortage of things to do or sights to see in this American melting pot, living in New York City isn't always as glamorous as it sounds.
Why do people love NYC?
Yes, New York is expensive. Yes, it can be challenging to find affordable housing. Yes, some elements of city life are difficult.
But those challenges pale in comparison to the benefits.
In New York, you can meet new people every day. You can discover new places to eat, drink and shop. You can explore your creativity.
Writing your novel, designing your website, building a business—it all feels attainable here.
Before moving here, you should weigh out all your options and know precisely what life is like in NYC.
In this article, we'll discuss the pros and cons of living in NYC so that you can make an informed decision about whether New York City is the right place for you to call home.
Advantages of Living in New York City
Every day, you walk the city's historic streets
One significant pro of living in New York City is living in an open-air museum.
Places like the 911 Memorial in the Financial District, the Stonewall Inn in Greenwich Village, and Central Park.
These aren't just names of places. When you're in New York City, they're real.
You can walk on the same historic streets you read about in history books.
From famous landmarks to crucial historical moments featuring famous people, any New York City street you walk down is unique, historical, and exceptional in some way.
You'll never run out of things to do in NYC
When you think about the pros and cons of living in New York City, the ability to always have things to do is definitely on top.
There are so many pop-ups, events, and landmarks to explore that you will never have time to do them all.
Even long-term residents of New York City still have yet to see every museum or go inside every landmark.
Experience the city's incredible food scene at any time of day
Did you know you can eat at a different restaurant in New York City for more than 20 years and never repeat one?
Or that the city has more than 69 Michelin-Starred restaurants?
It's true; New York City is the city that never sleeps. And that includes its restaurants.
While most restaurants close at regular hours of the evening, there are restaurants, quick bites, and bodegas open 24 hours a day–many offering food delivery–so you can find food.
With so many nationalities represented throughout the five boroughs, you can eat around the world without leaving New York City.
And we still need to talk about the pizza!
Although I'm partial to nearby New Haven-style apizza, the first American pizzeria opened right here in New York City. New York-style pizza is excellent and a must-try on your first trip to NYC.
New York City has excellent public parks
Since most New Yorkers don't have a private backyard or balcony, public parks are essential.
New York City has many public parks all over the five boroughs for various park activities.
Central Park is obviously the most famous park, and for a good reason. Lounge on the great lawn, have a picnic in Sheep's Meadow, or wander along its winding paths.
And then, of course, you'll find other parks like Prospect Park in Brooklyn, Van Cortlandt Park in The Bronx, Gantry Park State Park, Franklin D. Roosevelt Four Freedoms State Park on Roosevelt Island.
Broadway theatre is some of the best in the world
One notable pro of living in New York is its abundance of Broadway theatre district.
This is different from your local community theater production. Broadway theater is a world-renowned art form.
Some of the best, most talented professional actors and musical performers grace the stage live, eight shows a week. 
It's easy to get lost in all the stunning performances, be inspired by talented actors, and find yourself captivated by the lush sets and orchestras.
Broadway theatre is truly some of the best in the world and offers audiences a spectacular, memorable NYC experience.
Although tickets for Broadway shows can be costly and sometimes hard to come by, if you're willing to hunt around, you can find discounted tickets or special promotions so they won't break your wallet.
Plus, living nearby means you don't have to worry about planning ahead or purchasing tickets weeks or months in advance – you can pop into some of the great theatres whenever you feel like it!
It's a breeze to get around on the subway; you don't need a car
You definitely don't need a car to live in New York City.
Instead of worrying about how far away from a fire hydrant you can park, for just $2.75, you can travel to the far reaches of the five boroughs.
You can use your MetroCard on any New York City subway or bus to bring you from the beach to Broadway.
Explore small city neighborhoods or walk out of the subway station in front of an iconic landmark, all for under three dollars.
It makes you feel like you are traveling the world. If you need help using the NYC subway system, check out my guide.
You can try out almost any career in New York City
New York City is a hub for many industries, including finance, media, and entertainment.
OK, there are a few jobs in NYC you can't have–wilderness hiking guide, for example.
But aside from those genres, New York City has many exciting and innovative jobs.
If you went to a bar and asked everyone what they did for work, you'd receive just as many answers.
Some may sound standard, like what you're used to, but the rest will intrigue you and make you think of the possibilities for work.
You're surrounded by world-famous art daily
One of the most significant benefits of living in New York City is that you can access hundreds of museums with some of the world's most famous art and artifacts.
The Metropolitan Museum of Art is just the beginning when you consider the kind of world-class art readily available to the public all around the city.
Whether you're visiting one of the renowned museums like MoMA or a smaller museum in the city, you can find unique and mind-boggling pieces from every era and culture.
Pro tip: Even better, many of New York City's major museums have free admission and pay what you wish for hours at least once a month. You can look at my list of museums that offer this program here.
There's always a free event going on
From street fairs and fall festivals to free kayaking, there's always something inexpensive to do in New York.
Aside from just wandering into something when you're walking down the street, you can find more information about free events on event bright, time out to New York, and Facebook calendar events.
I have a list of my favorite free activities in New York City that you can check out for more ideas.
The city has a thriving, vibrant nightlife
From an evening theatre performance in Midtown to an underground club in Brooklyn, New York City's nightlife is one of the most dynamic and exciting in the world.
The electric city has everything, whether you're looking for a romantic dinner or a wild night out.
There are countless bars, clubs, lounges, and restaurants to choose from, so you can find the perfect spot for any occasion.
Plus, with so many different neighborhoods to explore, you can find something new every night.
I have a guide on my favorite things to do in NYC at night if you're looking for ideas.
You can meet new people from all over the world
If you're hoping to expand your social circle by making friends in NYC, you will.
Expats from all over the world and transplants from every state in the USA call New York City their second home, and many of them are open to making new friends.
If you need help making new connections, I have a complete guide with tips on making friends in New York City.
Most things are convenient
Take Manhattan, for instance. 1.629 million people live on this less-than-23-square-mile island.
With pharmacies, grocery stores, laundromats, and banks on almost every corner of the city, everything you need to sustain life is no more than a 10-minute walk away.
You can easily access the resources and products you need almost anywhere in New York City.
Reach the rest of the world from the major airports
The world is at your fingertips with three major international airports within the public metro system.
There are several options to reach John F. Kennedy Airport. To take the subway, hop on a Brooklyn bound E, J, or train to the Sutphin Boulevard-Archer Avenue-JFK Airport stop or take the A train to Howard Beach-JFK Airport and transfer to the air train.
Or, you can take a Long Island Railroad train from either Penn Station or Grand Central Terminal to Jamaica station and transfer to the JFK air train.
Although there isn't a direct subway, you can take several NYC buses directly to LaGuardia Airport in Queens.
And to reach Newark Liberty International Airport, grab an Amtrak or New Jersey Transit train to the Newark Airport Railroad Station and then use the AirTrain.
From there, you can find direct flights to many national and international destinations.
One of the most iconic places in the world to spend the winter holidays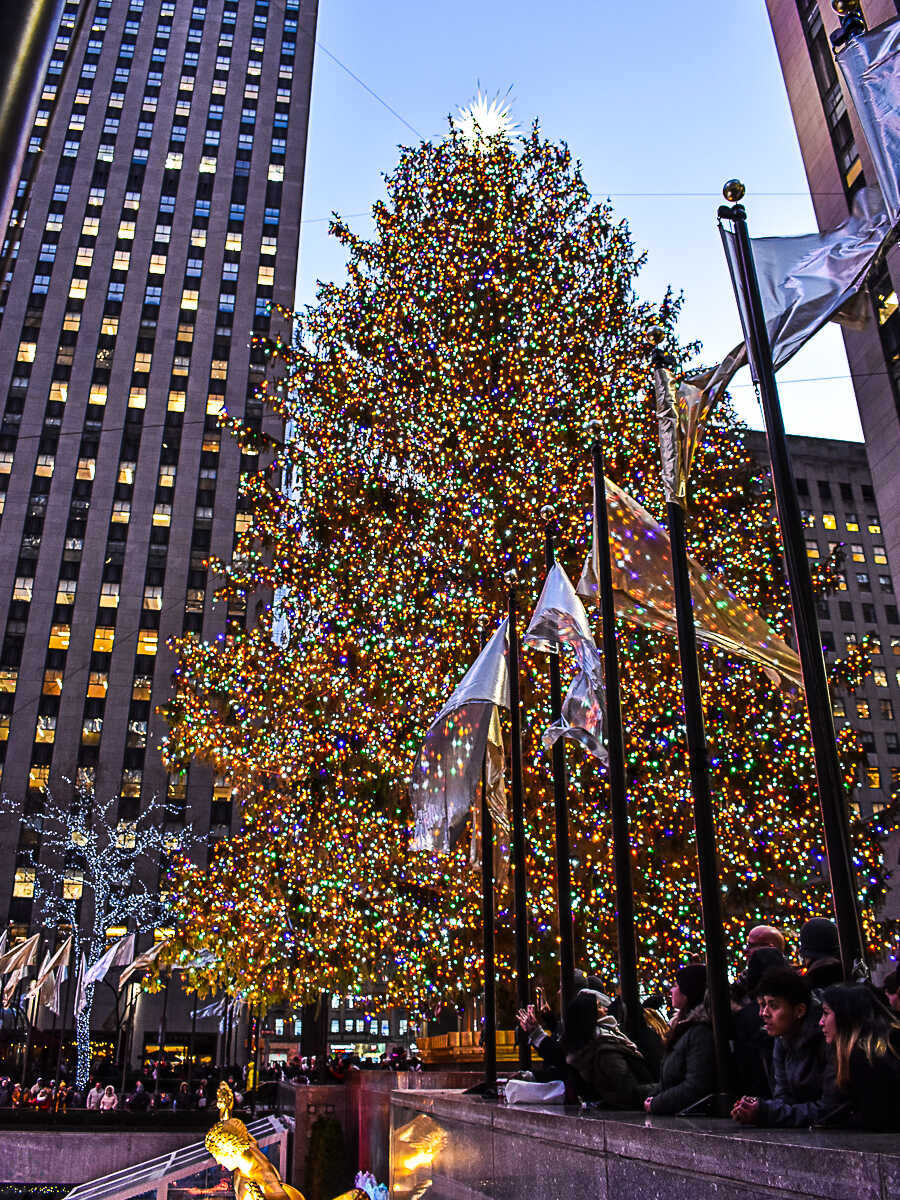 When you think of bucket list Christmas destinations, New York City is one of the first that comes to mind.
From the Christmas tree at Rockefeller Center to ice skating in Central Park Park, you need to experience the holiday season in New York City at least once.
When you're ready to start planning your trip, I have your perfect NYC Christmas itinerary all planned out for you, as well as a list of my favorite holiday tours and photo spots for that iconic NYC Christmas shot.
This city is a shoppers' paradise
New York City is like one big shopping mall. Shop incredible vintage thrift, tiny luxe designer boutiques, and big box flagship stores like Macy's here.
You can find stores for every budget in any borough of NYC.
NYC is constantly innovating
One of the major benefits of living in New York City is being surrounded by some of the most cutting-edge, innovative, large-scale public works projects on the planet.
New York City has an extensive public transportation system, including subway trains, buses, and trains, which makes it easy to get around the city.
And they're always adding to it–within the 21st century, they opened the Oculus transportation hub, the 2nd Avenue subway line, the new Penn Station, and Grand Central Madison. And that's just the transportation sector!
Not to mention tall, towering super skyscrapers or the water system that funnels fresh drinking water from upstate New York more than 100 miles to reach the city.
NYC has excellent public drinking water
One of the significant advantages of living in New York City is that the public drinking water is excellent.
With sources from two large upstate reservoirs, NYC not only has some of the best public water in the country!
The city's water supply is regulated by various municipal and state agencies, including the NYC Department of Environmental Protection (DEP).
These departments work hard to ensure that the water flowing into millions of homes meets or exceeds all safety requirements. This means you can trust that your tap water is safe to drink.
In addition to having well-regulated water, NYC also has a highly developed infrastructure for distributing it throughout the city.
From fire hydrants to elaborate underground piping systems, NYC residents can rest assured knowing they have access to one of life's most essential commodities: clean water.
The New York Public Library system is extensive
Once you have an NYC address, you can apply for a free New York Public Library card.
Once you're a member of the NYPL, you have access to more than just its world-class extensive collection of books.
They offer a vast program of free classes and other programming, as well as the Culture Pass, which gives you free entry into many of the city's famous museums.
You can even rent musical instruments with your New York Public Library membership!
Disadvantages of Living in New York City
Although I am a big advocate for visiting and living in New York City, we do need to discuss its drawbacks.
Living in New York City is expensive
Life in NYC is expensive, especially moving into New York City alone. It's actually one of the most expensive cities in the United States.
Atrocious rent prices, groceries, entertainment, and other general costs of living expenses all top the charts.
According to Zillow, the median price for rent in Manhattan in December 2022 across all apartment types was over $3,400 per month.
Additionally, food costs can be high due to the abundance of restaurants and takeout options.
Transportation costs can also be high due to the price of a monthly MetroCard and the cost of taxis and ride-sharing services.
Living in New York City can be pretty costly, so it is essential to consider your budget before making a move.
Get used to the crowds of tourists
Crowds are now part of your everyday life.
Remember, New York is populated with more than 12 million people living in the five boroughs, plus all the daily tourists.
You'll quickly learn how to navigate crowds and around the tourist traps.
Public transportation is your lifeline
Although the New York City public transportation network of subways, ferries, buses, and trains is extensive and excellent when working perfectly, problems come into play when something needs to be fixed.
Some outdoor subway tracks must stop operating for safety when it snows, or other service problems can cause delays where you're stuck on a bus or underground for longer than planned.
Always plan extra time into your commutes to account for unexpected delays, especially if you need to be somewhere on time.
You need a good sense of direction
Although most of Manhattan was built using a grid system, many parts of the island don't follow the pattern.
And the other four boroughs of New York City have their own street systems that may be challenging to understand.
If you want to get around with ease, you'll need to hone your direction skills and learn the neighborhoods you frequent by heart.
Get used to the constant noise
I'm genuinely sorry if you need silence to fall asleep.
From the sirens wailing all night to people on the street blasting music, it's rare to find true silence in the city.
One of my top moving to New York essentials is an air purifier that doubles as a white noise machine so you can get some rest.
New York City has limited green space
Despite being home to many beautiful parks, New York City is quite urban and lacks green space in some areas.
I mean, one of its nicknames is The Concrete Jungle.
This can be challenging for those looking to enjoy the outdoors or just get fresh air, especially during the summer heat when temperatures soar.
Thankfully, the beach is just a subway ride away, or you can take the Hudson Line train about an hour upstate to go hiking at Bear Mountain or Breakneck Ridge at Hudson Highlands State Park.
You're going to encounter homelessness
Depending on where you grew up, you may or may not have experienced encountered homelessness.
Unfortunately, New York has a high population of homeless people with not enough resources to help them.
There is always traffic
No matter the time of day or night, if you're driving in New York City, you will experience traffic.
That's why New Yorkers say it's always faster to take the subway, but if you're in a position where you need a taxi, make sure you leave early and plan for traffic.
You're going to miss out on something
The never-ending list of activities is one of the best pros and cons of living in NYC.
No matter how hard you try, you'll never be able to do it all.
Instead of focusing on the things you can't do, embrace the present moment and truly enjoy what you can.
The winters are COLD
Suppose you're wondering whether it snows in New York City—YES. And even when it's not snowing, the wind chill will make it feel even colder.
Ensure you have a high-quality winter coat, boots, hats, gloves, and a scarf to keep you warm during those long, cold winter months.
New York City living can be lonely
In a city of dreamers, you might find yourself lonely.
Although many people are interested in making connections in New York City, it can be lonely if you don't put yourself out there.
Please make an effort to get out there and make friends in NYC. It's worth it.
I have a complete guide with tips and ideas for making friends in New York City that worked for me!
Apartments are old and very expensive
Most New York City apartment buildings are old. They were built pre-war, and pre-war in New York City means pre-World War I.
Many have weird configurations, thin walls with loud neighbors, and little closet space.
A small toolset is one of the most important gifts for someone moving to New York City. Truly, it will save you in so many situations.
From needing to change out the batteries of your smoke alarm to tightening the screws on your cabinet doors in the kitchen, a small tool kit is essential.
The Benefits of Living in New York City: FAQs
Why do people love NYC?
People love living in New York City for a variety of reasons.
The city is filled with culture and entertainment, from its incredible food scene to its bustling nightlife.
You can find fantastic shopping opportunities and lots of diverse activities to enjoy.
It's also known for being a great place to live if you want to pursue a career or education in the arts, finance, media, fashion, or tech industries.
Plus, many people love that New York City is a melting pot of different cultures and its residents have a unique outlook on life due to their diverse backgrounds and experiences. 
Is New York a good place to live?
New York City is truly one of the greatest places to live; it's filled with culture, historic landmarks, and endless activities.
There are many advantages to living in New York City, such as great job opportunities, diverse neighborhoods, world-class attractions, and entertainment venues, exceptional educational institutions, and vibrant art scenes.
On the other hand, city life also comes with its drawbacks.
It can be difficult to find affordable housing or escape the hustle culture.
Ultimately, if you are looking for an exciting place to live that offers unparalleled opportunity and culture, then New York City may be the perfect choice for you.
Is Manhattan a good place to live?
Manhattan is a great place to live.
You're right in the heart of New York City, only blocks away from some of the most vibrant and exciting entertainment, culture, employment, and recreational opportunities.
You'll find a ton of diversity in different neighborhoods within the borough of Manhattan, and you'll never run out of things to do or places to explore.
That said, it's important to remember that living in Manhattan comes with its own unique set of challenges.
The cost of living is the highest here, and you're surrounded by traffic and congestion.
If you're looking for an urban lifestyle with plenty of activities nearby, Manhattan can be a great place to live—just make sure you take all these factors into consideration before making your decision.
The Pros and Cons of Living in New York City: Wrap-Up
Despite the cons of living in New York City, moving here has many benefits.
New York City has something for everyone, from iconic buildings like the Flatiron Building, Empire State Building, and the Statue of Liberty to historic parks, world-class restaurants, and entertainment venues.
With its vibrant culture and diverse population, it's no wonder why so many people choose to make New York City their home.
If you're looking for more tips for someone moving to New York City alone, check out my guide.
Lyndsay
Read More