This post may contain affiliate links! I will receive a commission, at no extra cost to you, if you purchase something recommended here.
Autumn is here, and there are tons of fun fall activities in New York City. One of my favorites is exploring NYC as the leaves change into their autumn array of burnt oranges, golds, and burgundies.
If you want to get outside and experience the beauty of the city in autumn, as a New York City tour guide, I highly recommend you consider taking a tour of the beautiful fall foliage.
There are many ways to see the fall foliage in NYC, including walking tours, boat rides, and even helicopter flights.
Whether you want to walk around parks or see the city from above, spend your autumn day on one of these incredible fall foliage tours from New York City!
Editor's Choices: New York Fall Foliage Tours
Walking Tours of New York City to Experience Fall Foliage
Some of the best walking tours in New York City transform into excellent NYC leap-peeping tours! Walk through several of the city's parks to take in the autumn colors.
Arguably the most iconic of the NYC parks, you need to try taking a walking tour of Central Park in the fall.
You might have walked through Central Park as one of the free activities in New York City many times before, but you've never seen Central Park through the eyes of a guide while it's turning over for the autumn weather. 
You'll see several notable landmarks like The Mall, Turtle Lake, Belvedere Castle, and other iconic sites of Central Park – all of which are surrounded by trees transforming into their colorful foliage for fall.
"This was my favorite tour of the trip! This tour gives you an insight into history of the city you would not get anywhere else. Michael did a super job with his knowledge of the history as well as his sense of humor. Had a terrific time!"

Review from Athena_B on Viator
King of Hearts, CC BY-SA 4.0, via Wikimedia Commons
You can experience some genuinely beautiful foliage at Prospect Park in Brooklyn just a little further outside Manhattan.
Start at the ​​Brooklyn Public Library and continue through the park with your guide as they show you landmarks like the Long Meadow, the Ravine, and the various lakes and streams throughout.
After your tour, you can even visit the Prospect Park Zoo.
While walking the Highline is one of my favorite summer activities in New York City, it's pretty spectacular to see in the fall, too.
You'll start your tour in front of Chelsea Market before making your way down the elevated 1.45-mile former subway track.
From 1933 until 1980, the now-decommissioned Eleventh Avenue Elevated subway line operated above the streets. 
Though the trees are turning for fall this time of year, the best part of walking the High Line is seeing the wildflowers.
Your guide will teach you the history of the 11th Avenue elevated subway line, as well as about the neighborhoods you pass through, including Chelsea, the West Village, the Meatpacking District, and the new Hudson Yards complex.
"Our guide was very knowledgeable and willing to take our input on what we were interested in learning about. She also carried a tablet to illustrate pass fotos or interiors of buildings we could not have access to enter. She is a gem! We felt we had made a friend by the end of the tour."

Review by Betty on GetYourGuide
Have you ever visited Governor's Island? Governor's Island has an exciting history, a vast park, and beautiful panoramic vistas that you need to see.
From before the Revolutionary War and far into the twentieth century, the island served as an important United States military space until it was decommissioned in 1996.
The Hills, the Island's newest outdoor attraction, offers panoramic views of the whole island once you reach the top. You can even go glamping on Governor's Island, a luxurious camping experience that I tried and loved.
Now that the Island is open all year long, you can fully appreciate being on an island far away from the hustle and bustle of the city surrounded by trees and their changing leaves.
While you can bike around Governor's Island on your own, taking a biking tour will allow you to explore the hidden gems of this Island and learn about its history from a licensed New York City tour guide.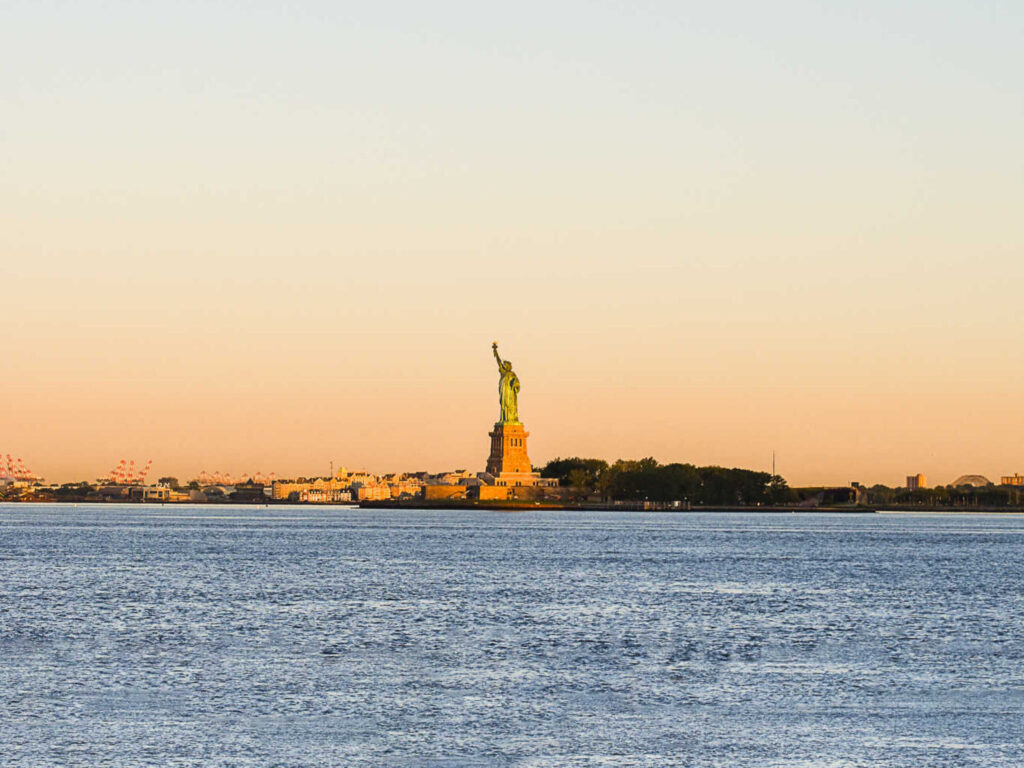 The Statue of Liberty Enlightening the World is a sculpture in New York Harbor conceptualized and cast in Paris by French artist Frederic Auguste Bartholdi.
It was given to the United States as a gift by France and is located on Liberty Island in New York Harbor, near Ellis Island.
Ellis Island served as the primary entry point for immigrants entering the United States. It was in operation from 1892 until 1954 and is now a museum where tourists can learn about the United State's immigration history.
Taking a tour of the Statue of Liberty and Ellis Island is one of the most underrated fall foliage tours from New York City since both islands are filled with trees that transform for the fall.
The autumn leaves take these already impactful spaces and make them even more beautiful.
"Although it was pretty cold & windy coz we were there at the end of Feb, we absolutely loved it. You see Lady Liberty all the time on the tele or web but nothing beats seeing it for yourself. There's no rush and you can spend all the time you want to on Liberty or Ellis Island. The ferries run constantly every 10 minutes so no hassle there. Get a guide if you really want the whole story but for us this package is worth the money spent. A must on every tourist check list on their 1st trip to NY. GYG provides splendid tour packages & tours."

Review by Adrian on GetYourGuide
Read More
Fall Foliage Cruises of NYC
Since two different rivers meet in New York City, you can take your pick of the best NYC fall foliage cruises, each with its own unique twist.
Visiting the Hudson Valley is a perfect destination for day trips you can take from the city, especially in the fall.
There are so many little towns to explore and beautiful mountains to hike in this area, many of which have spectacular views of the Hudson River. 
Leave from Pier 62 on a sophisticated 1920s-style foliage yacht on this Hudson River fall foliage cruise and make your way up the Hudson River Valley to see the Upper West Side, the cliffs of Palisades Park, and pass under the George Washington Bridge from the water.
You'll get incredible photos of the autumn colors cascading over the mountains before making your way back to Manhattan's west side.
"The Fall Finished tour was a lovely way to get out on the water and see parts of the city from a new perspective. The leaves and Palisades were pretty to. Our Captain and First Mate were outstanding and made the entire experience pleasant and informative."

Review by david on getyourguide
If you love the idea of taking a boat cruise up the Hudson during the fall, you need to experience one of my favorite fall foliage cruises in NYC.
It's the same cruise up and down the Hudson on a beautifully restored yacht, but it incorporates an important New York pastime – brunch!
Enjoy the amazing views of the Hudson Valley in autumn passing you by as you enjoy a beautiful brunch meal and beverage.
"Great food (and a LOT of it); not crowded; good people. Be prepared that you might be sitting with strangers. Boarding moved quickly and efficiently. Was a really pleasant way to spend a Sunday, though unfortunately, no fall foliage as of mid-October."

Review by Danielle W on Viator
I'm a firm believer that everyone needs to see the Manhattan skyline from the water. And while a cruise is a beautiful way to do it, there's something unique about sailing.
Take in the natural wonders of Palisades Park's cliffs and the Hudson Valley as you travel up and back down the Hudson River with the wind whipping in your face on a sailboat cruise.
You'll leave from Manhattan's Pier 62 and spend 3.5 hours enjoying the waves, the water, and the bright autumn foliage.
"This is a must! You have to do the schooner! Best experience ever. Gorgeous boat, excellent crew (kept us warm with champagne, hot cocoa and fluffy blankets)! And the views from the river are amazing. We lucked out with the time change and got the incredible experience of a sunset sail. Amazing!"

Review by Lenore on GetYourGuide
If you really want to see the Hudson Valley, this 5-hour autumn cruise will bring you further up the Hudson River to Bear Mountain.
You'll leave from Pier 83 first thing in the morning, passing the MET Cloisters, Palisades Park, and Grant's Tomb before stopping off at Bear Mountain. 
You'll have about 2 hours off the boat to walk along their trails and see the lake before re-boarding.
Finally, the ship will travel further up the Hudson so you can catch a glimpse of Hook Mountain before turning back around for NYC.
"The tour guide was amazing. He's knowledgeable, friendly, & entertaining. Grateful for learning more about the history, people, culture of New York. Bear Mountain is a must see. Love the bits of information to read along the hiking trails, the animals, birds, flowers, etc. are beautiful. Listening to the Street Band on our way back to Pier 84 is a nice addition to the Bear Mountain Cruise I ♥️ New York"

Review by LiliaV_M on Viator
On this 1950s-style Grebe Yacht, you'll take in the 360-degree views of the tree-lined, scenic Hudson River on your way to enjoy the autumn air on your foliage cruise from NYC.
As you travel up towards the cliffs of Palisades Park, you'll pass Hudson River Park, the Tappan Zee Bridge, the Intrepid Sea, Air & Space Museum, and the Little Red Lighthouse.
A complimentary drink is provided onboard for you to enjoy on this 2-hour and 30-minute tour, with additional beverages available for purchase.
Read More
Fall Foliage Helicopter Tours of New York City
Have you ever taken a helicopter tour? If know how beautiful New York City is from the street, imagine how gorgeous it is from up above!
If you're looking for a bucket list experience, you have to try taking a private helicopter cruise of the Hudson Valley in the fall from New York City.
You're here to see the autumn leaves, right? And as enticing as the expansive mountain landscapes are from the ground, they're even more incredible from above.
You'll fly all over Westchester County, seeing Castle-on-Hudson, Sleepy Hollow, Bear Mountain State Park and the Bear Mountain Bridge, and Lyndhurst Mansion from above before making your way back down to the meet-up point in West Harrison, New York.
You can either take public transportation on the Metro-North to the White Plains station and taxi to the airport, or you can opt for private transfers from Manhattan for an additional charge.
However, if you've always dreamed of seeing New York City from above, autumn is a great time to take a helicopter tour of Manhattan.
You'll soar up over the city, seeing some of the most iconic sites from a new perspective, like (one of the best observation decks in NYC) One World Trade Center, the Statue of Liberty, and Central Park in all its fall glory.
The helicopter has floor-to-ceiling convex windows for breathtaking views, and the highly-skilled pilot will narrate the experience, so you know where you are over the city on your foliage excursions.
"Very professional and well managed, from check in to landing! Great experience and adventure for the whole family. Flight time was on the dot 20 minutes with amazing views, experience and interesting info from the pilot. If you can afford it then treat yourself and the family to something extra special!"

Review by Jan on GetYOurGuide
Read More
Day Trip Fall Foliage Tours from New York City
Whether you want to stay in state or explore a bit of New England, these fall foliage tours from NYC are perfect choices for more autumn views.
And, of course, the areas around New York City are just as incredible in autumn, too.
Since you're already visiting the Big Apple–for one of the fall festivals in New York perhaps–if you have enough time in your itinerary, take advantage of the many day trip tours so you can see incredible landmarks in the nearby areas.
This Niagara Falls Day Tour is a true full-day tour.
You'll have to sit on a bus for several hours at a time; however, the more than 6 hours of drive time each way is more than worthwhile. You have an opportunity to see upstate New York and the border of Canada and with their beautiful fall colors. 
While seeing Niagara Falls at any time of year is quite a treat, enjoying lengthy travel days with magnificent views of autumn trees passing you by on your way there and back from New York City makes this the best time of year to take this tour.
Once you arrive, you'll have a few hours to explore different islands and other waterfalls, as well as ride the famous "Maid of the Mist" boat when it's operating in season.
"Amazing trip! Very well organised. Meeting location is clearly described. The bus is very comfortable with charging points and WiFi. The guides at Niagara Falls were brilliant. They made sure they speak to everyone, answered all the questions and gave us some good facts about the falls. I highly recommend the trip!"

Review by Dimitar on GEtyourGuide
As one of the best New England towns in fall to visit, you would be remiss by not taking advantage of a day trip to Boston from New York City.
The New England region is one of the most beautiful places to visit for fall in the United States, and Boston, Massachusetts, is a quintessential New England city. 
Spend your day exploring the Freedom Trail and learning about United States Colonial history, grabbing a bite to eat at Fanelli Hall, and walking through Quincy Market with leaves crunching under your boots on the cobblestone streets in the center of Boston.
"It was a momentous and enjoyable tour. You are enriching yourself with historical values while you are having architectural feast right before your own eyes. Your love for your own nation rekindle by the love and courage by the people in the past. Our tour guide Okay was amazing, very generous in sharing his wisdom about history and most especially his happy spirit was contagious."

Review by Francis on GEtYourGuide
Fall Foliage NYC Day Trips: Wrap-Up
From walking tours within the five boroughs to cruises up the Hudson River and beyond, if you're visiting New York City in the fall, you need to take advantage of the season and enjoy one of the many fall foliage tours from New York City.
Lyndsay