This post may contain affiliate links! I will receive a commission, at no extra cost to you, if you purchase something recommended here.
Oh my goodness, congratulations on the big move to the Big Apple! The Concrete Jungle! The City That Never Sleeps! I'm so excited for you or your loved one to embark on this new adventure.
New York City is one of the most incredible places to live in. It truly feels like you're part of something larger than yourself.
Everyone here has a dream and is working hard to be the best they can be in their field. You're surrounded by American history, culture, arts, language, and cuisine from around the world.
Don't mind me; just heading down memory lane…
Visiting New York and living in New York are two different things–you'll be surprised by some of the must-have items for living in NYC I've listed here.
Apartments are small, which means space-saving and dual-purpose items are essentials for living in New York City to make space for your non-negotiables.
Whether you're the one making a move or you're looking for gifts for someone moving to New York City, these are my top recommendations for moving to New York essentials.
Editor's Choices: What to Get Someone Moving to New York
The Top Gifts for Someone Moving to New York City
A High-Quality Day Bag
First and foremost, let's talk bags for every day. Unless you're going shopping and don't need much, absolutely a cute purse or cross-body bag will work.
However, when your schedule looks like this:
Your run-of-the-mill purse will not be large enough to accommodate everything you need.
I use a stylish backpack when I'm out and about living my New York City life to save my shoulders.
I recommend anything from the range of Samsonite backpacks because they're stylish, durable, and made specifically for commuting.
If you need more convincing or want more bag recommendations, I have a whole guide on why you should use a backpack in NYC.
Their first monthly unlimited MetroCard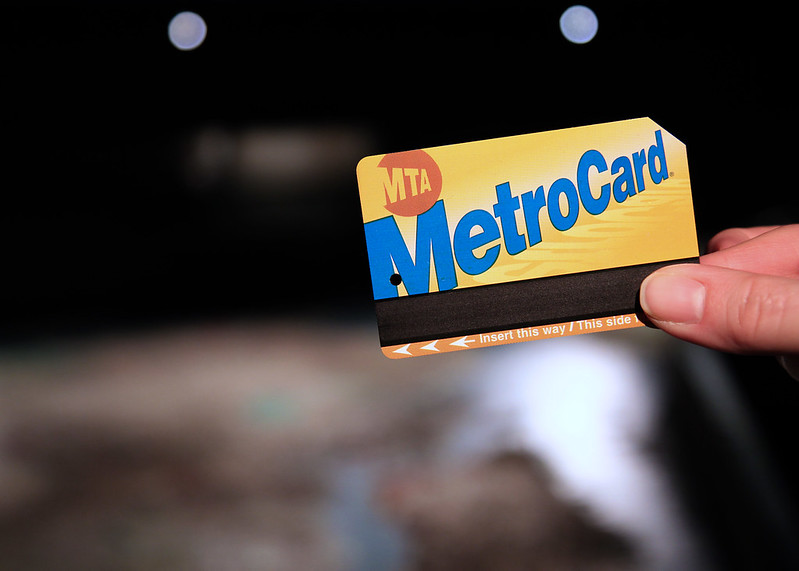 When you live and work in New York City, it'll feel like you live on the subway.
I've ridden the subway up to seven times per day, from running to work, the gym, errands, and home.
Obviously, it's far more cost-effective to purchase an unlimited MetroCard.
This means you pay one fixed charge, $33 for 7-day unlimited rides weekly pass or $127 for 30-day unlimited rides monthly pass.
You may use the New York City public transportation system as often as possible during that period.
Although $127 is far less than the cost of owning a car, it's not exactly cheap, which is why gifting an unlimited MetroCard for one month is such a great idea.
It takes one task off their list, and it's something they'll actually use every single day!
If you want to learn more about navigating the New York City subway, take a look at my complete guide.
Portable Phone Charger

When learning to navigate a new city, having a phone with no battery power can be pretty frustrating.
The AnkerPowerCore 20,100mAh Portable Charger is the most convenient way to charge my phone while out and about in the City.
It's an external battery that weighs less than 13 oz. and can power the average smartphone many times before needing to be recharged.
I can't tell you how many times this charger saved my phone–virtually every day, all around New York City and on my travels abroad!
Airpod Pros

The subway is often noisy and loud; a quality pair of noise-canceling headphones reduce distracting noises and makes the ride more pleasant.
Airpod Pros are my go-to noise-canceling headphones.
These compact earbuds offer distinctive characteristics that set them apart, such as small microphones that assess the ambient noise and adapt the sound quality to the area.
A compact, durable umbrella

I can't tell you how often I've been going about my business on a New York City street, and the sky opens up in a torrential downpour.
The only thing that has saved my hair and kept me dry is a tiny, durable umbrella.
I love my Repel all-black umbrella because it has extra spokes, staying upright even in heavy wind. And it has a fun pop of color on the inside, too.
A reusable tote bag that collapses into a tiny pouch

PSA for anyone who is not from New York: the City banned plastic bags years ago.
You need to bring your own reusable bag or pay for a paper bag if you go shopping.
Instead, I keep foldable reusable bags in my day bag.
They take up no space when folded, and they are the perfect size for a last-minute grocery run or a quick trip to Duane Reade for essentials.
A bottle of pepper spray that can attach to keys

New York City is safe, but keeping a bottle of pepper spray makes me feel a little bit safer.
I carry pepper spray with me every day getting off the subway. Though I never needed to use it, I always appreciate having it with me.
However, buying or mailing pepper spray to yourself is actually illegal in New York City.
That means it's the perfect gift before moving to NYC alone because you legitimately can't get it in Manhattan or the five boroughs.
If you're already in New York City and can't get your hands on a can of pepper spray, a little hand-sized taser is the next best thing.
And for some reason, they will mail that to your apartment.
Stainless Steel Water Bottle

With all of the walking New Yorkers do, staying hydrated is necessary. I keep a reusable water bottle in my day bag at all times.
I've been using a Swell water bottle for years now, and it's held up well despite numerous drops and dishwashing cycles.
You can "buy" filtered water at Starbucks for free if you can't find a refill station, so you'll never be without water in New York!
Check out my list of top travel essentials if you need more recommendations on what to bring with you.
Gift them an experience in their new home
It takes time to get to know a new city.
If a friend is relocating to New York City, help them explore by purchasing an experience through GetYourGuide, Viator, or one of the sightseeing passes.
I have a complete guide on the most fantastic New York City experience gifts and an entire New York City sightseeing pass comparison breakdown if you're looking for ideas.
And hey, if you're going to visit them, you can go together to try glamping on Governor's Island! It was one-of-a-kind and I can't wait to do it again.
TodayTix or TDF gift card
Even if they're not a theater lover, you can't come to New York City and not experience a theater performance on the world-renown caliber level of Broadway.
Buy them a gift card to TodayTix or TDF's TKTS Booth. Both of these are reputable companies that sell Broadway tickets at discounted prices.
I have a complete guide on tips for buying Broadway tickets and attending a Broadway show if you want to learn more.
A subscription to the movies
Do you remember MoviePass? R.I.P.
Back when that was still popular, and in existence, I'd regularly go by myself when I had some free time alone in NYC, or I'd meet up with friends to catch a movie. It all felt very Seinfeld-esque.
Once MoviePass when under, I went on a hunt to find the best alternative movie subscriptions offered in New York City, and these are my favorites:
Read More
A cookbook inspired by iconic New York City foods

New York City is kind of the capital of…well, everything!
But right now, I'm talking about food.
So many talented chefs are opening incredible restaurants all over New York City. You can find any kind of cuisine you want–and pretty much any time of day.
But of course, eating out every meal in New York City is very expensive.
To supplement, buy a cookbook filled with recipes that were created in the Big Apple so you can test out iconic New Yorker recipes at home.
A gift card to a restaurant near their new apartment or for a delivery service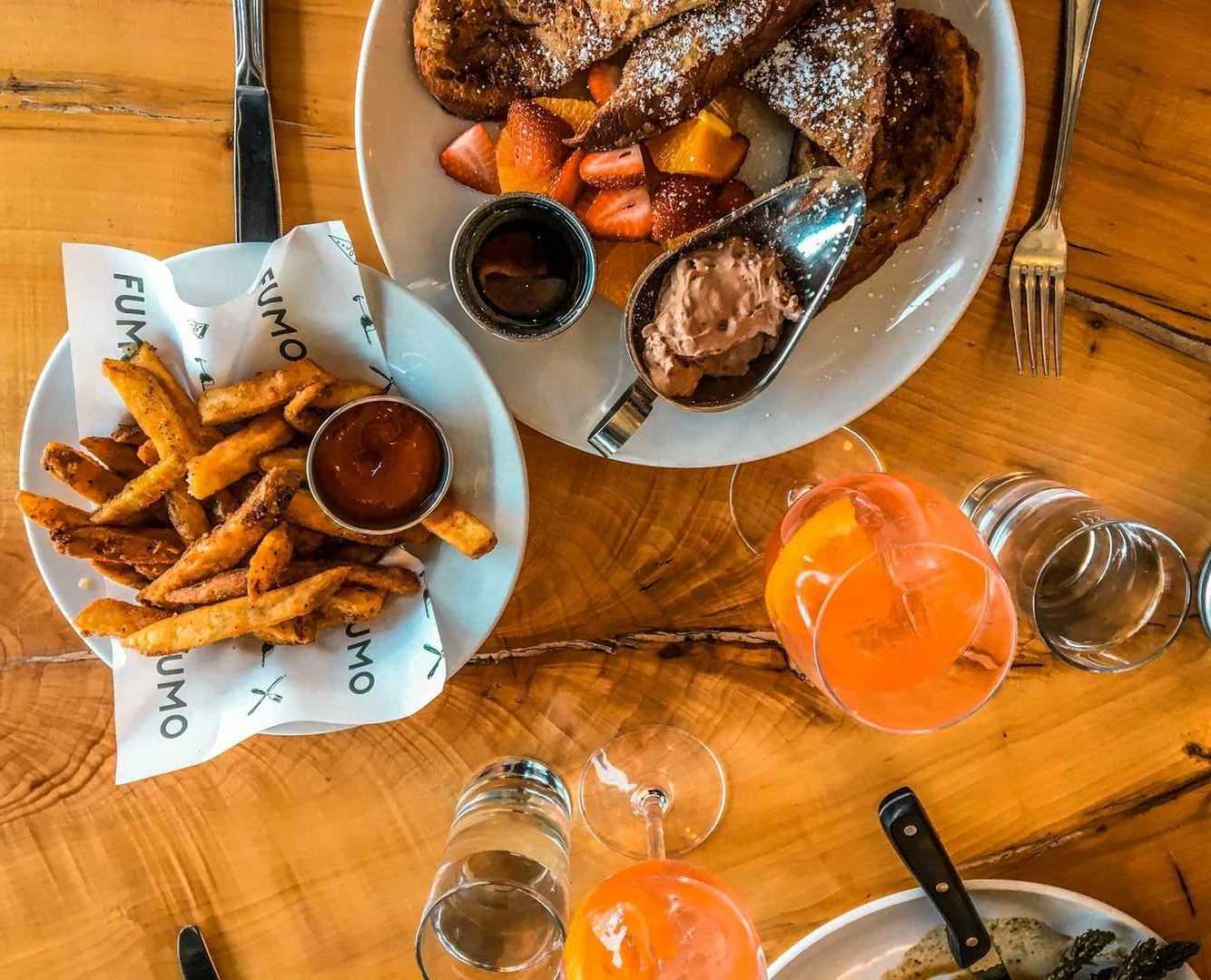 On my first night in New York City, after my parents helped me move into my first apartment, my mom found a restaurant nearby, and we walked over for dinner.
That restaurant became a favorite for girls' night out, takeout, and even cozy brunch with my friends.
Again, it was my mom's idea to get a gift card to this restaurant since I was going so often.
Take a minute to look on Google maps, see what kinds of restaurants are near their new address, and call the restaurant to see if they offer gift cards.
This restaurant mailed a gift card to my mom, so it would be under the tree waiting for me on Christmas day as a surprise.
Getting them a gift card to a restaurant nearby their new home means that you will be part of making memories in their new home.
Keurig coffee machine or a gift card to Starbucks

New Yorkers drink a lot of coffee.
The City itself is a stimulus, and we tend to be overly caffeinated to handle it all.
A Starbucks gift card or a Keurig coffee machine is a great money-saving gift if your favorite someone moving to New York is a big coffee drinker.
NYC Basic Tips and Etiquettes by Nathan W. Pyle

If you peruse through The Purposely Lost, I give you everything I know about living in New York City–things to do in NYC when it rains, walking the streets of New York City, the best observatories in NYC, and almost everything else in between.
But for the things that I simply cannot give you, there is this book.
NYC Basic Tips and Etiquette by Nathan W. Pyle is the book every new New Yorker needs on their shelf.
It's a complete guide to living, eating, breathing, and navigating the City. It's the perfect gift to give someone moving to New York.
Ring Video Doorbell

If you don't live in a building with a doorman, then package theft is a real problem.
Often, couriers will leave packages in your apartment building's main lobby, which means anyone can take them if you don't get there fast enough.
But suppose you are lucky enough to have a system where packages are brought to your door.
In that case, having a Ring Video Doorbell is an excellent idea.
Not only will it keep you safe, but it will also alert you to any nefarious neighbors who try to make their way by your apartment door.
Small toolset

Most New York City apartment buildings are old.
They were built pre-war, and pre-war in New York City means pre-World War I. So yeah, they're old.
Keeping a small toolset around will save you in so many situations.
From needing to change out the batteries of your smoke alarm to tightening the screws on your cabinet doors in the kitchen, a small tool kit is an essential New York City living gift.
An air purifier

Again, since New York City apartment buildings are very old, it's a good idea to have an air purifier in your main rooms.
From germs coming in from the City outside to whatever is in the walls of your apartment building, if you care about air quality, then an air purifier is an excellent gift for someone moving to New York.
They also double as a white noise machine!
An air conditioner unit

Another note about living in pre-war buildings is no central heating or air conditioners.
If you want to stay cool in the summer–and I promise, you will want to–you need to bring your own air conditioner.
Depending on the building, you may have grated windows which prevent you from putting in a window unit.
If that's the case, you'll want a standing unit that attaches to the window without putting it in it.
Otherwise, this Midea U-shaped air conditioner is excellent at keeping you cool in the hot summer.
A humidifier

This one is for my actors, singers, and vocal artists. O
ne of the most important things for the health of your voice is to stay hydrated.
Yes, that means drinking a lot of water and breathing in moist air.
If you or someone who suffers from dryness, invest in a good humidifier.
Unless you're living in a basement apartment. Then, you'll need a dehumidifier.
A freestanding coat rack

Closet space is a premium in New York.
My first apartment only had one closet for three girls.
That's right; there was no hall closet, there was no coat closet. There wasn't even a closet for each girl to have her own clothes in.
Giving a freestanding coat rack to someone moving to New York is a no-brainer.
Although it might seem like something out of your grandparents' house, a coat rack can be both stylish and functional.
They're vertical, so they take up very little space on the ground, but they can hold tons of bulky winter coats, scarves, hats, purses, and umbrellas.
Read More
Blackout curtains

If you're the kind of person who needs to sleep in absolute darkness, New York City will be a hard place for you.
A quality set of blackout curtains to help eliminate any extra light.
If you live in a busy tourist zone, you'll always have lights on from signs or 24-hour shops.
Or, who knows, a rogue ambulance can drive by your window at any time.
A compact, cordless vacuum

If you're catching the theme here, New York City apartment space is limited.
But that doesn't mean you don't want to have the essentials, like a vacuum.
If you can swing it, a compact, cordless vacuum like the Dyson Cyclone V10 won't take up very much space but will suck up all the crumbs that you don't want lying around for mice to feast on.
A countertop dishwasher

If you're lucky enough to find an apartment with a dishwasher, good for you!
But if it's one thing you can't live without, dream apartments for rent without a dishwasher shouldn't be a dealbreaker.
Now you can find countertop dishwashers like the Farberware Countertop Dishwasher.
So, if you're willing to sacrifice some of your precious counter space for a dishwasher, this is the one for you.
It doesn't even need to be hooked up to run, just fill up its built-in tank.
Insta Pot

It's tempting to eat out every night in New York–it's one of my top New York City at night activities, after all.
In New York, there are so many world-class restaurants, but eating out every night will be taxing to your wallet–and your waistline.
Having kitchen appliances like an Insta Pot around will make making dinner when you don't want to much more manageable.
Instead of pulling up your favorite food delivery app, open your InstaPot, throw in the necessary ingredients, and within an hour, you've made dinner!
Portable washing machine

Heading outside to do the laundry is pretty miserable, overall.
In the winter, it's a trek in the snow.
In the rain, your newly dry clothes get wet all over again.
Even if in the basement of your building, there's nothing like having it in your own home.
Like the dishwasher, not having a washing machine in your apartment or even in your building doesn't need to be a dealbreaker.
With an 11lb capacity, this portable washing machine is perfect for your every day loads of laundry.
Digital TV antenna

Since we are the generation of cable cutters, it makes sense that you don't you're not planning to pay for a cable subscription.
If you want to access the local news and a selection of other regional channels, buy a TV antenna.
This is a small but useful moving to New York essentials gift idea.
Simply place this small antenna near the window and hook it up to your television. Suddenly you have access to local city news channels!
Train tracker wall art
To say that you have the subway lighting up your wall is pretty cool.
This light-up wall installation from TrainTrackr shows where the subway train cars are on its given train line in real-time.
If you live close enough to your subway station, in theory, you can use this as a rough estimate of when you need to make your train.
Create a photobook of memories
OK, this is my favorite recommendation for the sentimentalist.
Just because they're moving away to the big city doesn't mean they won't miss you while they're away!
A walk down memory lane is an excellent cure for homesickness.
Creating a Mixbook with your favorite pictures of special moments and past adventures is one of my favorite recommendations for gifts for someone moving to New York.
I have a full guide on how to make a Mixbook if you think this is the perfect present!
High-quality winter gear

It's simple to see why a complete set of quality snow gear are essentials for living in New York City – a reasonably thick coat, hearty snow and rain boots, and even a quality layer of thermals if you really want to stay cozy and warm.
It's not unusual to have weeks with temperatures below 32°F throughout December and February and at least one significant snowfall per season.
Especially if they're moving from a warm-weather-year-round destination, a solid pair of warm gloves, hat, and scarf are must-have items for living in NYC and make for great gifts.
Gifts for Someone Moving to NYC: Wrap-Up
Go forth and thrive, friend. I'm so excited to see what you'll accomplish in NYC! What are your top recommendations on gifts for someone moving to New York City?
Lyndsay