This post may contain affiliate links! I will receive a commission, at no extra cost to you, if you purchase something recommended here.
New York City in the summer is my absolute favorite. It's the time of year New Yorkers decide to get outside and experience all the city has to offer.
No wonder so many people travel here during the summer months!
The sun is shining. New Yorkers are out of their signature black clothes style and lounging in the parks, or they're out of the city at their summer homes in The Hamptons.
The world is brighter, and New York City's historic streets are open for the hordes of travelers to come in.
There's something for everyone–from activities like Central Park's SummerStage series to music festivals and rooftop film nights.
So if you're looking for what to do in NYC in the summer, I've got you covered. Find a seat, grab a drink, and make your New York summer bucket list!
Tips for Your New York Summer Bucket List
Pre-purchase tickets in advance – Even if you're the type to decide what you're doing in the moment, try to think ahead about what activities you want to incorporate into your trip. Make sure you book tickets in advance for anything you desperately want to do because tickets will go quickly–especially if it's a sunset activity.gov
Decide if an unlimited weekly MetroCard is right for you – On a similar note, decide if an unlimited weekly MetroCard makes sense for you and your trip companions. It costs $33 for 7 days of unlimited rides on the subway, but you can't share the card with anyone else, which means that each person will need their own. Honestly, I highly recommend it if you're here for more than 2 days! Since each swipe costs $2.75, if you plan on taking the subway at least 12 times (or 6 roundtrips), you break even. If you need to learn New York's metro system, or want a quick refresh, check out my guide on how to navigate the subway.
Stay hydrated – With all of the walking you'll be doing, you need to stay hydrated! Always carry a reusable water bottle with you. If you can't find a refill station, or your restaurant won't bring you a pitcher of water, you can "buy" filtered water at Starbucks for free. And since there's a Starbucks on every corner, you'll never be without water for too long! If you're looking for more recommendations, check out my list of top travel essentials.
Interested in going to New York City's only Starbucks Reserve Roastery? Read about my experience.
Wear comfortable shoes – Listen, I average 25,000 steps a day in the height of summer when giving tours–wear quality shoes with thick soles. That includes sandals! They might be hard to find, but I can promise you that stylish, sturdy, comfortable do exist. Already broken-in Birkenstocks are a great choice, as are brands like Rockport, Clarks, and Dansko.
Where to Stay in New York City in the Summer
Budget Hotel – The Jane Hotel (Booking | Hotels) is located at the corner of some of my favorite neighborhoods–the West Village and the Meatpacking District–with views of the Hudson River. While it was originally designed by William A. Boring (the same architect who designed Ellis Island's immigrant station) in 1908 as the American Seaman's Friend Society Sailors' Home and Institute, the hotel's historic cabin-like rooms have been fully renovated with modern amenities. This is a well-priced option to stay in an otherwise very expensive area of Manhattan, with a little bit of summer seaside charm.
Mid-range Hotel – You'll find the New York Bowery Hotel (Booking | Hotels) on the outskirts of the trendy Lower East Side neighborhood, close to Washington Square Park. Immerse yourself in the boutique hotel's classic 1920s New York look, with an ornately furnished Lobby Bar with a roaring fireplace and a gorgeous open terrace. The hotel is pet-friendly, has an on-site fitness center, and you can even upgrade your room to include a private balcony.
Luxury Hotel – The 1 Hotel Brooklyn Bridge (Booking | Hotels) is truly luxury at its finest. As its name suggests, the hotel is located in Brooklyn, and its rooftop pool has absolutely stunning views of Lower Manhattan and One World Trade Center. From their green energy initiative and plants that adorn the walls of its lobby, to cozy hygge-inspired rooms and excellent customer service, it's definitely worth the splurge.
Hotels With a Rooftop Pool – I actually have two favorites in this category! The Royalton Park Avenue (Booking | Hotels) and The Dominick Hotel (Booking | Hotels) are two of my favorite hotels for the quality of the rooms and the professionalism of their staff. Both hotels have incredible rooftop pools, which you can enjoy as a hotel guest, and complimentary towels are available.
Retreat Experience – If you're looking for a retreat experience, you need to check out Collective Retreats Governor's Island (Booking | Hotels) luxury camping retreat. You'll technically be camping overnight on Governor's Island, but this isn't an ordinary camping jaunt. These luxury tents and cabins are outfitted with high-end amenities and include your in-tent breakfast culinary experience. If you're interested in learning more, read my complete Governor's Island glamping review.
Map for this guide
Wake up late and indulge in an outdoor breakfast or brunch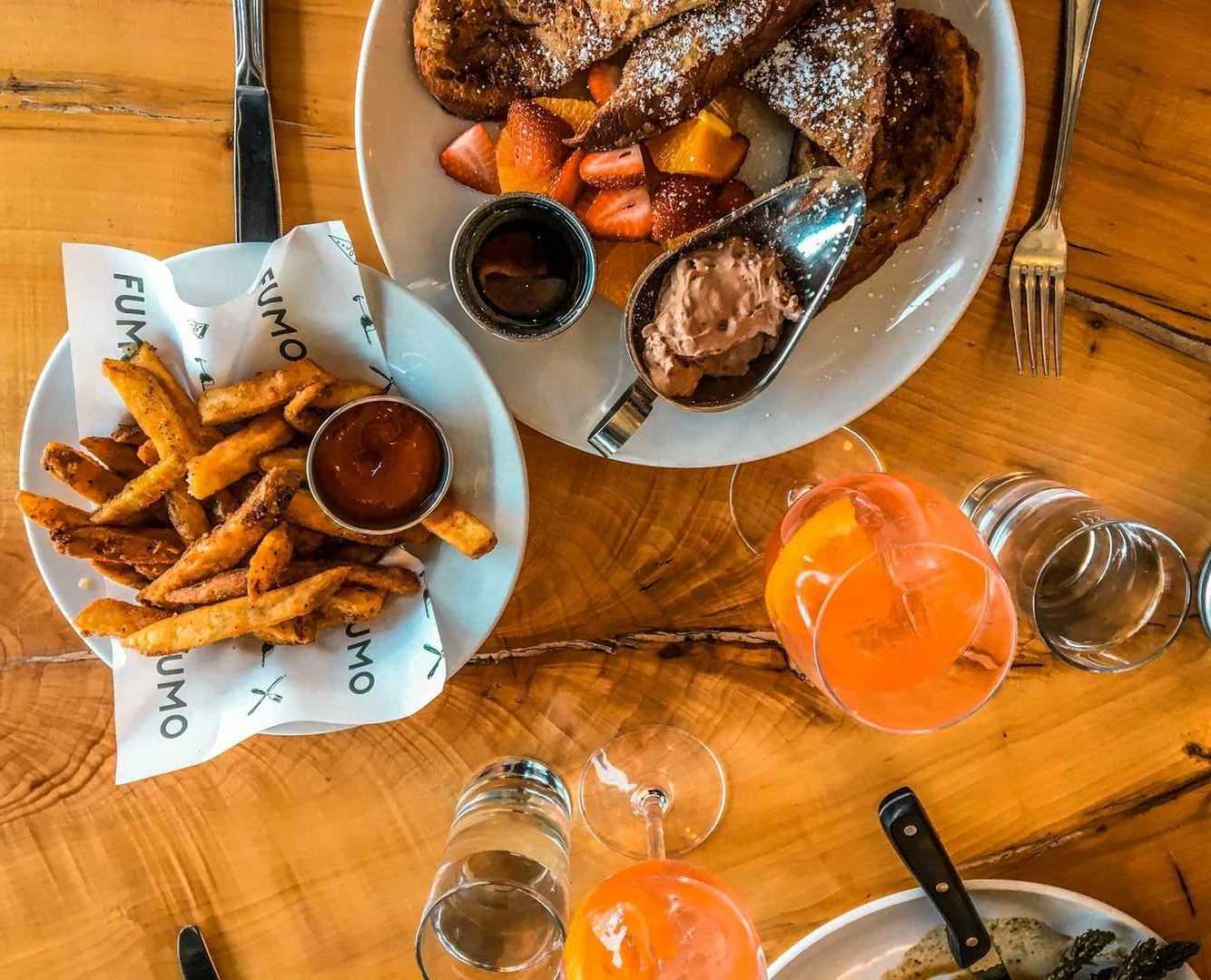 Doesn't that just sound like the most leisurely summer day? There's something decidedly decadent about having brunch at an outdoor restaurant, enjoying the warming sun rays.
And brunch isn't just for Sundays–it's a way of life in New York. While many restaurants in the city only offer a traditional brunch on the weekends, there are several phenomenal breakfast spots during the week too.
My favorite places for breakfast or brunch any day of the week–with outdoor seating in the summer–include Cafeteria, Bubby's, Baker & Co., and Sunday in Brooklyn, while Añejo, Bocca di Bacco, Hotel Chantelle, and FUMO are weekend go-to's.
Relax in the NYC Parks
So many great parks, so little time! Spending an hour or two lying on a blanket in the grass in one of New York City's many parks is a favorite activity with my friends during the summer months after a long day at work. 
Some of our favorite spots include: the Great Lawn or Sheep Meadow in Central Park, the grassy space at Bryant Park, anywhere in Prospect Park in Brooklyn, looking out over the East River at Astoria Park in Queens. Or for a change in seating, the benches looking out at the Statue of Liberty in Battery Park.
Go to the beach
Did you know–you don't even have to leave New York City to get to the beach?! There are some fantastic beaches in the city that are perfect for a swim on a hot day.
A little more than a mile long, Orchard Beach is The Bronx's only public beach.
Named after the 32nd U.S. President, Franklin D. Roosevelt Boardwalk and Beach is one of Staten Island's larger beachfront areas.
While there are no beaches in Manhattan quite yet, construction has started on a new public beach on the Gansevoort Peninsula. While you won't be able to swim in the water, you'll be able to layout on sand without leaving the island.
My favorite New York beach is in Queens. Rockaway Beach is easily accessible by subway, and it's a quick walk to the shoreline from the station. For a New York summer bucket list activity, learn how to surf while you're at Rockaway Beach. Before you leave, make sure you stop at Mara's Ice Cream Parlor for a sweet treat before heading back to the city center!
Brooklyn has several of New York City's most famous beaches, like Brighton Beach, Manhattan Beach Park, and Coney Island.
Walk across the Brooklyn Bridge
Ahh, yes, the most iconic bridge in New York City. Walking the Brooklyn Bridge takes from 30 minutes to an hour (depending on your speed) to cross from one end to another, making for a great midday activity.
Once you're in Brooklyn, grab lunch from Grimaldi's, one of New York's famous pizza places, and an ice cream cone from Ample Hills Creamery Fireboat House location or the Brooklyn Ice Cream Factory before wandering the afternoon away in Brooklyn Bridge Park.
Fun Fact: A year after the Brooklyn Bridge opened in 1883, P.T. Barnum led 21 of his circus's elephants, as well as 7 camels and 10 dromedaries, as they marched across the bridge to show the public that it was safe and secure.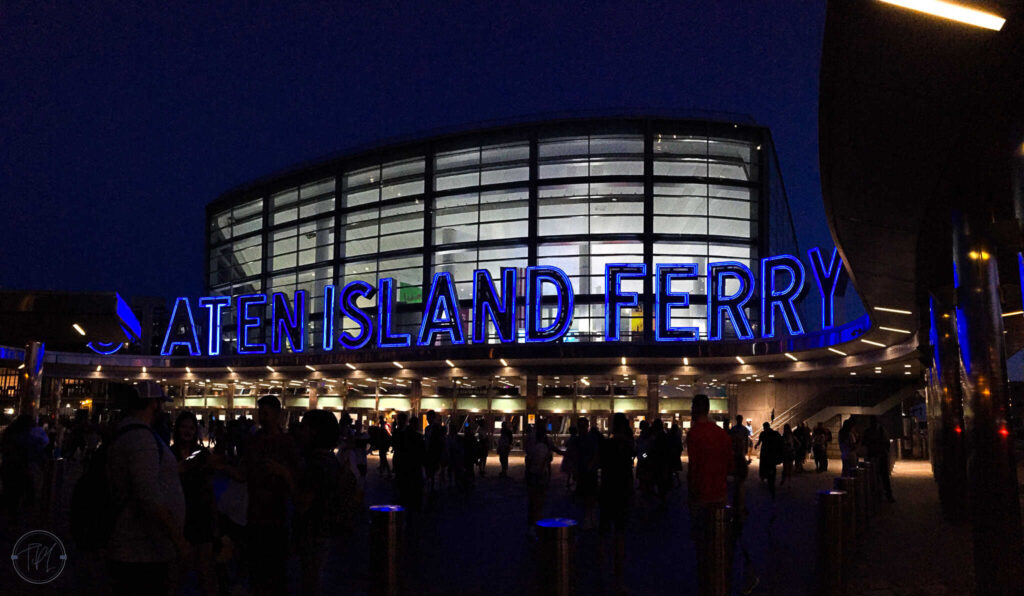 Taking a ferry ride in New York City is a classic New York summer bucket list activity that shouldn't be missed. The Staten Island Ferry is a fun, simple way to commute from one borough to another and gives you an up-close view of the Statue of Liberty and Ellis Island, as well as a great view of the Manhattan skyline from new angles.
This scenic way of seeing the city is totally free and runs 24 hours a day, every day of the year, from Whitehall Terminal in Manhattan to St. George Terminal on Staten Island. Ferries leave about every 15 minutes during rush hour and about every 30 minutes the rest of the day. The trip itself takes about 30 minutes, and make sure to spend some of that time out on the open-air deck, which offers a nice breeze and a panoramic view of New York Harbor.
Once you've arrived at Staten Island, walk through St. George Terminal to shop at Empire Outlets, New York City's only outlet shopping mall. The plaza is also totally outdoors, so you'll be able to enjoy the summer weather while shopping.
Insider Tip: Take the Ferry in the evening for absolutely incredible views of the Statue of Liberty at sunset.
Visit The Edge at Hudson Yards
The Edge at Hudson Yards is my favorite one to visit on a summer day because it's open-air with glass windows looking out and down. That's right–you're standing outside on the tallest observation deck in the city.
I promise it doesn't feel as death-defying as it sounds, but if you'd prefer to catch a high view from an inside or inside/outside location, check out my complete guide to the best New York City observation decks.
Once you've finished spending time at The Edge, head outside the Shops at Hudson Yards to see The Vessel and walk the High Line.
It's one of the ultimate experience gifts in New York City!
Walk the High Line
Every summer, thousands of tourists and New Yorkers flock to the High Line, a 1.45-mile-long elevated park which follows the path of a defunct Eleventh Avenue Elevated train line that ran above the streets from 1933 to 1980.
Located on the West Side of Manhattan, starting in the Meatpacking District and stretching through the neighborhood of Chelsea before terminating in Hudson Yards, it was built for cargo to have direct access to many of the warehouses and factories that lived along the avenue.
After its closure in 1980, the elevated track sat abandoned for decades until an effort to revitalize the long-abandoned freight rail line came to fruition. New York City hired an acclaimed architect and urban designer, James Corner Field Operations, in collaboration with Diller Scofidio + Renfro, to create a public park that transformed the unused area.
Corner and his team built a park that evolves throughout its length, with distinct gardens taking root on the tracks, several sitting areas, and lookouts to see the New York City street layout and the Hudson River.
The High Line is a great outdoor space in the summer, but if you want to be one of the fortunate ones to enjoy this spectacular, free New York summer bucket list activity, you'll need to visit in May or June, when all the flowers are in bloom.
Read More
Grab an ice cream cone from Mister Softee
What else can transport you back to childhood other than the music playing from an ice cream truck as it rolls down your street? In New York City, Mister Softee is the quintessential summer sweet!
While there's no way of knowing exactly when or where the famous ice cream trucks will be nearby, you'll likely run into one as you walk through the city in the summer. And stumbling upon a Mister Softee truck is part of the fun!
Attend an outdoor movie night
Watching an outdoor movie is one of my favorite things to do in New York City at night with friends!
Pretty much every public park or open rooftop in New York City offers outdoor movie nights in the summer, showing everything from recent releases to award-winning classics and in just about every genre.
To find free showings throughout the city's parks, check their website to see their Movies Under the Stars calendar of events and keep checking back for updates.
You can also find outdoor movies at drive-in theaters like Skyline Drive-In in Greenpoint, Brooklyn, the Queens Drive-In at the New York Hall of Science, and The Bel Aire Diner in Astoria, Queens, which transforms its parking lot in the summers for its movie nights!
And tons of rooftop bars and outdoor spaces around the city also get in on the summer movie nights. For example, The Standard Hotel (Booking | Hotels) adjacent to the High Line has Pix on the Plaza. The Skylawn rooftop bar at Embassy Suites has the Rooftop Cinema Club, even the Intrepid Sea, Air, & Space Museum has summer movie nights.
A day exploring and a night glamping at Governor's Island
With a rich history, an expansive park, and a stunning view of the New York Harbor, Governor's Island is one of the city's best things to do in the summer in NYC.
Located in the heart of New York Harbor, the 172-acre island–known to the Lenape as Paggank, meaning "Nut Island"–is a popular destination for visitors looking for a day truly away from the busy boroughs.
Since before the Revolutionary War, the island has served as an essential military space, and that history continued through the 1900s. More recently, it was a home for members of the United States Coast Guard and their families before they ceased operations on the island in 1996.
Today, it's a New York summer bucket list destination. Go for a bike ride along the island's 2.2-mile Promenade, sit out for a picnic at Picnic Point, visit the Arts Center to explore galleries, or venture outside to see any of the island's transformative public art. You can even climb The Hills, the island's newest outdoor addition.
You can also explore the island's history, including Fort Jay and Castle Williams, with a guided walking tour on the weekends, leaving from the Governor's Island Welcome Center at Soissons Landing.
My favorite summer activities in NYC on Governor's Island? After a bike ride, grab a drink outside at Island Oyster, one of the island's restaurants.
This year, you can also try glamping, a luxury camping escape through Collective Retreats Governor's Island (Booking | Hotels).
Since Governor's Island is now open year-round, ferries leave every day from The Battery Maritime Building in Lower Manhattan and on the weekends from Pier 6 in Brooklyn Bridge Park and Atlantic Basin in Red Hook. Tickets cost $3 for adults and are free for children under 12, seniors over 65, military members, residents of NYCHA housing, IDNYC holders, and Governor's Island members.
There's no better time than New York City in the summer to rush a Broadway show. Rush tickets are significantly discounted tickets to Broadway, and Off-Broadway shows acquired by going in person to the box office and asking for a Rush ticket. Usually, there are only a limited amount of these tickets sold, so depending on the show's popularity, lines begin to form long before the box office opens for business.
You could be the next person in line, but if the last Rush ticket is sold, you're out. And if you get out of line, you'll have to head to the back. That's why the summer is the best time to Rush! I've Rushed for tickets in all seasons, and it's a lot nicer to stand outside a theater for two or three hours in the summer heat than in the freezing cold of winter.
Check out Playbill's post for updates on the Ruch policies for every Broadway and Off-Broadway show, and read my guide on how to buy Broadway tickets if you just don't want to wake up to rush!
Insider Tip: If you're looking for restaurants to eat at before your showtime, walk over to Ninth Avenue. You'll be in the neighborhood Hell's Kitchen, which is no more than 10 minutes away from Times Square and the Theatre District depending on where you are. You'll find countless excellent restaurants, just be sure to let your server know what time your show starts before you sit down to eat!
Planning ahead for next year's Broadway convention? Take a look at my guide for what to expect at your first BroadwayCon!
Every year, the Off-Broadway non-profit theater The Public produces Shakespeare in the Park. Usually, two different plays by William Shakespeare are performed at Central Park's Delacorte Theater with great acclaim.
The best part–tickets are totally free!
But, remember how we were just talking about waking up really early to Rush a Broadway show? You'll need to be up even earlier to score tickets to the production of Shakespeare in the Park you want to attend.
If you don't win the ticket lottery on TodayTix in the days before the production, make sure you're waiting in the box office line by 6:30 am at the latest to have a chance at securing tickets. Despite the early hour and the late showtime (the play begins at sunset), it's totally worth it.
Try out free kayaking from Pier 26
The Downtown Boathouse offers free kayaking at Pier 26 Boathouse in Hudson River Park all day on the weekends from mid-May through October and in the evenings on Tuesdays, Wednesdays, and Thursdays from mid-June through mid-September.
They also offer free kayaking at Pier 101 at Governor's Island from mid-June through mid-September all day on Saturdays.
Novices through experts can use their free sit-on-top kayaks, and they'll give you all the safety equipment you'll need, a short introduction, and changing rooms, lockers, and first aid. So if you've ever wanted to try kayaking, this is your opportunity!
Go to a baseball game
New York City has two Major League Baseball teams, the Yankees, whose stadium is located in The Bronx, and the Mets, whose stadium is in Queens. Both stadiums are really easy to get to, and the experiences are phenomenal things to do in the summer in NYC!
To get to Yankee Stadium, take the B/D or 4 subway lines to 161st-Yankee Stadium, or get off at the Yankee Stadium stop on select Metro-North trains.
To get to Citi Field to watch the Mets play, take the 7 subway line or the Q48 bus to Mets-Willets Point, or you can take the LaGuardia AirTrain.
Read More
Take a day trip out of the city
Sometimes, you just need to get out of the city. There are several places you can go to pretty close by to New York City, and most with public transportation to get you there and back!
SoJo Thermal Baths have a bus that will pick you up and drop you off at 8th and 42nd. Spend the day swimming in their thermal baths, or go for the whole luxe spa experience with massages and facials.
Nickelodeon Universe American Dream is a family paradise in East Rutherford, New Jersey. This amusement park features characters from your favorite Nickelodeon shows, as well as several surprises. To get to the park, take the bus from Port Authority, a New Jersey Transit train, or call for a rideshare car.
Another family-friendly amusement park only a bus ride away is the newly opened LEGOLAND Resort located in Goshen, New York. If you loved playing with the connectable blocks as a kid, you're sure to love running around the seven themed areas, all actually built with Legos or designed to resemble them. You can purchase tickets to LEGOLAND here.
The Hamptons has long been considered a New York summer bucket list destination all the way out east on Long Island. It takes a couple of hours to get there on the Long Island Railroad, but it's worth the trek. Shop the boutiques, layout on the beach, and enjoy delicious seafood before heading back into New York City.
Do you enjoy hiking? Just an hour on the line from Grand Central Terminal, you can hike Breakneck Ridge. The challenging trail is about 3.2 miles long, with gorgeous views of the Hudson River at every point.
Since you're already in New York City, why not test your luck and head down to Atlantic City! The New Jersey shore town of Atlantic City is a casino hub, and its beach has just the right amount of boardwalk. You can either take a direct bus right from Port Authority or a New Jersey Transit train.
None of these locations appeal to you? Read my guides to some other popular cities that are easy day trips from New York City–New Haven, Connecticut, and Poughkeepsie, New York.
Walk around Little Island
Little Island is a brand-new park opening on Manhattan's Pier 55. You can actually see it from the High Line!
This new construction lives next to the former Pier 54, initially built for docking Cunard and White Star Line cruise boats at the turn of the 20th Century.
Fun Fact: Pier 54 is famous for its role in two significant historical moments. In 1912, RMS Titanic survivors returned to New York City on the RMS Carpathia and docked here at Pier 54. Then, in 1915, the RMS Lusitania left for its final trip from this pier before it sank off the coast of Ireland and contributed to the United States joining World War I.
Now, you'll pass the remaining restored head house of the White Star Line as you enter the park's gardens. With a variety of trees, shrubs, grasses, and flowers, you'll feel like you're entering into a futuristic garden. The park also has an outdoor amphitheater, a playground, walking paths, and scenic overlooks so you can catch the beauty of the new park and of the surrounding skyline from every angle.
Looking for more free activities? Take a look at my guide to free things to do in New York City.
Travel down to Coney Island
As one of New York City's most famous beaches, Coney Island is a perfect place to spend a day on the boardwalk or at the New York Aquarium.
With its boardwalk, amusement rides, carnival games, and quirky shops, Coney Island has been an iconic part of NYC since the late 19th Century. Once the largest amusement park in the United States, it's still home to some pretty famous attractions.
The 1920 steel Ferris wheel, the Wonder Wheel, the B&B Carousell, and the Coney Island Cyclone, one of the oldest wooden roller coasters still operating in the United States, are still standing and give summer memories, alongside the newer attractions. You can purchase tickets to Luna Park at Coney Island here.
Synonymous with hot dogs, beach-going, and breaking the bank on a day at the amusement park, it's filled with nostalgic memories, and it's been featured in books, movies, and music for its kitschy feel.
Chelsea is a Manhattan neighborhood full of great food, unique shops, and gorgeous buildings, but the art galleries are an incredible way to get a glimpse into the city's art scene.
There are dozens of galleries in the area, so you can really spend your whole day wandering and admiring the different eclectic works. You might even stumble upon a one-of-a-kind piece at a random stop or just enjoy the air conditioning.
Rock out to great performances at the Summerstage Festival
Every summer, Central Park plays host to the Summerstage Festival, which transforms the park into a music festival for the masses. With more than 100 performances in all genres performing on multiple stages over two months, it's one of those iconic things to do in the summer in NYC, with a lineup of popular acts that are sure to please.
While Central Park is the hub of the festival, concerts are usually planned in parks throughout the city, and most go on regardless of weather conditions. While many of the events are free to attend, you should bring cash to buy food and drinks.
You can stay up to date regarding this year's Summerstage Festival lineup on their website.
Attend the Pinknic Festival
Over Labor Day weekend, the Pinknic Festival transforms Governor's Island into a pink music paradise, complete with its signature rosé and culinary concoctions from Gabriel Pazos, an incredible New York-based chef, and creator of Gauchonfire. The two-day event features live D.J.s and music artists and runs well into the evening, capping off every night with a fireworks display.
Your general admission entrance ticket gives you access to all performances, a commemorative wine glass and blanket, and boat transfer to and from Governor's Island, while higher tiers offer more exclusive access and perks.
Heading to the Big Apple this fall? Check out my guide to the best fall activities in New York City, and the best fall festivals in NYC!
Take the Tram over to Roosevelt Island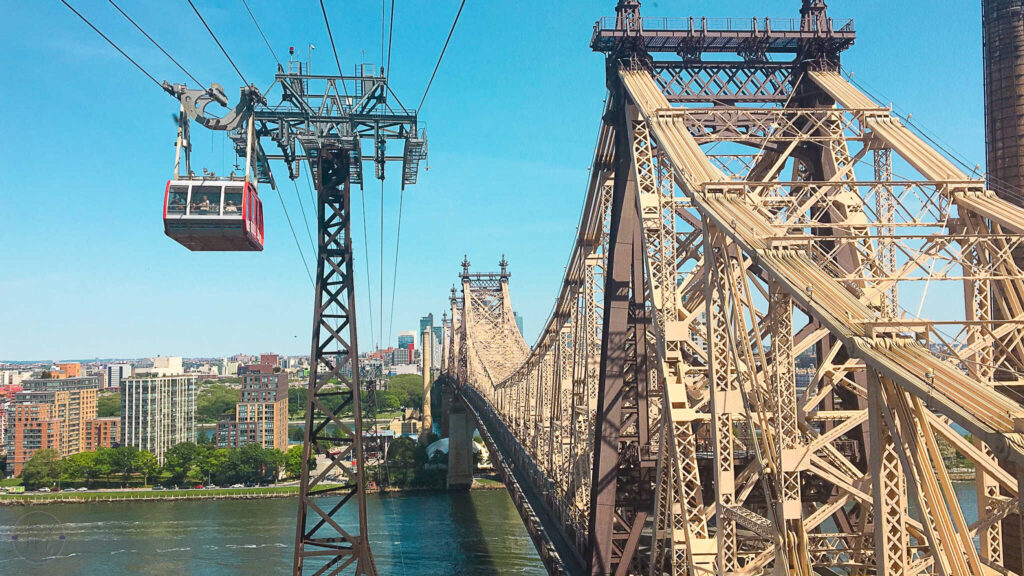 This is one of my favorite summer activities in NYC! For the swipe of your MetroCard, you can ride the Roosevelt Island Tramway and soar above the East River to arrive at Roosevelt Island. It was the first operating commuter aerial tramway in North America and drops you right in the center of the island (next to the Roosevelt Island F train stop, if you'd prefer to take the subway.)
Once you're on the island, feel free to walk around. Each end of the island has a different park; at the north end, you'll find the historic apartment building Octagon Tower and Lighthouse Park, with its 1872 stone lighthouse standing tall next to the water.
Along the south side of the island, you can wander through Cornell University's Jacobs Technion-Cornell Institute and explore the ruins of the former Smallpox Memorial Hospital, built in 1864, in Four Freedoms State Park.
Rock at the Flipper's Roller Boogie Palace in Rockefeller Center
This summer, the Rockefeller Center Rink will not close when the weather warms up; instead, you can rollerskate! Flipper's Roller Boogie Palace has taken over the renowned location, where you can now roller stake around at one of the coolest things to do in NYC this spring and summer.
The first Flipper's Roller Boogie Palace debuted in Los Angeles in 1979 and shuttered three years later, but its influence on pop culture has lasted more than four decades. The same family that founded the original is now behind the cooperation with Rockefeller Center!
Roller skates are available to rent, and one dollar from each rental will be contributed to Saks Fifth Avenue's mental health charity.
Read More
Escape the heat by shopping in one of the city's indoor malls
Although some may say that New York City is one gigantic retail mall, there are other well-established indoor malls across the city! These are excellent indoor activities in New York City, especially on really hot summer days when you just want to stay inside with air conditioning.
The Oculus is located on the grounds of the World Trade Center, just across from the 9/11 Memorial. It has a Westfield retail center and several spectacular tributes to the awful events of that day, including pieces of the retaining wall that survived the attack.
After shopping at the Oculus, walk beneath the Memorial and via the tunnels to Brookfield Place, which is located on the Hudson River. It's a high-end retail mall featuring luxury stores, a gourmet food market, and sit-down restaurants.
The Shops at Columbus Circle, The Shops at Hudson Yards, and The Concourse at Rockefeller Center, all located in their own neighborhoods, are two more excellent indoor retail complexes.
Ride one of New York City's floating food shacks
You haven't lived until you've whiled the day away on a floating lobster shack watching the New York City skyline go by. The North River Lobster Company is a local favorite for an afternoon up and down the Hudson River—as are the specialty lobster rolls they serve.
Leaving several times a day from Pier 81 on Manhattan, boarding passes are only $10, or you can buy a season pass for $25 to enter the boat as many times as you want for the current season. Boarding is first-come, first-serve, and once you're on the ship, you can stay as long as you'd like until the last call and purchase anything off their menu and drinks list.
Seafood not for you? Check out their sister company, La Barca Cantina. Opening this summer, it's the first and only floating Mexican restaurant in New York City, also operating from Pier 81. Frozen margaritas while floating on the water?! Sign me up!
Dare to try a thrill ride on the Hudson River
The Beast is a brand-new jet-powered thrill experience on the Hudson River in New York City. Operated by Circle Line, the high-powered, 70-feet-long speed boat moves you through the water at 45 miles per hour with powerful twists and turns along the way.
The trip takes about 30 minutes and culminates in tremendous up-close views of the Statue of Liberty. You can experience The Beast for yourself from June through September on Tuesdays through Saturdays from 10 am to 6 pm, leaving from Pier 83, and purchase tickets here.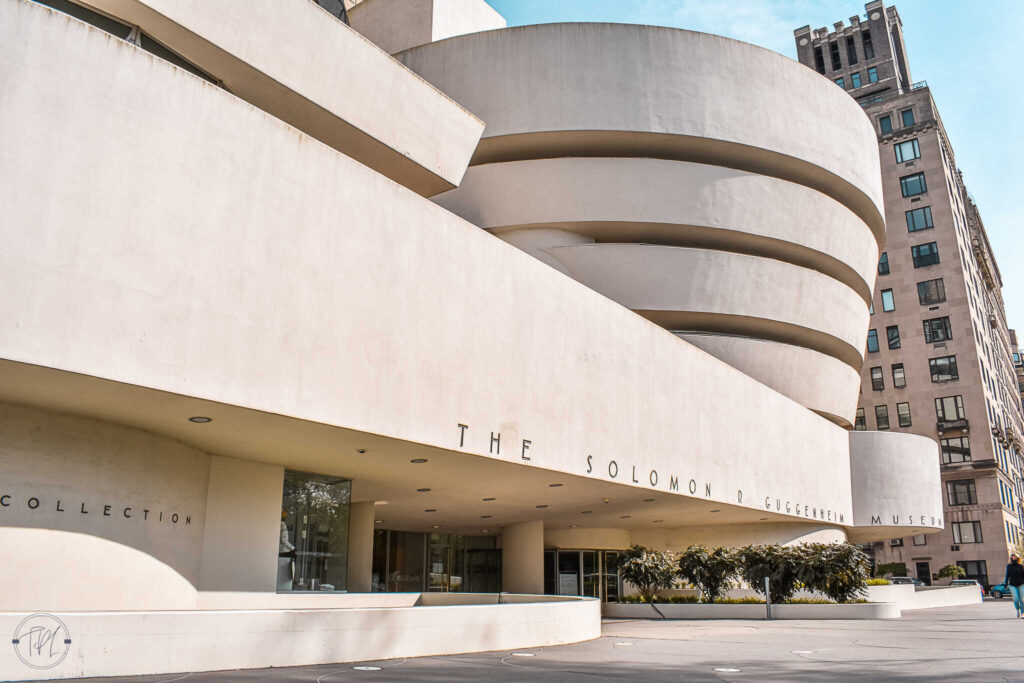 Throughout the year, many New York City museums offer free admission hours that allow people to get a glimpse of the many exhibition halls at no cost.
So, if you're already planning to explore the many museums in New York City, take advantage of the museums that offer free hours and when.
Insider Tip: Visiting one of the city's many magnificent museums is also an excellent opportunity to get out of the heat and into some air conditioning!
Walk along Fifth Ave to attend the Museum Mile Festival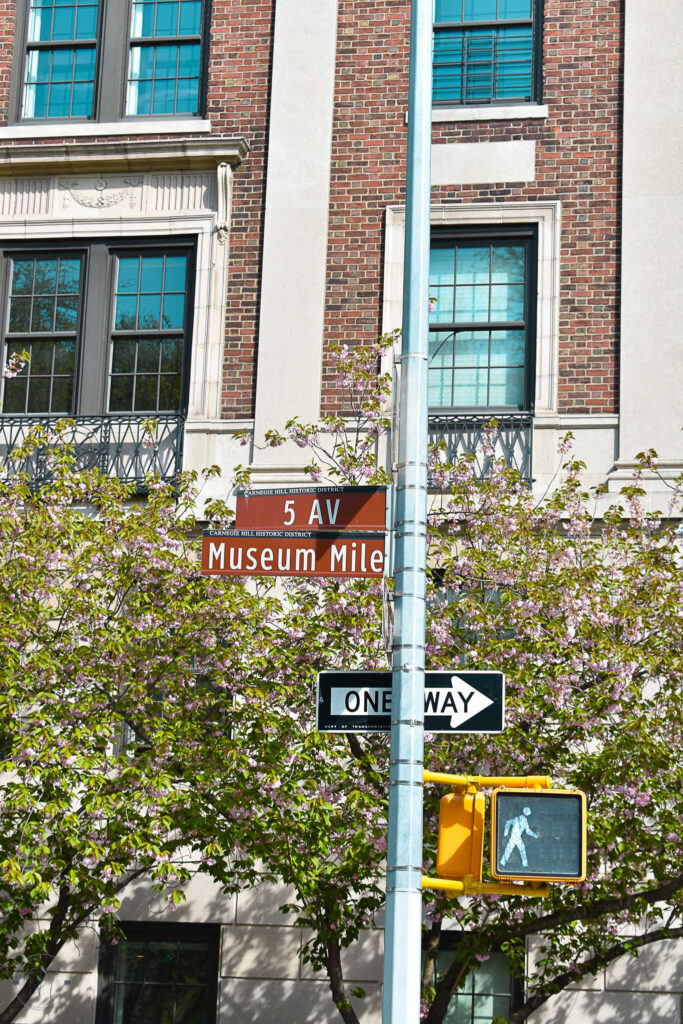 With so many museums along Fifth Avenue, it's no wonder the area is known as Museum Mile. Every year, on the second Tuesday in June from 6 pm to 9 pm, New York's biggest block party takes over the area to celebrate the arts and culture found in these museums, known as the Museum Mile Festival.
The street is closed to car traffic, and entrance into the participating museums is free for the night. In addition to the incredible works of art, you'll see inside, there's live entertainment throughout the mile of city blocks.
Explore a world of the past at The Cloisters
Located in Fort Tryon Park in Upper Manhattan, The Cloisters is a fantastic museum that transports visitors back to Medieval Europe.
A branch of the Metropolitan Museum of Art, the museum is home to more than 5,000 works of European art from the Byzantine through the early Renaissance. The museum was designed by architect Charles Collens in a medieval European monastic style.
Visitors can walk around the peaceful gardens and listen to the birds, or go ahead and pick up a map so that they can explore the museum grounds and see all that the museum has to offer.
Attend a summer event in Bryant Park
Bryant Park is one of my favorite places in New York City any time of year, but the open space offers so many activities throughout the season that it's the perfect place to check when you're looking for what to do in NYC in the summer!
They host the Bryant Park Film Festival each summer, a collection of free outdoor movie showings. It's a surreal experience, picnicking on the grass in the middle of Bryant Park, watching a film with your friends and the lights of the's skyscrapers flicker above you like stars.
And, one of my all-time favorite summer activities in New York City, is watching Broadway in Bryant Park. Each Thursday afternoon, a selection of Broadway and Off-Broadway productions will perform a song or two from their show. It's a great way to catch a quick glimpse of a new project. You can check out their website for this season's line-up once it's announced.
Read More
Grab a bite by Madison Square Park before heading inside Harry Potter World
First, start by making your reservation in advance for the Harry Potter Store. Their wait times can be astronomically long, so get in the queue as soon as you know you want to go.
As much as I love Bryant Park, if you're a little further downtown, Madison Square Park is where you should go for lunch outside. You can either bring your favorite sandwich or salad from any number of the shops around the park or stop at the park's iconic Shake Shack outdoor location (which has been featured in several famous movies set in NYC!)
Since hopefully, you made your reservation in advance for the Harry Potter Store, once you're done with lunch you can leisurely stroll the few blocks from the park, past the Flatiron Building, over to the store.
Learn about the animals at The Bronx Zoo
As the biggest metropolitan zoo in the United States, if you are looking to get up-close-and-personal with your favorite animal species, then the Bronx Zoo is where you want to be.
Opened on November 8th, 1899, it's now home to more than 6,000 animals, representing more than 700 species, including northern white-cheeked gibbons, snow leopards, giraffes, and western red pandas.
In addition to standard admission where you can walk around and view the animals, you can also embark on different Wild Encounters, like private connections with varying animals like rhinos, sloths, penguins, and cheetahs, or their aerial ropes course called Treetop Adventure.
Bike your way up Manhattan on the Hudson River Greenway
The Hudson River Greenway is one of the most beautiful trails in New York City in the summer. The 13-mile path runs down the length of Manhattan, from Battery Park to Inwood. While you can walk the entire route, it's the perfect biking activity.
You can rent bikes from Citi Bike, a shared bike service that anyone can participate in. Download the Citi Bike app to your phone or open your Lyft app, reserve your bike rental from the nearest bike docking station, and then you're off. Just make sure to return your bike to another Citi Bike docking station when you're done with your ride.
Since the route leads you past some really cool places in New York City like The Intrepid Sea, Air & Space Museum, The 9/11 Memorial & Museum, and Chelsea Piers, Citi Bike recommends you purchase a bike day pass so you can hop on and off a bike all day.
Walk around the Reflecting Pools for the Twin Towers at the 9/11 Memorial & Museum
The 9/11 Memorial & Museum is one of the most impactful places in New York City and a beautiful place to spend a summer day.
After the terrorist attacks on September 11th, 2001, the area known as Ground Zero has since been transformed into the 9/11 Memorial & Museum. It's now a place of contemplation and to take a moment to reflect.
The Reflecting Pools sit where the original Twin Towers stood, and visitors are invited to walk around to view the names of those lost on 9/11 and those who died in the World Trade Center bombing of 1993. You can also visit the Survivor Tree, the Memorial Glade, and the 9/11 Memorial Museum.
There's no shade or cover throughout the memorial, so it's best to go on a nice weather day–not too hot, not too cold, and no rain in the forecast. Of course, the earlier in the day you go, the fewer people will be on the grounds, but it's also an incredible sight at twilight.
Interested in learning more? Take a look at my guides to visiting the 9/11 Memorial and Museum and how to get to the World Trade Center on the subway.
Watch the Macy's Fourth of July Fireworks
Just like how we have the Macy's Thanksgiving Day Parade gracing us through Herald Square as the last festival of the autumn season in New York City, Macy's also sponsors the city's spectacular Fourth of July Fireworks.
Every year, it's alternated where the fireworks are set off from–either from the East River or the Hudson River–so check on their website to find out which end of the city you need to go to see them live in person.
See a different perspective of the New York City skyline
One World Trade Center, the Empire State Building, the Chrysler Building. How can you get a glimpse of all of New York City's most iconic skyscrapers altogether? Head outside of Manhattan.
Gantry Plaza State Park in Queens, Governor's Island, Brooklyn Bridge Park in Brooklyn, Four Freedoms State Park on Roosevelt Island, and Liberty State Park in Jersey City, New Jersey all have spectacular views of the "Greatest City in the World." So, spend some time outside Manhattan and enjoy the area while taking in the view.
Grab a drink at a rooftop bar and relax watching the sunset
A trip to a rooftop bar for a drink in the sunshine is a great way to enjoy the warm weather and the view.
Le Bain and The Rooftop at The Standard Hotel (Booking | Hotels) is a premier spot for a night out, while Lucy's Cantina Royale and The Heights Bar & Grill are my two favorite casual restaurants with great rooftop decks. Or, if you'd prefer a fine wine experience, Rooftop Reds in Brooklyn is the first urban rooftop vineyard in the city.
A perfect New York City in the summer day ends with a glass of wine at a rooftop bar, enjoying the sunset and the summer breeze.
So much to do, so little time! Do you think we'll be able to cram in all of this summer fun? What's on your New York summer bucket list?
Lyndsay