This post may contain affiliate links! I will receive a commission, at no extra cost to you, if you purchase something recommended here.
You're thinking about the Big Apple as your next vacation destination, aren't you?
And everyone you know has an opinion on it. It's dangerous, there are too many people, everything is so expensive.
Yes, it has its problems, but it also has its charms. And I would argue that many issues stem from the fact that most visitors come expecting something else.
They come hoping for an adventure or romance, leaving empty-handed. They come looking for excitement, and they leave feeling overwhelmed.
Is New York overrated? No. It's just… the reality is different than what most people expect.
Most tourists visit NYC thinking they know what they're getting into. They arrive with preconceived notions about the city. If those aren't met, they write the city off as "overrated."
It's a place where you can find anything. See a Broadway show, eat at a five-star restaurant, or climb to some of the tallest points in the Western Hemisphere.
Is New York overrated?
No, New York City is definitely not overrated. With so much history, art, and culture throughout the city, it's one of the most iconic cities in the world for a good reason. Although some areas and landmarks of NYC might not live up to the hype you had thought, it's worth experiencing at least once.
Part of visiting a place like New York City has very high expectations–with good reason.
It feels like every famous, modern movie in a city features New York City. T.V. shows like Sex and the City, Seinfeld, and Gossip Girl have idealized the experience of life in NYC.
So, when you get to New York City and your authentic experience doesn't meet your expectations, you feel let down and disappointed.
If you're interested in learning more about this phenomenon, its technical name is the Paris syndrome.
"Paris Syndrome is a sense of extreme disappointment exhibited by some individuals when visiting Paris, who feel that the city was not what they had expected. The condition is commonly viewed as a severe form of culture shock."

Wikipedia
If you're worried that you're going to get here and think that everything you're seeing isn't there are New York City areas, I recommend you avoid the tourist traps.
What are tourist traps?
New York is filled with something we like to call "tourist traps."
When you tell someone you're traveling to a bucket list place like New York City, the usual response is all the places you should go and things you should do when you get there.
More often than not, you will hear the same things over and over again.
Tourist Trap (n.): Varied by location, it is a distinction given to well-known sites or activities that are considered a "must-see" or "must-do" while traveling.
Tourist traps are known as such for a reason.
Usually, they're sites that have some historical significance. Others are beautiful, unique places and landmarks that are highly photographed and set a visual distinction for your travels.
Unfortunately, as a site becomes increasingly popular, the surrounding neighborhood starts catering to the influx of tourists patronizing the place.
While this can be a fantastic opportunity for local businesses to flourish, it often becomes overrun with commercial companies trying to capitalize on the traffic.
Sometimes, the site itself ends up becoming commercialized.
It's still worthwhile to visit tourist traps. They've gartered their notoriety for a reason, and regardless of their current state, it's still a significant spot.
The real problem is if you spend all of your time jumping from one tourist trap to the next.
Although it's technically true that you "saw the sights," you end up missing out on experiencing the local business and the current culture and finding sites that connect and engage you now.
It might take some extra research to find, but accessing still authentic and local spots is just as incredibly worthwhile as visiting the landmarks.
I've found that experiencing tourist traps, hidden gems, and local places gives you the most well-rounded experience, and that's what I'm after!
Top Underrated Experiences in New York City
Here are my favorite ways to experience this fantastic city, which most tourists don't know about.
1. Take a boat tour around Manhattan
One of my favorite ways of experiencing New York City is from the water!
Imagine–immigrants coming to Ellis Island in the 19th and early 20th centuries arrived by boat. This is how they experienced the awesome city skyline for the first time themselves.
I recommend taking this architecture boat tour around Manhattan with Classic Harbor Line Cruises.
With an average of 4.9 out of 5 stars from more than 200 reviews, you'll spend 2 hours on a 1920's-style yacht cruising around New York Harbor.
Learn about the city's iconic architecture from American Institute of Architects New York Chapter (AIANY) members and architects.
2. Climb to the Crown of the Statue of Liberty
If you're looking for a unique experience in NYC, instead of just staring up at the Statue of Liberty from Liberty Island, climb to the top of her Crown and take in the view.
From this vantage point at one of the city's best observatories, you can see the Manhattan skyline along with Brooklyn and Jersey City.
You must climb 168 steps from the elevator to reach Lady Liberty's Crown, or 366 steps if you want to challenge yourself and take the stairs the whole way up.
If you know you want to visit the Crown at the Statue of Liberty, start searching for tickets as soon as possible to secure the opportunity during your trip because Crown tickets sell out months in advance.
Tickets to the Statue of Liberty, the Crown, and Ellis Island can only be purchased through CityExperiences, formerly Statue Cruises.
3. Take the Tram over to Roosevelt Island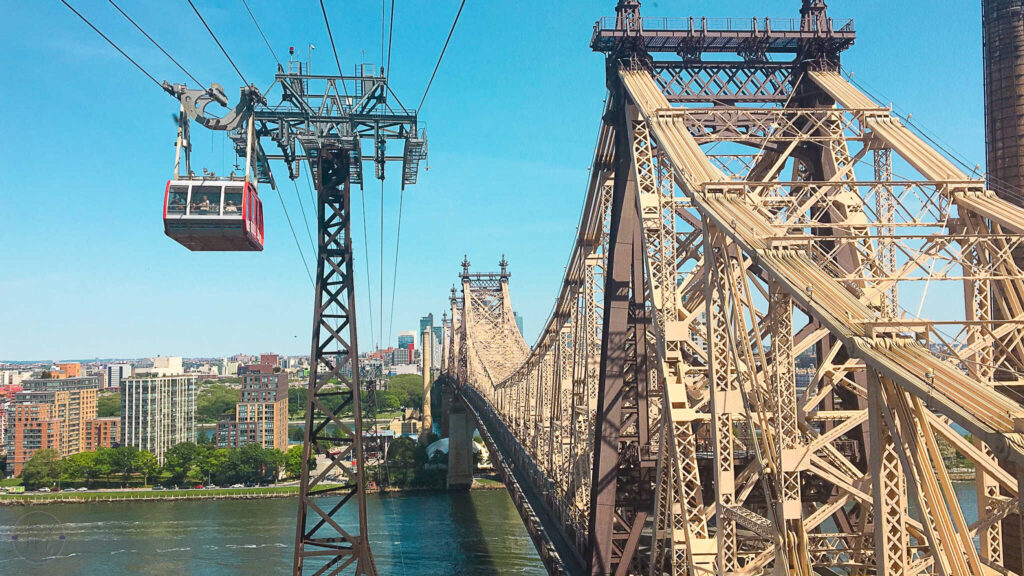 This is one of my favorite summer activities in the city! For the swipe of your MetroCard, you can ride the Roosevelt Island Tramway and soar above the East River to arrive at Roosevelt Island.
It was the first operating commuter aerial tramway in North America and drops you right in the center of the island (next to the Roosevelt Island F train stop, if you'd prefer to take the subway.)
Once you're on the island, feel free to walk around.
Each end of the island has a different park; at the north end, you'll find the historic apartment building Octagon Tower and Lighthouse Park, with its 1872 stone lighthouse standing tall next to the water.
Along the island's south side, you can wander through Cornell University's Jacobs Technion-Cornell Institute and explore the ruins of the former Smallpox Memorial Hospital, built in 1864, in Four Freedoms Park.
4. Explore world-renown art and artifacts at one of New York City's incredible museums
New York City offers some of the most famous museums in the world, filled with thousands of significant and iconic historical artifacts spanning thousands of years.
The Metropolitan Museum of Art, The Guggenheim, The Whitney, and The Frick Collection are just a few of these incredible museums, along with many others.
But dozens of lesser-known museums and galleries are hidden throughout the city, offering unique experiences and collections worth exploring.
5. Step back in time at the Cloisters
The Cloisters, located in Fort Tryon Park in Upper Manhattan, is a fascinating museum that transports visitors to Medieval Europe.
The museum, a part of the Metropolitan Museum of Art, houses almost 5,000 works of European art dating from the Byzantine period through the early Renaissance. The museum was created in the medieval European monastery style by architect Charles Collens.
Visitors can meander around the tranquil gardens and listen to the birds or pick up a guide and tour the museum grounds to discover everything it offers.
6. Watch a Broadway show
While seeing a Broadway show in Times Square is something most tourists know to do, they often go see a long-running hit like Chicago, Wicked, or Book of Mormon.
Although those are all great shows, some of the best Broadway performances I've ever seen were lesser-known shows that don't receive as much hype or aren't as famous as these long-running favorites.
If you're ready to discover your next favorite musical, look at Playbill's week show schedule and see what other productions are playing right now.
And then do a little research! YouTube will be your best friend for watching these excellent shows' rehearsal and promotional footage in action.
When you're ready to purchase tickets, check out my tips on buying Broadway tickets and other things you need to know before seeing a Broadway show.
7. Spend a day lounging on the beach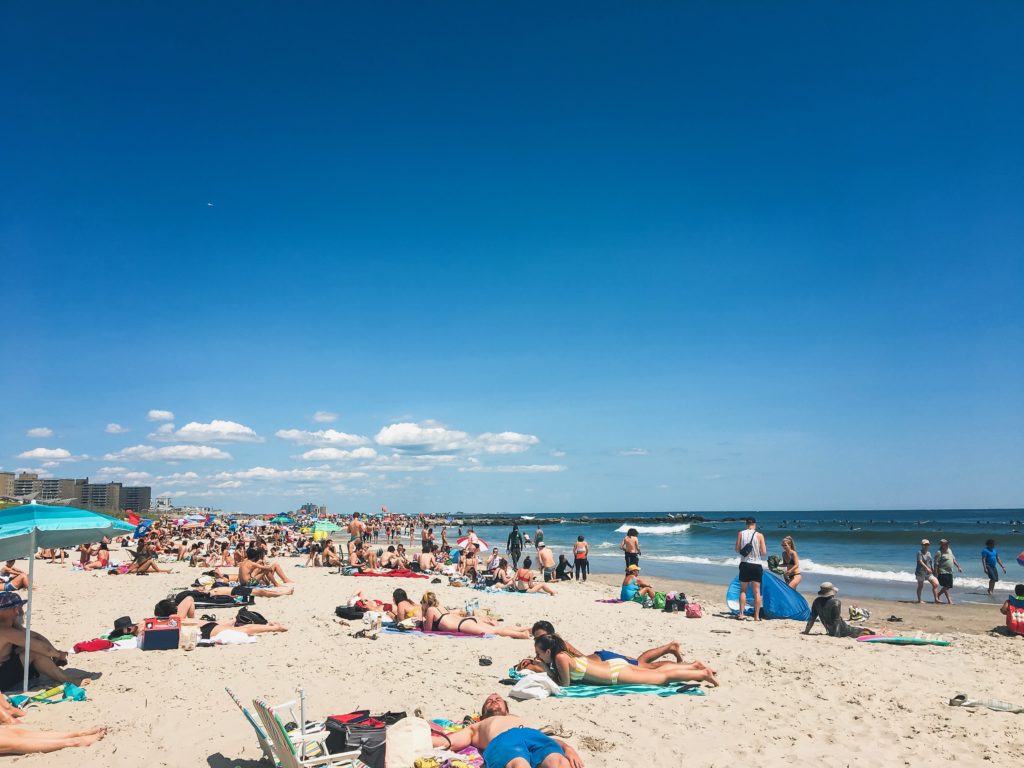 Did you know New York City has its own beach?! And not just one, mind you; all five boroughs have their own beautiful beach where you can enjoy a day in the sun!
A little more than a mile long, Orchard Beach is The Bronx's only public beach.
Named after the 33rd U.S. President, Franklin D. Roosevelt Boardwalk and Beach are one of Staten Island's larger beachfront areas.
While there are no beaches in Manhattan yet, construction has started on a new public beach on the Gansevoort Peninsula. While you won't be able to swim in the water, you'll be able to layout on sand without leaving the island.
My favorite New York beach is in Queens. Rockaway Beach is easily accessible by subway, and it's a quick walk to the shoreline from the station. Make sure you stop at Mara's Ice Cream Parlor for a sweet treat before heading back to the city center!
Brooklyn has several of New York City's most famous beaches, like Brighton Beach, Manhattan Beach Park, and Coney Island.
8. Actually spend time exploring Central Park
Chief among New York City's beautiful parks is Central Park.
Most people only explore the southern sections of the park, which includes the Central Park Zoo, the Carousel, The Mall and Literary Walk, Bethesda Terrace, and Wollman Rink, one of my favorite NYC winter dates.
But have you explored the other landmarks in Central Park?
An Obelisk from ancient Egypt was erected in the park in 1881.
The Conservatory Garden with the Untermyer Fountain is a formal garden with three areas designed in a different historic style.
There's even the North Woods Loch Waterfall, which you can only reach by walking through a heavily wooded area.
Fun Fact: Did you know Central Park was designed like the human mind? The idea is that thoughts are not linear; therefore, Central Park has no straight paths.
9. Climb to the top of Outlook Hill on Governors Island
One of my favorite places to visit when I'm spending the day alone in NYC is Governor's Island. It has a rich history, vast parks, and a stunning view of New York Harbor.
The 172-acre island, known to the Lenape as Paggank, which translates to "Nut Island," is a popular destination for people looking for a day away from the busy boroughs.
Take a bike ride along the 2.2-mile Promenade, picnic at Picnic Point, browse the galleries in the Arts Center, or stroll outside to see any of the island's transforming public art.
Climb to the top of Outlook Hill for the view in the picture above. It's a popular destination for New Yorkers now that it's open all year.
Or, if you're interested in staying overnight, you can book a glamping experience. Spoiler alert–I had a fantastic time, and it's one of the most extraordinary things I've ever done in NYC!
Ferries leave from The Battery Maritime Building in Lower Manhattan daily and on weekends from Pier 6 in Brooklyn Bridge Park and Atlantic Basin in Red Hook.
Adult tickets are $3, but children under the age of 12 are free, as do seniors over the age of 65, military members, NYCHA residents, IDNYC holders, and Governor's Island members.
10. Take the Staten Island Ferry to the only outlet shopping mall in the city
The Staten Island Ferry runs from Battery Park in Manhattan to St. George on Staten Island. The 40-minute voyage is free and provides a fantastic view of the Statue of Liberty.
Once you reach Staten Island, take a short stroll through the ferry terminal to the Empire Outlets, New York City's only outdoor outlet shopping center.
You can spend a few hours here by checking out the stores and shopping with excellent views along the water!
11. Jump on the fun food trend
Amazing cities have amazing food. While overpriced food in the NYC's biggest tourist destinations can lead you to believe that New York City's food scene is overrated, that can't be further from the truth.
The hard truth is, if you're going to eat at Olive Garden or the Hard Rock Cafe in Times Square along with the other hoards of tourists, be prepared for exorbitantly high food prices and, potentially, a mild touch of food poisoning.
Instead, check out some of New York City's phenomenal restaurants featuring ethnic cuisines and innovative food products you can't find at home.
Exclusive dining experiences like One if by Land, Two if by Sea in Greenwich Village, or Eleven Madison Park next to Madison Square Park.
Although I'm partial to New Haven-style apizza, no one can debate that NYC has some amazing pizza too. The New York pizza style also comes from Italian-American roots.
Check out Lucali or Di Fara Pizza in Brooklyn, Zero Otto Nove in The Bronx's Little Italy, Numero 28 in the West Village, Angelo's Coal Oven Pizzeria just below Central Park, or Kesté in Lower Manhattan for some of the city's best pizza.
And don't get me started on desserts! Visit Magnolia Bakery for its banana pudding, Chip City or Schmackary's for their cookies, Mom's Kitchen and Bar for milkshakes, and the Brooklyn Ice Cream Factory for small-batch ice cream.
12. Binge-watch classic T.V. at the Paley Center for Media
The Paley Center for Media is a museum where you can rewatch your favorite T.V. shows, radio broadcasts, and even tapes from previous Olympic Games.
The Museum of Broadcasting, located immediately outside Rockefeller Center, was created in 1975. The Paley Center for Media was renamed in 2007 to incorporate all types of media entertainment, such as television, radio, film, streaming, podcasting, and more.
You'll start by browsing The Archives, a database containing over 160,000 recorded broadcasts. Then once you've decided on a show to watch, you can sit back and watch it alone or in a small group of up to four people.
Admission is free for the first 1.5 hours, although a recommended donation is appreciated.
Insider Tip: Visit the Paley Center for Media for one of their many scheduled screening events on one of their theater-sized screens. Their films are also free, but seating is on a first-come, first-served basis, so arrive early.
13. Visit the 9/11 Memorial
The 9/11 Memorial and Museum is one of the most powerful places you can visit in New York City.
Following the terrorist attacks on September 11, 2001, the area known as Ground Zero was transformed into the 9/11 Memorial & Museum.
The Reflecting Pools are positioned where the original Twin Towers originally stood. Visitors can walk around and see the names of those who died on 9/11 and in the World Trade Center bombing of 1993. Visit the 9/11 Memorial Museum, the Survivor Tree, and the Memorial Glade.
You can choose to walk the grounds on your own and then head into the museum or learn the in-depth history of the day's events by taking a guided walking tour.
14. Find your new favorite comedian at a comedy show
As famous as Broadway is, NYC is also one of the most incredible destinations to watch up-and-coming comedy talents and well-known comedians.
And, with many of the world's most renowned comedians getting their start in New York, you never know who will turn up to try out new stuff in an impromptu performance.
Comedy Cellar – Found in Greenwich Village since 1982, this is one of the most famous comedy bars in the city. They have several shows a night, and the cover is only $25 to reserve your ticket to a show.
Gotham Comedy Club – This Chelsea club opened in 1996 and has been a staple in the NYC comedy scene ever since. In addition to an excellent line-up, they have top-notch pub food and offer more than 30 different types of vodka.
Caroline's on Broadway – Up in Midtown in the Theater District, Caroline's has been home to excellent comedy since 1982. The club also produces one of the best fall festivals in NYC, the New York Comedy Festival.
The Stand – Over in Gramercy Park on the east side of Manhattan, The Stand is a relatively new addition to the NYC comedy circuit.
15. Catch a professional sports game
Want to root root root for the home team? If you don't go, it's a shame *wink*
New York City has several sports teams encompassing all seasons, so you can catch a home game at one of the city's stadiums.
For baseball, we have the New York Yankees and the Mets.
We have the NHL New York Rangers and the Long Islanders for hockey.
For basketball, we have the New York Knicks and Nets.
And for football, we have the NFL's New York Giants and Jets.
16. Be a studio audience member at your favorite live taping
To fill their theaters, many of your favorite shows that film in front of a live studio audience in New York City have free ticket policies. However, tickets are routinely issued and snapped up months in advance.
If you're able to plan that far ahead, you should be able to get tickets to your favorite show's taping. Check 1iota or TVTaping to see what shows have available tickets, and reserve your spot.
You can also attempt securing a stand-by ticket if you're prepared to get up and stand outside from early morning until late afternoon.
17. Learn about what makes New York such an eclectic city on a full-day walking tour
New York City offers some of the most diverse neighborhoods in the world. From Chinatown to Little Italy, Greenwich Village to Harlem, there's no shortage of unique places to visit.
And because New York is such a large city, you can easily spend days exploring its many neighborhoods.
But where should you begin? One of those overlooked gems is a walking tour.
You'll learn the history behind some of the city's most famous landmarks, and have an opportunity to ask a local, licensed guide for additional recommendations to make the most of your time in NYC.
This 6-hour walking tour covers almost all of Manhattan, starting in Times Square and working your way down the island.
Pro Tip: Remember – tip your tour guides!
Read More
Is New York Overrated?: Wrap-Up
OK, do I think New York City is overrated? Absolutely not. NYC is iconic for a reason.
This city has played a role in some of our modern history's most important world events.
It's filled with groundbreaking landmarks, incredible art and culture, and history on literally every street corner.
So before you go, read about this unbelievable city. Take advantage of all the different resources I offer here on The Purposely Lost to learn about things to do in New York City for all different seasons and interests.
While yes, there are some tourist trap attractions that you should avoid in favor of some lesser-known options, everyone needs to come to experience the Big Apple, the City That Never Sleeps, the Concrete Jungle where dreams are made of, at least once in their lifetime.
Then, when you return home, reflect on your trip. Nothing's perfect, so what was to be desired? What exceeded your expectations? What can't you wait to do again?
Once you've done that, you'll realize there's nowhere like New York City.
Lyndsay