This post may contain affiliate links! I will receive a commission, at no extra cost to you, if you purchase something recommended here.
As you might know by now, I love wandering around New York City, no matter the time of year.
But, Christmas time in New York City happens to be a particular favorite–the bright lights become brighter with the addition of holiday decorations on every storefront.
The occasional snow flurry covers the New York City streets in white for just a moment before it fades away.
Walking hand in hand with your partner, even though the air is frigid, but neither of you wants to let go. It all adds to the romantic charm of the City that Never Sleeps.
Whether you're looking for a sweet date at a cozy restaurant on a cold winter night or a fun activity to do together, you'll find plenty of romantic things to do in New York City in winter.
From beautiful boat rides to iconic Christmas trees, to Broadway shows, to holiday markets, there are still plenty of opportunities to still get all warm and cozy during the colder months on a New York Christmas trip.
This list of my favorite winter date ideas in NYC will help you plan an unforgettable experience for two this season!
Editor's Choice: Winter NYC Date Ideas
Luxury Harbor Cruise
With an average of 4.7 stars from more than 350 reviews, a Luxury Harbor Cruise is one of the most beautiful and fun winter dates in NYC.
The Best Winter Date Ideas in New York City
Are you looking for the perfect way to spend a romantic winter date night in NYC?
Whether you're a local looking for a new first date spot or celebrating a romantic occasion, there are tons of unique and exciting winter NYC date ideas to choose from.
From cozy restaurants to outdoor activities, here are a bunch of the best winter date ideas in NYC that will make your time unforgettable!
1. Walk around the Oculus and Brookfield Place
As New York City's most well-known indoor mall, head inside the Oculus and Brookfield Place for one of the warmer winter date ideas in NYC.
The entrance to the Oculus is on the grounds of the World Trade Center, right across from the 9/11 Memorial.
It incorporates several beautiful symbols to commemorate the disastrous events of that day–you can see parts of the retaining wall that held strong during the attack.
The skylight opens on the anniversary each year.
If you stand on the atrium level and look up through the skylight, you can see the spire of One World Trade Center.
If you're interested in doing some shopping on your NYC winter date, the Oculus is a great place to do it.
From the subway to the stores, you don't have to step outside for anything (unless you want to visit the 9/11 Memorial) since everything you'll need is inside.
However, when you look around during the holiday season, you'll discover an excellent holiday market! Every winter, the atrium of the Oculus hosts stalls for some of your favorite New York City shops, as well as an area to take Christmas photos.
Pop by the different stands and pick up a few holiday gifts for your loved ones, and make sure to stop for a picture in the winter wonderland.
Once you're done in the holiday market, shop through the rest of the Oculus, a Westfields mall.
Then, walk underneath the Memorial, through the tunnels, to arrive on the water at Brookfield Place.
It's a high-end shopping mall with luxe shops, a food market, and sit-down restaurants.
You can also walk outside along the Battery Park City Esplanade and the North Cove Yacht Harbor.
They even have an ice skating rink right along the harbor.
Which reminds me…..
2. Head to a rink for some ice skating
If you're looking for a classic winter date in New York City, there's nothing quite like going to ice skate at one of the NYC parks or private venues.
And, most rinks have skate rentals on-site, so you don't have to bring your own from home.
With some pretty famous rinks around the city, here's a list of my favorites:
Fun Fact: The Rink at Bryant Park's Winter Village is the only ice skating rink in NYC with free admission!
While I love Brookfield Place's rink because of its proximity to the water and its a little bit less crowded than, let's say, Rockefeller Center, there's no denying the iconic skating site.
3. Enjoy a romantic boat cruise
One of the most stunning views of the City is from the water.
While you can take a private boat to go glamping on Governor's Island in the summers, you should consider taking a boat ride on the water–one of my favorite New York Christmas tours.
After all, Manhattan and Staten Island are islands, and Brooklyn and Queens are technically part of the landmass known as Long Island (but yes, there are huge differences between the boroughs and the island they reside on.)
A Luxury Harbor Cruise from City Cruises will find you on an all-glass boat perfectly designed for you to take in panoramic views.
You and your date can relax and enjoy each other's company while snapping pictures of the amazing views of the city skyline.
The cruise even includes a 3-course meal at a private table with live narration, music, and dancing–talk about the ultimate NYC boat cruise!
The 2 to 3-hour tour sails from Pier 61 at Chelsea Piers at three different times throughout the day.
4. Learn about art and culture together at a New York City museum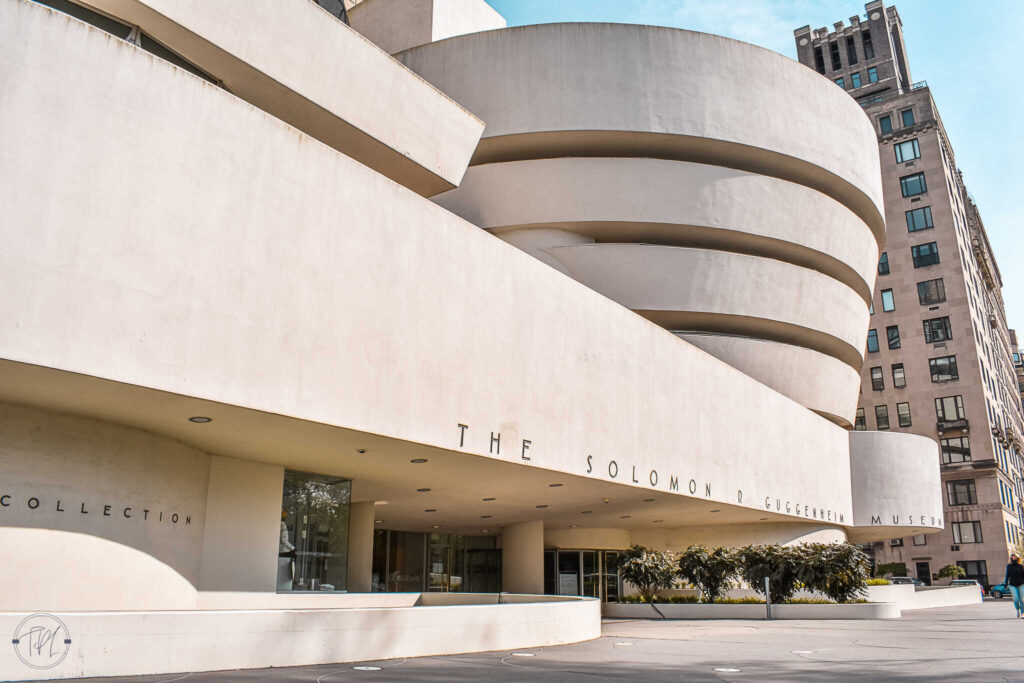 Visiting a museum in the city is one of my favorite indoor activities; it's a fantastic way to stay out of the cold while learning about history and other cultures.
Not to mention discovering more about each other! Here are some of the choice museums for a date where you have the chance to learn about art, culture, food, and more from across the globe:
5. Visit the Statue of Liberty and Ellis Island
The Statue of Liberty Enlightening the World is a sculpture in New York Harbor conceived and cast in Paris by French artist Frederic Auguste Bartholdi.
It was given to the United States as a gift by France and is located on Liberty Island in New York Harbor, near Ellis Island.
Ellis Island served as the primary entry point for immigrants entering the United States. It was in operation from 1892 until 1954 and is now a museum where guests will learn about immigration to America.
From Castle Clinton in Battery Park, take the CityExperiences Statue City Cruises ferry (previously Statue Cruises) to the Statue of Liberty and Ellis Island.
This is an excellent winter date with museums on both islands since you can spend plenty of time both inside and outside. And since you'll be exploring history, it's a great opportunity to learn more about your date's life and family!
Need some gift-giving inspiration this holiday season? Check out my guides on the best travel essentials for women, travel gifts under $20, zero-waste travel essentials, gift ideas for history lovers, and great gifts for friends going abroad!
6. Walk across the Brooklyn Bridge
Walking over one of New York City's most famous bridges is a fantastic winter date idea, even in the cold.
Walking from one end of the Brooklyn Bridge to the other takes between 30 minutes to an hour, making it an awesome choice for an afternoon adventure.
Because the entrance on Manhattan is only a few blocks away from the 9/11 Memorial, spend the morning exploring the 9/11 Memorial grounds before crossing the Brooklyn Bridge.
When you arrive in Brooklyn, stop for lunch at Grimaldi's, a legendary New York pizzeria. If you're not too cold yet, treat yourself and your date to an ice cream cone from the Brooklyn Ice Cream Factory before exploring Brooklyn Bridge Park.
Fun Fact: P.T. Barnum took 21 of his circus's elephants, as well as 7 camels and 10 dromedaries, across the Brooklyn Bridge a year after it opened in 1883 to publicly demonstrate that it was safe and secure.
Read More
7. Date night dinner and a show
Another one of the most romantic things to do in New York City in winter?
Dinner and a Broadway show!
When I was a New York-based actor, this happened to be my absolute favorite date at any time of year.
There are so many excellent restaurants around the Theater District.
Specifically outside of Times Square. If you learn nothing else from this guide, know this—please do not eat at a chain restaurant in Times Square!
Instead, walk over to Ninth Avenue, which is no more than 10 minutes, depending on where you are. You'll be in the neighborhood Hell's Kitchen, where you can find tons of restaurants with delicious food.
Some of my favorites include:
Pro Tip: Make your reservations for at least an hour and a half before showtime. And, let your server know when you first sit down what time your show begins. They'll usually do their best to accommodate!
If you and your date aren't sure which Broadway show you want to see, visit the TKTS Booth and ask! In Times Square, you'll find them under the red stairs, but they also have a location at Lincoln Center and South Street Seaport.
There, you can find a selection of Broadway and Off-Broadway tickets between 30-50% off the price you'd pay at the box office.
You can also read my whole guide on the best ways to buy Broadway tickets and tips for attending a Broadway show.
No matter what show you see, dinner and a Broadway production are as memorable of a date as they come!
8. Date night dinner and a movie
If you'd rather see a movie than a live show, there are a ton of movie theaters around the city, including two in Times Square, so you can still visit a restaurant in Hell's Kitchen before your movie if any of my preferred restaurants really interested you.
A couple of my favorite movie theaters in the city for a date are the Alamo Drafthouse and Nitehawk Cinema, where you can order your meal while watching the movie.
Otherwise, a great winter date idea during the holiday season is heading down to Greenwich Village to watch the classic film It's A Wonderful Life on the big screen.
Right off the A/B/C/D station at West 4th street, IFC Center is a home for classic and indie feature films in New York City.
During the holidays, they show the 1946 movie many times throughout the month of December. Enjoy a great dinner downtown before you and your date watch James Stewart's iconic performance as George Bailey.
Some of my favorite restaurants in Greenwich Village include:
9. Step back in time at a speakeasy
As a throwback to the Prohibition era in the United States, NYC speakeasies are ornately decorated bars tucked away in the most unlikely of places.
In ice cream shops, underneath convenience stores, even on the top floor of a 5 Guys.
Quick History: Prohibition was a national ban on the manufacturing, sale, and transportation of alcoholic beverages that lasted from 1920 until it was overturned by the Twenty-First Amendment to the United States Constitution.

Speakeasies were the equivalent of today's cocktail lounges, where members of the public could order illicit liquor to be delivered in secrecy. The term "speakeasy" was coined in reference to these underground taverns, which traded under a variety of different names in different cities.
This is such a cool winter date because part of impressing your date is actually getting into the bar. A few of my top choices are:
Apotheke – An unassuming building on Doyers Street in Chinatown, which was historically known as The Bloody Angle, becomes a science-inspired cocktail bar at night.
UES – While it might be too cold for ice cream, it's never too cold for a drink! This speakeasy is hidden inside an Upper East Side ice cream shop.
Dutch Kills – Over in Long Island City, you'll know you're in the right place when you walk by the neon sign that reads as only "BAR."
10. Take your date for an amazing spa day
This is a great winter date for New York!
There are so many nice spas around the city for just about every budget where you and your date can be pampered for a few hours.
I highly recommend booking a couples massage so both of you can relax for a little while and work out the muscle tightness that comes from trekking through the Big Apple.
If you're looking for a date that's more like a day trip, you can spend all day at QC Terme on Governor's Island.
Their couples package includes admission for the day to enjoy their baths, saunas, and hydrotherapy pools and massages for two.
I went to their location in Rome, and it was the most luxurious spa experience I've ever had.
If you're looking for more elegant winter NYC date ideas, check out my list of the best experience gifts in New York City.
11. Get to know each other over frozen hot chocolate at Serendipity3
Did I just say frozen hot chocolate? Yes! You haven't lived until you've tried frozen hot chocolate at Serendipity3.
This iconic restaurant in the Lenox Hill neighborhood in Manhattan is famous for its cold spin on an otherwise warm treat.
With flavors to try like Frrrozen Hot Chocolate, Salted Caramel, White Chocolate, and Mint Chocolate, among some other outstanding options, it's one of the hottest–and coolest–desserts in NYC.
Spend the evening sipping on this delicious drink and get to know each other a little better.
12. Do a food crawl through one of the city's market halls
Are you a picky eater? Are you worried your date will be?
Instead of stressing over the perfect restaurant choice, keep it casual by meeting at one of the city's awesome food halls.
That way, you can each eat exactly what you like best while still having a fun time on your date!
A few of my favorites include:
13. Enjoy one of the many winter festivals around New York City together
New York City offers many great indoor and outdoor festivals throughout the winter months.
And after December, when the festive events end, you can find some fantastic cultural events featuring specialty foods, special events, and family-friendly activities.
If you want to spend some quality time having fun and experiencing new things with your date this winter, consider attending one of these incredible festivals.
14. Savor some of the best food in the city during NYC Restaurant Week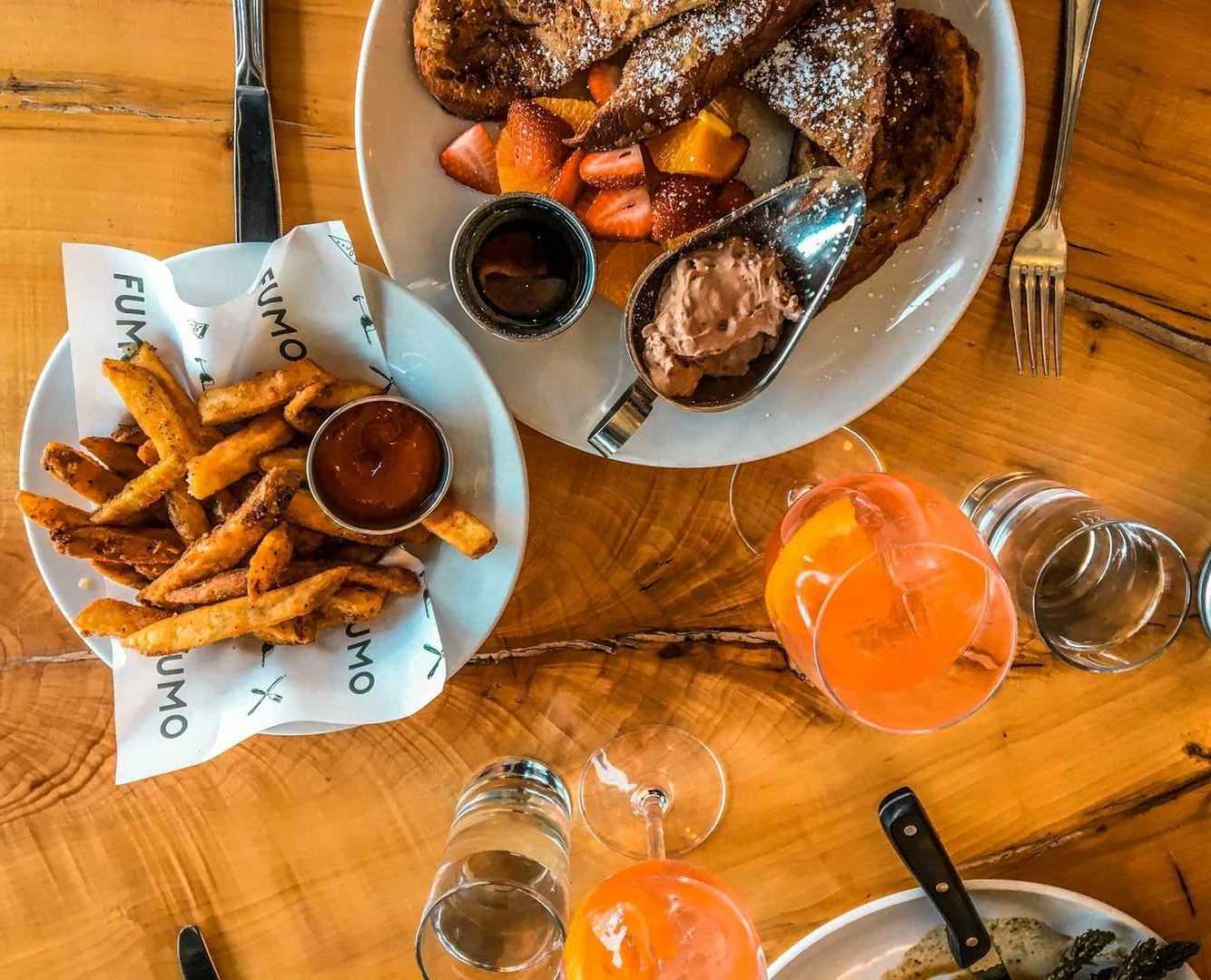 If you and your date are foodies, you're going to love NYC Restaurant Week!
Some of the best restaurants across the five boroughs participate in this bi-annual affair.
They usually offer a pre-fixe menu you order from, which comes at a discounted price than what they would otherwise charge.
It's a tremendous opportunity to taste-test excellent foods made by some of the top chefs working in New York City today, and try excellent restaurants that would otherwise be a bit too pricy for two.
15. Get outside the city for a day of winter adventure sports
As an alternative to ice skating, why not try skiing or snowboarding?
Hosted by Sourced Adventures, the Mountain Creek NYC Snow Bus Ski takes you out of the big city to Mountain Creek ski resort in Vernon, New Jersey.
The bus picks you up from Union Square or West 45th and 11th Avenue before its two-hour journey to the resort for a full day of skiing and snowboarding.
With trails for both beginners and seasoned pros, this is an easy way to get out into the snow for some fun from New York City.
The bus leaves every Friday, Saturday, Sunday, and select holidays throughout the winter season. You can check their availability and purchase tickets on their website.
16. Take a ride around Manhattan in style on a limousine tour
If you're looking for an unforgettable romantic date this winter, why not enjoy a private holiday lights limo tour of New York City?
You and your significant other can explore the city while a professional driver takes you to some of NYC's most iconic sights all decked out for the holiday season.
And you don't have to brave NYC's winter chill!
This incredible date idea is perfect for an anniversary or special occasion–you can take a look at my guide to the top limo tours in NYC to pick which one is right for you.
17. Admire the view of New York City from the Top of the Rock observation deck
If you're looking for a unique winter date idea in NYC, then heading to the Top of the Rock observatory at Rockefeller Center is perfect.
It's especially magical during the winter months!
You and your special someone can bundle up and take in the breathtaking panoramic views of Manhattan.
One of the reasons why I'm suggesting Top of the Rock as opposed to any of the other incredible observatories in NYC is because, from Rockefeller Center, you can enjoy a view of NYC that includes the Empire State Building, 30 Hudson Yards, 1 Vanderbilt, and the World Trade Center.
There's truly no more romantic view, especially at night!
Romantic Things to do in NYC in December
December is a great time to visit New York City for a romantic getaway.
The city is filled with festive decorations, holiday markets, and so many activities to get you and your date into the holiday spirit!
Here are some of the best romantic activities in NYC during December.
18. Wander through the shops at a winter market
One of the best NYC winter date ideas is visiting one of the Christmas markets around the city!
Christmas markets and holiday villages can be found in every borough of New York City, featuring products and foods from various businesses and booths around the city.
Although the Bryant Park Winter Village and the Union Square Holiday Market are the most well-known winter villages in New York City, there are holiday villages throughout the city–including the one in the Oculus.
Local artists and stores from all across the five boroughs sell some one-of-a-kind items.
I always include at least one present from a holiday village stall in my Christmas giving. It's a fantastic place to find really thoughtful gifts for your loved ones.
Pro Tip: While visiting Bryant Park's Winter Village, don't forget to pay a visit to the New York Public Library, which is right next door. The historic building is elegantly ornamented for the holidays every year, and it's a perfect place to slip away for a bathroom break!
Don't overlook long-term New York City Markets, either.
Artists & Fleas, which is found in a few venues across the city, Smorgasbord in Brooklyn, and Grand Bazaar on the Upper West Side, all go all out for the Christmas season as well.
Even the Brooklyn Navy Yard has an annual holiday market!
Wander through the stalls, sip on some hot chocolate and get to know your date better.
19. Visit the Rockefeller Center Christmas Tree and skate under the lights
When you think of famous movies and tv shows set in New York during winter time, ice skating at Rockefeller Center is always part of the montage.
Some people have the opportunity to skate under Prometheus, the Rockefeller Center Christmas Tree, and 30 Rock towering above them on their bucket list.
Once you unlace your skates, take your date to watch the rink from the street level, and make sure you capture a million and one selfies with the Tree.
Taking your date to the Rockefeller Center Tree is one of those quintessential Christmas date ideas! And since there will almost definitely be other people on dates there too, if a couple happens to ask you to take their picture, they'll usually return the favor.
You can also head over to the Fifth Avenue entrance for an incredible view of the Rockefeller Center Christmas Tree and 30 Rock in the distance.
This is also the perfect spot to see the Saks Fifth Avenue elaborate window displays and watch the lights show on the store's facade.
You might say I have a soft spot for this particular NYC winter date! Once upon a time, I went on a first date to see the Rockefeller Center Christmas Tree, and we've been together–exploring New York City, the United States, and Croatia–ever since.
Insider Tip: The iconic toy emporium FAO Schwarz is also located in Rockefeller Center for holiday shopping. The larger-than-life store features experiences like the famed floor piano–featured in the movie BIG (1998) with Tom Hanks–to hosting classic toys and toy brands your parents and grandparents loved.
20. Dress up in your best vintage clothes for the Holiday Train
The New York Transit Museum partners with the MTA to run the Holiday Nostalgia Rides every Sunday from Thanksgiving to New Year's.
Starting from the 145th Street B line and heading all the way downtown, vintage NYC subway cars from the 1930s through the 1970s are brought out of their retirement to make up the holiday train.
People come dressed up in their finest throwback outfits and herald back to a time when taking a subway ride was a more refined activity.
Since the holiday train only runs a few times during the season, it's best to base your date night on the train's schedule available on the New York Transit Museum's website.
You can also check out my guide on using the NYC subway system if you need a little help.
Before you hop on the Nostalgia Ride at 145th, take the opportunity to have dinner uptown.
My favorite romantic night restaurant is called Bono Trattoria on West 155th and Broadway, while The Grange Bar & Eatery at West 141st and Amsterdam or FUMO Harlem at West 139th and Amsterdam are also worth an honorable mention.
21. Cozy up at a festive rooftop bar
One of my favorite summer activities in New York City is relaxing at a rooftop bar, but you can also enjoy it on a date in the winter!
There are several rooftop bars across the entire city, each with its own unique scenery and style to keep you and your date warm on your outdoor dining experience.
Each winter, 230 Fifth Rooftop transforms into an igloo hideaway, SERRA by Birreria at Eataly Flatiron turns into a winter lodge, and Bar 54 becomes another igloo haven right in the center of Times Square.
Read More
22. Head to Fort Tryon Park for Christmas at The Cloisters
A magnificent museum called The Cloisters is located in Upper Manhattan's Fort Tryon Park, which takes visitors back to Medieval Europe.
The museum, a part of the Metropolitan Museum of Art, houses about 5,000 works of European art dating from the Byzantine period to the early Renaissance.
The museum was constructed in the medieval European monastery style by architect Charles Collens.
Each year to celebrate the season the halls are adorned with historic Medieval 'Christmastide' decorations.
Garden staff and volunteers work for weeks handcrafting the locally-sourced holiday furnishings, including evergreen trees, holly, ivy, and other plants used to celebrate Christmastide, the 12-day Medieval festival between the Nativity and the Epiphany.
This is an incredible museum to explore at any time of year, but if you've ever wondered what a Medieval holiday celebration looked like, this is the place to see.
Walk through the holiday halls with your date, marveling in the architecture and learning about the era's history.
23. Wow your date with a magnificent holiday meal
Restaurants throughout the city totally transform for the winter.
Rolf's German Restaurant on East 22nd Street and 3rd Avenue is Christmas in New York bucket list place to dine.
Even though the restaurant's decorations change with the seasons, it goes all out for Christmas. If this is on your list, you'll definitely need to make a reservation well in advance.
Another favorite for a romantic winter dinner is Lillie's Victorian Establishment, which you can find on either West 49th or East 17th Street.
The contemporary twist on Victorian-era indoor dining room decor is amplified during the Christmas season.
Everywhere you look, you'll see garlands, wreaths, and ornaments hung throughout the romantic restaurant.
It's also one of my favorite restaurants across from the Eugene O'Neill Theatre in the Theatre District.
If you want to experience the wonderful time-honored tradition of New York City brunch, Lotte New York Palace (Booking | Hotels) has a beautiful weekday breakfast and weekend brunch in their on-site restaurant Villard, which is fully decorated for the season along with the rest of the historic hotel.
You can find the complete list of my favorite restaurants that decorate for Christmas in New York City here.
24. See the holiday light shows at three of the city's gardens
In addition to their flora and fauna, both the Brooklyn Botanic Garden and the Snug Harbor Cultural Center on Staten Island host stunning holiday light shows.
In Brooklyn, walk along a 1-mile path through the Brooklyn Botanic Garden's 52 acres after dark for Lightscape.
You and your date will enjoy the colorful twinkling lights and soundscape as you explore the gardens in a whole new way.
You'll also have the chance to experience displays like the Fire Garden, the Field of Light, the Winter Cathedral Tunnel, and other light works developed by Brooklyn-based artists.
In Staten Island, take advantage of Lantern Fest Fridays.
Every Friday in December, three museums—the Staten Island Museum, the Newhouse Center for Contemporary Art, and the Noble Maritime Collection—are open until 8 p.m. to celebrate the beautiful winter festival in New York City, the Winter Lantern Festival.
Once you finish at the museum, follow the lights to walk your way to the front lawn of the Snug Harbor Cultural Center & Botanical Garden to see some incredible light exhibits.
In The Bronx, the New York Botanical Garden hosts two special events each winter—GLOW, and the Train Show.
Walk around 1.5-miles of the Botanical Garden's grounds at night for their outdoor light and color show to experience GLOW.
And the Holiday Train Show, model trains go through a miniature model of New York City, complete with iconic sights such as the Statue of Liberty, Rockefeller Center, the Brooklyn Bridge, and many more.
You can grab your tickets to the New York Botanical Garden's Holiday Experience here.
25. Explore Central Park on a romantic carriage ride
A carriage ride through Central Park is one of the most quintessential winter dates in New York City!
As you enjoy the ride, you can cozy up with warm blankets and even treat the horse to a snack.
You'll have the opportunity to see iconic park attractions such as the Wollman Rink, the Central Park Carousel, and the Pond.
Don't forget to pause for some memorable photos at Cherry Hill and Strawberry Fields.
To ensure the best experience, it's recommended to prebook with a reputable family-owned company.
Read More
Where to Stay for a Winter Date Night in New York City
If you're interested in learning more, I have a complete guide on the best places to stay in New York City in December for the holiday season.
The Peninsula Hotel
The Peninsula Hotel (Booking | Hotels), located at 700 Fifth Avenue, is just steps from the brilliant Christmas lights of Fifth Avenue shops and Rockefeller Center.
The decorations at the hotel are in keeping with the hotel's distinctive "Stories from the Tree" theme, which includes six character ornaments, including the Gingerbread Man.
The Gingerbread Man's Tale, the hotel's signature story, can be found on its website.
Lotte New York Palace
Every year, the Lotte New York Palace (Booking | Hotels), located on Madison Avenue and East 50th Street, displays a 30-foot Christmas tree and garlands, lights, and decorations.
They also organize events for customers throughout the holiday season, such as holiday-themed happy hour, Story Time for Christmas classics, cookie making, and singing.
The Algonquin
Now part of Marriott's Autograph Collection, The Algonquin (Booking | Hotels) is another wonderful hotel tastefully adorned for the holidays.
Located just outside Times Square, the hotel originally opened in 1902, but it grew to popularity following World War I as a meeting place for famous authors and artists. F. Scott Fitzgerald,
Ernest Hemingway, Dorothy Parker, and Edna Ferber were just a few of the prominent writers who gathered for lunch at the hotel every day.
The elaborate décor is heightened during the holidays with a huge Christmas tree in the foyer and garland throughout.
Tips for Your NYC Winter Date
Prepare for the crowds – When visitors come from all over the world to be part of the holiday reverie, it feels like the City is even more crowded. It would be best if you left yourself more time than you think you'll need to get somewhere. If Citymapper (my favorite subway app) says it'll only take 45 minutes to arrive wherever you're going, leave an hour or so ahead of time instead.
Make reservations in advance – During the holidays, everyone comes to New York City to do the same romantic activities you want to do. But, there are restrictions to how many time slots or spaces are available every day. Make restaurant and excursion reservations in advance to guarantee that you can enjoy your nighttime activity in NYC without additional stress.
Plan a budget and stick to it – New York City is expensive, and popular sites may have surge pricing around the holidays. You become accustomed to the prices when you live here, but your dinner bill could create sticker shock the first few times. Make a budget for your vacation and stick to it. Take advantage of the many free activities in New York City or plan around free museum hours in NYC to help you stay within your budget.
More Resources to Help Plan Your Winter Date Ideas NYC
New York City is really one of the most magical places to be in the winter. Which of these NYC winter date ideas will you choose?
Lyndsay