This post may contain affiliate links! I will receive a commission, at no extra cost to you, if you purchase something recommended here.
One of my most favorite summer activities in New York City is escaping to Governor's Island. But, have you ever spent the night there? Probably not, and that's A-okay.
Unless you were a member of the few United States Coast Guard families that lived on the island through 1996, no one else has lived on the beautiful 172-acre island in the middle of New York Harbor.
However, now that there's an occasion to stay overnight glamping on Governor's Island, you need to take advantage!
My boyfriend and I decided to jump on this really cool NYC experience for a staycation. Sleep outside, in a tent, in New York City? We're not really camping people, but we decided why not! Here is our complete Collective Retreats Governor's Island review, everything you need to know about this glamping experience.
Before we dive in–what exactly is glamping?
Glamping (n.): Outdoor camping with amenities and comforts (such as beds, electricity, and access to indoor plumbing) not usually used when camping.

"Glamping." Merriam-Webster.com Dictionary
Arriving at Collective Retreats
To get to Collective Retreats, you can pick one of two choose-your-own adventures.
The Governor's Island Ferry runs several times a day during its open season. It leaves from the Governor's Island Ferry Waiting Room in the Battery Maritime Building in Lower Manhattan. Tickets cost $3 each way per person, and there's more than enough room onboard for your belongings.
Make sure to communicate with Collective Retreat's reception in advance. If you let them know what time you'll be arriving, they will send a team member to meet you at the ferry by golf cart. This is a great option if you want to spend the day before your night exploring Governor's Island.
However, if you won't be arriving at Governor's Island until later in the day, past the last public ferry departure, Collective Retreats has a complimentary service to get you to Governor's Island.
Leaving from Pier 25 on the west side of Manhattan, Collective Retreats offers a private water taxi service. They'll give you a ride from downtown across the water to the island. At the time we booked, the boat left every 30 minutes from 4:30 p.m. until 10 p.m. and you'll be issued a reservation form to secure your spot on the boat.
A team member will greet you and drive you and your luggage to the retreat for check-in when you arrive.
We arrived at Governor's Island on their private water taxi, sailing through the Hudson River on a hot summer evening with another couple who were only going to Collective Retreats for dinner.
As a heads up, we missed our original boat by about 20 minutes thanks to a bike-lane-cutting Uber driver and tons of traffic to the pier. While you might not encounter either of those particular situations, the concierge team was incredibly helpful in getting us moved to the next departure time.
Accommodations at Collective Retreats
Located on the west side of Governor's Island, the six-acre retreat has astonishing views of the Lower Manhattan skyline featuring One World Trade Center (my favorite NYC observatory,) Jersey City across the water, and the Statue of Liberty.
For the record–yes, you're sleeping in a tent. But these are not your everyday, run-of-the-mill plastic tents from Walmart. These are enclosed, electricity-enabled, air-conditioned, canvas tents on top of strong wooden platforms, and each living space also provides a safe to lock your valuables.
The beds are all hypo-allergenic with 1,500 thread count bed sheets, and depending on your tent choice, they can be found in double twin beds or king-size beds.
There are three different accommodation types to choose from–the Journey+ Tent, the Summit Tent, and the Outlook Shelter.
Journey+ Tent
The standard, least expensive of the options is by no means "roughing it." In a Journey+ Tent (Booking | Hotels), you'll have access to all of the same amenities, but you'll be sharing private bathroom stalls with other campers, located about 50 yards from the tent.
This was the set-up we chose, and it was great! Part of the adventure was heading out to the bathroom together after midnight for final toiletries.
Also, the Journey+ Tents are strategically positioned for privacy, with private waterfront decks, and unparalleled views of the Statue of Liberty. So, if you're coming for the landscape, this is the right choice!
Bathroom Facilities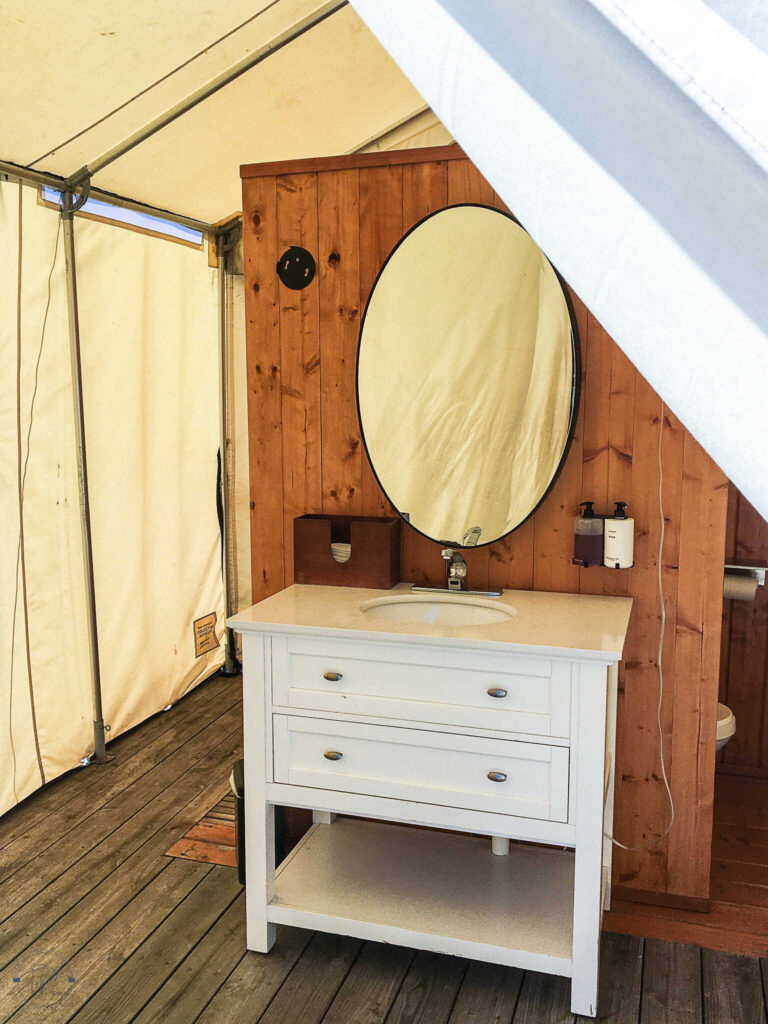 Each bathroom trailer is located in individual tents, with standard, private toilets, and sinks with hot running water.
The suite bathroom with rain-style shower heads and signature spa bath products like shampoo, conditioner, and body wash are available. Even bath linens are provided for you to enjoy a hot shower.
Every morning, each stall is cleaned after the previous guests' check-out, but there's usually a bathroom attendant nearby in case you need something.
Still, if you'd prefer your restroom to be closer, Collective Retreats has two other luxury tent options—both of which include your own private bathroom.
Summit Tent
The mid-tier Summit Tent (Booking | Hotels) is the same set-up as the standard level tent; however, it has a full restroom and shower attached to the back of your tent. No running outside in the middle of the night because you've really gotta go!
Outlook Shelter
If you want to splurge, the highest tier of the accommodation options isn't even a tent. The Outlook Shelter (Booking | Hotels) is more like a tiny luxury home—no canvas to be found; it was built from a shipping container. In addition to your sleeping area, it has a private bathroom with bath amenities like a luxe soaker bathtub.
However, all of the living details almost feel secondary once you're met with the view.
One of my favorite free things to do in NYC is ride the Staten Island Ferry, since it's the closest view you can get of the Statue without going out to Liberty Island. And although you're not as close as the Ferry, it was more than close enough.
As the sun was rising and birds were beginning their day, I opened our tent curtain and dosed with Lady Liberty watching over us.
For a monument so significant to United States history, who watched over my great-grandparents as they arrived at Ellis Island as immigrants from Italy, it felt surreal to be so close to her for so long.
As we ate breakfast on our tent's private deck, Lady Liberty was like our guest of honor.
Ready to reserve your stay at Collective Retreats Governor's Island? (Booking | Hotels)
Read More
Dining Options at Collective Retreats
Once you're on Governor's Island, you have a few options for dinner. If you arrive while the rest of the island is still open to the public, you can enjoy a meal at one of the several restaurants around. My favorites are Island Oyster for seafood and Taco Vista for, you guessed it, tacos!
Or, you can enjoy a meal at Fire & Water at Three Peaks Lodge, the Collective's on-site restaurant. As the day progresses, the ambiance shifts from a casual outdoor lunch location to a more upscale dining scene.
And the dinner menu is consistently delicious. With both surf and turf options, and a dedicated bar area with an impressive drink list, you're sure to enjoy your meal.
I know we did. Full disclosure, by the time my boyfriend and I arrived at Governor's Island, I was pretty nauseous from a migraine (which did not come from the private boat ride, in case you were concerned about that because of your own queasiness.)
The team went out of their way to make sure I was alright. Someone brought our dinner to our tent so that I could eat once my headache medicine kicked in, and the kitchen even included a bitters drink to help calm my stomach.
However, if the whole experience is out of your price range–or you're a New Yorker who can't stomach paying for a tent when you have a perfectly good apartment that you overpay rent on somewhere in New York City–go to Collective Retreats only for dinner.
You'll have the opportunity to enjoy private boat rides to the island and back and a fantastic meal. Plus, watch sunset views from Governor's Island, with the Statue of Liberty and the skyline.
They also offer a weekend brunch on Saturdays and Sundays from 11:30 a.m. to 5 p.m.–and yes, they do have a boozy bottomless option.
Either call ahead to schedule a reservation or book through OpenTable to confirm.
In the morning, you'll be greeted with a complimentary breakfast at your tent. The chef-created breakfasts come from the retreat bakery, with pastries baked on-site and other locally sourced treats. Each room has boxed purified water, a kettle, tea bags, mugs, and a coffee maker for you to enjoy a morning brew.
Whether you eat your continental breakfast in bed, gazing out at the Statue of Liberty, or outside on the deck of your tent, you'll feel like you've indulged in a decadent picnic.
Activities at Collective Retreats
Book a Collective Culinary Explorations class
For an extra fee, Collective Retreats organizes a different class with their food experts almost every night from 4 p.m to 5 p.m. for their guests. With seven offerings, from mixology and wine tastings to charcuterie pairing, oyster shucking, and lobster poaching, you're sure to pick up new knowledge. Reach out to the concierge team to reserve your spot a few days in advance.
Sometimes, Collective Retreats even includes a complimentary Exploration with your booking. Check their website or with the concierge team to determine if they're offering this bundle and whether your stay qualifies.
Gather around the campfire for s'mores
After sunset, late night dining for overnight guests is very sweet indeed! You'll be given everything you need to build optimal s'mores—a blazing fire, long wooden sticks, graham crackers, specialty chocolates, and a little pile of marshmallows begging to be roasted.
Sitting around the fire, gazing out at Manhattan dressed in its nightlights, was the perfect ending to a beautiful day, even after a headache.
Wake up early for outdoor yoga and meditation
To complete your stay at Collective Retreats, be up and on your mat by 8 a.m. for outdoor morning yoga. Stylish mats with guiding lines are provided, which makes it much easier for beginners to follow along.
The class is for all levels, so no worries if someone in your party has never tried yoga. My boyfriend gamely woke up early and took the class with me despite never stepping foot on a yoga mat for yoga before, and he lived to tell the tale.
Ready to reserve your stay at Collective Retreats Governor's Island? (Booking | Hotels)
Read More
Beyond Collective Retreats
Just because it's time to check-out, doesn't mean your day on Governor's Island is over! Collective Retreats can hold onto your bags so you can explore until you're ready to head back to Manhattan.
Spend your day exploring Governor's Island
The entire island had served as a vital military space since before the Revolutionary War and continued through the 1900s. Governor's Island has a rich history, an expansive public park, and stunning views that you need to spend time exploring.
Rent a bike for the day or for 30 minutes from CitiBike through their app or the Lyft app to ride along the island's 2.2-mile Promenade. Enjoy sitting outside at Picnic Point.
Visit the Arts Center to explore galleries and art installations, or walk around the historic neighborhood to see the remaining buildings and public art on the island. And climb The Hills, the island's newest outdoor addition, for beautiful views high above the rest of the island.
You can even take a guided walking tour of Fort Jay and Castle Williams from the Governors Island Welcome Center on the weekends.
Checking out of Collective Retreats
When your day is through, head back to the campground and alert the concierge that you're ready to head out. Make sure to time your day with the ferry schedule. Collective Retreats will arrange to bring you to the public ferry by golf cart when you're ready to go back to Manhattan.
My Honest Collective Retreats Governor's Island Glamping Review
While I'm not one to savor a traditional camping experience, I thoroughly enjoyed this glamping retreat in New York City. Honestly, we can't wait to go back! Although not having a private bathroom readily available in our space was outside my comfort zone, it ended up being a fun part of the adventure.
Everything was really clean and thoughtfully put together with the guest experience in mind. And, the whole process was well organized; the Collective Retreats hospitality staff is outstanding.
Who will most enjoy this experience?
Glamping on Governor's Island is a unique, romantic opportunity for anyone looking for a getaway to relax and recharge. I went with my boyfriend, and it's definitely an adventure for couples to enjoy together, but a solo traveler would also appreciate the experience.
It would also be a fantastic mother-adult child activity as well. I plan on taking my mom the next time she visits New York City.
While there weren't any children the night I was there, they have tents outfitted for families. This could be a fun experience for older kids, with s'mores after dark and the opportunity to explore Governor's Island the next day.
And, honorable mention to the awesome bachelorette group who celebrated the bride the night we were there too.
Would we go glamping on Governor's Island again?
Yes, absolutely, no hesitation. There are incredible views, great food, fun amenities, professional and kind staff, comfortable and clean facilities, and–have I mentioned the amazing views? Truly extraordinary.
If you're looking for a unique adventure in the middle of New York City, make sure you try a glamping experience at Collective Retreats Governor's Island.
Ready to reserve your stay at Collective Retreats Governor's Island? (Booking | Hotels)
Lyndsay