This post may contain affiliate links! I will receive a commission, at no extra cost to you, if you purchase something recommended here.
If you're curious about visiting Europe but don't have the time or money to go all the way across the Atlantic Ocean, then you're in luck.
There are many towns all over North America with origins that can be traced back to Europe.
Similar to a sister-city relationship, many of these North American towns' architecture, traditions, and culture link directly back to a European influence.
Although some of the most European cities in North America are well-known, like Boston or New Orleans, other places in America that look like Europe are smaller and not as prominent.
While this post explores the unique heritage aspects of towns across North America, we acknowledge the forced removal of Indigenous peoples across their lands and the role colonialism played in rewriting Indigenous culture.
You can find a map of the continent's original land territories at Native Land Digital and support Indigenous voices at Tea & Bannock, Indigenous Goddess Gang, and Native American Travel.
The Most European Cities in America
Spain
1. St. Augustine, Florida
Nestled on Florida's east coast, St. Augustine is a treasure trove of European-inspired living, including narrow cobblestone streets, historic forts, and even the original Fountain of Youth!
Established by Spanish explorers (most notably Ponce de Leon), St. Augustine is actually the oldest continuously inhabited European settlement on the U.S. mainland–even older than Williamsburg, Virginia!
Visitors should arrive at Jacksonville International Airport, about 50 minutes north of St. Augustine, or drive straight to St. Augustine from elsewhere in the US by hopping on the A1A that follows Florida's coastline.
It's also a great day trip from Orlando!
History buffs should spend their time learning about the "coquina" building technique at the Castillo de San Marcos, a historic fort used by the Spanish, or by visiting the Old Jail or Ponce de Leon's Fountain of Youth (he really believed in the healing powers of the waters here!)
You can also stop by the Oldest Wooden Schoolhouse, which appears on tax records as far back as 1716.
If you're more into shopping and dining, St. Augustine has plenty for you to do, including the San Sebastian Winery and the Conch House, a seafood restaurant serving up fresh catches right near the water.
Not quite sure what you'd like to see? Hop on a trolley tour, and you don't have to choose!
Rest your head at the Hilton St. Augustine Historic Bayfront Hotel (Booking | Hotels), where colonial-style buildings in the historic district will give you that immersive experience into European architecture and style.
If you want the insider tips, you should know that St. Augustine has some fantastic ghost tours and some unusual haunted stories that make St. Augustine at night a whole new experience than when the sun is shining!
Submitted by Kalyn Franke from All-American Atlas
2. Havana, Cuba
While many think of Havana, Cuba, as a city stuck in time, this bustling and vibrant capital is a fantastic place to enjoy history while also experiencing some of the most cutting-edge art, fascinating cultural events, and beautiful natural scenery of the Caribbean.
With historic Spanish colonial fortresses dotting every corner of Havana and countless turn-of-the-century buildings making up most of the city's most beautiful neighborhoods, Havana feels like a Spanish gem nestled in the heart of the Caribbean.
Old Havana's most beautiful and historic Spanish colonial-era buildings center around the city's four central Plazas, making for a leisurely self-guided walking tour.
Make sure not to miss the Havana Cathedral or the view from the top of the Convento de San Francisco – you'll get one of the best views of the ocean and the entire historic center of the city.
A trip to Havana isn't complete without enjoying the sunset along the Malecón sea wall, connecting the town's historic center to the posh Vedado neighborhood.
While there are plenty of beautiful places to stay in Havana, some of the best include one of the loving restored apartments in colonial buildings or homes throughout the city, especially those in the Old Havana or Vedado neighborhoods.
Known locally as "casas particulares" and most commonly booked through VBRO or Booking.com, these spaces can be just as luxurious as some of the city's most expensive hotels, but for a fraction of the price and steeped in history.
Submitted by Carley Rojas Avila from Home to Havana
3. Santiago de Querétaro, Mexico
Located in the Sierra Gorda nature reserve foothills, Santiago de Querétaro is the largest city and capital of Querétaro, in central Mexico.
It's one of Mexico's most beautiful and historically significant cities, and the Old Town area filled with Baroque Spanish architecture from the 17th and 18th-centuries was named a UNESCO World Heritage Site in 1996.
That same year, it was officially designated as the sister-city to Holland, Michigan (which you'll learn about later on this list of the most European cities in America!)
Most of Querétaro's monuments are located in the city's historic center, including the Plaza de Armas and Casa de la Corregidora, the Teatro de la Repu'blica, the Art Museum housed in the former San Agustín convent, and the Jardín Guerrero.
You can also see the remains of 74 arches that created the city's 18th-century aqueduct.
The historic monuments zone of Querétaro is unique thanks to having preserved the geometric grid of its streets.
Spanish colonizers designed this system while living alongside the winding streets of the Indigenous neighborhoods–Otomi, Tarasco, and Chichimeca, and Spanish communities all coexisted.
Make sure to stay at La Casa de la Marquesa, a former mansion belonging to a Spanish marquis, now a beautifully restored hotel.
A UNESCO World Heritage Site is a creation or landmark chosen for conservation by the United Nations Organization for Education, Science and Culture (UNESCO) due to its cultural, historical, scientific or natural significance. It must meet a minimum of one of ten selection criteria to be considered for the World Heritage List, and once chosen, it becomes protected for preservation by various international treaties.
France
4. New Orleans, Louisiana
New Orleans is another one of the finest, most European cities in North America. It's located in Louisiana, USA, and is easily connected by air and by road.
With the French heritage's nuances being apparent, the city also showcases elements from African and American cultures.
NOLA is delightful for any history and culture lover.
The city was founded by the French, followed by Spanish rule, and later 'bought' by the U.S.
The influence of different cultures is evident in their food, architecture, and music.
When in New Orleans, take a French Quarter walking tour to learn about its early beginnings.
Add a voodoo and cemetery tour, and don't forget to go restaurant hopping, trying out different dishes!
A must order: beignets and a café au lait in a cute cafe in NOLA!
You will also love the live–and free–jazz played in different restaurants and on street corners.
If this is your first trip to the city, add Jackson Square to your New Orleans bucket list.
Carry your cameras, and photograph the St. Louis Cathedral from there.
Other sightseeing options are to go on a sunset cruise on the Mississippi River or ride the Trolley.
Stay at Frenchmen Street for a short visit to NOLA. Our recommendation is the Royal Frenchmen Hotel & Bar (Booking | Hotels).
Submitted by Mayuri from To Some Place New
5. Montpelier, Vermont
Montpelier, the capital city of Vermont, is named after the French city Montpelier.
It is the least populated state capital city in the USA, and also one of the most charming ones.
Montpelier is one of the prettiest places in America that look like Europe to visit, especially during winter and fall in New England.
Montpelier's history goes back to the 16th century when there were a large number of European settlements.
The design of the city was strongly influenced by European culture. Montpelier is famous for its wines, maple syrup farms, historic landmarks, and local farm shops.
Local products are celebrated so much here that this city does not even have McDonald's.
One of the top attractions in Montpelier is the Vermont State House, which is a pretty building with a golden dome and a stunning garden.
The city's panoramic view is one of the prettiest and can be viewed by taking a hike to Hubbard Park.
For capturing the beauty of the scenic landscape here, you could also hike the Camel's Hump Mountain.
Vermont History Museum is another place to take a look back into the history of the state.
North Branch Vineyard and the local's market is a not-to-miss site for meeting with the locals in the area.
Finally, don't miss a stay at a local Bread and Breakfast when you are here.
Montpelier is a must-see destination on a road trip to Vermont, especially when you go for your scenic fall foliage road trip to Vermont covering the scenic route 100.
Submitted by Jumana from Planet Hopper Girl
6. Washington D.C.
The distinctive look of Washington, D.C. is due in part to the abundance of NeoClassical buildings, but French architecture has been part of Washington D.C.'s history since the beginning.
Pierre-Charles L'Enfant, an architect and French immigrant who fought in the American Revolutionary War, planned the design of Washington D.C. from its very beginnings.
The nation's capital has another claim to fame: it's the only city in the U.S. with a unified architectural style.
In 1791, L'Enfant was inspired by the Palace of Versailles in France to design the city's layout.
It focused on the Capitol Building and the White House with shapes of squares, circles, and triangles as the streets and avenues.
Then, monuments and landmarks could be placed where these major streets intersected–incorporating a distinct element of Paris.
But, because America was still a young country at the time of his proposal, it took decades for the city to fully grow into L'Enfant's original design.
Today, you can visit the reflecting pool at the National Mall, walk down Pennsylvania Avenue which was inspired by the grand Champs-Élysées boulevard in Paris, and enjoy the fully realized city L'Enfant envisioned more than 200 years ago.
7. Merida, Mexico
During the late 1800s, the Yucatan was flourishing.
Haciendas throughout the countryside were manufacturing henequen, a strong rope made from the fibrous sisal plant.
It led to a boom in wealth, and the grand hacienda estates became economic powerhouses of the peninsula.
Naturally, that wealth spread into Merida, the Yucatan capital, as residents built their city homes.
Merida's most famous avenue, Paseo de Montejo, is a splendid example of this economic prosperity period.
Modeled after the Champs-Élysées in Paris, it includes some of Merida's most notable houses.
In fact, one of the best things to do in Merida is to walk or ride bikes down the street on a Sunday morning when it is closed to cars.
There are small cafes and ice cream shops along the way.
While you're visiting Merida, take note of the many free things to do every night of the week.
The city has done an incredible job curating traditional dances, a historical light show, and even a Mayan ballgame replica, Pok Ta Pok.
Take advantage of exploring the city on foot by staying in the Santa Ana neighborhood on the northern edge of Centro.
There you can admire more of the churches and colonial buildings splashed with a bit of tropical Mexican color.
Merida is located in the northeastern part of the Yucatan peninsula.
You can choose to fly directly into the city's international airport or arrive via a five-hour bus ride from the Cancun airport.
Submitted by Julien Casanova from Cultures Traveled
8. Old Montreal, Canada
Step into the fusion of eras and cultures that is Old Montreal, gracing the banks of the Saint Lawrence River.
As the name suggests, this is the first part of the Island of Montreal to be settled by Europeans.
Today, a mix of architectural styles beckon, from grand gold rush era buildings to tidy stone enclaves dating back even further.
Old Montreal feels distinctly European, and for a good reason – it was built by the French back in 1642, on the site of the region's oldest fur trading post.
You'll hear a mix of English and French, both official local languages while walking the cobblestone streets.
The bilingual nature of this Canadian province only adds to the impression of being "across the pond" as you explore the winding laneways of Old Montreal.
While it is so easy to step back in time, you'll be catapulted back to the present when you turn a corner.
Old Montreal is not just a tourist district out of a fairytale – it is a living and breathing part of Quebec's biggest city.
A ferris wheel takes visitors high up in the air for panoramic views over the old town and river on the water's edge.
During the colder months, a large ice skating rink provides fun for people of all ages. In the summer, the waterfront is transformed into festival grounds and a lively urban beach.
Some of Montreal's best upscale nightlife, cafes, and spas also call this part of town their home.
Old Montreal harbors several hotels, mostly mid-and upper-range establishments.
For guests wishing to stay in another part of town, it is easy to access Old Montreal via the subway.
Two stations are bordering Old Montreal: Place-d'Armes, a stone's throw from the famous Notre-Dame Basilica and Champ-de-Mars, a short walk from the City Hall and Bonsecours Market.
Submitted by Marguerite Bravay from Berlin & Around
9. Quebec City, Canada
Quebec City is the capital of the province of Quebec in Canada.
It is one of the oldest European cities in the whole of North America.
The city sits on the Saint Lawrence River and is home to cobblestone lanes and stone buildings that give Quebec City its charm.
The history of Quebec City dates back to 1608. It was a fortified colonial settlement, founded by Samuel de Champlain, a French explorer and diplomat.
Quebec City is located in Canada's French-speaking province, which you can easily visit Quebec City by air or by road. It's also serviced by the Québec City Jean Lesage International Airport.
When in Quebec City, explore the narrow streets of Old Quebec or Vieux-Québec.
This is where you will discover Citadelle fort, the grand Château Frontenac hotel (which is the world's most photographed hotel), and Terrasse Dufferin.
Hang out at one of the cafes at the Place Royale, and go shopping at the Rue du Petit Champlain. The Petit Champlain district's cobblestone streets are lined with bistros and boutiques.
The Historic District of Old Québec is a UNESCO world heritage site.
With beautiful lanes, French-style cafes, history, and stunning architecture, Quebec City should be on every Canada Bucket list!
Stay at Fairmont Le Château Frontenac (Booking | Hotels) for a luxury vintage experience or the Les Lofts Champlain (Booking | Hotels) for a mid-budget apartment-style accommodation.
Submitted by Mayuri from Canada Crossroads
Read More
United Kingdom
10. Boston, Massachusetts
When you think of the largest United States cities, does Boston come to mind?
Probably not right away?
That's one of the many reasons that makes Boston so special.
Even though it's considered one of the United State's largest cities, it sure has a lot of European, small-town charm.
Not only is Boston of the biggest cities, but it's also one of the oldest; there's even a few cobblestone streets left to prove it!
Boston was founded by Puritans fleeing England in 1630 and was the center stage for the American Revolution.
Boston is a very walkable city, just like most other European cities, and offers public transportation throughout the city and extensive surrounding areas.
The airport is located in East Boston and easily accessible by the public train, or as Bostonians call it, "the T."
Some of the famous Boston sites include the historic Freedom Trail, Faneuil Hall, Fenway Park, the Boston Common, Public Garden, the swanky residential areas of Beacon Hill and Back Bay, and the famous Old North Church in the Italian North End.
If you're visiting Boston for the first time, staying right in the city would be recommended.
Beacon Hill and Back Bay are loaded with iconic brownstones and would be ideal for staying, but they can get quite pricey.
The Fairmont Copley Plaza (Booking | Hotels) and The Liberty Hotel (Booking | Hotels) are always popular picks.
The Hyatt Regency Boston Harbor (Booking | Hotels) and YOTEL Boston (Booking | Hotels) are a bit further out of the city but are more budget-friendly.
Don't forget to take day trips to the lovely islands of Nantucket and Martha's Vineyard.
Both are packed with European charm, and you can take a day trip to either one of these islands or the popular city at the top tip of Cape Cod, Provincetown.
If you're looking to do a bit more outdoor activities, the White and Green Mountains to the north will not disappoint–especially if you're here for a New England winter getaway.
The opportunities are truly endless for this perfect New England city!
Submitted by Melissa from Meliss Meets World
11. Lower Manhattan, New York City
While New York City has many distinct European and British parallels–hello West End theatre meets Broadway!–Lower Manhattan specifically is just one of those places in America that look like Europe.
Listed on the National Register of Historic Places, Stone Street is one of the oldest preserved areas in New York City.
Now only one block long, this cobblestone street is believed to have been the first paved road in the Dutch settlement of New Amsterdam back in 1658.
While the street is as old as the original settlement, after a fire destroyed the area in 1835, many of the buildings were rebuilt in the Greek Revival style.
It has been home to numerous businesses since then and is now protected under the Stone Street Historic District in the Financial District of downtown Manhattan.
Now, walking down the street feels like you're in an older area of London. Eat at one of the many restaurants, and enjoy this little European piece of NYC.
Whether you're visiting New York City for the first time or the thirtieth, make sure you read my guides to navigating the subway, free activities around the city, and free museum admission hours.
And if you're interested in a bird's eye view, check out my guide to the best observation decks in New York City.
12. Lenox, Massachusetts
​​Lenox, Massachusetts, is a picturesque town in the Berkshire Mountains that will make you feel like you've stepped back into the Gilded Age.
With its lush greenery and historic properties, it's easy to imagine yourself in the Regency era of London.
The town is home to Edith Wharton's The Mount, a sprawling estate that was once her summer home. This property has been preserved and is open for tours so visitors can experience the grandeur of this era.
In addition to Edith Wharton's home, the city also has a rich cultural scene, with numerous art galleries, museums, and performing arts venues, including the Berkshire Museum, which houses an impressive collection of art and artifacts from around the world, and the Shakespeare & Company professional theater company.
Lenox is also home to the renowned Tanglewood Music Festival, which draws thousands of visitors each year.
The town of Lenox also offers many outdoor activities like hiking, biking, and fishing.
13. Victoria, Canada
Named for the British monarch Queen Victoria, Victoria in British Columbia, Canada was initially named Fort Victoria when settlers arrived with the Hudson's Bay Company in 1843.
The year-round temperate climate of this waterfront city on the southern tip of Vancouver Island makes it one of the best places in America that look like Europe to visit.
The city itself was planned out like many old European cities, with streets corresponding to the points on the compass.
Today, many of the late 19th century buildings throughout historic downtown Victoria have been restored to their architectural prime.
Along Government Street, originally the bankers' street, you'll find the Royal British Columbia Museum and the British Columbia Parliament Building, while you can find the Art Gallery of Greater Victoria and Craigdarroch Castle, a Gilded Age mansion similar to the ones you see in Newport, Rhode Island, near Moss Street.
High tea is still a tradition in Victoria, heralding back to the city's British roots. Make sure to stop for Tea at the Empress in Hotel Fairmont Empress (Booking | Hotels), one of the best places in the city to experience this tradition since 1908.
You can visit the Victoria Visitor Centre at the Inner Wharf for more information about what's going on around the city when you visit.
The Netherlands
14. Solvang, California
Solvang, in the southern part of Central California, is known as the Danish Capital of America.
If you are looking to find a little bit of Northern Europe in the USA, Solvang is a must-visit.
The picturesque town of Solvang is part of the Santa Ynez Valley.
Founded in the early 20th century by a group of Danes who traveled here from the Midwest to escape the dreary winters, Solvang means "sunny field."
Solvang is still home to the descendants of some of the early Danish settlers.
The Danish immigrants established a school and church, but homes and other buildings were initially built in the local style.
It was only after World War II that the residents started transforming the facades to look Danish.
Today, Solvang is famous for its Danish architecture, its many Danish landmarks, and its giant windmills.
You can see a replica of the Little Mermaid statue and a copy of Copenhagen's Round Tower.
Also, in town, you will find no less than five authentic bakeries.
If you have a sweet tooth, you will not be able to resist the many baked treats on display!
Solvang also has lots of cute souvenir shops to browse, wine tasting rooms, and good restaurants, some of which offer Scandinavian dishes.
There are many inns in the city center from which to choose. King Frederik Inn (Booking | Hotels) is an excellent choice in the heart of town.
Submitted by Dhara from Roadtripping California
15. Holland, Michigan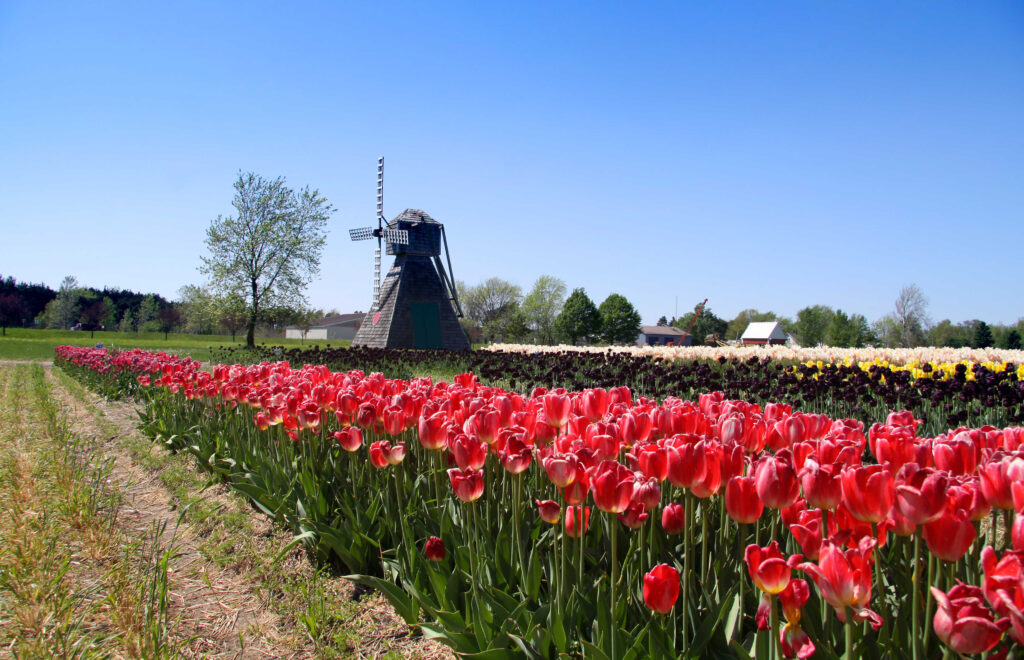 In 1847, Albertus C. VanRaalte, along with a group of 60 people, moved from Rotterdam, The Netherlands, to the United States to escape religious and economic difficulties.
They decided to purchase and settle on land in western Michigan and built a vibrant community along Lake Macatawa, near the shore of Lake Michigan.
The town of Holland, Michigan then became a home for hundreds of Dutch immigrants and still has a significant Dutch American population today.
Dutch architecture is a significant component of the city's historic downtown–it was listed on the National Register of Historic Places–as are festivals devoted to Dutch culture.
The famous Tulip Time Festival (April/May), the Holland Dutch Winterfest (November/December), and several other annual events link back directly to Dutch heritage and traditions.
Stop in at the Holland Peanut Store for fresh-roasted nuts and other homemade confections, visit the Holland Museum to see Dutch art, and spend a day at Nelis' Dutch Village, a theme park.
Holland is also the only place to see an authentic ancient Dutch windmill in the United States.
De Zwaan Windmill was brought over from The Netherlands in 1964 and permanently re-erected on Windmill Island.
Sweden
16. Lindsborg, Kansas
Founded in 1869 by Swedish immigrants, Lindsborg, Kansas, is a popular destination for people who want to learn more about Swedish history and culture.
Now known as Little Sweden, the food and architecture remain faithful to the Swedish roots it was founded on. It has a naturally Scandinavian feel, thanks to its red-tiled roofs and architecture like the Swedish Pavilion.
Today, residents continue to hold onto Scandinavian traditions and customs, like its biannual Svensk Hyllningsfest, which honors the town's heritage every other October.
Walk the Välkommen Trail, take a tour of the Hemslöjd Swedish Gift workshop, and look out for one of the 36 wild Dala horses throughout town.
The town's tourist bureau has set up various activities and a scavenger hunt to introduce visitors to the area's heritage.
Luxembourg
17. St. Donatus, Iowa
The small town of St. Donatus, Iowa, directly links to another tiny place–the small European country of Luxembourg.
While the quiet village has a population of less than 200, many of the city's residents today are descendants of the small group of Luxembourg immigrants who settled the town more than 150 years ago.
The town is on the National Registry of Historic Places and has its own Heritage Society dedicated to its Lux history.
It gets its name from St. Donatus of Muenstereifel, who's the patron saint of protection from lightning.
Several buildings still stand that was designed in the traditional style, with stucco-over-stone and fully gabled roofs.
For the full experience, stay at Gehlen House, built in 1848 and has been a post office, general store, and community center.
And, make sure to eat at Kalmes Restaurant, which serves traditional Luxembourg meals and other, more American fare.
Read More
Switzerland
18. The Swiss Village in Newport, Rhode Island
A beautiful Swiss-inspired village sits unseen primarily in Newport, Rhode Island.
The Swiss Village was the brainchild of Arthur Curtiss James, a railroad baron who needed to house a herd of Guernsey cattle he inherited from his father.
Instead of designing any ordinary farm, Architect Grosvenor Atterbury designed an extravagantly detailed hamlet modeled after Switzerland's Italian region, built in 1916.
It was known as the Surprise Valley Farm and employed more than 100 individuals to work the farmlands.
However, the site is rarely seen today due to the incredible preservation work taking place on the property.
In 1998, heiress to the Campbell Soup fortune Dorrance Hamilton purchased the village and formed the Swiss Village Farm Foundation.
In collaboration with Tufts University's Cummings School of Veterinary Medicine, the foundation "preserves germplasm (semen and embryos) from rare and endangered breeds of food and fiber livestock."
The Swiss Village Farm isn't open for general visitors to protect the farm's rare and endangered livestock and germplasm collection.
After concluding its research, the SVF Foundation dissolved in 2021.
Plans for the Swiss Village are undecided, but the land was granted a conservation easement to prevent it from being developed.
19. Vail, Colorado
Nick Csakany, CC BY-SA 4.0, via Wikimedia Commons
Nestled in the Rocky Mountains, Vail, Colorado, offers a breathtaking alpine village in the Swiss style.
With its picturesque mountain views, world-class ski slopes, and European-inspired architecture, it's no wonder this charming town has become one of the most popular tourist destinations in the United States.
The ski resort was founded in 1962 by Pete Seibert and Earl Eaton, who was inspired by the legendary ski resort at Zermatt, Switzerland. The town itself was incorporated four years later.
Since then, Vail has grown into a bustling community with over 5,000 full-time residents.
You can explore the beautiful cobblestone streets lined with shops and restaurants serving up delicious dishes from all over Europe.
There's also plenty to do for adventure seekers–from skiing and snowboarding to mountain biking and zip-lining!
20. Whistler, Canada
Whistler Village is a beautiful village situated in British Columbia, Canada.
Only a 2 hours drive from Vancouver; there are many options to get there, from the most affordable option, by bus, to a private shuttle, or even by seaplane.
Everyone can find the way that fits best their needs and their budget.
Whistler is a perfect getaway, offering a wide choice of activities, such as hiking, biking, or golfing in the summer, and provides some of the best skiing in the world in the winter.
Eldon Beck, the lead architect responsible for Whistler Village design, had traveled to many ski resorts in Europe and was obsessed with their mountains.
He was especially inspired by Wengen and Interlaken (in Switzerland); both were significant influences. He took many pictures there and used parts of both Swiss villages to design Whistler's village.
Whistler Village also resembles Zermatt, Switzerland, both villages being completely car-free, which gives extra charm to this beautiful village.
Eldon Beck said, "The European villages all were shaped by the land. They didn't violate the land. So to me, that was very important. In our continent, we tend to dominate the land. We don't respect it as we should."
If you are on a budget, The Summit Lodge Hotel (Booking | Hotels) is a great value, right in the heart of Whistler, surrounded by all the shops and restaurants you may need.
Or, if you are looking for a total wellness experience at the mountain, The Fairmont Chateau (Booking | Hotels) will probably meet your expectations, with a spa, a few different restaurants within the venue, and a great location.
The village features a great choice of shops, bars, and restaurants, with some of Canada's best fine dining places, such as Araxi Restaurant + Oyster Bar, serving fresh local food.
But if you want to experience Whistler from above, the Peak to Peak gondola, which connects Whistler and Blackcomb mountain's peaks, offers an incredible ride and breathtaking views of the village.
Whistler is a magical and stunning place to visit; there are so many places to explore and things to do. It's definitely a must-see when you visit British Columbia.
Submitted by Estelle Kerloch from Free 2 Wander
21. Sun Peaks Resort, Canada
Sun Peaks Resort is the second-largest ski resort in North America in the interior of beautiful British Columbia.
It is a four-season destination resort with a central village that looks like a village straight out of Europe.
The village boasts bright colors and European architecture with a pedestrian-only walkway that you can also ski and bike through.
Sun Peaks Resort is located 45 minutes from the airport (YKA) in the city of Kamloops.
There are endless things to do in Sun Peaks, most notably skiing and snowboarding, golfing, mountain biking, and hiking.
The municipality just invested in an NHL regulation-size outdoor, covered arena complete with dressing rooms and outstanding views from the ice.
In addition to skiing, you can go dog sledding, take a yoga class, indulge in spa services, go ice fishing or take a horse-drawn carriage ride through the village.
There are many different types of accommodations available, including hotels and home rentals, but the anchor to the village is the Sun Peaks Grand Hotel (Booking | Hotels).
It is located right in the village's heart with an outdoor swimming pool and three outdoor hot tubs that look out onto the chairlifts and take in the stunning mountain scenery.
Sun Peaks Grand Hotel has two restaurants, Mantles and Morrisey Pub, both of which boast incredible patios in use all year round.
Insider tip: Book a room mountain-facing room at Sun Peaks Grand Hotel and relax with a glass of wine on the balcony at sunset while you enjoy the spectacular views.
Every Sunday during the months from July to September, you can enjoy Market Day at Sun Peaks Resort.
It is the perfect time to take a stroll through the village while enjoying fresh produce, arts, crafts, and so much more for sale.
However you choose to spend your time at Sun Peaks Resort, you will be rewarded with gorgeous scenic views and fresh mountain air.
Submitted by Casandra from Karpiak Caravan Adventure Family Travel
Germany
22. Leavenworth, Washington
A visit to Leavenworth will make you feel like you are in German Bavaria.
Every structure is made to look like an authentic Bavarian-style town, right down to the signage.
Plus, nestled in the Cascade Range of Washington, the main strip sits with a gorgeous backdrop reminiscent of the Alps.
Leavenworth is especially popular during two celebrations each year: Oktoberfest and Bavarian Christmas.
The Oktoberfest celebration is one of the largest celebrations outside of Munich.
During Christmas, you will really feel like you are in the Bavarian Alps. A nightly lighting ceremony brightens up the German facades and fills the main street with extra magic.
During the day, you can even visit a Reindeer farm!
To get a reservation in town during either of these celebrations, you will have to grab a room a year in advance. Reservations fill up fast!
A great mid-range hotel to stay at is the Bavarian Lodge (Booking | Hotels). It is located across the street from the main strip, Front Street. Plus, the exterior is charming.
On Front Street, you can also enjoy a stein (or several) of beer, eat your weight in pretzels, and indulge in other delicious Bavarian fares.
Front Street is lined with several German shops and restaurants.
One of the highlights is the Nutcracker Museum that showcases over 7,000 nutcrackers and is one of the world's largest collections of nutcrackers.
Leavenworth is located between Seattle and Spokane.
If you are within a few hours' drive, the best way to reach Leavenworth is by road trip. It is a 2-hour drive from Seattle and a 4-hour drive from Vancouver, BC.
The closest major airport is the Seattle-Tacoma Airport.
Submitted by Debbie Fettback from World Adventurists
23. Frankenmuth, Michigan
Frankenmuth, Michigan, is widely known in the Midwest for this chalet-style architecture and German heritage, making it a great destination when you want to experience Europe without boarding a flight.
The city is small but big on charm and authenticity.
It's located an hour northeast of the state's capital, Lansing.
By air, the best way to get there is to arrive in Lansing and drive about one hour, or arrive in Detroit and drive 1.5 hours. By car, access to the town is from Interstate-75.
Frankenmuth is a flourishing city, and it's one exciting experience to be there, especially during the holiday season at the end of the year.
If you're a fan of Christmas, a trip to Bronner's Christmas Wonderland will make your Christmas spirit sing.
This store has every type of Christmas ornament that you can imagine.
From sports teams to music, every color, every animal, every hobby, every theme–everything you can imagine.
There are many wonderful things to do and places in town.
Zehnder's Restaurant is a group favorite that serves a famous family-style chicken dinner.
The food portions are generous, and everything is flavorful.
Take a stroll or canoe along the river.
Plenty of shopping awaits as you roam South Main Street. Be sure to visit the Frankenmuth Cheese Haus, the Frankenmuth Clock Company, and the small boutiques.
Don't miss the old covered Holz Brucke (wooden bridge)!
The Bavarian Inn Lodge is conveniently situated in town and makes it easy to explore the city on foot. The lodge is extremely popular, so book well in advance.
Submitted by Tanya Taylor from Travels & Treasures
24. Gatlinburg, Tennessee
Located in eastern Tennessee, Gatlinburg is another perfect example of places in America that look like Europe.
With just under 4,000 people, this is a small town, but there is still plenty to see and do.
Early European Settlers and Native American tribes had various camps and settlements in the area since the 18th century.
However, it wasn't until the early 1900s that Gatlinburg was officially founded.
Of course, its proximity to the Smokey Mountains makes Gatlinburg a perfect spot to come for hiking and exploring.
Life here is all about Outdoor activities, so make sure you pack good walking shoes and a raincoat if the weather is bad.
The Gatlinburg Mountain Coaster and Rugged Ropes Course are especially popular if you're coming to the area with the entire family.
There are also plenty of historic buildings to visit.
With its unique European vibe, this town is perfect for anyone interested in history and culture.
Gatlinburg is easily reachable via Highway 40, which is just a quick drive.
It takes just under four hours to get there from Nashville, making it the perfect weekend trip, especially during the warm summer months.
Submitted by Victoria from Guide Your Travel
25. Fredericksburg, Texas
Picturesque and delightful, Fredericksburg is a small town in Texas founded by German immigrants in the 19th-century.
This quaint place is only 57 miles from San Antonio Airport, so you can easily reach it by car.
Because this town has German culture, architecture, names, and restaurants sprinkled all over; you might find yourself wondering if you're indeed in Texas.
Start your trip by strolling around the center and taking in the European architecture.
When planning your trip, be sure to walk down Main Street to take in the small-town feel Fredericksburg has.
Next, savor European food at the classic Otto's German Bistro.
While you will find most attractions in this area, know that Fredericksburg is in the heart of the Texas Wine Country, meaning this German enclave has excellent wineries in and around town.
Therefore, prepare yourself to sip delicious Texan wine in some of the best wineries in the state.
There are multiple tour options in the area, and you can also take the bus along the Wine Trail.
Complete your European experience by staying in a lovely German-themed cottage, the Rarumpelpunzeldornaschenwittchen (Booking | Hotels).
Yes, it has an unpronounceable name, but it is a charming cottage that will definitely make your trip unique!
Submitted by Bruna Venturinelli from Roaming the USA
26. Helen, Georgia
If you are looking for the perfect European escape without having to cross the ocean, head to Helen, Georgia, as soon as possible!
Helen is a true gem in Northeastern Georgia tucked away in the heart of the Blueridge Mountains.
It is just over one hour from the Athens airport and just under 2 hours from the Atlanta airport, making Helen a perfect weekend getaway and one of the most European cities in North America.
The town was once an old logging town but is now modeled after a Bavarian Village.
This charming town has celebrated Oktoberfest for over 50 years with authentic food, dancing, costumes, and beer.
If you cannot make it during the fall months, you will still be met with endless Bavarian charm and adventures.
On any given day, you could very well spend your entire vacation strolling the charming streets, window shopping, wine tasting, mini-golfing, and patio hopping.
Still, you should explore the surrounding area as well.
Just over 5-miles from downtown, you will find Anna Ruby Falls. A beautiful (and easy) hike to a magical waterfall.
If willing to drive a bit further, you will find more amazing hikes, waterfalls, and hidden southeastern gems!
There are many options as to where to stay, but if looking to be in the village's heart, I recommend The Helendorf Inn.
This hotel fits the European theme, has a riverfront view, and is near all the action. If looking for more privacy, there are also a lot of cozy cabins in the surrounding area.
Whatever your weekend brings, you will be sure to fall in love with this one of the enchanting german towns in USA!
Submitted by Jordan from The Homebody Tourist
27. New Ulm, Minnesota
Another Bavarian village in the United States is New Ulm, Minnesota.
Today, German influence is still evident in New Ulm—the downtown is filled with landmarks leading back to its heritage, and even has a genuine Turner Hall.
The beautiful Hermann Monument is dedicated to Hermann the Cheruscan, a hero who liberated Germans from Roman rule in 9 A.D.
The monument itself is an obelisk that stands 102-feet tall, weighs more than 4,000, and sits within Hermann Heights Park.
Make sure you visit the town glockenspiel to hear its bells chime! It stands at more than 45-feet tall and its 37 bells sound off every day at Noon, 1 p.m., 3 p.m., 5 p.m., and 6 p.m.
Before you leave, grab a pint at the country's second-oldest brewery, August Schell Brewing Company, which was founded here by a German immigrant more than 160 years ago.
The complex also has lovely gardens, and hosts a Bier Garten every weekend during the summer.
You can also get an up-close look at the beer-making process by taking a tour through their Museum of Brewing.
Read More
Italy
28. Naples, Florida
If you're searching for unique places in America that look like Europe, look no further than the Neapolitan city of Naples, Florida.
With an Italian-inspired backdrop nestled along the Gulf of Mexico coast in southwest Florida, Naples was initially named for Naples, Italy, by the first Italian residents who settled here over 100 years ago.
Over the years, Naples has evolved and kept its Italian feel, incorporating elements of Tuscany, Venice, and other rustic Italian styles into the city's architecture.
Old Town Naples and Port Royal are especially rich in Tuscan architecture and lush Italian-style landscaping. Shoppers and beachgoers love the Village Shops on Venetian Bay, but everyone should check out this beautiful part of the city.
Fashioned after Venice's stately canal villas, the shopping area and residential homes are genuinely unique sites to see.
Naples has a fantastic array of things to do, from visiting some of the top-rated beaches in the US to world-class shopping and dining.
Southwest Florida beaches are well-known for ideal swimming and shelling. Naples is a paradise with one of the highest number of excellent courses in the country for golfers.
Getting to Naples is simple.
If you're visiting Miami in southeast Florida, Naples is an easy 2-hour drive away.
For most, Southwest Florida International Airport (RSW) in Fort Myers is the gateway to Naples.
With the airport located just 30 minutes north of the city, a shuttle service is available directly to your hotel.
But renting a car to explore more of southwest Florida is always a great option.
Submitted by Lori Sorrentino from Naples Florida Travel Guide
29. The Okanagan, Canada
The Okanagan region in British Columbia, Canada, and in particular, Kelowna, is known worldwide for its wine production.
Being the second-largest winemaking area in Canada, you can be sure you'll find some of the best Canadian wineries here.
The Okanagan area consists of several towns, such as Kelowna, Penticton, Osoyoos, and others.
The first vineyard was planted in Kelowna in the 1850s, and now over 120 wineries are present in the region.
The ultimate way to tour the best wineries in the Okanagan is with a wine tour service, with some coming with predetermined stops and others allowing you to pick the locations you'd like to be driven to.
You can also drive yourself around; however, remember to have a designated driver if you go this route.
The beauty of the Okanagan is that you don't have to leave Canada to experience a relaxed, European countryside atmosphere.
Lake Breeze Vineyards Tasting Room in Naramata, for example, is a quaint, European-style winery offering stunning views over the main lake here, Lake Okanagan.
Several wineries here, like Ancient Hill Winery in Kelowna, focuses on European wines exclusively.
Although the Okanagan is about a 4.5-5 hour drive from Vancouver, you should not underestimate the region's ability to make you feel like you're in Europe.
Save yourself the plane ticket and costs as you do not need to hop on a plane to Europe to experience high-quality wine in a charming countryside atmosphere!
Submitted by Loredana from Destguides
30. Venice Beach, California
Take one look at the canals of Venice Beach, California, and you'll feel like you've stepped into Europe.
The houses that line the canals vary in size, color, and style, but one thing all the local residents have in common is the small boats and gondolas needed for getting around on their neighborhood streets of water.
The bridges over the canals are often draped in greenery, providing many picturesque photo opportunities.
Founded in 1905, Venice Beach was built with canals to invoke the spirit of Venice, Italy.
The gondolas give the city a touch of Venice, Italy, and the popularity of bikes in the town even give it a touch of another famous canal city in Europe–Amsterdam, The Netherlands.
If you're looking to carry that European flair into your accommodations as well, a highly recommended spot is Venice Breeze Suites, an apartment-style hotel located close to the action.
Located near Santa Monica, Venice Beach is situated perfectly on the coast, making it an easy stop for those taking a coastal California road trip.
It's also only a 20-minute drive from Los Angeles International Airport.
Venice Beach is one of the most popular hot spots in Los Angeles for both tourists and locals alike.
Aside from the canals, the other major attraction in Venice is the boardwalk.
The carefree and bohemian atmosphere draws an eccentric crowd of street performers, artists, and musicians.
Insider tip: Stop by on the weekend and stay for sunset to witness, or even join, the infamous weekly Venice drum circles out on the beach.
No matter what time of year you visit, Venice Beach is sure to offer a cool breeze, beautiful views, and an unforgettable experience.
Submitted by Olivia from Girl With Blue Sails
Greece
31. Tarpon Springs, Florida
Tarpon Springs, Florida, is located about 45 minutes north of St. Petersburg.
It's one of the lesser talked about Tampa Bay parts, but it is rich with history and Greek culture.
Tarpon Springs actually has the highest percentage of Greek Americans of any city in the US!
Greek immigrants built Tarpon Springs' sponge industry.
They turned a remote town into what became "the sponge capital of the world."
The sponge industry was so big at one point that it even exceeded citrus and tourism!
As far as what there is to do, the Sponge Docks, of course, is one of the most popular activities for the area.
This can be as leisurely as strolling down the Sponge Docks, checking out the divers and boats coming in, or taking it to the next level and going on a boat tour to watch the divers dive.
You will also learn more about the history of sponging on these tours!
Aside from the Sponge Docks, there are plenty of delicious Greek restaurants and bakeries, a Greek Village, lots of shopping (grab your own famous Tarpon Springs sponge), sightseeing, and museums.
You may even hear some people speaking in Greek as you stroll through the city.
As far as where to stay, there aren't too many great-looking hotels.
They're a bit older; however, Blue Bayou Inn is a newly renovated house in the heart of the historic district in Tarpon Springs with a few rooms!
There are also some other solid short-term apartment rental options, but please book in advance because they go quickly.
While in this area, I would also highly recommend checking out Dunedin, Florida hotspots!
It's less than a thirty-minute drive and has plenty to do, eat, and see!
Submitted by Destiny Snyder from Guided by Destiny
Croatia
32. Adriatica Village in McKinney, Texas
Mistermckinney, CC BY-SA 4.0, via Wikimedia Commons
Ever wanted to visit Croatia? Even if you can't get over to the Adriatic coast right now, you should try heading down to Adriatica Village in McKinney, Texas.
On 45 acres of the Stonebridge Ranch development, Adriatica Village offers residents, visitors, and its many guests from around the world a taste of the Mediterranean lifestyle.
Here, you can find the Guitar Sanctuary, Love Life Market, The Sanctuary entertainment and event venue, restaurants catering to all sorts of tastes, and boutiques.
It also houses offices that cater to local businesses and residences for those looking for a permanent place.
Don't forget to check out Adriatica's bell tower and Bella Donna Chapel–these landmarks definitely set this village apart from other parts of Texas!
Norway
33. Poulsbo, Washington
Steven G. Pavlov, CC BY-SA 3.0, via Wikimedia Commons
Found on the Kitsap Peninsula, Poulsbo, Washington, is known for its unique Norwegian heritage and culture.
Founded in the 1880s by Jørgen Eliason, an immigrant from Norway, Poulsbo has become known as "Little Norway."
From the abundance of Viking-inspired architecture to traditional beer halls and even an annual Viking Festival, Poulsbo remains true to its Scandinavian roots.
Visitors can explore this quaint village with its 19th-century colonial buildings and cobblestone streets.
There are also so many opportunities to sample delicious Scandinavian cuisines like lefse, lutefisk, and rømmegrøt!
And if you love shopping, you'll enjoy browsing through specialty stores that offer a wide range of imported goods from Norway.
Most European Towns in America: Wrap-Up
No matter your vacation destination in North America, there is a European-like city just waiting to be explored nearby.
From the beautiful scenery of Solvang to the alluring nightlife of New Orleans, each of these US cities, most like Europe, has something totally unique for you to uncover.
Whether you're looking for a historical background or amazing culture, check out these extraordinary cities and create unique memories that will last a lifetime.
Which of these European cities in the US will you be adding to your bucket list?
Lyndsay