This post may contain affiliate links! I will receive a commission, at no extra cost to you, if you purchase something recommended here.
If you want to get away this winter but don't know where to go, think about heading up north to New England. The six Northeast states that make up this region of the United States have everything from quaint lodges and winter sports to inside activities for those who don't love the cold. I asked some of the best travelers and travel writers I know to tell us their secrets and reveal the best New England winter getaways.
Maine
Freeport
A charming hotel sits in Freeport, Maine, called the Harraseeket Inn. This estate is really a home-away-from-home place for New England winter getaways. Every time I visit, the best part is heading inside my room to relax with a glass of wine in front of my room's wood-burning fireplace. And, the staff will keep bringing you wood until you don't want any anymore. They also have an indoor pool, which means that you can turn swimming, my favorite summer pastime, into a wintertime activity.
Just a block down the road from this quaint hotel is the L.L. Bean flagship store. If you're interested in shopping for any of the brand's signature clothing items, this is the place to do it. But, they're also known for engaging the community in outdoor activities.
L.L. Bean offers Outdoor Programs at all points throughout the year at many different locations in the United States, but some of the best are provided here. I've gone on a few snowshoeing excursions with them, and it's always a great day! With day trips like snowshoeing to cross-country skiing, to multi-day Wilderness First Aid or First Responders courses, you'll be exploring the great outdoors in no time. 
Kennebunkport
Kennebunkport is a coastal town in southern Maine and is only an hour and a half drive from Boston or 40 minutes from Portland. Every time I've enjoyed winter getaways in New England to Kennebunkport, it's had snow on the ground and presents the perfectly charming winter scene to visitors.
It's a quintessentially quaint small town in New England of roughly 3,700 residents. The charming main street provides a lovely afternoon shopping experience with the local shops and items. Seafood is highly prevalent with the restaurants in the area at all times of the year and is always fresh. Nearly everyone has New England Clam Chowder on the menu, and you simply can't go wrong with this hearty dish in winter.
Throughout the month of December, they also have an outstanding schedule of activities leading up to the Christmas season, including a tree lighting downtown, and everyone gets into the spirit of the holidays.
You can also find plenty of winter activities in town or nearby – from horse-drawn sleigh rides, cross country ski trails, and even a skating rink.
A charming inn on the waterfront with spectacular views of the sea (and a gorgeous beach to walk along) is the Beach House Inn. You'll feel right at home in this cozy Inn, and for a bit of luxury, they have a spa in-house and a delightful restaurant.
Submitted by Jamie from Travel Addict
New Hampshire
Lincoln
Lincoln, New Hampshire, is a serene winter destination for those looking for the best New England winter getaways. Just 2 hours from Boston, Lincoln is an enjoyable place for those who like to spend time outdoors, especially in winter. The quaint town has a cozy, small-town vibe but still has several quirky, locally-owned restaurants and shops. 
The town is home to some of the most popular ski resorts on the East Coast and one of the only Ice Castles in the United States.
Spend the daytime hours downhill skiing at the Village of Loon Mountain Lodges. The small, family-friendly resort boasts 61 named runs and 370 acres of skiable terrain. The nearby RiverWalk Resort is also an excellent choice for winter activities in town.
For a great meal with an eclectic atmosphere, have lunch at the Gypsy Cafe in the heart of Lincoln. At night, head to the Common Man for dinner, then book a visit to Ice Castles in the neighboring community of North Woodstock. 
This acre-sized frozen fortress is made entirely from ice. With ice slides, caves, tunnels, crawl spaces, and fountains, the icy attraction looks like something out of a fairy tale. The Instagram-worthy experience is illuminated in the evening hours with color-changing LED lights embedded in the ice. It's a fun place for both kids and adults to spend an hour or two exploring, surrounded by the finest elements of winter getaways in New England. 
Submitted by Melissa from Passports and Parenthood
Jefferson
Have you always wanted to visit Santa's home? What about attending a class at Elf University? If you can't get to Santaland at Macy's in New York City, you should check out Santa's Village in Jefferson, New Hampshire. While the park is open throughout the year–they even have a water park for summer visitors–the best time to visit this Christmas haven is in the winter! 
Santa's Village is open only on the weekends, starting November 13th through December 19th, with a final New Year's Eve Partybration to ring in the new year. With winter wonderland activities like a full-park scavenger hunt, traditional theme park rides with a holiday twist, a 3D movie, and even Santa's Christmas Light Show, this is sure to be a fun-filled family winter getaway in New England. You can buy tickets on their website in advance.
While the village has several food stands, sweet shops, and restaurants on-site, they don't provide any lodging options. While there aren't many hotels in the area, you can find some really nice homestays for your winter weekend getaway on VRBO, or if you wanted to splurge, the Mountain View Grand Resort & Spa (Booking | Hotels) is also nearby!
Read More
Vermont
Killington
One of the best New England winter getaways is the town of Killington. It is a tiny town mostly known for the Killington Ski Resort, located in the Pico Mountain Ski Resort. This is the largest ski resort in the Eastern part of the United States, and it is a lovely place to visit. 
The highest peak of the area is Killington Peak, with a height of 4,229 ft. There are many trails that are great for beginners and those who consider themselves to be experts. In fact, there are about 150 trails with about 20 lifts! 
Whether you like snowboarding or skiing, this really is one of the best ski towns in New England.
However, the best place to stay in Killington is the Killington Grand Resort Hotel. It's very close to the Ski Resort, only about a 10-minute drive. Furthermore, there are plenty of amenities at the resort, such as a pool and a restaurant, and enjoy breathtaking views from the resort peaks. 
Submitted by Dymphe from Dyma Abroad
Woodstock
Woodstock, Vermont, is the quintessential Hallmark movie town. Although this quaint village is beautiful year-round, it's truly a wonderland for winter getaways in New England. 
Those looking for outdoor fun may enjoy a sleigh ride from Woodstock's central village to the Windsor fields. Additionally, Billings Farm offers plenty of winter activities for the kids, whereas picturesque Sleepy Hollow Farm makes for some stunning winter photos. Alternatively, if winter winds are too cold for comfort, visitors can take the fun inside for a day of indoor ice skating at Woodstock's Union Arena.
For the adrenaline junkies, the Woodstock Country Club offers access to wooded trails across Mt. Tom and Mt. Peg for snowshoeing and Nordic skiing. Families seeking adventure will also enjoy taking the kids out for an exhilarating day of sledding on the Old Mt. Tom Ski Hill, featuring a 500-foot vertical drop! Woodstock also serves as the perfect jumping-off point for Suicide 6, a popular ski resort located just ten minutes away in South Pomfret.
Those who prefer a more relaxing getaway will enjoy a leisurely village stroll while browsing the area's numerous boutiques. From jewelry to home décor, to flannel clothing, to the state's oldest operating bookstore, Woodstock shops offer something for everyone. 
Then, when it's time to wind down, visitors can enjoy a delicious meal in one of the village's many farm-to-table restaurants. 
Finally, with bellies full, it's time to retire to the beloved Woodstock Inn & Resort, located right in the heart of this charming town. This historic hotel offers guests a spa, four unique restaurants, and a roaring fireplace, perfect for warming up after a fun-filled day outdoors. It's the ideal place to experience Vermont in the winter.
Submitted by Elena from The Carry-On Chronicles
Need some gift-giving inspiration this holiday season? Check out my guides on the best travel essentials for women, travel gifts under $20, zero-waste travel essentials, and great gifts for friends going abroad!
Massachusetts
Boston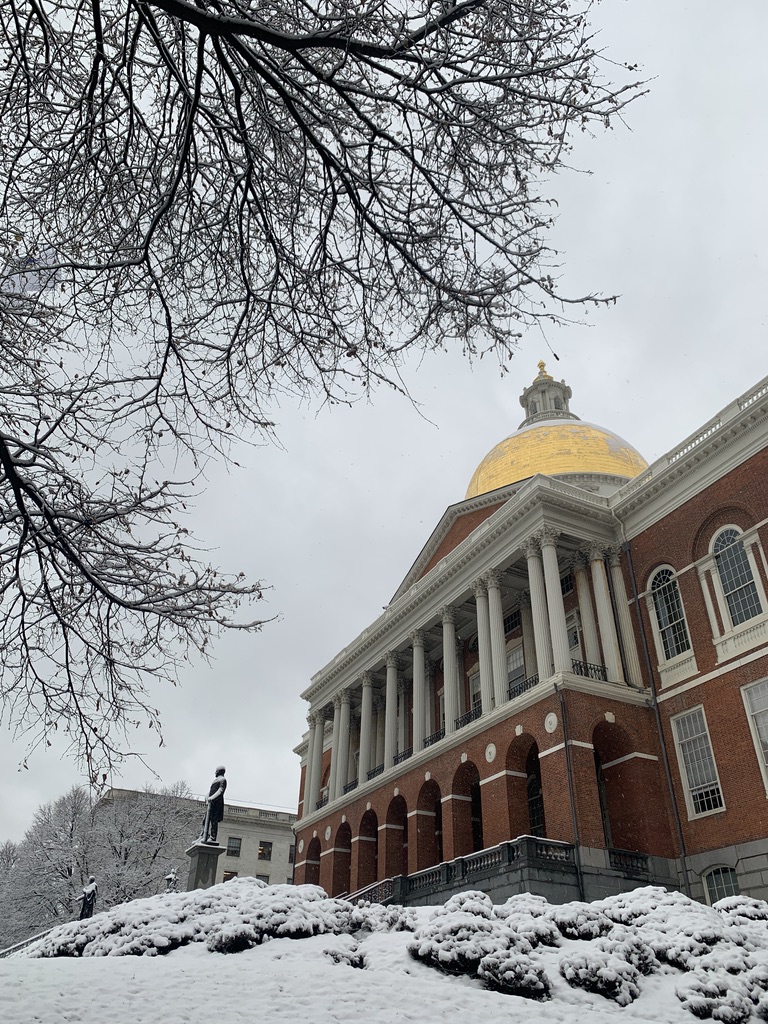 Despite having a reputation for being too cold in winter for a visit, Boston's coastal location makes its winters much milder than other New England areas while still blessing it with at least a few fluffy, lovely snowfalls each season. 
While you're here, you can't miss the opportunity to outdoor ice skate, either at the Frog Pond at the Boston Common or at the seasonal pop-up skating rink at Boston City Hall. 
Speaking of pop-ups – if you visit around the holidays, Boston has a variety of festive pop-up bars. Themes include tiki bar Christmas at Shore Leave (South End), igloos at the Envoy Hotel (Seaport), and a Hanukkah-themed pop-up at Backbar (Somerville), as well as a massive tree lighting downtown. 
If you're in the mood for some sightseeing, don't let the chilly temperatures deter you from Boston's premier historical attraction, the 2.5 mile Freedom Trail. The Trail guides you through 16 historic sites that led to Boston's nickname of "the cradle of the American Revolution." Attractions include Paul Revere's home, the site of the Boston Massacre, and the USS Constitution. 
If you start to get a bit chilly, consider stopping in at Faneuil Hall for some piping hot clam chowder (in a bread bowl, of course!) or delicious hot cocoa at Ogawa Coffee in the Financial District. In the evening, take in a show at the Wang or Schubert Theatres, a vintage movie (often in 35mm!) at the iconic Art Deco Coolidge Corner theatre, or a sporting event or concert at T.D. Garden.
Submitted by Tegan & Alex from Why Not Walk
Northampton
When people think of Massachusetts, Boston usually comes to mind. But there are a lot of fun things to do in Western Massachusetts as well! Small towns dot the landscape, and one of our favorites is Northampton. Its Main Street is cheerfully decorated during the winter, and there are plenty of shops and restaurants that you can spend hours in. A favorite restaurant is The Dirty Truth. It's a beer hall that also has excellent food. Try the Mac & Cheese with panko bread crumbs; it's delicious!
If you'd like to spend a few hours indoors, we recommend visiting the Smith College Museum of Art. It's one of the leading academic museums in the country. Their exhibits are always expanding and rotating, so if you've visited before, chances are you'll see something new. Another great place to warm up from the outside cold is the Lyman Plant House and Conservatory. Its main greenhouses date back to 1895, and they house 3,000 species of plants.
A great place to stay in Northampton is the Hotel Northampton. It's in the middle of downtown, with shops, galleries, and restaurants all within a short walking distance. Built in 1927, the hotel is a member of Historic Hotels of America and has hosted presidents, celebrities, and dignitaries.
Submitted by Vicky from Buddy the Traveling Monkey
Read More
Rhode Island
Newport
Although I enjoy visiting this New England town in the fall, Newport, Rhode Island is beautiful to visit in the winter season. At this time of year, there are fewer tourists visiting the famous Gilded Age mansions, and the restaurants are less crowded. This is also the time of year to discover the fantastic hotel and rental rates.
The Admiral Fitzroy Inn (Booking | Hotels) on Thames Street is one of my favorite locations to stay. They're right in the middle of downtown Newport, close to all the popular places, and they provide complimentary breakfast throughout your stay. Or, if you want a truly romantic getaway, the Castle Hill Inn (Booking | Hotels) is a luxury hotel in a perfect destination for you and your date to enjoy.
There is so much to do during the winter in Newport! Take a tour to see inside the famous mansions, which are all ornately decorated for the holiday season. Head to the Gurney's Newport Skating Center for some outdoor ice skating. Get out on the water for a tour to see seals, as the colder weather brings them back to Narragansett Bay. And make sure you stop at Kilwin's (like the candy shop in Williamsburg, Virginia) for some decadent winter treats.
Exeter
As the only ski resort in Rhode Island, Yawgoo Valley Ski Area & Water Park holds a particular spot in this list of the best New England winter getaways. With two trails and two chair lifts, the facility is well-equipped to handle all ages and abilities.
Once you've finished your day at Yawgoo, you're only a 20-minute drive from the shoreline in Narragansett. Stop at one of the two local breweries, Whalers or Sons of Liberty, and enjoy a local-to-New-England pint before heading back to your hotel. Many beachside hotels, like the Aqua Blue Hotel, have discounted rates during the colder months, so take advantage of the off-season prices. 
Fun Fact: Spending a day at Yawgoo Valley for its water park is one of the best things to do in Rhode Island in the summer!
Submitted by Mel Francis
Connecticut
Middlefield
The tiny town of Middlefield not only has one of my favorite apple orchards in Connecticut, but it also has a beautiful ski resort. Powder Ridge Mountain Park & Resort is a great place for New England winter getaways. Although it's technically not an all-inclusive resort, it does have everything you need on-site for a great vacation. 
Depending on how you plan on spending your time, you can buy 4-hour, 8-hour, and Nighttime only day passes for unlimited lift access for skiing and snowboarding. There's even a pass level for the beginners of your group. Or, you can buy a 1-hour and 45-minute pass to their snow tubing area. I had never heard of snowbiking before, but they even offer a class on how to ride a snowbike!
You can stay overnight on the property and enjoy your evening at one of their restaurants or head about 15 minutes up the road into Middletown, Connecticut, to stay at the Inn at Middletown.
Uncasville and Ledyard
Maybe you're not an "outside winter activities" kind of human. In which case, I feel you. Although I enjoy the occasional outdoor hike or ski trip, one of my absolute favorite, best New England winter getaways, is heading to the casinos to cure some winter blues. 
And in Connecticut, there are two world-class casinos only a 15-minute drive apart. Great restaurants, sports arenas, performance venues, and typical games await you on the casino floors, while gorgeous views of the surrounding lands can be found from hotel rooms.
Ledyard is home to one of the largest casinos in the region, Foxwoods Resort Casino. Founded on Mashantucket Pequot tribal lands, the casino pays homage to its Native American roots with the Mashantucket Pequot Museum and Research Center.
This metropolis is home to sprawling casino floors, performance venues, dining experiences, and lots of shopping. Seriously, if you're interested in shopping all day, Foxwoods is where you want to go – an entire Tanger Outlets mall is located inside the casino.
Foxwoods has several phenomenal hotels on the property. Of the options, The Grand Pequot Tower at Foxwoods is centrally located to the main casino areas, while The Fox Tower at Foxwoods has incredible views of the landscape.
Mohegan Sun is the neighboring casino, located in Uncasville. This casino was built on Mohegan Native American lands, and although the experience here is a bit more intimate, in that it's not as large as Foxwoods, it's by no means a small space. They have excellent family entertainment areas, many different concert halls, and restaurants. Make sure you head to the Frank Pepe Pizzeria Napoletana location, a New Haven Connecticut apizza favorite, inside Mohegan Sun.
Although there are two hotels at Mohegan Sun, I recommend The Sky Tower, which has great views of the Thames River.
What do you recommend as the best New England winter getaways?
Lyndsay