This post may contain affiliate links! I will receive a commission, at no extra cost to you, if you purchase something recommended here.
The Christmas season is upon us, and New York City is brimming with holiday spirit.
So many places around the five boroughs go all out with their decorations for the season.
Every year that I live in New York City during the Christmas season, I take out my DSLR camera and walk the city streets to capture some of the most genuinely incredible, iconic scenes of the most wonderful time of year.
If you're heading to the Big Apple this holiday season, including some of these stunning Christmas photo spots in New York City.
Coincidentally, you can find many magical Instagram spots at some of the most famous landmarks and locations celebrating the season.
The Top NYC Christmas Photo Spots
1. Marvel at Rockefeller Center's Christmas Tree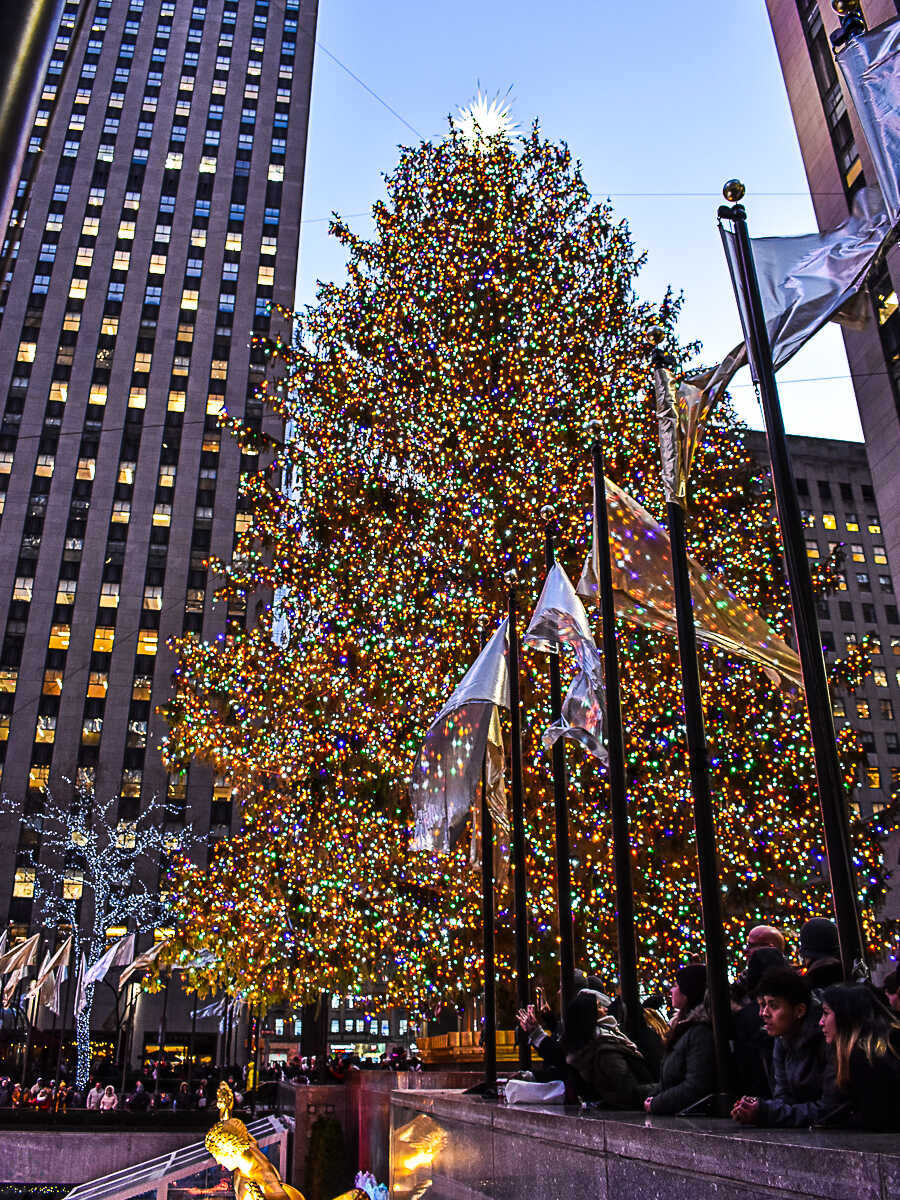 The Rockefeller Center Christmas Tree is the most iconic NYC Christmas photo spot.
Standing tall above the skating rink, the Rockefeller Center Christmas Tree looks beautifully illuminated at any time of day.
Since the area is free to enter, remember there's not really a time of day when you can be in Rockefeller Center without significant crowds invading your pictures.
While early mornings will probably be the least crowded in front of the Christmas Tree, you'll be met with a group of people standing outside the TODAY Show studios, the NBC morning show that shoots right in the Center.
And the later in the day you venture into Rockefeller Center, the more and more people you'll find.
Although there will probably be people in your picture with the Christmas tree, this is where you can be creative with angles to create an entirely unique picture that's all your own.
Once you finish taking pictures of the Christmas tree, head inside FAO Schwartz, the city's famous toy store that was featured in the movie Big with Tom Hanks.
2. See the Saks Fifth Avenue light show
The famous NYC department store Saks Fifth Avenue offers great fashion and accessories and goes all out for the holidays.
Every year, Saks has a 5-minute light show on its storefront every 10 minutes, with music, lights, and an epic new storyline.
The best pictures of the festive decorations can be taken from standing across the street from the store, in front of Rockefeller Center.
After the light show ends, make sure you head across the street to its storefront and admire its window holiday displays.
3. Admire the inventive window display at different major department stores in NYC
Although classic department stores such as Lord & Taylor and Barneys have closed in recent years, there are still several department stores along Fifth Avenue that go all out for the holidays.
Christmas window displays in Fifth Avenue department stores are a long-standing tradition.
It is said that the tradition began in 1874 when R.H. Macy arranged scenes from Harriet Beecher Stowe's Uncle Tom's Cabin with porcelain dolls in the department store's front windows to attract customers.
Clearly, it worked!
After you pass Saks Fifth Avenue, you'll come across St. Patrick's Cathedral, which is all decked out for the holidays.
Head inside to see the largest Catholic church in North America before continuing up Fifth Avenue to admire the holiday window displays at Cartier, Harry Winston, Louis Vuitton, and Bergdorf Goodman.
4. See Cartier wrapped like a Christmas present
One of the most famous jewelry stores in the city, the Cartier store, located at 7 East 54th Street, goes all out with its holiday decorations.
Even if giving your loved one Cartier jewelry is out of your price range, you can take a picture of the store wrapped up like a Christmas gift, complete with a bow.
Since the store is found on a busy fifth Avenue corner, your best bet to get that perfect instagrammable shot is on the crosswalk when it's your turn to cross the street.
But be quick; you don't want to hold up traffic!
5. Capture Radio City Music Hall
Is there more Christmas bucket list in NYC activity than heading to Radio City Music Hall and watching the Christmas Spectacular?
Radio City Music Hall is one of the most iconic theaters in the United States. This historic venue opened in 1932 and has been home to the Christmas Spectacular since 1933.
Some scenes in the show change each year, so while you always see the famous toy soldier in March or the nativity scene procession with the live camels, other dances and moments in the show change from year to year.
With three performances a day on the weekends and two every day during the week, you can purchase your tickets for the Radio City Christmas Spectacular online here.
However, even if you don't have time to see the show, the building itself is gorgeous and worth seeing! You can tour the theater to glimpse the magic backstage and inside for more festive photo opportunities.
6. Take a picture with the Sixth Avenue Ornaments
You can find larger-than-life Christmas ornaments along Sixth Avenue across from Radio City Music Hall.
A garland of Christmas lights, big red Christmas bulbs in a fountain, and giant nutcrackers next to a beautiful red, white, and blue Christmas tree are all waiting for you to capture with your camera lens.
Thankfully, this Christmas photo spot isn't bustling–except when Radio City Music Hall is emptying after the Christmas Spectacular showing ends.
7. Stay at the Peninsula Hotel New York
The Peninsula Hotel New York is a luxury hotel located at 700 Fifth Avenue in Manhattan. This five-star hotel features a spa, restaurant, bar, fitness center, rooftop terrace, and concierge services.
They go all out with beautiful holiday decorations to celebrate the season.
There are two exciting hotel experiences available for those wishing to stay at the Peninsula Hotel New York.
The Night Before Christmas package is perfect for families, while the Holly Jolly Holiday package is better suited for adults. It includes VIP access to Top of the Rock, a window-display walking tour, and drinks in their infamous igloos.
If you can splurge, take advantage of one of their packages to access several different Christmas photo opportunities around the city.
The Peninsula Hotel is one of the best Christmas hotels in New York. I have a complete guide if you're interested in learning about more options around the five boroughs.
8. Admire the Pulitzer Fountain before Tea Time at The Plaza
Once you reach the corner of Fifth Avenue and the east side of Central Park, you'll arrive at Pulitzer Square.
The fountain that inspired the famous opening credits scene from Friends is styled in a different Christmas theme every year.
When you finish taking pictures of the fountain's displays, you must head inside The Plaza Hotel.
You may recognize the beautifully decorated Plaza from films such as Sleepless in Seattle, Plaza Suite, and the Christmas film Home Alone 2: Lost in New York.
But if you want to see inside, you can schedule a traditional tea experience at their restaurant, The Palm Court.
Every day from 10:30 a.m. – 4 p.m., The Palm Court serves an elegant afternoon tea. It's beautifully decorated for the holiday season. With its smart-casual dress code, you feel like you're enjoying a refined experience.
You can learn more about their tea time menu and reserve a table on their website.
9. Go ice skating at the Bryant Park Winter Village
The Bank of America Winter Village at Bryant Park is the city's most famous Christmas village.
Make sure to spend some time shopping handicrafts by local artisans at the different stalls around the park and grab a snack before leasing up your skates.
Bryant Park's outdoor ice skating rink is the only one in the city with free entry–as long as you bring your skates. Otherwise, you can rent a pair.
Open seven days a week, the rink offers fantastic photo opportunities with the Bryant Park Christmas Tree and the New York Public Library in the background.
10. Scout out street corners for Christmas trees
Venture into local neighborhoods for this next New York City Christmas photo spot.
On the street corners on the Upper East and Upper West Sides of New York City and other neighborhoods throughout the boroughs, you'll find street vendors selling real Christmas trees for people to bring home and decorate their apartments.
If you stumble upon one, it's a photo opportunity unique to cities like NYC.
Need some gift-giving inspiration this holiday season? Check out my guides on the best travel essentials for women, travel gifts under $20, zero-waste travel essentials, and great gifts for friends going abroad!
11. Take pictures in the outdoor courtyard at Lotte New York Palace
The Lotte New York Palace is a luxury hotel on Madison Avenue and East 50th Street in Midtown Manhattan.
Housed in a 19th-century mansion, the hotel is famous for its incredible Christmas decorations.
Garlands, lights, and other decorations adorn the inside of this hotel, while you can find a 30-foot Christmas tree in its outside courtyard.
This hotel is a must if you want that picture-perfect styled Christmas in NYC photo!
12. See the Christmas tree in Washington Square Park
Although it's one of the city's smaller Christmas trees, Washington Square Park in Greenwich Village is beautifully decorated for the holidays.
And with a view!
When you look north on Fifth Avenue, you can see the Empire State building, and when you look south, you can see one of my favorite observatories at the top of One World Trade Center.
You can create some really interesting Christmas pictures here.
13. Notice the Wall Street Christmas Tree and Hanukkah Menora
In front of the New York Stock Exchange in Manhattan's Financial District, you'll find another one of New York City's beautiful Christmas trees.
The Wall Street Christmas tree and Hanukkah Menorah are beautifully captured against Classical Revival architecture.
Then, at the cross street of Wall and Broad, you'll find Federal Hall, the site of the first Congress and where George Washington was sworn in as the first President of the United States.
The building that stands there today was a U.S. Customs House.
14. Take a picture with Santa at Macy's Santaland Herald Square
The REAL Santa is said to be sitting in Santaland at Macy's in Herald Square.
Step onto the top floor of the 34th Street department store to be transported to Santaland.
While the tradition of the real St. Nick visiting Macy's dates back to the 1860s, Santa has had a permanent home on the 8th floor since the mid-1970s.
You'll wind through interactive exhibits before boarding the Santaland Express train, which will take you directly to Santa.
You must make a reservation online to ensure you can take your pictures with Santa Claus.
Time slots are reserved well in advance, and if you try to show up and wait in line on the same day, you may have to wait hours or be turned away.
To make reservations for the Santa Express Lane, visit the Macy's website.
If there's no availability left to meet Santa during your trip to NYC, Macy's also does an incredible job decorating inside their store and their outside window displays. You're sure to find something to capture!
15. Enjoy the lights at Zuccotti Park
This is one of my favorite hidden gem Christmas photo spots in New York City!
Around the corner from the World Trade Center, Zuccotti Park sustained heavy damage due to 9/11. The park has since been renovated and comes alive during the holiday season.
Every tree inside the park is wrapped with Christmas lights, which lends a gorgeous glow to this area of New York.
16. Walk around the Holiday Market at the Oculus
Did you know there's a Christmas market inside the shopping mall on the main concourse of NYC's Oculus?
On the grounds of the World Trade Center, the Oculus is a significant transit hub for Lower Manhattan and home to a Westfields shopping mall.
Every December, the bottom level transforms into the Holiday Market at the Oculus.
You can wander through the different artisan shops while staying warm inside and stop for some great pictures with their holiday decor.
17. Glimpse the Christmas lights at Hudson Yards
The newest private development in New York City, Hudson Yards, is located on 11th Avenue, between West 28th and West 38th streets.
It's considered the northernmost part of the High Line and offers unique views of the Hudson River and Jersey City.
The Vessel is adorned in twinkling lights at Christmastime, bringing a festive glow to the complex. Then inside the Shops at Hudson Yards, you'll find additional holiday decorations among the many interactive stores.
18. Marvel at the incredible Dyker Heights Christmas Light displays
The New York City neighborhood of Dyker Heights is home to some of America's most beautiful holiday displays.
The Dyker Heights Christmas lights tradition began in the 1980s when a woman named Linda Spata moved into the neighborhood.
She decided to carry on the holiday decorating tradition her mother had started, which paved the way for the whole area to participate.
If you're interested in seeing the spectacular displays yourself, you can either take the subway out or hop on a bus tour.
Pro Tip: Using the New York City subway is pretty easy, and it's something you definitely should experience while you're here. Check out my guide on using the subway if you want to learn more.
You can take either the Brooklyn-bound R train to 86th Street or the Brooklyn-bound D train to 79th Street and walk to the Dyker Heights Christmas lights neighborhood.
If you want a more guided experience or to avoid figuring out your way there yourself, you can take a tour out to Dyker Heights specifically to see the Christmas light displays.
Wander around the neighborhood and snap pictures of your favorite displays!
19. Enjoy a festive dinner at Rolf's German Restaurant
If you've ever heard of that famous restaurant where everyone goes for Christmas photos in New York City, Rolf's German Restaurant is probably one you've seen.
Every holiday season, the restaurant goes all out with its holiday decorations. From the moment you step inside, it feels like you're transported to a holiday wonderland.
However, if you want to ensure you can have dinner here, schedule a reservation as soon as possible! The restaurant books out months in advance for its holiday service.
If Rolf's is all booked out this holiday season, take a look at my list of other excellent NYC restaurants that decorate beautifully for the Christmas season.
20. Enter a 19th-century sitting room at Lillie's Victorian Establishment
In the Broadway Theatre District across from the Eugene O'Neill Theater, Lillie's Victorian Establishment is another fun restaurant that goes all out for Christmas.
When you head inside any time of year, the interior is decorated to resemble a 19th-century home, with Victorian-era decor lining the walls.
But at Christmas, they include holiday decorations in the space.
They also have a location on East 17th Street in Union Square.
21. Capture Brookfield Place's Luminaries and Ice Skating Rink
In Lower Manhattan, Brookfield Place is another luxury shopping mall that connects to the Oculus through an underground tunnel.
It's home to numerous restaurants and shops, and it's also a gorgeous backdrop for amazing photos.
Every year in the Center of the mall, they host a holiday lights installation called Luminaries.
When you interact with the lights, they change colors!
This is such a unique Christmas photo spot in NYC.
Then, head outside to the back of the mall–you'll find yourself outside by the North Cove Marina.
Along with beautiful views of the Hudson River and Jersey City across the way, you can also find The Rink at Brookfield Place with Gregory & Petukhov.
22. Enjoy rooftop igloos at 230 Fifth Avenue
Have you ever had drinks outside in New York City in the winter in an igloo?
A couple of bars around the city have this wintertime experience. However, my favorite place is 230 Fifth Avenue.
Under the lights of the Empire State Building, you can order drinks and enjoy the stunning views from inside a glass igloo. It feels like you almost have privacy with your friends, tucked up in an igloo together.
Imagine the pictures you can take–you're drinking and chatting with friends, staying toasty warm in an igloo, with the view of the Empire State Building behind you.
Absolutely iconic!
23. Be amazed at the Amaze Light Festival
Over at Citi Field in Queens, the New York Mets baseball team's home stadium, you can find the Amaze Light Festival.
Hosted by Artistic Holiday Designs, this innovative winter festival has visitors walking among the enchanting decorations and dazzling lights in this interactive storybook experience.
Have a magical time with your friends and family, enjoy some holiday cheer, and of course–take excellent Instagrammable pictures.
You can purchase general admission and VIP tickets online.
24. Dress in your vintage best for a Holiday Nostalgia Ride
From Thanksgiving to New Year's, the New York Transit Museum partners with the MTA to run the Holiday Nostalgia Rides every Sunday.
Starting from the 145th Street B line and heading all the way downtown, vintage NYC subway cars from the 1930s through the 1970s are brought out of their retirement to make up the holiday train.
People come dressed up in their finest throwback outfits and herald back to a time when subway riding was a refined activity.
Whether you love vintage trains, vintage fashion, or are ready for more holiday spirit, traveling down Manhattan on the Holiday Nostalgia Train is an excellent addition to your list of NYC Christmas instagrammable spots.
Since the holiday train only runs a few times during the season, look at the train's schedule on the New York Transit Museum's website to plan ahead.
25. Marvel at Medieval 'Christmastide' at The Cloisters
A magnificent museum called The Cloisters is located in Upper Manhattan's Fort Tryon Park, which takes visitors back to Medieval Europe.
This outpost of The Metropolitan Museum of Art is home to more than 5,000 works of European art dating from the Byzantine period to the early Renaissance and was constructed in the medieval European monastery style by architect Charles Collens.
The halls are adorned with historic Medieval 'Christmastide' decorations yearly to celebrate the season.
Garden staff and volunteers work for weeks handcrafting the locally-sourced holiday furnishings, including evergreen trees, holly, ivy, and other plants used to celebrate Christmastide, the 12-day Medieval festival between the Nativity and the Epiphany.
This is a fantastic place to explore during the year, but if you want to capture the beauty of this unique place during the holiday season, this is the time to go.
Read More
Tips for Taking Excellent Christmas Photos in NYC
Since Christmas lights and decorations are integral to New York City's winter culture, it's easy to get wrapped up in dazzling displays across the city.
However, most visitors don't realize that capturing amazing images of NYC's famous Christmas lights isn't easy.
✔️ Wake up early
I know, it's the last thing you want to do on vacation. But, if you want to capture these iconic New York City Christmas spots with fewer tourists in your pictures, you'll have less competition for good photography locations early in the morning.
✔️ Use a tripod
Using a tripod helps you capture clear, crisp images of the lights. Tripods allow you to hold your camera steady without moving, so you can easily frame your shots.
Tripods are available for under $20 online, and you can find them at any big box store.
✔️ Shoot in RAW mode
Shooting in RAW mode allows you to adjust the white balance of your image after you shoot. This means you can control the color temperature of the lights in your photo.
This feature lets you change the lighting conditions in your shot, giving you more control over the final result.
RAW files are larger than JPEG files, so you may want to save space on your memory card by shooting in RAW instead of JPEG format.
✔️ Take multiple shots
Taking multiple shots gives you more flexibility when editing your images later. If you miss a picture, you can delete the bad one and keep the rest.
Take several shots of each scene, and experiment with different angles until you find the right composition.
✔️ Focus on the lights
When you focus on the lights, you'll notice that they appear brighter and sharper.
Focus on the lights rather than the background, and you'll see a dramatic difference in the quality of your photos.
More Resources for Visiting New York City at Christmas
Christmas Photo Spots in New York City: Wrap-Up
From Rockefeller Center to the World Trade Center, New York City has plenty of places where you can take some stellar pictures this Christmas season. What are your favorite NYC Christmas Instagram spots?
Lyndsay