This post may contain affiliate links! I will receive a commission, at no extra cost to you, if you purchase something recommended here.
Every iconic Christmas movie set in New York, from Elf to Home Alone 2: Lost in New York, has prepared you for this moment.
You're ready to see New York City illuminated by the stunning Christmas decorations on every street corner, with little piles of winter white snow elegantly tucked off to the side of the store entrances.
Everything looks very Hallmark-esque.
However, the reality is not quite what the movies have made us believe.
If you're wondering–does it snow in New York at Christmas?–the answer may surprise you.
Does it snow in New York at Christmas?
Unfortunately, there is no guarantee that it will snow in New York during the Christmas season.
Usually, the metropolitan area experiences its heaviest snowfall in January and February.
However, that's not to say it won't.
The northeast of the United States experiences a wide range of weather patterns, and quite frankly, anything is possible.
Historically, New York City has had a white Christmas once out of about every six years.
When does it snow in New York City?
It typically snows in New York during the later winter months–mainly January and February.
According to WeatherSpark:
The snowy period of the year lasts for 4.3 months, from November 25 to April 2, with a sliding 31-day snowfall of at least 1.0 inches. The month with the most snow in Manhattan is February, with an average snowfall of 6.4 inches.
Although snow in New York City in December is less common, it does happen!
What are the average winter temperatures in New York?
Regardless of whether or not there are inches of snow on the ground, throughout the entire winter season in New York City, you will need to bundle up.
According to NOAA, the National Oceanic and Atmospheric Administration:
The average temperatures in December in NYC are a high of 44.3ºF / 7ºFC and a low of 33.8ºF / 1ºC.
The coldest month of the winter season in New York City is January when the temperature drops to an average high of 39.5ºF / 4ºC and a low of 27.9ºF / -2ºC.
In February, the temperature slightly picks up to an average high of 42.2ºF / 6ºC and a low of 29.5ºF / -1ºC.
What happens in New York City when it snows?
New Yorkers are a hearty bunch, and the city generally doesn't stop just because there's a bit of snow on the ground.
You'll see that many industry workers still need to report in for the day.
However, if there's heavy snowfall or other inclement weather, you should contact your tour company if you have a tour scheduled for the day.
Although most of the subway system is still operational in the snow, there are some areas where the lines run above ground.
This means that trains will sometimes be delayed until the tracks are cleared of snow for safety concerns over icy conditions.
Otherwise, once the streets and tracks are plowed and salted, the New York City bus and subway systems run, and you'll see people venturing outside into the fresh snow for everyday activities.
Best Things to do When it Snows in New York City
Go ice skating in Central Park at Wollman Rink
Central Park is one of the prettiest places to visit in New York City in the snow.
Spanning over 800 acres of land on Manhattan island, it's filled with winding paths and landmarks like Bethesda Terrace, the Literary Way, the Central Park Zoo, and Wollman Rink.
And ice skating is always a hit in New York City, especially when it's covered in snow.
Wollman Rink is a fantastic option if you love ice skating but want to avoid crowds as big as you'll find at the Rockefeller Center or Bryant Park.
Centrally located in Central Park, Wollman Rink opens for the season at the end of October and operates through mid-March.
First opened in 1949, the ice rink also offers group skating classes for all ages and styles, like basic skills practice, figure skating, and ice hockey.
After you finish ice skating, take an opportunity to wander around Central Park.
It's still a beautiful, peaceful walk in the center of this hectic city.
Spend the day exploring one of New York City's museums
Visiting one of New York City's museums should be high on your list of things to do in New York City in winter! New York City is home to numerous art galleries, and it's easy to spend hours browsing through them.
You can find some of the world's more revered art and artifacts in museums all over the city.
The Metropolitan Museum of Art, a beautiful photo spot during the Christmas season, is the largest art museum in the United States and one of the most prominent museums in the world.
Here, you'll find more than two million works spanning thousands of years.
From the most famous museums in the city, like The Met, The Whitney, or The Guggenheim, to so many smaller, prestigious collections, wandering around inside a museum is a great way to spend your NYC snow day.
Warm up with a cup of piping hot chocolate
When it snows in NYC, there's nothing better than a warm mug of piping hot cocoa.
While you can go to any of the city's standard chain or artisanal coffee shops, instead, head down to Soho to visit Dominique Ansel's Bakery.
This hidden gem is most famous for creating the cronut, which is a delicious pastry that's a cross between croissants and donuts.
Along with their cronuts, they're also known for their hot chocolate with blooming flower marshmallows.
Once the flower-shaped marshmallow is placed on top of the hot cocoa, its petals open to reveal a small chocolate treat inside, like the center of a flower.
This is definitely one of my favorite desserts in New York's snowy weather.
Shop at one of the city's indoor malls
Although some could argue that the whole of New York City is like one giant shopping mall, there are several established indoor malls around the city!
The Oculus is located on the World Trade Center grounds, directly across from the 9/11 Memorial.
It has a Westfield shopping mall inside and includes multiple magnificent references to the tragic events of that day–parts of the retaining wall that survived the attack can be seen.
The Oculus atrium has a great Christmas market too!
After shopping at the Oculus, walk underneath the memorial and through the tunnel to Brookfield Place.
It's a luxury shopping mall with high-end shops, a gourmet supermarket, and fine dining establishments.
Outside, you can stroll along the Battery Park City Esplanade or the North Cove Yacht Harbor.
They even have an ice skating rink along the harbor, making it a perfect winter date in NYC–especially in the snow.
Two other great indoor shopping malls are The Shops at Columbus Circle and The Shops at Hudson Yards, each located in their respective neighborhoods.
Do a food crawl through one of the city's market halls
Instead of walking around New York City trying to find a place to eat in the snow, check out one of the city's food market halls!
You can walk around and try several different foods without stepping back into the snow until you're ready to leave.
A few of my favorites include:
See the city in the snow from an observation deck
Name for me another experience in New York City as iconic as visiting an observation deck!
The Empire State Building, One World Trade Center, and Top of the Rock are titans of the time, while newcomers like The Edge and Summit One are incredible as well.
The SUMMIT One is the newest observatory in the city in Midtown Manhattan near Grand Central Terminal, and it's also fully enclosed!
It offers incredible views of all five boroughs while you're staying inside, safe from the winter chill.
And how beautiful to see the city skyline all covered in snow!
Settle in for a day watching reruns at the Paley Center for New Media
Another thing to do when it snows in New York is to spend a day inside at The Paley Center for Media.
Located just outside Rockefeller Center, the Museum of Broadcasting opened its doors in 1975.
You'll begin by browsing The Archives, which contains over 160,000 archived radio shows. Rewatch your favorite classic T.V. shows, radio broadcasts, and even tapes from previous Olympic Games.
Once you've chosen a show to watch, you can sit back and enjoy it alone or in a small group.
Admission is free for the first 1.5 hours, although a recommended donation is appreciated.
Insider Tip: Visit the Paley Center for Media for one of their many scheduled screening events on one of their theater-sized screens. Their films are also free, but seating is on a first-come, first-served basis, so arrive early.
Go to the movies
There are movie-going experiences in New York City to get you by on a cold, snowy day.
There are dozens of theaters scattered throughout the city.
Aside from your traditional, run-of-the-mill trip to AMC or Regal to catch a blockbuster movie, cinephiles have tons of small, niche theatres around to satisfy your movie craving.
The last single-screen movie house in the city (recently saved from closure by Netflix), Paris Cinema, shows Netflix films on the big screen.
You can also head over to Nitehawk Cinema in Williamsburg and Prospect Park, Brooklyn, where you can enjoy a full-service dining experience while enjoying the latest blockbuster.
Enjoy a Broadway show
The show must go on! New York City's Broadway shows still perform even in the snow.
You can use Playbill's weekly list of Broadway and Off-Broadway performance times to choose something that fits your schedule.
Or, go to the production's website to see the showtime calendar ahead of time.
Otherwise, stop by the TKTS Booth if you're undecided on which Broadway show you want to see! They can be found beneath the red stairs in Times Square.
There are a variety of Broadway and Off-Broadway tickets available for 30-50 percent less than what you'd spend at the box office.
Pro Tip: If you want an excellent dinner in the Theatre District before the performance, make your reservations at least an hour and a half ahead of showtime. Also, let your server know when your show starts when you first sit down. They'll usually do their best to accommodate!
Sit down for an excellent meal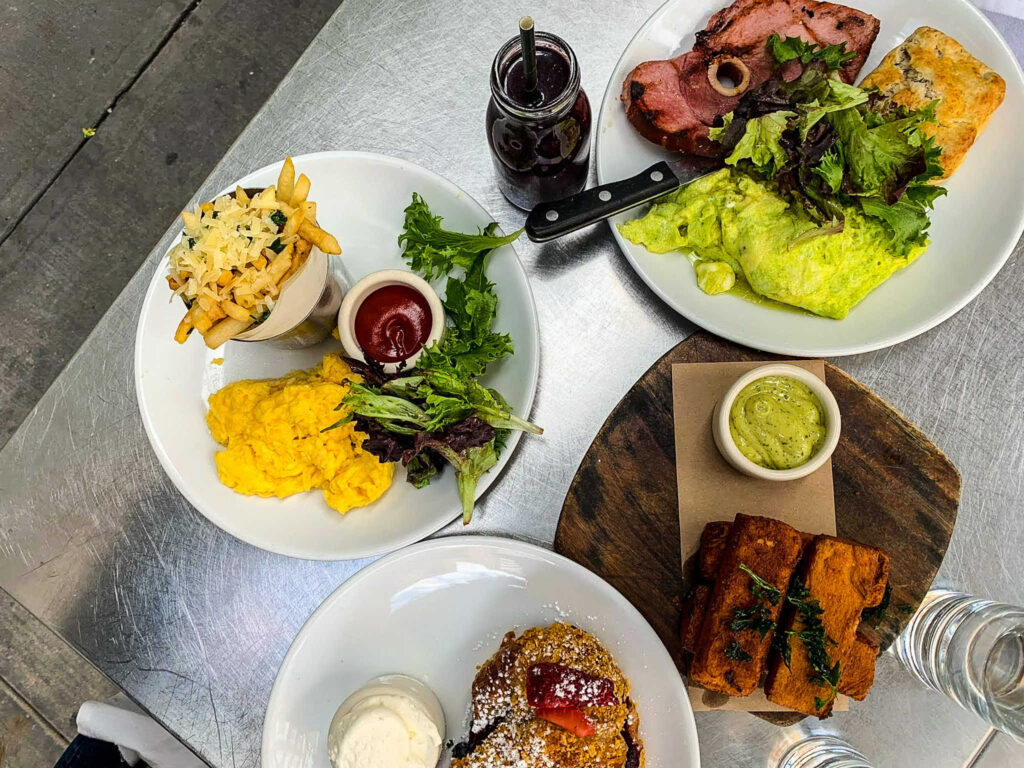 New York City is known for its amazing food scene.
There are restaurants serving everything from all-you-can-eat sushi to New York-style pizza–you can travel the culinary world without leaving NYC.
So when the weather gets a little too snowy for you, head indoors to cozy up at a top restaurant you've been interested in trying–especially if it has been decorated for the holiday season.
Best Things to do When it Snows in New York City at Christmas
See the world's most spectacular Christmas tree
Topping everyone's bucket list when visiting NYC at Christmas is visiting the iconic Rockefeller Center Christmas tree.
One of the most iconic symbols for Christmas that New York City has, the tree is lit every night during the holiday season, making this one of the most popular tourist attractions in NYC.
And imagine how much more beautiful the famous tree is in the snow! The snow, gracing the tree branches and making the colored twinkling lights stand out even more.
Marvel at the Saks Fifth Avenue bright lights
Every year, Saks has a 5-minute light show on its storefront every 10 minutes, with music, lights, and an epic new storyline.
The best views of the festive decorations come from standing across the street from the store, in front of Rockefeller Center.
After the light show, walk across the street to the Saks Fifth Avenue storefront, admire its holiday displays, and then head inside for some shopping to get out of the snow.
Walk up Fifth Avenue to see the gorgeous Christmas displays
If heading out to see the famous holiday decorations in Brooklyn's Dyker Heights neighborhood feels too far to travel in heavy snow, you can check out the department store displays along Fifth Avenue without leaving Manhattan.
Although classic department stores such as Lord & Taylor and Barneys have closed in recent years, several department stores along Fifth Avenue go all out for the holidays.
Christmas window displays in Fifth Avenue department stores are a long-standing tradition.
It is said that the tradition began in 1874 when R.H. Macy arranged scenes from Harriet Beecher Stowe's Uncle Tom's Cabin with porcelain dolls in the department store's front windows to attract customers.
Clearly, it worked!
After you pass Saks on Fith Avenue, you'll come across St. Patrick's Cathedral, which is all decked out for the holidays.
Head inside to see the largest Catholic church in North America before continuing up Fifth Avenue to admire the window displays at Cartier, Harry Winston, and Louis Vitton.
When you finish your walk up Fifth Avenue, you will arrive at Pulitzer Square.
Central Park will be in front of you, and The Plaza Hotel, another New York City holiday icon and one of the best Christmas hotels in NYC, will be to your left.
You may recognize The Plaza from films such as Sleepless in Seattle, Plaza Suite, and Home Alone 2: Lost in New York.
Shop at a Holiday Market
Some of the most famous winter festivals in New York City are its Christmas markets!
Christmas markets and holiday villages can be found in every borough of New York City, featuring products and foods from various businesses and booths around the city.
Although the Bryant Park Winter Village and the Union Square Christmas Market are the most well-known winter villages in New York City, there are holiday villages throughout the city–including the one indoors at the Oculus.
Local artists and stores across the five boroughs sell some one-of-a-kind items. I always include at least one present from a holiday village stall in my Christmas giving.
It's a fantastic place to find thoughtful gifts for your loved ones.
A few of my favorite holiday markets include:
Pro Tip: While visiting the Bryant Park winter village, don't forget to pay a visit to the New York Public Library next door. The historic building is elegantly ornamented for the holidays every year, and it's a perfect place to slip away out of the cold for a bathroom break!
See the city from the water with a bit of holiday cheer on a New York City Cocoa & Carols Holiday Cruise
If you think New York is overrated, you haven't seen the city from the water in the snow!
Head out on the Hudson and East Rivers for a Christmas-themed boat cruise.
Drift by New York City's skyline from your private table in the heated, glass-enclosed 1920s-style yacht.
The tour includes a complimentary drink with your ticket, as well as your entertainment for the magical experience.
Listen to the captain tell you about the world you're floating by outside or sing along to carols playing as you take in the views of the New York City skyline at Christmas.
This one-and-a-half-hour cruise tour departs from Chelsea Piers during the holiday season.
You can check my list of the top Christmas tours in NYC for more ideas!
What to Wear for a Snow Day in New York City
Whether it's snowed in New York City or not, you'll need to bundle up when you're venturing outside in the winter.
You don't want to get cold!
👉 Layer 1: Thermals
If you have them, wearing a thermal layer underneath your clothing will help preserve your body heat and keep you warm throughout the day of sightseeing.
I have two sets of thermal underwear, a thicker set for the frigid days and a slightly thinner set for the relatively warmer days.
My thinner set comes from Uniqlo. Their HEATTECH technology is stylish enough to be worn out as normal clothing, while also providing that needed layer to preserve your body heat.
I've worn their HEATTECH Scoop Neck Long-Sleeve T-Shirt and HEATTECH Leggings for years while giving guided tours of NYC, walking around in the winter air for hours at a time, and staying nice and warm.
My thicker long-sleeve turtleneck and leggings are from Under Armor's ColdGear line. This is my go-to set when I'm going out in the snow, or when the temperature is lower than 20ºF / -2ºC.
Both brands do an excellent job of preserving my body heat and keeping me warmer when it snows in New York City at Christmas.
👉 Layer 2: Turtleneck and Pants
Next up–a turtleneck. Since you'll want as much of your skin covered as possible, a turtleneck is the next best layer in your New York City winter wear.
Depending on what you'll feel most comfortable in, you can wear an additional pair of leggings over your thermal layer, or you can slide jeans on.
Whatever is most comfortable for you and that you still feel stylish in.
👉 Layer 3: Winter Coat
Over the top of your thermal layer, turtleneck, and pants, your winter coat is essential for surviving the snow in New York City.
I recommend one with a higher power down content, waterproof, and a hood.
👉 Layer 4: Socks & High boots
Since you'll be on your feet all day exploring New York City, you must treat your feet well.
If you can handle two pairs of socks, go for it; otherwise, a Uniqlo has a great HEATTECH sock that goes higher than the ankle to make sure all your skin is covered.
It's a must to wear waterproof boots and thick socks if you're going to be on your feet outside all day.
When it snows, there's no shortage of puddles and slushie sidewalks, and it will ruin your trip if you have to walk around with cold, wet feet.
👉 Layer 5: Scarf & Gloves, Hats
Last but not least–protect yourself against wind chill and cold temperatures with your winter accessories!
Pair your bundle of warmth with your favorite knit hat, scarf, and gloves. A hat that covers your ears is ideal, as well as pairing your gloves with glove liners if they're too thin.
More Resources For Visiting New York City in the Winter
Does it Snow in New York City: Wrap-Up
While snowstorms aren't exactly common occurrences in New York City around Christmastime, never say never. It might just be our own Christmas miracle!
Otherwise, you know now that since it does snow in New York in the winter, you'll still have an opportunity to see the city beautifully covered in its wintery white.
Lyndsay