This post may contain affiliate links! I will receive a commission, at no extra cost to you, if you purchase something recommended here.
Flying over crowds and historical monuments across the Eternal City is every drone operator's dream.
From the Vatican City to the historic center of Rome, this city has some of the most significant ancient landmarks in the world.
Since I moved to Italy, I've visited Rome countless times and even lived in Rome for a short time. Every day I'm there, I take hundreds of pictures, each more captivating than the next.
Although my DSLR has taken some beautiful pictures of this city for me over the years, it's high time to start breaking out the drone and capturing images from the sky.
However, before I break any aviation safety rules, I needed to know–can you fly a drone in Rome?
I asked Josh from A Backpacker's World to find out more about whether it's possible to capture Rome from above.
The following information is based on his research, but of course, you should confirm with the Italian Civil Aviation Authority for specific questions and updated information.
So, can you fly a drone in Rome?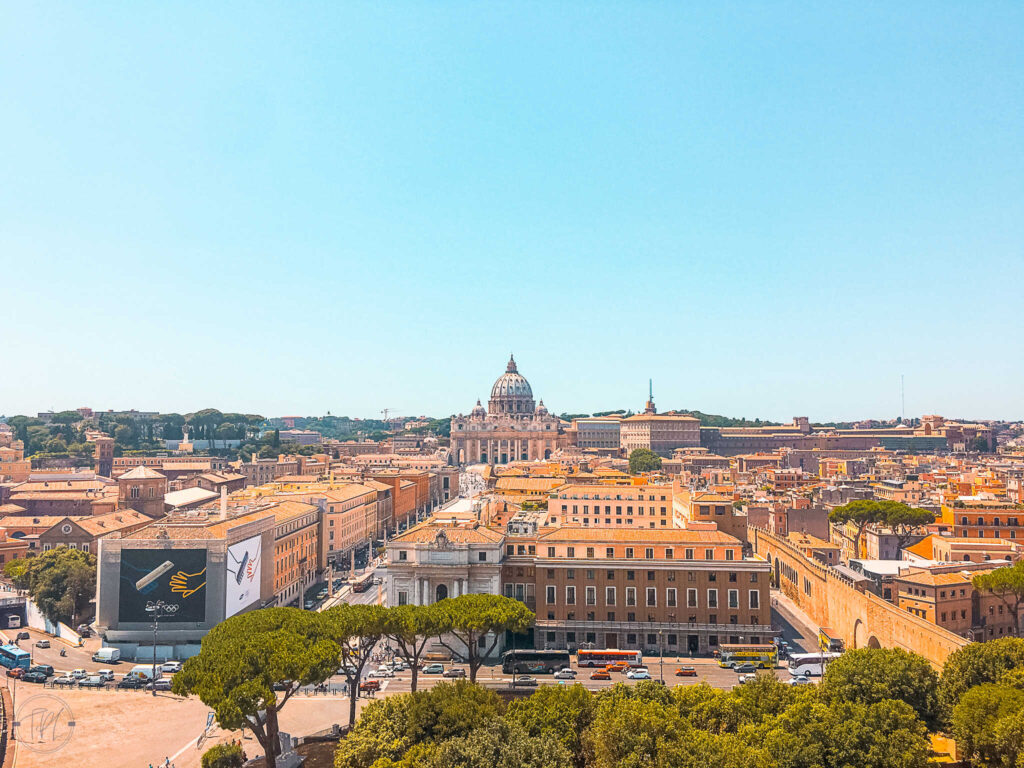 Yes, you can fly a drone in Rome, but many rules and regulations exist.
This is excellent news for any drone pilot, right?
Rome is guaranteed to produce breathtaking drone footage unlike anywhere else in the world.
Just look at this footage–it's so cinematic and shows Rome's beauty from a new angle.
Editor's Choice: Best Drone Model for Hobbyists

With so many incredible camera drones on the market, it's important to pick something that makes sense for you and your needs.
Several drone categories range from aircraft perfect for recreational pilots to commercial drones for professionals requiring a drone pilot license.
DJI is one of the best brands for drone photography equipment. The DJI Mini 3 Pro is the perfect choice for most hobbyist drone owners.
With up to 34 minutes of flight time, its foldable design weighs less than 250 grams, so you don't need to register it in advance. Its onboard camera films 4K/60fps video and 4K/30fps HDR video and can quickly switch filming between landscape and portrait mode.
If you're looking for a compact drone to bring with you on your travels through Europe, the DJI Mini 3 Pro is an outstanding choice.
👉 Click here to buy your own DJI Mini 3 Pro
Getting Your Drone into Italy
Getting your drone into Italy should be easy compared to other countries like Turkey, as there are no restrictions or rules on physically bringing a drone into Italy.
As part of the European Union, Italy complies with the European Union Aviation Safety Agency.
You can find their regulations by clicking here.
Pro Tip: Please remember that some airlines have strict rules about lithium batteries in checked and carry-on luggage. Please check your airline's rules before flying.
Drones weighing under 250 grams do not need to be registered. However, as of the 1st of July 2020, drones heavier than 250 grams require a certificate. So if you are taking a 250g+ drone to Rome, make sure to apply.
You can apply here. Scroll down until you reach the box 'Registration,' and it's relatively straightforward from there.
Insurance is required for any drone in Italy, regardless of weight or usage. Also, as with every country, Italy has its own rules for drone usage.
Before flying a drone in Rome, make sure to understand these laws to avoid any problems.
Rules for Flying a Drone in Rome
Drone rules in Italy are very strict and are closely monitored by the Italian police. Many tourists have had their drones confiscated and fined hundreds of Euros for breaking these rules.
The most important rules you should know before flying a drone in Rome are:
Pilots must remain within a direct line of sight of their drone
Drones can only be flown during the day; night flights are not possible
Drones can be flown up to 50 meters (roughly 170 feet)
Drones cannot be flown over large crowds of people, including large events
Operating distance should not exceed 500m
As always, the standard rule of not flying too close to airports, military bases, historic landmarks, and other restricted areas, applies.
However, there are also no-fly zones if you want to fly your drone in Rome. Unfortunately, many of the major tourist attractions fall under this.
Places You Cannot Fly Your Drone in Rome
The ENAC (Italian Civil Aviation Authority) states that you cannot operate recreational flights over archaeological sites. Unfortunately, this drone law rules out many of Rome's most appealing drone spots.
You cannot fly your drone in Rome near:
The Colosseum
Vatican City
Trevi Fountain
Spanish Steps
Essentially, keep a safe distance by avoiding central Rome and anywhere near these precious sites.
If you are creating a documentary or recording for commercial reasons, you can apply for special permission from the ENAC to fly in these no-fly zones.
There is no application form or eligibility criteria for this publicly available, so I recommend contacting them directly.
There have been many cases of tourists getting into trouble, so please follow these rules and avoid flying your drone in central Rome.
Other Great Photo Opportunities in Rome
As the ENAC's laws rule out the opportunity to fly your drone over the popular attractions in Rome, you may wish to take advantage of other standard photography opportunities.
The chances are that if you fly a drone, you can appreciate a good photo, right?
Pro Tip: If you there are pictures of Roman landmarks you want from high above, head to the rooftops! Tall landmarks like the Altar of the Fatherland and Castel Sant'Angelo, or restaurants with rooftop terraces like Ristorante Mirabelle or Trevi RoofTop will give you overhead views of famous monuments without a drone.
Here are five of my other favorite landmarks to photograph in Rome, aside from the incredible and clear first choice–the Colosseum:
Trevi Fountain
Okay, this one is pretty obvious. But look how beautiful it is!
Beat the crowds by going in the early hours of the morning or late at night and get a front-row view of the Trevi Fountain.
Trastevere
The streets of Trastevere make for some of the most Instagrammable pictures you will take while in Rome. They are so picturesque and straight out of a fairytale.
You can't come to Rome without taking at least one photo of these gorgeous streets.
Villa Borghese
Rome is truly like nowhere else in the world, and Villa Borghese sums this up perfectly. The Villa Borghese Garden is a great place to spend time relaxing in nature among the Eternal City.
And it's filled with so many things to do in Rome, like the Borghese Gallery and Museum (Museo e Galleria Borghese) among several other museums, a zoo called Bioparco di Roma, and the Gigi Proietti Globe Theatre.
The Pantheon
The Pantheon is Rome summed up in one building!
Founded as an ancient Roman temple in the first century, it's one of the most iconic examples and Roman architectural landmarks. So be sure to take a picture in front of the Pantheon.
Piazza del Campidoglio
Designed by Italian Renaissance master Michelangelo, Piazza del Campidoglio is a great place to snap your Instagram pics.
But to be honest, the whole of Rome is picture-worthy, so be sure to take as many photos as you can while you are in the presence of so many outstanding buildings.
Read More
Can You Fly a Drone in Rome: Wrap Up
Well, there you have it. Hopefully, I have answered your question, "can you fly a drone in Rome?" well.
Unfortunately, even though it is permitted in other parts of the city, you will not be able to capture the most popular areas of Rome from a drone.
However, hopefully, you can take advantage of our photo opportunities. So get out there and start exploring Rome!