This post may contain affiliate links! I will receive a commission, at no extra cost to you, if you purchase something recommended here.
The Best Tours Around the World series highlights one-of-a-kind tour adventures told through the experiences of world travelers.
There are some absolutely incredible experiences all around Europe. After asking travel bloggers to think back on their best tour experiences from around the world, I want to book a one-way ticket tomorrow. 
From hiking glaciers to swimming with dolphins, and entertaining walking tours to river cruises, you're going to be absolutely floored by these guided and walking tours in Europe.
Guided and Walking Tours in Europe
Blue Ice: Glacier Hike & Ice Climbing
While visiting the land of fire and ice, I decided that just seeing a glacier wasn't enough and opted to try ice climbing for the first time.
The tour company Glacier Guides had the perfect introductory tour for my husband and me called "Blue Ice" at Sólheimajökull Glacier in Southern Iceland. The adventure tour is available year-round, which was great for us since we went in the summer. The total tour time is 4.5 hours and includes a hike along the glacier to an ice wall and a crevasse to experience different ice climbing scenarios.
At the ice wall, you are taught proper techniques for safely climbing by the ever-patient guides and ropes are set up at multiple locations on the wall for you to try as many times as you can in the time allotted. The crevasse is a unique experience as you are lowered in one at a time and are surrounded by walls of ice. The guides were great at helping me overcome my fear of heights but didn't push anyone to do something they weren't comfortable with.
Your tour price of 135 euros includes crampons to hike safely on the ice, helmets, ice axes, and certified guides. If you can't pack waterproof clothing and boots in your carry-on, they have them available to rent for an extremely reasonable price. It is important to know that they don't have gloves available to rent, so that is something you definitely want to pack them yourself!
If you need transportation from Reykjavik, make a full day of the tour to see Southern Iceland outside of the Golden Circle. This is an additional cost, which puts the "Blue Ice" tour at over 10 hours since it includes stops at 2 of the most popular waterfalls in Iceland: Seljalandsfoss and Skógafoss.  
Giants Causeway Tour
The Paddywagon tour starts at around 6:30 a.m. in Dublin and heads to the tip of Northern Ireland, reaching the Giants Causeway.
The famous Giants Causeway comprises of around 40,000 basalt columns along the rugged Northern Irish coast. The hexagonal-shaped stones which disappear into the ocean date back to the volcanic age, so it's pretty easy to understand why this is a UNESCO World Heritage Site.
However, while this may be the main destination on the tour, Paddywagon ensures that you don't miss out on the rest of the amazing sights in Northern Ireland.
The first stop of the tour is the Dark Hedges, or more popularly known by Game of Thrones fans as King's Road, the tour then heads to Carrick a Rede rope bridge, a beautiful coastal path and historic bridge used by fisherman to harvest Salmon.
After having some time to explore the famous Giants Causeway, there is a quick stop at Dunluce Castle for a photo opportunity and finally an hour to explore Northern Irelands Capital, Belfast, before the tour ends at 8.30 p.m. in Dublin.
The tour costs 65 Euro per person, and you really do get your money's worth as there is something for everyone: history buffs, nature lovers, and TV fanatics alike.
The fantastic stops on this tour would have been enough to make this a memorable trip. However, for us, the element which really made this a tour to remember was Val, our tour guide. From the moment we stepped on the bus, he was extremely welcoming, told us all about the history of Ireland, the famous Irish folk tale of Giants Causeway, cracked jokes, and played Irish music throughout the bus as the playlist for our trip.
This was a perfect trip for us to get out of Dublin for a day and explore Northern Ireland on a budget!
Game of Thrones Filming Locations Tour
The best tour that I've ever taken was the Game of Thrones tour from Belfast, Northern Ireland, to surrounding areas. This guided tour in Europe was through Irish Tour Tickets and only cost 39 pounds, which isn't bad at all for a tour with this many stops!
Just a side note, but even if you're not a fan of Game of Thrones, this tour is still enjoyable. I went with two of my friends, one of whom had never watched an episode, and she loved it! The tour guide even plays the very first episode from season 1 just so that everyone on the tour at least somewhat understands the storyline!
The tour meets downtown in Belfast in the early morning. The morning stops on the tour include Carnlough Harbour and Cushendun Caves. Then, the tour stops for lunch at a restaurant called Fullerton Arms, which actually is Game of Thrones-themed! They even have an Iron Throne for you to take a photo.
After lunch, the tour brings you to the Dark Hedges (the REAL King's Road), Carrick-a-Rede Rope Bridge, Larrybane Limestone Quarry, Giant's Causeway, and Dunluce Castle. Depending on what time of year you come, the itinerary is subject to change. If you were to do the tour in the colder months when there's less sunlight, for example, the tour might stop at Bushmills Whiskey Distillery.
Keep in mind that not everything is included in this tour, such as entry fees to some locations. You are responsible for paying for your lunch at Fullerton Arms, and that ranges from 10-18 pounds, and you also have to pay to cross Carrick-a-Rede Rope Bridge if you choose to do so, which is an extra 10 pounds.
This tour is one tour that you can't miss!
Read More
London Loo Tour
I've been on a lot of walking tours in Europe during my travels, but my favorite tour was actually taken while exploring my home city. There are so many fun things to do in London and a huge variety of incredible tours to choose from. Whenever someone asks for an activity recommendation in London, I always tell them about the London Loo Tours. These quirky tours are a fun and unusual way to explore England's capital city for only 15 pounds.
London offers many serious walking tours, but if you're looking for something more fun and a little quirkier while still being educational, you need to take the London Loo Tour. Starting at Waterloo Station outside the toilets, obviously, you'll take a two-hour walking tour learning about London's loos.
Guided by one of the 'loo ladies' with a plunger, you'll learn about the history of London's sewer system and some interesting facts about notable toilets in London. You'll also get a chance to see the 'Jubi-loos' for free, and the tour ends at The Cellar Door, an old public toilet that's been converted into a bar. It's the perfect way to end, especially as the bar itself as some of the coolest toilets in London.
Stonehenge and Bath Tour with Roman Baths Entry
After spending seven full days in London, I was eager to escape the city and explore more beautiful England. Stonehenge had always been on my bucket list, and since I was short on time, I decided to take a guided tour in Europe of Stonehenge and Bath from London with Golden Tours. This tour was an excellent way to see both spots in just one day without having to worry about organizing logistics, such as transportation.
After meeting at the Golden Tours office, we hopped on a bus with our fellow travelers and made our way to Stonehenge. Once we arrived, we were dropped off at the visitor center, where we could hop on the shuttle to take us directly to the Stone Circle. We had ample time to explore the grounds and the visitor center before departing for our next stop: Bath.
We had our lunch (a Subway sandwich) on the drive to Bath. Once we arrived, we were given a tour of the city to learn more about its past before heading to the city's namesake: the Roman Baths. We had plenty of time to explore the Baths and other surrounding attractions such as Bath Abbey. After a few hours in Bath, we boarded the bus to take us back to London after a long day of exploring.
A full-day tour of Stonehenge and Bath from London with Golden Tours costs around 120 USD and includes transportation, lunch, a guide, and admission to Stonehenge and the Roman Baths. Student and senior discounts are also available. Golden Tours also offers guided and walking tours in Europe combining Bath, Stonehenge, Windsor Castle, and other day tours throughout England.
Read More: Your Guide to Religious Places in Europe
Heart of Scotland Isle of Skye and Highlands Tour
Nothing beats seeing the highlands of Scotland and the small islands off the coast while someone else drives so you can soak up the view in a guided tour in Europe.
Although a Scotland road trip is incredible if you love driving and don't mind the small Scottish roads. For those looking to learn about Scotland's incredible landmarks and fascinating history and do a bit of whiskey tasting along the way, Heart of Scotland's three-day tour is a perfect choice!
The tour starts in Edinburgh, and over the course of a day with castles galore along the way, you'll make your way up to the Isle of Skye in a small bus with no more than ten people. The driver is sociable and intelligent.
Over the next two days, you'll be chartered around the island seeing Fairy Glen, waterfalls, and generally enjoying the incredible views. One of the best things about the tour is that the drivers will modify it based on what people want to see. If everyone has already been to a certain castle, they'll replace it with something else instead.
Regarding pricing, the tour is very affordable at 125-195 pounds per person, excluding entrance fees and accommodation. The company will book accommodation for you. You simply choose if you want a hostel ($), a BNB ($$), or a hotel ($$$).
Swimming with dolphins in the Atlantic Ocean
The best tour ever? There is one tour which wins my top guided tour in Europe, hands down, and it is swimming with dolphins in their natural environment – the Atlantic Ocean. "In their natural environment" is crucial to mention, as I am an opponent of keeping animals captive for the amusement of tourists. I would never support a tour that promotes swimming with dolphins, which are held in captivity. Thankfully, there is a beautiful destination in Europe that exclusively promotes this kind of tours – a small Portuguese island in the Atlantic called Madeira Island. 
Yes, this is the same Madeira Island where the famous Madeira Wine is produced. It is a fantastic holiday destination with tons of things to do – on land and in water. Swimming with dolphins tour has been a dream of mine for a long time, and I am so glad I decided to give it a try. The experience literally left me speechless. 
There are many tour operators offering dolphin and sea life watching tours in Funchal, (Madeira Island's main city), but watching them from a distance will not be as magical as swimming with dolphins on Madeira Island. Catamaran or boat cruises where you only watch the animals are more affordable, around 30-40 euros per person. Tours which also include the swimming/snorkeling component are double the price. 
I chose the operator Rota dos Cetáceos (in Portuguese: "The route of the cetaceans") where adult tickets cost 65 euros, and child ticket cost 43 euros. Although it is not the cheapest tour available, I did it, and I will gladly do it again, and again.
Seeing those beautiful animals underwater was really surreal. I highly recommend this tour, and I can assure you, it will be one of your top tours in Europe, let alone one of the most amazing experiences of your life, no matter how old you are. 
Read the Rest of the Series:
Free Art Quarters Tour
Also known as Barrio de las Letras or the arts quarter, Madrid's literary quarter is a fascinating neighborhood located in the heart of the city. It was the home of many Spanish playwrights, authors, and other cultural figures, and where they have created some of their most important works.
To learn more about the neighborhood and the famous cultural icons that lived there, you have to take a free walking tour operated by Strawberry Tours. It is filled with the most interesting stories and anecdotes, landmarks like old theatres and houses of famous writers, and it will completely change how you see the city. From stories about Cervantes and his internationally renowned creation–Don Quixote–to romantic stories about Lope de Vega, to funny, quirky legends, this has to be one of Madrid's best walking tours.
Although this tour is incredibly fascinating, it is kind of a hidden gem in Madrid, so you'd be experiencing something unique that most people skip out on. It also means that you need to reserve your spot in advance on Strawberry Tours' website.
Final tip: Like in most free walking tours in Europe, you're welcome to leave a tip at the end of the tour. It's good to know that Strawberry Tours takes these donations and invests them in the local community.
Seine Cruise with Champagne Tasting
A trip to Paris isn't complete without at least one cheesy boat trip along the Seine. While it's possible to join the masses on crowded Bateaux Mouches from across the city, travelers that don't mind a few extra expenses have a much better option: a Seine Cruise with Champagne Tasting. 
The beauty of Paris is striking no matter the means of conveyance, but it all becomes a little more French with an onboard sommelier pouring out some of the country's finest bubbly as you enjoy the ride. The Eiffel Tower, Alexander Bridge, Pont des Arts, and Notre Dame all slide alongside as the cruise crosses slowly through the city, taking in many of the major Paris sites at a relaxed pace.
Guests of this guided tour in Europe ride in a private salon at the front of a Vedettes de Paris boat. A dedicated guide and sommelier are explaining the city's highlights and origins of each glass of champagne. With three full pours on a one-hour trip, you'll likely feel a bit bubbly yourself by the end of the ride.
The trip lasts one hour and costs 65 Euro per person, so it's certainly not the most cost-effective way to cruise on the Seine, but certainly among the most memorable. Boats leave from just west of the Eiffel Tower every evening aside from Sundays, so it's easy to fit into a busy tourist schedule and a wonderful end to a day exploring the City of Lights.  
Guided tour of Mount Etna
Mount Etna on the Italian island of Sicily is one of the most active volcanoes in Europe, and visiting it is a wonderful experience for children. We took our kids there when they were just three and five-years-old. We decided to book a private tour of Mount Etna so that it could be tailored around our family. We used Etna Finder, who was brilliant. Our guide Marco took us to places which the children found particularly engaging: we climbed lava slopes, the kids sat on a lava bomb and climbed through a lava cave.
The tour can be done as a day trip from the famous town of Taormina on the east coast of Sicily. We were taken to parts of the volcano, which tourists would not be able to find. Indeed we didn't come across any other people except for when we had lunch at a remote refuge. We visited various different landscapes to gain a comprehensive understanding of the immensity of the mountain, and Marco provided us with a detailed commentary which the children found fascinating.
Etna Finder charges from 60 Euro per person for a half-day excursion of Mount Etna. They offer a wide range of tours depending on your interests, including wine tours and more demanding trekking excursions.
Read More
Warsaw Street Art Walking Tour
Taking a street art tour in the quirky district of Praga is one of the best things to do in Warsaw and my favorite East Europe tour. You probably wouldn't associate Warsaw with street art, but it is home to some impressive murals and other artistic creations. So, if you want to learn more about them, you must take this 2-hour free walking tours in Europe operated by Free Walkative Tour.
During the tour, the guide talks about the difference between urban art and street art, the different artistic techniques you can see around the district, and the message each creation wants to convey. My guide was extremely knowledgable and informative, and she made it easy to listen to her.
In addition, you also get to learn about Praga's history. While 80% of Warsaw was completely destroyed during World War II, only 20% of the Praga district was destroyed, so it's fascinating. You can see authentic buildings that have survived the war alongside modern, colorful houses and hear anecdotes about what this district has gone through.
This tour does not require making any reservation in advance, and like in other free walking tours in Europe, you are welcome to tip the guide when the tour ends.
Levante Speedboat Excursion
Without a doubt, a guided tour in Europe should be part of any holiday. And there is one good reason – local knowledge of hidden gems which we can't find in catalogs.
If you visit the Greek island of Zakynthos, you need to book a boat tour to see the famous turtles. The Caretta Caretta turtle can only be seen along the beaches of the Laganas Gulf. Book Levante Speedboat Excursion with Captain Spiros, and he will make sure you spot a turtle or two! He has a hidden weapon – tomatoes from his garden, which turtles love.
There are a few booking offices on the Zakynthos island where you can book your trip – it is not possible to book your trip online.
The East Europe tour takes around 5-6 hours, during which you not only have the opportunity to take a few pictures of the turtles but also will visit Marathonisi Islet – its shape looks like a giant turtle!
On the way back to Tsilivi port, you will visit Keri Caves where you can swim for a bit, and then after a quick boat ride, you will have a bit of time to relax on the Banana Beach. Refreshments are not provided, but there is a great taverna where you can get a drink for a few euros.
The tour will finish back in the Tsilivi port – don't forget to take a picture with Captain Spiros!
Sofia Free Food Tour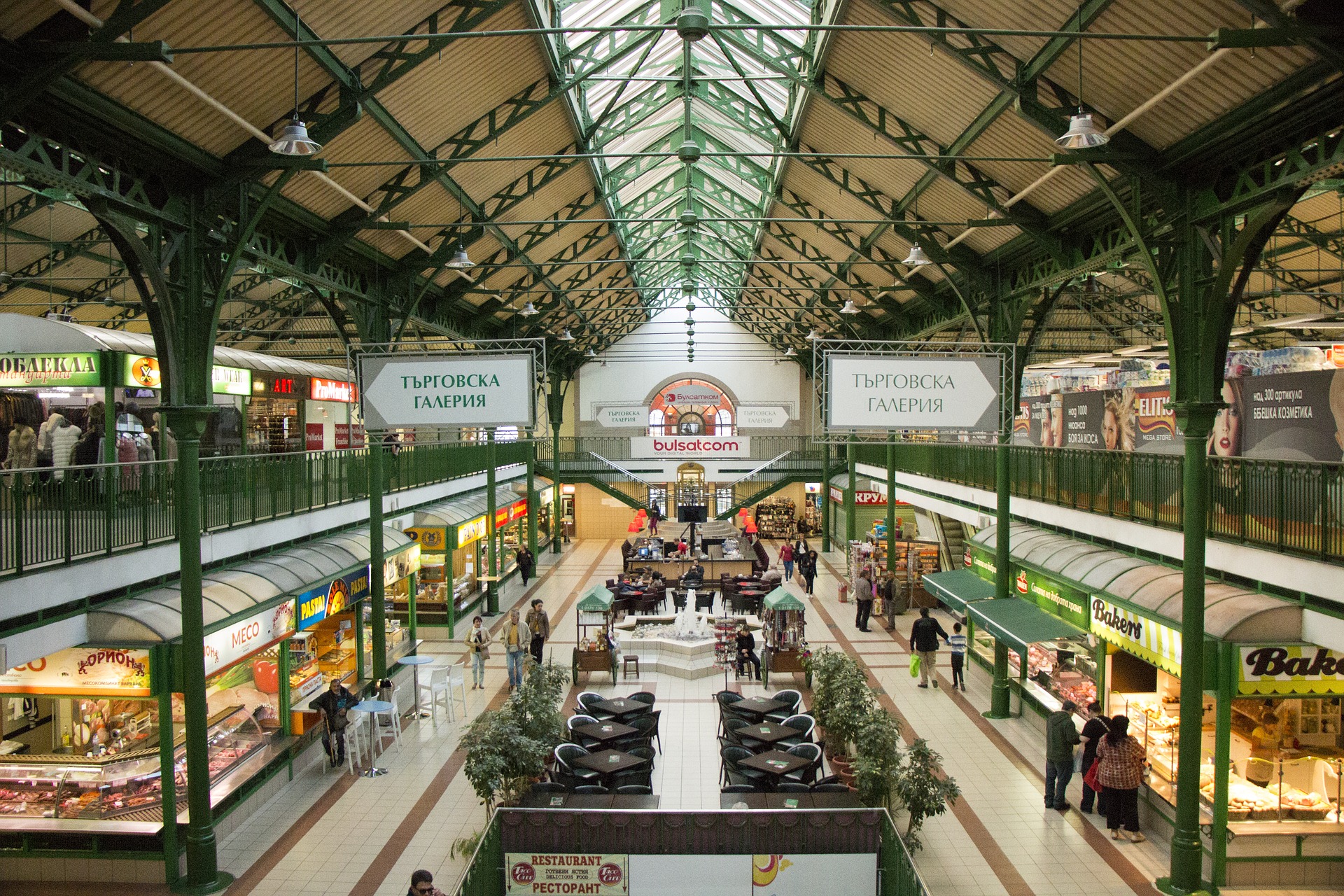 The Balkans Bites Free Food Tour is the ultimate way to blend Sofia's culture and food together on a tight budget! Yeah, you read that right–a FREE food tour.
This guided tour in Europe begins near the center of the city and takes you around some of the best local food spots in Sofia, Bulgaria. At each stop on the tour, which takes about 2 hours, you get a little sample of the food. Portion sizes are small–it is free, remember, but big enough to whet your appetite.
This East Europe tour began as a way to show travelers passing through Sofia its foodie culture while promoting local eateries that might otherwise go unnoticed. My tour guide was a local from Sofia who shared her knowledge about the city's street art, bookshops, folklore, and Bulgarian traditions with our small group.
Although this tour is free, like many other walking tours in Europe, cash tips encouraged at the end, as this is what funds the tour guides. Book online in advance to guarantee your spot on the tour (space is limited).
In the heart of Seklerland, Romania
The best East Europe tour I've ever been on was in Transylvania, in Romania. I was with my family, and we spent 3 days in this county, Seklerland. This region is full of mountains and waterfalls.
On the first day, we visited the mountain of Harghita. This is the largest andesite mess and the largest volcanic body in the whole of Europe. We hiked on the mountain for 5 hours. The view was amazing, we could see for a hundred miles away. On the peak of the mountain is a heritage site of Hungarians, full of headboards, and flags.
On the second day, we visited the Red Lake, a natural dam lake, formed after an earthquake in 1838. In time, thousands of trees have come down into the lake, which you can see nowadays on the lake's surface.
On the last day of this East Europe tour, we visited Varsag, where there is a waterfall. This place is perfect for those who want a calm journey.
Our accommodation was in the small city of Gheorgheni, in a guesthouse. All the sights are in a range of nearly 30 miles. 
This region is low priced, and the people were very kind. This is a perfect place whose love nature, natural attractions, and long hikes.
Moskva (Moscow) River Cruise
There's nothing like experiencing the rich Russian culture in Moscow for the first time! With only three days in hand, we knew that we wanted to see as much of the city as possible before heading out to Saint Petersburg. And from what we'd learned, the soul of the city was centered along the Moskva river, and there was no better way to experience it than a sunset cruise!
Our Moskva River sunset cruise began two hours before sunset with safety instruction and a briefing of the plan for the evening. We were escorted to our window-side table inside a beautifully decked hall. After all twenty guests had boarded, we set sail on the Moskva River.
A welcome drink and some finger food were served while we admired the vibrant hues of the early summer skies. Other guests had brought their own champagne to celebrate an occasion!
We spent some time out on the open deck and watched the sky turn pink, then purple and finally a deep, dark blue. On the river's northern banks, we could see the Saint Basil's Cathedral, the Kremlin, and even the Red Square. Seeing these monuments from the river does offer a very different perspective!
Later, the steward brought our dinner (having noted our vegan preference and allergies before, so thoughtfully) and invited us to enjoy our meal. With the dark sky, a classic Russian Karaoke session after dinner, and beaming lights from the grand Moscowite buildings, we could not have asked for a better experience!
To top it off, the sunset cruise cost us under RUB 1,590 (less than 25 USD.) You'd agree: that East Europe tour is a steal!
All of these guided and walking tours in Europe sound incredible! Which one would you like to try?
Read More
Lyndsay