This post may contain affiliate links! I will receive a commission, at no extra cost to you, if you purchase something recommended here.
While there are plenty of places to escape to during the cold season, where should you head to when temperatures drop?
With centuries of history and culture around every corner, it's no wonder we all want to visit Europe during the holiday season. Unless you're spending Christmas in New York City, I can't think of a more magical place than sleeping in a hotel made entirely of ice or skiing in some of the most picturesque mountain towns throughout the continent.
While there are plenty of great places across the continent, specific spots in Europe offer a fantastic winter holiday experience. From skiing to snowboarding, cozy mountain villages to bustling cities, here are some of the best winter destinations in Europe.
The Best European Winter Destinations
London, U.K.
Few cities combine such rich historical heritage, as well as contemporary style and sophistication like London does. Whether you choose to spend the entire Christmas break in Central London or head out into the surrounding towns and villages, there are plenty of things to see and experience throughout the capital.
It's a rather romantic European city during wintertime, with events like the Hyde Park Winter Wonderland, just browsing the city's famous shopping streets, and ice skating at Trafalgar Square and Buckingham Palace before heading off to watch the famous illuminations along Oxford Street.
When Christmas time arrives at the Royal Botanic Garden of Kew Garden, the garden is transformed into an after-dark magical place. It's an unmissable experience in London, the perfect spot to enjoy a festive spirit and feel the Christmas magic mood.
With over a million lights, the enchanting walking light trail is less than two miles long. It will probably take you about two hours to stroll through the sparkling and glittering landmarks up to the historic Palm House musical laser show. The trees are turned into captivating light sculptures from different artists.
While you're in the Gardens, you need to check out Kew's Treetop Walkway. It's impossible not to be marveled by the waterfall of light, with light beams dropping from the 60 feet high structure. And the music makes it a spectacular show feeling almost like the trees are dancing.
If by chance you are visiting London from the end of November to the beginning of January, you have to book your tickets to this fascinating show.
Another magical holiday site in London is the 'Warner Bros. Studio Tour London,' or Harry Potter Studios as it is better known, where they have the annual 'Hogwarts in the Snow' themed event.
Throughout the month leading up to Christmas, the studio will be dressed with Christmas festive season baubles, including all the different winter scenes from the film franchise, using the actual original backdrops, costumes, and props that feature in the films.
Some of the highlights include the Great Hall of Hogwarts, which is decked out with Christmas trees, blazing fires, and the table is set with a massive Christmas dinner. The outside areas, including Privet Drive, are then showered with snow from snow machines. And Diagon Alley is always exciting at Christmas time.
Submitted by Lauriane from Always Ready to Check-In and Allan from Bangor Northern Ireland: Travel and Tourism Blog
Manchester, U.K.
Manchester, U.K., may not be the first destination that comes to mind when you think about Christmas, but yet, it has so much to offer!
Visiting Manchester in winter is a magical experience, and the entire city becomes a life-sized winter wonderland. In the city center, you will find nothing less than nine Christmas Markets!
The main one is located on Albert Square, right in front of the beautiful Town Hall. You will get to see Manchester Big Santa and beautiful lights, and you'll also find loads of stands serving delicious Christmas foods. Don't forget to grab a mulled wine or hot chocolate. There is a £1 refundable fee for the mug. Although you can get your money back, it's a good thing to keep as a souvenir.
It's also worth checking out the Cathedral gardens market, as it's home to the ice village and an ice rink. If you are visiting with kids, that will be their favorite part!
Another great thing to do in Manchester at this time of the year is to go to the Trafford Centre. It's one of the most unique commercial centers in Europe. It always looks like a theme park, but it becomes a Christmas paradise when November and December come around. You can meet Santa and do all your shopping there!
Finally, make sure to book tickets for one of the Christmas pantomimes. The Opera House and the Palace Theatre always host amazing productions, and in December, they focus on traditional Christmas shows. It's a lovely thing to watch.
Submitted by Pauline from BeeLoved City
Funchal, Madeira Islands, Portugal
One of the best warn winter destinations in Europe is, for sure, the magical island of Madeira. Portugal is known as a country that loves traditions and sticks to them. Thus, you will surely be surprised by the festivities that take place during the Christmas season in Madeira.
The best way to experience the Christmas spirit while in Madeira is by going to the Christmas at Avenida Arriaga. The Christmas market takes place on December 23rd, and one can enjoy all types of traditional foods and drinks. Some of the best Madeiran foods at Christmas are the honey cake, Bolo do Rei (King's Cake), Pão de Ló (Sponge cake), and the Rabanadas (French toast made with wine). As for the drinks, you should definitely try the famous Madeiran wine and the Poncha!
While you are strolling in Funchal's richly decorated Christmas streets, you will also witness the beautiful "lapinhas." The "lapinhas" are simply nativity scenes, which the locals are decorating by themselves and putting on display in their gardens or windows.
Christmas in Funchal, Madeira, is a truly magical experience, and you will definitely not miss home even for a second. The locals are so friendly and hospitable that you might even end up having a traditional Portuguese Christmas dinner at somebody's house.
If you decide to stay in Funchal, Madeira Islands, Portugal, for New Year's Eve, you will be amazed by the brilliant fireworks show that takes place there. It is classified as the Biggest Fireworks Show by Guinness World Records and is truly fascinating to watch. You can observe it by a couple of spots and viewpoints above the city of Funchal and be absolutely stunned by its grandiosity.
Submitted by Alexandrina Nikolova from Earthosea
Granada, Spain
You need to drive from Alicante on the Costa Blanca to Granada in Andalucia for the snow if you have the chance. Yes, you can actually see snow in Spain! After the 5-hour drive, spend a night in Granada city before getting the bus up to the ski village of Monachil in the Sierra Nevada mountain range.
The ski village is full of amazing restaurants, bars, cafes, hotels, and of course, some of the most spectacular views out across the mountains. On a clear day, you can see all the way down to the beautiful city of Granada.
You can sit with a hot chocolate (or beer!) and watch the skiers and snowboarders whizzing down the mountains. Although it's a ski village, there is plenty to do for non-skiers too.
Make sure to take the cable car up the mountain where you can hike in the snow, take in the views, and of course, have a snowball fight! For children, there are sleds and inflatable rings for hire, as well as mini snowmobiles.
There is also a restaurant at the start of the ski slopes, with one of the most fantastic lunch views. To make it a winter getaway, stay overnight at a hotel in the ski village and–if you're lucky–wake up to more snow the following morning.
For anyone thinking of making the trip, it is easy to arrange yourself. Leave your car in Granada and instead take the bus from the central station as the drive up the mountain is a little scary. It's a lovely trip to make you feel festive if you have been in Spain for a while.
Submitted by Sarah from Our Spanish Adventures
A UNESCO World Heritage Site is a creation or landmark chosen for conservation by the United Nations Organization for Education, Science and Culture (UNESCO) due to its cultural, historical, scientific or natural significance. It must meet a minimum of one of ten selection criteria to be considered for the World Heritage List, and once chosen, it becomes protected for preservation by various international treaties.
Colmar, France
Colmar is one of the most famous cities to celebrate the holiday season in Europe. Located in the region of Alsace, at the border with Germany, Colmar is a Christmas fairy tale!
On the one hand, the Old Town of Colmar is very picturesque. The half-timbered houses you will find here are all painted with pastel colors. And the Lauch River is flowing through the Old Town, giving this area the lovely name of "Petite Venise" (Little Venice in English). On the other hand, many buildings are decorated especially for the holiday, and there are a few Christmas markets.
You can do so many things on one of these self-guided winter tours in Europe in Colmar during the holiday. Start by wandering in the "Petite Venise" and admiring all the traditional houses. There are also a few bridges offering incredible viewpoints! This area is relatively small, so it's easy to walk around.
Then, of course, you should take a look at the different Christmas markets: there are six of them in the Instagrammable Old Town of Colmar. They all have their own specialty: gourmet market, local products, kid products, Christmas decorations, and other contemporary creations.
On top of that, while you are in Colmar, you should absolutely try the local cuisine! The region of Alsace is, in fact, well-known for its gastronomy. Here are two of the best specialties you should eat in Colmar: the tarte flambée (a mix between a savory tart and a pizza with a thin crust topped with crème fraiche, onions, and bacon) and the kouglof (a yeast-based brioche with raisins and almonds).
Try taking one of these European Christmas market tours to explore all of the different options in Colmar.
Submitted by Ophelie from Limitless Secrets
Need some gift-giving inspiration this holiday season? Check out my guides on the best travel essentials for women, travel gifts under $20, zero-waste travel essentials, and great gifts for friends going abroad!
Strasbourg, France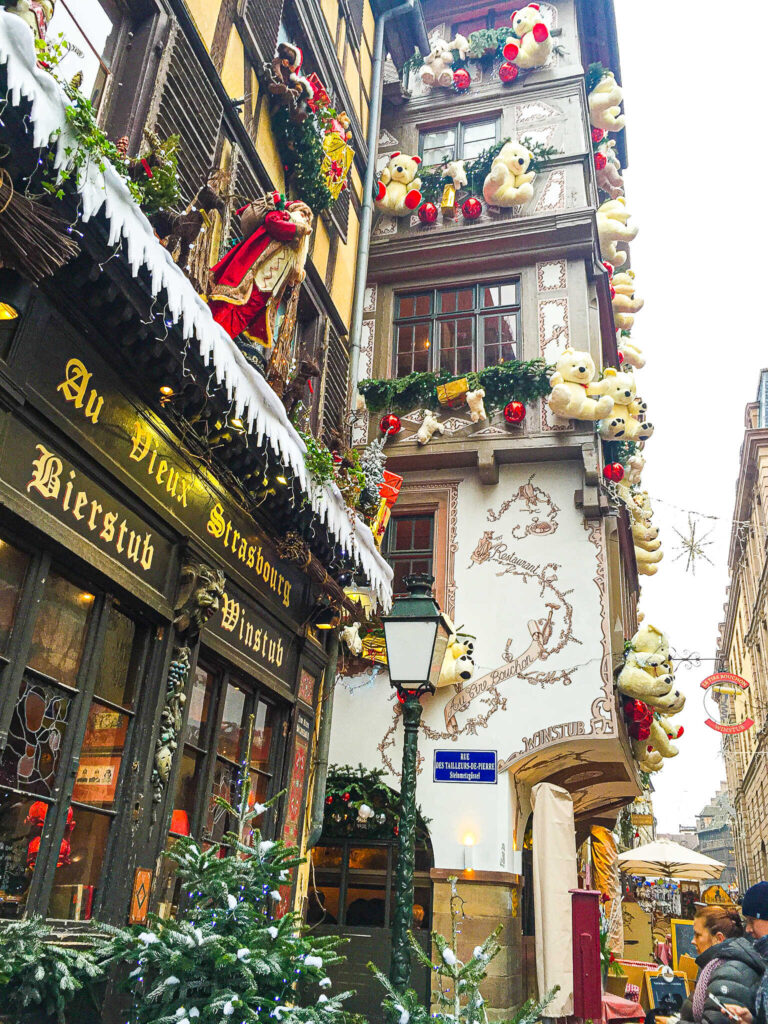 Strasbourg's Christmas Market, originally established as the "market of the Infant Jesus," Christkindelsmärik is France's oldest Christmas Market, built in 1570. Located throughout the city, It's made up of twelve styled outdoor markets located throughout the city from late November to December 31st.
At Place Gutenberg, a red and green illuminated sign proclaims Strasbourg as Capitale de Noel. Colorful Christmas illuminations trace the outlines of the historic buildings at night. Every night during the market since 1605, the Grand Christmas Tree has been illuminated at Place de Kleber.
There are more than 300 wooden chalets selling wool sweaters, embroidered tablecloths, hand-dipped candles, wooden toys, and Christmas ornaments. And you'll need to taste a chocolate-covered marshmallow bonbon. Of course, the only way to stay warm is to order the hot mulled wine with a salty bretzel (pretzel) slathered in Dijon mustard.
Submitted by Terri Markle from Female Solo Trek
Paris, France
Paris is simply magical during the winter season. It doesn't matter if you're celebrating Christmas Eve, New Year's Eve, or even just enjoying an early dinner on December 25th – something is enchanting about spending the holidays in Paris. With its unique blend of history, culture, and modernity, this major city has so much more than what meets the eye when you visit during the festive period.
From the Eiffel Tower to Notre Dame Cathedral, the French capital is filled with beauty. With countless lights twinkling on display across the city, those who love art and culture won't fail to fall under its spell.
Make sure to take time out of your busy schedule to explore the Louvre Museum – you could quickly lose yourself amongst the collection of masterpieces. Another popular attraction worth checking out is Montmartre, and its quaint cobbled streets and classical buildings provide visitors with a taste of old Paris.
For dinner, try a traditional bistro–like Chez Prune. They serve mouthwatering classics along with seasonal dishes, perfect if you're feeling peckish afterward.
From Notre Dame Cathedral to Champs Elysees, the Louvre museum to the Eiffel Tower – there really isn't anything not worth seeing while you are here.
Tuscany, Italy
Have you ever toured Tuscany in the winter months? Even though it's usually crammed with tourists, around Christmas, you can enjoy its beauty almost undisturbed, away from the crowds and the struggle with parking spots, especially if you're on a road trip. And the price of a cozy hotel room will cost you significantly less since it's the off-season.
Make sure to visit some of the region's major cities, such as Florence, Siena, Lucca, and Livorno, along with dozens of equally enchanting small towns. If you take winter tours in Europe in this area, don't miss a stop in San Gimignano and Montepulciano. Both of these charming towns boast medieval architecture that takes you back in time.
Another Tuscan town that boasts extravagant Christmas decorations is Pienza, along with the taste of the local sheep's milk cheese named Pecorino. Another stop worth considering is Radda in Chianti, famous for its wine tours and breathtaking views over hills lined with olive trees and vineyards.
The bottom line is, wherever you stop in Tuscany – it's absolutely gorgeous.
Submitted by Eva Milano from All Things Hair
Rome, Italy
Rome, Italy, has something for every traveler with its rich history, fantastic art galleries, incredible architecture, and world-class museums. And when December rolls around, the whole city transforms itself into an enchanting fairy tale land full of twinkling lights, festive decorations, and magical moments.
Piazza Navona hosts a huge Christmas market every year, offering everything from handmade crafts to mulled wine, roasted chestnuts, wreaths, gingerbread houses, and much more. There's also a smaller market over by Castel Sant'Angelo, along with an outdoor ice skating rink.
And over in The Vatican City, one of the most iconic religious traditions is watching the Pope's Midnight Mass at St Peter's Basilica on Christmas Eve. This is one of the most important religious events every year, and it'll only take place once, so make sure you don't miss out. It's free, but there will be thousands of people trying to enter the Basilica, so try to arrive early if possible.
From the Vatican City to the Colosseum, St Peter's Basilica to Piazza Navona, there are countless places worth seeing while traveling through the Eternal City during the holidays.
Bruges, Belgium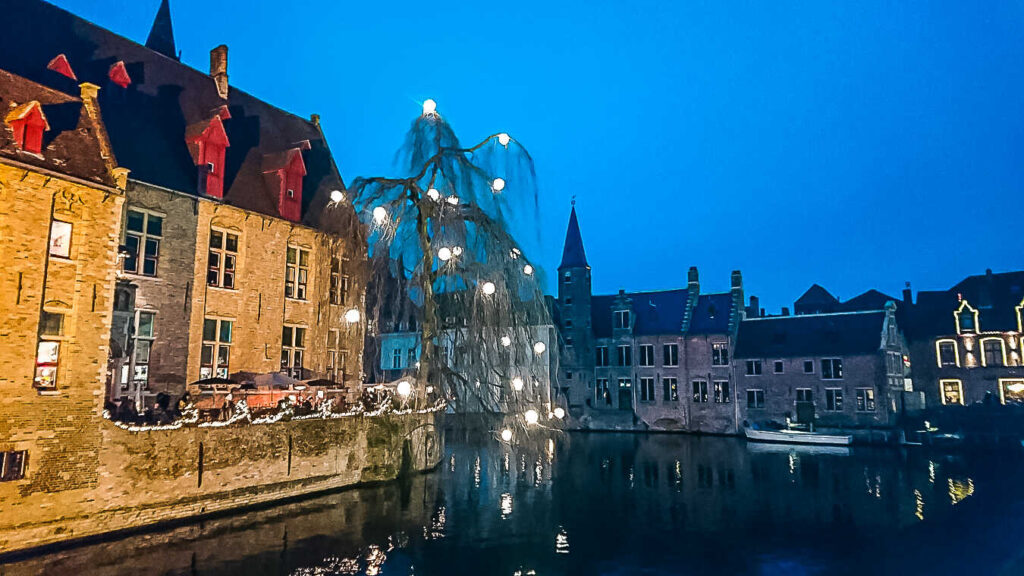 Without a shadow of a doubt, a great winter destination is the city of Bruges in Belgium. Extremely accessible from Brussels and neighboring Ghent by train, while many visit Bruges as a day trip, the real magic awaits when the daytrippers depart, and you are left with this enchanting place to yourself at night time.
Although Bruges is a popular destination during the summer months, it's the perfect place for a winter city break. Everything about the place screams "Christmas," whether it's the glistening ice rink that is erected each year in the Market Square. These twinkling lights adorn every eave or lampposts; they can be hung from the warming cups of hot chocolate held between your fingers to warm them.
There is a traditional Christmas market that is erected each year too. Stalls are crammed full of artisanal produce, Belgian foodie favorites like frites and waffles, and of course, mulled wine – no Christmas market is complete without it! When you've had your fill of the market, take to the winding streets and cobbled alleyways, where an ethereal mist hangs over the canals of Bruges and further fuels the inimitable atmosphere of this special city. If you're feeling cold, take a window seat in one of Bruge's cozy bars and simply watch the world go by.
Take a trip to Bruges at Christmas – you will not regret it!
Submitted by Isabelle from Cultured Voyages
Read More
Deventer, The Netherlands
The Dickens Festival in Deventer, The Netherlands, is a festival which takes place annually, the weekend before Christmas. For two days, the Bergkwartier turns into a Dickens world. The Bergkwartier is the medieval part of Deventer, making it perfect as the backdrop of a 19th-century English town from Charles Dickens.
Over these two days, you can take one of these self-guided winter tours in Europe through several streets, where some 950 Dickens characters are playing their part. There's one way in and only one way out to this outdoor festival. Between entrance and exit, you walk a designated route; all the while, you can watch and engage with the actors. They perform sketches, plays, and choirs. Don't be surprised if you bump into Scrooge, see Queen Victoria have a cup of tea, walk into orphans or listen to Christmas carol singers.
However magical, the Dickens Festival isn't the only festive thing to do in Deventer. After exploring the festival, which takes some 2 to 4 hours, hit up one of the two Christmas markets in Deventer. There's one on the square, the Brink, at the exit of the Dickens Festival. The second one is on the 'Grote of Lebuinis' church, an indoor Christmas market inside the church. Last, there are also free concerts in churches in Deventer.
The experience of walking among the Dickens characters is fantastic. The actors do their utmost to bring the stories to life. You'll be engaged in the stories by the actors all along the route. This, with the decorations and other Christmas activities, brings you into a festive mood.
Submitted by Cosette from KarsTravels
Cologne, Germany
If you like your holidays festive and cozy, Germany in December is for you. One of Europe's best winter places for exploring all that a German Christmas has to offer is Köln (Cologne), the country's fourth most populous city.
Grab a mug of steaming-hot Glühwein (mulled wine – or the alcohol-free "children's" version) and wander through alleys of wooden stalls that offer crafts, toys, gifts, candy, gingerbread, and lots and lots of food. Traditional favorites include sausages, Rievkooche (potato pancakes) with applesauce, Dampfnudeln (steamed buns with vanilla sauce), and various meats.
Any European Christmas market tour of the more than half a dozen markets must include the one centered around the famous medieval cathedral, the Kölner Dom. Also, don't miss the atmosphere-laden Alter Markt (Old Market). Or, for something different, check out the more maritime-themed market next to the Chocolate Museum or Heavenue, the "gay Christmas market."
For one of the more formal winter experiences, take a ride on the Christmas Market Express train, or visit the Cologne tourism office. Make sure to dress warmly, wear comfortable shoes, and bring some coins to use for the public bathrooms.
Submitted by Olivia from Happy in the Hollow
Berlin, Germany
If you're looking for something different, there are many winter events throughout the German capital of Berlin.
Next to the German Cathedral, French Cathedral and the Berlin Concert Hall, Christkindlmarkt is where you'll find tents filled with craftspeople creating works right there on the square. You can also grab a treat and relax from one of the top chefs cooking in the dining area.
At the Weihnachtsmarkt am Gendarmenmarkt, you'll find handmade crafts, porcelain, ceramics, and precision works, and natural food goods, as well as four restaurants onsite. They also showcase an extensive program of local and international acrobats, music, and dance troupes for entertainment.
And, throughout the 10-day festival of lights called Lichterfestspiele, you'll experience hundreds of illuminated buildings light up the sky. From the Brandenburg Gate to lesser-known sites, over 70 monuments and famous landmarks throughout Berlin are lit by local and international artists during this world-renowned light art festival.
Pro Tip: A multi-day European cruise is a great way to see several famous European landmarks in a relaxed and unhurried manner. Most river cruise companies have unique Christmas cruising itineraries, including Christmas carol performances, Christmas shows, and time to wander around the many excellent Christmas markets.

Cruises with Christmas market itineraries usually depart from Budapest and cruise the Danube and Rhine Rivers for seven days or longer, stopping at ports like Nuremberg, Vienna, Bratislava, Salzburg, and Regensburg. Many of these cruises will even offer European Christmas market tours.

Christmas cruises begin in late November and include visits to many popular Christmas markets, such as Nuremberg Christkindlesmarkt, Strasbourg Christmas market, and Vienna's Christmas market in the central city square. River cruising companies with Christmas cruises include Viking, Avalon, Uniworld, AmaWaterways, Tauck, and Scenic.

Submitted by Christina from Travel2Next
Kiruna, Sweden
As you leave Stockholm, train past small villages, isolated houses, frozen lakes, mighty rivers, and endless forests–if you're lucky enough, spot some wild elk and reindeer–before arriving in Kiruna. This city is the perfect hub, as it has helpful links to the attractions and shops, hostels, and hotels to choose from, as well as tons of winter activities.
Make sure to reserve your spot for the Aurora Spa and dog-sledding in Kiruna before you arrive. Both experiences are simply outstanding. Even if there isn't enough snow for snowmobiles, you can still go underground to learn more about the ore mine and why the town is being moved to a new location.
You can also take a bus to Jukkasjärvi as a day trip to feed and pet reindeers at a farm.
Your experience isn't complete without a stay at Icehotel, the oldest of its kind in the world. Every year most of the rooms are created from scratch, and you can even sleep in one of the rooms if you dare. In the evenings, fill your thermos with hot tea and go aurora hunting around Camp Ripan. If luck is on your side, you might even spot the Northern Lights–just look north!
Submitted by Raluca from Travel With A Spin
Lapland, Finland
In the northern part of Finland, Lapland is an amazing region filled with the most unique and winter-like activities you can find anywhere in the world. From ice fishing to reindeer rides and husky rides, as well as chasing northern lights, Lapland truly has some incredible winter experiences.
Rovaniemi, Finland, is the perfect destination for experiencing all things Lapland. As the official hometown of Santa Claus, it is an ideal home base to experience one of the best Europe destinations in December. Many tour companies pick visitors up at the city's most popular lodging palace filled with the holiday spirit, the Santa Claus Village.
Santa Claus Village has reindeer rides in the village and a husky park where families can get pulled by huskies. There are numerous tour companies in Rovaniemi that will pick you up at the town if you're looking for a longer husky or reindeer ride.
Ice fishing and northern lights chasing are two other fantastic winter activities that can be done straight out of Rovaniemi. There are enough tour companies to pick and choose dates, times, locations, and lengths of the tour. Like Snowshoeing and snowmobiling, and outdoor sauna experiences, several other winter activities are possible to do in the city. Lapland's sheer variety of winter activities make this one of the best European winter destinations.
Submitted by Diana from Travels in Poland
Kalabaka, Greece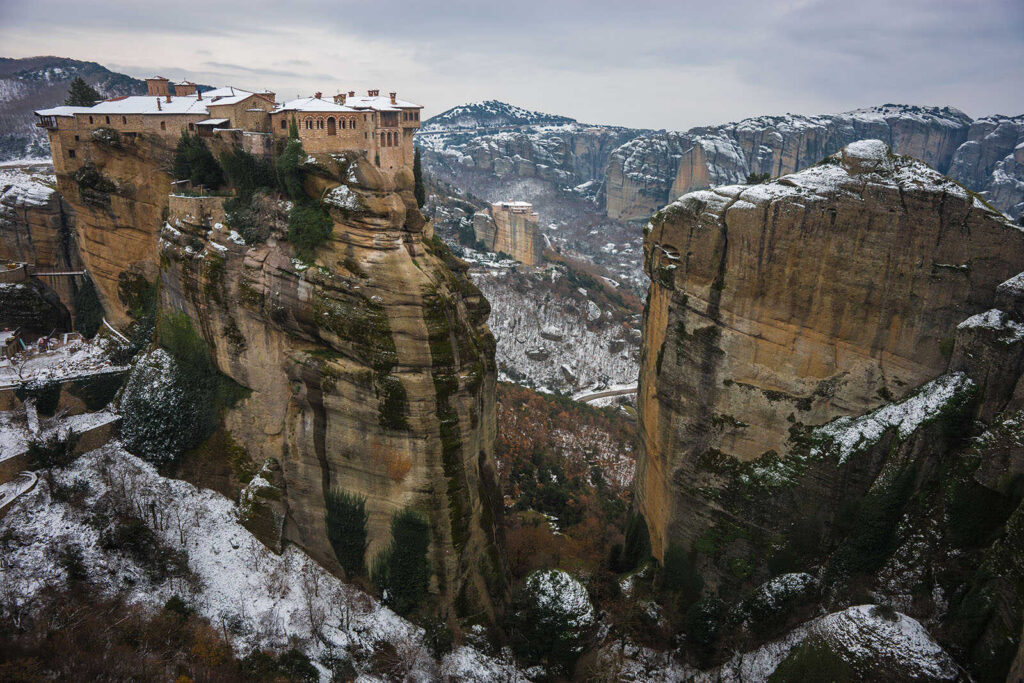 Kalabaka, or Kalambaka, or Kalampaka, was first mentioned in ancient texts as a Byzantine fortress in the 10th century. Meaning "powerful fortress" in Turkish, the town sits at the bottom of the Meteora rock formation–one of the steepest and largest Eastern Orthodox monastery complexes.
Although this UNESCO World Heritage Site is seen by almost 2 million people each year, it's a fabulous off-the-radar winter trip for anyone traveling in Europe in December. It's just not what people think of first when considering Greece's beautiful beaches or Athen's Acropolis. It is accessible 12 months of the year, but capturing the snowcapped hills that the monasteries are perched on can only be found right in the middle of Greece. Visiting in the winter also means that visitors avoid the peak season summer crowds and enjoy the views without hundreds of other visitors.
The steep cliffs almost appear suspended on fog, similar to the cliffs in the movie Avatar. A view of the heavens is what came to mind when the monks visited the site in the 14th century. They were so taken by the place that they built their first (of many Monasteries there).
The steps to the monasteries are modernity's convenience, and so tourists can easily access them. Centuries ago, it was not easy to come and go. Today, it costs 3 Euros to visit inside each one, money they use to sustain their way of life. They are completely independent from the state and are basically autonomous. Ensure you dress in layers when you visit in the winter. If you do visit in warmer seasons, adhere to their conservative dress code.
Submitted by Lindsay Nieminen from Carpe Diem Our Way
Prague, Czech Republic
If you're looking for a fun way to experience Prague in the winter, try a food tour! You'll combine a bit of walking and sightseeing with lots of stops inside delicious restaurants to warm up, and Czech food is so hearty that you'll find yourself warming up fast. This 4-hour food tour is a well-paced, ideal marathon of Czech dishes great for first-timers and those already experienced with Czech cuisine.
Make sure you try Trdelník, a Czech dessert like a chimney cake–pastry dough baked in a cone shape, dusted with powdered sugar and cinnamon, and filled to the top with ice cream, and svařák, the Czech version of mulled wine!
If you have time on your trip, climb to the top of Castle Hill for some incredible views of the city and to do a bit of shopping at the holiday market stalls.
Submitted by Allison Green from Eternal Arrival
Vienna, Austria
If you've never been to Vienna, Austria, put it on your to-do list at Christmas time! It is sensational! With light displays and Christmas markets throughout the city, Vienna hosted one of the world's first Christmas markets in 1298. From mid-November to late December, you can find 20 different holiday markets all around the city.
You'll find beautiful Austrian Christmas markets everywhere – large ones near historic buildings and city hall, and smaller markets near local churches or on side streets.
Glühwein (hot spice wine) is available at every Christmas market, which comes in a white and red mulled wine variety. For a perfect souvenir, when you purchase the wine, you can decide to keep the souvenir mug it comes in or return it when you leave the market to get your small deposit back.
One of the best parts of the Vienna Christmas Markets is the varied selection of gifts in the market stalls. There are many hand-crafted pieces, and the prices are reasonable for the local wares.
In addition to the many Christmas markets, there are also year-round food markets to visit in Vienna. These were quite impressive with many food stands and choices, all the varied and colorful on display.
Submitted by Jan from Jana Adventures
Salzburg, Austria
Salzburg is a wonderful place to visit all year, but the magic happens during the holidays–you'll be immersed in a fairy tale land surrounded by the snow-covered Alps. It's unquestionably one of the best European winter cities to visit!
During the winter, you can attend winter concerts and appreciate several aspects of Salzburg at the same time: the beauty of the city, Mozart's compositions, and sometimes even a traditional Austrian dinner!
Fun Fact: The famous composer Wolfgang Amadeus Mozart was born in Salzburg!
When the Christmas markets open for the season at the end of November, Christmas truly begins in Salzburg. While the Damplatz hosts the most famous Christmas Markets in Salzburg, there are other, smaller markets located throughout the city. Other popular holiday markets in the city include Advent Magic Heilbrunn and the Market on Mirabell Square. Taste the delicacies of Salzburg and try the traditional Glühwein, a hot, spiced wine.
One of the more traditional holiday activities in Salzburg is to attend the "Salzburger Adventsingen." This nativity play, performed by children in various local dialects, was established in 1946 and draws thousands of Austrians each year.
Aside from the Christmas Markets, Salzburg is a fantastic winter sports destination. It provides an incredible opportunity to explore the picturesque valleys of the Alps with excellent slopes. Skiing, snowboarding, sledding, cross-country skiing, and ice skating are all options.
Submitted by Paula Martinelli from Paula Pins the Planet
Budapest, Hungary
Hungary's capital, Budapest, is located by the River Danube and was once three cities–Buda, Pest, and Ofuda. They have now united to form Budapest.
You need to experience Budapest over the winter holidays: Hanukkah, Solstice, Christmas, and New Year's. The already beautiful Hungarian city is decked out and full of Christmas markets, menorahs, and cheer.
Wander through the handful of Christmas markets spread throughout the city, sipping forralt bor (hot, mulled wine). The markets are mainly food and drink, but there are handicraft booths and some kids' activities. Some days there is live music, and we enjoyed the lighting of the community Advent wreath.
As you walk to different markets around the city, stroll along the romantic cobblestone streets of the city's historic castle district, making sure to stop at the iconic 19th-century Chain Bridge that connects the hilly Buda district with flat Pest. Many Budapest sites are classed as UNESCO World Heritage sites, so it's one to tick off the bucket list!
One of the best parts of the Budapest Christmas experience is ice skating. There are quite a few ice-skating rinks around the city, and each one has its own charm. The City Park Ice Rink is the largest and oldest ice rink in Europe. With Vajdahunyad Castle as a backdrop, it's a magical place to skate.
Whether visiting the markets or ice skating, if you only have 3 days in Budapest, you definitely need to eat a lot of Kürtöskalács or chimney cake. These sweetbreads are wrapped around something like a rolling pin and roasted on a spit, then dipped in cinnamon or another topping.
Other Budapest traditions include seeing the Nutcracker at the Opera House, listening to an organ concert at St. Stephen's Basilica, and riding the Christmas tram — a tram festooned with lights.
Submitted by Mel from Traveling Mel and Sophie Davis from Sophie's Suitcase
Read More
Tallinn, Estonia
Everyone knows that Germany and France have a few of the most stunning Christmas markets in Europe but, have you visited the Christmas market in Estonia?
Estonia is a beautiful country in northern Europe by the Baltic Sea, and its capital city, Tallinn, is one of the best-preserved Medieval towns. The cobblestone streets are lined with iron lamp posts, and rustic stalls are medieval carts. Town squares are filled with beautiful Christmas markets, fairy lights twinkle, the air smells of mulled wine, snow dusts the top of wooden Christmas market stalls, and it just feels magical.
Unlike many other desirable European winter destinations, there is only one Christmas market in Tallinn, and it's set in one of the city's beautiful Medieval town squares, filled with approximately 50 market stalls.
Tallinn has plenty of amazing hot food to keep you warm. Most Christmas markets have sausages, but why don't you try Tallinn's version, sour cabbage with blood sausage, or perhaps that isn't your thing? Maybe pork sausage with potato sits better. Order yourself some warm food and a hot mug of Glogg, stand by the open fire, talk to fellow travelers and locals, and absorb the Christmas atmosphere.
Make sure you visit one of the market stalls selling sweets and munch on some Gingerbread or marzipan as you shop at the markets. Be mindful when you visit the market stalls that English is quite limited. Get ready for a lot of pointing and hand gestures to get your orders correct.
The market is open every day from the end of November until just after New Year's Day. Not only are there stalls to buy hand-crafted wooden decorations, ornate ceramics, and of course, hand-knitted socks, but you will also find folk dancers and choirs on the weekends. Each Sunday that the Christmas markets are open, you can see the lighting of the advent candle.
Submitted by Fiona from Travelling Thirties
Tbilisi, Georgia
One of the most impressive Christmas experiences to discover in Europe is visiting Georgia – the country, not the American state!
Make a beeline to the skiing fields of Gudauri Ski Resort. Skiing in Georgia is really cheap, and the ski fields have the most beautiful white powdered slopes. You can stay in a ski-in ski-out apartment right next to the main ski lift for only $50 a night.
Spend New Years' in the capital city of Tbilisi, where you'll find the main streets closed off for the celebrations. When you head into Rustaveli Avenue, you'll see absolutely everyone letting off fireworks around the main beautiful Christmas tree.
When New Year comes in, join the locals at the free concert in the main square. It's one of the best New Year's we've ever had! There are loads of things to do in Tbilisi, you certainly won't be bored after New Years'!
Submitted by Annie Symonds from Londoner In Sydney
From the Alps to the Mediterranean with beautiful scenery, warm hospitality, and delicious food, there are plenty of winter destinations in Europe you need to visit during the holiday season.
Lyndsay