This post may contain affiliate links! I will receive a commission, at no extra cost to you, if you purchase something recommended here.
The Best Tours Around the World series highlights one-of-a-kind tour adventures told through the experiences of world travelers.
Maggie Silva is a new blogger at Mag's Perfectly Imperfect and a recently laid-off Special Education teacher from Queens, NY. She is currently in the process of starting a hot sauce business with her husband. Her husband is Ecuadorian-American she is an American-Egyptian, modern-day Coptic Orthodox Christian with curly hair who loves to live life and laugh! Together, they are trying to figure out who they are and where they stand in life. Follow along with Maggie on Instagram.
In April 2019, my husband, Chris, and I went on an amazing trip to Egypt! It truly was a trip of a lifetime. Although my family is originally from Egypt, I was born and raised in Queens, NY, and Chris is Ecuadorian-American, so Egypt was a country we wanted to experience together. I have only been to Egypt a handful of times and never as an adult, or without my Egyptian parents, so I was nervous about going "alone" and as an American tourist!
Read More: Top Tours in Africa
Thankfully, someone recommended Severals Corporate Travel to me; it was life-changing! I could've used their website to book my own tours and hotels and such, but I was too nervous, so I emailed the CEO, Mr. Wafik Farag – his information is on the Severals Corporate Travel website – who forwarded me to Mrs. Ibrahim.
We emailed back and forth about my concerns, about what we wanted to see and what Chris and I wanted to experience. I also gave her our budget upfront – about 2,500 USD each – including our flight, hotels, cruise, and tours. She worked around that as well to plan our private tour of Egypt. She was really sweet and professional. The only thing that I had to remind myself was that there is a 6 hour time difference, and their weekends are on Fridays and Saturdays (not Sundays), even so, the wait was well worth it!
When we arrived, we were picked up by a driver at the airport, and our private tour of Egypt began! Although he spoke enough English to communicate with Chris, I talked to him in Arabic. He dropped us off at our hotel, the Sofitel in Al Gezira, Cairo – on the Nile! So beautiful!
The next day, we were picked up and taken to "The Hanging Church," a Coptic Orthodox Church built in the 3rd century. We also walked around Old Cairo with a guide.
Read More: How To Make Every Trip To The Airport Stress-Free
The following day, we were picked up again, and an English speaking Tour Guide took us to the Pyramids, the Sphinx, and took pictures of us on a camel. All of this was included in our private tour of Egypt.
He then took us to Khan el Khalili, a famous bazaar in the middle of Cairo; he took us to the stores with the best rates for souvenirs, helped us bargain, and even bought us a meal consisting of falafel and pita bread to share. This had to be one of our favorite experiences in Egypt! It was such a beautiful day, and the pictures we took are absolutely astonishing!
After our 3 days in Cario, we were picked up again and driven to the Cairo airport. Here we boarded a plane to Aswan to take a cruise from Aswan to Luxor. We were picked up by our tour guide, who traveled alongside us the entire time we were in Upper Egypt.
He started by taking us to see the High Dam Site. From there, we took a Faluka (boat) to the Edfu Temple, a traditional glassblowing manufacturing factory – inspired by the Ancient Egyptian glass making techniques – and the Unfinished Obelisk.
Read More: Your Guide to Create Stunning Mixbook Travel Photo Books
After a long day of walking and driving around in the Aswan sun, we got to go to sleep on a beautiful cruise ship called "The Stephanie." The following morning after breakfast and some time in the pool, we stopped at the Kom-Ombo Temple, then stopped at some local stores to shop before going back to the cruise ship to continue sailing.
That night, the cruise ship had a galebeya party, a dance party where men and women wear galebeya, a dress-like outfit that most people wear in Upper Egypt.
The last day on our cruise, our guide took us to more Ancient Egyptian Temples and the Valley of the Kings gravesites, where King Tut's tomb is located.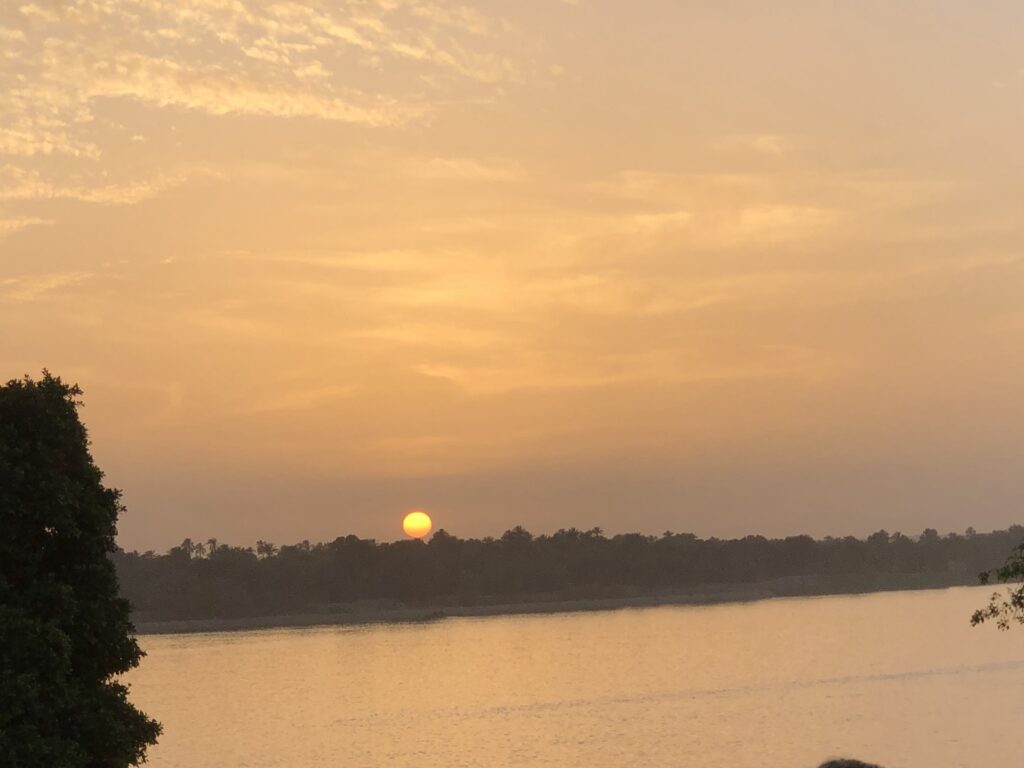 Read More: The Best Travel Bags and Purses You'll Need to Explore the World
Egypt is such a beautiful country, rich in history and culture. And everywhere you go, you will learn something new. Most of the people are so welcoming and generous. More often than not, you see everyone smiling! The food is so delicious, and the rich flavors pop in your mouth.
Also, modesty is everything there, so unless I was by the pool, I tried to dress a little more conservatively than I usually do – no shorts or crop tops – to try to fit in at least a bit.
The tour guides look out for you, help you bargain, and joke around with you where before you know it, you have nicknames for each other. Egypt is stunning, and I cannot wait to go back!
Maggie
Thank you for sharing your experience Maggie! Would you go on a private tour of Egypt? Do you have a favorite tour experience you want to submit? Let me know here.
Lyndsay