This post may contain affiliate links! I will receive a commission, at no extra cost to you, if you purchase something recommended here.
The ancient city of Split, Croatia, is absolutely spectacular–at any time of year!
From the ancient Palace that makes up the city's Old Town to the kilometers of coastline to enjoy in the warm weather, you absolutely need to include the country's second-largest city on your itinerary.
I've spent almost four months in Split, and I still haven't fully explored all of the incredible landmarks, so if you only have a few days to spend here, you'll want to make them count.
I've put together my ideal itinerary for 3 days in Split, Croatia, to help you with your planning!
A UNESCO World Heritage Site is a creation or landmark chosen for conservation by the United Nations Organization for Education, Science and Culture (UNESCO) due to its cultural, historical, scientific or natural significance. It must meet a minimum of one of ten selection criteria to be considered for the World Heritage List, and once chosen, it becomes protected for preservation by various international treaties.
Day 1 in Split: Exploring the Historic City Center
If you only have 1 day in Split, these are the major sites that you can't leave the coastal city without seeing!
Take a walking tour around Split
Start your first of 3 days in Split on a walking tour around the city!
There's no better way to learn about a city's history, culture, and streets than by spending a couple of hours with a local on a walking tour.
That way, you can ask questions and get a feel for the best things to do in Split.
If you love Game of Thrones, the series filmed a bit in Split too, so you can even take a walking tour where you'll learn about the city's history with a decidedly GoT edge.
Here are some of the highest-rated walking tours of Split:
Explore Diocletian's Palace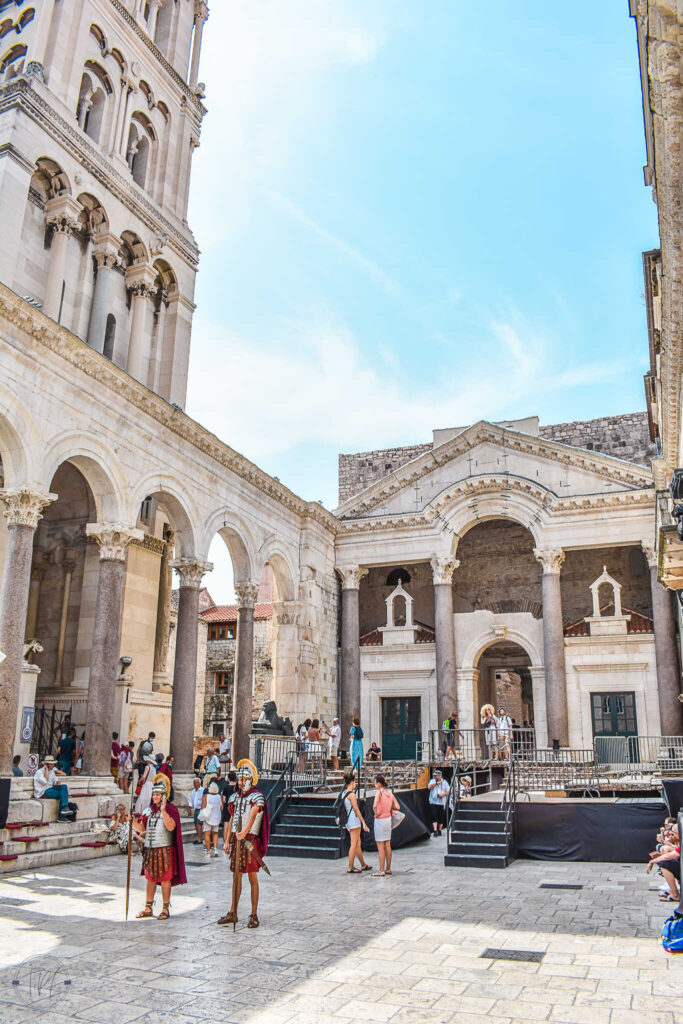 Once you finish your historic walking tour, you're going to spend the rest of the day exploring Diocletian's Palace on your own!
The incredible European Palace and UNESCO World Heritage Site is a significant example of Ancient Roman wealth and construction on the city's shoreline.
Located in the center of Split, the Palace pretty much makes up the city's Old Town. Still, it houses museums, cafés, shops, and residential areas.
As you wander through, you'll find several notable landmarks within Diocletian's Palace:
Cathedral and Bell Tower of Saint Domnius, which was initially designed as a mausoleum for Diocletian
The never-completed Temple of Jupiter later converted into the Christian Baptistry of St. John
The Peristyle, an outdoor courtyard
The Vestibule, an outdoor meeting hall and formal entrance into the Palace's apartment area
The former underground prison and septic tank called Podrum Underground Market
Walk through one of the palace walls main entries–the Golden Gate, the Silver Gate, the Bronze Gate, and the Iron Gate
If you're interested in learning more about the specific history behind landmarks in Diocletian's Palace, I have a whole guide with everything you'll ever want to know!
Rub the toe of the Grgur Ninski statue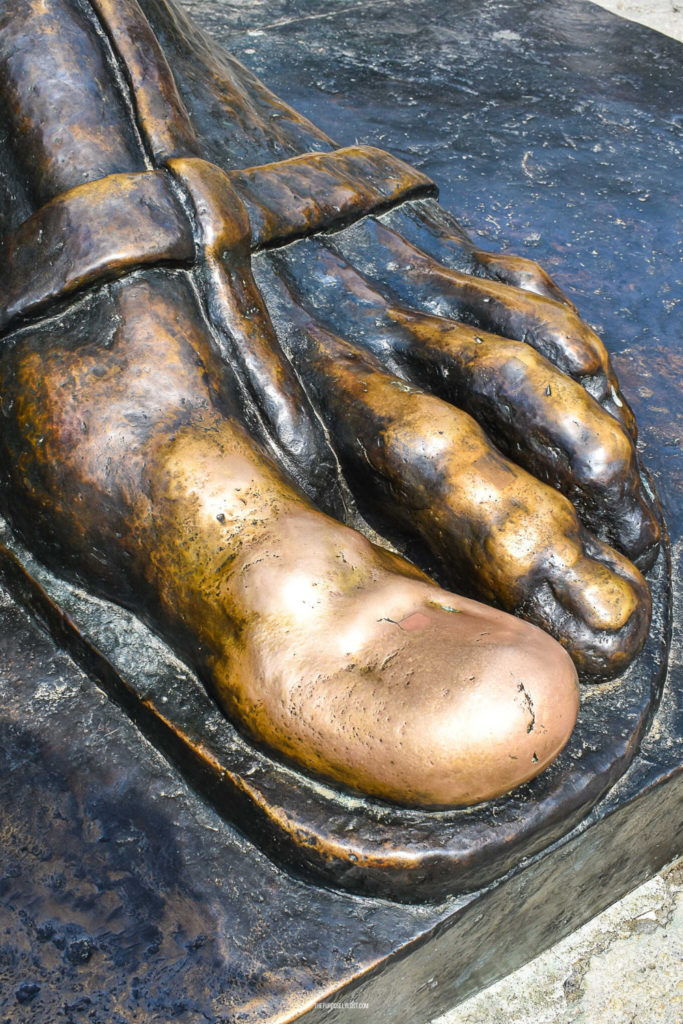 A massive statue of Grgur Ninski stands guard above the Golden Gate in Split Old Town.
Gregory of Nin was a Medieval bishop who, in 926, petitioned the Catholic Church to hold mass in Croatian.
He is considered a protector of the Croatian language, history, and culture.
Croatian sculptor Ivan Meštrović created the bronze monument in 1929, which stands 28 feet (8.5 meters) tall.
The monument was originally placed in the Peristyle, but it was relocated by Italian fascists during World War II and then again in 1954 to its current location.
Fun Fact: When you look at the man's enormous feet, you'll notice that his big toe is more golden than the rest. For decades, rubbing Gregory's big toe has brought people good luck. Make sure to give it a rub for your own!
Window shop along Marmontova Street
When Napoleon controlled the area, the French officer Auguste Marmont modernized Split and other Dalmatian cities.
As a reward for his efforts, the pedestrian avenue on the city's west side was christened Marmont Street.
As you go up the street from the Riva, you'll see art galleries, cafés, gelato shops, high-end retailers, and Split's seafood market.
Visit Trg Republike
Built in a similar style to Piazza di San Marco in Venice, Italy, Republic Square is located at the western end of the Riva.
Also known as the Prokurative, it's a nice place to unwind with a cup of coffee or to enjoy an outdoor show.
Walk around Narodni Trg
Narodni Trg, also known as the People's Square or simply Pjaca, was the first location outside the Palace to be occupied in the 13th century.
It eventually became the city's principal square as the population grew.
Other prominent Split sites within the plaza are the Church of Our Lady of the Bell Tower, Naki Palace, and stara gradska vijenica, the city's historic Town Hall.
Climb the Bell Tower at St. Dominus Cathedral
When you pass the Cathedral and Bell Tower, take an opportunity to go inside!
The bell tower boasts some of Split's most incredible panoramic views since it's inside the city.
You'll see the relics of Saint Dominus and inside the crypt and treasury (closed during the off-season.)
Once you finish exploring inside the Cathedral, it's time to climb your way to the top–there's no elevator, only a narrow staircase to get you up there.
Although you'll need separate tickets to enter the Bell Tower and the Cathedral, your Cathedral ticket also covers admission to the Temple of Jupiter.
Quick History: Diocletian was one of the last notorious Christian persecutors, and Saint Domnius was one of those murdered during his reign. When Christians conquered Split, they demolished Diocletian's sarcophagus and rebuilt his tomb as the church we know today.
Stroll along the Riva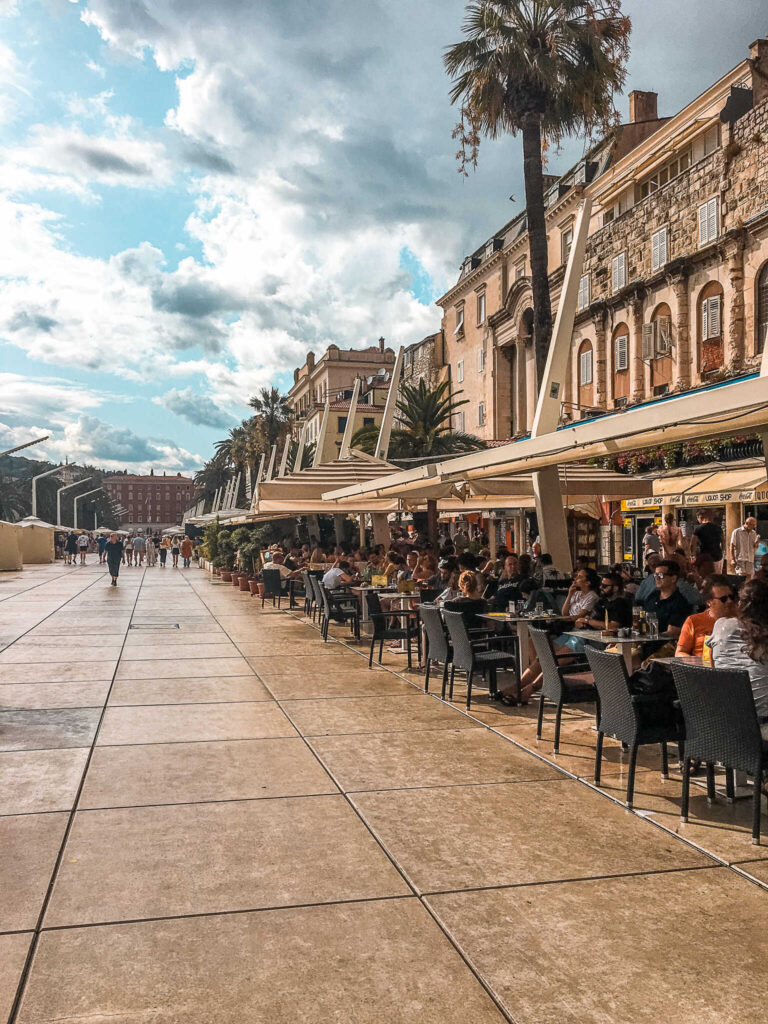 Almost every Croatian city I've visited has a Riva or seaside Promenade, but Split's is by far my favorite.
There are several coffee shops, cafés, and ice cream shops along the exterior city wall of Diocletian's Palace.
And on the other side of the street, you'll be greeted with breathtaking views of the Adriatic waters.
The best time to walk the Riva, though, is when it becomes the center of the best nightlife in Split!
The waterside bars have been turned into nightclubs, and dormant stages regularly host a band, dance company, or other shows during the day. Not to mention the view of the sunset over the ocean!
Day 2 in Split: Head Out For a Hike Before the Beach
If you have 2 days in Split, make sure you add on this hike and then spend the rest of your day on the beach!
Hike Marjan Hill
On the city's westernmost edge, Marjan Hill is Split's highest point.
The view is breathtaking–from the Old Town with its remarkable architecture to the Adriatic Sea.
The trek to the top is more like a hike.
First, you'll have to scale the steep steps in the Varoš neighborhood before entering the park.
There are many viewpoints around the park once you're inside and a great beach in Split, Kasjuni Beach.
Insider Tip: Be on the lookout as you walk through the park! You may stumble upon one of the twelve tiny Medieval chapels hidden throughout the hillside, where faithful Medieval Split people would go for church. You can also discover Prirodoslovni muzej i zoološki vrt, Split's Natural History Museum and Zoo.
Spend an afternoon on the beach
A trip to Split in the warmer months isn't complete unless you spend some time relaxing on one of the city's popular beaches!
You can take a look at my guide of the best beaches in Split, Croatia to figure out which one is best for you.
I've spent more time relaxing on Bačvice Beach than any other in Split.
It's close to the Old Town and offers three different beachgoing experiences–sandy beach, pebbly beach, and pavement.
Or if you don't want to lay on anything but a chair, there are loungers you can rent.
You'll also find beach bars and paddleboat rentals while wandering down the Croatian coast during the high season.
Insider Tip: If you're in Split during the summer, don't miss an outdoor movie at Ljetno kino Bačvice, the beach's open-air movie theater. You can view their summer movie lineup here.
However, if you're 3 days in Split are spent during the colder months, you can still enjoy the beautiful beaches!
There are cement pathways to walk along the blue waters if the weather is too cold.
Enjoy an evening performance at the Croatian National Theatre in Split
The Croatian National Theatre in Split features a wide range of performances.
When it first opened in 1893 as the Split Municipal Theatre, its 1,000-seat capacity made it the largest in Southeastern Europe at the time.
And before Croatia's independence, the country's national theaters were critical in fostering the Croatian language.
The theatre stages about 300 productions every year, including plays, ballets, operas, and concerts.
If you're in Split in the spring, check out the Marulićevi dani (Days of Marulić) week-long festival in April, which honors the previous year's triumphs in Croatian playwriting, or a performance as part of the Splitsko ljeto (Split Summer Festival) presented by the theatre throughout the city every summer.
Day 3 in Split: Choose Your Own Adventure
With 3 days in Split, you can visit the nearby fortress and end your trip with a sunset cruise on the water, or take a day trip!
Visit Klis Fortress
The Fortress of Klis, located in the town of the same name, served as a significant stronghold against Ottoman invaders throughout Europe's Ottoman Wars from the late 13th century until the early 20th century.
Originally constructed as a smaller fortress in ancient peacetime, it eventually served as the residence for various monarchs of the Croatian Kingdom until becoming the fortress above Split that it is today.
The structure itself is impressive, but its incredible view of Split is unmatched.
For the most part, Croatia is a country where the beachfront cities are surrounded by mountains, so being up in the mountains looking down at the whole town is incredible.
Klis Fortress is just a 30-minute drive from the city center, or you can take the Promet Split bus line #22 from the HNK stop by the Croatian National Theatre to the Klis Megdan bus station.
Appreciate the sunset over Split from the water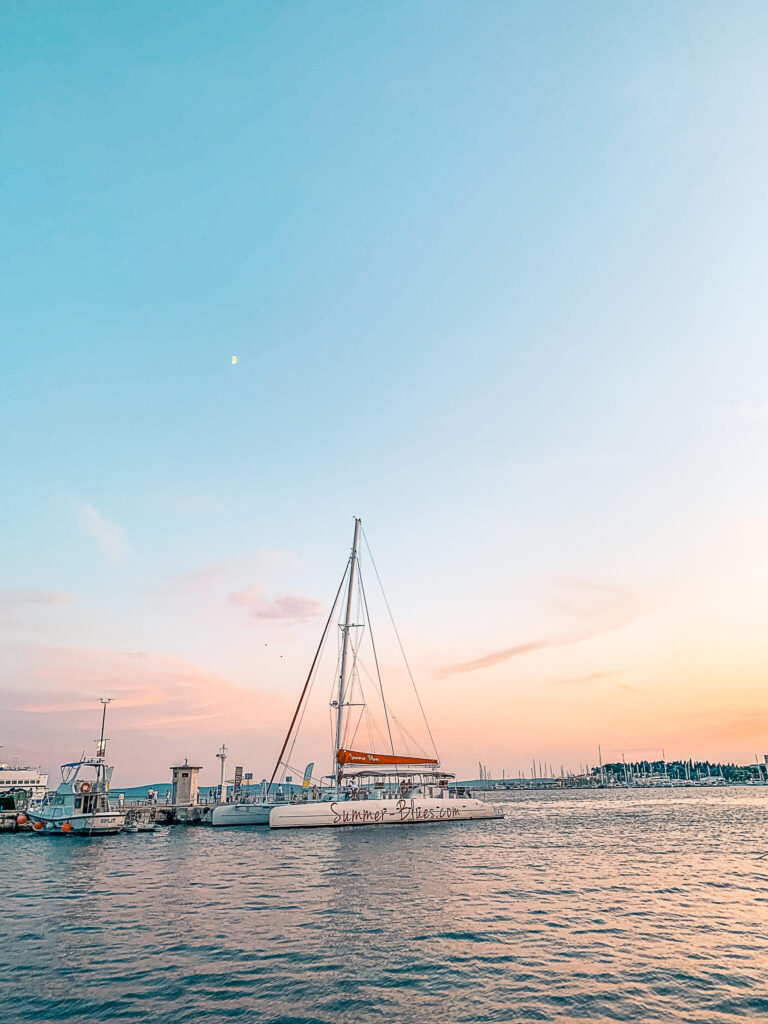 While you won't be disappointed by the sunset views from within the city, a sunset cruise on the Adriatic Sea to watch the colors magnify the city's skyline is an experience not to be missed on the last day of your Split itinerary.
This two-hour Split sunset cruise includes live music and an open bar while you sail around the city, passing around Marjan Hill, Diocletian's Palace, and even the harbor of Kaštela while enjoying the seaside views.
Or, spend your 3rd day in Split on a day trip to a nearby town
With a ton of ferries running through its port, Split makes an excellent base to visit any number of nearby towns and islands.
I have a whole list of my favorite day trips from Split, or you can take a look at my guides on things to do in Šibenik, the best beaches in Šibenik, and how to spend one day trip to Trogir.
What to Add if you Have 4 Days in Split, Croatia
Since Split has such a central location, you can visit several other Croatian towns and major attractions from here.
If you're looking for a once-in-a-lifetime experience on the Croatian coast, then this full-day speedboat sightseeing island-hopping tour from Split is the perfect way to do it.
This full-day speedboat tour takes you to five islands near the Croatian coast and includes visiting the famous Blue Cave.
Found on the small Bisevo island, it's home to this unique and amazing attraction known for its breathtaking blue waters – a truly once-in-a-lifetime experience!
Depending on the time of year you choose to visit, you can plan to spend 45 minutes admiring this natural wonder with free admission.
Afterward, take in Komiza – a stunning fishermen's village nestled on Vis Island–and Stiniva Cove, where you can jump in for a swim and explore its depths beneath the surface using snorkel masks provided by your guide.
You'll also visit Budikovac island, which has a fantastic Blue Lagoon perfect for swimming and snorkeling.
Then, the town of Hvar on Hvar island with plenty of free time to explore its narrow streets and attractions like Fortress Fortica and St Stephen's Cathedral before returning back to your starting point.
This Blue Cave boat trip is a great way to experience all these sites in one day without worrying about waiting times due to the small group size service.
Plus, it gives you the chance to take in all the stunning sights around you from a boat ride on the water with a guide.
Visit Brač island
Right off the coast of Split, Brač island is a beautiful place to spend a day away from Split.
Interestingly enough, it's the biggest island in the Adriatic Sea but not as well known as some other Croatian islands, like Hvar.
The island is home to several incredible landmarks, like Vidova Gora, the highest peak among all islands in the Adriatic.
While hiking is available throughout the island, you'll find sweeping views from the summit Vidova Gora offering stunning panoramic views over Brač.
You can find swimming and snorkeling around the island's clear, calm waters.
Among the many beautiful beaches along the coast, Zlatni Rat Beach is the iconic Brač triangular beach that almost changes shape with the tides.
Also known as the Golden Horn Beach, the one-mile (2 kilometers) long shoreline is a white pebbly beach, with its two beautiful beaches meeting at a sharp corner.
Visit the Krka Waterfalls
Named for the Krka River that runs through the region, Krka National Park is home to some of Europe's largest quantities of lavender, as well as over 800 other varieties of flowers, trees, and plants.
The park also contains many protected sites, including the Krka Hydropower Plant, the Franciscan Monastery of Our Lady of Mercy on Visovac Island, and the Krka Monastery.
But the real draw to Krka is the waterfalls. Skradinski buk is the longest and most visited Krka waterfall.
It's easily accessible from the park's Lozovac gate, and you can get closer by walking through the marked trails.
Krka has over 22 recognized walking paths and 470 kilometers of bicycle trails, so you really can spend all day exploring this incredible natural wonder.
While you can drive to Krka, I recommend booking a tour from Split to the national park since it includes round-trip transportation, and you'll have access to a knowledgeable tour guide.
How to Get to Split
Although it's actually closer to Trogir than Split, the Split Airport is only about 20 km from the city, and you can either take a car, a bus, or a ferry from the airport to get there.
Since it's a regional airport, there are more flights to Split from different European destinations during the summer season than in the winter months.
You can catch a bus from any major city in Croatia to reach Split or take the train.
If either of these options interests you, use Omio to see all the different options so you can plan your route.
But as with most locations in Croatia, the best way to reach Split is by ferry.
The Jadrolinja line offers several routes from beautiful cities all around the country, and you can even take a ferry from Ancona, Italy, to reach Split.
Tips for Visiting Split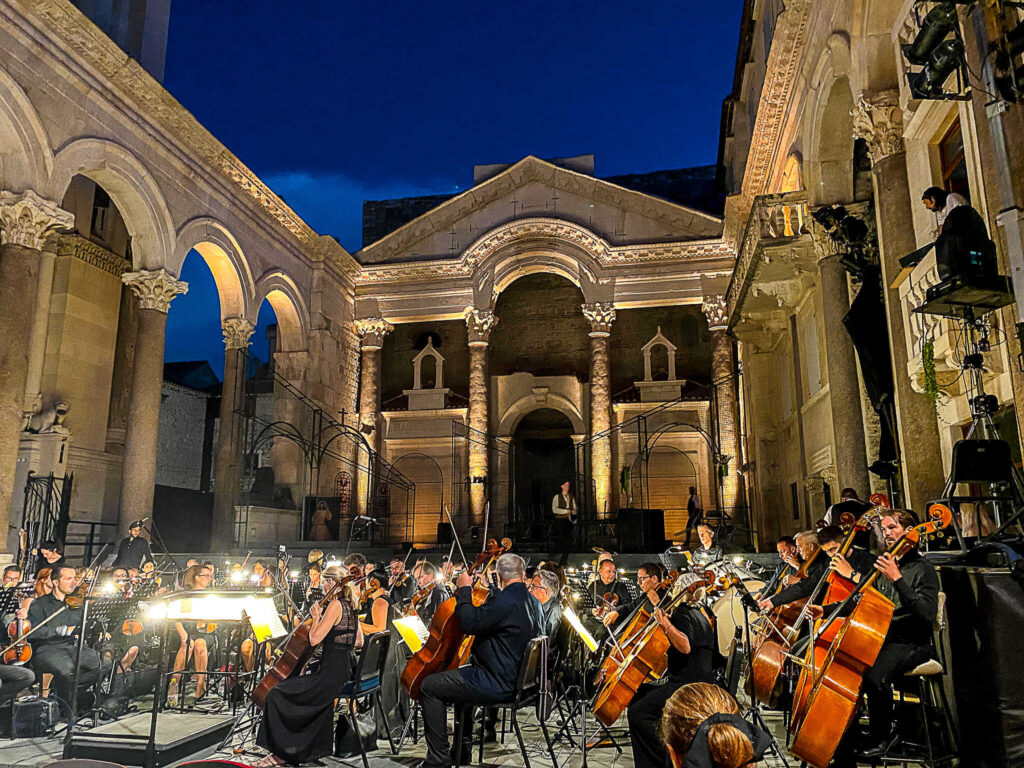 Wake up early – To get the most fun packed into your Split 3 days schedule, you'll want to get up early since there's a lot of city and sea to see! Mornings in Split mean you can experience the fruit and green market and the fish market, and it's the perfect time to take photos with the gorgeous morning light (and fewer people!) in Split's Old Town. You can find my recommendations on the best photo spots in Split here.
Plan on a lot of walking – Since Split's Old Town is centered around a massive historic palace, it's pretty self-contained and easy to tour the key monuments on foot. When you're considering what to do in Split for 3 days, if you're planning to visit some historic sites further outside the city's historic center, Split does have a bus system for public transportation. You can eitehr purchase tickets on the bus or from a small corner stand.
Make sure to enjoy authentic Croatian cuisine – There are tons of incredible restaurants in Split, featuring Croatian wines and dishes. You can find my list of restaurant recommendations below!
Where to Stay for 3 days in Split
Hostel – If you're looking for a cheap, adults-only community atmosphere, check out Ćiri Biri Bela Restaurant & Hostel (Booking | Hotels). The dormitory-style sleeping arrangements aren't for everyone, but it's a great environment to meet other solo travelers. The facility also has a rooftop terrace with a bar and restaurant.
Inside Diocletian's Palace – Just steps from the Split City Museum, the boutique Murum Heritage Hotel has an on-site restaurant and offers complimentary breakfast for its guests. And, if you need to rent a car during your 3 days in Split, Croatia, you can hire one directly from the hotel.
Best Time to Visit Split
Like with any major city, the best time to visit is during the shoulder season–and this is coming from someone who loves traveling in the summer!
I've spent more than two months in Split over several summers, and of course, it's the perfect weather season to be exploring a country that has more than 700 beautiful islands.
Long days, warm nights, gorgeous weather, and beaches for miles (or kilometers!)
It's truly a magical time to be in Croatia. 
However, it's crowded in the summer months, and I've heard locals rave about how perfect the city is in September many times.
The weather is still warm enough to be beachside every day, but the hordes of tourists are mostly gone–which means you'll have the city almost to yourself.
How many days should you spend in Split, Croatia?
When you're considering how long to stay in Split, Croatia, 3 days is a perfect amount of time in this city if it's your first time in Croatia.
However, this also depends on how much time you have available to travel.
If you have more time, add another day or two to explore some of the region's other highlights since Split has a perfect location for taking additional day trips.
Since the city is also an excellent home base to visit nearby islands and towns like Brač island, Trogir, Omiš, Hvar Town, and even Šibenik, you can add additional time to your 3 day Split itinerary to include day trips from Split to these other cities.
For more ideas, you can read my guides to a day trip from Split to Trogir and things to do in Šibenik!
History of Split
Split, Croatia, is the second-largest city in the country and the capital of the Central Dalmatia region. The city's Old Town is centered around Diocletian's Palace.
The UNESCO World Heritage Site was built in the 4th century by Roman Emperor Diocletian near the ruler's birthplace, Spalatum, to retire from public responsibilities in 305 A.D.
However, he could only enjoy it for about ten years before his assassination.
After World War II, this ancient Roman city became a part of Yugoslavia before Croatia became a sovereign nation in 1995.
There are so many things to do in Split–the city is brimming with ancient structures, proud heritage, delectable food, and entertainment.
Tourists may also recognize the Palace from its prominent appearance in the HBO series Game of Thrones.
My Favorite Restaurants in Split
These were my favorite restaurants and sweet shops in Split:
Casual Dining
---
Quick Bites
---
Great For A Dinner Out
---
Dessert & Gelato
---
What will you add to your 3 days in Split, Croatia itinerary?
Lyndsay
Read More