This post may contain affiliate links! I will receive a commission, at no extra cost to you, if you purchase something recommended here.
"The hills are alive! With the sound of music." – The Sound of Music
Surrounded by hills that have inspired some of the greatest musicians and works of modern music, Salzburg, Austria, is a beautiful town nestled in the Alps across the border from Germany.
Salzburg was immortalized in the famous Broadway musical The Sound of Music by iconic composing team Richard Rogers and Oscar Hammerstein II and captured on film with Dame Julie Andrews in the starring role, playing real-life Maria von Trapp.
And just two centuries prior, this Austrian city nicknamed "The Stage of the World" was the birthplace and home to prolific composer and musician Wolfgang Amadeus Mozart.
As a trained New York City theatre actor who grew up singing Rogers & Hammerstein show tunes around the house and wishing my babysitter would magically turn into Julie Andrews as Maria from The Sound of Music, it's no surprise that visiting Salzburg has been high on my travel bucket list.
If you only have enough time to spend 2 days in Salzburg, I have a few recommendations on how you can best plan your itinerary!
A UNESCO World Heritage Site is a creation or landmark chosen for conservation by the United Nations Organization for Education, Science and Culture (UNESCO) due to its cultural, historical, scientific or natural significance. It must meet a minimum of one of ten selection criteria to be considered for the World Heritage List, and once chosen, it becomes protected for preservation by various international treaties.
Salzburg Itinerary: Day 1
If you're looking to get a real taste of the culture and history of Salzburg during your two days in the city, then there are plenty of opportunities to do so.
Take a stroll through the historic old town, where you can find cobblestone streets, incredible views, and some of the best shopping.
Begin your first day in Salzburg with a walking tour
As a tour guide myself, the first thing I like to do when arriving in a new city is take a walking tour with a local guide.
There's no better way to become acquainted with a city's history, its culture, and its streets than by spending a few hours with someone who shares their love of the town with tourists as their profession.
Here are some of the best walking tours for starting your 2 days in Salzburg exploration: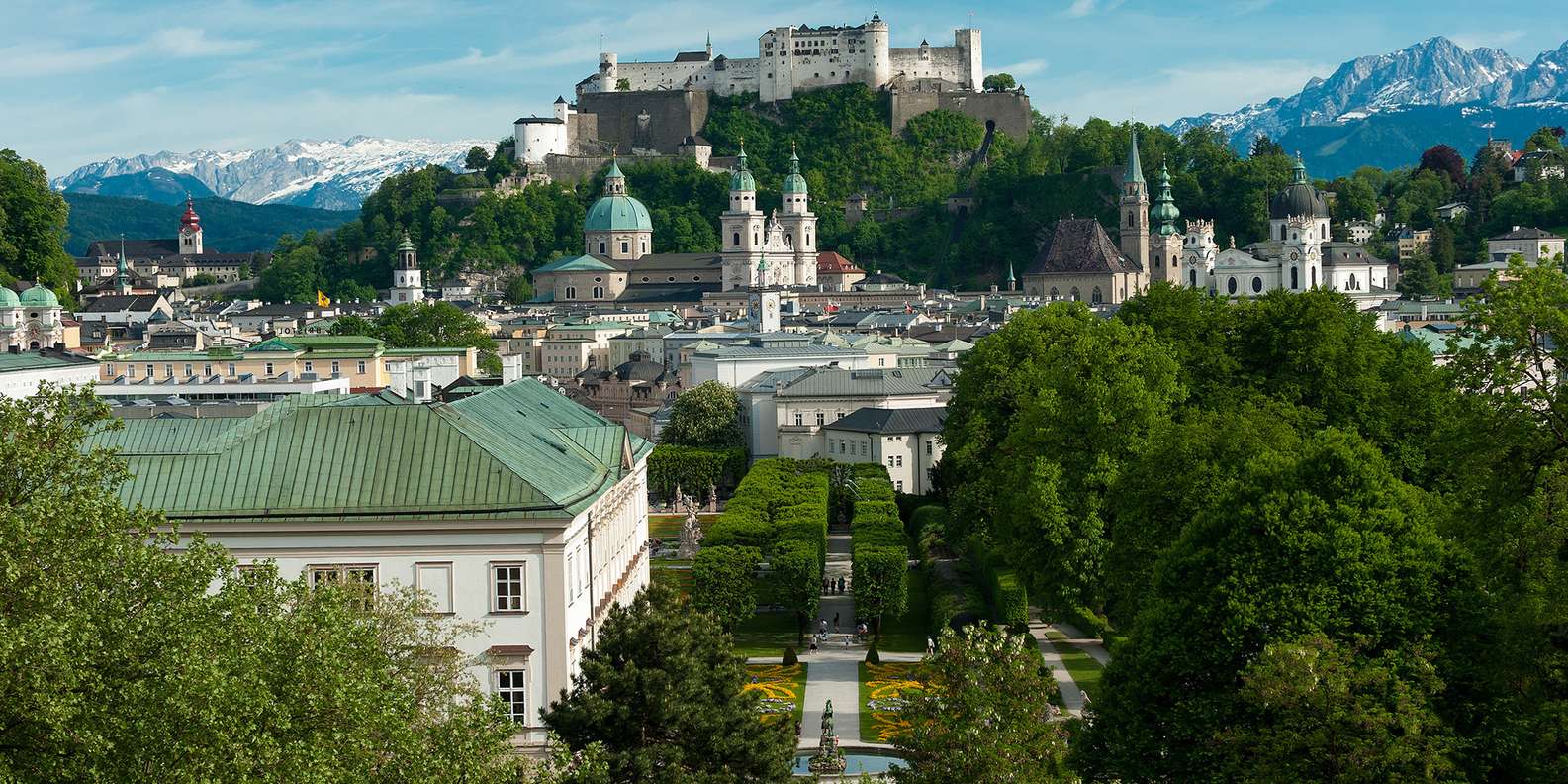 Salzburg City Highlights Tour
10/10
Panoramic Salzburg City Tour
10/10
Salzburg City Tour – On the Traces of Mozart
10/10
Walk over to Linzer Gasse for some shopping
Each side of the Salzach River has its own famous shopping street, and Linzer Gasse is the main pedestrian street on the right side.
You'll discover tons of shops, boutiques, and restaurants as you walk towards the river, with an overall focus on classic workmanship and skilled artworks. 
If you're interested in another detour, the road that leads to the top of Kapuzinerberg connects on Linzer Gasse.
Pass the Stations of the Cross, several chapels, and a monastery as you walk up the hill, with an observation point waiting at the top.
Cross the Marko-Feingold-Steg to visit the Old Town
Also referred to as the Love Lock Bridge, the Marko-Feingold-Steg is an Art Nouveau style that connects the two sides of Salzburg across the Salzach River.
Similar to the famous Love Lock Bridge in Paris, the sides of the Marko-Feingold-Steg bridge are adorned with padlocks to express the neverending love between the couples who place them there. 
Explore the Old Town
With its beautiful Baroque architecture, Salzburg's Altstadt (Old Town) is a perfect place to spend time wandering around.
It's no wonder Maria sang "I Have Confidence" all throughout the area's streets!
You'll find cute shops, several historic sites, and three town squares on your way:
Domplatz
The Salzburg Cathedral stands tall in the Domplatz plaza.
The Baroque Cathedral is dedicated to Saint Rupert and Saint Vergilius–the former founded the church while the latter erected the first Cathedral in 774.
The structure that stands today was rebuilt entirely in the 17th-century.
Home to the Salvator Bell, the second-largest bell in Austria, the baptistry at the front of the church is where Mozart was baptized.
You can also visit the Domgrabungsmuseum (Dome Archaeological Museum of Salzburg) to learn more about its history and visit ancient Roman archaeological sites found under the church.
In front of the church in the Cathedral square is Mariensäule, a statue of the Virgin Mary which dates back to the 18th century.
Insider Tip: If you stand in front of Franziskanergasse, the city's oldest church, the bronze and marble statue is positioned in the center of the Cathedral, surrounded by the facade's angels and looks like it's wearing a crown.
Kapitelpatz
As you exit the Salzburg Cathedral, take a moment to see Kapitelpatz.
This square behind the church is a bit more secluded than the others and features the famous Pegasus Fountain built in the 1700s, which was initially a horse pond dating back to the Middle Ages. 
Residenzplatz
Found in the heart of the Old Town, the Residence Square is Salzburg's largest.
This beautiful space was constructed under the reign of Prince-Archbishop Wolf Dietrich von Raitenau in the Italian style. 
When you stand in the middle of the square, you can see several notable buildings that border the space–including the DomQuartier Salzburg, Dome Archaeological Museum, the Residenzgalerie, and the Salzburger Weihnachtsmuseum.
Mozartplatz
Named after the famous composer, standing in the center of Mozartplatz is his statue cast in bronze by Ludwig Schwanthaler and unveiled in 1841.
Around Mozart square, you can find the Salzburg Museum, the Salzburg Christmas Museum, and the Visitor Center. 
Since each of these four squares is adjacent to each other, it's so easy to talk from one to the next!
Take an opportunity to admire the beautiful architecture and landmarks, head inside the Cathedral, and pick one museum that really interests you to spend some time inside.
Enjoy Hohensalzburg Fortress at sunset
Get ready to climb! The last stop of your first day in Salzburg is catching the sunset from the top of the Hohensalzburg Fortress.
Construction began on Central Europe's largest preserved Medieval castle in 1077, with its current look created in the 16th century. 
Insider Tip: If you don't want to walk all the way, you can take the Hohensalzburg Funicular instead! It only takes one minute for the cable car ride to travel 198.5 meters to the top.
From there, you'll see Kapuzinerberg across the river with Kapuzinerkloster monastery on top, other landmarks like St. Peter's Monastery, St. Erhard Church, and the rest of the city of Salzburg spread out beneath you.
This is one of my favorite photo spots in Salzburg! The mountain views are incredible, especially at sunset.
If you want to incorporate a concert and river cruise into your evening, take advantage of this Cruise, Dinner & Fortress Concert tour.
Enjoy panoramic views of the city from the Salzach River before ending your evening at Fortress Hohensalzburg with a delicious dinner and classical music concert.
Read More
Salzburg Itinerary: Day 2
On your Salzburg two day itinerary, you'll spend your second day exploring popular attractions like Mozart's birthplace and Mirabell Palace, where you can learn about the city's past and admire its beautiful architecture.
Start your second day in Salzburg by visiting the Mirabell Palace and Gardens
Built for his beloved by Prince-Archbishop Wolf Dietrich Raitenau in 1606, Mirabell Palace and Gardens is absolutely stunning.
Raitenau originally named it Altenau Castle, but once deposed, the complex was renamed by successor Mark Sittich von Hohenems.
Fun Fact: Mirabell is a combination of two Italian words, mirabile, which means "amazing," and bella, which means "beautiful."
Take a walk through the inside of this beautiful European palace to see the stunning Marble Hall before venturing into the beautiful gardens.
Created in 1687, the gardens are arranged in geometric patterns, featuring statues of mythological beings, a sylvan theater, and an orangery.
If you've seen The Sound of Music's "Do Re Mi" number, many of the song's iconic filming locations were filmed here in the gardens! This is a beautiful spot to visit in the morning.
Wander through historic shops on Geteidegasse
After your morning tour, spend some time wandering Geteidegasse, Salzburg's shopping street on the left side of the Salzach River.
If you look up, you'll see that every store on the street has a guild sign above its door.
These ornamental signs are a tradition and are still created by local metalworkers at the Wieber Shop. Among the many stores along the street, there are two famous spots. 
Cafe Konditorei Furst
Cafe Konditorei Furst is a world-famous chocolate store and the creator of Mozart truffles.
Made with marzipan and pistachio inside and coated with dark chocolate and nougat, the "Original Salzburger Mozartkugel" was created in Salzburg in 1890 by chocolatier Paul Furst.
While the store still maintains its original location on Alter Market, they now have three other outposts throughout the city, with one on Geteidegasse.
Mozart's Birthplace
You'd never guess that the yellow building standing tall at No. 9 Geteidegasse is Mozart's Birthplace.
"Hagenauer Haus," the home where the famous composer was born and lived throughout his childhood, was converted into a museum in 1880.
Inside, you'll find original memorabilia, letters, instruments, and authentic recreations of an 18th-century apartment.
It'll take you about an hour to walk through the Mozart House, unless you're like me and read every single plaque in a museum–then it might take you a little bit longer!
Spend some time with The Sound of Music
If you happen to love The Sound of Music as much as I do, then this is the part you've been waiting for!
You need to take a tour specifically on Sound of Music history in Salzburg, or at least visit The Sound of Music Museum. 
Although you'll start The Original Sound of Music tour by passing through Mirabell Palace and Gardens, it's the only repeat landmark you'll see–but with a decidedly musical twist!
Then, you're on a journey up into the Alps to visit several notable filming locations.
Nonnberg Convent, where Maria was a novice, Basilika St. Michael, where the von Trapp's marriage was filmed and establishing shot locations like Lake Fuschl and Lake Wolfgang in the lakes district.
You can book The Original Sound of Music Tour on GetYourGuide or Viator.
If you don't want to leave Salzburg, instead, visit The Sound of Music World.
Found around the corner from the end of Geteidegasse, this museum showcases pictures and artifacts about both the movie and the real-life von Trapp family the film was based on.   
Enjoy a performance at Salzburg Marionette Theatre
Attending a performance at Salzburg Marionette Theatre is a chance to see opera in a whole different way.
Since its creation by sculptor Anton Aicher in 1913, the Salzburg Marionette Theater has been dazzling its audiences with incredibly life-like puppets and world-class puppetry.
The company moved into its ornate Baroque theater in 1971, and there are about 160 performances every year. 
The more than 500 wooden characters take on roles from Mozart's operas to presentations of The Sound of Music with full-scale singing, dancing, and acting.
If you've seen the movie, you'll already recognize some of the theatre's impressive work–marionettes for "The Lonely Goatherd" scene were borrowed from the theater. 
Fun Fact: The theatre's imaginative performance style was included on the UNESCO Intangible Cultural Heritage List in 2016.
Check their schedule online to see if any performances are happening during your trip that you can attend.
They have one-hour children's shows in the afternoon and full-length productions at night, so hopefully, one of their performances will fit into your 2 days in Salzburg itinerary!
Attend a seasonal event
If you're lucky enough to be in Salzburg during one of their festivals, they're not to be missed!
There are festivals for all artistic interests throughout the year, from contemporary music to theater and spoken-word, jazz, and circus.
And of course, we can't forget Mozart Week! 
You can find a calendar of all the festivals and events happening throughout Salzburg on the city's website.
Fun Fact: At the end of the year, some of the most beautiful Austrian Christmas markets are found in Salzburg's Old Town. You can check out my guide to find out more information on these winter villages.
Read More
What to Add if You Have 3 Days in Salzburg
While 2 days is enough time to see the city of Salzburg, if you happen to have enough time for 3 days in Salzburg, there are a few other places outside the city center that you can visit!
If you're lucky enough to have three days in Salzburg, there are plenty of other places within reach of Salzburg Austria that you can explore using public transport or on a guided tour for a full or half-day trip.
Hellbrunn Palace
Built as the summer palace for prince-archbishop Markus Sittikus in 1612, Hellbrunn Palace was designed in the Late Renaissance style and built in just three years.
It was primarily used for fun and entertainment–which is a tradition that is carried on today!
Now, you can spend time wandering the grounds, watching Mannerist "Trick Fountains," and playing in the Prince's Table and Mechanical Theater.
Make sure you peek into the glass gazebo where The Sound of Music's Liesl and Rolfe danced in "Sixteen Going on Seventeen," and Captain von Trapp and Maria sang their love for each other in "Something Good." 
There's also the Salzburg Zoo Hellbrunn on the palace grounds.
It started as the prince-archbishop's wildlife park to showcase his exotic animals and has since grown into an entire zoo with more than 1,500 animals. 
You can visit Hellbrunn Palace on a tour from Salzburg, or it's easy to get to on your own driving, biking, or by taking the No. 25 bus back and forth from the city center.
Museum der Moderne
Once you get back to Salzburg from visiting Hellbrunn Palace, visit the Mönchsberg location of the Museum der Moderne.
The museum has two locations–the Rupertinum location is right in the city center, but the Mönchsberg site has spectacular views of the city.
Spend some time exploring the exhibits, which feature notable contemporary artworks from the 20th and 21st centuries.
The museum also has a really nice restaurant where you can enjoy a meal outside when the weather is right. 
Finally, end your 3-day itinerary in Salzburg enjoying the magnificent views, watching the sunset over the city from this new vantage point.
Instead of seeing the sunset over the city from Hohensalzburg Fortress, now you'll be able to see the iconic structure along with the beautiful evening colors before returning back to your hotel.
How to Get to Salzburg
Salzburg has its own airport named for its most famous resident–the W.A. Mozart Salzburg International Airport.
It's on the smaller side, so there's no need to worry about missing your flight!
You can then take the city's public transportation bus, Line 10, from the airport to the city center, or catch a taxi.
However, the most convenient way to get to Salzburg is by train.
The main station in Salzburg is Hauptbahnhof, which has excellent connections to other cities in Austria and Germany. 
I arrived and left by train, which was incredibly fast and convenient, coming from Vienna, Austria, and leaving for Munich, Germany. Salzburg Hauptbahnhof is about a 15 to 20-minute walk from the city center, which went quite quickly, even rolling luggage.
Or, you can take the Line 170 Bus from the train station into the city. 
Tips for Visiting Salzburg
Wake up early – There's a ton of city to see! To make the most of your Salzburg 2 days itinerary, plan for an early start.
Plan for a lot of walking – What is the best way to get around Salzburg? Walking! This isn't a big city–it's very easy to cover the sites on foot. Even the train station is only about a 15-minute walk away from the main areas of the charming town. However, the city does have a trolley and bus system if you need a ride. You can purchase tickets on the bus, from a ticket machine, or visit a convenience store.
Purchase the Salzburg Card – The Salzburg Card is a sightseeing pass that provides free entry to more than thirty attractions throughout the city, as well as discounts at restaurants, museums, and shops. It even includes free use of the city's transportation network while it's active, and is available to purchase from your hotel, from the city's tourist offices, or even at the airport. You can also buy it online before you arrive, and the digital card won't be active until you use it for the first time. With 24-hour, 48-hour, and 72-hour options, this is an excellent addition to your Salzburg itinerary–many of the sites I'll talk about have included admission with the pass!
Where to Stay for 2 Days in Salzburg
Best Time to Visit Salzburg
The best time to visit Salzburg is during the shoulder season.
I spent 2 days in Salzburg at the end of summer, and it was a perfect amount for my first trip!
We got to see many of the major sites without feeling rushed, but we started pretty early in the day and didn't come back to our hotel until sunset. 
If you want to take a more leisurely pace or are interested in exploring some areas near the city, expanding for 3 days in Salzburg itinerary might be best for you!
First, some of Salzburg's rich history!
History of Salzburg
The beautiful city of Salzburg has been a part of Austria since 1816. It's located in the state of Salzburg, which is a part of the country of Austria.
The word Salzburg literally means "salt fortress" or "castle."
Back in the day, barges carrying salt would use the Salzach River, which runs right through the city's center. 
Wolfgang Amadeus Mozart
Wolfgang Amadeus Mozart was born in Salzburg, Austria, in 1756.
He was the son of Leopold Mozart, a composer, conductor, and violinist in his own right.
Wolfgang was taught music by his father, becoming proficient on violin and keyboard and composing his own music by 5 years old.
Mozart and his older sister, Maria Anna, traveled throughout Europe and performed together as child prodigies.
Throughout his life, Mozart composed numerous musical pieces, including piano concerti, symphonies, chamber works, and operas.
His compositions were performed all over Europe during his lifetime, and today they continue to influence composers worldwide.
He died in December 1791.
Thankfully, you can visit several Mozart sights throughout this popular town!
The Sound of Music
The Sound of Music dramatized the real-life events of Maria von Trapp and her family when they were forced to flee Nazi Germany during World War II.
It was filmed at various locations throughout Salzburg, including the Mirabell Gardens, Residenzplatz, and the Hellbrunn Palace.
The movie won seven Academy Awards, including Best Picture, Director, Actor, Actress, and Screenplay.
It became an instant classic when released in 1965 and continues to entertain audiences around the globe.
The film was adapted from the musical The Sound of Music by the famous composing team Richard Rogers and Oscar Hammerstein II, which premiered on Broadway in New York City in 1959. 
Two Days in Salzburg: FAQs
What to do in Salzburg in 2 days?
Day 1 Activities:
1. Begin your first day in Salzburg with a walking tour
2. Walk over to Linzer Gasse for some shopping
3. Cross the Marko-Feingold-Steg to visit the Old Town
4. Explore the Old Town
5. Enjoy Hohensalzburg Fortress at sunset
Day 2 Activities:
1. Start your second day in Salzburg by visiting the Mirabell Palace and Gardens
2. Wander through historic shops on Geteidegasse 
3. Spend some time with The Sound of Music
4. Enjoy a performance at Salzburg Marionette Theatre
Salzburg in 2 Days: Wrap-Up
Salzburg, Austria is an incredible city to explore and with two days you can really get a feel for the culture and history of this beautiful city.
From taking a stroll through the Schloss Mirabell gardens, listening to a Mozart concert, to visiting Salzburg Cathedral, there's no shortage of things to do while in Salzburg.
Whether you choose to take a day trip outside of the city to explore Schloss Hellbrunn, enjoy Austrian cuisine at a restaurant or beer garden, or marvel at the stunning views from Hohensalzburg Castle, you're sure to have an unforgettable experience in this city.
What will you do with your 48 hours in Salzburg?
Lyndsay