This post may contain affiliate links! I will receive a commission, at no extra cost to you, if you purchase something recommended here.
Williamsburg, situated just inland of the coast of Virginia, is a beautiful city, well known for its role in Colonial-era history and its modern charm. Named in honor of King William III of England, Williamsburg served as one of the capitals of the Colony of Virginia, and then the first capital of the Commonwealth of Virginia.
Along with its neighbors of Jamestown and Yorktown, it's part of the Historic Triangle of Virginia, filled with Colonial history. Today, the city is well known for showcasing its history with Colonial Williamsburg, as well as other major attractions like Busch Gardens and the second-oldest college in the United States, the College of William & Mary.
If you love immersing yourself in history, while also having the opportunity to explore, you'll never run out of things to do in Williamsburg, Virginia.
Map for this guide
Here is a made-for-you map to all of the things to do in Williamsburg listed in this guide.
Light Green: Where to Stay
Orange: Where to Eat – Restaurants
Light Orange: Where to Eat – Desserts
Purple: Things to Do
Green: Historic Triangle of Virginia
Blue: Beaches
How to Get to Williamsburg, VA
Williamsburg is well-connected for both public and private transportation. It's right off I-64 highway, making it a great stop to add on a road trip. We drove to Williamsburg from Maryland, and the drive was an easy 3 hours and 30 minutes.
It's also accessible by train and bus. Amtrak has a station in Williamsburg that can be accessed "from anywhere in the Northeast Corridor or points south," Bus companies like Ourbus and Greyhound have stations here as well.
Read More: The Best Guided and Walking Tours in North America
Where to Stay in Williamsburg, VA
If you're looking to stay within walking distance to the major things to do in Williamsburg, Colonial Williamsburg Resorts recommends several hotels within the historic district, which you can find on their website.
For a great budget option, Hampton Inn and Suites is a hotel property located in a more residential area of the city. It's about halfway between Colonial Williamsburg and Busch Gardens Williamsburg. If you plan to visit both locations, it's worth checking out.
This area has many resorts and timeshares, in addition to hotels. Since I went during the off-season, a few of these exclusive properties were offering stays for a reduced rates. Let me just say, when I picked the hotel and saw the luxe locations for lower prices than the average 2- or 3- star hotels, it certainly made for an even better experience!
We stayed at The Historic Powhatan Resort by Diamond Resorts. While it's outside of walking distance to Colonial Williamsburg, it was an excellent option for our trip. Our suite was equipped with a full kitchenette, a washer/dryer unit, and a pull-out couch, and two bathrooms.
Fair warning to you – since they usually operate as a type of timeshare, they will kindly encourage you to attend one of their informational sessions. However, after a two-hour informational session spent learning about their brand, we walked away with a sizeable gift card! They convince you to attend and stick around by giving discounts on restaurants, gift cards, or even a free ticket or two to one of the amusement parks.
Where to Eat in to Williamsburg, VA
If you love breakfast food, Williamsburg is well-known for its pancake houses. Local favorites include Capital Pancakes, Smokey Griddle, and Astronomical Pancake House.
In Colonial Williamsburg, you'll find a selection of fantastic restaurants to choose from. Check out Blue Talon, Dog St. Pub, The Cheese Shop, Fat Canary, Mello Mushroom Pizza, and Barrett's Seafood Restaurant.
If you're outside Colonial Williamsburg, you still have some great options! Second St Bistro, Oceans & Ale, La Casona Mexican BBQ & Grille, Baker's Crust, Chanello's Pizza, and Paul's Deli should all be high on your list. Special mention for delicious, all-you-can-eat sushi found at Ichiban.
If you're looking for a night out, favorite bars in the area are Precarious Beer Project, Green Leafe Cafe, and Amber Ox.
Last but not least, we can't forget about sweets. Aroma's is a great local coffee shop, and Wythe Candy & Gourmet Shop, Jamestown Pie Co., Duck Donuts, and Kilwin's are all favorites for different desserts.
Interested in trying several of these restaurants? Sample a night out on a Williamsburg culinary tour with tastings.
Tips for What to do in Williamsburg, VA
Break up your days based on what major attraction you plan to spend your day exploring
Walking around Colonial Williamsburg is totally free; however, you need to purchase tickets to enter the historic Williamsburg buildings
You can tell the difference between free spots and structures that require a paid ticket by whether or not there is a flag in front
Parking at Colonial Williamsburg is free
Things to do in Williamsburg, VA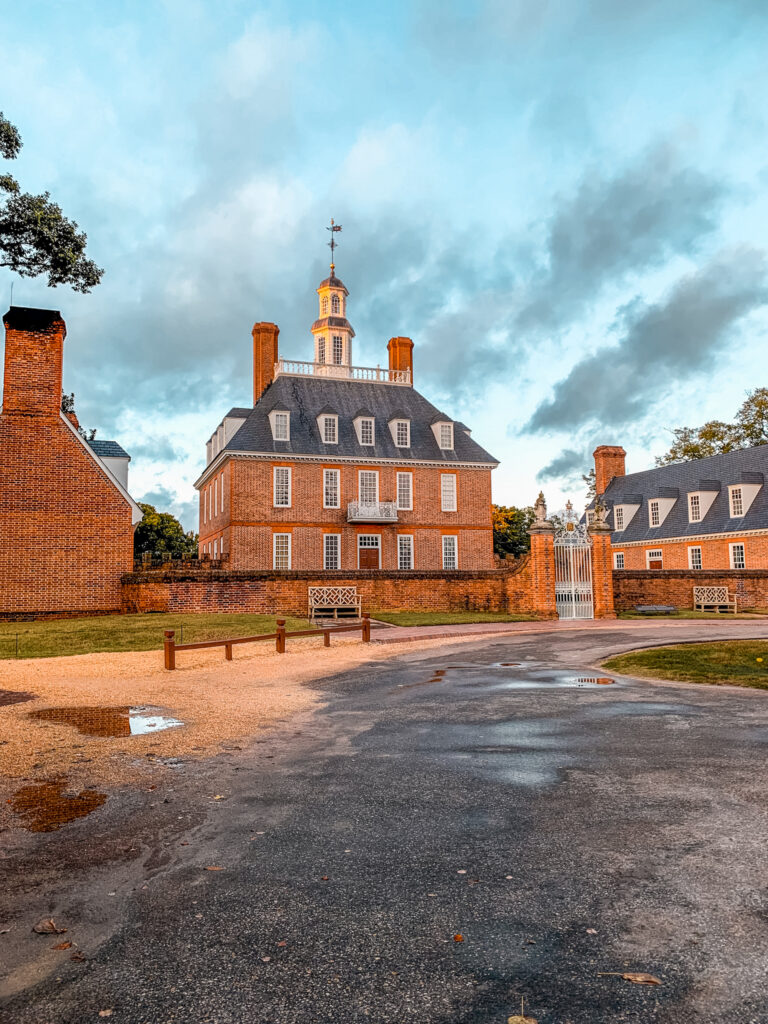 Read More: Your Guide to Things to do at Turkey Run State Park in Indiana
Spend a day exploring Colonial Williamsburg
Known as the largest outdoor living history museum, Colonial Williamsburg is more like a giant, historic neighborhood that has come to life.
The reconstruction began with the 1907 restoration of Williamsburg's Bruton Parish Church, led by the Reverend Dr. W. A. R. Goodwin. Although his initial intention was to restore the church, he later expanded the project when he realized that many other historic Williamsburg buildings were decaying. Standard Oil tycoon John D. Rockefeller Jr., the same man behind Rockefeller Center in New York City, financed Goodwin's project, and together they developed Colonial Williamsburg.
Today, the site contains hundreds of restored or rebuilt buildings from the city's Colonial-era history, situated on more than 300 acres of land. Many of these buildings are open for visitors to walk through and observe historic reenactors bustling around, carrying out everyday tasks from years gone by. You're welcome to ask them questions and learn about what life was really like in the Colonial age.
Colonial Williamsburg offers many different walking tours, focusing on various aspects of the site and its history throughout the day. Besides, with all of this Colonial history, it's easy to imagine that there are some eerie undertones. They offer ghost tours of its haunted past, and a Ghost Walk Junior meant for the whole family.
While it's free to wander around the ground of Colonial Williamsburg, you'll need to purchase tickets to enter most of the historic buildings. If you only plan to spend one day exploring Colonial Williamsburg, single-day passes are available. However, if you want to take your time walking through all of the different shops and museums, consecutive three-day passes are what you need. You can explore different options, as well as see their daily schedule of events, on the Colonial Williamsburg website.
Take a tour of the College of William & Mary
Established in 1693 and named to honor Great Britain's monarchs at the time, the College of William & Mary is the second-oldest collegiate institution in the United States. Three United States presidents attended the College, and the elite academic honors society Phi Beta Kappa was founded on its campus in 1776.
Roam through the campus using the College's self-guided tour instructions or request an informal, student-led tour from the campus's Spotswood Society Tours when classes are in session for more things to do in Williamsburg.
Check out the wineries and breweries along the Williamsburg Tasting Trail
Williamsburg has some remarkable vineyards, breweries, distilleries, and even a meadery within its bounds. A selection of twelve was chosen as part of the Williamsburg Tasting Trail. You can take a day and do a self-guided tour through the twelve on your own time, or you can let a tour take care of the driving and attend an abbreviated journey through four craft breweries.
If you're only interested in visiting the wineries, there's also a dedicated vineyards tour with tastings included.
Spend a day playing at the amusement parks in Williamsburg, VA
Looking for some family-friendly things to do in Williamsburg? Do you love amusement parks? Williamsburg has three!
Busch Gardens Williamsburg
Busch Gardens Williamsburg is located outside the city center, and it a ton of fun for all ages. During the summer, you can travel around the park to various sections designated by international countries, where you can see performances inspired by that country's culture. Halloween's Howl-O-Scream and Christmas Town transforms the park for its holiday season.
Be sure to check out Celtic Fyre in the Irish Pavilion for some incredible Irish dancing performances, and rides like Apollo's Chariot, or the Griffon.
Water Country USA
Just under four miles away from Busch Gardens is Water Country USA. Virginia's largest waterpark is packed with 17 different water rides, play areas, a lazy river, a children's area, swimming pools, and aquatic performances. And the 1950s/60s beach theme is a fun throwback touch.
If you're planning to visit both Busch Gardens Williamsburg and Water Country USA, look into tickets that combine both parks with a bit of a discount.
Great Wolf Lodge
The last amusement park in Williamsburg, Virginia, is the Great Wolf Lodge. While this indoor water park has many water rides, it also offers a ton of different activities for anyone who needs a break from the pool. A bowling alley, a ropes course, an arcade, a live-action scavenger hunt, a kid's spa, and a 3-D movie theatre are all available for the family, as well as the fitness center and spa catering for their adult crowd.
The Great Wolf Lodge also has a hotel on the property. With suites and dining options, you might never run out of options for things to do in Williamsburg!
Read More: The Best Travel Bags and Purses You'll Need to Explore the World
Day Trips from Williamsburg
Historic Triangle of Virginia
The other two towns making the Historic Triangle of Virginia, Yorktown, and Jamestown have their own unique Colonial history.
Jamestown
Established in 1607 as James Fort, the settlement in Jamestown, Virginia, is considered the first successful settlement by English colonizers in the United States. Today, you can visit Historic Jamestowne and Jamestown Settlement. Re-creations of many of the original buildings still stand on the grounds, as well as a museum, replicas of the original ships in Jamestown's pier, and a recreated Native American Powhatan village.
Yorktown
The Battle of Yorktown was a defining instance in the American Revolutionary War. British General Charles Cornwallis surrendered to General George Washington in 1781. Although the war officially continued for another year, this moment is noted as essentially the end of the war. This city was also a battleground during the American Civil War. Visit The American Revolution Center at Yorktown, walk through the battlefields, and spend a day strolling along the river's edge.
If you're thinking about visiting either of these historic areas, you can purchase a combined ticket for Jamestown Settlement and the American Revolution Museum at Yorktown to visit as often as you want for 7 consecutive days.
Lounge on the beaches near Williamsburg, VA
Both Jamestown and Yorktown have public beaches accessible by car from Williamsburg. However, if you're willing to drive about an hour out, you can reach Virginia Beach. Best known for its boardwalk, aquarium, and gorgeous coastline.
Read More: Your Guide to Create Stunning Mixbook Travel Photo Books
Sample 5 Day Williamsburg Itinerary
When I went, we only had three days to explore Williamsburg and the surrounding area. I definitely think we could've used an extra day or two to really feel like we visited every historic site we wanted to see and experienced all of the different things to do in Williamsburg.
Day 1
First and foremost – breakfast at one of the local pancake houses. Then, straight to spend the day at Colonial Williamsburg! Wander around the College of William & Mary campus, and learn about the life and culture of Colonial Williamsburg from the historical reenactors. Take an opportunity to try out a couple of the restaurants in the area, and end your day with a treat from Kilwin's.
Day 2
Next up on your Williamsburg itinerary, if you feel like you fully explored Colonial Williamsburg, visit the rest of the Historic Triangle of Virginia – Jamestown and Yorktown! Once you've spent the day traversing through the other two Triangle towns, head back towards Williamsburg for dinner outside the Colonial center. Perhaps even experiencing the Williamsburg Tasting Trail?
Day 3
When you have so many to choose from, today is for the day trip. Start your day at Duck Donuts and then head to the parks! Busch Gardens and Water Country USA, and the Great Wolf Lodge are all amusement parks within easy driving distance from the center of the city.
Or, if you're interested in going a little farther, you can spend your day on the beach. Stay close to Williamsburg with either Jamestown or Yorktown beaches, or drive an hour out for Virginia Beach.
Day 4 & 5
These days are for overflow. If you decided to take your time through Colonial Williamsburg, spend today exploring all of the other shops and buildings you didn't get to see on your first day. If you purchased a two-day pass, make sure you choose consecutive days; otherwise, you'll be able to head into any building that does not have a flag out front.
If you want to spend additional days at the beach or visit more than one of the theme parks, these days would be your opportunity to explore the rest of the things to do in Williamsburg!
The next time you have a chance to enjoy a few days in a historic center – from the largest living history museum to amusement parks – Williamsburg, Virginia, is a great choice, filled with fantastic activities. If you're looking for a city filled with history, add Williamsburg to your next road trip!
What are your favorite things to do in Williamsburg, Virginia? Do you have any recommendations for a Williamsburg itinerary?
Lyndsay
Please follow and like us: