This post may contain affiliate links! I will receive a commission, at no extra cost to you, if you purchase something recommended here.
Less than an hour from the eastern border of Illinois, Turkey Run State Park makes its home in Marshall, Indiana.
Great for families, hikers, and camping enthusiasts, the park is a perfect place to spend a day outside.
Turkey Run State Park was established in 1916 as the second state park in Indiana. Legend says that pioneer hunters hunted – you guessed it – turkeys in the canyon bottoms where they would run to for warmth. Hence, the name Turkey Run State Park.
While some activities are seasonal, Turkey Run is open year-round, every day from 7 a.m. to 11 p.m. EST. It costs $9 per car, per day, for non-Indiana residents to park.
Things to do at Turkey Run State Park
If you're looking for what to do at Turkey Run State Park in Marshall, Indiana, you'll find this guide has a thorough list of all the different outdoor activities that the park has to offer.
Turkey Run Hiking
Whether you'd consider yourself an expert hiker or a total beginner, 11 different Turkey Run hiking trails at the park match all different distances and terrain abilities. The longest hiking route is Hike #1, with 3 miles worth of rugged terrain to trek, whereas Hike #13 is marked as the shortest and the easiest, at only half a mile. Unfortunately, the trails are not meant for biking.
A suspension bridge, a waterfall, an outlook point, and many, many ladders await you on your hike. You can find a full park hiking guide and map detailing the hiking routes and sights along the paths on the Turkey Run State Park website.
While I'm not an avid hiker, I'm physically active and figured one of Turkey Run's moderate routes would be a great compromise level. What might have been a 45-minute hike turned into 2 hours when we accidentally jumped on a few different trails, specifically #3, #10, #5, and finishing with #3. However, we saw much more of the park that I anticipated, and it was absolutely beautiful!
You can find the map I used to plan our hike on the state of Indiana's website.
Turkey Run Camping and Cabins
If you're interested in staying overnight, the park has several different options. Turkey Run Inn is an excellent option for families who want to stay in the wilderness but prefer modern amenities. The rustic Inn offers the Narrows Restaurant, open every day from breakfast through dinner, and a large conference area, in addition to the rooms available. The Turkey Run Inn also has separate cabins that can be rented for a more secluded adventure. 
However, if you'd rather be outside camping, Turkey Run has more than 200 different campsites, each equipped with electricity hook-ups and full-service restrooms. You can reserve your campsite on the Indiana state parks reservation site.
Read More
Turkey Run Canoeing and Kayaking
Sugar Creek flows directly through Turkey Run, offering a few different opportunities to get out on the water. If you own your own kayak or canoe, there are two spots with public access to the water – the Brush Creek canoe ramp is located upstream from the Narrows Covered Bridge, and the Cox Ford canoe ramp is accessed downstream from the Cox Ford Covered Bridge.
Otherwise, if you plan to rent canoes or kayaks, here's a list of outfitters that service Turkey Run State Park.
Turkey Hill Swimming and Fishing
Remember, swimming is not allowed in Sugar Creek! If you're looking for things to do at Turkey Run State Park and you're thinking about swimming, take advantage of the Olympic-sized swimming pool, open almost daily during the summer from 11 a.m. to 6 p.m. from the Saturday before Memorial Day until Labor Day. The swimming facilities also hold a bathhouse and a wading pool.
Fishing in Sugar Creek is a popular pastime; however, since you're in an Indiana state park, you need to get an Indiana fishing license. You don't have to be a resident of the state to register, and they have one day, one week, and annual passes depending on your needs. You can register for a fishing license on the state of Indiana's website.
Turkey Run Horseback Riding
Turkey Run has its own location of Indiana State Park's Saddle Barns. Spend a day on a trail ride, or for families with young kids, try an assisted pony ride. They also offer hayrides and riding lessons. Turkey Run's Saddle Barn is open daily from the beginning of April until the end of October.
Although I didn't have an opportunity to ride on this trip, I'm planning a trail ride for the next time I'm looking for things to do at Turkey Run State Park!
You can find a Saddle Barn at any of these other Indiana state parks:
Brown County State Park
Fort Harrison State Park
McCormick's Creek State Park
Pokagon State Park
Whitewater Memorial State Park
Turkey Run Nature Center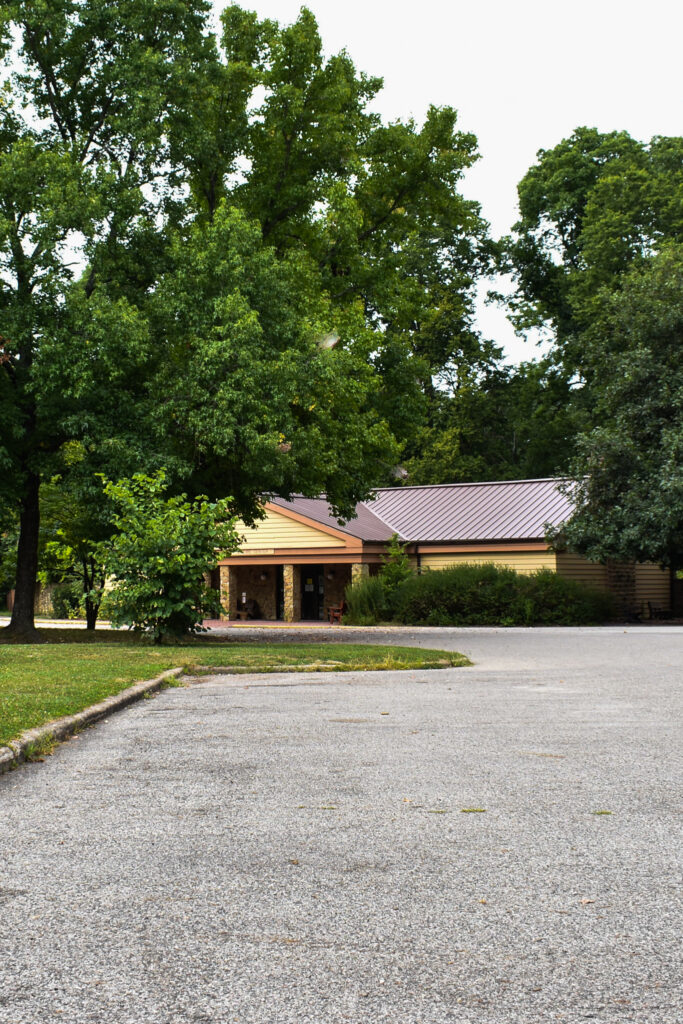 If you're interested in learning more about the region's geology and plant life, head inside the park's Nature Center for self-guided displays and interactive exhibits that showcase the history of the park and all the nature found within it. The Center offers special events, guided hikes, history lectures, a junior naturalist program, and even productions like Star Show, hosted in their small, onsite theater.
What are some of the best things to do at Turkey Run State Park?
1. Hike on any of their 13 different trails
2. Swim in their Olympic sized swimming pool
3. Spend a day on a trail ride with their horseback riding facility
4. Rent kayaks or canoes for a day out on the Sugar Creek
5. Head to their Nature Center to learn more about the park's geology and the animals that call Turkey Run State Park home
6. Spend a day fishing in Sugar Creek
7. Check the Indiana Department of Natural Resources' Calendar for seasonal events and festivals at Turkey Run
8. Visit the Narrows Covered Bridge and the Cox Ford Covered Bridge, located on either end of the park along Sugar Creek
9. Rent a room at Turkey Run Inn or a spot at one of the park's many campsites
What are your favorite things to do at Turkey Run State Park? 
Read More