This post may contain affiliate links! I will receive a commission, at no extra cost to you, if you purchase something recommended here.
From mountain hikes to beachside adventures, Virginia is a vast state with some fantastic places that are absolutely worth a visit.
If you're traveling through and looking for inspiration on some of the best day trips in Virginia, we've got you covered!
The Best One-Day Trips in Virginia
Map for this guide
Williamsburg
One of the best day trips in Virginia is visiting Williamsburg. From the colonial era to modern times, you'll have so many choices on how to spend your day. The town is just a 30-minute drive to Virginia Beach and has many different activities to keep you busy.
As the largest living history museum in the United States, Colonial Williamsburg is one of the town's highlights. Take a trip through the past as you explore the original, restored buildings in the Colonial capital, interacting with historical reenactors. Experiencing the lifestyles and history of the neighborhood will allow you to understand how this area developed in the 18th century. And just across the street, you'll find the second oldest higher education college in the United States, the College of William and Mary.
There are two other historic towns nearby, Jamestown and Yorktown, which complete the Historic Triangle of Virginia. Walk around the Jamestown settlement, and view battlefields from the Revolutionary War Yorktown. If you're in the area with a car, you can easily add these sites to your Williamsburg itinerary.
If history doesn't draw you, their other day trip activities might! Busch Gardens Williamsburg, Water Country USA, and Great Wolf Lodge are amusement parks that offer rides, shows, and water parks. Or, visit one of the city's many breweries and vineyards for a culinary with tastings tour.
Have I convinced you yet? Make sure you check out my complete guides to things to do in Williamsburg, Virginia, and the top day trips around the historic city!
Roanoke
Located in Southwest Virginia, Roanoke sparkles as a day trip destination, particularly for outdoor enthusiasts. A drive along the Blue Ridge Parkway, which skirts to the east of downtown, is a must to kick off your day in Roanoke. In spring and summer, colorful wildflowers and flowering shrubs, like rhododendrons and mountain laurel, stun motorists on the scenic byway that runs through Virginia's Blue Ridge Mountains.
Stop in the Blue Ridge Parkway Visitor Center at milepost 115 to explore topographical area maps and browse souvenirs and regional crafts in the gift shop. Here you'll also find Explore Park, a 1,100-acre recreation area with hiking and biking trails, disc golf, kayaking, and tubing on the Roanoke River. Pop in for a pint at Twin Creeks Brewpub. You'll find a full menu here, too.
Plan to hike to the Roanoke Star, the world's largest man-made star that stands 100 feet tall. The overlook wows with far-reaching views across the Roanoke Valley. Some even call the Roanoke Star the Hollywood Sign of the East Coast. The iconic steel star has been welcoming visitors to Roanoke since late-1949.
In downtown Roanoke, stop in Center in the Square, home to popular attractions like the Science Museum of Western Virginia, the Harrison Museum of African American Culture, and the Roanoke Pinball Museum.
Did all this activity make you hungry? Settle in at Texas Tavern, a classic 10-stool diner in Roanoke. This family-owned cash-only landmark has been serving up burgers and chili bowls since the 1930s. Order the Cheesy Western, a burger topped with a fried egg, cheese, pickles, and sweet relish.
Submitted by: Erin Gifford from Go Hike Virginia
Leesburg
Leesburg is one of the best places to spend a day in Virginia. The town dates back to 1740 when early members of Robert E. Lee's family established the city. During the War of 1812, it was the temporary capital of the United States for a short time. It then changed hands multiple times during the Civil War. Now, it's an adorable little town and a fun area for wine tasting.
Quick History: Robert E. Lee is best known as a general and commander of the Confederate States Army during the American Revolutionary War.
To get to Leesburg, fly into Dulles International Airport. It is about an hour's drive west to Leesburg. Once in Leesburg, there are plenty of hotels in the area if you opt to stay the night.
Wine tasting is the main activity to partake in when visiting Leesburg. I recommend Bluemont Vineyard, the Vineyard and Winery at Lost Creek, and Three Creeks Winery. If you don't make it to the Winery at Lost Creek, you could also stop at the Echelon Wine Bar in town. Make sure to grab a meal at the Wine Kitchen and Fireworks Pizza. For a coffee and light breakfast, head to Goosecup.
Those interested in the area's history should visit Ball's Bluff Battlefield Regional Park and the George C. Marshall Dodona Manor. You can also head to Manassas National Battlefield Park or Harpers Ferry as a day trip. No matter what, you can find something for everyone in Leesburg!
Submitted by Francesca from Homeroom Travel
Alexandria
Alexandria, Virginia, is one of the most charming towns in Northern Virginia, with cobblestoned streets, small boutiques, and fabulous restaurants. It is also a historic city with lots to learn and see. It's across the Potomac River from Washington D.C., and George Washington lived here for a time.
Become mesmerized by the lovely red brick buildings known as The Row, a series of red brick townhouses built in the 18th-century. You can find these elegant mansions on Cameron Street between King and Prince Streets.
Just two blocks away is another big attraction: Christ Church. Established in 1773, it had many famous parishioners like George Washington, Henry Lee, and Robert E. Lee. Many other presidents have visited over the years as well.
Pretend you are a pirate and hop aboard the Pirate Ship Cruises like Boomerang that depart daily from Alexandria. Your little ones will love hunting for booty, and you will love the great breeze from the Potomac!
Take a scavenger hunt around Old Town Alexandria with your kids. They will enjoy hunting for specific objects, and you will get to know your town a little better. Visit Alexandria Colonial Tour to get started and learn tons of history about Alexandria.
You can also take the Free Street Trolley to carry you back to King Street, where you will find fabulous things to eat up and down the street.
Submitted by Alicia from Travels with the Crew
Richmond
Founded in 1780, Richmond was the capital of the most distinguished colonies, Virginia, before the Continental Congress ratified the United States Constitution. Yet, it also has the notorious distinction of being the capital of the Confederate States. It's this juxtaposition that the city still struggles to come to terms with, even as it embraces a prosperous future.
As the state capital, Richmond has cultural opportunities not available in other cities across the state. Home to two universities, its large student population brings an element of creativity and trendiness. It's a beautiful city, with wide boulevards and stately homes, a flourishing art scene, and lush outdoor areas. This combination makes it one of the best day trips in Virginia.
A trip to Richmond is best started by exploring its place in history. Begin at the American Civil War Museum and the Virginia War Memorial, then follow up with the Virginia State Capitol and Executive Mansion, the Black History Museum and Cultural Center, or the Maggie L. Walker National Historic Site. If all that history is too much, start at the Museum District for fine arts, history and culture, architecture and design, or science.
Later spend time outdoors like the locals, walking the canal walk and riverfront trails, exploring Belle Island, or kayaking on the James River. For something more refined, enjoy the Italian and Japanese Gardens at Maymont. For dinner, some southern comfort food, or soul food, is in order. Mama J's is a local classic, while Southern Kitchen has come into its own.
Wind down the day checking out the thriving craft brew scene in the Scott's Addition Historic District. Beer enthusiasts have tons of choices, such as Three Notched Brewing, Bingo Beer, and The Veil Brewing. There are choices for non-beer drinkers too. Blue Bee Cider is popular with locals, but Brambly Park Winery and Black Heath Meadery offer sweeter options too.
Submitted by Roxanna Keyes from Gypsy With a Day Job
Fredericksburg
One of the best day trips in Virginia is the historic city of Fredericksburg. Fredericksburg is directly in between Washington, DC, and Virginia's capital city, Richmond.
Like most places in Virginia, Fredericksburg is old–by U.S. standards, anyway. The Virginia General Assembly first built a fort in the area in 1676. The surrounding Spotsylvania County was formed in 1720, and the town of Fredericksburg was officially incorporated in 1781. Many of downtown's buildings were constructed before and around the Civil War, adding to the city's charm.
Modern-day Fredericksburg, VA, has a little bit of something for everyone, making it a great day trip for all visitors. For the history buffs, there's no shortage of things to see. Visitors today can visit several homes around town connected to the historic Washington family. Tour the childhood home and farm of George Washington, Ferry Farm, as well as several other homes connected to the Washington family, like the home the first U.S. President gifted his elderly mother, and the plantation his sister and brother-in-law built. The city was also the site of two major Civil War battles – cannonballs are still seen in many of the brick walls around town.
Fredricksburg is located on the banks of the Rappahannock River, which offers a plethora of outdoor activities. Canoeing, kayaking, and birdwatching can be done while exploring the many trails along the river, such as the recently completed Canal Walk and sections of the Potomac Heritage Trail. And, art lovers are welcome to tour the many downtown galleries or participating in a creative workshop at LibertyTown.
It's also a foodie destination, with numerous high-quality restaurants such as the aptly named FOODE (run by a former Top Chef contestant), Fahrenheit 132 (best steaks in town!), and Sammy T's (the city's go-to for vegans and vegetarians).
Fredericksburg is either an hour south of DC or an hour north of Richmond via I-95. The closest airports are Richmond International (RIC) or Ronald Regan (DCA).
Submitted by Maggie McKneely from Pink Caddy Travelogue
Winchester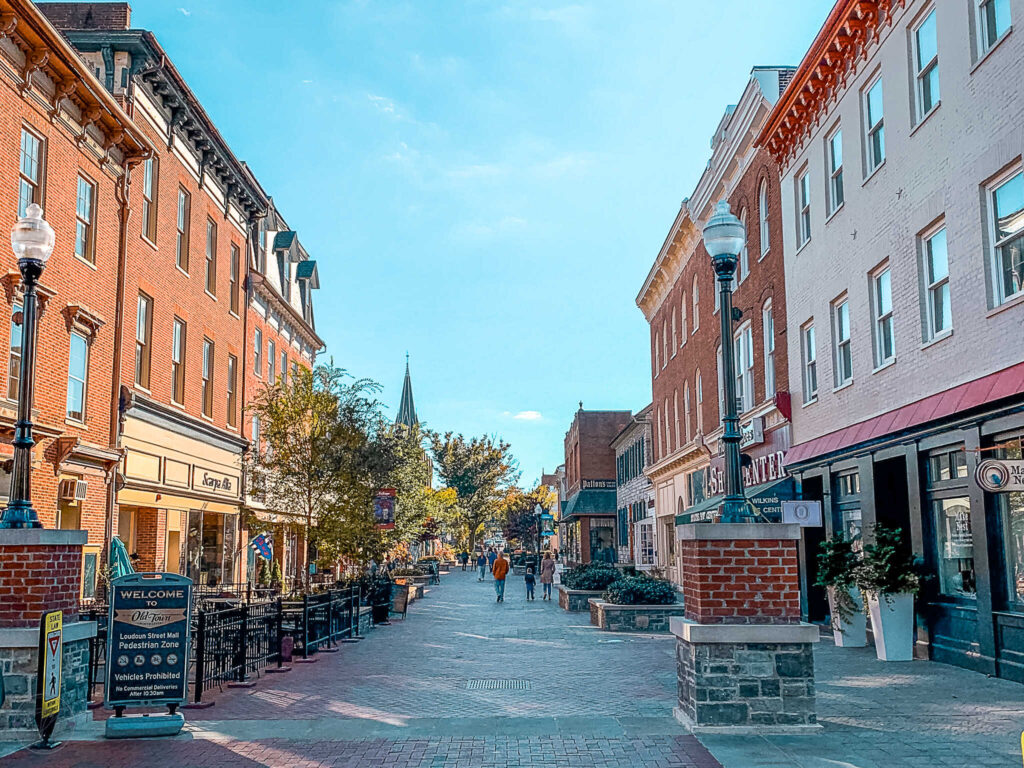 Nestled in the Shenandoah Valley along the Potomac River, Winchester has honored and preserved its rich history in the northern part of the state. The city offers great places to visit and prominent educational opportunities, all housed within historic buildings.
Home to Shenandoah University, Winchester is famous for its historical sites like George Washington's Office Museum, Patsy Cline Historic House, and the Museum of the Shenandoah Valley.
Spend time walking around the Winchester Historic District, a beautiful area where you'll find over 1,100 protected buildings in the Late Victorian and Italianate styles from the 1700s through the mid-1900s.
Pop by Union Jack Pub & Restaurant for a drink, housed in the Victorian cast-iron building for the former Union Bank Building on North Loudoun Street, window shop at stores like Incredible Flying Objects, Nibblins, and Blue Peacock Antiques, before visiting the Shenandoah Valley Civil War Museum across the street.
Suppose you'd rather spend your day trips in Virginia imbibing. In that case, Winchester has Winchester Brew Works and Old Town Cidery in the center of town and two vineyards–James Charles Winery & Vineyard and Valerie Hill Vineyard & Winery–on the outskirts.
If you're ready to take a day trip to Winchester, read about everything you can do in my guide!
Charlottesville
Charlottesville, home of Thomas Jefferson and the University of Virginia (UVA), is the perfect place to spend a day in Virginia. This town became significant when Thomas Jefferson built his estate there, named Monticello, and it grew when he founded UVA. Nestled amongst the Blue Ridge Mountains, this town has it all, from gorgeous natural features to historical landmarks.
There are so many great ways to spend a day in Charlottesville. Some things you must do include visiting UVA's campus, touring Thomas Jefferson's home at Monticello, and sipping wine at the vineyards outside of town along the Monticello Wine Trail.
If you drive a little farther out of town, you can also hike the famous Humpback Rocks trail and end the day at one of Charlottesville's beautiful breweries, like Champion Brewing Company, with a cold beer.
Charlottesville is a wonderful destination at all times of the year. You can choose to see spring flowers, vibrant fall colors, or snowy mountain views. Also, because it is up in the mountains, summers are often mild. However, the best time to go is when the college students are out of school, and the town is a bit quieter.
You can get to Charlottesville by train or car from the D.C. area. There is an Amtrak station downtown that has trains several times a day. If you're driving, you'll want to take Rte. 29 South from I-66. Since Charlottesville is only located 115 miles away from Washington D.C., making it a great day trip from the area.
Submitted by Lita from Lita of the Pack
Virginia Beach
Between sunny days and beautiful evenings, Virginia Beach provides a wide range of activities for you to enjoy on a day trip.
Obviously, the area is best known for its stunning coastline. Situated at the mouth of the Chesapeake Bay, there are seven specific districts in Virginia Beach, of which three of them are seafront. From the bustling boardwalk at the Oceanfront to the more secluded, pristine beaches in Sandbridge, you can choose your shoreline experience.
In town, you'll find museums like the Military Aviation Museum, which houses an array of World War I and II aircraft, and Virginia Aquarium & Marine Science Center. Theatres, like Zeiders American Dream Theatre and Sandler Center for the Performing Arts. And the city is home to vineyards and breweries like Back Bay Brewing Co.'s Farmhouse, Pleasure House Brewing, and Mermaid Winery, where you can relax after your long day out.
Whether you plan to enjoy the beach or explore the shops and restaurants in the historic downtown, you'll find some great activities wherever you go! Virginia Beach is easily accessible from the Norfolk airport, Amtrak train service, and an easy drive from the Williamsburg area.
Fort Monroe
Fort Monroe is located on the tip of a narrow peninsula in Hampton, Virginia. It was built to defend the mouth of the James River from Confederate attacks during the US Civil War. Today it stands as one of the most significant historic sites in America and offers visitors an educational experience like none other!
It's a great place to spend the day when visiting the state of Virginia. Fort Monroe can be reached by car. The fort itself has plenty of parking for visitors.
Besides the educational experience, there are plenty of fun-filled outdoor activities to engage in, as well as restaurants, beaches, and a brewery.
Surrounded by beautiful beaches, you won't want to miss the chance to catch some waves, take out the paddleboards or kayaks, or soak up some sun before heading to the Fort's best restaurant, The Deadrise.
The history buff in your will want to visit The Casemate Museum or explore the fort in-depth and take in the views of Robert E. Lee's quarters or the parade grounds.
Don't forget to stop by The Oozlefinch Brewery for a refreshing beer to top off your adventurous day!
Submitted by Cortney Edwards from Tin Can Living
Assateague Island
For a fun day at the beach among Assateague's wild horses, Assateague Island is a perfect place to spend the day in Virginia. The local folklore story says the horses on Assateague are descendants of horses that survived a shipwreck off the Virginia Coast in the late 17th century. However, there are no documents to verify this.
Popular places to see the wild horses are in the Assateague Island National Seashore Campground, the marsh surrounding the Life of the Forest Nature Trail, along the roadway, and near the Verrazano Bridge. Remember, these are wild animals, so keep your distance!
Insider Tip: The best time to see the horses is from the end of April until the middle of October.
Along with seeing the wild horses, there are so many fun things to do on Assateague Island. The Assateague Island National Seashore has pristine beaches and is a great place to sunbathe and play in the ocean. There are seasonal lifeguards posted at the beach, and there is a small rental store at the beach.
If you enjoy kayaking, the sound side of Assateague Island and throughout the marshes is a great place to kayak. Assateague Outfitters is in on the island and a convenient place to head out on the water. If you're looking to avoid the crowds on a busy day, head to the bayside of the island.
Bringing an RV or a tent is a great way to experience Assateague Island. There are a few campgrounds on the island, but you will need to make reservations ahead of time as it's a popular place for camping in the summer.
Submitted by Candice from CS Ginger
Chincoteague Island
One of the best Virginia day trips is Chincoteague Island. Located about two hours north of Virginia Beach, Chincoteague is a more affordable and less crowded beach destination.
One of the best things to do in Chincoteague is to explore the Chincoteague National Wildlife Refuge. It's home to one of the herds of the island's wild ponies. These ponies are the stars of the Annual Pony Swim, which helps raise funds to take care of the horses.
The Wildlife Refuge is home to diverse wildlife, including bald eagles, peregrine falcons, and other shorebirds. Keep an eye out for sika deer and foxes. If you're visiting in the fall, you may be able to spot hundreds of migrating monarch butterflies.
For an up-close look at nature, go on a Chincoteague Kayaking Tour. This peaceful mode of transportation allows you to go into the marshes in ways that a boat can't.
If you're interested in the history of Chincoteague, then head to the Museum of Chincoteague to learn about its transcendence from a fishing village to a modern town. You'll also find statues dedicated to the story of Misty of Chincoteague from the beloved children's book by Marguerite Henry.
Once you've gotten your fill of nature, it's time to satisfy your taste buds. For breakfast, Sandy Pony Donuts are freshly made and still warm when serviced. Pico Taqueria has some incredible tacos using fresh, local ingredients for lunch. The seafood in Chincoteague is excellent–so indulge in the local catch!
No matter what you decide to do in Chincoteague, it's a great place to spend the day in Virginia!
Submitted by Pamela Drager from The Directionally Challenged Traveler
Tangier Island
Tangier Island is a quaint fishing community with a peculiar history, but it's best known for its sweeping views of the Chesapeake Bay. If you're looking for a relaxing day trip with phenomenal seafood in a place where time seems to slow down, this is the place to be.
Fun Fact: The Chesapeake Bay is a tidal estuary of the Atlantic Ocean and the largest in the United States. Over 150 significant U.S. rivers and streams flow into the approximately 200-mile-long Bay.
The only way to get to the island is by boat or ferry, and when you arrive, you can explore the small island's beautiful landscape by foot, bike, or by renting a golf cart. Make sure to stop by the Tangier Island Museum, where you can learn about its history.
You'll also find several restaurants open during high tourism season. Don't leave the island without sampling their soft-shell crabs or oysters, the kinds of seafood the community is known for harvesting even today.
Arlington National Cemetery
The best day trips in Virginia are those that combine fun and relaxation with history and education. Located just five miles outside Washington D.C. across the Potomac River, Arlington, Virginia, is home to the Arlington National Cemetery.
Occupying more than 600 acres, the Cemetery's hallowed grounds are the nation's final resting place for more than 400,000 veterans–soldiers, sailors, Marines, and airmen who served in the United States armed forces–and their spouses, from as far back as 1864.
Make sure to stop at the Welcome Center before spending your day wandering through the different burial grounds. Famous monuments include the gravesites of two United States presidents, John F. Kennedy and William H. Taft, Women in Military Service for America, Chaplains Hill Monuments, and McClellan Gate, which served as the original entrance to the cemetery.
It's also home to the Tomb of the Unknown Soldier, a famous memorial dedicated to honoring deceased, unidentified American soldiers.
Shenandoah National Park
Shenandoah National Park was first established in 1935 to create more national parks east of the Mississippi River, and it delivers! From roaring waterfalls and expansive views to a peaceful drive, this park has something for everyone. Amazingly, it's just 75 miles from famous Washington D. C. but receives less than 10% of the visitors annually.
The only road through the park is Skyline Drive; a 105-mile drive through the park (it takes about three hours plus stops). There are over 500 miles of hiking along the road trip route, two visitors centers, 70 overlooks, fishing spots, picnic areas, and lodging/camping. Be sure to start your drive with a full tank of gas because the only gas station in the park is unreliable.
The park has four access points: Front Royal, Luray, Elkton, and Waynesboro, Virginia. You can easily drive from the north entrance (Front Royal) to the south entrance (Waynesboro) in one day while having plenty of time to hike a few trails in Shenandoah National Park, such as Stony Man or Bearfence Mountain.
The park becomes especially busy in the fall, with peak visitors in October. When the leaves are changing, it can take significantly longer to complete the drive (driving Skyline itself would be a day trip), so keep that in mind if you want to see the leaves changing.
Insider Tip: While Dark Hollow Falls is one of the most popular waterfalls in the area, consider visiting Rose River Falls on a one-day trip instead. It's less crowded, and you don't need to make the entire loop to reach it or enjoy its beauty.
Submitted by MacKenzie from Rainbow Travel Life
Summit Old Rag Mountain
Nestled in the Blue Ridge Mountains of Shenandoah National Park, Old Rag Mountain is one of the best Virginia day trips!
Old Rag Mountain was formed during the Grenville Orogeny that occurred 1.1 billion years ago. The best way to get to Old Mountain is by driving to Etlan in Virginia. It's usually crowded during weekends so, the best time to visit is during the weekday at around 6 or 7 am. This hike is challenging and adventurous for both kids and adults.
At an elevation of 3,284 feet, Old Rag Mountain has a clockwise loop that takes you through the thickly forested hills and a unique rock climbing experience where you will see rare and endangered plants. During this 9-mile hike, be ready to climb, crawl and squeeze through boulders while taking in the most scenic views.
For entry, you need a valid Shenandoah National Park permit, and pets are not allowed.
One of the best tips for first-time hikers is to wear comfortable hiking boots and take enough water as the Old Rag trail is the most popular, but it's also the most dangerous in Shenandoah National Park due to the rocky environment.
Submitted by Chelsey Evans from Chelsey Explores
Luray Caverns
Virginia's Shenandoah Mountains are home to a spectacular attraction well hidden from the surface dwellers – Luray Caverns. Located directly in a small town of the same name, Luray Caverns are easily reachable via I-78 W and I-81 S. The town is a fabulous destination for day trips in Virginia as there are additional attractions to fill your day.
The cave was discovered over a hundred years ago, and since then, it's been a favorite. From the moment you enter the subterranean corridors, you'll be in awe. The caverns are filled with four million-centuries-old works of nature. Several enormous halls, chambers, and a myriad of winding tunnels richly decorated with massive stalactites, cascading stone waterfalls, and tall columns will take your breath away.
An incredibly unique feature of this cave is the Stalacpipe Organ. It's equipped with symphonic mallets that gently hit various stalactites to produce sounds. The tour takes an hour or so, but the impression it leaves is long-lasting. Luray Caverns belongs on the list of the most beautiful caves in the world.
After the cave, you can also visit nearby attractions such as an open-air museum about local pioneers, a hedge maze, a historic car museum, a toy museum as well as a zipline park. After a busy day, there are many eateries in town to enjoy.
Submitted by Slavka from On2Continents
Great Falls National Park
Less than 15 miles from Washington DC lies a dense forest and green oasis—Great Falls National Park. Located in McLean, this 800-acre park is a favorite for Virginians. The lure is the waterfalls.
Even on a 100-degree day, it feels cooler watching the Potomac River thunder down steep rocks and boulders in a series of waterfalls. Then it moves through the Mather Gorge.
There are three overlooks to view the waterfalls safely. Overlooks 2 and 3 are handicap and stroller accessible. They're located less than a 10-minute walk from the Visitor Center. These overlooks may be the best place in McLean for family and couple selfies.
Across the Potomac River lies C&O Canal National Historical Park in Maryland. Wave hello!
Exercise options run the gamut from walking, hiking, rock climbing, kayaking, and horseback riding. Swimming and wading are not permitted–signs warn of visitors who drown.
Or, choose from 15 miles of hiking trails. The longest is Old Carriage Road. It is 3.2 miles and takes two hours to hike. Five routes are multi-use for horseback riding, hiking, and biking.
Other activities popular with families include birdwatching, fishing, and picnicking. Grills and picnic tables can be reserved. Families can let the little ones run around on the grass. Deer often can be seen in the woods.
The region's history spans four centuries. Local Powhatan Indian tribes and colonists traded on the Potomac River. History buffs can also explore Matildaville Trail, named after the Patowmack Company's headquarters and construction site. The river community was a working gristmill, sawmill, and foundry before its demise. Explore partial remains of the settlement.
Great Falls is accessible from I-495. The park charges a $20 vehicle fee. Nearby Theodore Roosevelt Island in DC is also a great place to visit.
Submitted by Teresa Markle from Female Solo Trek
Grayson Highlands State Park
If you want to be transported to another realm during your time in Virginia, then Grayson Highlands State Park is your destination. The "Highlands" in Grayson Highlands State Park is aptly named and beautifully resembles many other mystically shrouded highlands worldwide!
Grayson Highlands State Park is located in southwestern Virginia, not far from the beloved Appalachian Trail town of Damascus, Virginia. The Appalachian Trail does run through the heart of Grayson Highlands State Park, making it a prime destination for avid hikers and those with interest in the historical outdoors.
The Appalachian Trail is a much sought-after trek; there is also a marvelous Virginia hike in this state park. The state high point hike to Mount Rogers can also be found here, a challenging 10 mile round trip day hike that traverses moss-draped forests, wind-sculpted rocks, lushly vegetated hillsides, and of course, the top of Virginia!
The other highlights at Grayson Highlands State Park have to be the bands of wild ponies which dot the verdant landscape and rolling hills of this state park.
Grayson Highlands State Park is a favorite of locals and out of towners alike, so make sure to arrive early to secure a parking spot, especially on popular trails like the Appalachian Trail and especially during peak seasons like summer.
Submitted by Kristen Czudak from Yonderlust Ramblings
Smith Mountain Lake
Smith Mountain Lake is deemed the number one most visited lake in Virginia, and it's easy to see why! This gorgeous lake is over 20,000 acres and is surrounded by mountains. This lake was created to generate electricity back in the 60s – making it over 50 years old now! It's located about 45-60 minutes from the bigger surrounding cities like Roanoke and Lynchburg, making it a great getaway retreat.
Visitors enjoy this lake for the variety of water sports and outdoorsy activities within close proximity. In terms of water sports, people can enjoy any of the usual lake activities: boating, canoeing, sailing, swimming, fishing, jet skiing, wakeboarding, etc.! There are over 7 free boat launches available to the public.
Another fun lake activity is taking a cruise on the "Virginia Dare" boat – this 2-hour ride on the classic 19th-century paddle wheeler will show you the best sites around the lake and take you to the Smith Mountain Dam!
If you are looking for activities outside of the lake, you can enjoy the many miles of hiking trails around Smith Mountain Lake. There are also five golf courses near the lake. For those looking to relax with a nice glass of wine, you'll have your choice between 2 different vineyards nearby: Brooks Mill Winery or Hickory Hill Winery.
Regardless of how you spend your time here at Smith Mountain Lake, you're bound to fall in love with the views and sites around you!
Submitted by Lisa Shehan from Wanderlust With Lisa
The Steven F. Udvar-Hazy Center | Smithsonian National Air and Space Museum
The Steven F. Udvar-Hazy Center in Chantilly, Virginia, is an aviation museum for everyone and anyone who delights in seeing planes, jets, missiles, rockets, and satellites up close. Also called the Udvar-Hazy Center, this massive facility consisting of 2 large hangars, the Boeing Aviation Hangar and James S. McDonnell Space Hangar, is the Smithsonian National Air and Space Museum's annex located at Washington Dulles International Airport.
Possessing an extensive collection of thousands of aviation and space artifacts, one can easily occupy an entire day exploring and marveling at the history and future of flight. Once you enter the facility, you'll quickly realize why the Smithsonian National Air and Space Museum in downtown Washington DC needed this larger facility.
Notable exhibits include the Space Shuttle Discovery, the Enola Gay Boeing B-29 Superfortress bomber from World War II, a turbojet-powered supersonic passenger Concord jet, and the only surviving German Arado Ar 234 Blitz jet bomber.
Adults and children can participate in educational activities, watch movies in the two IMAX Theatres, ride flight simulators, or take a guided tour with knowledgeable docents, many of whom have flown the same planes on display. Best of all, admission into the Udvar-Hazy Center is free, although there is a parking fee.
Submitted by Mary Chong from Calculated Traveller
Virginia is filled with a variety of natural, historical, and cultural attractions located throughout the state. These top Virginia day trips should inspire your next adventure, whether it be hiking trails, scenic drives, or everyday escapes!
Lyndsay
Read More