This post may contain affiliate links! I will receive a commission, at no extra cost to you, if you purchase something recommended here.
Autumn is here, bringing cooler temperatures, colorful foliage, and many fun fall activities in New Haven county.
Whether you're excited to attend one of this season's local festivals or just want to get outside and enjoy nature, there are excellent places all around New Haven in autumn.
It's a cornucopia of fall fun!
The Best Fall Activities in New Haven
Looking for more autumn inspiration? I have a complete guide on some of the best fall activities in Connecticut!
1. Celebrate the season at a fall festival
One of the best fall activities in New Haven is to head over to one of the county's fairs.
The area is home to a few of Connecticut's most fun fall festivals, like Smoke in the Valley, the Guilford Fair, and the Shoreline ArtsTrail Open Studios Weekend.
If you're interested in learning more, I have a full guide on my favorite fall fest and fairs throughout the state with this year's updated information.
2. Enjoy an unbelievable fall foliage drive through New Haven county
All across the Constitution State, you can find spectacular fall foliage views.
And since New Haven has a little bit of everything—beautiful shoreline beaches, rivers, valleys, and state parks—it's easy to get swept away in the gorgeous autumn colors when you're out on a foliage drive.
Spend your day on a scenic drive through some of my favorite Connecticut towns to visit on an autumn day, like New Haven, Hamden, Branford, and Beacon Falls–some of which are my favorite day trips from New Haven.
3. Go pumpkin picking at Jones Family Farm
Can we get more perfectly Connecticut fall activity and go pumpkin picking?
Pop over into your favorite, pick your own pumpkin patch and pluck your perfect pumpkin.
At Jones Family Farms in Shelton, you can reserve your pumpkin-picking experience on their website.
Their 400-acre farm also includes a winery and Harvest Kitchen, where they host wine tastings and cooking classes.
4. Get lost in the corn maze at Townline
At Townline in Woodbridge, you need to experience The Maze. From Labor Day through Halloween, this farm goes all out to celebrate the harvest season.
Every year, they design their 2-acre corn maze with a specific theme in mind, and maze-goers can discover answers to trivia questions hidden throughout the maze.
Townline also hosts wagon rides through this beautiful fall town in New England and has a pumpkin-picking area.
5. Pick your own apples at Bishop's Orchards
Autumn is officially apple-picking season! If you've never been, you're missing out on a classic New England pastime.
From late August through late October, it's time to get out into the apple orchards and pick your own.
One of my favorite places to go apple-picking in Connecticut is Bishop's Orchards in Guilford, but they're open for pick-your-own for different fruits and vegetables all year round.
In addition to their orchard, they also have a farmer's market, serving freshly baked goods, a Creamery, and a Winery.
6. Enjoy the crisp fall air on a hike through East Rock Park
East Rock Park, with its gorgeous location and varied terrain of forests, cliffs, and rocky boulders, is a great hidden gem in New Haven during the fall season.
It's a short drive from most nearby Connecticut communities and just north of downtown New Haven.
There are more than 10 miles of trails and plenty of activities available to visitors, including beautiful hiking trails, rock climbing, sledding, and ice skating in the winter.
During the spring and summer months, the Pardee Rose Garden within the renovated Pardee Greenhouse is home to more than 50 types of roses in full bloom.
However, many visitors visit this area for popular hiking spots every autumn.
Hike the Summit at the top of East Rock Park for one of the most fantastic views in the state for a unique vantage point of the surrounding communities.
You can view for miles with a 360-degree vista of the Connecticut River and Long Island Sound.
Ready for the spookiest thing to do in New Haven at night?
As the sun sets, enjoy a 1-hour and 30-minute tour of New Haven's most haunted locations.
You'll tour New Haven with a local guide who will teach you about the city's most haunted locations and the most important historical and architectural sites, such as the Skull and Bones Society, New Haven Public Library, and New Haven City Hall.
8. Go on a walking tour of Yale University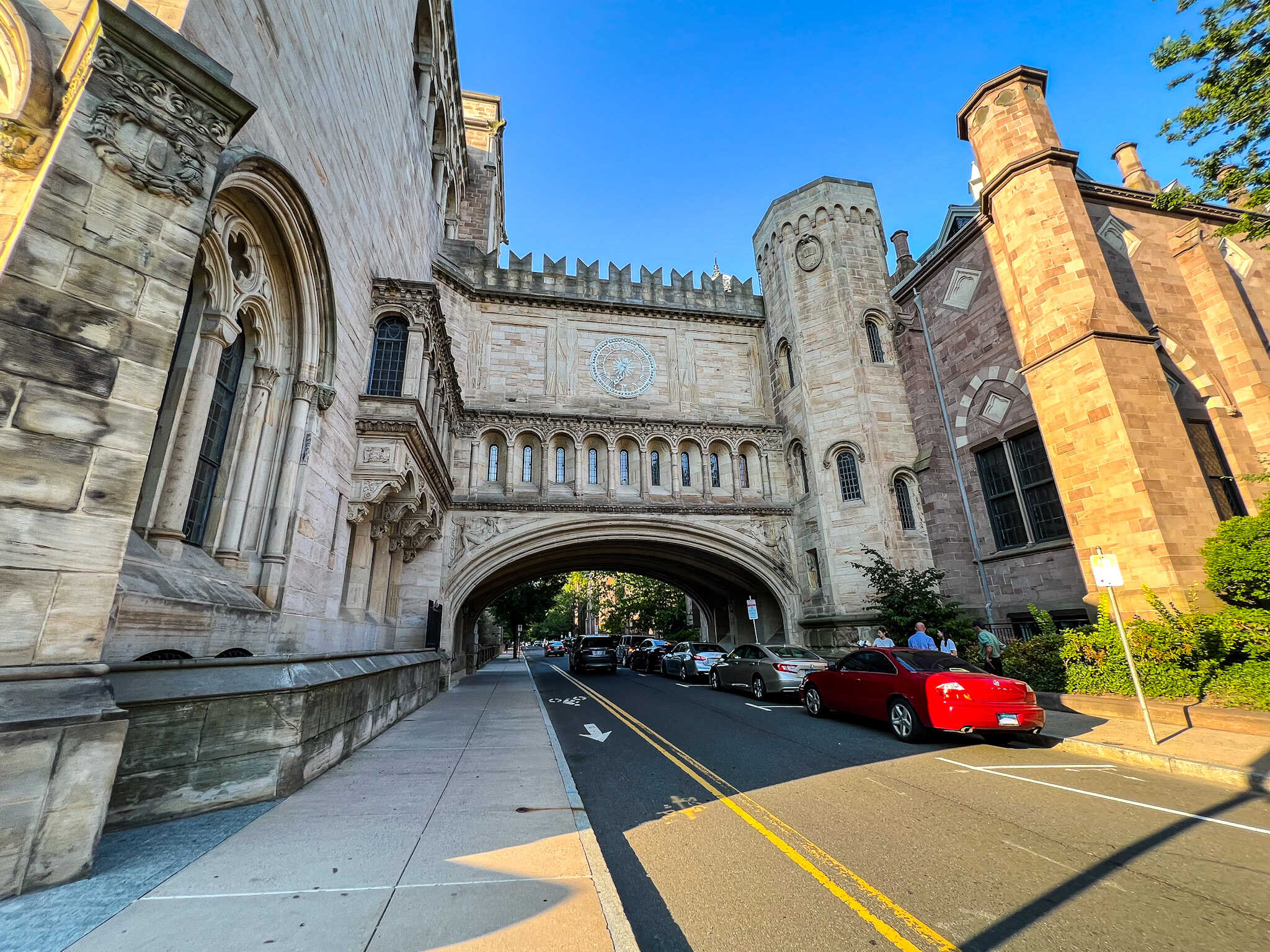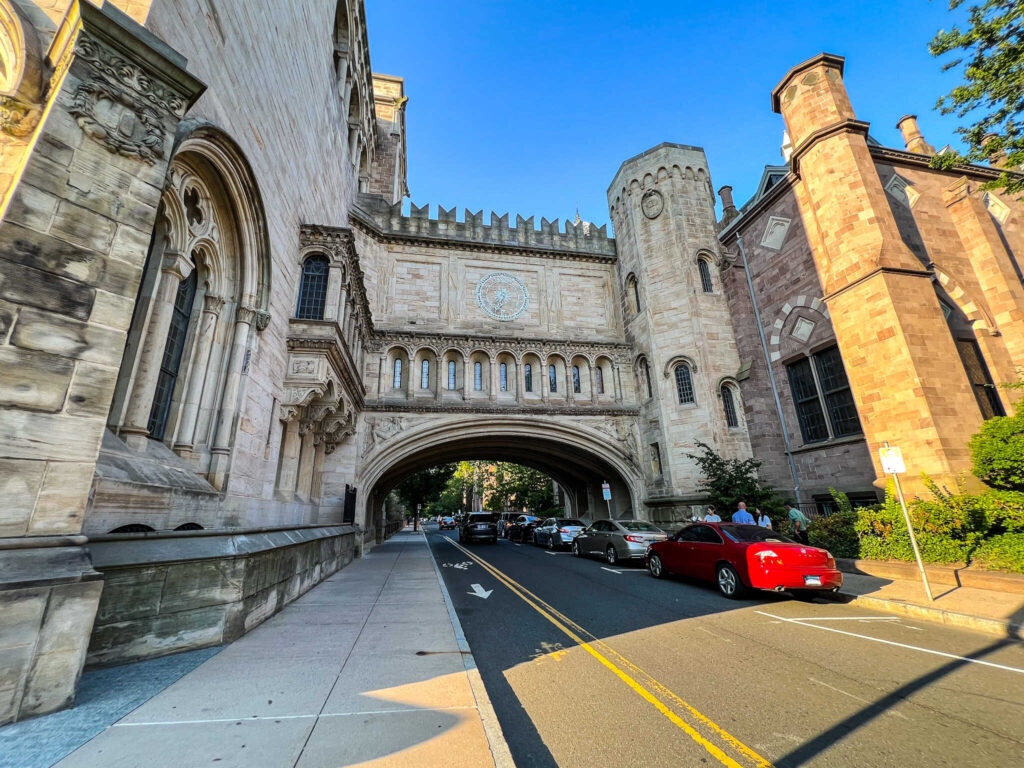 Another one of the best fall activities in New Haven? Take a walking tour of the historic Yale University campus.
The Ivy League university is an institution in New Haven, Connecticut. Yale University was founded in the 1640s by colonial clergymen who wanted to build a school in the European tradition.
In 1718, it was formally called Yale College after Elihu Yale, a Welsh businessman and supporter of the school. It is the third-oldest University in the United States, after only Harvard University and the College of William & Mary in Williamsburg, Virginia.
Visitors can walk the campus at their leisure, or you can enjoy a free tour of the historic campus given by current students.
The tour departs daily from the Visitor Center, located just across from the New Haven Town Green. The campus architecture is stunning, and a stroll around the storied academic grounds is a must.
9. Tailgate a Yale University football game
If you're looking for some of the best things to do around Yale University this fall, you can't miss an opportunity to cheer on the Bulldogs!
Every fall, the Yale football team plays at the Yale Bowl, right around the corner from the Yale campus. Spend your crisp autumn day tailgating before the game starts, and then head inside the stadium to watch the game.
You can purchase tickets for their games on their website.
Fun Fact: Due to stadium renovations, the Giants NFL football team used the Yale Bowl as their home facility for twelve games from 1973 to 1974.
10. Explore history and art at one of New Haven's many museums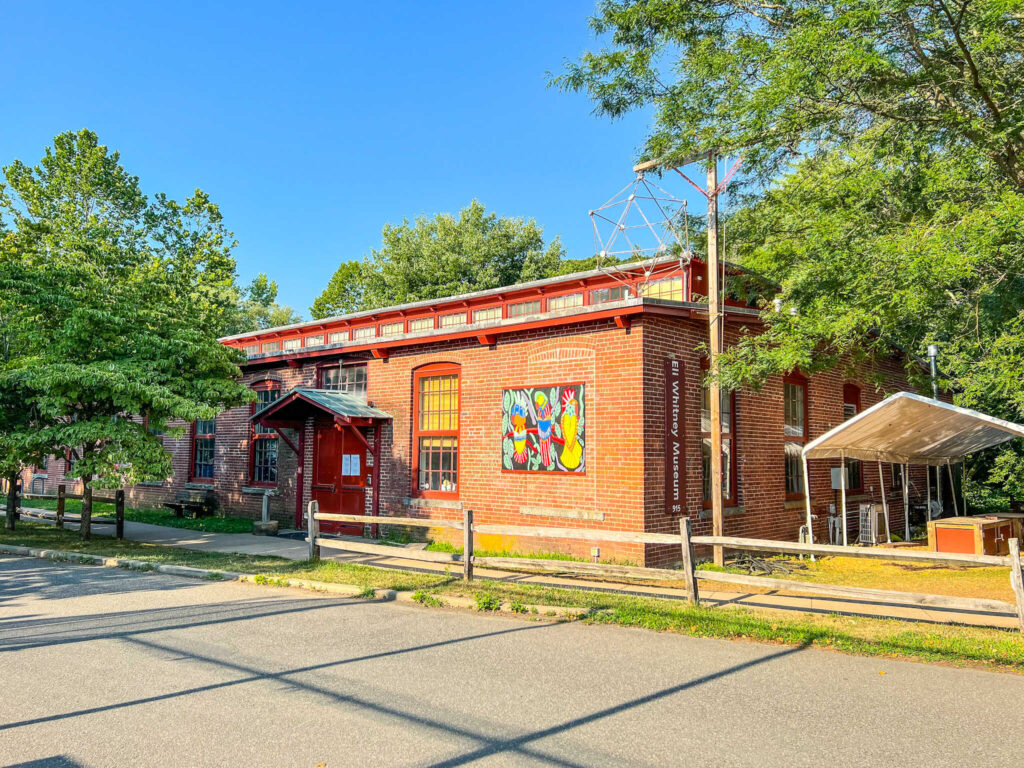 Did you know that New Haven has several world-renown museums?
Many of these incredible museums are part of the Yale University system, like the Peabody Natural History Museum, the Beinecke Rare Book & Manuscript Library, the Yale Collection of Musical Instruments, the Yale Center for British Art, and the Yale University Art Gallery.
However, other museums like the Eli Whitney Museum, the Blessed Michael McGivney Pilgrimage Center (formerly the Knights of Columbus Museum), the Connecticut Children's Museum, the New Haven Museum, and the Palestine Museum are not affiliated with the University.
Even if you're not returning to school this fall, choose any of these centers to spend an afternoon learning more about history and seeing artifacts.
11. Spend a cool, fall day shopping at the Shops at Yale
Missing summer and beaches in New Haven already? Is it a little too cold outside for you?
Spend a too-cool autumn day enjoying one of New Haven's indoor activities.
Right around the corner from the Yale University campus, you'll find The Shops at Yale.
This high-end outdoor shopping center offers an eclectic mix of more than sixty popular brands and local retailers.
You can walk between the different boutiques or grab a snack.
Find your new favorite, cozy sweater to keep you warm as the weather gets colder.
12. Celebrate Oktoberfest at Quassy Amusement Park
Quassy Amusement Park goes all out for two days each September on its Oktoberfest celebration.
You can attend this year's party in their main pavilion, including live music, German food, German beers, and access to their amusement rides all day long.
Make sure to purchase tickets to the event on their website.
13. Visit the Trail of Terror
Located in Wallingford, Connecticut, the Trail of Terror has been one of New Haven county's premier haunted experiences every October.
Actors go all out to make you feel as frightened as possible as you walk through its 1-hour walking path outside.
You must purchase your timed entry tickets online and enter at your designated time, which operates on a first-come-first-serve basis.
What are your favorite fall activities in New Haven?
Lyndsay
Read More