This post may contain affiliate links! I will receive a commission, at no extra cost to you, if you purchase something recommended here.
I don't know if you've ever heard of the phrase "beach culture," but I'm pretty sure you're familiar with the feeling of being at the beach.
The sun warming your skin; the rush of joy when you wade into the water. Going to a beach is fun, relaxing, and refreshing, and it's a great way to get some much-needed vitamin D.
Although summer on the Long Island Sound isn't typically considered a hotspot, the best beaches in New Haven, Connecticut, will give you an authentic New England coastal experience.
Whether you're spending the day lounging around in the sand, playing beach volleyball, or just enjoying the scenery, check out one of these beaches around New Haven county for your next summer day in the sun.
The Best Beaches in New Haven
Know Before You Go: Established in 2018, Connecticut's Passport to Parks Program gives any resident with Connecticut license plates free parking in all state parks. This means many of the best beaches in Connecticut are entirely free to access for state residents, since they're located within Connecticut state parks. 
Hammonassett Beach State Park
Let's start with the best beach on this list! Hammonassett Beach State Park in Madison, Connecticut, stretches for more than 2 miles of the state's shoreline. As the largest shoreline beach, they also have sections for biking, boating, picnicking, and a campsite with more than 500 spaces.
The newly renovated Meigs Point Nature Center, next to the section of beach by the same name, now includes an observation deck and interactive exhibits for kids to learn more about the area's marine life.
Enjoy laying out in the sun, walking the extensive boardwalk, or climbing over the rock barriers. And since it falls under Connecticut's Passport to the Parks program, that means it's absolutely free to park here for state residents!
Once you've had enough fun in the sun, head into Madison's town center for dinner at Grand's Apizza. It's a family-own restaurant serving up excellent pizza in the New Haven style.
Surf Club Park
Just a 5-minute drive from the luxe Madison Beach Hotel, Garvan Point Beach is another great beach in New Haven county. Known as Surf Club Park to the locals, it's a popular, clean beach with a gorgeous sunset view.
Walk along the soft sand on the shore before diving into the Sound for a swim. After your day on the beach, you can visit one of the restaurants nearby, like M & J Beach Grille and Seafood, Cristy's Madison, or one of several restaurants at the Madison Beach Hotel.
Amenities include a picnic area, an outdoor shower and sanitary facilities, seasonal food concessions, grills, and a playground for the kids. There's also a beach volleyball court, a basketball court, and baseball fields.
Although you need to pay for parking or you risk getting a parking ticket, Surf Club Park has free parking after 5 p.m.
Jacobs Beach
Jacobs Beach in Guilford is a hidden gem in New Haven county. It's a beautiful, quiet beach that's perfect for families. You'll find a ton of activities here for kids, like playgrounds, basketball courts, volleyball courts, and a sprinkler area.
Other amenities include a picnic table area with covered tables, outside shower facilities, change rooms and bathroom facilities. They also have boat storage you can sign up for and lifeguards on duty throughout the summer.
The shoreline is covered with seashells here, which makes it a great place to walk around and add to your collection. But, water shoes are essential when you head into the water to keep your feet safe.
Although the small private beach is open to the public, the town of Guilford doesn't offer day passes. You'll need to purchase a full-season pass to access the beach.
Owenego Beach & Tennis Club
If you're willing to spend money on membership for your summer fun, there's no better beach in New Haven county than Owenego Beach & Tennis Club. This laid-back beach club has a pristine Long Island Sound waterfront, where kids can swim and play on the Captain Kids Playground.
For the adults at The O, you can relax on the beach, swim in the water, and kayak to the nearby Thimble Islands. Your membership to the club also gives you access to their tennis courts. Private or shared bathhouses and kayak and boat storage are available for an additional fee with your membership.
Eat at one of their onsite restaurants, and attend their cookouts, dances, and themed nights, so you can truly enjoy your time by the beach all throughout the summer.
Read More
Stony Creek Beach
Stony Creek Beach and Madeira Park in Branford is another beautiful beach in New Haven county, and it's an easy day trip from the city.
It's very clean, with a lovely sandy shoreline where you can relax after swimming and an area for kayaking.
There are lifeguards on duty here from Memorial Day through Labor Day.
If you're interested in taking a boat tour to the Thimble Islands, you'll find the launch point just past the beach.
However, since the parking lot is tiny and there's almost no street parking, make sure to come early to secure your parking space or prepare for a long walk to reach the beach.
Insider Tip: Make sure not to park in the unloading area here at Stony Creek Beach, or you might end your beach day with a ticket!
Branford Point
The local favorite Branford beach is Branford Point. Since it juts out into Branford Harbor, you can find beautiful panoramic views of the coast from this perfect beach day destination.
The small sandy beach is perfect for laying out in the sun with family and friends on a hot summer day. It's clean and pretty quiet during the week, with gorgeous views and stunning sunsets.
You can fish from the stone lookout area or the small public dock. There's also an adjacent park with grills and picnic tables under shady trees.
Although it's a public beach, you need to pay for a sticker to park here for the season, and spaces are limited.
Cosey Beach
As East Haven's town beach, Cosey Beach is a sandy beach with small rocks along the shore and in the ocean. The water here is calm, and there are areas to sit both in the sun and in the shade.
You'll also find a playset with swings, a splash park for kids to play in, a restroom facility, and two large gazebos with picnic tables. You really can spend your whole day here!
Although you need to pay for parking in the beach lots, you can find free street parking on Cosey Ave, within a few blocks of the beach.
Lighthouse Point Park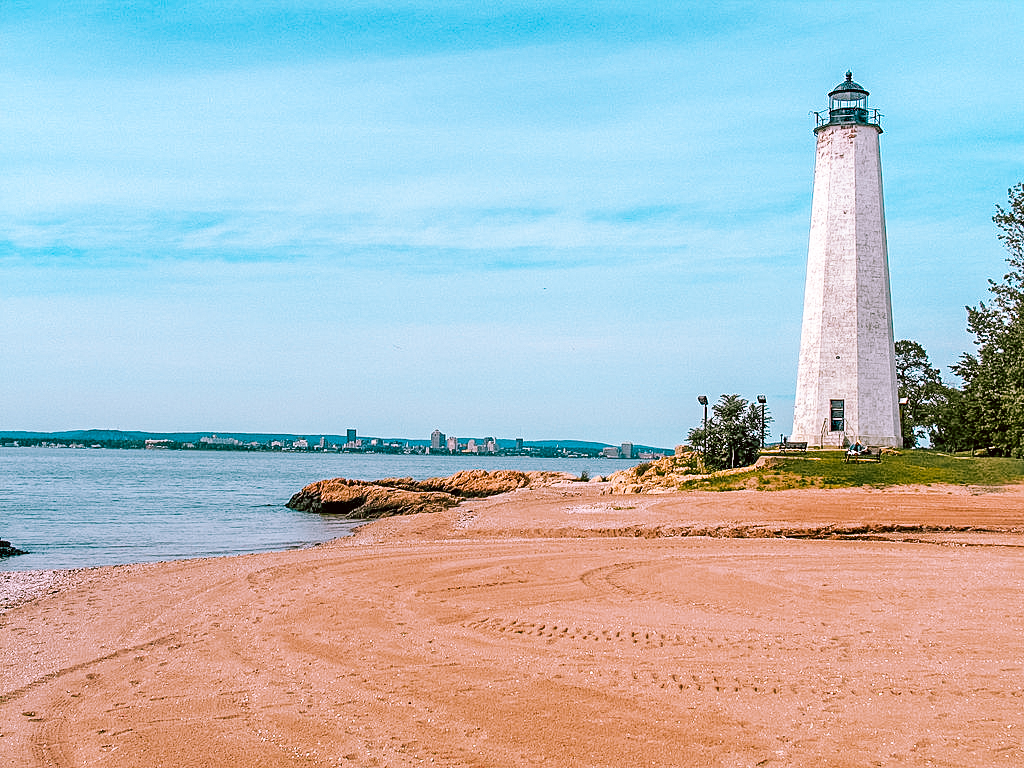 Another one of the best beaches in New Haven? Lighthouse Point Park. It's a beautiful park with breathtaking views; you can swim in the sea, walk along the nature trails, and enjoy a picnic in their designated picnic area.
Aside from the beach area, Lighthouse Point Park also has a still-operational turn-of-the-20th-century carousel and the Five Mile Point Lighthouse, built in 1805 and decommissioned in 1877. And next to the park is the 20-acre salt marsh Morris Creek Nature Preserve.
Fair warning, though–since it doesn't fall under the Passport to Parks program, parking here is only free for New Haven residents. If you live out of the city, parking costs $25 a day–a steep price to pay when other less expensive beaches are equally gorgeous.
And, you'll have to leave your furry friends at home; dogs aren't allowed at Lighthouse Point Park.
Read More
Sandy Point Beach & Bird Sanctuary
If you're interested in birdwatching, visit West Haven's public Sandy Point Beach & Bird Sanctuary. Home to 3 miles of shoreline with a barrier beach, and a salt marsh with a tidal creek, it's an excellent place to look out for rare shorebirds.
Walk along the path to find yourself standing on the edge, out in the middle of the harbor. Then, spend some time lounging on the beach while admiring the views and watching out for the wildlife.
Since this is a bird sanctuary with endangered wildlife, please remember to practice Leave No Trace principles, like correctly disposing of your trash, leaving any nature you might find, and respecting the great outdoors.
Bradley Point and Savin Rock Parks
The small sandy coastline at Bradley Point Park and Savin Rock Park in West Haven is where the British troops landed when invading this region during the Revolutionary War.
This strip of beaches includes Oak Street Beach, Bradley Point Beach, and Sea Bluff Beach.
Quick History: This area was once home to Savin Rock Amusement Park. Opened in the 1870s, Savin Rock Park used to be considered the Coney Island of Connecticut. However, the beachside amusement park closed in 1966. Now, you can attend the Savin Rock Festival each summer to celebrate the site's history and enjoy all the best flavors of summer.
Enjoy the breeze blowing by from the Long Island Sound as you walk along the beachfront walkway, or sit and relax on one of the benches along the path. There's a beach volleyball court, a small playground for kids, and picnic tables.
Lifeguards are on duty here throughout the summer months, and you can pay a daily or hourly rate for parking.
Silver Sands State Park
Another Connecticut state park beach makes the cut! Silver Sands State Park in Milford is another beautiful shoreline state park. You'll find a boardwalk, the beach with sand dunes, wooded and open spaces, and a restored salt marsh among the park's 300 acres.
During low tide, you can walk along a sandbar, called a tombolo, from the beach to Charles Island, which is now designated as a bird sanctuary. You'll find heron and egret birds here and ruins from a 1920s Catholic retreat.
Both the beach and Charles Island are overseen by park rangers to ensure everyone's safety. Just be careful where you're stepping as you walk along the water; there are a ton of seashells poking up from the sand.
You'll find Silver Sands State Park right next to Walnut Beach, just off of I-95.
You're sure to have a chill beach day at one of these popular beaches. What are your favorite beaches in New Haven?
Lyndsay