This post may contain affiliate links! I will receive a commission, at no extra cost to you, if you purchase something recommended here.
While there are so many things to do in New Haven, many of the historic city's activities are outdoors.
However, New Haven also has a varied collection of adventurous activities and American history throughout the town that you need to head inside to experience and explore.
Whether it's too cold in the winter or you're trying to escape the summer heat or a storm, this is your guide to the best indoor activities in New Haven.
The Best Indoor Activities in New Haven
Explore prehistoric fossils at the Yale Peabody Museum of Natural History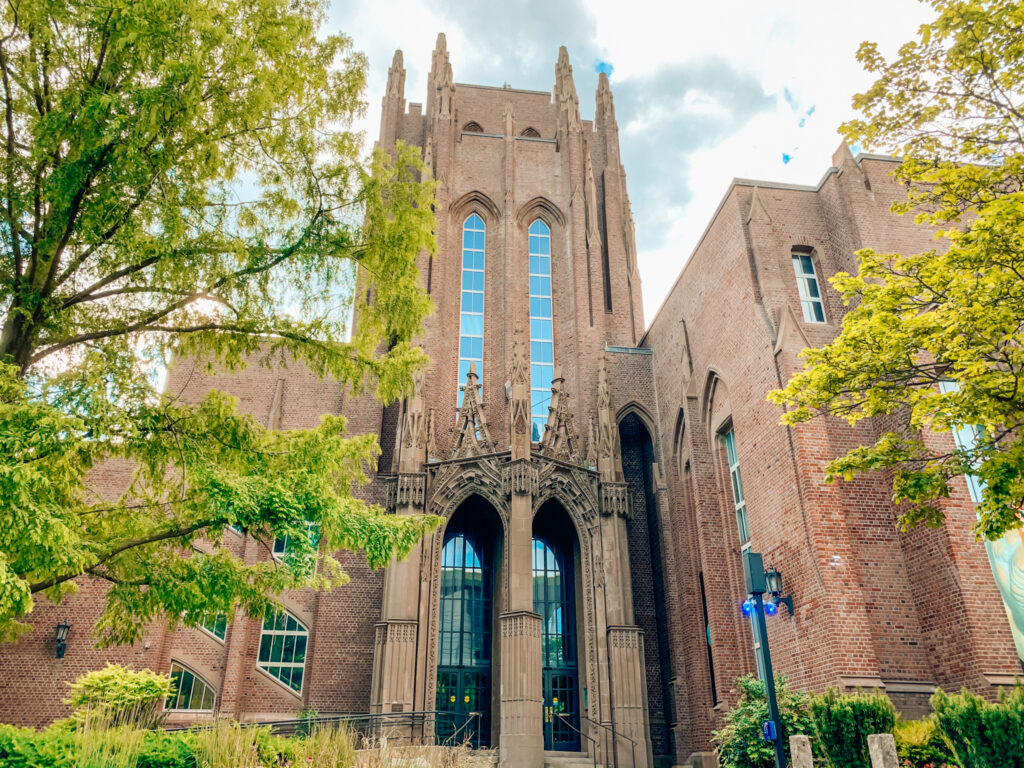 The Peabody Museum of Natural History at Yale University is a fantastic inside activity in New Haven. The museum, founded in 1866, houses numerous world-renowned permanent collections–with the most famous found in The Great Hall of Dinosaurs.
It has a vast collection with several dinosaur skeletons, including a mounted Brontosaurus skeleton and Rudolph Zallinger's The Age of Reptiles mural.
On Saturdays and Sundays, tours of several interactive exhibitions are included with your entrance ticket.
Marvel at the rare works found at Beinecke Rare Book & Manuscript Library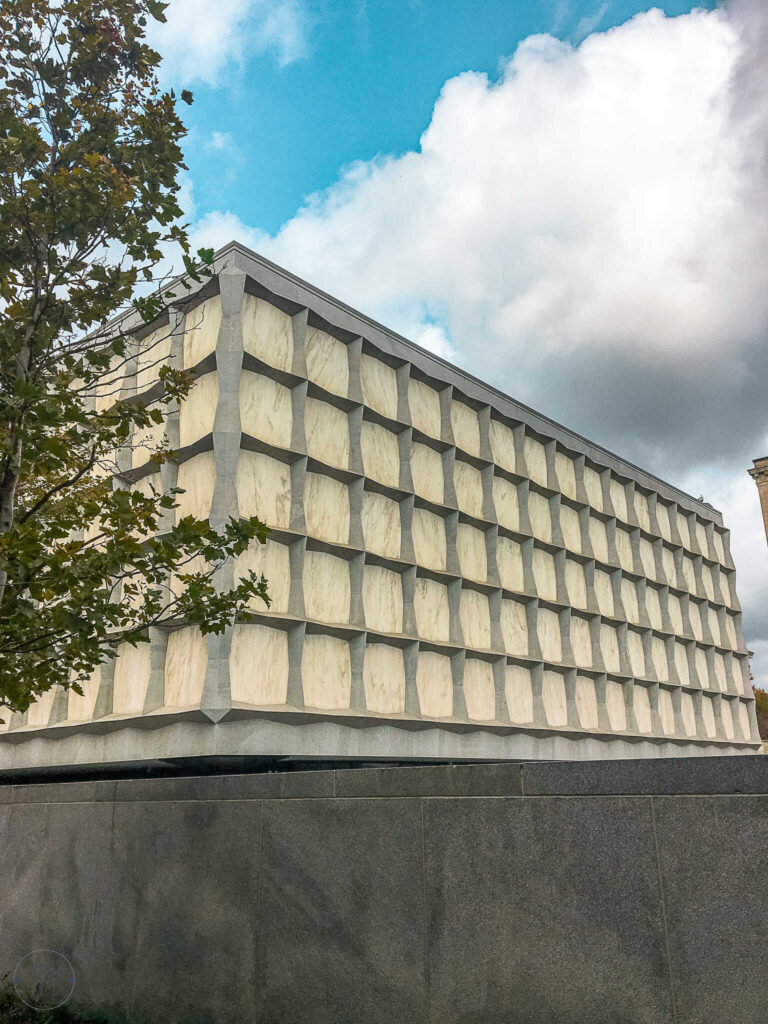 This is one of those libraries that is renowned as a book lover's delight. With over one million total volumes, Yale University's Beinecke Rare Book & Manuscript Library is one of the world's largest collections of rare books and manuscripts.
Since its inception in 1963, the library has amassed some of the very first editions of the United States Declaration of Independence, John James Audubon's Birds of America, and Lewis Carroll's Alice's Adventures in Wonderland.
The structure itself lacks windows; instead, opaque pieces of Vermont marble serve as windows. Sunlight filters through them to reach the literary archives, protecting the precious papers from damage. While access to the prints is restricted to researchers and Yale members, there are several special exhibits open to the public, such as the University library's first volumes going back to 1742 and the Gutenberg Bible.
Explore the galleries at the Yale Center for British Art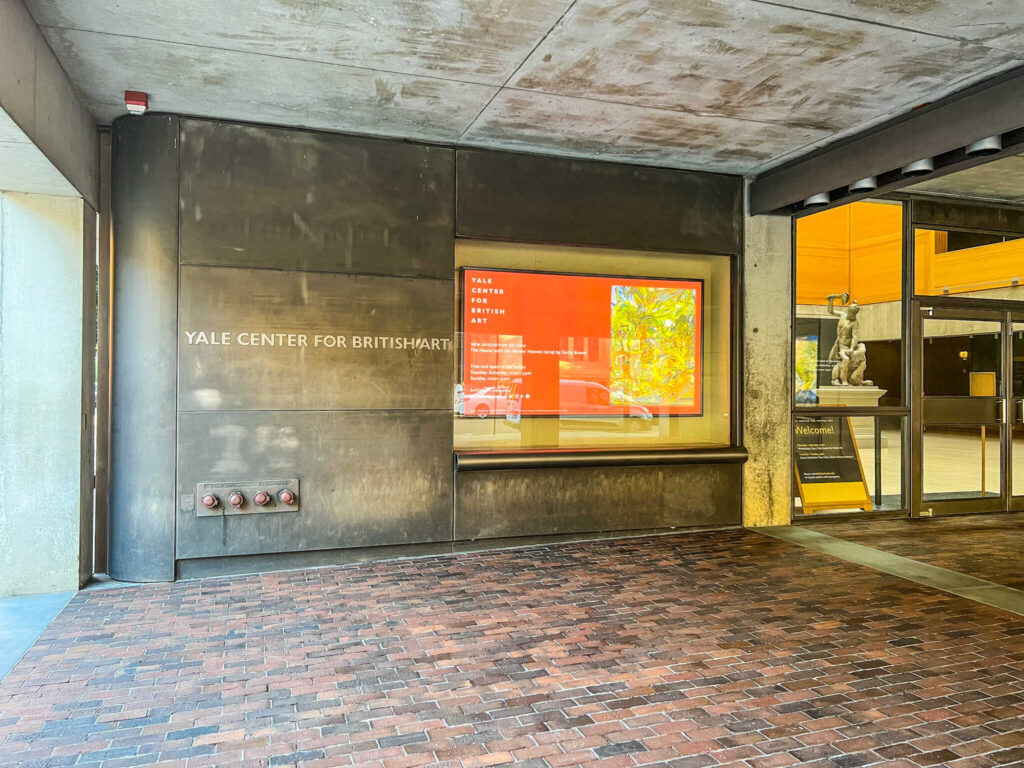 The Yale Center for British Art, which holds the most extensive collection of British art outside of the United Kingdom, should not be missed. Its enormous collection includes thousands of works by artists dating from the 1400s to the present day, ranging from paintings, sculptures, and pictures to scholarly volumes on the rich history of British art. Among its permanent exhibitions are some works by Americans who lived in Britain throughout this period.
While alumnus Paul Mellon gifted the permanent collection to Yale in 1966, the sustainable structure that houses the University art museum was designed and erected by Louis I. Kahn in 1977, directly across the street from the Yale University Art Gallery.
The Center offers free admission, public tours of the works, special exhibitions, and architecture, as well as a research program consisting of lectures, conferences, and workshops. They also offer an app you can use inside the museum or at home and act as a guide to its artworks.
Play at It Adventure Ropes Course at Jordan's Furniture
Jordan's Furniture is a New England furniture retail franchise housed in the former New Haven Register newspaper building. And aside from the usual sections in a furniture store, each Jordan's location has a distinct attraction. You'll find the world's biggest indoor high ropes course at the New Haven location.
It Adventure Indoor Ropes Course is fantastic! Inside this New Haven indoor activity, you'll find a perfect rainy day activity–two ropes courses and a slew of varied adventurous indoor sports, such as rock climbing walls and zip lines.
Catch a performance inside one of New Haven's award-winning theaters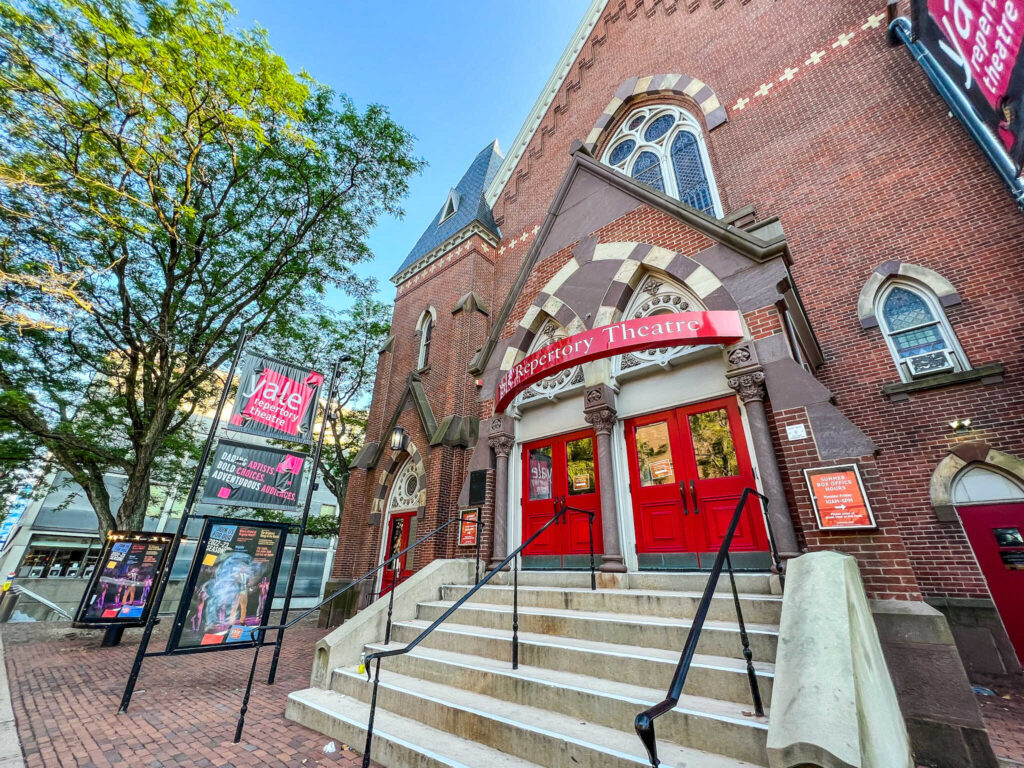 New Haven boasts three world-class professional theaters with regular performances, only two hours north of New York City's famed Broadway Theatre District.
Since its opening in 1914, the historic Shubert Theater has been an important regional theater in the New York City metro area. It hosts touring plays and musicals, as well as international ballets and performances.
Yale Rep is the resident professional company of Yale University's School of Drama and also won a Tony Award for Outstanding Regional Theatre. You can find their production schedule here.
The Long Wharf Theatre presents six plays in its two performance spaces every season. The honorary Tony Award-winning theatre's schedule is available on its website.
Learn at the Eli Whitney Museum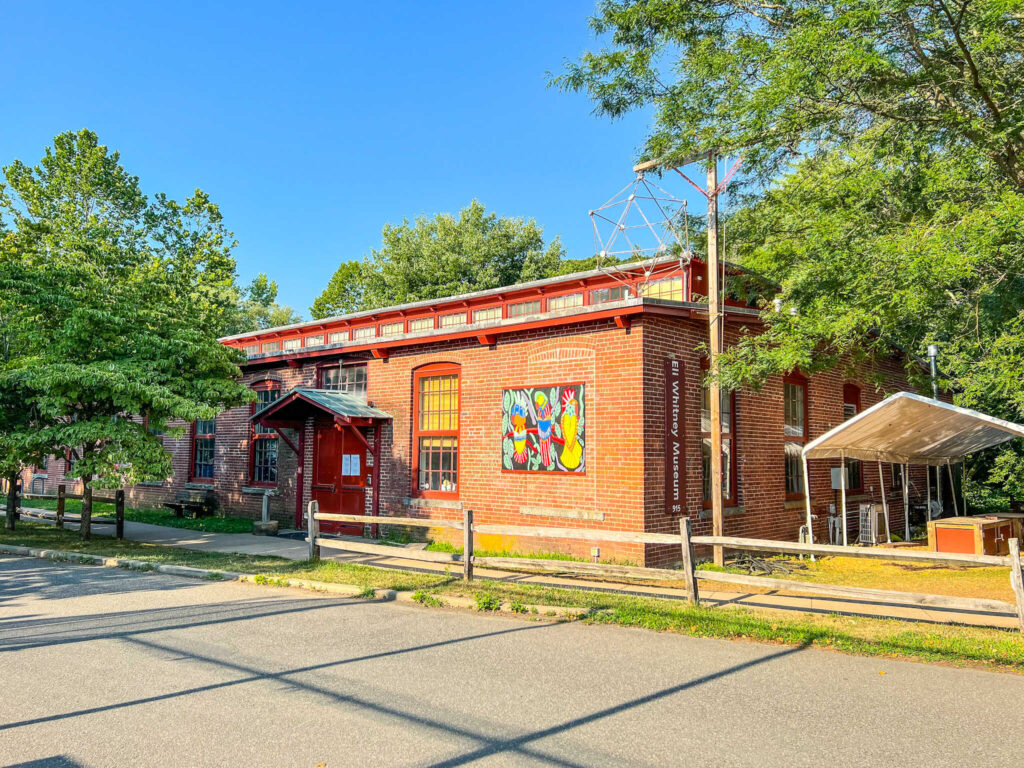 Found just over the border on the Hamden side of New Haven, the Eli Whitney Museum is a phenomenal place to spend your day when you're looking for New Haven indoor activities.
Born in 1765, Eli Whitney was an American inventor during the Industrial Revolution who invented the cotton gin. This invention, which separated cotton seeds from cotton fibers, rapidly sped up the process and is considered one of the most important designs of the time.
At the Eli Whitney Museum and Workshop, you can visit several historic sites and installations on its property and participate in children and adult education workshops. Their walk-in programs are available only on the weekends.
You can learn more about the different museum exhibits and workshops on their website.
Read More
Play your day away at Elm City Games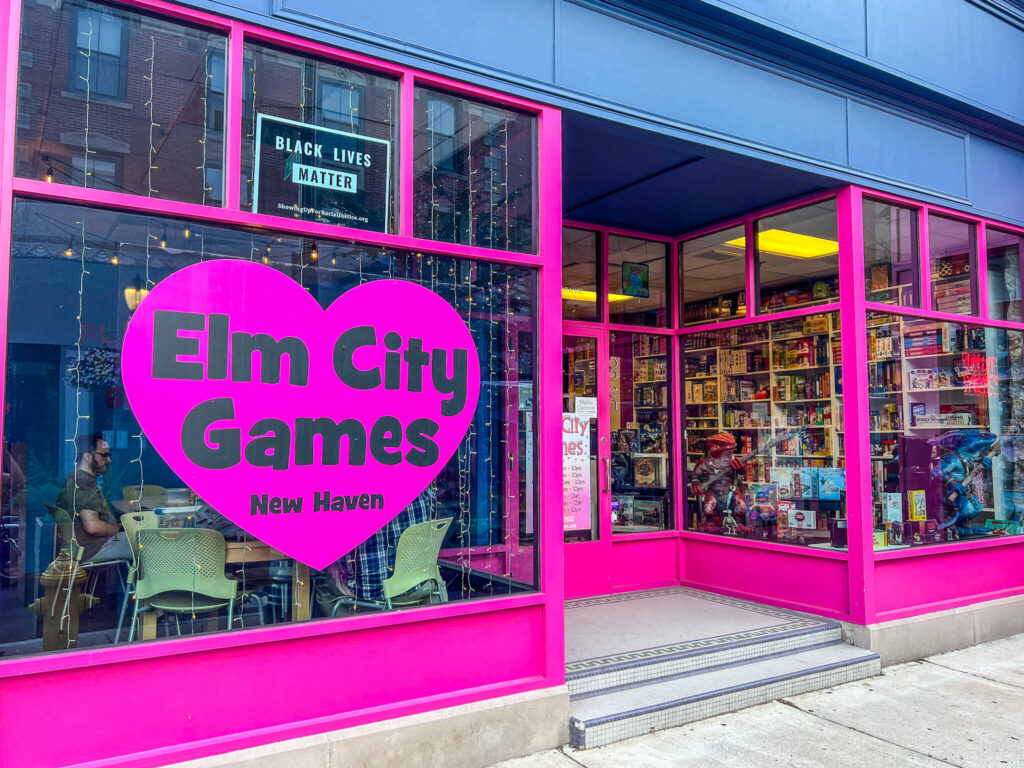 I don't know about you, but when I was a kid, board games were a go-to way to spend a rainy or snowy New England day. However, if you don't own any of your own, head over to Elm City Games.
This game shop and the library are home to more than 1,500 games, where you can sit down to play all kinds of tabletop board games, card games, and dice matches. It's only $10 for a day pass, including access to any games in their shop.
You're bound to find far more options than standard classics like Monopoly, Sorry, or Chutes and Ladders, and you have the opportunity to buy any game in the store.
Challenge your friends inside at Barcade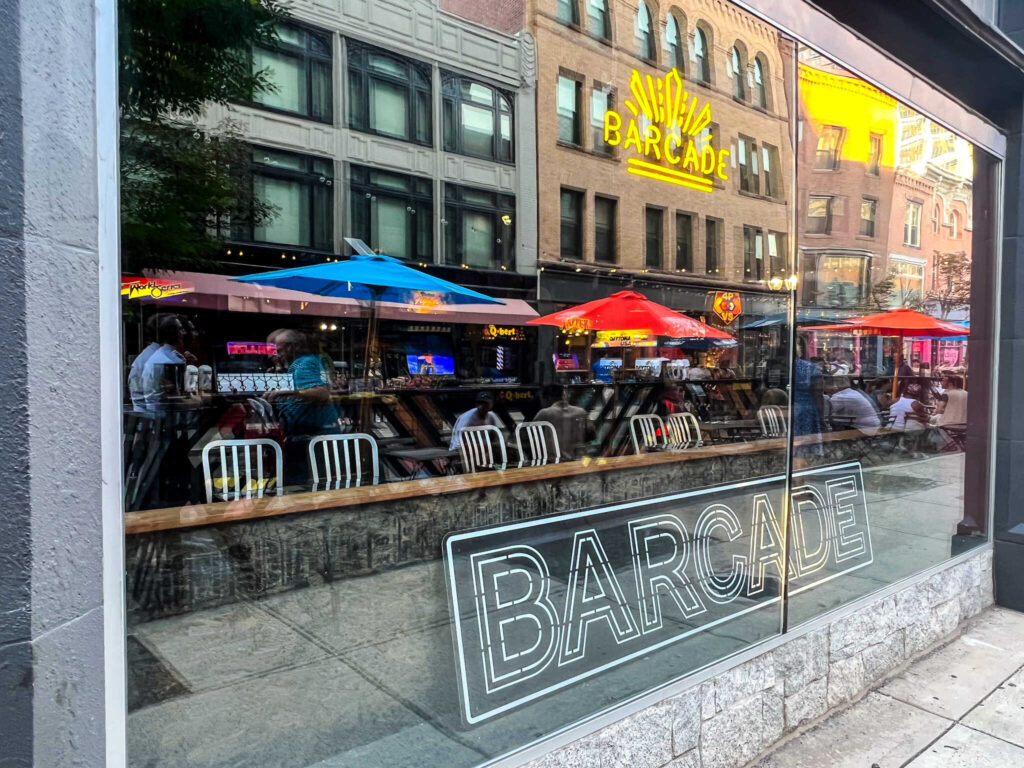 Barcade, "The Original Arcade Bar" opened in Brooklyn, New York City, in 2004, blending American craft beer and classic arcade games for a genuinely unique gaming experience.
Because the facility is designed in the arcade format, there are several hands-on activities and classic games to enjoy. Each location has roughly 40 games from the mid-1970s to the early 2000s.
In addition to New Haven, they have locations in Manhattan, Jersey City, and six other cities around the country. Spend your rainy day in New Haven here inside, sampling different beers, and daring a friend to beat your top score.
Take over a booth inside one of New Haven's top apizza places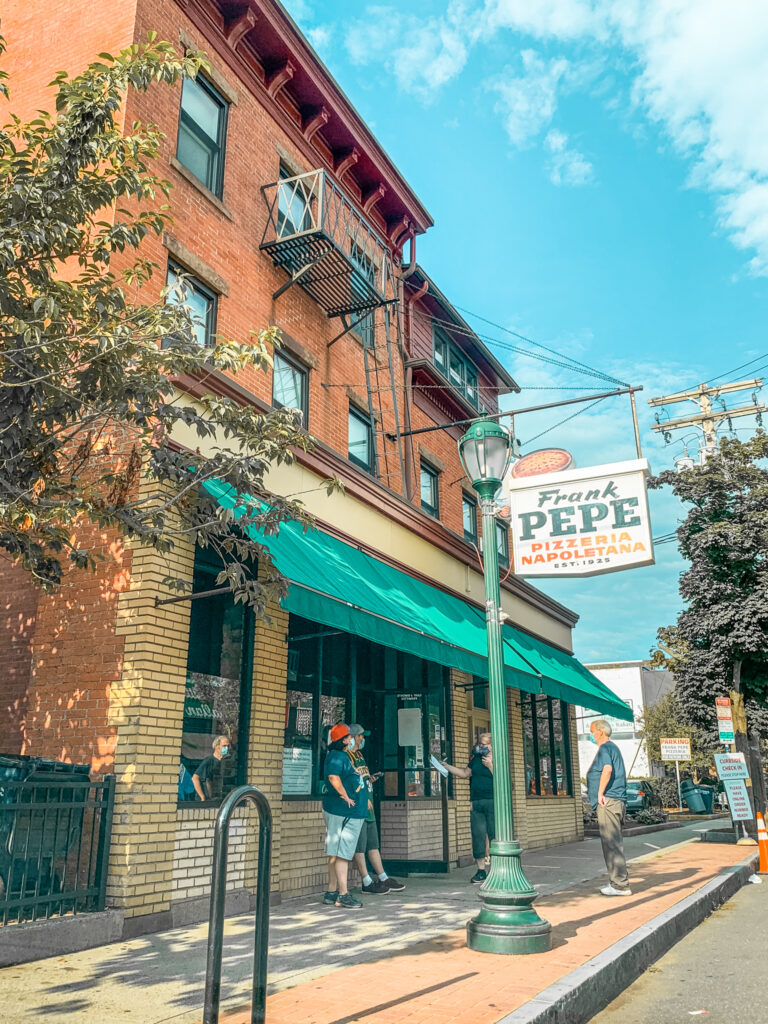 To be honest, pizza is already near-perfect. However, in the little state of Connecticut, there is a pizza style that is truly the best of the best. At the start of the twentieth century, immigrants from nearby Naples, Italy, established the thin-crust, oval-shaped, and usually coal-fired which gives it a signature char apizza style in New Haven, Connecticut.
Sally's, Modern, and BAR (which has originated their own flair on the apizza style and one of the best Connecticut breweries) are just a few of the top restaurants in New Haven, Connecticut, that serve the style.
However, the pie was invented by Frank Pepe Pizzeria Napoletana and is still primarily regarded as the greatest. Pepe's hallmark Apizza is their white clam pizza, which is topped with fresh littleneck clams. I guarantee you'll enjoy it.
Usually, there's a line out the door to sit down in one of these restaurants, but once you're inside, you can sit back, relax, and enjoy your apizza in peace–with a bottle of local Foxon Park soda; of course!
Wander through The Shops at Yale
Right around the corner from the Yale University campus, you'll find The Shops at Yale. This high-end outdoor shopping center offers an eclectic mix of more than sixty popular brands and local retailers.
They also have everything from quick bites and snacks to excellent, sit-down restaurants. Although you'll be outside a little bit, spend your day popping between the different shops and boutiques and stopping into the various restaurants for meals and snacks when you need a shopping break.
Visit the Yale Collection of Musical Instruments
Established in 1900, the Yale Collection of Musical Instruments is a fascinating museum within the Yale University system. Part of the Yale School of Music, the museum is home to musical instruments spanning more than three centuries.
Famous instruments on display include a 1742 organ from John Snetzler, a 1784 clavichord from Hoffman, and pianos from Könnicke dating back to 1795.
The museum actually hosts a historically accurate concert each year, using instruments from their collection. You can wander around inside and visit their permanent and temporary exhibits during their admission hours; however, the museum is currently closed for renovations.
Catch a performance by the New Haven Symphony Orchestra
For over 120 years, the New Haven Symphony Orchestra has been filling the concert halls of New Haven with beautiful music. Around the turn of the 20th century, German immigrant Morris Steinert was encouraged to form an orchestra with other amateur musicians. The NHSO has been filling the city with music ever since.
Fun Fact: The New Haven Symphony Orchestra is the the fourth-oldest orchestra in the United States.
The Symphony has a classics series and a pops series, depending on what style of music strikes your fancy, as well as family and special events added in throughout their season.
Most of their performances are inside at the Lyman Center for the Performing Arts in New Haven, but their calendar season includes performances in venues all over New Haven county.
Read More
Unlock your creativity as a paint and sip class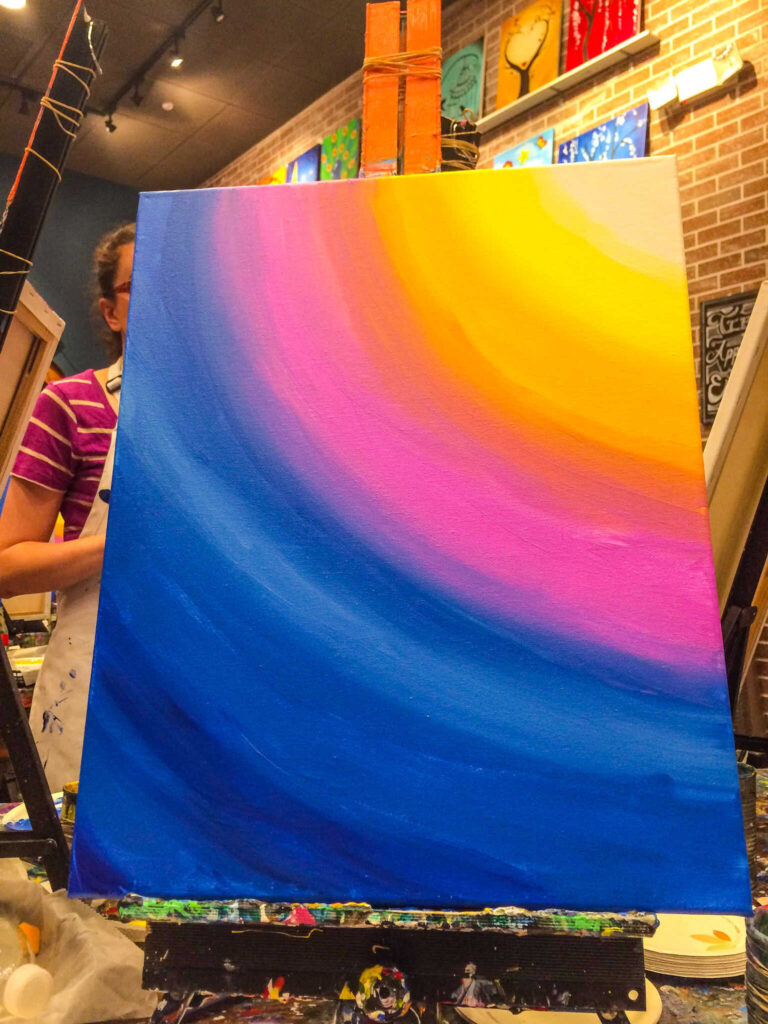 At Muse Paintbar, anyone can unlock their creativity. Just a ten-minute drive from downtown New Haven, head over to the Post Mall in Milford to spend a few hours lost in the art of painting.

When you head to their website, you can peruse the class times and what painting will be taught during that period. Once you decide, you can book online and show up at the start!
They provide all of the paints, brushes, and canvas you'll need to create your masterpiece, and you can buy small bites and drinks from their menu to accompany your painting time.
Since opening in 2012, Muse Paintbar has expanded across the eastern seaboard, with locations all over New England and even as far south as Virginia.
Test your skills with friends inside at Escape New Haven
One of the best indoor activities in New Haven is an adventure at Connecticut's top escape room venue. At Escape New Haven, you and your team will have about an hour to solve the mystery of your game room.
All of their games are created in-house and run by a top team of game masters so that you can have an incredible, immersion gaming experience.
Fun Fact: They also offer several outdoor adventures leading you to uncover the details throughout downtown New Haven.
Escape New Haven also has locations in Providence, Rhode Island, and Sacramento, California.
Find your next great read at the Atticus Bookstore Café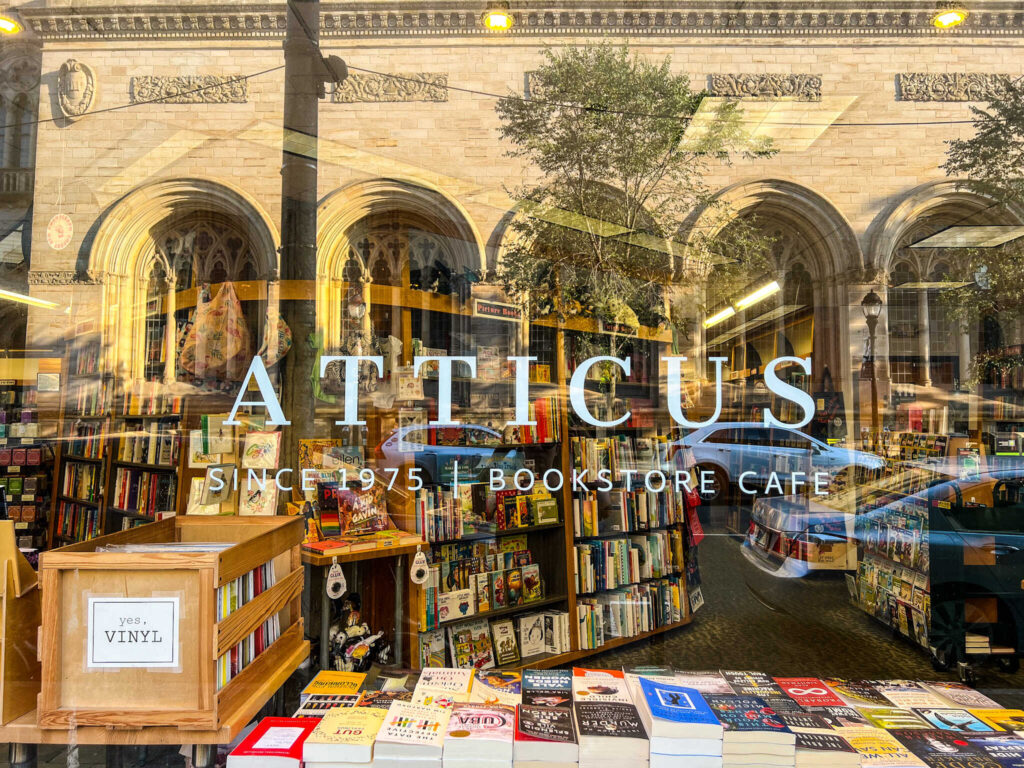 Just as the name implies, you can find both great food and your new favorite novel–all without leaving the Atticus Bookstore Café!
The original location opened in 1975 on the first floor of the Yale British Art Museum. You'll find a selection of classic, new releases and "Staff Picks" to peruse, as well as their excellent food and bakery goods.
Along with the original cafe, they've since expanded to include the Atticus Market in the East Rock neighborhood of New Haven.
Head inside the PEZ Visitor Center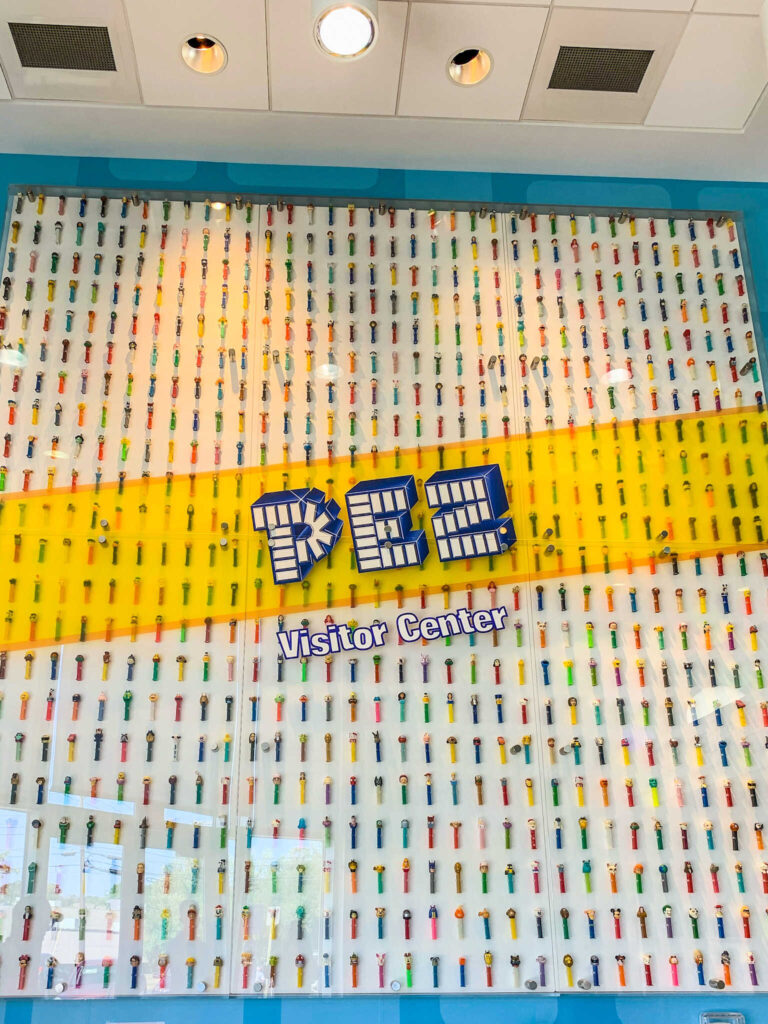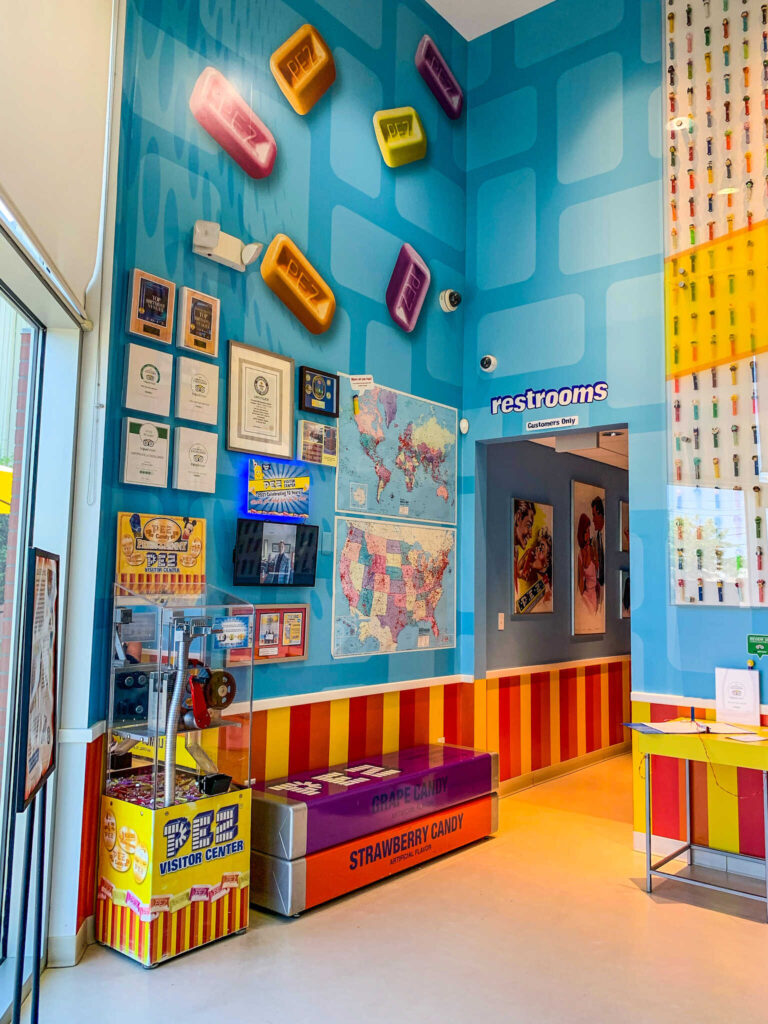 You remember the coolest of all the cool candies, right? PEZ has been around for every iconic cultural moment of the 20th century, and you can explore it all for yourself.
Invented in Vienna, Austria as an alternative to smoking in the 1920s, PEZ has become one of the most iconic candies, with its many, many dispensers becoming highly-coveted collector's items.
Fun Fact: PEZ gets its name from pfefferminz, the German word for peppermint. The first letter P, the middle letter E, and the last letter Z.
Just over in Orange, Connecticut, you can visit the PEZ Visitor Center. Spend your day inside this New Haven hidden gem, learning more about the history of the company, see famous PEZ dispensers from years-gone-by, and watch the production facility prepare and package the famous tablets and their tubes.
Attend an ancient Compline mass at Christ Church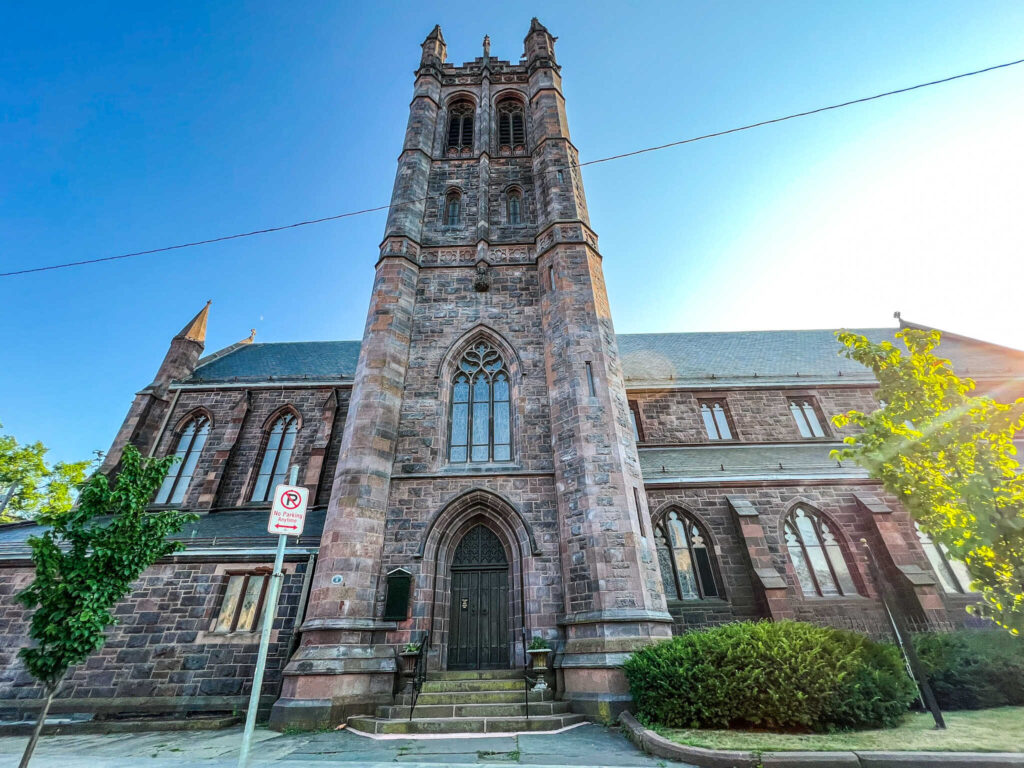 At Christ Church near the Shops at Yale, you can experience a true Compline mass every Sunday night during the university terms.
Starting at 9 p.m., the Christ Church choir sings the ancient hymns from a hidden location in the church, while the whole interior is illuminated by candlelight. This is also one of my favorite things to do in New Haven at night.
Compline – also known as Complin, Night Prayer, or the Prayers at the End of the Day, is the final church service (or office) of the day in the Christian tradition of canonical hours, which are prayed at fixed prayer times…In Western Christianity, Compline tends to be a contemplative office that emphasizes spiritual peace. In most monasteries it is the custom to begin the "Great Silence" after compline, during which the whole community, including guests, observes silence throughout the night until after the Terce the next day.

"Compline." Wikipedia, Wikimedia Foundation, 8 Mar. 2022.
What are your favorite New Haven indoor activities?
Lyndsay