This post may contain affiliate links! I will receive a commission, at no extra cost to you, if you purchase something recommended here.
Founded in 1701, Yale University is the third-oldest University in America. The University is known for its academic excellence, research, and strong tradition of independence and freedom of thought.
The Yale University campus covers over 300 acres and includes over 100 buildings throughout New Haven, Connecticut.
With so much history surrounding the University and weaving into the city of New Haven, there are some absolutely incredible things to do near Yale University that you need to discover.
Whether you're a Yalie or just visiting the Elm City, there are so many fascinating things to do around Yale University that the public can access. Here's your chance to discover one of the most prestigious universities in the world.
Things to do Around Yale University
Take a tour of the historic Yale University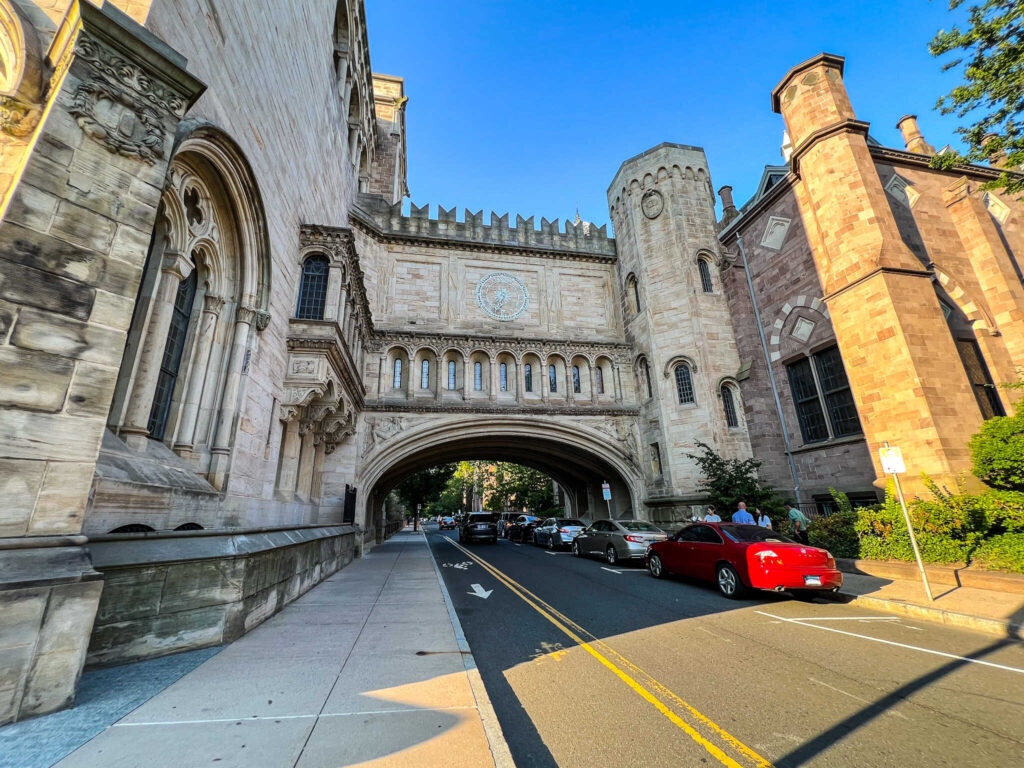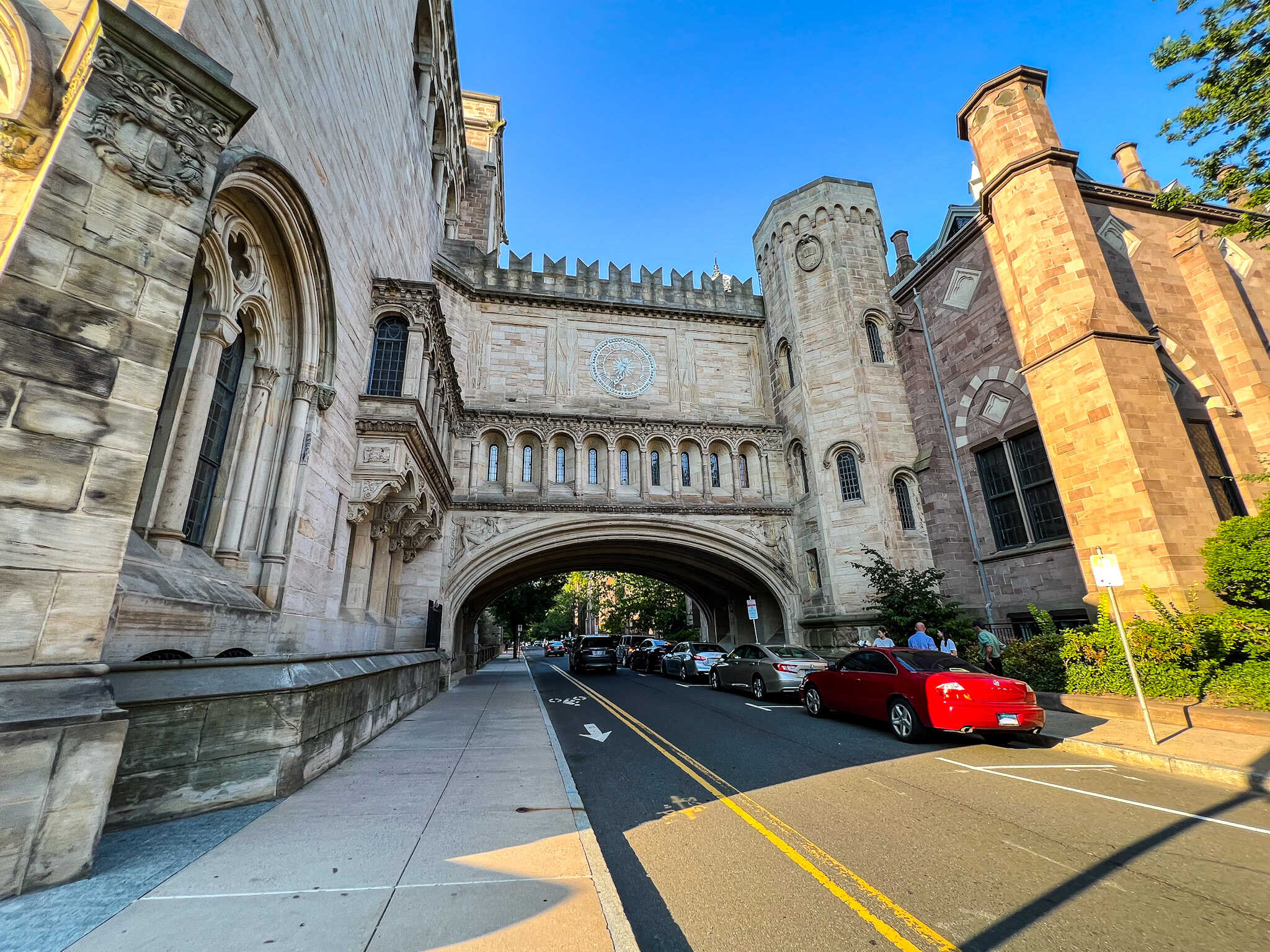 The Ivy League university is an institution in New Haven, Connecticut. Yale University was founded in the 1640s by colonial clergymen who wanted to build a school in the European tradition.
In 1718, it was formally called Yale College after Elihu Yale, a Welsh businessman and supporter of the school. It is the third-oldest University in the United States, after only Harvard University and the College of William & Mary in Williamsburg, Virginia.
Yale has produced countless renowned graduates and has been a site of tremendous intellectual study and accomplishment throughout its history.
Visitors can walk the campus at their leisure. Still, they can also enjoy a free tour of the historic campus given by current students.
The tour departs daily from the Visitor Center, located just across from the New Haven Town Green. The campus architecture is stunning, and a stroll around the storied academic grounds is a must. You can also sign up for an online free virtual, interactive campus tour.
Explore prehistoric fossils at the Yale Peabody Museum of Natural History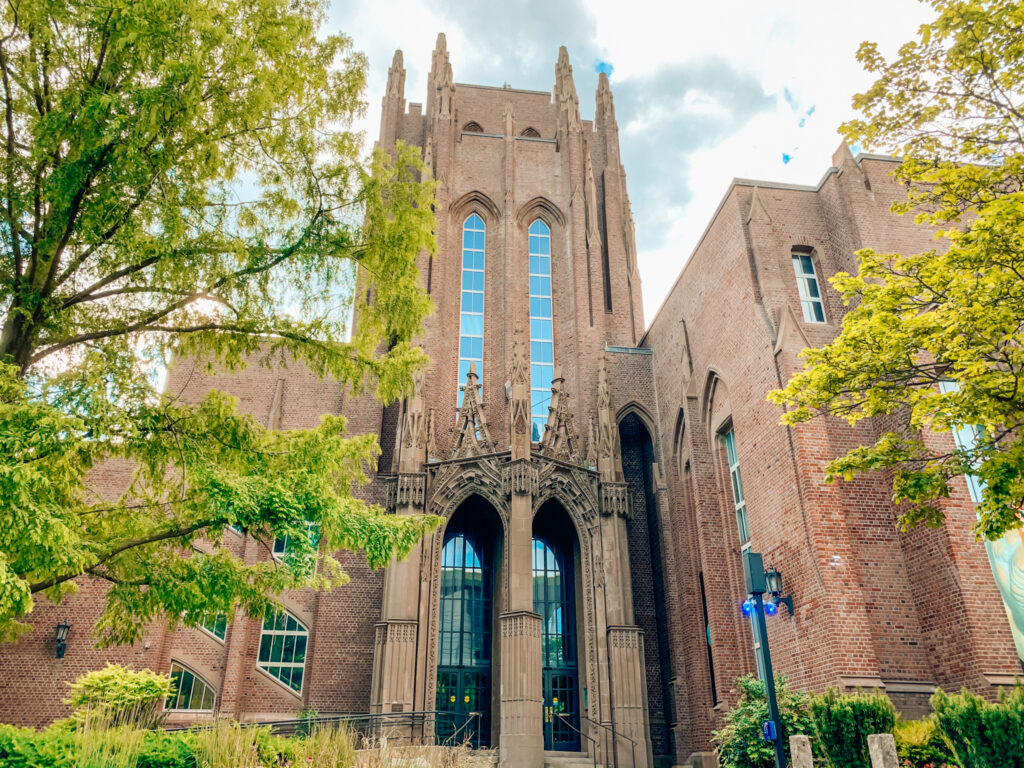 Looking for dinosaur-related activities in New Haven? The Peabody Museum of Natural History at Yale University is a fantastic place to visit.
The natural history museum, founded in 1866, houses numerous world-renowned permanent collections. The most famous is found in The Great Hall of Dinosaurs. It has several skeletons, including a mounted Brontosaurus skeleton and Rudolph Zallinger's The Age of Reptiles mural.
On Saturdays and Sundays, tours of several interactive exhibitions are included with your entrance ticket.
Admire the Collegiate Gothic-style architecture of Yale University's Sterling Memorial Library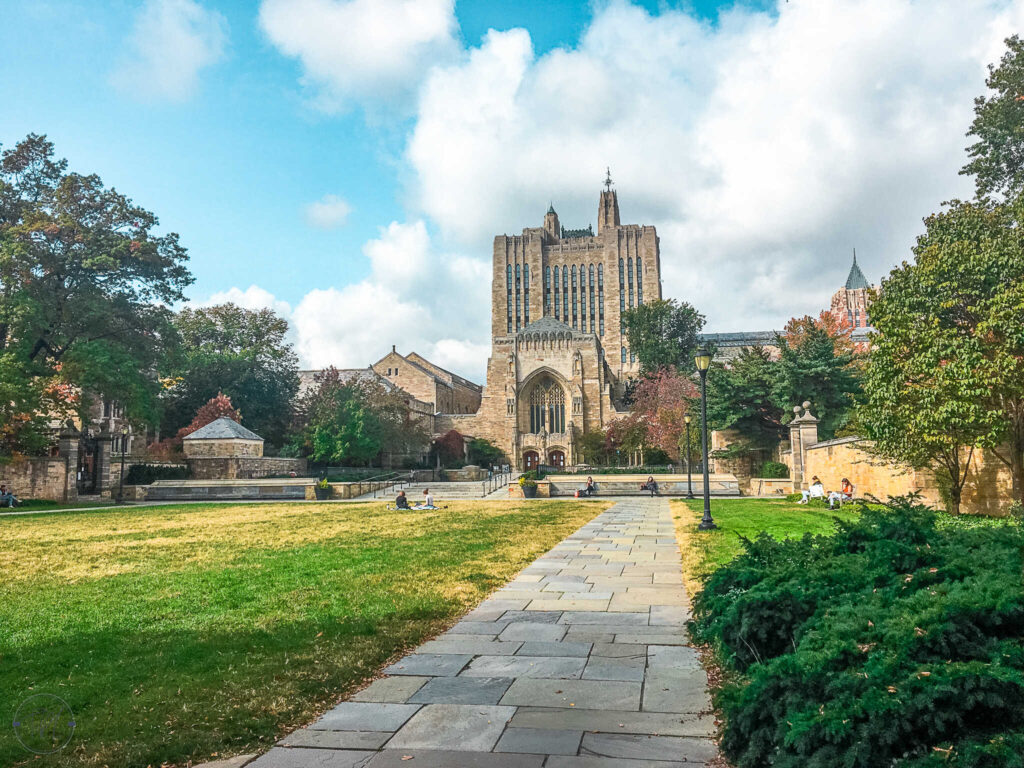 The Sterling Memorial Library is another iconic building on the Yale University campus. Also known as Cross Campus Library, the school's primary library location is home to more than 2.5 million books across its sixteen floors.
The library opened in 1931 and is named after John W. Sterling, a lawyer. He donated over $17 million to the University to construct a needed building. James Gamble Rogers, also the architect of Harkness Tower, designed the building to be reminiscent of a European Gothic-style cathedral.
Although public tours inside the library are currently suspended, you can listen to a podcast produced by the Yale Library to learn all about the rich history and artifacts found inside the historic building.
Marvel at the rare works inside the Beinecke Rare Book & Manuscript Library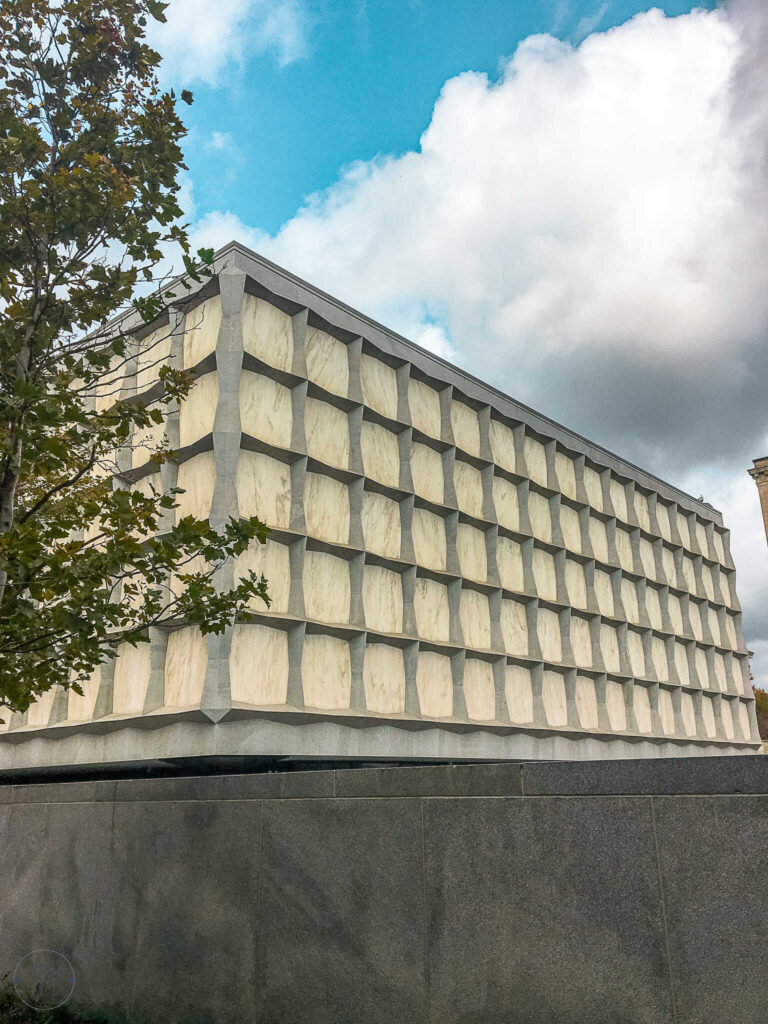 With over one million total volumes, Yale University's Beinecke Rare Book & Manuscript Library is one of the world's largest collections of rare books and manuscripts.
Since its inception in 1963, the library has amassed some of the very first editions of the United States Declaration of Independence, John James Audubon's Birds of America, and Lewis Carroll's Alice's Adventures in Wonderland.
The structure itself sits next to the Sterling Memorial Library and lacks windows; instead, opaque pieces of Vermont marble serve as windows. Sunlight penetrates through them to reach the literary archives, protecting the valuable materials.
Access to the archives is restricted to researchers and Yale members. However, several special exhibitions are open to the public, like the University library's first volumes going back to 1742 and the Gutenberg Bible.
Explore the galleries at the Yale Center for British Art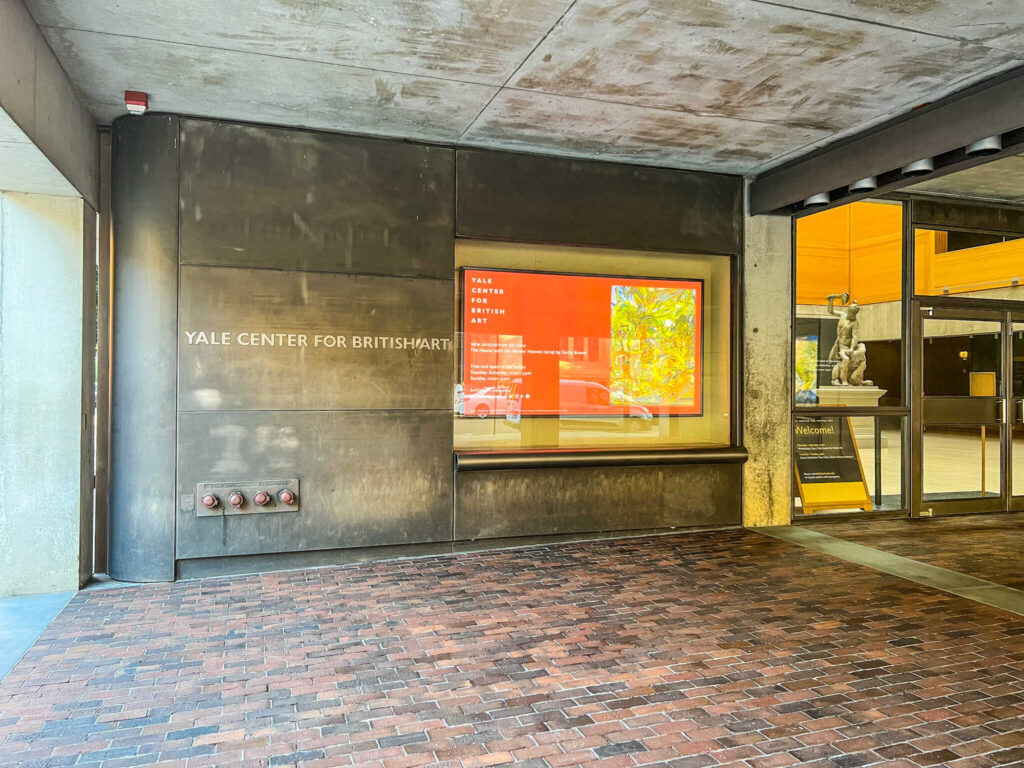 Another thing to do around Yale is the Yale Center for British Art, which holds the most extensive collection of British art outside of the United Kingdom.
Its enormous collection includes thousands of works by artists dating from the 1400s to the present day, ranging from paintings, sculptures, and pictures to scholarly volumes on the history of British art. Among its permanent exhibitions are some works by Americans who lived in Britain during the period.
While alumnus Paul Mellon bequeathed the permanent collection to Yale in 1966, the sustainable structure that houses the University art museum was designed and erected by Louis I. Kahn in 1977, directly across the street from the Yale University Art Gallery.
Public tours of the paintings, special exhibits, and architecture are available, as is a research program that includes lectures, conferences, and workshops. They also have an app that can be used inside the museum or at home and acts as a guide to its artworks.
And, admission to the Yale Center for British Art is free, making it an excellent indoor activity for rainy or cold days in New Haven.
Find your next favorite read at the Atticus Bookstore Café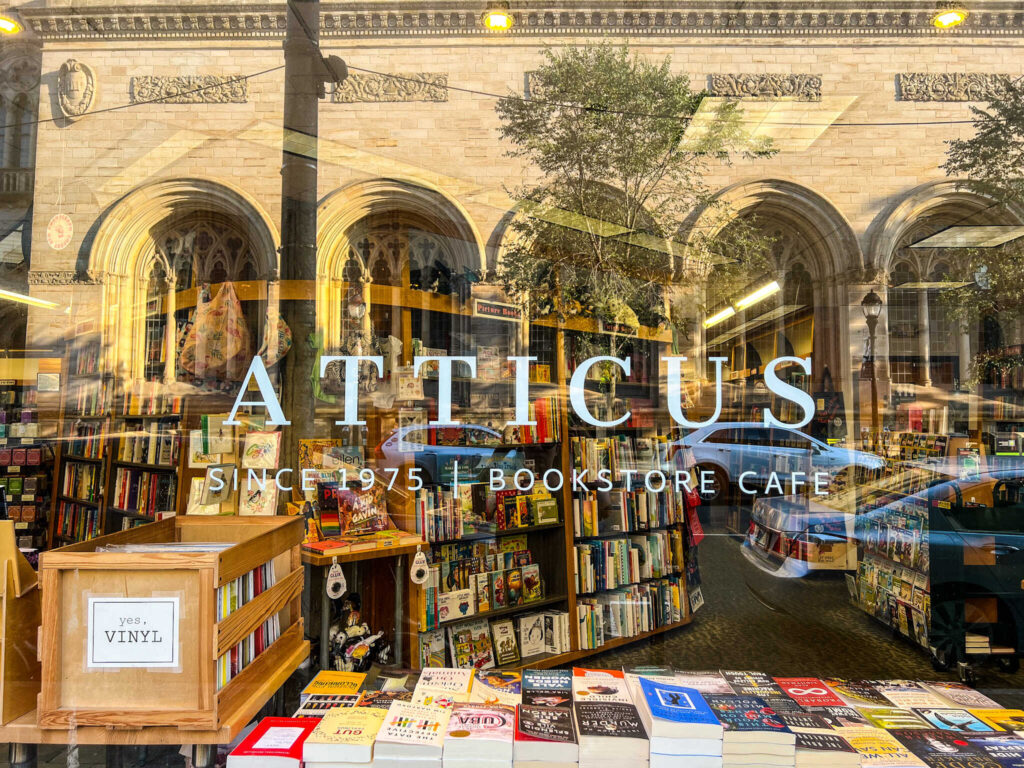 You can discover both great food and your new favorite novel without leaving the Atticus Bookstore Café.
Their first location opened on the ground floor of the Yale British Art Museum in 1975. You can browse classics, new releases, staff picks, and their excellent food and pastries.
They've now grown to include the Atticus Market in New Haven's East Rock area and the original café.
Explore the Yale University Art Gallery
On the other side of Chapel Street from the Yale Center for British Art, the Yale University Art Gallery has over 300,000 works in its collection. Its mission is to protect and showcase all different forms of artwork from any period.
Since its founding in 1832, it's known as the oldest university art museum in the United States. You can tour its collection and participate in any of its events free.
Pay your respects at the Grove Street Cemetary
Grove Street Cemetery, located next to the Yale campus, is the final resting place of some of New Haven's most notable former inhabitants, including Connecticut inventor Eli Whitney, who created the cotton gin.
After the old New Haven Town Green cemetery became overcrowded, it was constructed in the 1790s as the country's first registered burial grounds.
The cemetery's entry gate, regarded as an outstanding example of Egyptian Revival architecture, is notable. It's a peaceful, historic place full of incredible monuments.
Marvel at a performance by the Yale Repertory Theatre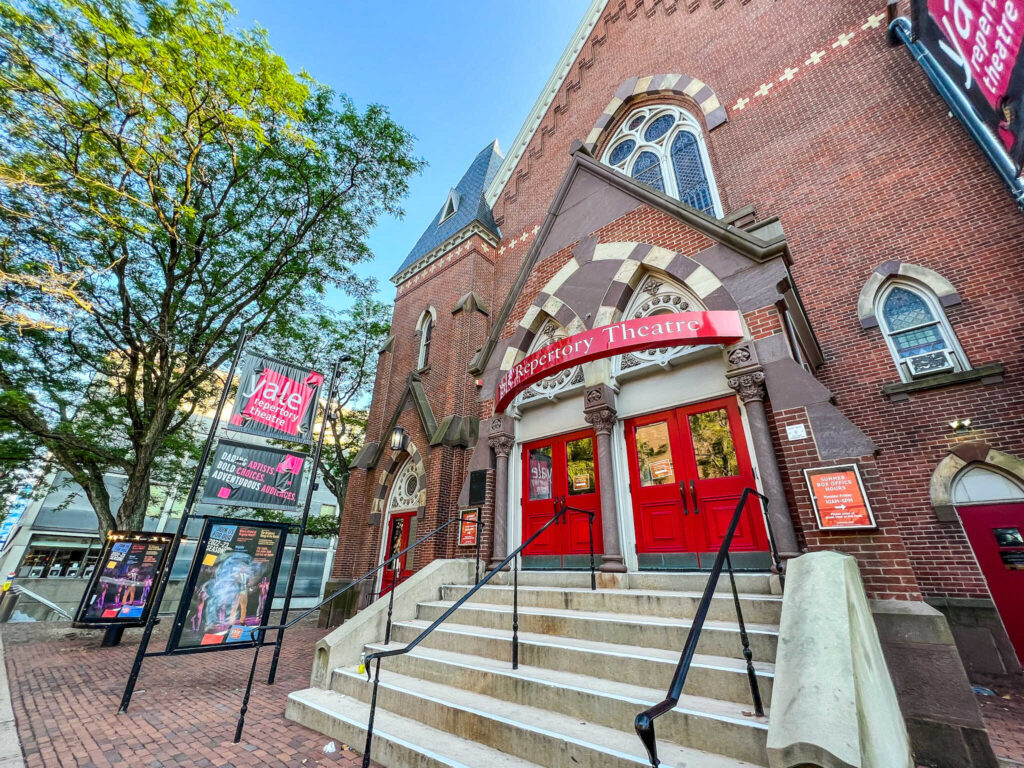 Yale Rep is the professional-in-residence company at Yale School of Drama–one of the most highly regarded theatre programs in the United States–and has earned a Tony Award for Excellence in Regional Theatre.
Since its debut in 1966, they've had seventeen productions transferred to Broadway and premiered over 100 new works.
Visit the Yale Collection of Musical Instruments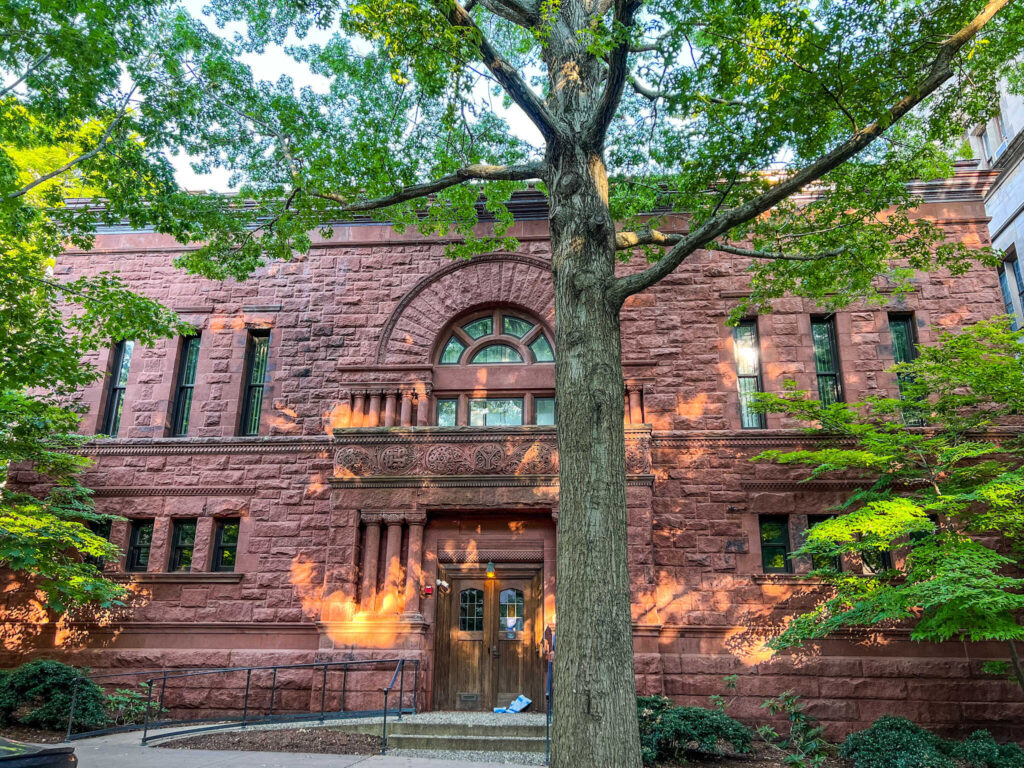 The Yale Collection of Musical Instruments, established in 1900, is a fascinating museum inside the Yale University system. The Yale School of Music's museum has musical instruments dating back over three centuries.
Among the special instruments on display are a 1742 organ by John Snetzler, a 1784 clavichord by Hoffman, and pianos by Könnicke dating back to 1795.
Every year, the museum puts on a historically accurate concert with instruments from its collection. During admission hours, you can explore their permanent and temporary exhibitions; however, the museum is now closed for restoration.
Cheer on the Bulldogs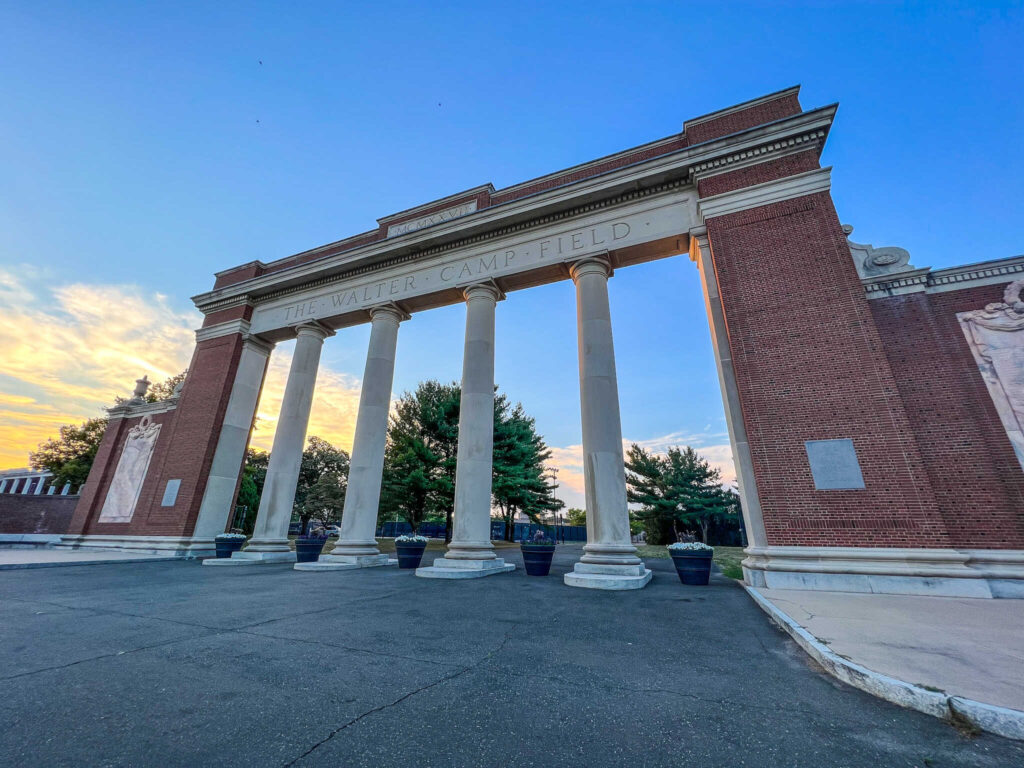 If you're looking for some of the best things to do around Yale University, you can't miss an opportunity to cheer on the Bulldogs!
The Yale football team plays at the Yale Bowl, while the Yale mens' and womens' hockey teams play at the Ingalls Ice Rink. Tickets for these three teams can be purchased on their respective websites.
Fun Fact: Due to stadium renovations, the Giants NFL football team used the Yale Bowl as their home facility for twelve games from 1973 to 1974.
Wonder about what's inside the Skull and Bones Tomb
First of all, this is not a functioning mausoleum on the Yale University campus.
Secret Societies are to Ivy League universities as fraternities and sororities are to other American colleges.
The Skull and Bones Society at Yale is one of the most famous, with numerous influential people, including three past United States presidents making up its former members.
The Skull and Bones Tomb is the society's headquarters. Although you can't go inside to see the secrets for yourself, you can pass the building from the outside on High Street and…wonder.
Watch the bells chime on a tour inside Harkness Tower
Harkness Tower is one of the most recognizable landmarks in New Haven and around Yale.
Built from 1917 to 1922 and designed by architect and Yale College student James Gamble Rogers, the masonry tower stands 216 feet tall with nine floors and 284 steps to reach the top. Four open-faced clocks face outwards to tell the time, while the carillon bells sit directly behind them.
The Yale University Guild of Carillonneurs offers free tours inside Harkess Tower to watch as they play the bells. You can request to sign up for a tour on their website.
View human brains at the Cushing Brain Collection
Ever been interested in human brains? The Cushing Center at Yale's Harvey Cushing/John Hay Whitney Medical Library shows more than 400 human brain specimens on display.
The collection was established at the turn of the 20th century when neurosurgeon Harvey Cushing pioneered diagnoses and procedures to treat brain tumors and other ailments.
In 2010, the collection was finally given a permanent home in the Whitney Medical Library at Yale University. You can register for a tour of the exhibits and find more information for prospective visitors on their website.
Learn about outer space at the Leitner Family Observatory and Planetarium
Did you know–Yale University was one of the first institutions for astronomical observation? Yale's history of studying the stars extends all the way back to the late 1820s, when the College received a donation for the purchase of a Dolland refracting telescope.
Since then, the University has been observing outer space. Renamed the Leitner Family Observatory and Planetarium in 2008, the center is open to public stargazing one night a week, as long as the skies are clear. You can check their Twitter account for up-to-date information on whether they'll be open this week.
The Observatory also hosts Planetarium shows; you can find out more on their website and watch past performances on their YouTube channel.
Wander through The Shops at Yale
The Shops at Yale are located just around the corner from the Yale University campus. This upscale outdoor shopping area features a diverse selection of over sixty major brands and local merchants.
They also have different restaurants, ranging from quick bites and snacks to upscale dining. It's a great place to spend a fall day or winter afternoon in New Haven.
Read More
Things to do Near Yale University
Attend a true Compline Mass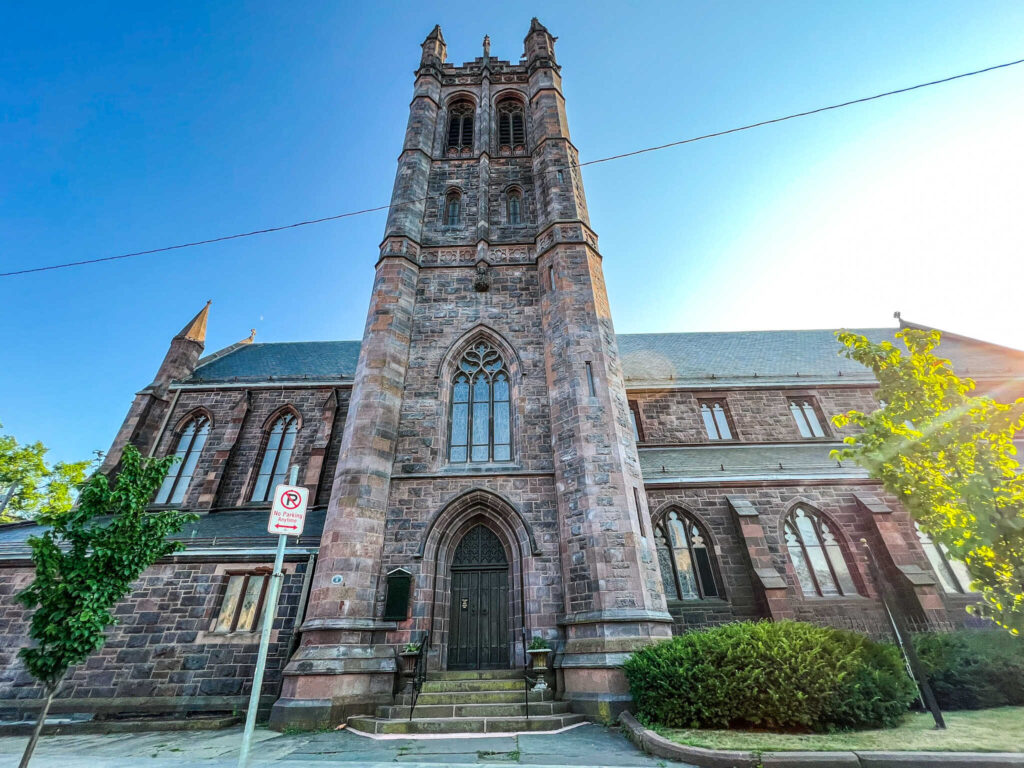 You can attend a true Compline mass at Christ Church near the Shops at Yale throughout the academic year on Sunday nights.
Beginning at 9 p.m., the Christ Church choir sings traditional songs from a hidden location within the historic church. At the same time, the entire interior is lit by candlelight.
Compline – also known as Complin, Night Prayer, or the Prayers at the End of the Day, is the final church service (or office) of the day in the Christian tradition of canonical hours, which are prayed at fixed prayer times…In Western Christianity, Compline tends to be a contemplative office that emphasizes spiritual peace. In most monasteries it is the custom to begin the "Great Silence" after compline, during which the whole community, including guests, observes silence throughout the night until after the Terce the next day.

"Compline." Wikipedia, Wikimedia Foundation, 8 Mar. 2022.
Visit Lighthouse Point Park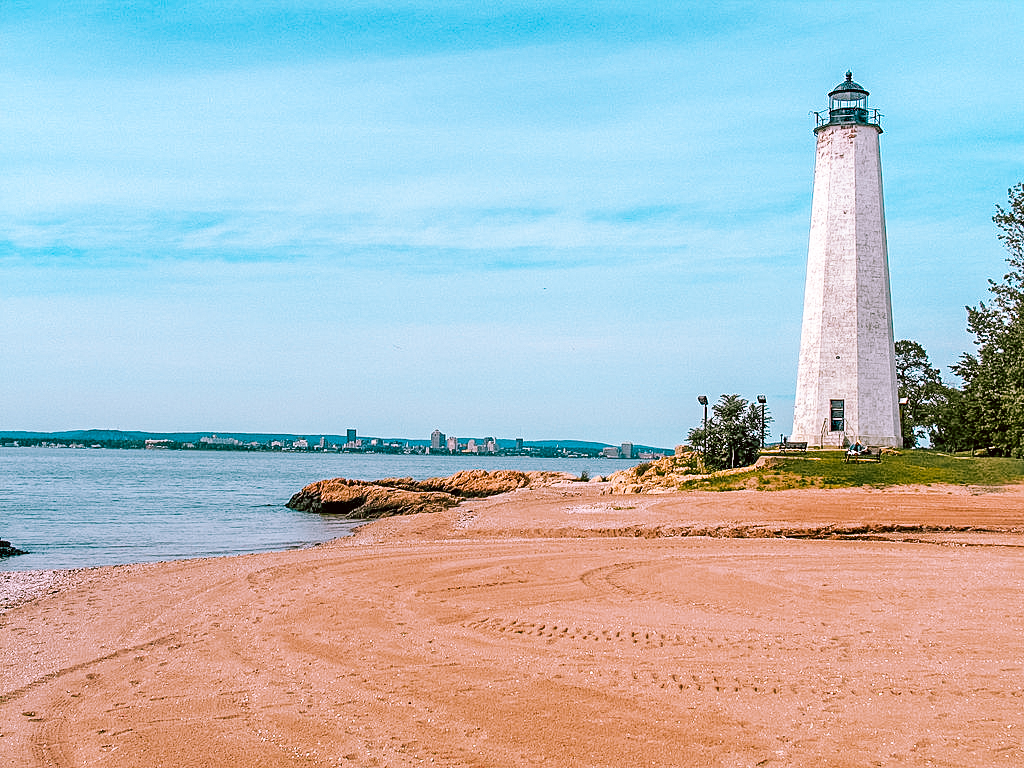 Lighthouse Point Park is one of the best beaches in New Haven. It's a beautiful park with stunning views; you can swim in the water, walk along the nature trails, and have a picnic in the designated picnic area.
Aside from the beach, Lighthouse Point Park also features a working turn-of-the-20th-century carousel and the Five Mile Point Lighthouse, which was erected in 1805 and deactivated in 1877. Morris Creek Nature Preserve, a 20-acre salt marsh, is located adjacent to the park.
Although parking here is free for New Haven residents, if you live out of the city, parking costs $25 a day.
You'll also have to leave your four-legged companions home because dogs are not permitted at Lighthouse Point Park.
Take over a booth inside one of New Haven's top apizza places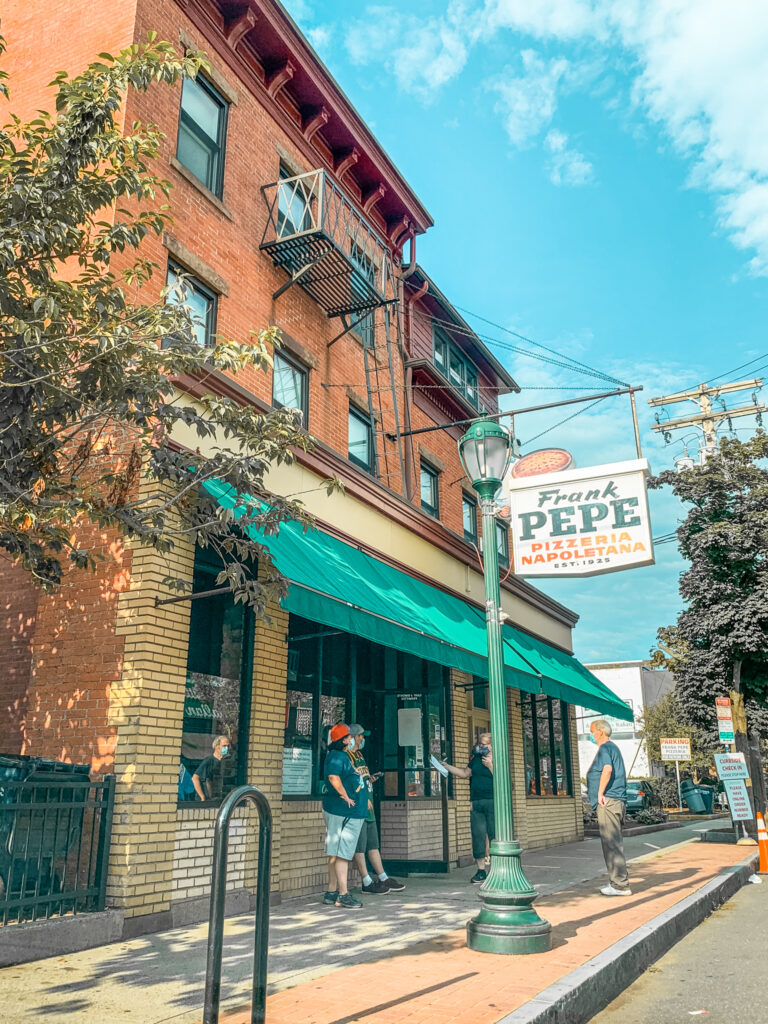 One of the best things to do near Yale is sit down and enjoy one of New Haven's best-kept secrets–apizza.
Apizza is a New Haven version of Neapolitan pizza with a thin, crunchy crust and a chewy inside. Because of the similarities, it is sometimes linked to New York-style pizza. However, the apizza style can be traced back to early 1900s Italian immigrants who resided in New Haven, Connecticut.
Today, the city's unique pizza culture is thriving, with dozens of restaurants specializing in apizza. Frank Pepe Pizzeria Napoletana and Sally's Apizza (both on Wooster Street in the center of New Haven's Little Italy) and Modern Apizza are two pizzerias that sell apizza. At the same time, BAR (one of the state's best breweries) puts a modern spin on the style.
Insider Tip: Grab a bottle of Foxon Park soda to compliment your apizza. The East Haven soda company is well-known for its birch beer flavor, which you won't want to miss!
Try local brews at one of New Haven's breweries
Other than BAR, there are several other breweries in New Haven worth visiting on a night out.
East Rock Brewing Company enjoys producing "clean and crisp German-inspired beer." Named after the neighborhood and nearby East Rock Park, they pride themselves on carrying on the German history found in this area of New Haven.
Inside their Beer Hall, you'll find a range of year-round brews and seasonal offerings. They also host their own trivia theme nights at least once a month, with themes ranging from Schitt's Creek to video games to baseball.
You can find their beer release calendar and their calendar of events featuring their upcoming Trivia night topics on their website.
Other excellent New Haven-based breweries include Armada Brewing, Overshores Brewing Co in East Haven, and New England Brewing Company in Woodbridge.
Play all different kinds of board games at Elm City Games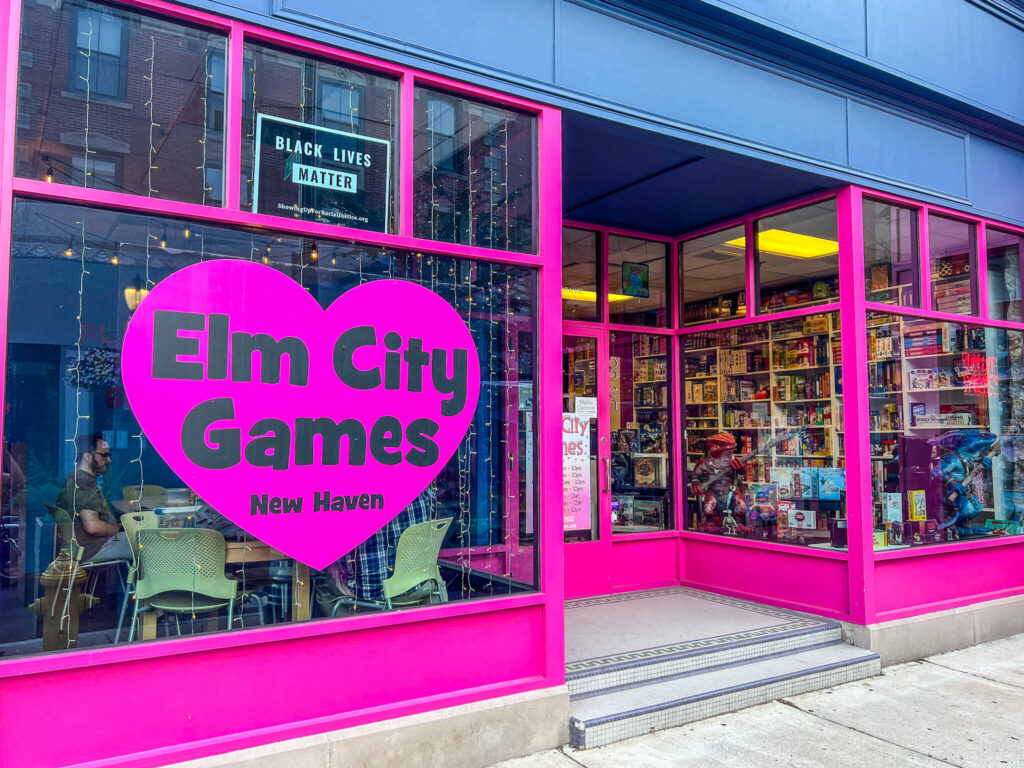 This New Haven game shop and library is one of the most fun things to do near Yale University. It's home to over 1,500 games where you can sit down and play tabletop board games, card games, and dice matches.
A day pass costs only $10 and includes access to all games in their shop.
You'll almost certainly discover many more choices than traditional favorites like Monopoly, Sorry, or Chutes and Ladders. You can buy any game in the store.
Catch a concert at the Westville Bowl or College Street Music Hall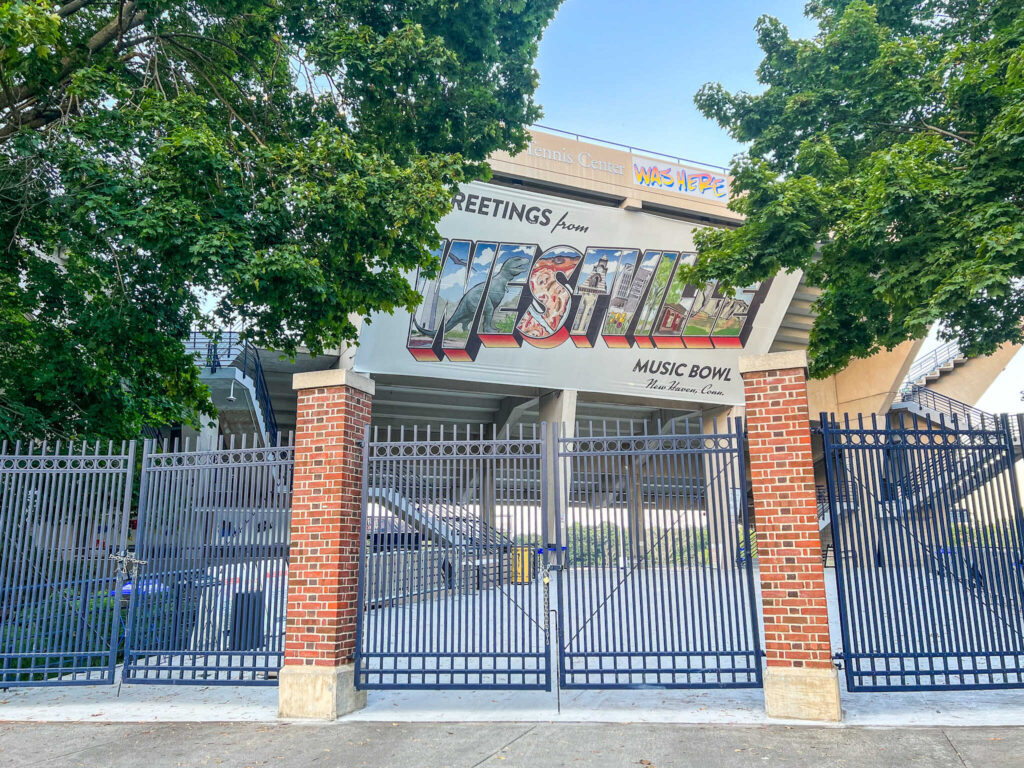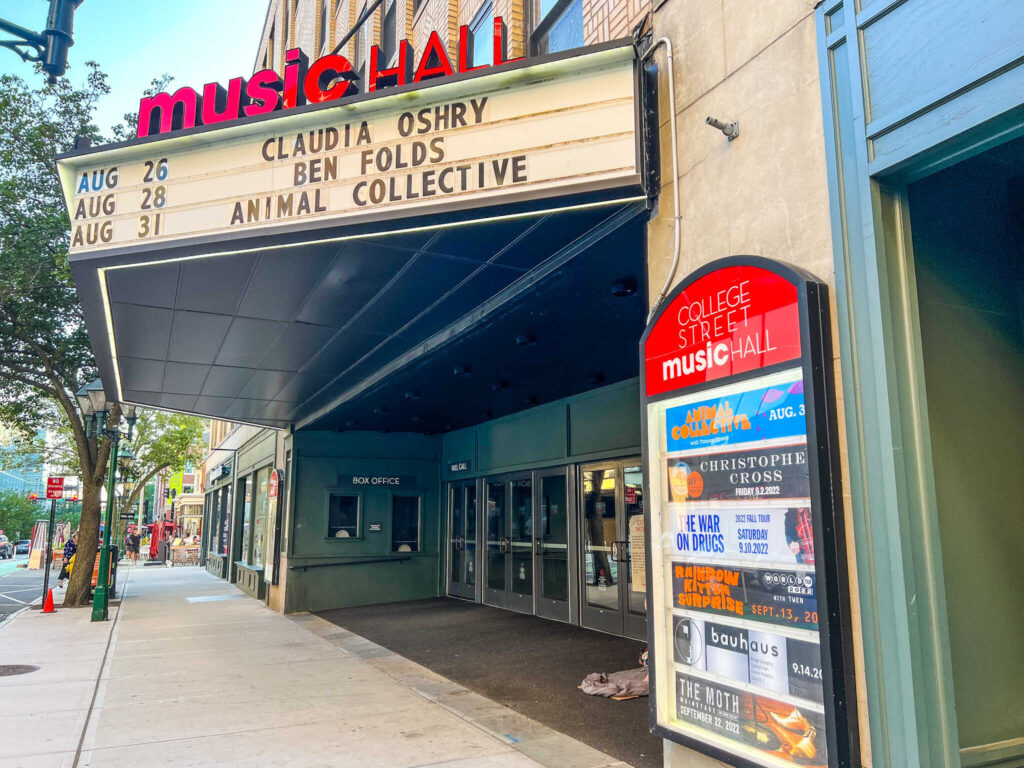 Across the street from the Yale Bowl, you'll find the Westville Bowl. However, instead of football, this stadium caters to concerts and comics. The venue is open to all ages (unless a performance specifically states otherwise) and has accessible seating.
On their website, you can find out about upcoming performances at the Westville Bowl, purchase tickets, and learn more about their parking situation.
Catching concert performances at College Street Music Hall is another one of the best things to do in New Haven. This live music venue is a restored 1926 theater that now hosts at least one concert every week. Find their upcoming concert schedule here.
Head to Toad's Place for live music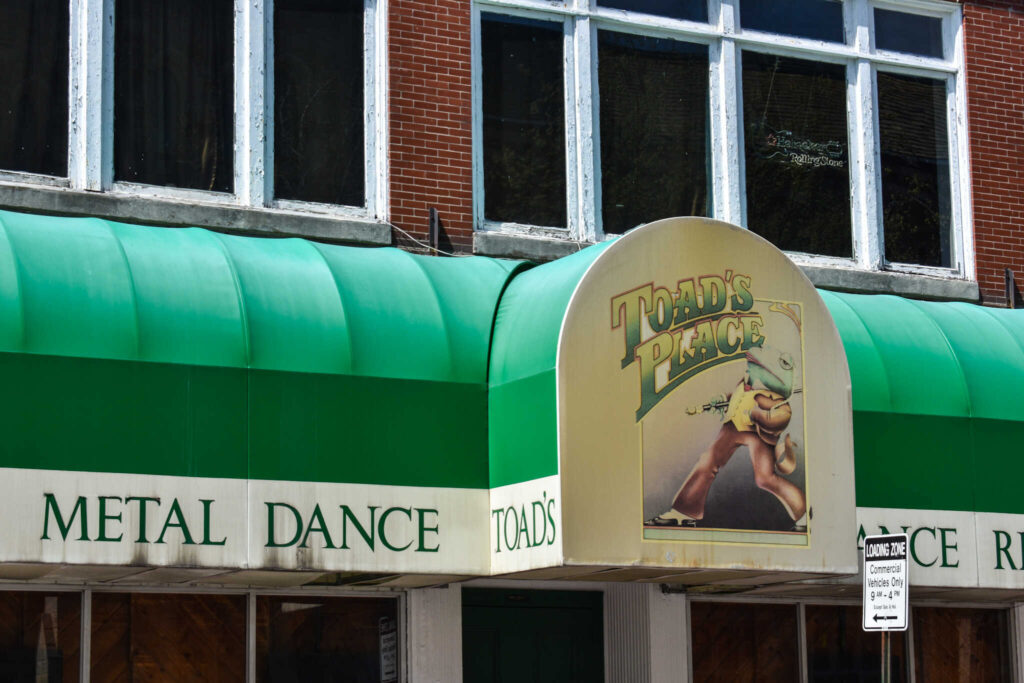 Toad's Place has been a popular music venue and nightclub in New Haven, Connecticut, for decades–my father still rocks his vintage Toad's Place t-shirts from when he regularly caught concerts here in College!
Check out their website to see what type of show you might enjoy most, and purchase tickets through their box office in person, over the phone, or online.
Let your introvert thrive at the Graduate's Silent Book Club
Every week, the Graduate Hotel hosts a silent book club evening in their Old Heidelberg bar area.
There's no need to read your novel ahead of time or have a half-hearted discussion on character motivation. This is a safe space where you can relax in solitude with a book and a drink.
The hotel also hosts a weekly trivia night in the Old Heidelberg bar.
There are so many fun things to do near Yale University for local college students and people interested in learning more about the school's history! What are your favorite things to do around Yale?
Lyndsay