This post may contain affiliate links! I will receive a commission, at no extra cost to you, if you purchase something recommended here.
If you're looking for a charming and picturesque destination for a long weekend getaway, Newport, Rhode Island, is the perfect place to visit.
With its stunning architecture and scenic waterfront, Newport is a popular destination for travelers exploring the New England region of the United States.
Since I grew up in Connecticut, Newport was my parents' favorite long weekend destination as a romantic weekend away from the kids.
Then, as I got older, it became one of my favorite long weekend destinations with a partner or friends and another go-to mother-and-daughter weekend spot.
If you're planning a trip to Newport and wondering how to make the most of your time there, you'll be happy to know that three days is the perfect amount of time to soak in the city's beauty while not rushing around to pack everything in.
3 Days in Newport Itinerary
Day 1: Beach Day
When you wake up (or arrive), pack a bag for the beach and head to Memorial Boulevard.
Bring towels or a beach blanket, sunscreen (a reef-safe sunscreen is preferred, though it's not required), and any other beach accessories you'd like, like an umbrella, a good book, and a few snacks.
First Beach, also known as Easton's Beach, Second Beach, and Third Beach, are expansive, picturesque New England beaches all adjacent to each other.
First Beach has the greatest amount of amenities and is the most popular with locals.
Second and Third Beaches may be good if you want to experience less crowds and are packing your own food and drinks.
If you're not up for so much sand, you can get a private poolside cabana at The Pineapple Club.
However, the food and service here leave something to be desired, so pack your own and just get your drinks on-site.
Once you've had enough of basking in the sun, experience this sailing mecca by water.
You can book sunset cruises at Adirondack II, among others.
Enjoy onboard cocktails or sparkling water while sailing under the magnificent Newport Bridge and cruise through the numerous coves.
Once you've docked, make your way to Stoneacre Brasserie for dinner.
The restaurant uses locally sourced ingredients to serve up their New England fare with a French twist.
Definitely book reservations in advance, and be ready to enjoy one of their signature drinks. Seriously, the cocktails here are out-of-this-world.
Day 2: Cliff Walk & Newport Vineyard
Whether you are an early riser or a late sleeper, there's no rush on island time.
Today, you'll explore the island's coast and taste some of the local wines.
Head to the end of Narragansett Avenue, where the famed Cliff Walk starts.
Locals and tourists alike enjoy Newport's famous Cliff Walk.
Begin at Easton's Beach (First Beach) in the north, and then head to Reject's Beach further south.
Your walk encompasses gorgeous views of the Newport mansions, crashing waves lapping at the bottom of the cliffs, and passing schooners.
While summer is undoubtedly the season with the nicest weather in Newport, you won't have to battle as many crowds in the shoulder season.
I recommend visiting in May and September for the best prices and the fewest tourists.
The actual walk consists of both smooth pavement and somewhat jagged paths.
Be careful with children, as the paths have occasional jutting rocks that are easy to trip on.
The walk takes two to three hours, depending on your pace and how often you stop for incredible photo ops.
In such an expensive city, this is one of the best free things to do in Newport.
Particularly if you're going on a weekend day (or holiday Monday), get there nice and early to avoid so many crowds.
Wear comfortable shoes with good traction, such as sneakers or trainers, as the rocks get super slick, and it's easy to lose your footing.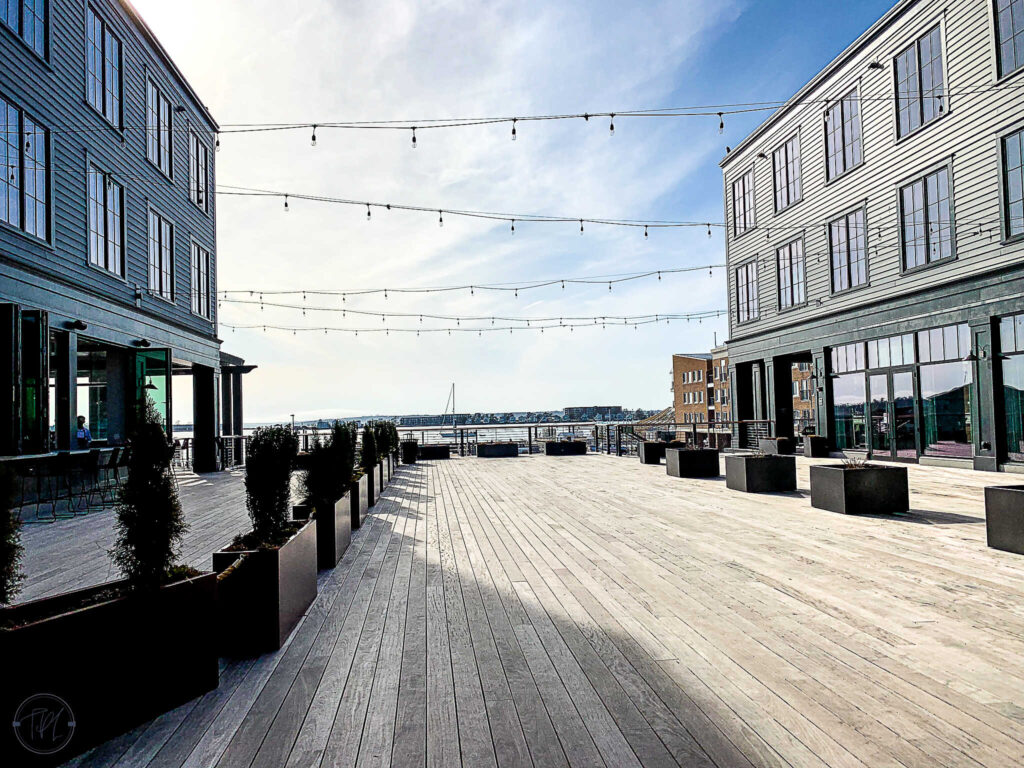 After you've finished the Cliff Walk, hop on the Newport Trolley to see a match at the International Tennis Hall of Fame (if that interests you at all).
Alternatively, you may have worked up an appetite by this point.
For lunch, go downtown to the famed Red Parrot.
Their lobster quesadillas are INCREDIBLE (my mouth is watering writing this).
I honestly have not tasted anything else off their menu because I order this every single time. Enjoy!
Afterward, you can hire an Uber (or a designated driver) to visit Newport Vineyards in Middletown.
At this 60-acre vineyard, you can taste some of Newport's finest local wines.
The island's unique terroir lends particularly special flavors to the white varietals, including a crisp acidity and refreshing minerality.
The whites and the roses are my personal favorites, but the reds are worth a taste as well!
In addition to the tasting room, you will also find a restaurant and a marketplace on-site.
Sundays can get pretty busy (as well as Saturdays or holidays,) so reservations are advised for the tour and tastings.
Once you're back from the winery, it's an excellent opportunity to meander down Thames Street.
You'll find boutique shops and some of Newport's finest colonial architecture here.
Head to Clark Cooke House or The Mooring for dinner (reservations are advised for both restaurants).
If you feel like having a few drinks afterward, the local favorite libation is a shot of 'granma' or Gran Marnier.
If you aren't familiar with it, it's an orange-flavored liqueur.
After too many nights of drinking in downtown Newport, I can no longer drink the stuff.
But, when in Rome…
Day 3: Jamestown & Newport Mansions
On your last day in Newport, head over the bridge to neighboring Jamestown.
This is where you'll find Beavertail State Park.
It's a favorite summertime spot to fish off the rocks, check out the lighthouse, or hike to one of its many 'secret' beaches.
There is even a teeny tiny aquarium here, where you can check out some of the local underwater creatures that call Beavertail home.
To get to the secret beaches, park the car on the right almost immediately after entering the park.
You'll see a path in front of you. Head down the path and follow it to the right.
Then, to your left, you will notice tiny little pathways.
If you follow these pathways, you'll find spots to climb down to your very own private beach.
There may be one or two other people there, but usually, you've got an entire cove to yourself. Swimming is safe here.
After you've had enough at Beavertail, head back to Newport for lunch.
Midtown Oyster Bar or Brick Alley Pub are both good choices, depending on your penchant for seafood.
While you're on the island, you simply must tour one (or some) of the Newport Mansions.
What once served as summer homes for Manhattan's elite are now open to visitors to see the opulent lifestyles that were normal for families such as the Vanderbilts, Morgans, and Astors.
You can learn all about the families who lived there and their luxurious lifestyles.
The most popular opulent mansions to visit are the Elms, Marble House, the Breakers, and Rosecliff–many of these are listed as U.S. National Historic Landmarks.
You can visit as many as you want. Expect to spend around an hour at each.
If you're in the mood for something high-end, Castle Hill is where you'll enjoy dinner tonight.
The food here is phenomenal, and the wine list is second to none.
Expect to pay a pretty price, however, particularly if you opt for the wine pairings for each course.
If you're not up for spending quite so much on a dinner, Diego's is a great choice for something more casual.
It is, by far, the best Mexican restaurant in Newport County, and people from all over the state head south to enjoy dinner at Diego's. Their margaritas are delicious, as well as their food.
More Things To Do In Newport, Rhode Island
While this is my perfect long weekend in Newport, there might be a few things on my 3-day Newport itinerary you'd prefer to swap out with another activity–especially if you're not coming in Rhode Island's peak summer season.
Here are more of the top things to do during your three-day visit.
1. Walk around Downtown Newport
Downtown Newport is packed with boutiques, restaurants, and museums.
The famous shopping district is a tourist destination because of its beautiful views and charming atmosphere.
And depending on when you visit, you may be lucky enough to be in town for one of Newport's best events.
These include the Saint Patrick's Day Parade, Newport Folk Festival, Newport Jazz Festival, the Newport Oyster Festival, and even the Bowen's Wharf Seafood Festival–it feels like there's always something to experience or explore in this waterfront town.
Be sure to stop by the Newport Historical Society and the Newport Art Museum if you have time.
Both places feature art exhibits, historical artifacts, and information about the history of Newport.
2. Enjoy a meal out in Newport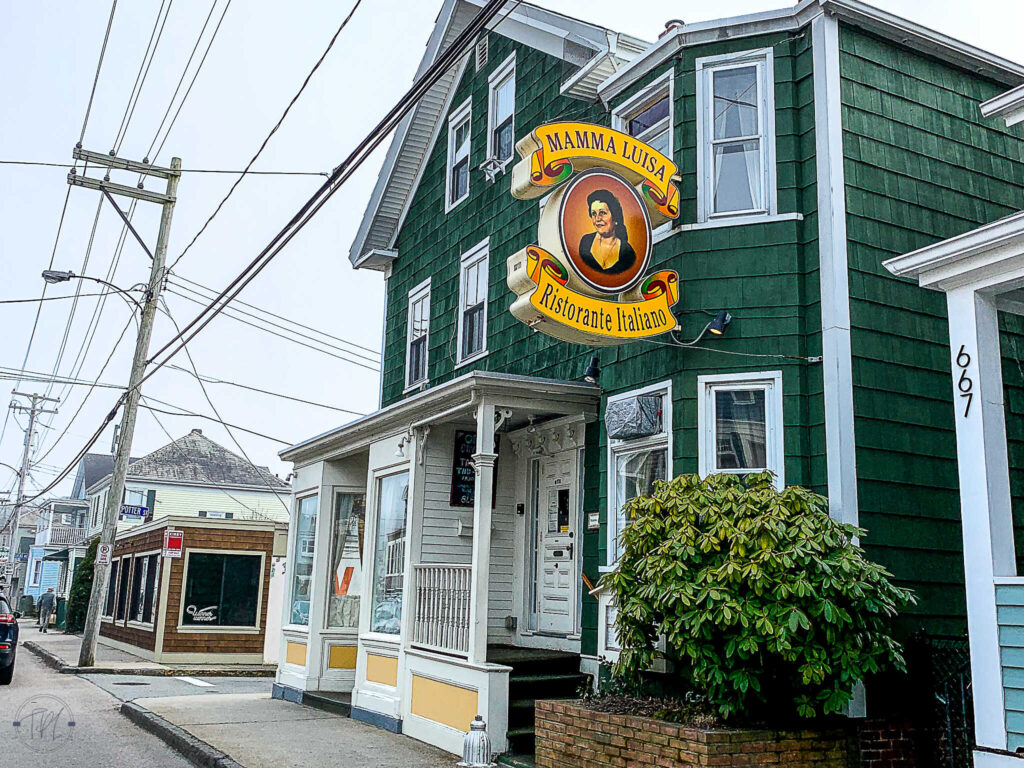 If you're looking for a romantic date, an excellent seafood lunch, or a fun evening out, then you'll love Newport's restaurants.
There are many places to dine, and each offers something different. Some offer fine dining, others have more casual atmospheres, and others are family-friendly.
These are just a few of my favorites.
The Lobster Bar
Found at the end of Bowen's Wharf in the center of downtown Newport, you'll find The Lobster Bar.
Sit outside next to the Newport Harbor for spectacular views and excellent seafood. It almost feels like it's coming right from the water onto your plate.
And if The Lobster Bar is packed, The Landing and 22 Bowen's Wine Bar & Grille are also in Bowen's Wharf for you to check out.
Easton's Beach Snack Bar
For a more casual dining experience, head to Easton's Beach Snack Bar.
This local favorite offers classic beach fare like hot dogs, hamburgers, and clam cakes.
Enjoy your meal on their outdoor patio with beach and ocean views.
Mamma Luisa Ristorante Italiano
A little further outside the tourist hotspots on Thames Street, you'll find Mamma Luisa Ristorante Italiano.
This unassuming restaurant is tucked in among the residential houses on the street.
It serves up some truly delicious Italian food in what feels like your grandmother's dining room.
America's oldest restaurant, the White Horse Tavern
For a truly unique dining experience, head to the White Horse Tavern.
This restaurant has served customers since 1673, making it the oldest in the United States.
Enjoy classic New England cuisine like clam chowder, lobster rolls, and fish and chips in a historic setting.
Castle Hill Inn & Resort
Head to Castle Hill Inn & Resort for an elegant and romantic evening.
This luxurious hotel offers breathtaking water views, impeccable service, and delicious cuisine.
Make a reservation for dinner at their renowned restaurant, The Dining Room, and enjoy a cocktail or glass of wine on their outdoor terrace.
3. Walk along the Newport Cliff Walk
The Cliff Walk is one of Newport's most famous tourist attractions.
Beginning at Easton's Beach, the walk moves south to Reject's Beach.
As you tour Newport, you'll pass many of the city's most famous, historic mansions decked out in their Gilded Age splendor, with waves lapping at the foot of the cliffs as a backdrop.
While the weather may be better from late spring to early fall, the off-season is far less crowded.
Smoothly paved or rocky pathways make up the walk itself.
If you have young children, be careful of the unpaved areas.
It takes between two and three hours to complete the walk, depending on how often you stop for photos.
If you're visiting Newport, Rhode Island, in the summer, you can't leave without taking a tour of one of the incredible mansions that line the coast.
Many of these Gilded-Aged mansions are National Historic Landmarks, built for wealthy American dynasties like the Vanderbilts, the Astors, and the Rockefellers throughout the 19th and early 20th centuries.
Fun Fact: Almost every mansion had a famous owner, occupant, or architectural inspiration! Hammersmith Farm was the childhood home of First Lady Jacqueline Bouvier Kennedy. The Breakers were home to Cornelius Vanderbilt II. And, Rosecliff belonged to a silver heiress from Nevada and was modeled after the Grand Trianon at the Palace of Versailles, one of the best palaces in Europe.
Explore Newport in style on a trolley tour.
You'll pass over 150 landmarks and points of interest before finishing your tour at The Breakers, the largest of all the Newport mansions.
The cost of admission is even included in your tour ticket!
5. Savor a glass at Newport Vineyards
Newport Vineyards is a 60-acre vineyard located on Aquidneck Island in Newport, Rhode Island.
Visitors can taste wine and learn about its production process if you enjoy learning how it gets made.
The vineyard hosts tours and offers a relaxing spot to enjoy the outdoors.
There's plenty of space to sit and unwind while enjoying a glass of wine.
You'll be able to taste some delicious beers, too.
Their website lists everything they have available.
6. Sail out on the open water
It is impossible to imagine a more 'Rhode Island' activity than sailing in Newport.
Many options are available regardless of your level of expertise or if you just want a one-time experience.
Sail excursions, group lessons, and private lessons are available from many companies in Newport and Narragansett.
Various levels of sailing are accommodated during lessons.
You can also rent a sailboat if you can prove your sailing ability!
From May to August, sailing experiences are offered daily and on weekends through October.
A popular sailing school in Rhode Island, Sail Newport has earned a high reputation for its teaching.
7. See the Swiss Village
In Newport, Rhode Island, a magnificent Swiss-inspired town remains primarily unnoticed.
The Swiss Village was the invention of Arthur Curtiss James, a railroad magnate who wanted a place to keep his father's herd of Guernsey cattle.
Architect Grosvenor Atterbury created an extravagant village patterned after Switzerland's Italian area, erected in 1916.
It was known as the Surprise Valley Farm, employing over 100 people to cultivate the farmlands.
However, Dorrance Hamilton, heiress of the Campbell Soup business, acquired one of the most European-like cities in North America in 1998 and established the Swiss Village Farm Foundation.
The organization "preserves germplasm (semen and embryos) from rare and endangered breeds of food and fiber livestock" in partnership with Tufts University's Cummings School of Veterinary Medicine.
The Swiss Village Farm is unavailable to the general public to visit to conserve the farm's unusual and endangered livestock and germplasm collection.
After concluding its research, the SVF Foundation dissolved in 2021.
Plans for the Swiss Village are undecided, but the land was granted a conservation easement to prevent it from being developed.
8. Cool Down with a Del's Frozen Lemonade
For more than 70 years, Rhode Islanders have enjoyed Del's frozen lemonade.
The DeLuca family created the original recipe in Naples, Italy, before they immigrated to Rhode Island from Europe.
In the summer, you can find a Del's Lemonade stand almost anywhere in the state, offering refreshing, natural treats to cool you off.
Insider Tip: Feeling adventurous? Have a Del's and vodka for an adult treat (you will have to add your own vodka, as this option isn't available at the roadside stands)!
9. Drive around Ocean Drive at sunset
One of the most scenic drives in Newport is Ocean Drive.
Take a leisurely cruise around this 10-mile loop and enjoy sweeping views of the Atlantic Ocean, historic mansions, and rocky cliffs.
Sunset is the perfect time to take this drive and enjoy the stunning colors of the sky.
Another great way to see Newport is by taking a harbor cruise on the Newport Harbor Shuttle.
This boat tour takes you around the harbor and offers stunning views of the town's historic waterfront, lighthouses, and sailboats.
You can even bring your own picnic and enjoy lunch on the boat.
11. Visit Fort Adams State Park
Kenneth C. Zirkel, CC BY-SA 4.0, via Wikimedia Commons
History buffs will love a visit to Fort Adams State Park.
This historic fort was built in the 1800s and played a crucial role in defending the coast during the Civil War.
Take a guided tour of the fort and learn about its fascinating history.
12. Visit Brenton Point State Park
Kenneth C. Zirkel, CC BY-SA 4.0, via Wikimedia Commons
Brenton Point State Park is a beautiful park located on the southern tip of Newport.
This park offers pristine views, picnic areas, and walking trails.
It's the perfect spot for a relaxing afternoon in nature.
13. See the International Tennis Hall Of Fame
Sports fans will love a visit to the International Tennis Hall of Fame.
This museum celebrates the history of tennis and features exhibits of the sport's greatest players, including Arthur Ashe, Billie Jean King, and Roger Federer.
You can even tour the historic Newport Casino, where the museum is located.
How to Get Around Newport
Newport is a small town, so getting around is relatively easy. You can explore the town on foot, but several transportation options are available if you want to venture further.
Walking
Walking is the best way to explore Newport's historic district.
You can take a leisurely stroll down Thames Street, lined with shops, restaurants, and bars.
You can also walk along the Cliff Walk, a scenic 3.5-mile trail that runs along the coast and offers stunning ocean views.
Biking
Biking is another excellent way to explore Newport.
You can rent a bike from one of the many rental shops in town and explore the town at your own pace.
Biking is a great way to see more of Newport's beautiful coastline and beaches.
Trolley Tours
You can take a trolley tour if you want to see more of Newport, but don't feel like walking or biking.
Several trolley companies in town offer tours of Newport's historic district and coastline.
The trolley tours are a great way to see more of Newport's landmarks and attractions.
Taxi
Taxis are readily available in Newport and convenient to get around town.
You can hail a taxi on the street or call a taxi company to pick you up.
Taxis are a great option if you need to get somewhere quickly or travel with a lot of luggage.
Car Rental
You can rent a car in Newport if you want to explore more of Rhode Island.
There are several car rental companies in town, and renting a car will give you the freedom to explore the state at your own pace.
Just be aware that parking can be difficult in Newport, especially during the summer months.
Where to Stay in Newport
Newport has plenty of options for accommodations, ranging from budget-friendly to luxurious.
Here are a few recommendations for where to stay during your 3 day trip to Newport:
Budget-Friendly Options
Mid-Range Options
Luxury Options
No matter what your budget or style, Newport has plenty of options for accommodations that will make your three-day trip to this historic city unforgettable.
3 Days in Newport, Rhode Island: FAQs
When is the best time to visit Newport, Rhode Island?
Although Newport, Rhode Island, is a beautiful coastal city worth visiting year-round, certain times of the year are better than others, depending on your preferences and interests.
The coastal city is definitely a tourist hot spot in the summer months.
People from all over the world come to this tiny island to experience the distinct flavor of Newport life.
I recommend visiting Newport during the shoulder season, in May or September.
You'll encounter fewer tourists, lower prices (which is a great thing, considering that Newport is known to be quite expensive), and more options for accommodations.
Memorial Day weekend (May) and Labor Day weekend (September) unofficially mark Newport's start and end of the tourist season.
However, Newport is also one of my favorite winter getaways in the New England region.
How many days do you need in Newport, RI?
When you're planning a visit to Newport, RI, it's best to assign at least two days to truly immerse yourself in all that this charming city has to offer.
However, three days would be ideal for a more comprehensive and relaxed experience.
Is Newport worth visiting?
Overall, Newport, Rhode Island, is definitely worth visiting.
If you're looking for a charming New England town to visit, it should definitely be on your list.
With its picturesque coastline, historic mansions, and vibrant sailing culture, Newport offers a unique blend of relaxation and adventure that's hard to find elsewhere.
One of the biggest draws of Newport is its stunning coastal scenery.
The town is situated right on the water, with breathtaking views of the Atlantic Ocean and Narragansett Bay.
You can stroll along the Cliff Walk, a scenic path that winds along the rocky shoreline, or take a boat tour and explore the bay, spotting lighthouses and marine wildlife along the way.
But Newport isn't just about natural beauty – it's also home to some of the most impressive historic mansions in the country.
Try a tour of the Newport Mansions, a collection of opulent Gilded Age homes that offer a glimpse into the extravagant lifestyles of the wealthy elite in the late 19th and early 20th centuries.
In addition to its natural and historic attractions, Newport has a lively downtown area with plenty of shops, restaurants, and bars.
Bowen's Wharf is a popular tourist spot with outdoor dining and live music, while Thames Street is lined with boutique shops and galleries.
3 Days in Newport, Rhode Island: Wrap-Up
Spending three days in Newport is the perfect time to explore all this town offers.
Touring the stunning mansions and strolling along the picturesque Cliff Walk, of course, but what truly sets Newport apart is how history and modernity blend seamlessly.
Whatever draws you to the city, spending 3 days in Newport is an experience you won't forget.
Lyndsay
Read More