This post may contain affiliate links! I will receive a commission, at no extra cost to you, if you purchase something recommended here.
Positano is one of Italy's most picturesque cities, located on the Amalfi Coast in southern Italy.
The city is known for its dramatic cliffs and brightly colored buildings that line the winding streets.
But is Positano worth visiting?
I asked Sammy Green from My Blonde Bucket List to share her take on the idealized Italian destination.
Positano is a popular destination for tourists from around the world, offering stunning views and plenty of exciting things to see and do.
From relaxing days spent lounging by the beach to exploring centuries-old churches and monuments, whether you're visiting for a few days or planning an extended stay, here are some essential Positano travel tips for making your trip unforgettable!
Is Positano worth visiting?
Absolutely! Positano is a breathtakingly beautiful city that is well worth exploring. From its sweeping views to its rich culture and history, there is something for everyone in this fantastic Italian destination.
It's a terrific city to explore with friends and family, or even if you're traveling solo.
Tips for Visiting Positano
1. Make reservations in advance
Decent hotels, restaurants, and other attractions can get booked up quickly in Positano, so making reservations as far as possible is best.
Being organized will help avoid any disappointment–this is one of the most important Positano tips!
This is particularly important if you plan to visit during the high season in the summer months.
2. Remember, many restaurants close in the afternoon
If you want an opportunity to enjoy a delicious meal, you might need to plan ahead.
Throughout Italy, many restaurants close in the afternoon between lunch and dinner because of riposo, Italy's siesta period.
If there's a restaurant, you definitely want to eat at, confirm their hours in advance and make that reservation.
The same goes for many of the locally-owned, designer boutiques in town, too.
3. Be prepared for stairs
A hilly city means stairs–and lots of them! Many of the streets in Positano are too narrow for cars, so you'll often be walking up and down flights of stairs.
This means Positano isn't the best Italian city to visit if you need wheelchair accessibility.
A pair of comfortable walking shoes are going to be your best friend! If you're staying in Positano, looking into how you access your accommodation may be necessary.
Having a trolley bag that is easy to maneuver over cobblestones and steps could make your life a whole lot easier, or even better, a backpack may be your best bet if there's going to be a fair amount of steps to climb.
4. Plan ahead if you get carsick or seasick
Positano is a hilly city with tight and windy roads, so if you get carsick easily, you'll want to be prepared.
Similarly, if you're prone to seasickness, then make sure to take the necessary precautions before taking a boat ride.
Having some motion sickness medication on hand is a good idea, and if you choose to take a public bus, try to get a seat near the front to minimize the effects.
5. Go during the off-season to avoid tourists
Positano is a popular tourist destination and can get crowded during peak season.
However, visiting during the off-season (autumn and winter) is much quieter.
Although it'll be a bit too cold to enjoy a sun lounger on the Marina Grande Beach, Spiaggia Grande, underneath a bright beach umbrella, you'll find fewer people and lower prices!
6. You need to see the city from the water on a boat tour
To appreciate the beauty of Positano, you need to see it from the beautiful blue water.
Taking a boat tour is definitely worth it; this is where you'll get the best view of the dramatic cliffs and the colorful houses that line the coast.
There are plenty of boat tour operators in Positano, so feel free to shop around for the best price.
7. Make sure to try limoncello or anything made with Amalfi lemons
You have yet to go to Italy unless you've had limoncello.
The Amalfi Coast is known for its lemons, so try some local delicacies, such as limoncello or any dish made with these delicious lemons – you won't regret it!
You can find more information here if you need to learn more about Italy's drinking laws.
8. Don't skip the city's museums
Positano is full of stunning museums, churches, and art galleries worth checking out.
The Chiesa di Santa Maria Assunta church is a sight to behold with its colorful Byzantine-style domes.
And don't miss the Museo della Carta museum, which is dedicated to producing handmade paper.
9. Explore the city on foot
The best way to get around Positano is by walking, as it is more scenic and less chaotic than driving or taking public transport.
Positano is small enough that most attractions can be reached on foot, so you can easily explore the city on foot.
As mentioned above, the streets of Positano can be relatively narrow, which makes parking pretty tricky, so exploring on foot is much less stressful.
10. Carry cash with you
Be sure to have cash on you at all times, as some of the businesses in smaller towns, such as Positano, don't accept credit cards.
You'll only need a small amount, but it saves being caught out if you're super thirsty on a hot day and desperate to buy water!
11. Make sure to spend some time on the beach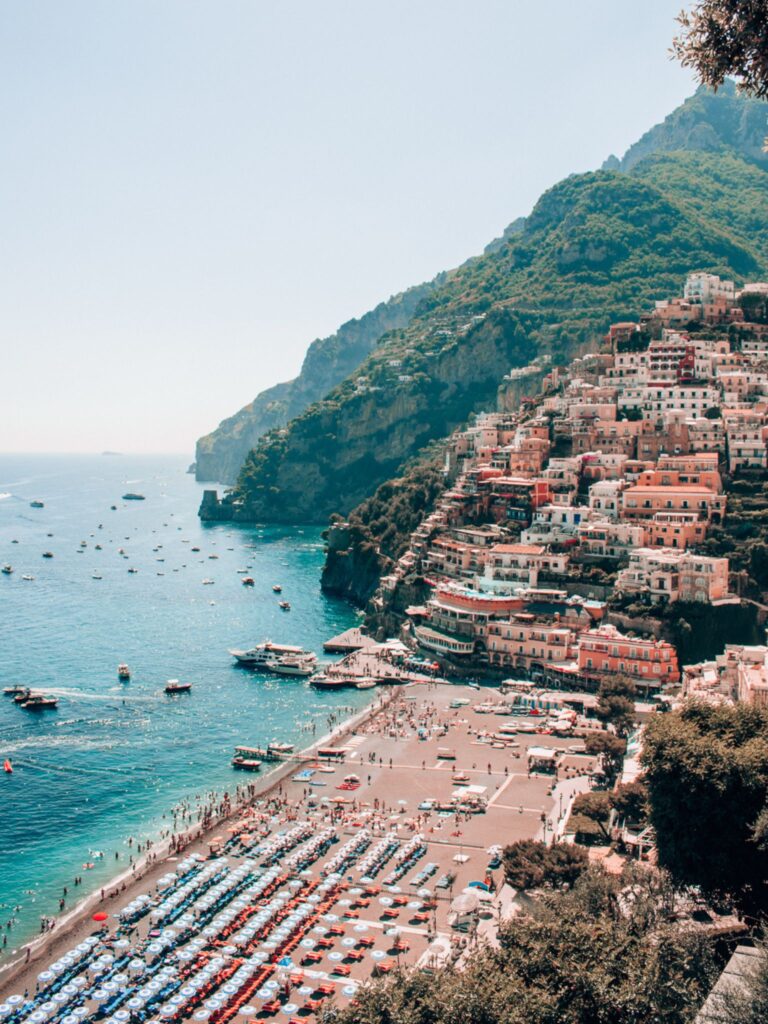 Positano is also worth visiting for its gorgeous beaches.
Spiaggia Grande, Positano's main beach, is one of the town's most famous photo spots, with incredible panoramic views of the city rising above the beach.
But if you're looking for a more secluded experience, there are plenty of options nearby.
Laurito Beach is just a short bus ride away and can be accessed by a stairwell from a small piazza opposite Hotel San Pietro.
This tiny cove is surrounded by craggy rocks and cliffs, and it's home to the Treville Beach Club, with its restaurant and hotel rooms providing some peace from the rest of the city
Further along the coast is Arienzo Beach, a small pebbly beach at the end of a 300-step trek, with both public beach and private beach areas.
The Arienzo Beach Club offers an excellent aperitivo service, including a shuttle boat back to Positano's main pier.
12. Save money on accommodation by volunteering in a hostel
Volunteering in a hostel is a fantastic way to save money while traveling in expensive places such as Positano.
It also allows you to stay in a particular location for a lot longer and truly immerse yourself in it.
Become familiar with the pros and cons of volunteering in a hostel to decide whether this could be for you or not.
13. It's easy to take day trips from here to other cities on the Amalfi Coast
Positano is an excellent base for exploring other cities on the Amalfi Coast.
You can easily take day trips to nearby towns such as Sorrento, Salerno, and Ravello.
To get around, you can either rent a car or take one of the frequent buses that run between the various towns.
Positano Travel Tips: FAQs
Where is Positano, Italy?
Positano is a town located on the Amalfi Coast in Italy. It is known for its amazing views and is one of Italy's most popular tourist destinations.
If you're flying directly to the Amalfi Coast, you will likely land in Naples before making your way to Positano.
The closest major city and the international airport is Naples, which is about two hours away by car or train.
How expensive is Positano?
Positano is an expensive destination as it is a popular tourist area.
However, if you shop around, there are still plenty of good deals to be found.
Prepare for restaurants, accommodation, and activities to be more costly than in other parts of Italy.
Another tip for visiting Positano is that if you want to save money on accommodation, staying in Sorrento is a good option since it takes a little time to reach Positano by car.
Is Positano walkable?
Positano is a very walkable city; however, you need to navigate stairs and steep hills to get around.
The city is small enough that you can explore it on foot, but you'll need to walk through narrow streets and winding staircases to reach the center of town and the beach.
The main attractions in Positano are all within walking distance of each other, so it's easy to get around without relying on public transportation.
Once you're above the city, buses and taxis are available to get around for anyone who prefers not to walk.
Is Positano crowded?
Positano can be quite crowded during the peak tourist season, which runs from April to October.
Throughout this season, the city is filled with tourists and locals, making it difficult to find a quiet spot.
However, if you visit outside of these months, you'll find that Positano is much less crowded and more peaceful.
Is Positano safe?
Positano is generally a safe destination for tourists, but it is always important to take precautions when traveling.
As with any city, pickpocketing and other petty crimes can occur, so it's smart to keep your valuables close and be aware of your surroundings.
When is the best time to go to Positano?
The best time to go is in the spring and autumn when the temperature is milder, and the crowds are smaller.
However, summer is still a great time to visit as temperatures can reach up to 30°C, perfect for swimming in the crystal clear azure waters of the Amalfi Coast.
The city can get quite crowded during the peak summer season, so it's best to book your accommodation in advance if you plan on visiting during this time.
Since it's such a coastal city, you'll probably want to miss the cooler months if you want to make the most of the gorgeous beaches.
What are the best restaurants in Positano?
Positano is known for its delicious seafood-based regional cuisine.
Some of the best restaurants to try include Ristorante Max Positano, Terrazza Celè, and Il Ritrovo.
Try one of the local trattorias, such as La Tagliata, Cafe Latteria, or Il Grottino Azzurro, for a more budget-friendly option.
Osteria le Tre Sorelle is a family-run beachfront restaurant that has been around since the 1950s, offering fresh, traditional seafood options.
Palazzo Murat Restaurant is an excellent choice for those looking for something more refined.
For a truly unique dining experience, book a table at the Rada Beach Bistrot. Situated right on the beach, you can enjoy your meal with breathtaking views of the Mediterranean Sea.
How to Get to Positano
Bus
Bus travel is the cheapest and most convenient way to get to Positano from Naples.
You can take a direct bus from Naples Airport or the central railway station.
The journey is around two hours and is relatively inexpensive compared to taxis or private transfers.
Car or Taxi
Thankfully, you don't need to rent a car yourself to get to Positano; you can hire a car or take a taxi from Naples Airport.
It is quite a bit more expensive than the bus but much more convenient if you have lots of luggage or need to be somewhere quickly.
Train
Trains run between Naples Central Station and the Sorrento train station, the closest railway to Positano.
Unfortunately, there are no direct local or high-speed trains to Positano from Naples.
You can take a bus or taxi from Sorrento to the beautiful town center of Positano.
The drive takes just over half an hour.
Ferry
My favorite way to reach Positano and all of the other famous coastal towns on the Amalfi Coast is by taking a ferry from the Molo Beverello port in Naples.
You can buy ferry tickets from ticket stands at the port.
The boat trip only takes about 1 hour and 20 minutes, and you'll be met with jaw-dropping views on the way.
Private Transfer
You can book a private transfer from Naples Airport or Naples Central Station.
This is by far the most comfortable and convenient way to get to Positano, as your driver will take you directly there without any stops.
However, this is also the most expensive option as it is usually charged per person or vehicle.
What to Pack for Positano, Italy
Positano is a beach town, so you'll need to make sure you pack beachwear, a hat, sunscreen, and sunglasses.
You should also bring some light clothing such as dresses, shorts, and t-shirts – basically anything that's easy to throw over your swimsuit after you've been for a dip in the ocean.
If you're visiting in the cooler months, you'll want a couple of options for layers. Some days are cooler in the mornings and evenings but warm up during daylight hours, so you'll want to be prepared for the different options.
Remember comfortable shoes for exploring the city on foot too!
Finally, be sure to remember to pack your camera. Positano is full of beautiful views and begging you to take a snapshot or two.
Is Positano Worth Visiting?: Wrap-Up
By now, I hope you agree that Positano is definitely worth visiting. Its incredible views, delicious seafood cuisine, and stunning beaches make it the perfect place to relax and enjoy some of Italy's best sights.
Stay for a weekend or stay for a week!
Remember these Positano travel tips when planning your trip, and you're sure to have a fantastic time in this beautiful destination.
Read More