This post may contain affiliate links! I will receive a commission, at no extra cost to you, if you purchase something recommended here.
Is Venice worth visiting?
Sleek black gondolas gliding through hundreds of narrow canals, wandering through narrow alleys, over bridges, to wind your way throughout the beautiful city.
There are so many amazing facts about Venice, but there are some essential things to know before visiting Venice that you'll want to be aware of to have the best experience.
If you're wondering whether the lagoon city is worth a place on your Italian itinerary, I've been living in the Veneto region for several months now.
After going to Venice numerous times, I can't keep count–these are all of my top tips for visiting Venice.
Is Venice Worth Visiting?
First thing's first–is Venice worth visiting? A resounding YES!
Although it's visited by more than 20 million people each year, Venice is not an overrated city to explore in Italy.
Built on more than 120 small islands, with most interconnected by more than 400 bridges, the history, and architecture of the city are incredibly unique.
La Serenissima, which translates to the Most Serene Republic of Venice, was established around 402 when the Veneti people sought refuge on these islands amid invasions.
The autonomous Republic was created in 421 and survived until Napoleon's invasion in 1797.
Throughout this period, the Republic of Venice ruled over most of the Adriatic coast, including the Istrian peninsula. It was also in control of sections of modern-day Croatia, Montenegro, Albania, and Greece.
The Doge, or ruler of Venice, was not a hereditary office. He was elected by a committee of affluent Venetians and reigned for life by the people's will.
Venice, considered Europe's most prosperous city, prospered as an economic powerhouse due to its position and abundance of a precious natural resource–salt.
Many of the iconic buildings and palaces date back to this period of prosperity in the city's history.
Where is Venice?
Venice, Italy is the capital of the Veneto region in northern Italy. It's made up of 128 islands within the Venetian Lagoon (Laguna Veneta,) an enclosed bay in the Adriatic Sea.
The Italian mainland is located to the west and there are ferries to cross the Adriatic Sea to reach the nearby countries of Slovenia and Croatia.
What is Venice known for?
The city of Venice, Italy is known for many pieces of art and architecture that date back to the Republic of Venice.
It's famous for its black gondolas gliding through the 178 canal paths, beautiful art dating from the Middle Ages, through the Renaissance to the modern-day, and unique architecture like the Rialto Bridge, the Doge's Palace, and the world-famous St. Mark's Basilica.
Insider Tip: Although you can't swim in the canals in Venice, there are several beautiful beaches within Venice where you can swim.
Top Tips for Visiting Venice, Italy
Learn a little Venetian lingo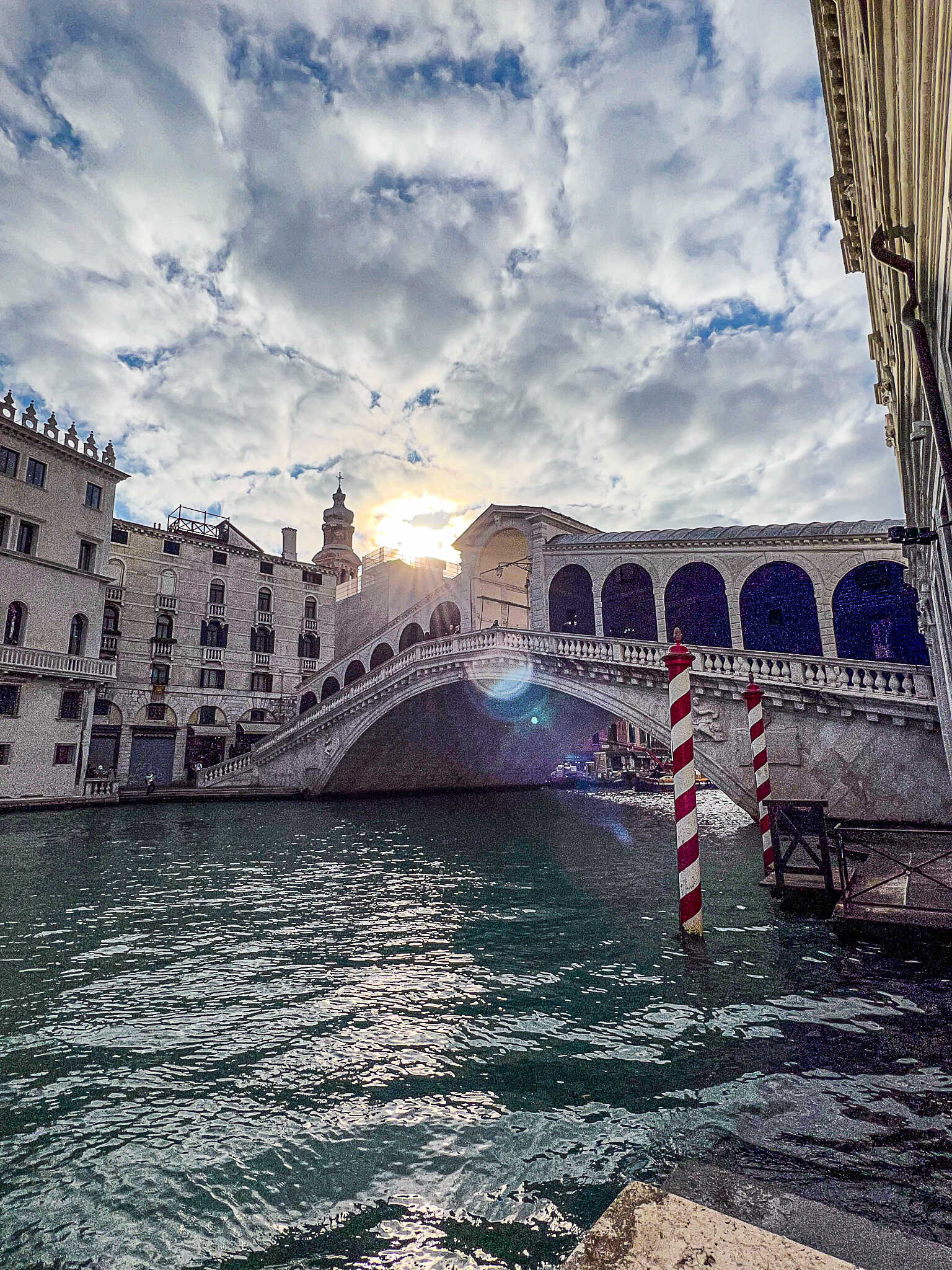 You'll only find one true piazza in Venice–Piazza San Marco (and Piazzetta di San Marco). Instead, you'll come upon campo.
The Italian term for square is piazza, whereas the Venetian dialect uses campo. Similarly, in Venice, instead of the Italian word via, which means street, you'll be strolling along calle.
Fun fact: One of the world's tiniest streets can be seen in Venice. Calle Varisco is only 53cm wide, making it one of the narrowest streets.
Some other important words in the Venetian dialect have to do with delicious food. You're in Italy, so of course, they do!
giro d'ombra – directly translating to "a turn in the shadows" in Italian, it's used to mean a bar crawl in the Venetian dialect
bacaro – Venetian dialect for "a good bar"
cicchetti – directly translating in Italian to a "little" or "quick drink," it's the Venetian word for small plates and local snacks you'd enjoy at a bacaro
You will need to register to enter Venice
This might be one of the most essential Venice travel tips! Even after banning cruise ships from docking in the city's port, Venice has decided to go even further to combat overtourism.
Starting in 2023, the city of Venice is establishing a reservation system to manage the number of tourists coming into the city.
The plan is to charge day-tripping visitors on a sliding scale depending on how busy the time of year is and confirm your reservation before you enter the city.
As of now, the reservation system isn't set up yet, but I'll be keeping this area updated as more information becomes available.
What time of year is best to visit Venice? Visit during the off-season
The city doesn't really have a true "off-season;" you'll find Venice filled with crowds of tourists for 11 out of 12 months of the year.
So what's that magic month where Venice is mostly empty, save from the locals and a few brave souls?
So, when is Venice worth visiting? I've now seen the city almost every month of the year.
I can definitively say that visiting Venice, Italy in January is my favorite time to be in the Italian city.
Venice is almost deserted after the Epiphany holiday on January 6 until the start of Carnevale (which usually begins in mid-February).
Although I love the summer sun warming my face while walking through the city streets, nothing beats walking into a nearly-empty Piazza San Marco.
That said—it's cold in January! The Veneto region is filled with fog throughout the cold, Christmas months. Since the city is literally built on a lagoon, you also need to factor in the wind chill.
And although it doesn't usually snow in this Italian city, Venice experiences flooding, called acqua alta, every winter when the water levels rise in the Adriatic Sea. Be sure to bring in your best winter gear.
If you really can't stand the cold and don't want to visit Venice in the winter, the next best time to visit Venice is March.
The weather is starting to warm up, but the Lagoon keeps the temperature nice and cool.
There are fewer tourists around than you'll find in just a few weeks, and you might even be able to photograph some early spring blooms.
Is Venice expensive? Make sure to stay away from restaurants, bars, and coffee shops in the tourist areas
Like any major city, Venice can be expensive if you don't plan ahead. Restaurants, bars, or coffee shops that you find right next to the famous landmarks are what we like to call a Venice tourist trap.
Tourist trap (n.) – a crowded place that provides entertainment and things to buy for tourists, often at high prices

"Tourist Trap." TOURIST TRAP | Definition in the Cambridge English Dictionary.
As cool as it might be to eat along the Grand Canal underneath the Ponte di Rialto, the quality of Italian food will likely be lower. And the price of your meal will be higher than if you walk a few blocks away.
I know there are a few exceptions to every rule, but for the most part, you'll find the best foods at the best prices away from the major landmarks.
Also, book your hotel rooms well in advance to avoid last-minute surge pricing.
Take advantage of free tours and experiences
Taking a walking tour is one of the best things to do in Venice! As a licensed New York City Tour Guide, I will always recommend that you take a tour of the new place as one of the first things you do when you get there.
Taking a guided walking tour with an experienced guide will give you an excellent education on the history, famous landmarks, and insider information about your city.
Although sometimes I recommend you purchase a walking tour, I've found that Italy is filled with phenomenal free walking tour options.
As you can imagine, Italy takes its history very seriously. Even free walking tours must be led by a licensed guide by the European Union.
One of my favorite websites to start my walking tour search is Civitatis.
Especially in a historic city like Venice, there are tons of options, all led by licensed tour guides. Of course, the larger the city you're in, the more walking tour options.
However, especially since it was free, you need to remember to tip your tour guides. A good rule of thumb is at least €10 per person in your party taking the tour.
It's not only a thanks-for-doing-a-good-job for your tour guide; since you didn't pay anything for the tour upfront, this is how your tour guide gets paid for their work teaching you that day.
If you're interested in other guided experiences, take a look at my lists of the best wine tours from Venice and excellent cooking classes in Venice.
Buy a Venice pass to visit several museums at a discounted rate
There are a few different city passes available for Venice. There are three main options, each one suitable for different people based on what Venetian experiences they want to have.
Most of the passes include entry into the twelve different civic museums in the city. If you are interested in visiting a few of them, you'll save on the cost of admission by bundling your purchase with a pass.
I have a complete guide that completely breaks down the differences between each half, what would be the best Venice city pass for your trip.
Insider Tip: If you're in Venice on the first Sunday of the month, every public state-run museum in Italy offers free admission!
Read More
Purchase a Vaporetto pass only for the days you'll need it
The Vaporetto is expensive. Although sometimes you'll need it, walking is the cheapest and most effective way to get anywhere in Venice.
Although it'll take a little longer, you'll have an opportunity to explore the cities winding streets, get a little lost, and then be a little found.
However, there are some places while you're spending 2 days in Venice you'll need the Vaporetto to reach. If you want to visit any of the nearby islands mentioned above, you will need the public water bus.
You can take a look at its pricing and purchase passes here.
My favorite app to use when learning how to navigate a new city's transportation system is Citymapper.
The free app will show you the stops, lines and tell you when, where, and how to get from where you are to where you want to go.
It also works in some of my other favorite cities worldwide, like New York City, Vienna, and nearby cities like Bologna.
Remember–there are no cars, bikes, or any other vehicles in Venice. To get anywhere in the city, you need to take the vaporetto, a traghetto, or walk.
Don't go for a gondola ride–instead, take a traghetto
Of course, you want to try the authentic experience of riding in a traditional Venetian gondola, but they can be expensive.
Take a traghetto to enjoy a gondola trip the local way.
Because the Grand Canal is only crossed by four bridges, residents frequently need to get across without the hassle of the Vaporetto or the time to walk in the car-free city.
Instead, they use a traghetto for the ease of going a short distance.
It won't have all of the stories from the guide on a touristy gondola trip, nor will it travel through small Venetian canals between islands.
But, it will give you that genuine gondola ride on a budget!
This is one of my best tips for visiting Venice on a budget. However, if you want to have the whole experience of a gondola ride, book this Grand Canal by Gondola with Commentary.
If you're interested in experiencing the best non-touristy things to do in Italy, check out my post with tons of recommendations around the country you'll want to add to your next trip!
Venice requires a lot of walking and isn't made for accessibility
Remember how I said the Republic of Venice was established in 421 C.E.? Although the European city has not looked the exact same for the last 1,600 years, several factors remain true.
You will inevitably walk over bridges that require stairs to walk around the city. Many of these historical buildings with their beautiful facades are several hundred years old, so they don't have elevators.
And, Because many of the streets are very narrow and twisted, apps like Google Maps I am not reliable or giving you turn by turn walking instructions.
I've watched parents with kiddos in strollers struggling to drag the carriage up and down the many stairs of the many bridges, and it's tough.
And that doesn't begin to cover the struggle for people to experience the city with other mobility issues and ailments.
I am not trying to dissuade you from seeing Venice. I love the historic city and encourage everyone who wants to experience it to come.
Still, I want to make sure you know all the things to know before visiting Venice to plan ahead.
Restaurants and some shops close in the afternoon
This one is a sacred practice throughout Italy called riposo.
Most restaurants (and even some small shops) close in the afternoon in Venice. Restaurants usually close around 2:30 or 3 p.m. and only reopen again for dinner around 7 p.m.
That's right, no early dinners in Venice. Although you can find a few restaurants open for business in this window, you'll probably be walking for a while to find them.
That's why my next tip is so essential…
Plan out your meals to include cicchetti
Cicchetti is the traditional Venetian small bites that you can enjoy basically at any time of day.
They're delicious, made with small rounds of Italian bread and topped with delicacies like baccalà, gorgonzola, porchetta, and more.
Since you can find a bar open with cicchetti available at pretty much any time of day, one of my best insider tips to Venice is to plan out your day to enjoy cicchetti as your lunch or a snack in between breakfast and dinner.
Especially if you're looking for food in the window from 3 p.m. to 7 p.m., cicchetti is your best food option. You can find cicchetti at basically any bacaro.
Of course, you need to enjoy it with a spritz or glass of wine from the Veneto region, like prosecco, a bubbly white wine only produced here.
Stopping for some cicchetti and a spritz is also one of the best things to do in Venice at night.
Insider Tip: If you're interested in experiencing Prosecco from the source, you should consider taking one of these Prosecco vineyard tours from Venice while you're in the Veneto region. You'll have the opportunity to learn more about the process behind the wine's signature Charmat method while sampling the light bubbly white wine surrounded by breathtaking views.
Make sure you reserve time to visit outer islands in the Venetian lagoon
Venice is made up of more than just the city center. There are dozens of islands just a Vaporetto or private water taxi ride away.
You need to reserve some time to explore.
Murano is one of the world's most famous glassmaking centers. The first glassmakers were taken to this tiny island in the Venetian Lagoon during the Middle Ages. They were not allowed to leave to protect their secrets of creating glass.
Today, Murano is still regarded as a hub for high-quality glass factories, and it's home to the Museo del Vetro (Glass Museum).
Burano is well-known for its needle-lace. During the 18th century, the island was admired for the quality of its lace.
Fun Fact: The tradition was even saved from extinction in 1872 by an elderly island inhabitant who remembered the process of making lace from when she was a little girl.
Regrettably, the school is no longer open. However, you can still learn about the history of the art form on this island by visiting the Museo del Merletto. Burano is also well-known for the spectacular scenery of its brightly painted colorful houses.
You can visit other incredible Venetian islands, including Lido island, Torcello, San Michele, and ​​Giudecca Island. Visiting Venice's outer islands are some of the best Italy summer destinations.
Read More
Don't take flowers, bracelets, or anything else given to you by someone unexpectedly on the street
If someone comes up to you out of the blue on the street and hands you a bracelet or sitting at a restaurant, someone approaches your table to offer you a rose, do you not take it!
Nothing ever comes for free–OK, maybe un bicchierino di digestivo after your dinner at a really chill restaurant–but otherwise, nothing comes for free.
Bracelets and roses are the most common scams I've seen, though I'm sure there are more. If you accept the "gift," you will then be haggled to pay for it with cash.
Unless you really want it and have cash on you to pay for it, say no and walk away if you can.
Seriously, this is one of the most underrated things to know when visiting Venice. I see it happen all. the. time.
Be wary of cheap souvenir stores if you want something authentic to take home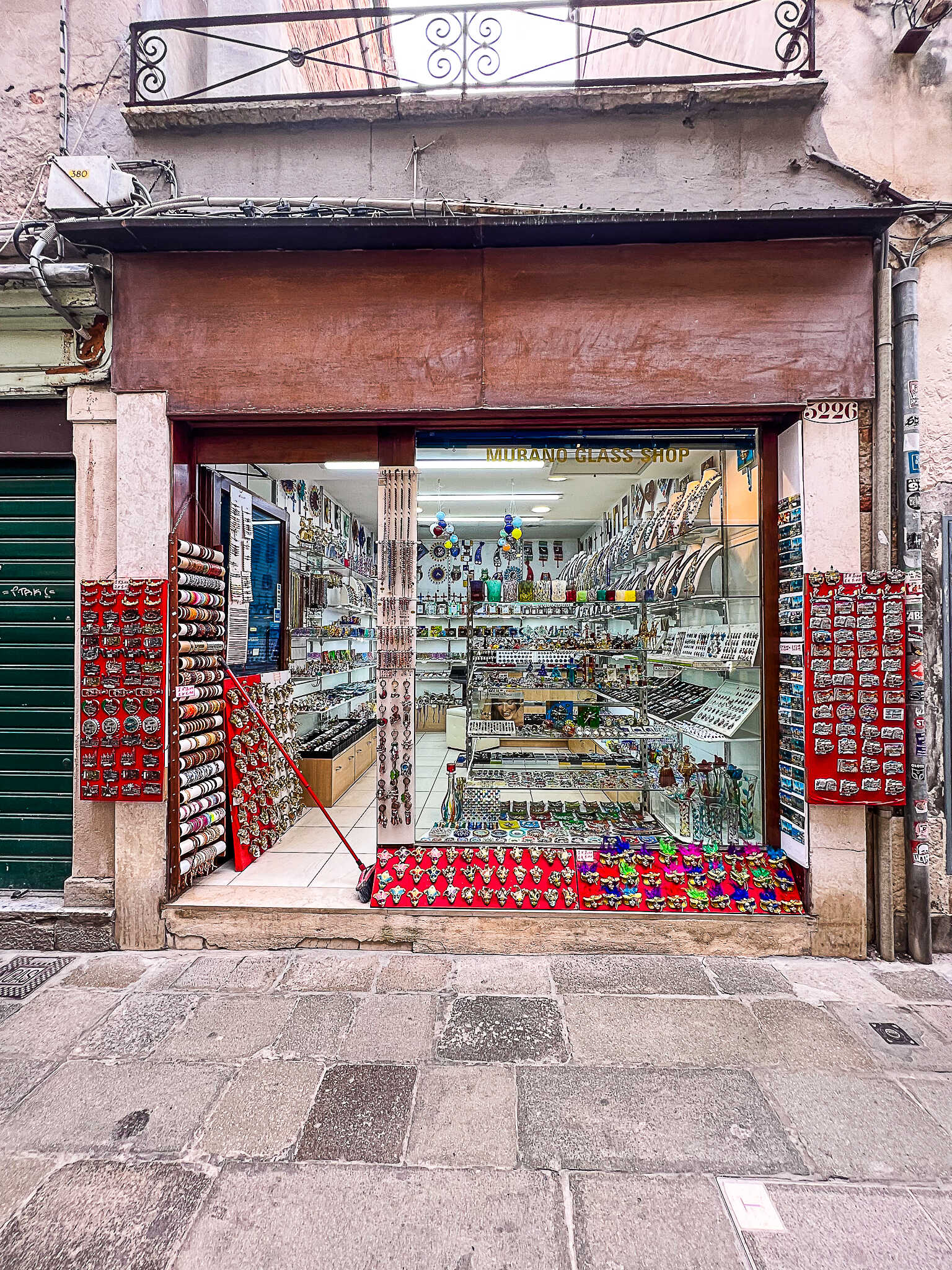 Authentic Venetian Carnevale masks, delicate Murano glass, and beautiful Burano lace are some of the most famous souvenirs you can bring home from Venice.
If you're interested in bringing home a trinket that isn't authentic, your best bet is a low-key souvenir shop or stand for cheap masks or other tchotchkes.
However, if you're willing to pay for it a little more for authentic handcrafted souvenirs, you're not going to find them at a cheap souvenir store.
Several shops throughout Venice are dedicated to selling the highest quality of handcrafted goods for Venetian masks, Murano glass, and even the Burano lace.
And a few of my favorites include:
You can access the rest of Italy by using the high-speed trains available at Stazione di Venezia Santa Lucia
The Italian train system is an excellent method of public transportation. I highly recommend it for traveling from city to city, rather than renting a car.
Although you can't take the train to Venetian islands like Murano, Burano, or Guidecca, you can easily travel from Venice to nearby destinations like Treviso, Padua, and Vicenza.
Even Bologna, Lake Garda, Rome, and beyond are accessible from Venice's train station. It's truly the best way to travel around the country.
Or, if you plan on taking the bus in or out of Venice, Piazzale Roma is right next to the train station where you can catch your bus.
History of Venice
La Serenissima, or the Most Serene Republic of Venice, originated around 402 C.E. when the Veneti people sought refuge on these islands amid invasions.
The autonomous Republic was founded in 421 and survived until Napoleon's invasion in 1797.
During this period, the Republic of Venice ruled over the majority of the Adriatic coast, including the Istrian peninsula.
It was also in charge of other sections of modern-day Croatia, as well as Montenegro, Albania, and Greece.
Venice, considered Europe's richest city, prospered as an economic powerhouse due to its position and abundance of a precious natural resource–salt.
The Doge, or ruler of Venice, was not a hereditary office. He was elected by a committee of affluent Venetians and reigned for life by the people's choice.
Know Before You Go to Venice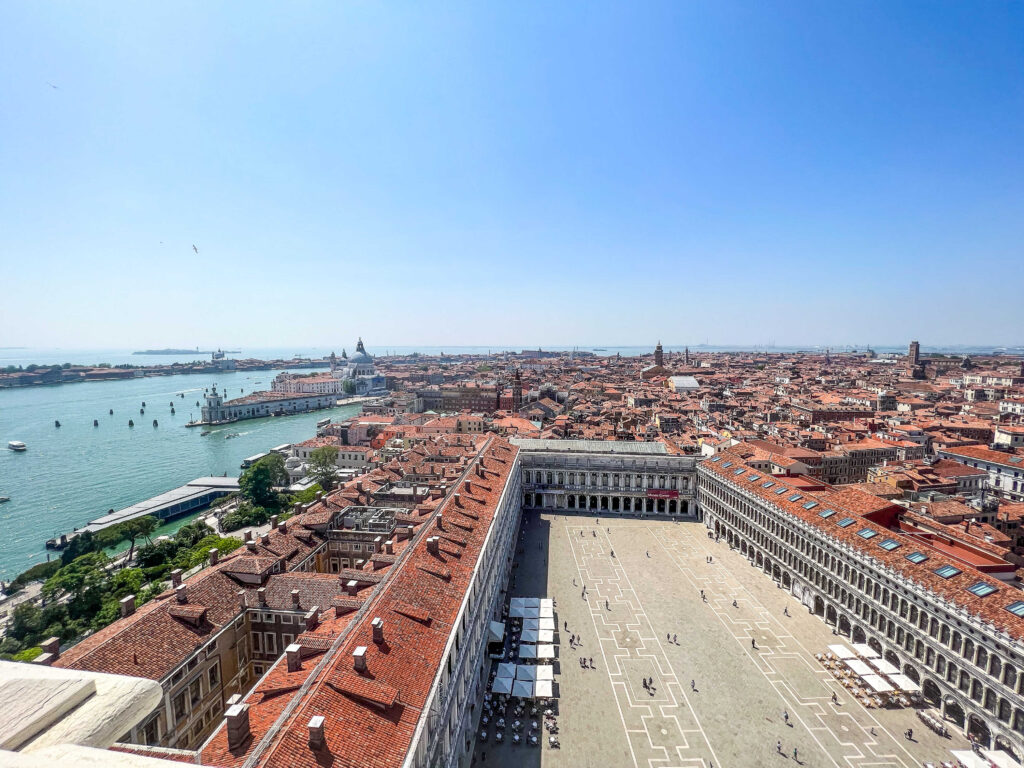 You need to register to get in! Starting in 2023, Venice will implement a reservation system to control the influx of tourists.
The goal is to charge day-trip guests on a sliding basis based on the time of year you're visiting Italy.
You'll also need to confirm your reservation before entering the city.
The reservation system is not yet operational, but I will update this section as more information becomes available.
How to Get to Venice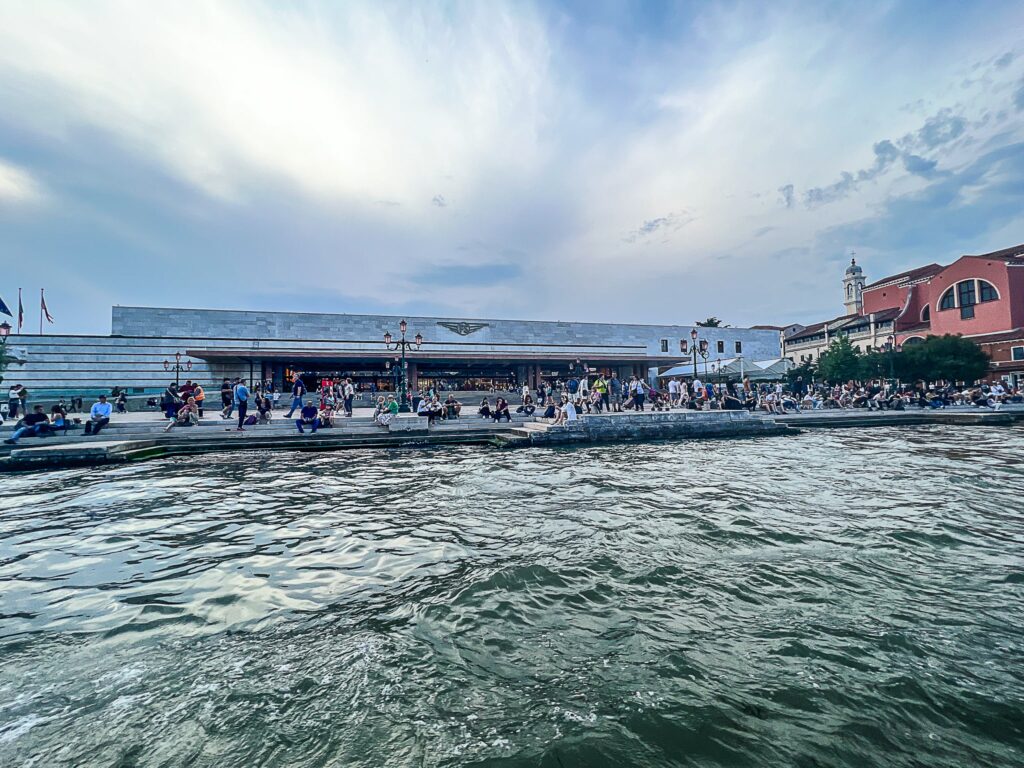 You can fly to any airport near Venice, like Treviso, Bergamo, Brescia, or Malpensa in Milan, and reach Venice by train.
However, flying to Venice Marco Polo Airport is by far the easiest option. This is because the majority of international flights land here, and it's located very close to the train station.
From late spring through the end of fall, Delta runs a direct flight from John F. Kennedy Airport in New York City directly to Venice Marco Polo Airport, which is great for people who hate layovers.
Overall, the Italian railroad system is a fantastic means of transportation. You can take a train from Venice's Stazione di Venezia Santa Lucia railway station almost anywhere in Italy! I strongly suggest using the regional trains for nearly all travel throughout Italy.
Although trains do not go to Venetian islands such as Murano, Burano, or Guidecca, you may easily travel from anywhere in Italy to Venice's Santa Lucia station.
Suppose you want to take the bus into or out of Venice. In that case, Piazzale Roma is the bus depot where local buses operate, as well as companies like Flixbus or Itabus drop-off.
How to Get Around Venice
The Sestieri of Venice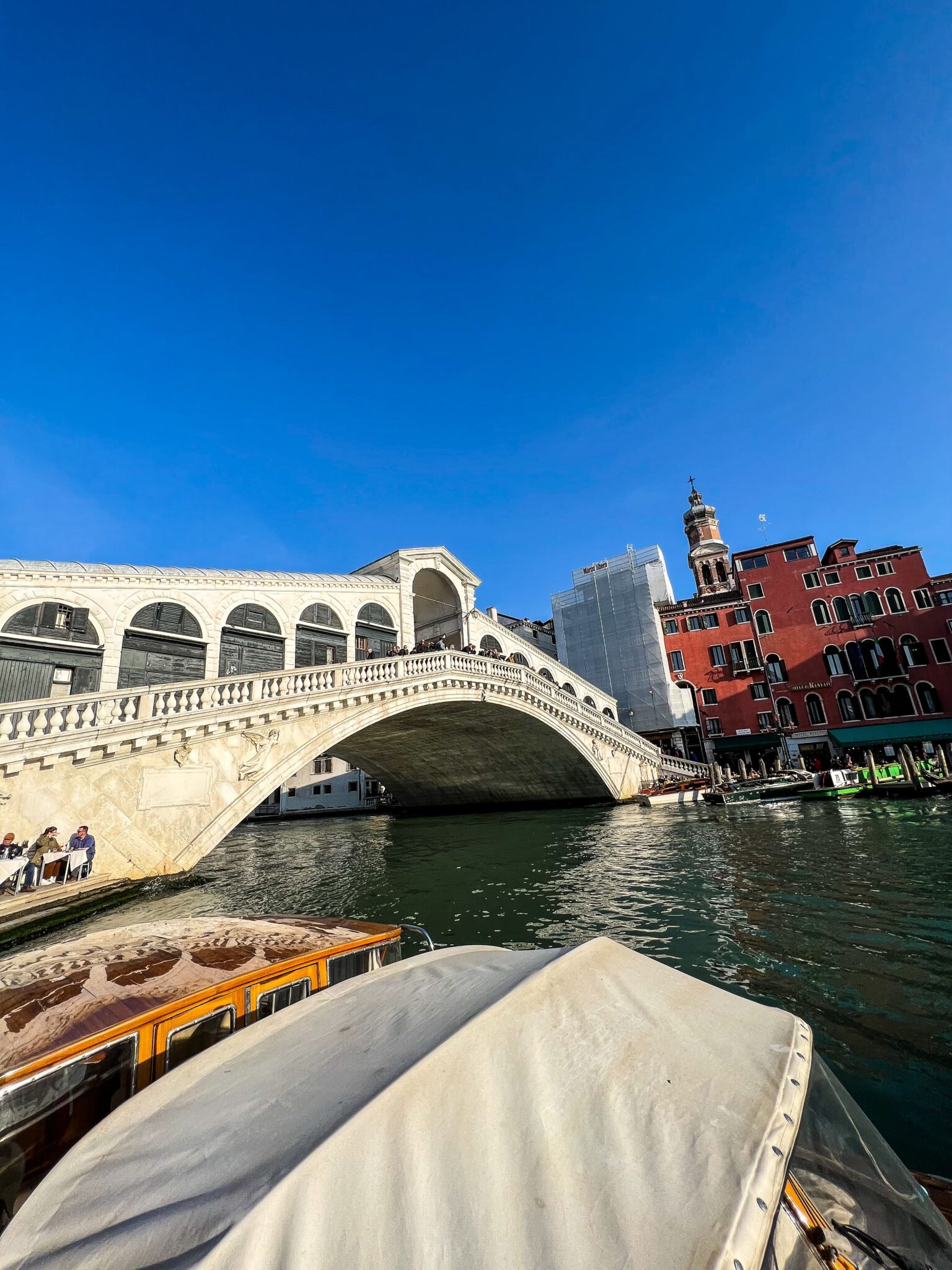 There are six different neighborhoods within the main city of Venice–Cannaregio, Castello, Dorsoduro, San Marco, San Polo, and Santa Croce districts.
Since it's so easy to walk between the six neighborhoods, you'll really have a chance to experience a little bit of everything Venice has to offer.
Although it's very easy to walk from one end of Venice to another using bridges that connect all of these small islands to each other. However, there are a few other ways to get around.
Vaporetto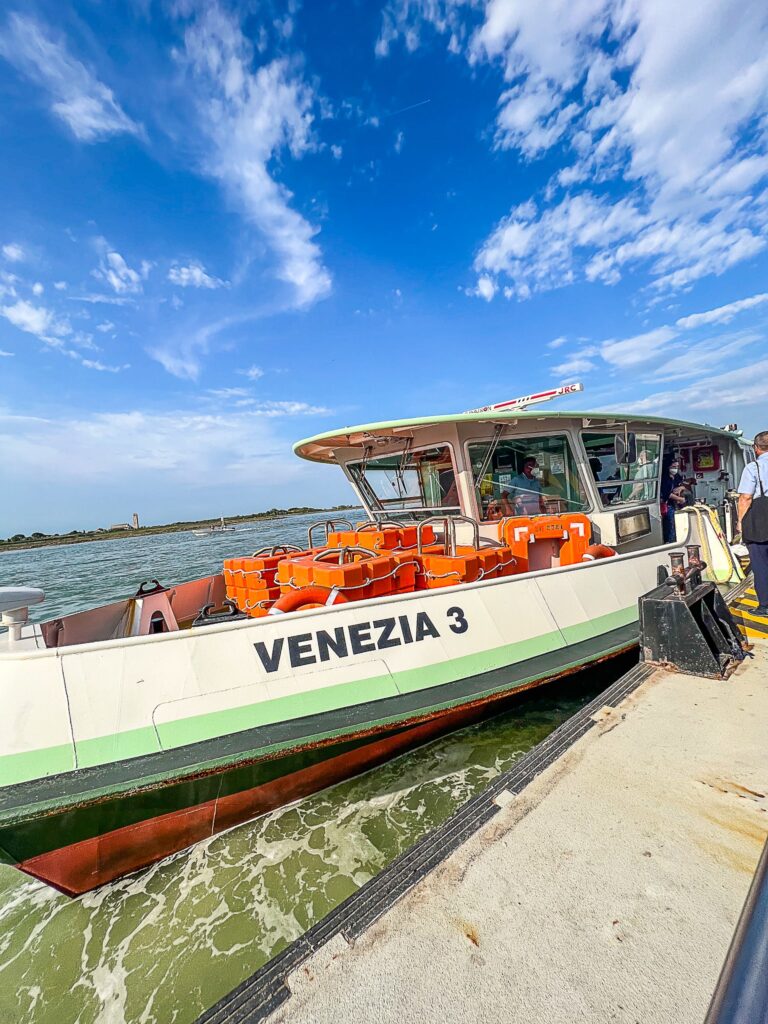 Although walking through Venice's twisting alleyways is an amazing experience, there is typically a more direct route–on the water.
A water taxi journey down Venice's Grand Canal is an incredible experience. You'll travel under the Rialto Bridge, along waterways dotted with colorful buildings and gondolas, and get a taste of Venice the way it was meant to be seen.
The city's public Vaporetto system, like any other mass transit system, is simple to operate once you understand the basics.
There are 19 separate lines that run between various sites in the city and the adjacent islands like Burano, Murano, and Torcello.
On the city's transit website Azienda del Consorzio Trasporti Veneziano (Actv), you can learn more about its history, plan your itineraries, and buy tickets.
Traghetto
If you only need to get across the Grand Canal from one side to the other and you're not near one of the four crossing bridges, take a traghetto.
Venetians use traghetto gondola services for the ease of traveling from one side of the Grand Canal to the other without the hassle of the Vaporetto or the time to walk.
There are several different traghetto points along the Grand Canal–San Marcuola, Santa Sofia, Riva del Vin, San Tomà, San Samuele, Santa Maria del Giglio, and Dogana, to name a few.
You'll need to pay the fare for a few euros in cash, and they only run during the day.
Private water taxis
The major private water taxi service in Venice is operated by Consorzio Motoscafi Venezia.
They have more than 100 boats in their fleet, and each boat can carry up to ten passengers and ten suitcases.
If you know you'll need their services in advance, you can purchase and pay for your ticket on their website. Otherwise, they have a 24-hour call center for you to call and make arrangements.
Where to Stay in Venice
Venice is such a unique, must-visit place and with so much tourism that I highly suggest booking ahead of time online.
Especially during the high tourism season, it's hard to find anything under €100 per night–even the hostels will run you about that much.
Here are my top recommendations:
Luxury in the Dorsoduro district: Located just off the Ca' Rezzonico water bus stop and steps from the Ca' Rezzonico museum, the Palazzo Stern (Booking | Hotels) is a stunning luxury hotel in a 15th-century Moorish-style palazzo. Their outdoor garden and terrace are waterfront on the Grand Canal, or enjoy the canal views from above while lounging in the Jacuzzi on the roof. I actually stayed here a few years ago, and it was truly an outstanding experience.
More Resources For Visiting Venice, Italy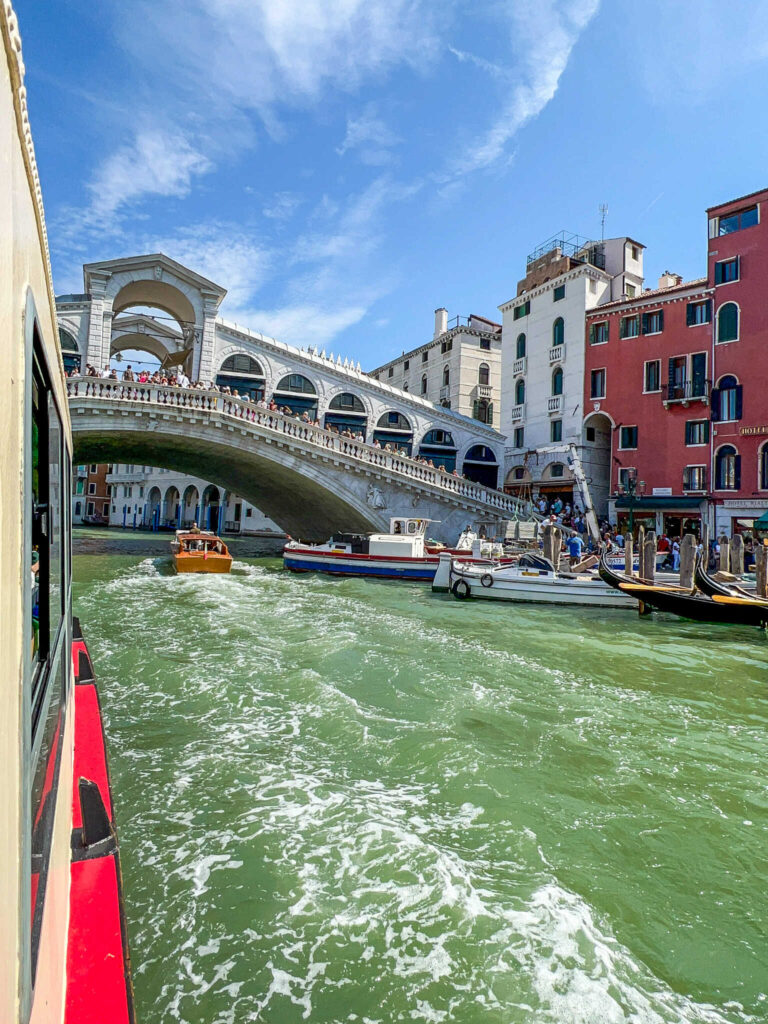 What can I do in Venice if it's raining? – If the weather is sorely lacking, take a look at my guide to the best inside activities for Venice.
What is there to do in Venice, Italy? – If you're still wondering what to do in Venice, I have a massive guide with more than 55 different activities, landmarks, and activities in Venice for more ideas on how to spend your time here!
Does Venice smell? – Although you might catch an occasional aroma in the summer months, Venice does not smell!
Is Venice Worth It: FAQs
Visiting Venice Italy: Wrap-Up
What do you think–is Venice worth visiting?
Do you have any Venice travel tips and things to know before visiting Venice you'd like to share?
If you're interested in learning more, I have several travel guides on this magical city of Venice.
Lyndsay