This post may contain affiliate links! I will receive a commission, at no extra cost to you, if you purchase something recommended here.
While you'll see that most holiday markets start sometime in November, December 8th, the Immaculate Conception marks the true beginning of the Christmas season in Italy.
If you have an opportunity to visit Venice at Christmas, you won't regret it! This beautiful, historic city comes alive with its holiday decorations and historical traditions.
From visiting Murano to experience Natale di Vetro to ice-skating in the middle of a Medieval square, there are so many things to do in Venice at Christmas.
The Best Things to do in Venice at Christmas
1. Admire the Christmas tree in Piazza di San Marco
One of Italy's most renowned piazzas is the stunning Piazza di San Marco.
It's named after Saint Mark the Evangelist, the Basilica's patron saint, whose emblem—the winged lion—was used to symbolize the Republic of Venice.
The Piazza, in the heart of Venice's historic district, is encircled by some of the city's most beautiful structures.
The Piazza is surrounded on three sides by the Procuratie. The Torre dell'Orologio and the Biblioteca Nazionale Marciana are both encircled by the building's famous arcade.
You can find the world-famous Basilica di San Marco and Palazzo Ducale (the Doge's Palace) on the fourth side.
The space in front of Palazzo Ducale connecting to the main Piazza is called Piazzetta di San Marco. This is where you'll find Venice's towering Christmas tree!
Spend a few minutes admiring and taking pictures of the decorated tree among the iconic skyline.
2. See Piazza di San Marco decorated for the holidays from above in the Campanile di San Marco
The beautiful Campanile di San Marco was built starting in the early 10th century and wasn't finished until five centuries later.
Despite various eras of construction, the bell tower collapsed in 1902 but was rebuilt by 1912.
Since it's the city's tallest building, you can find gorgeous views from the top!
Walk inside to purchase a ticket before riding an elevator to the top–one of the benefits of being rebuilt in the 20th century–to enjoy the view of the city of canals decorated for Christmas below.
3. Marvel at the Christmas lights all throughout the city
Throughout the winter months, the main streets of Venice are adorned with tinsel and Christmas lights.
Although they look beautiful during the day, the twinkling lights give Venice's nightlife a fantastic festive atmosphere.
Quick History: For a unique fact about Venice, during the peak of the Venetian Republic, the main roads people traveled were canals. The streets we walk down when wandering around Venice today were originally for the staff of wealthy families, ordinary folk, and livestock to move about. Since they weren't designed with any kind of order, it's easy to get lost while walking around Venice.
4. Celebrate Natale di Vetro on Murano Island
Murano is one of the most famous glass-producing places in the world.
During the Middle Ages, artisan glassmakers were brought to the island from mainland Venice.
They were not allowed to leave the island to protect the secret methods of creating the delicate glass.
Murano is still considered one of the most important centers for glass, and it's home to the Museo del Vetro (The Museum of Glass), which showcases handcrafted pieces from local artists.
You can see the island's Natale di Vetro celebrations during the Christmas season!
Translating to Christmas in Glass, the festivities begin on December 6th and last for one month. This date marks the feast day of ​Saint Nicholas, who is also the patron saint for glassmakers.
On the island, you can see a seven-meter-tall Christmas tree made entirely out of Murano glass and other beautiful glass decorations throughout the island, glass demonstrations, and special holiday-themed glass displays.
5. Visit Venice's Christmas Village at Campo Santo Stefano
Most Italian cities have their own Christmas markets, and Venice is no exception! Right next to the Ponte dell'Accademia, Campo Santo Stefano is home to Venice's largest holiday village.
Although it's not as big as other cities like Verona's Christmas market or Bolzano's German Christkindlmarkt, it's filled with Italian specialty foods and goods specifically from Venice, like Murano glass and handmade Venetian masks.
Sip on piping hot mulled wine or hot chocolate as you explore the beautiful square and enjoy the festive holiday atmosphere.
You'll find typical Italian delicacies like olive oil, specialty kinds of pasta, cured meats, and cheeses alongside handmade artisan crafts.
6. Stroll through the city streets and stop for some Christmas shopping
What better way to celebrate in Venice at Christmas than go holiday shopping?!
In addition to the Christmas village in Campo Santo Stefano, you can find just about any kind of store in Venice.
Big-name brands like Zara, H&M, or OVS and luxury shops like Gucci, Versace, and Louis Vuitton.
To small local boutiques, souvenir shops, home wear stores, and artisan handicrafts.
You'll surely find everything you need to take off your holiday shopping list.
7. Visit the city's nativity scenes
Found right outside Stazione di Santa Lucia, Scalzi Church (Chiesa della Santa Maria di Nazareth) is one of the most important monuments in the local Cannaregio neighborhood.
Designed by architect Balthasar Longhena in the mid-17th century, you can admire some of the most beautiful works of art of the period inside.
During Christmas in Venice, you can also see a presepe, a traditional Italian nativity scene, at the church. The entirely Murano glass nativity scene is one-of-a-kind.
Aside from this famous presepe found inside Scalzi Church, you can find several other "Christmas cribs" throughout Venice.
Other Venetian churches famous for their nativity scenes include Santa Maria Gloriosa dei Frari, Santa Maria dei Carmini, and the floating scene in the water near Burano island.
8. Celebrate Jewish holiday traditions in the Jewish Quarter
The Jewish Ghetto is an area within the old town of Venice where Jews were forced to live during the Middle Ages.
Today, walking through the neighborhood is like exploring an open-air museum. It still houses many of the original synagogues, schools, and houses built by the Jewish community.
In Campo di Ghetto Nuovo, you can observe Public Hannukah with the Grand Menorah Lighting. Celebrate the holiday in this historic place with doughnuts, potato latkes, and dancing.
Also in the Campo, you can visit David's Shop. They're one of only two Jewish Murano-style glassmakers left in the city.
Beautiful gifts like menorahs, dreidels, and shofars, among other Judaica, are all made out of blown glass.
Quick History: The word "ghetto" comes from the Italian dialect form ghèto, meaning "foundry." A foundry for cannons was once located on an island that forms part of Venice. In 1516, the Venetians restricted Jewish residence. The word ghèto became the name for the area and was borrowed into standard Italian as ghetto, with the meaning of "section of a city where Jews are forced to live." From there it passed into most other European languages."

"ghetto," Merriam-Webster.com Dictionary. Accessed 3/13/2022.
To learn more about the area's history, visit the Museo Ebraico di Venezia (Jewish Museum of Venice.)
9. Head to Caffe Florian for its iconic hot chocolate
Located in St. Mark's Square, Caffè Florian is considered to be the oldest coffee shop in Italy.
Opened in its current spot on December 29th, 1720, the famous café was popular among artists and writers like Charles Dickens, Casanova, Andy Warhol, and Clark Gable.
Today, the historic establishment still serves coffee and pastries.
Still, in Venice at Christmas, you need to visit for its hot chocolate.
Their Cioccolata Casanova, named after the man himself, is a steaming mug of hot chocolate topped with mint cream and chocolate shavings.
Or, if you still need your coffee fix, try the Caffè Anniversario Florian, a decadent cup of coffee and hot chocolate with Florian zabaione liqueur and topped with whipped cream and crushed amaretto biscuits.
10. Sip your holiday cocktail at Harry's Bar
Did you know–the Bellini was created here at Harry's Bar in Venice?
The classic brunch cocktail made with Prosecco and peach purée was created by owner Giuseppe Cipriani between the 1930s and 40s.
Cipriani noticed the drink's signature pink color was similar to that in a painting by Venetian Renaissance painter Giovanni Bellini–thus, the Bellini was born.
Whether you decide to enjoy a Bellini or another seasonal holiday drink, Harry's Bar has a cozy atmosphere. It is a great place to grab one of their famous drinks and relax.
11. Try Venetian cicchetti at a traditional bacaro
The word bacaro in Venetian dialect means "a good bar" or "wine," and that's precisely what you'll find at any of the city's bacaro restaurants.
At a bacaro, you'll eat the Venetian happy hour delicacy called cicchetti, which are small rounds of Italian bread, each topped with different things–baccalà, salami, gorgonzola with walnuts, parmigiana cheese with jam, and so many other foods.
And, of course, you'll drink a spritz!
Now that you've got the basics down, you're going to do as the Venetians do and add un giro d'ombra (a bacaro tour) to the list of things to do in Venice at Christmas!
Go from one bacaro to another, having a spritz or a glass of wine and a few pieces of cicchetti at every stop.
You'll warm riiiiight up!
12. Taste traditional Venetian Christmas cakes and desserts
Italy is famous for its delicious baked goods, especially during the holiday season.
And while many people associate Christmas baking traditions with America, Italians have celebrated the holidays long before Santa Claus came along.
In fact, there are several regional variations on what we think of as "traditional" Christmas treats.
In Venice, you'll find everything from zaleti or zaeti, a traditional cornmeal cookie, to pinza, a cake-like flan flavored with nuts and candied fruit.
And, of course, one of the most popular Veneto Christmas cakes is pandoro.
Not to be confused with another Italian Christmas cake, panettone!
Originally from Verona, a nearby cosmopolitan city in the Veneto region, pandoro is a large cake shaped like a star with eight points.
13. Go ice skating in Campo San Polo
Every winter, an ice skating rink is set up in the middle of Campo San Polo in the San Polo neighborhood of Venice.
Open from the start of December through the Carnevale season, you don't need to bring your own skates as you can rent them on-site.
Your entry gives you 1.5 hours on the ice at a time; you can purchase additional entries but will need to take a 30-minute break.
14. Enjoy a Christmas concert in Venice
With the holiday season comes Christmas concerts!
The Museo della Musica hosts classical music concerts by the Interpreti Veneziani string quartet, known for its Baroque music performances by the famed masters of the era like Vivaldi.
See the historic instruments inside the Museum of Music before sitting down to enjoy this moving concert series in Venice on a cold winter's night.
You can purchase tickets for the Interpreti Veneziani Concert with the Museum of Music entry included here.
15. Take a gondola ride through the Venetian fog
One of the most remarkable aspects of Venice is its canals–and floating down them in a gondola is quite the bucket-list experience.
In Venice in December, you'll find fewer tourists, which means fewer gondolas on the waterways. It's like having the wonderful city's historic canals almost entirely to yourself.
I highly recommend you book a Grand Canal by Gondola with Commentary tour in advance–that way, you can guarantee that you'll have a gondola experience instead of hoping to find a gondolier during its coldest months.
16. Enjoy the view from the Fondaco dei Tedeschi rooftop
A few blocks from the Rialto Bridge, you'll find the 14th-century Fondaco dei Tedeschi.
This luxury indoor shopping mall was once the city's main post office. Before that, German merchants living in the Venetian Republic were confined there.
The interior has been carefully designed to preserve the historical integrity of the structure while offering floors of shopping space.
Spend some time roaming through the luxury goods for sale and find some inspiration for your Christmas list before heading up to its rooftop.
Now, you can enjoy the panoramic views of the city from its rooftop as one of the best free things to add to your Venice itinerary this holiday season.
It's free to reserve a ticket to visit the T Fondaco Rooftop Terrace; just make sure to book your ticket in advance.
17. Dress up to watch a performance at the historic Teatro La Fenice
Teatro La Fenice opened in the 18th century, just five years before the fall of the Republic.
Throughout its history, opera performances from some of the most famous composers, such as Rossini, Bellini, and Donizetti, premiered here.
Now, it is considered one of the most significant landmarks in music history.
The current theatre is a reconstruction of what was there–the original burned down in 1996.
Fun Fact: The inside of the Croatian National Theater in Šibenik was inspired by Teatro La Fenice! You can see a picture of the interior in my guide on the best things to do in Šibenik, Croatia.
You can check their calendar and book tickets online for any of their holiday concerts. Otherwise, you can book an audio tour of La Fenice when there isn't a production.
18. Cheer on the Santa Claus Run runners
Every year in December, the Venice Running Club organizes a 7-kilometer run through the historic city center called the Corsa dei Babbi Natale. ​
For this Santa Claus Run, you have to dress up like—you guessed it—Babbo Natale himself.
You can learn more about this year's race and sign up on the website.
19. Attend Christmas mass at Basilica di San Marco
From 836 until 1797, the Ducal chapel was housed in the Basilica di San Marco, whose construction was completed in 1094. Before building this masterpiece, there were two other churches on this site.
Now, you can admire the golden mosaics, the high altar Pala d'Oro, and art by Renaissance masters Tintoretto, Titian, and Veronese inside this stunning church during a Christmas mass.
During the holy days, St. Mark's Basilica hosts the Office of Readings and Solemn Mass during the Night on Christmas Eve and two masses on Christmas day–the Solemn Mass during the Day and the Second Vespers of Christmas in the afternoon.
Whether or not you're planning to visit Venice on Christmas day, you can still take the opportunity to visit this historic church.
If possible, arrive early in the day during busy times of the year because there can be a very long line to enter the Basilica.
20. Celebrate Santo Stefano on December 26th
The holiday festivities continue the day after Christmas!
December 26th is the feast day of Saint Stephen, the first Christian martyr.
Although it's the day after Christmas, the city celebrates this public holiday with concerts and plays throughout the city.
21. Ring in the New Year throughout Venice
On New Year's Eve, Venice comes alive with events all around the city.
You can catch concerts and performances at theaters like Teatro La Fenice or Avanspettacolo Theatre Restaurant.
Or, enjoy an excellent meal before finding a spot along the water to watch the stunning fireworks display at the stroke of midnight.
22. Participate in Venice's own version of the "Polar Bear Plunge" on New Year's Day
Have you ever heard of a polar bear plunge?
In the USA, it's when you jump into a freezing cold body of water–often for charity or on a memorable holiday.
Here in Venice, you can celebrate your own version of the plunge on New Year's Day.
Since you can't swim in Venice, you must go just outside the historic city center to participate in this time-honored, chilly tradition.
You can take the Vaporetto to Lido Island to get to one of Venice's beaches, where you'll have no problem jumping into the frigid Adriatic Sea.
23. Watch the Torre dell'Orologio open on the Epiphany
Located just steps away from the Basilica di San Marco, the Torre dell'Orologio is one of the most famous landmarks in Venice.
Built at the close of the 15th century, its clock strikes every half-hour, starting and ending each phase of Venetian daily life.
The two figures–one an old man and one a young man to represent the passing of time–strike the bell on top of the clocktower at the top of every hour.
The winged lion holding an open book and the Zodiac marked on the clock face are other notable features.
Although this clock is beautiful year-round, you must see it on January 6th for the Procession of the Magi.
Each year, only on the Epiphany holiday, the three Magi and an Angel appear from within the clock and pass in front of the Virgin Mary to celebrate the birth of Jesus Christ.
Since it only happens twice yearly–the Epiphany and Ascension Day–it's incredibly rare to experience.
24. Watch the La Befana Regatta
In addition to the Procession of the Magi, another famous tradition occurs in Venice every January 6th–the Regata delle Befana.
"In Italian folklore, La Befana is a witch who brings good children treats on the morning of the Epiphany, January 6th. But if you were bad, look out – you may wake up to a lump of coal."

EATALY
Although sounding similar, the legend of La Befana dates back long before Santa Claus.
On the night of January 5th, the witch flies on her broomstick from house to house, sliding down the chimney to gift candies and gifts to good children and coal to the bad.
On the morning of the 6th, fifty members of the oldest rowing club in Venice each dress up as La Befana and race on the Grand Canal from San Tomà to the finish line at the Rialto Bridge.
25. Take a Christmas day trip away from Venice
You'll find so many other beautiful cities to celebrate Christmas and enjoy the winter near Venice!
The north of Italy offers many beautiful towns and cities with great holiday markets and winter sports to enjoy throughout the colder months.
Just a short train ride away from Venice, you need to see the Christmas season in Verona.
Famous for its role as the setting of William Shakespeare's Romeo & Juliet, the fair city hosts its own German Christmas market in collaboration with Nuremberg, Germany, and has several other beautiful holiday landmarks and activities.
Up in the Trentino-Alto Adige/Südtirol region, Bolzano at Christmas is also not to be missed.
The city has the largest German Christkindlmarkt in Italy, along with boutiques and shops celebrating the season.
This is one of my favorite places to see snow in Italy and visit during the Christmas season!
Read More
Tips for Visiting Venice in December
👉 Book accommodation ahead of time
Just like the Christmas season in any city, you need to plan ahead of time. Once your trip is scheduled, make sure to book your accommodations, or you'll be subjected to high holiday surge pricing.
👉 Decide if a Venice museum pass is right for you
One of the best ways to stay warm during the cold season?
Visit a museum!
To explore the art and artifacts held inside some of Venice's many museums, consider purchasing your tickets in advance with a museum pass.
If you're interested in learning more, you can read my guide here on the best Venice museum passes.
👉 Prepare for cold, wet weather
In the Veneto region, winter doesn't just mean cold.
Although it doesn't usually snow in Venice, a thick fog falls over the city throughout most of the winter.
And even though it makes for some eerie, beautiful moments in the city, it can chill you down to the bone.
Make sure to dress in layers to stay warm on any cold winter day on the Venetian Lagoon.
Another natural phenomenon throughout the winter is aqua alta.
What to know about acqua alta
When the canal water levels rise too high, the city floods.
Since the Italian city sits on a lagoon, high and low tides happen twice daily.
But since the city is only prone to flooding when the tide rises in the Adriatic Sea during the winter, this doesn't happen when it rains in Venice; only in the winter when the tide rises.
This phenomenon is called acqua alta.
Local Venetians have apps to alert them, usually a few days in advance, when there's a risk of flooding.
And every church tower in Venice has a siren that once signaled air raids warnings throughout World War II, which are also used for flood alerts.
However, the city has recently built a tidal barrier to try and combat the flooding and slow sinking of the city due to rising tides and climate change.
The operations center for the MOSE Project is housed in the Venetian Arsenal.
Average Temperatures of Venice in Winter
According to the National Centers for Environmental Information from NOAA, January is the coldest month of winter in Venice.
Month
Temperature in Fahrenheit
(High / Low)
Temperature in Celsius
(High / Low)
November
55° / 39°
13° / 4°
December
47° / 31°
8° / -1°
January
46° / 30°
8° / -1°
February
50° / 32°
10° / 0°
How to Get to Venice at Christmas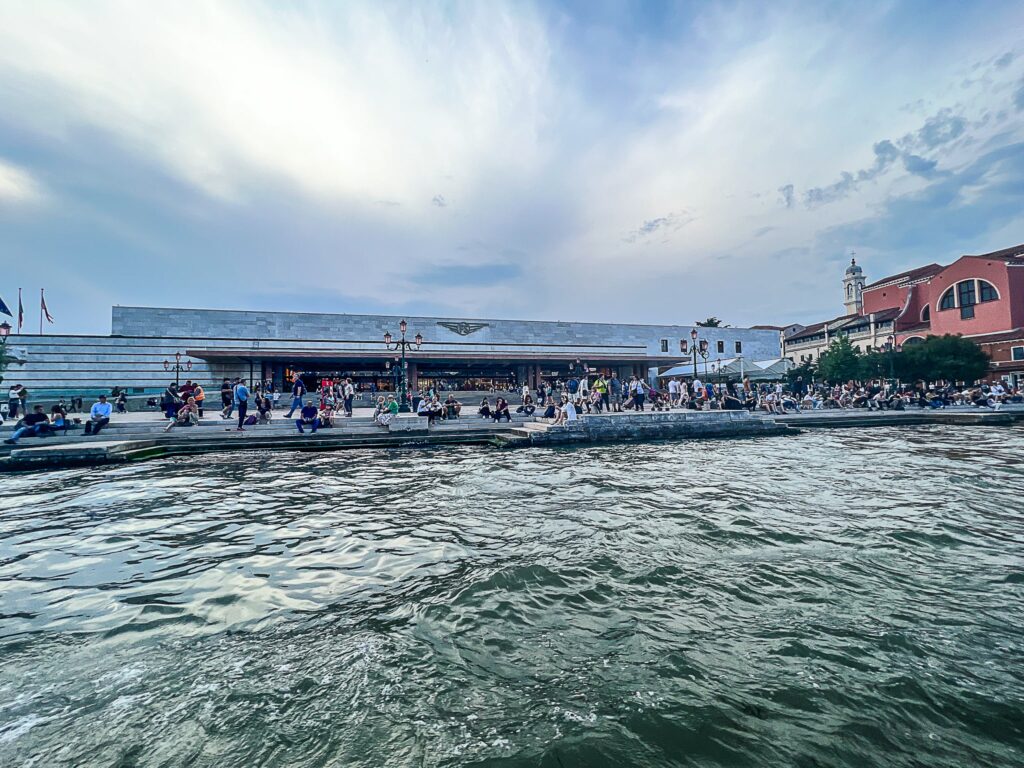 You can fly to any airport near Venice, like Treviso, Bergamo, Brescia, or Milan Malpensa.
However, flying to Venice Marco Polo Airport is the easiest option. This is because most international flights land here and are located very close to the train station.
From late spring through the end of fall, Delta runs a direct flight from John F. Kennedy Airport in New York City directly to Venice Marco Polo Airport, which is excellent for people who hate layovers.
Overall, the Italian railroad system is a fantastic means of transportation.
You can take a train from Venice's Stazione di Venezia Santa Lucia railway station almost anywhere in Italy!
I suggest using the regional trains for nearly all travel throughout Italy.
Although trains do not go to Venetian islands such as Murano, Burano, or Guidecca, you may easily travel from anywhere in Italy to Venice's Santa Lucia station.
Suppose you want to take the bus into or out of Venice. In that case, Piazzale Roma is the bus depot where local buses operate, as well as companies like Flixbus or Itabus drop-off.
How to Get Around Venice in December
Six different neighborhoods within the central city of Venice are Cannaregio, Castello, Dorsoduro, San Marco, San Polo, and Santa Croce districts.
Although walking through Venice's twisting alleyways is a fantastic experience, there is typically a more direct route–on the water.
A water taxi journey down Venice's Grand Canal is an incredible experience. You'll travel under the Rialto Bridge, along waterways dotted with colorful buildings and gondolas, and get a taste of Venice the way it was meant to be seen.
The city's public Vaporetto system, like any other mass transit system, is simple to operate once you understand the basics. 19 separate lines run between various sites in the city and the adjacent islands like Burano, Murano, and Torcello.
On the city's transit website Azienda del Consorzio Trasporti Veneziano (Actv), you can learn more about its history, plan your Venice itineraries, and buy single tickets or multi-day passes.
You can also take a traghetto if you only need to cross the Grand Canal or a private water bus.
Visiting Venice at Christmas: FAQs
Festive Things to do in Venice in December: Wrap-Up
Visiting Venice in December and enjoying its festive season is an unforgettable holiday experience.
The magical city is filled with beautiful Gothic architecture, incredible museums, and delicious food.
And when you add in the holiday atmosphere and delicious food, it becomes even more special.
So if you haven't been to Venice at Christmas yet, add it to your holiday wish list for next year!
Lyndsay
Read More