This post may contain affiliate links! I will receive a commission, at no extra cost to you, if you purchase something recommended here.
It's not just the food, the architecture, and the art that make Venice one of the most unique cities on earth. There's also the water.
And the boats.
And the gondolas.
And the canals.
And the pigeons.
And the crowds.
But most importantly–the water. This historic city developed because of, and despite, the Venetian Lagoon.
If you're wondering–can you swim in Venice?–the answer is both no and yes.
You can't swim in the canals that run through the Italian city's center. However, there are several stunning, unmissable beaches near Venice where you can spend some time swimming in the Adriatic Sea.
I've spent almost a year living in the Veneto and exploring several Venice beaches, which offer everything from stunning views to excellent swimming conditions for every type of beach lover. Seven on this beach guide even have the Blue Flag distinction, which means they uphold incredibly high standards for cleanliness and sustainability.
Blue Flag is an international environmental organization that grades beaches, marina, and boats on a "series of stringent environmental, educational, safety-related and access-related criteria [that] must be met and maintained." 
And almost all of the popular beach destinations included in this list can be easily accessed by train or boat from Stazione di Venezia Santa Lucia or the historic center on the ACTV Vaporetto system. I highly recommend the app Citymapper to help you navigate the schedule and see the routes.
Tips for Visiting Italian Beaches
Be wary of beach sellers – People might approach you on the beach to sell you water, shawls, sunhats, or bracelets. I've even been approached by people trying to sell me a rose while on the beach. If you aren't interested, just say no and do not engage further. If you start asking questions, you might not be left alone until they've sold you their product.
Sunscreen is required – During the scorching summer days by the seaside, the sun is particularly intense. Even if your skin doesn't easily burn, you should still apply sunscreen before going out in the sun. You can check out my list of other top beach essentials here.
Beach chairs are an additional cost – Although laying out your towel on the ground is free, if you see beaches with rows of empty beach chairs and umbrellas, don't just sit down. You need to pay a daily fee to rent a specific chair and umbrella set. Check with a nearby beach bar if you're not sure where to reserve your spot.
The Best Beaches in Venice
Lido di Venezia
The beaches on Lido di Venezia are gorgeous cultural jewels in Venice's crown, with soft sand, sparkling water, and classic art deco architecture. The island is home to the closest beaches to the city center. The famous International Venice Film Festival occurs here yearly, so the area is also doused in a bit of opulence and glamour.
Throughout the centuries, many artists, poets, and royals have spent their beach holidays along this coastline, and the atmosphere is definitely worth soaking up.
To reach the Lido di Venezia, you can take the approximately 40-minute ferry ride on several Vaporetto lines, depending on where you are in Venice. Once you arrive, there are several excellent Italian beaches to spend your day on.
Spiaggia Lungomare d'Annunzio
Florian Fuchs/Wikipedia/CC-BY-SA 3.0, CC BY-SA 3.0, via Wikimedia Commons
This beach near Venice encompasses the smaller beach areas in the most northern part of Venice Lido island, including Venezia Spiaggia Blue Moon. It's a lovely and relaxing getaway with all the necessary amenities within your reach–various restaurants, bars, and shops, along with facilities such as toilets and showers, are all close by.
Spend the day here, renting an umbrella and sunbed from one of the many beach clubs. And eat at one of the seaside restaurants, such as Adriatico Terrace inside the Hotel Excelsior Venice (Booking | Hotels), which offers a romantic sea view, or one of the only Greek restaurants in Venice, Tavernaki.
The good thing about this beach is that the sea is shallow for a long-distance, meaning it's safe – perfect if you're on your own or a less confident swimmer.
Insider Tip: There are a lot of seashells in the sand here, so make sure to bring a pair of flip-flops for walking around!
Spiaggia degli Alberoni
Situated on the last strip of the Lido in Venice, Alberoni is the farthest beach on the island. It has a pleasant, more relaxed vibe than the city, with a beautiful, rustic feel. Here, you'll find untouched sand dunes, wildflowers, and pine trees all around.
Relatively cheap and quieter than Venice and part of a pretty nature reserve, it's free to access. You can rent beach umbrellas and chairs for a lovely day under the sun.
However, the most fascinating feature of this sandy beach near Venice is that the waters here are home to sea turtles! For this reason, along with all the other thriving wildlife here, the Spiaggia degli Alberoni is protected by the WWF.
It can get quite busy in August, with boats and jet skis crowding the warm water. I recommend visiting in the early summer months if you only plan to swim.
You can take a ferry from Venice to Alberoni Beach, which takes about 40 minutes.
Pellestrina
Beyond the Lido, you'll come to Pellestrina–another island in the middle of the Venetian Lagoon. Also accessible by Vaporetto, the beaches in Venice here are less trafficked and a bit wilder.
Spiaggia San Vio
On the fishing island of Pellestrina, Spiaggia San Vio is near a quintessential Venetian town, complete with colorful buildings, picturesque views, and excellent restaurants.
The lovely beach here is quite wild and rugged, but it's authentic and much less touristic than the Lido beaches closer to Venice. Come here if you want to experience a quieter side of Italy or if you like taking pictures around Venice – it's a street photographer's dream!
Spiaggia Ca' Roman
Spiaggia Ca' Roman is also found on Pellestrina and is a stunning beach teeming with extraordinary wildlife. An impressive number of animals inhabit this beach near Venice, including over 200 species of birds, like the kingfisher and the Mediterranean gull.
Walk around the Riserva Naturale Ca' Roman while visiting to make the most of the area's incredible biodiversity. It's the perfect place if you have a soft spot for nature or want to spend time in an untouched haven on the Adriatic coast.
Spiaggia del Bacan
Didier Descouens, CC BY-SA 4.0, via Wikimedia Commons
Found on the city's Sant'Erasmo island, Spiaggia del Bacan is another great Venice Beach. Although there aren't many options when you get here with regard to beach gear like chairs or other facilities to rent, you can visit the Spiaggia del Bacano (public beach) for free. It's a great place to spend a day in the Venetian sun.
Once you're done spending time on the beach, there are several gardens and farms on the island to explore, like the honey farm Miele di Sant'Erasmo di Mavaracchio Elio, the organic i&s Farm, or the Orto di Venezia winery. Sample the local wines made from grapes grown on the island, and buy fresh produce and other products directly from the farmers.
There are plenty of places to eat on the island, including restaurants serving Italian food, pizza, pasta, and seafood dishes.
You can reach Spiaggia del Bacan on Sant'Erasmo island from the Fondamente Nove stop in Venice on the Vaporetto's number 13 line.
Lazzaretto Nuovo
TheRunnerUp, CC BY-SA 4.0, via Wikimedia Commons
If you're not one for overcrowded beaches near Venice, but you want some island time on your 2 days in Venice itinerary, Lazzaretto Nuovo is such an interesting island to visit.
In just a short boat ride from the city, you'll be immersed in a land wrought with centuries of history. It's an open-air museum and eco-park displaying its time as a quarantine island from the 15th to 17th centuries.
This is a great place to go if you're interested in Venice's past and the ways of life hundreds of years ago. Although there isn't a beach here, it is a place to relax in the sunshine and explore the rich history very few tourists have a chance to see.
Since it's the island right next to Sant'Erasmo, you can even spend some time on Spiaggia del Bacan before heading over to Lazzaretto Nuovo.
To get there, you can take the number 13 ferry from the Fondamente Nove stop.
Read More
Northern Beaches near Venice
Santa Cristina
This is the ultimate secluded beach experience. Located in Venice's northern lagoon, this private island was previously home to the affluent Swarovski family.
It has a private beach, a grand swimming pool, and an outdoor lounge. Plus, the island is home to flourishing wildlife, with magnificent vineyards, flowering gardens, and wild peacocks and grouse.
Punta Sabbioni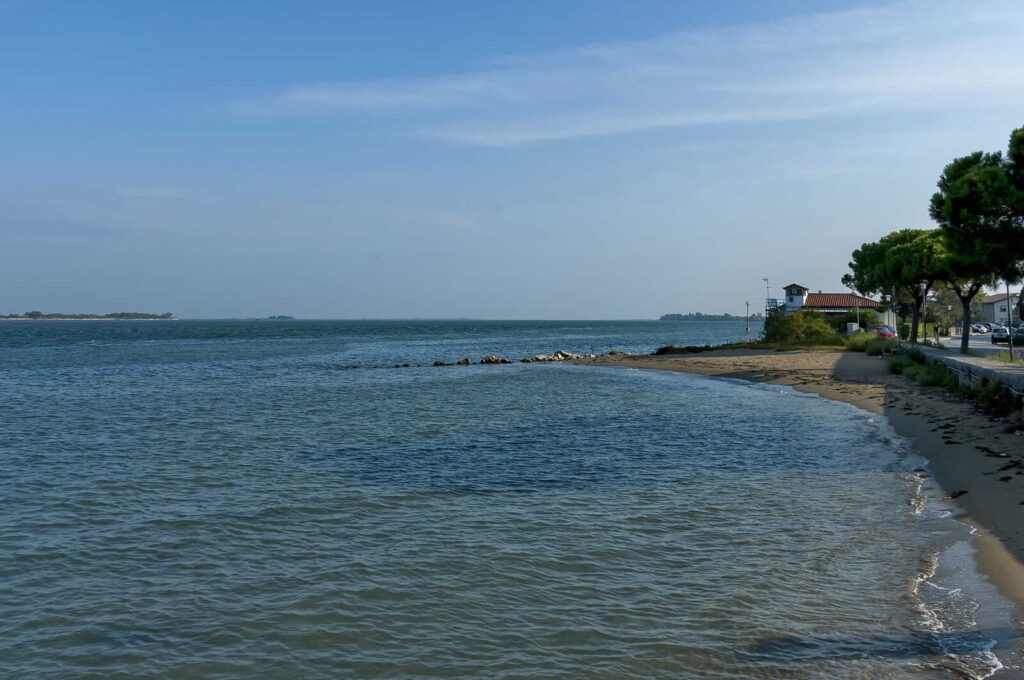 This magical beach near Venice is popular with tourists for its sheer beauty. It's about 2 km long, with protected, fragrant pine forest trees behind the sand dunes of Punta Sabbioni.
There are so many things to do here besides admire the incredible views. You can try scuba diving, sailing, and rowing in the clear, blue sea. Or cycle to the village of Lio Piccolo and try to spot the migratory flamingos along the way!
The Punta Sabbioni lighthouse and the former military battlements are also unique pieces of architecture here to explore.
There are a few different Vaporetto lines that can take you all the way to this beach from the center of Venice, or jump on a direct motorboat transfer.
Spiaggia di Cavallino
Danny van Leeuwen, CC BY-SA 3.0, via Wikimedia Commons
Cavallino beach is a natural gem of extraordinary beauty near Venice. A 15-kilometer-long beach of clean white sand and serene blue water will provide you with the most relaxing day out away from the hustle and bustle of the city.
It's on a nature reserve site, meaning the area is protected and preserved. The area also carries a rich culture of ancient Venetian fishing, so you can experience traditional Italian fishing practices.
With two small seaside villages, plenty of restaurants, bars, and campsites, this natural beach near Venice is a heavenly getaway for those who appreciate nature, history, and culture.
You can take the ferry from Venice to Punta Sabbioni, and then the 23a bus over to Cavallino.
Lido di Jesolo
Jesolo is Venice's most popular local beach, and for a good reason! It has something for everyone, boasting water sports, spa treatments, a water park, and a vibrant nightlife.
There is a range of hotels if you want to stay here, from beautiful beachside hotels like Hotel Mediterraneo (Booking | Hotels) to great camping villages. It can get busy during the hot summer days and very touristy, but it's great for those who want to go out, have fun, and party.
To get here from Venice, take the ATVO bus to Jesolo or the Vaporetto line 12 to Punta Sabbioni and then the 23a bus to Jesolo Beach.
Caorle Beaches
Caorle has two main beaches, Spiaggia di Levante in the east and Spiaggia di Ponente to the west. Both of these are gorgeous, with stunning golden sands and warm seas.
Levante is the perfect place to view the sunrise in the early morning hours, and Ponente is great for catching the sunset. The water is also deeper on this site, so it's a bit better for swimming.
The town itself has architecture similar to Venice, with little village squares, bright colors, and an enchanting Byzantine-style Cathedral.
It's also ideal for tourists with disabilities, with investments made in making the amazing beach destination accessible to everyone. There are also plenty of hotels along the coast here, like the Hotel Astoria (Booking | Hotels) on Spiaggia di Ponente or Marina Palace Hotel (Booking | Hotels) on Spiaggia di Levante.
To reach Caorle from Venice, take the ATVO 25a bus from Piazzale Rome in Venice to San Donà di Piave, then transfer to the 4a bus into town.
Bibione Beach
Tiesse at Italian Wikipedia, Public domain, via Wikimedia Commons
Bibione Beach is a charming coastal area surrounded by a fragrant pine forest and the glistening Adriatic Sea. This 8 km stretch of soft sand offers more than you could ever need, awarded with both Blue and Green Flags for its clean sea and natural environment. It also has awards for its sustainable eco-tourism activities.
This beach near Venice offers Latin dancing, beach volleyball, pedal boats, cycling, and even night-time firework shows. It's a great place to release your inner child, with the water theme park Luna Park Adriatico giving you a chance to enjoy a colorful funfair that lights up in neon colors after the sun goes down.
There's something for everything at Bibione Beach, and it's easy to get to via train from the center of Venice. Just get off at either the Portogruaro or Latisana-Lignano-Bibione stations and then take the bus to Bibione.
Read More
Southern Beaches near Venice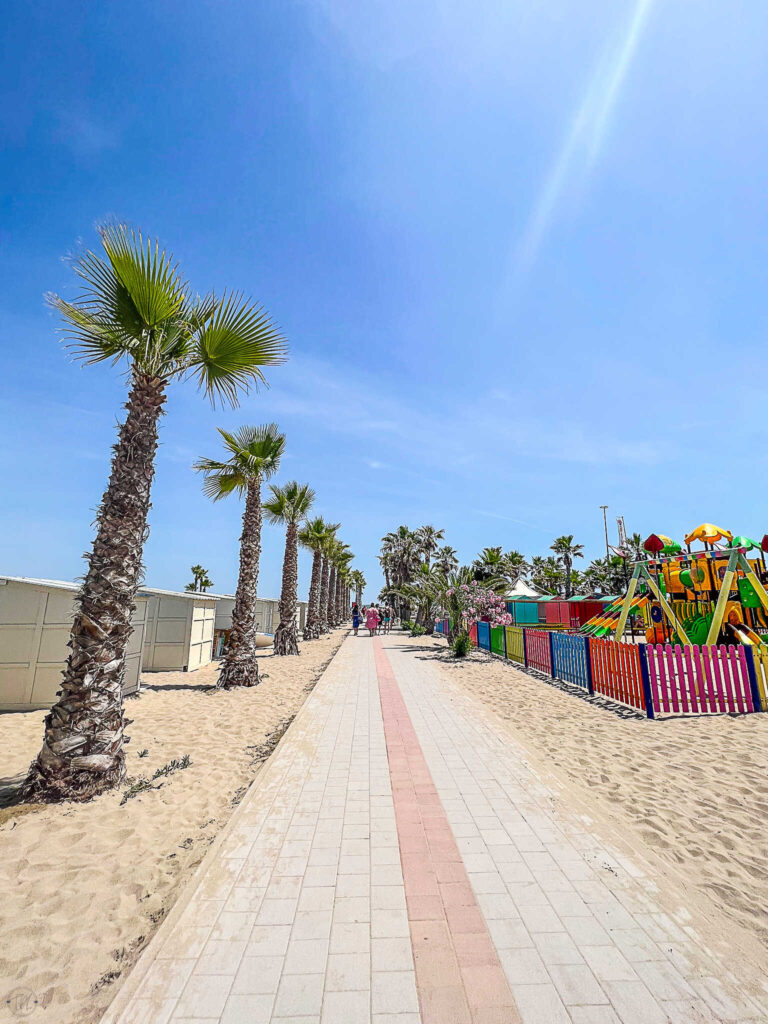 Sottomarina Beaches
The stunning Sottomarina beaches are home to my favorite beaches in Venice! With clean, sandy beaches, warm, shallow water, beach chairs, sun umbrellas, and a selection of restaurants, this 5 km coastline of gigantic beaches near Venice has it all. It makes for a perfect day to relax under the Mediterranean sun.
Part of the historic fishing village of Chioggia, this area is fondly known as 'Little Venice' thanks to its architecture, canals, and bridges, similar to the central city. The air here is said to be very healthy for you, so it's great for a bit of rejuvenation.
The dozens of beaches along Sottomarina even offer activities such as cycling and scuba diving, with plenty of hotel options like Hotel Bristol (Booking | Hotels) if you want to explore the area more.
To get there, take the ACTV 80E water taxi from Piazzale Roma in Venice to Chioggia and then walk over to the Sottomarina. You can also take the train to Chioggia for a leisurely walk over, or drive.
Rosolina Mare Beach
Lollynna, CC BY-SA 4.0, via Wikimedia Commons
Rosolina Mare stretches 9 km along the Italian coastline, and there's so much to do here! There are swimming pools, excellent sea-front cycle paths, tennis courts–there's even a horseback riding school nearby.
It doesn't get too crowded except during the summer holidays, but it's a long and wide stretch of sand, so you'll likely find a space at any time.
It's also an excellent location for a picnic. Sit under pine and oak trees in a beautiful, protected pine forest next to the beach, providing some solace to the more busy beachside.
To reach this stretch of beach near Venice, you can take a bus from Marco Polo airport or the train to Rosolina Mare and walk over to the beach.
Albarella Beach
Albarella is a gorgeous private island almost completely car-free with fabulous beaches and a nature reserve of elegant Poplar trees. To visit the posh beaches, you must stay at the renowned seaside resort, the Albarella Golf Hotel. But the stay is worth it if you want your own private island getaway.
The island has Europe's biggest salt water swimming pool and is famous for having approximately two million trees. There is a golf course and a range of activities to keep the lovers of water sports entertained as well.
However, if you just want to see Albarella Island without an expensive beach hotel overnight stay, you can bike from Rosolina Mare.
From coastal towns with famous beaches and modern beach facilities to sandy beaches with plenty of options for activities for children, there's a huge variety of beach vacation options to spend time in the Italian summer sun. Which of these beautiful beaches near Venice, Italy, will you visit?
Lyndsay