This post may contain affiliate links! I will receive a commission, at no extra cost to you, if you purchase something recommended here.
The largest city in the Istria region, Pula, is one of my favorite cities in Croatia.
I've spent months exploring Croatia's beautiful beaches, natural landmarks, and ancient sites, and from the moment I arrived in Pula, I was struck by it.
The presence of so many Ancient Roman landmarks, coupled with the Medieval, Austro-Hungarian, and mid-20th century architecture styles, all blend together in this fantastic city.
I spent some time exploring this port city when I lived in Croatia with a local family, and I can't wait to go back! I've put together a detailed guide to help you plan your trip to this incredible Croatian-Italian city.
As you look through this 3 days in Pula itinerary, if you find something doesn't quite strike your fancy, and you want to swap it with something else, go for it!
You can take a look at my complete list of things to do in Pula, Croatia, for other recommendations.
A Brief History of Pula
Artifacts from the earliest people in human history, going back over a million years, have been discovered on the hills around this coastal town.
Pula was captured and ruled over by the Romans, Ostrogoths, Byzantines, and Venetians.
And, throughout the previous 250 years, the French, Austro-Hungarians, and Italians, before forming part of Yugoslavia. And now, Croatia.
When you walk down a city street now, you may notice that every street sign is written in both Croatian and Italian.
The Austrian-Hungarian Empire ruled the region from 1797 to 1918 (with a brief break during the reign of Napoleon), but it was governed by Italy from the end of World War I until the province joined Yugoslavia in World War II.
As a result, Croatian and Italian are the two "national" languages of Istria.
So, if you see Pula, also referred to as Pola, that's the Italian translation of the coastal city's name.
Tips for Visiting Pula, Croatia
Take advantage of guided tours: There are so many beautiful natural landmarks around Pula that are tough to get to if you're uncomfortable utilizing public transportation in an unfamiliar city.
Many phenomenal guided tours can take you to places like Brijuni Islands National Park, Cape Kanenjak, or even Plitvice Lakes National Park without the stress of getting there yourself.
Try out the public bus system: That said, Pula's Promet public bus system is efficient, cheap, and easy to use.
You can purchase tickets on the bus with kuna (the Croatian cash currency) and use the maps on the Pula Promet website or an app like Google Maps to plan out your routes.
Take day trips around Istria from Pula: If you're interested in visiting other cities in the Istria region of Croatia, Pula is a great home base for your trip.
You can easily take a ferry from Pula to Rovinj and Poreč in the North, or even down to Zadar moving towards the South.
If you want to hop-skip-and-a-jump over international borders, you can even take a ferry from Pula to Venice, Italy.
Where to Stay for 3 Days in Pula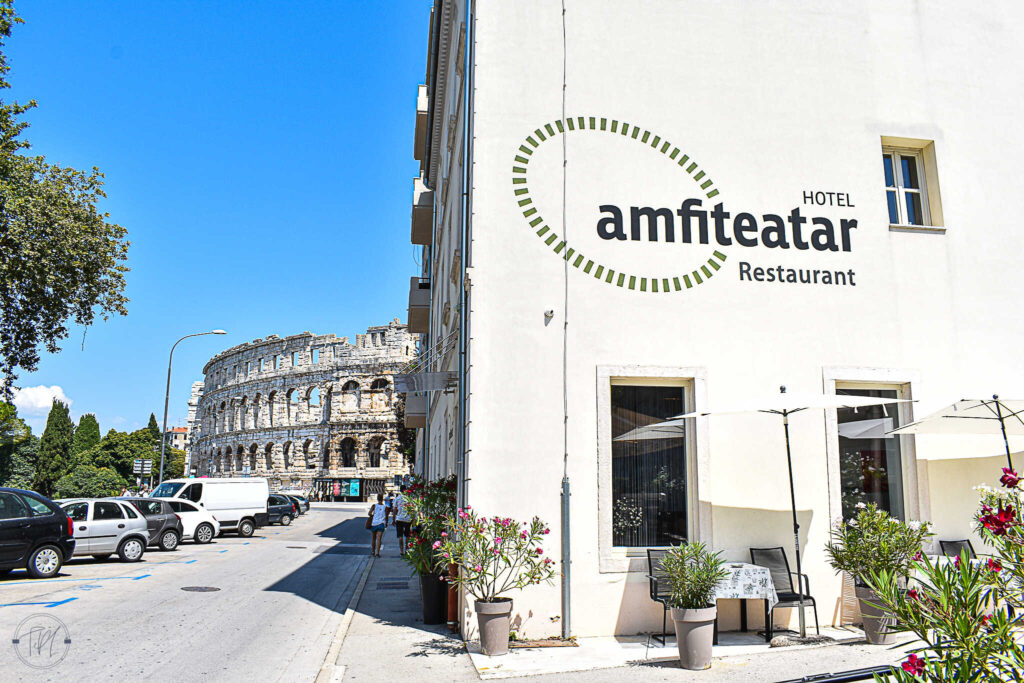 Hostel – Hostels can be a great option for your trip if you're traveling solo and want to meet new people, or as ultra-low-cost accommodation options. Hostel Pula is a small hostel right by the Riva and has both shared rooms and private rooms with a shared bathroom. They also have a kitchen and a garden you can use and enjoy.
Budget hotel – I'm always on the lookout for affordable accommodation prices, and Top Center Rooms & Studio (Booking | Hotels) was a great choice for half of my stay on this Croatian trip. It's a no-frills option with a perfect location right in the city center, and the owners are kind and responsive.
Apartment stay – If you prefer Airbnb-like accommodations like having access to your own kitchen and amenities when you're traveling, check out Mimoza Old Town Pula Apartments (Booking | Hotels). As the name suggests, you'll be right inside the city's Old Town, a quick walk from the major sites. There are four apartments to rent, each with its own private kitchen and a shared garden space. You can also request daily breakfast for an additional charge.
Hotel by the Arena – Want to be this close to the Arena? You can see the Pula Arena at the end of the street from the entrance to ​​Hotel Amfiteatar (Booking | Hotels). The hotel has a business center for all of your business-ing needs, a restaurant with outside seating, and offers free daily continental breakfast.
Next to the beach – Although you'll need to take the public bus or drive into the city center, staying at Ribarska Koliba Resort (Booking | Hotels) is worth it! The hotel is right by the beach, so you'll be able to enjoy lounging on the Adriatic Coast, or by their pool, depending on your preference. They also have a restaurant on-site and provide breakfast for an extra cost.
1-Day Pula Itinerary: Exploring the Ancient City
On the first of your 3 days in Pula, you need to spend the time exploring all of the ancient Roman landmarks the city is famous for!
I know, when you read this first day you're going to say "Lyndsay, this seems like so. much. walking."
But all of the ancient landmarks in Pula are pretty close together!
Walking to all of these is very doable in one afternoon. And tomorrow won't be as walking-heavy, I promise.
Seriously, as you walk throughout more of the city, you'll find several smaller preserved ancient sites that stand next to their larger and more famous counterparts.
From the Medieval city wall made out of stones taken from ancient Roman buildings to the remains of Agrippina's House, an ancient Roman villa, you'll stumble on so many great sites as you walk around the city, you won't even notice how many miles or kilometers you've done in a day.
Insider Tip: Remember, when you look at Pula on a map, the distance to walk around the city center is a little misleading. The pedestrian streets are laid out in circles that stem from the fortress. But, the fortress is at the top of a hill, and the city spirals down from around the top.
Start your trip to Pula with a walking tour
As you might know, if you've been here before, I was (and still am) a licensed New York City tour guide.
So you could say, taking tours is my thing!
When I visited Pula, I took Fat Cat Walks's phenomenal free walking tour.
Since it's a one-man operation, you have to check the Facebook page to determine when Saša is offering tours; but if your schedule lines up–GO!
If you're visiting Pula and Fat Cat Walks isn't offering a tour within your schedule, take a look at this other guided walking tour around the city.
Pro Tip: Tip your tour guides! Especially when you take a free walking tour, your tip is how the tour guide gets paid. And positive reviews on places like TripAdvisor or GetYourGuide go a long way!
Visit the 2000-year-old Pula Arena
The Pula Arena, built during the reign of Roman Emperor Augustus in the 1st century C.E., is a magnificent example of Ancient Roman architecture.
It's one of the largest remaining Roman amphitheaters and the only one that has all four sides of its top intact.
Throughout its history, the Arena has held festivals, gladiator bouts, and various other events for up to 23,000 people.
Fun Fact: Although the Pula Area is very well preserved and included on Croatia's own national landmarks list, it's not considered a UNESCO World Heritage Site. The decision to grant it UNESCO status was "postponed" in 2000.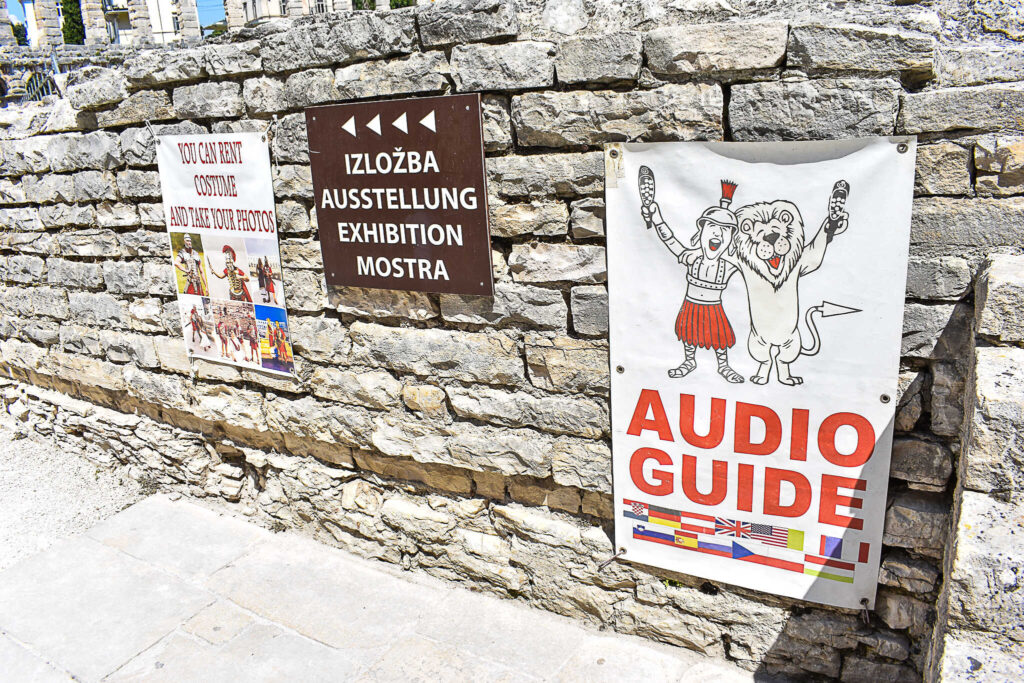 As stunning as it is from the outside, buy a ticket to go inside the Pula amphitheater!
You can see everything from the staging area underneath where the seats were, out onto the field where the fights and performances took place, and up into the stands where you can see the whole Arena.
There's also a small museum underneath the Arena that shows several ancient clay pots and some more information about the history of the Arena.
You can also purchase a self-guided audio tour in your language of choice that will give you some of the history of the Arena as you walk around on your own.
Buy your Pula Arena entrance ticket here!
Take a break from the sun at the Museum of Olive Oil
Right around the corner from the Pula Arena, you'll find the Museum of Olive Oil (Museum Olei Histriae).
If you're visiting Pula in the warmer months, it can get scorching outside in the sun–especially if you've been wandering around the Arena.
Heading into the museum is a great way to escape the heat for a little while on a hot July afternoon!
Affectionately referred to as Croatia's "Tuscany," the Istria region is also filled with picturesque rolling hills and an outstanding tradition of wine, olive oil, and other cuisines.
Although Pula has several fascinating museums, my favorite was the Museum of Olive Oil!
They have exhibit rooms that highlight the history and artistry of olive oil production in the Istria region and information on how the practices have been adapted for modern times.
There are two ticket options–just entry into the museum, or you can do what I did and add an olive oil tasting for a small additional cost.
After I finished perusing the museum, we headed into their tasting room for a presentation on different types of olive oil, what it means to be "extra virgin," and how to tell the difference between authentic and fraudulent extra virgin olive oil.
Walk past the Twin Gate and through the Gate of Hercules to have lunch at Circolo
By the time you finish at the Museum of Olive Oil, you're bound to be hungry!
On your walk to lunch, you'll pass the Twin Gate, built in the 2nd Century as another entry point into the Croatian town.
Then, head over to the Gate of Hercules and up the stairs to Circolo, a nice restaurant with a great rooftop terrace.
Stop here for lunch to enjoy the view and regroup before venturing back out!
See the Arch of the Sergii and the James Joyce Statue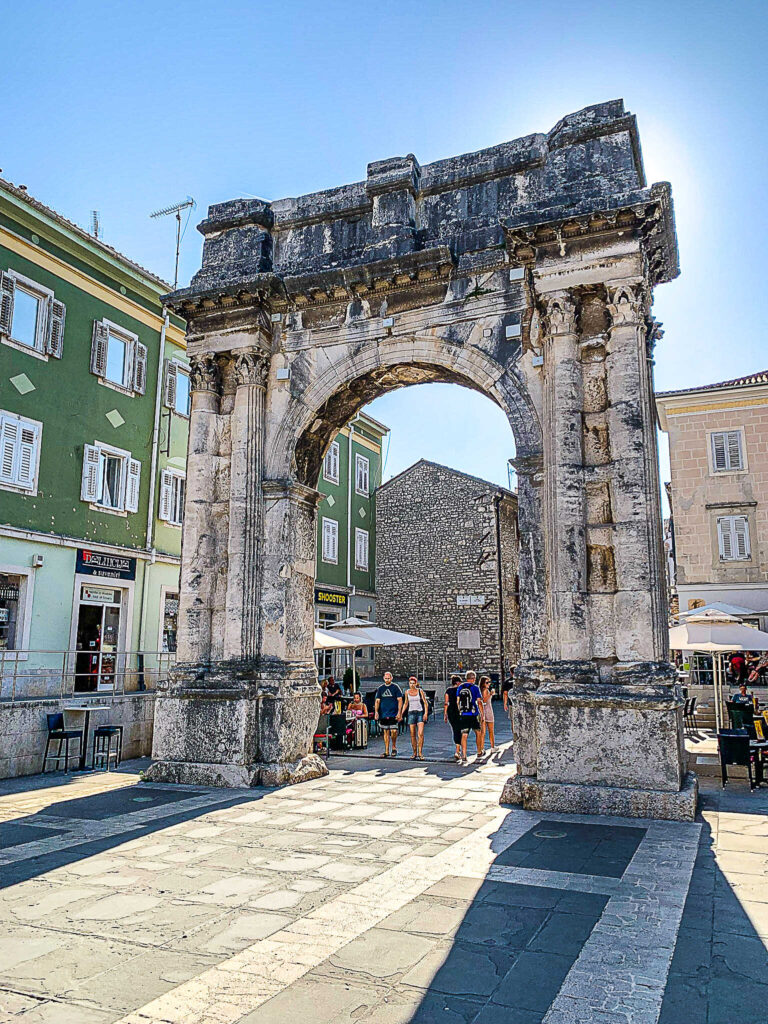 As you walk around the ring from the Gate of Hercules, you'll come to a historical monument, the Arch of Sergii.
The Triumphal Arch of the Sergii (Sergius), which sits on what used to be the seaside town's outskirts, was originally a city gate to get into Pula.
It was built between 29–27 B.C.E. by the wife of Lucius Sergius Lepidus to commemorate his victory in the Battle of Actium.
Off to the side, you might recognize a statue of a man commemorated in bronze, looking at the Arch of Sergii. A statue of famous Irish writer James Joyce is sitting there, overlooking the arch.
Joyce taught English to Austro-Hungarian naval officers at the Berlitz School in Pula for about six months in 1904-05.
Visit the remaining chapel of the Basilica of Santa Maria del Canneto and the Punishment of Dirce Mosaic
The Basilica of Santa Maria del Canneto, also known as Santa Maria Formosa (Crkva sv. Marija Formoza), was a 6th-century Byzantine-style church.
Everything was destroyed when the Venetians ransacked the city in 1243, aside from the chapel that still stands today.
The foundation of the church, as well as the intact chapel, can still be seen.
Fun Fact: Some of the stones from the original Basilica were transported to Venice and used to construct the Biblioteca Nazionale Marciana and Basilica di San Marco. The four alabaster columns over the high altar at San Marco's are also rumored to have come from Santa Maria del Canneto.
Around the corner, you can see a beautifully preserved ancient Roman floor mosaic.
Near the Chapel of St. Maria Formosa, the estimated 3rd-century mosaic depicts a scene from The Punishment of Dirce myth.
Explore Forum Square and see the Temple of Augustus
Finally, you'll find yourself in Forum Square–where Ancient and Medieval architecture meets.
Forum Square–also known as Trg Forum or Piazza Foro–has been the hub of the city's political and social circles since ancient times.
Initially, there were three temples here, but unfortunately, only the Temple of Augustus still survives.
You can go inside the Temple of Augustus, but there's not much to see inside, and it costs a few kuna for an entrance fee.
Next to the Temple of Augustus, you can see the City Hall Building (Zgrada gradske vijećnice.) You're right if you think it was built in a different era than its neighbor.
Completed in 1296 in the Gothic style, the structure was added to multiple times throughout the years to include features of the Renaissance and Baroque styles.
Fun Fact: The Temple of Diana, one of the original three temples that stood in the Square, was incorporated into the building; if you head to the back, you'll be able to see it.
Sit down for a nice dinner before watching Spectacvla Antiqva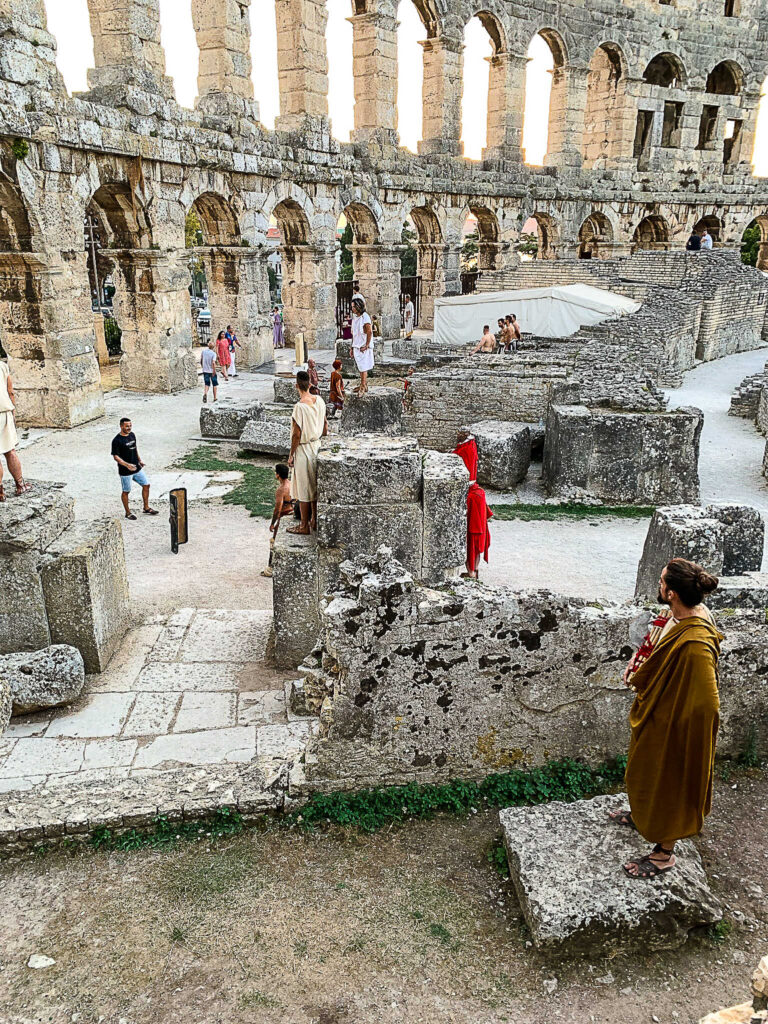 You must be exhausted after all that walking!
Thankfully, there are some excellent restaurants around Forum Square.
Sit down for dinner at Bistro Alighieri, Veritas, Hook & Cook, or any other restaurant around that strikes your fancy!
After dinner, head back to the Pula Arena to watch a production of Spectacvla Antiqva.
It's an incredible production performed in English and explains the history and chronology of the different fighting levels and gladiators as it happens.
This is an event you don't want to miss!
Or, take a dinner and dolphin-watching sunset cruise
If Spectacvla Antiqva doesn't have any performance dates during your trip to Pula, skip dinner in town tonight and go on a dinner and dolphin-watching sunset cruise.
Obviously, there's no guarantee you'll see dolphins on your evening out, but the nautical experience is more than worthwhile.
This three-hour boat tour leaves Pula in the evening, where a guide will explain dolphin behavior, local marine life, and show you what to look for out in the Adriatic waters.
Dinner and unlimited drinks are also included on this romantic evening out.
Enjoy the open Adriatic Sea with a great dinner, a beautiful sunset, and hopefully some dolphin sightings!
You can make your reservation for this dolphin-watching experience online.
Read More
2-Day Pula Itinerary: Day trip to Brijuni Islands National Park
After your crazy exploration day yesterday, you deserve to sleep in a bit before boarding the boat to take you to Brijuni Islands National Park.
Take a boat tour of Brijuni Islands National Park
Like its more famous cousin Kornati National Park and Archipelago, Brijuni Islands National Park is also an island archipelago off the coast of Pula.
Largely uninhabited throughout history and most famous for their stone quarries, the islands were transformed into a popular holiday destination at the turn of the 20th Century.
Following World War II, Yugoslavia's President Marshal Josip Broz Tito used the islands as his summer residence.
When Croatia gained its independence in the 1990s, the archipelago was deemed a national park and international conference center.
This half-day guided boat tour leaves right from Pula's harbor and stops at several of the islands around the natural park, where you'll be able to walk around the trails, lounge on the pristine beaches, and even spot a peacock!
The tour also includes a fresh fish lunch with soft drinks and a guide who points out the different islands and landmarks as you pass them on the boat.
Walk up to the Kaštel to watch the sunset and the Lighting Giants
You'll get back from your boat tour of Brijuni Island National Park around 5:30 p.m., which means it's the perfect time to walk up to the Kaštel.
Originally built as an Austro-Hungarian fortress, the Historical and Maritime Museum of Istria (Povijesni i pomorski muzej Istre / Museo storico e navale dell'Istria) is now housed inside.
The museum closes at 5:00 p.m. during the winter (from October 1st – March 31st) but stays open until 9 p.m. throughout the summer months (April 1st – September 30th).
If you're visiting Pula in the summer, which is my favorite time to visit Croatia, just before sunset is the perfect time to walk through the museum since it's pretty quick to explore, and you'll be at the highest point to see the sunset over the city.
It's gorgeous!
Once it starts to get dark, this is also one of the best spots to see the Lighting Giants.
Every evening, the out-of-use shipbuilding machines light up the sky from the water in technicolor for 15 minutes every hour.
Once you've had your fill of the stunning landscapes, head back down for dinner.
3-Day Pula Itinerary: Choose Your Own Adventure
Today is your opportunity to explore another area around Pula!
Either way, your day will include time on a stunning beach.
There are two different options that I like to recommend:
Visit the Pula Aquarium, then enjoy the beach
The Pula Aquarium is found inside one of the 130-year-old Austro-Hungarian fortresses that once formed the city's defense complex.
As the largest and most visited public aquarium in the country, it's home to more than 200 different types of fish and marine life, as well as a turtle rescue facility.
I spent a few hours visiting the exhibits and learning about the many fish species before climbing the stairs to the top of historic Fort Verudela, where you can catch panoramic views of the city and the sea.
Then walk over to Histria Beach or Ambrela Beach to relax in the sun.
If you're interested in checking out some of the other lovely beaches nearby, I have a full guide on the best beaches in Pula.
Or, visit Cape Kanenjak on the Premantura peninsula
Another great spot to visit during your 3 days in Pula is Cape Kamenjak.
The region is a wildlife reserve that protrudes from the southern edge of Premantura's peninsula.
You can find eleven uninhabited islands off its coast, as well as around twenty distinct orchid types and other local flora and dinosaur tracks all throughout the peninsula.
Instead of navigating Pula's public transport system or hiring a car and driving there (for which you'll have to pay a charge because the peninsula is vehicle-free), this half-day Caves and Canyons speedboat tour will take you directly to the nature reserve.
You'll leave right from Pula's harbor in the morning and head over to see the cliffs and caves before water activities like stopping to swim. It's a great way to spend your last full day in Pula.
End your 3 days in Pula with an excellent dinner and dessert
Regardless of how you decide to spend the last full day of your Pula 3 day itinerary, you can't leave without indulging in excellent Istrian food and wine!
Right in the middle of the city by the Arch of Sergii, Kantina Restaurant showcases foods and wines from the Istria region.
The restaurant is housed in a historic 19th-century building, and they also offer an outdoor terrace.
Like the city itself, Bistro Alighieri has a unique combination of Italian and Croatian on this overall Mediterranean menu.
You can enjoy the outdoor seating on their terrace in the summer or inside in the cooler months.
End your last evening in Pula with a stop for gelato as you wander around the Old Town one last time.
Read More
Pula, Croatia: FAQs
Is Pula worth visiting?
Yes, Pula Croatia is definitely worth visiting!
Located on the Istrian Peninsula in Croatia, this beautiful city has a unique blend of languages, cuisine, and architecture from the different historical societies that controlled the city.
A few of the city's major tourist attractions include its well-preserved Roman amphitheater, the Arena, the Temple of Augustus, the Arch of the Sergii, and the Archaeological Museum of Istria.
And, since Pula is right on the coast, you'll find crystal-clear blue waters at the city's stunning beaches.
How many days should you spend in Pula?
If you're planning to spend all of your time exploring the city and its surrounding natural areas, then 3 days in Pula is a perfect amount of time.
However, if you plan on using Pula as your home base to take day trips to other Istrian towns, you'll need to include an extra day or two on your Pula itinerary.
What are the best things to see in Pula?
If you're looking for what to do in Pula, here's everything you can include on your itinerary.
1. Start your trip to Pula with a walking tour
2. Visit the 2000-year-old Pula Arena
3. Take a break from the sun at the Museum of Olive Oil
4. Walk past the Twin Gate and through the Gate of Hercules to have lunch at Circolo
5. See the Arch of the Sergii and the James Joyce Statue
6. Visit the remaining chapel of the Basilica of Santa Maria del Canneto and the Punishment of Dirce Mosaic
7. Explore Forum Square and see the Temple of Augustus
8. Sit down for a nice dinner before watching Spectacvla Antiqva
9. Take a dolphin-watching sunset dinner cruise
10. Take a boat tour of Brijuni Islands National Park
11. Walk up to the Kaštel to watch the sunset and the Lighting Giants
12. Visit the Pula Aquarium, then enjoy the beach
13. Visit Cape Kanenjak on the Premantura peninsula
14. End your Pula itinerary with an excellent dinner and dessert
My Favorite Restaurants in Pula
These are my favorite restaurants and sweet shops in Pula:
Casual Dining
---
Quick Bites
City Farmer's market Pula/Pola (Gradska tržnica Pula / Mercato di Pola)
---
Great For A Dinner Out
---
Dessert & Gelato
---
Where to Go After Your 3 Days in Pula
Other Croatian cities
Istria is one of the most beautiful regions of Croatia.
If you have time after your trip to Pula, you need to visit cities like Rovinj, one of the most Venetian cities outside of Venice, or Poreč along the coast, and charming towns inside the peninsula like Pažin, Motovun, and Hum.
If you want to add in another day trip, check out this Istria in 1 Day Tour.
Or, if you want to explore inland Croatia, heading to the country's capital Zagreb is totally worth the visit!
Split, Croatia
As the second-largest city in Croatia, Split is one of the most incredible cities to visit in Croatia. It's definitely up there with Pula on my list of favorites!
Today's Old Town is centered around Diocletian's Palace, built in the 4th Century by the Roman Emperor Diocletian as his retirement home.
You're surrounded by life, old and new, throughout the city's charming plazas, restaurants, and shops.
I've spent several months in Split, Croatia, living with a local family, so I have a ton of information on how to best spend your time there.
Take a look at my list of the best things to do in Split, the best day trips from Split, and a 3 days in Split itinerary.
Šibenik, Croatia
Šibenik is the oldest Croatian city and the third-largest in the country, situated on a tiny peninsula surrounded by a natural harbor.
There are so many things to do in Šibenik too, with its ancient buildings and gorgeous surroundings.
It's has a lovely coastline Riva, a stunning Old Town, four historic fortresses to visit, beautiful beaches in Šibenik, and several beautiful islands off its coast to explore.
Venice, Italy
For centuries, the Venetian Republic ruled over Pula and most of the Istrian peninsula.
If you look at a map, you'll see that Venice, Italy, is actually on the Northern tip of the Adriatic Sea, which means you can take a ferry from Italy to Pula, Croatia.
I've been living in the Veneto region for months now, so I can tell you with all certainty – if you can swing in a trip to Venice on your trip to Pula, Croatia, it's worth it!
You can read more about everything you need to know before visiting Venice and see my ultimate Venice bucket list here.
Pula Travel Guide: Wrap-Up
I hope you enjoyed reading my guide to 3 days in Pula, Croatia.
Everything you need to know about visiting the city, including where to stay, what to do, information about the local culture, food, and attractions–you name it, it's all here.
So, if you're ready to visit, use this Pula guide to make a plan and enjoy your trip!
Lyndsay