This post may contain affiliate links! I will receive a commission, at no extra cost to you, if you purchase something recommended here.
Does it snow in Italy?
Italy is absolutely magical, regardless of the time of year. But in the winter season, the country comes alive with Christmas markets, holiday lights, and festive decorations.
As you explore this beautiful country in the cool winter air, will you be surrounded by snow?
While average annual snowfall in Italy varies depending on the region and elevation, there are still plenty of opportunities to experience snow in the country.
We'll explore the different regions of Italy where snow is most likely to be seen and provide tips for planning a snow-filled Italian vacation.
From the alpine ski resorts of the north to the ancient cities of the Central and Southern Italy regions, we'll discuss the many ways to enjoy a winter wonderland in Italy.
Does it snow in Italy?
Yes, it does snow in Italy–depending on when and where you go! In the northern regions and higher altitudes, you'll often see snow on the ground during winter.
"The snowfall varies from about 10 to 33 feet (3 to 10 metres) in different years and in relation to altitude or proximity to the sea."

ENCYclopedia BRITANNICA
However, snow isn't common in the country overall. While you might have an opportunity to see snow in one of Italy's most famous cities, it's a rare occurrence.
What's The Weather Like In Italy?
The weather patterns in Italy vary significantly throughout the country.
Overall, Italy has a temperate climate, affected by the Mediterranean Sea.
However, it has several microclimates based on the region's geographical features.
For example, the Italian Alps, the Dolomite Mountains, and the Appennine Mountains contribute to their region's slightly different weather patterns.
Italy by Season
Italy In Winter
Overall, Italy's winter weather is generally mild and wet. Average temperatures range from "0 °C (32 °F) on the Alps to 12 °C (54 °F) in Sicily."
The northern regions typically experience more severe snowy weather, like the Alps and the Dolomites, where winters are cold.
The areas usually experience heavy snowfalls during winter. However, the more southern regions rarely see any snow.
Also, northern regions along the coast, such as parts of the Veneto and Liguria, only see a little snow.
Instead, the Veneto is known for its winter fog, which significantly limits visibility.
Despite the cold temperatures, Italy remains a popular tourist destination during winter time with its rich culture, natural beauty, and attractions.
Italy In Spring
Spring in Italy is a stunning time of year. Temperatures are beginning to warm up, and lush greenery is taking over the landscape.
Average temperatures in the spring months range from an average high 18°C (64°F) / low 6°C (43°F) in a northern major city like Bolzano in Trentino Alto Adige/Südtirol to an average high 19°C (66°F) / low 13°C (55°F) in Palermo, Sicily, allowing for a pleasant climate throughout the country.
In addition, Italy experiences a decrease in rainfall during the spring months, with very little to no rain in the south and more in the north.
However, despite the decline in precipitation, the humidity remains high.
The combination of moderate temperatures and higher humidity makes for a warmer and more comfortable spring season in Italy.
Italy In Summer
Italy's weather in summer is usually hot and humid, with June, July, and August as the warmest months of the year.
Rainfall during the summer is typically light, and the days are usually sunny and clear, but thunderstorms may occasionally occur in the evenings.
The south of Italy is generally the warmest region, with average temperatures in Palermo, Sicliy at high 29°C (84°F) / low 22°C (71°F).
Summer is a great time to visit Italy and enjoy the Mediterranean climate and beautiful beaches.
However, the high temperatures, humidity, and heavy tourism can be overwhelming.
Italy In Fall
Italy's weather in the fall is generally mild and pleasant.
Depending on where you are in the country, average temperatures typically range from high 18°C (64°F) / low 9°C (49°F) in a northern city like Milan to high 21°C (71°F) / low 11°C (52°F) in a more southern city like Rome.
Rainfall is typical during the fall months, but its frequency varies widely depending on location.
Generally, the north of Italy experiences more rain than the south.
In northern Italy, temperatures tend to be lower, while the south enjoys warmer temperatures and sunshine for a little longer.
For those looking to soak up some sun, the southern regions of Italy are an ideal destination.
Fall in Italy is a great time to explore the country's rich culture, cuisine, and history with fewer tourists.
Where To Find Snow In Italy
Italy is home to some of the most beautiful snowy landscapes in Europe (in my very-partial opinion.)
Snow is found in mountainous regions like the Alps, the Dolomites, the Tuscan-Emilian Apennines, and some smaller Italian cities at higher elevations.
What to Wear in Italy in the Winter
Although it does snow in some parts of Italy in the winter, the climate is generally mild, and the temperatures are usually above freezing.
That said, bringing warm, layered clothing is still important to keep you comfortable.
For men, a wool overcoat or blazer, a few sweaters, warm pants, and boots are great choices.
Women's travel essentials should include a coat, thick pants, scarves, gloves, and a warm hat.
Depending on where you're traveling, you should also get a waterproof jacket or an umbrella.
If you're visiting northern Italy, you'll want to bring even warmer clothes like a fur hat, long johns, and a heavy down jacket.
Where Does It Snow In Italy?
Does it snow in Bolzano, Italy?
Bolzano, Italy, is a scenic city located in the northern Trentino Alto Adige/Südtirol region.
Since the town is found in the Dolomite Mountains, it's easily the snowiest city on this list.
Snowfall usually starts in October or November and can continue well into March, depending on the year, with the highest amount of snowfall occurring in December and January.
With its abundant snowfall, you'll find Bolzano is a perfect city for winter sports enthusiasts and adds to the winter experience of its Christkindlesmarkt, one of the largest Christmas markets in Italy.
Does it snow in Milan, Italy?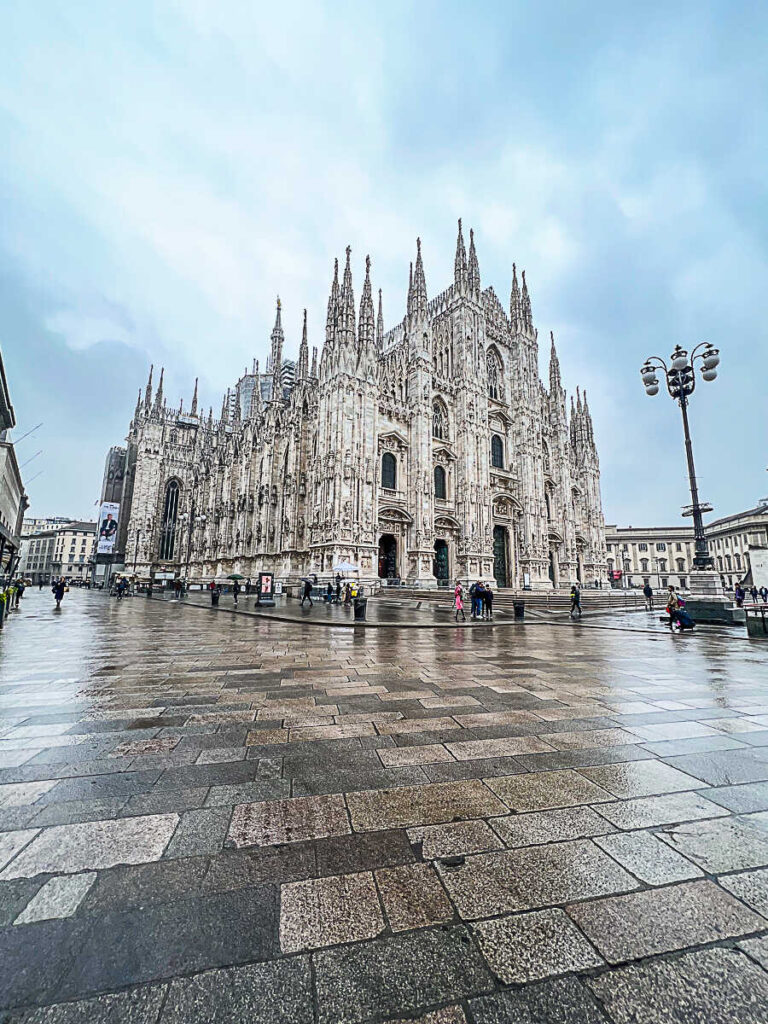 Since Milan is located in the northern Lombardy region of Italy, the historic city experiences all four seasons–and snow is expected in the winter.
In the winter, temperatures can drop below freezing, and snow often settles in Milan and the surrounding areas.
Does it snow in Venice, Italy?
Venice, Italy, is a bucket list travel destination, famous for its beautiful canals and historic palazzi.
However, does it snows in Venice?
Unfortunately, you probably won't experience a white Christmas in Venice.
Due to its location on the Adriatic Sea, the climate in Venice is mild and typically warm enough that snow is rare.
Instead, Venice receives most of its precipitation in the form of rain and heavy fog.
This means that although there is the occasional flurry of snow during the wintertime, on average, Venice does not receive snow.
Does it snow in Florence, Italy?
Florence is known for its Renaissance art and architecture, but does it snow there?
The answer is yes, although it's not common. Cumulative snowfall in Florence is rare and usually light; in some years, the city may not receive any snow at all.
If and when the snow arrives, it is usually a light dusting that melts quickly.
Does it snow in Rome, Italy?
The capital of Italy is known for its mild climate.
Although it's possible, it does not typically snow in Rome. If the city experiences the occasional snowfall, it doesn't last long and melts almost immediately.
However, if you're lucky enough to be in Rome when it encounters a bit of now, you'll be met with the momentary beauty of a white-blanketed Colosseum or Trevi Fountain.
Does it snow in Naples, Italy?
The further south we look, the less likely it is to see snow in Italy!
Although Naples does experience winter snowfall on rare occasions, the city is more likely to experience rain during the winter months.
If snow does fall, it usually won't accumulate more than a few centimeters, making it more like a dusting of snow than a full-on snowfall.
This, combined with the city's warm climate, makes it an ideal spot for travelers looking to avoid cold weather.
Does it snow in Sicily, Italy?
Since Sicily is known for its warm, sunny weather, snow is rare.
Generally, the island has mild winters with temperatures ranging from high 15°C (59°F) / low 9°C (49°F) in Palermo, Sicily, throughout the season.
However, if you're trying to find snow in Sicily, you might get lucky with a light dusting on the island's northern mountain ranges.
Does it Snow in Italy: FAQs
Where does it snow the most in Italy?
The northern regions of Italy, such as the Alps, are the snowiest during winter. The areas around the Dolomite Mountains, in particular, receive some of the most snowfall in Italy.
Additionally, the higher elevations of the Apennine Mountains, which run down the center of the Italian peninsula, also experience significant snowfall.
Ultimately, the snowiest regions of Italy tend to be in the north and in locations with higher altitudes.
How much snowfall does Italy see each year?
Since Italy experiences a wide range of climates and weather patterns, snowfall varies from region to region.
In the country's northern regions, snowfall is more common and typically falls from November to March.
In the central region of Italy, snowfall is moderate. Depending on the year, it can range from light flurries to more significant snowfall.
In the south, snowfall is rare but still possible, with snow falling mainly in the mountainous regions.
Overall, Italy experiences a moderate amount of snowfall compared to other areas and can provide snow-related recreational activities to those who live in or visit the country.
Are there ski resorts in Italy?
Skiing is popular in the northern Italian regions of Trentino Alto Adige/Südtirol, Valle d'Aosta, and Lombardy.
There are also several ski resorts in the northernmost parts of the Piemonte, Veneto, and Friuli-Venezia Giulia regions.
A few of the top ski resorts in Italy include:
Does it Snow in Italy: Wrap-Up
Unfortunately, the answer to the question–does it snow in Italy?–is it depends.
Italy's snow can be unpredictable and varies significantly from region to region.
Although it rarely snows in the south, the northern areas can get quite a bit of snow in winter.
If you're planning a winter trip to Italy, your best bet is to check the weather forecast and plan accordingly.
With the right precautions and preparations, you can have a great time in Italy and enjoy the winter weather.
Lyndsay
Read More