This post may contain affiliate links! I will receive a commission, at no extra cost to you, if you purchase something recommended here.
Since I started living in the Veneto region, I've been to Venice numerous times.
It's unlike any other place on the planet, and there's always something new to discover.
It's one of my favorite cities to just wake up and take a day trip since it's so close to where I live.
However, I understand that most people do not have the freedom and flexibility to explore Venice at their leisure.
If you take a look through the rest of my guides on this extraordinary city, you'll find that I was not able to include a lot of these incredible things to do in Venice in this 2 day Venice itinerary.
With all of my knowledge of the city, I've distilled down this massive beautiful city into what I think are the most important things you need to see if you only have 2 days in Venice, Italy.
That said, I encourage you to look at my other guides to Venice, and feel free to swap suggestions in and out based on your personal interests!
Know Before You Go to Venice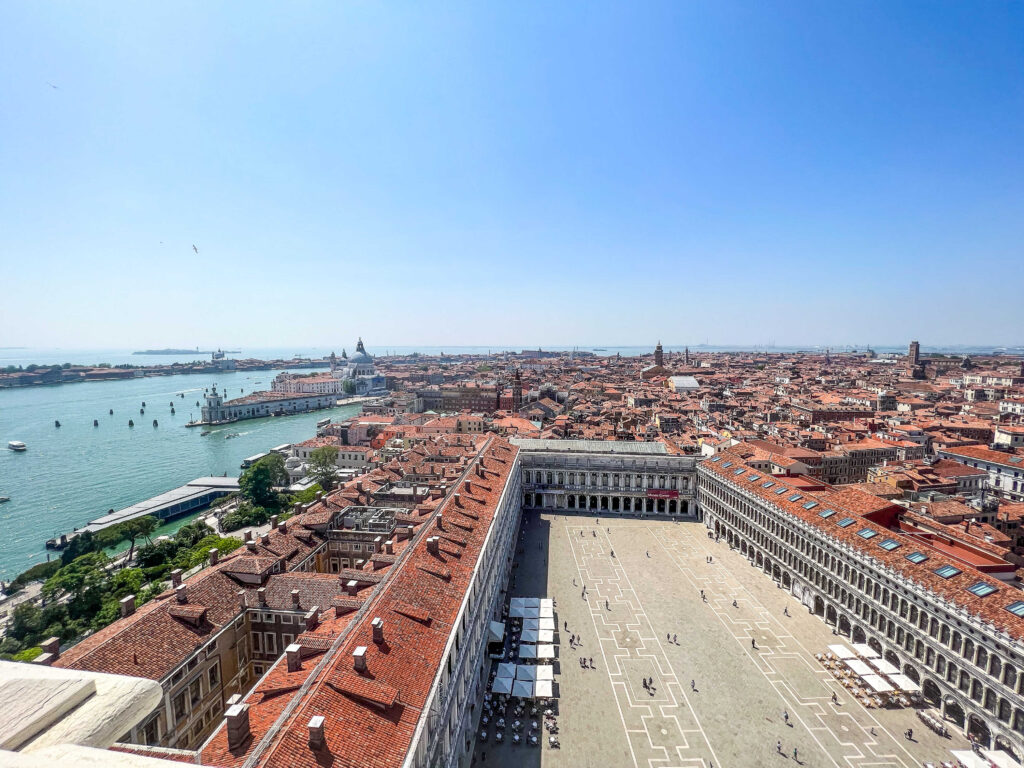 You need to register to get in! Starting in 2023, Venice will implement a reservation system to control the influx of tourists.
The goal is to charge day-trip guests on a sliding basis based on the time of year you're visiting Italy.
You'll also need to confirm your reservation before entering the city.
The reservation system is not yet operational, but I will update this section as more information becomes available.
How to Get to Venice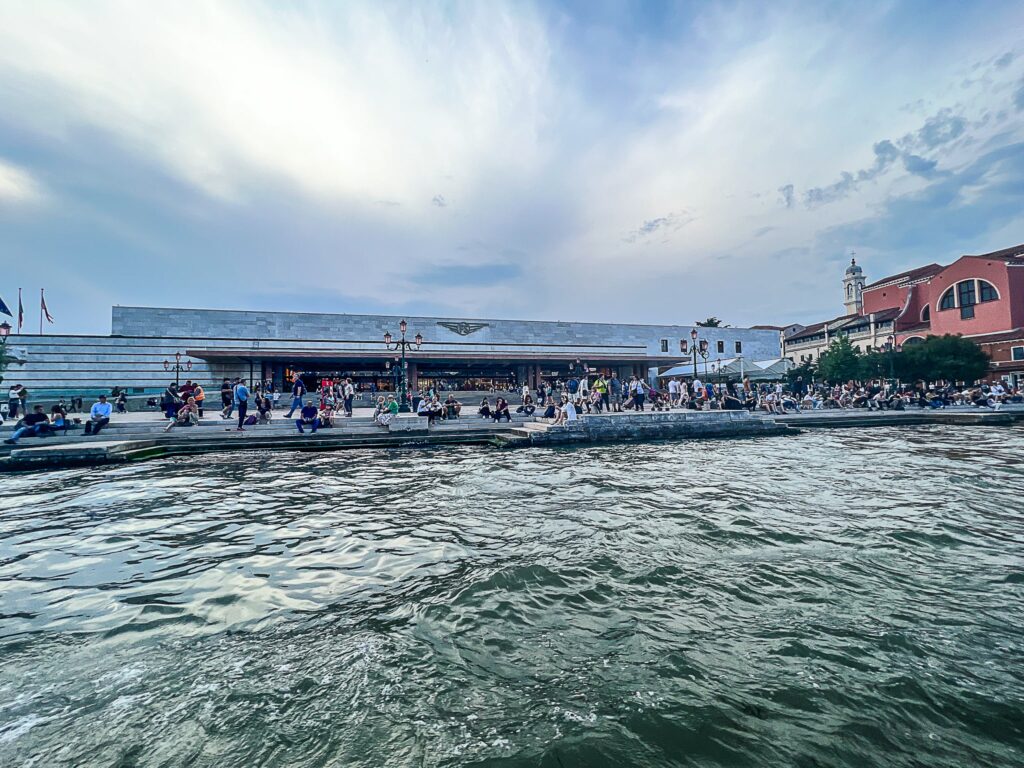 You can fly to any airport near Venice, like Treviso, Bergamo, Brescia, or Malpensa in Milan, and reach Venice by train.
However, flying to Venice Marco Polo Airport is by far the easiest option. This is because the majority of international flights land here, and it's located very close to the train station.
From late spring through the end of fall, Delta runs a direct flight from John F. Kennedy Airport in New York City directly to Venice Marco Polo Airport, which is great for people who hate layovers.
Overall, the Italian railroad system is a fantastic means of transportation. You can take a train from Venice's Stazione di Venezia Santa Lucia railway station almost anywhere in Italy! I strongly suggest using the regional trains for nearly all travel throughout Italy.
Although trains do not go to Venetian islands such as Murano, Burano, or Guidecca, you may easily travel from anywhere in Italy to Venice's Santa Lucia station.
Suppose you want to take the bus into or out of Venice. In that case, Piazzale Roma is the bus depot where local buses operate, as well as companies like Flixbus or Itabus drop-off.
How to Get Around Venice
The Sestieri of Venice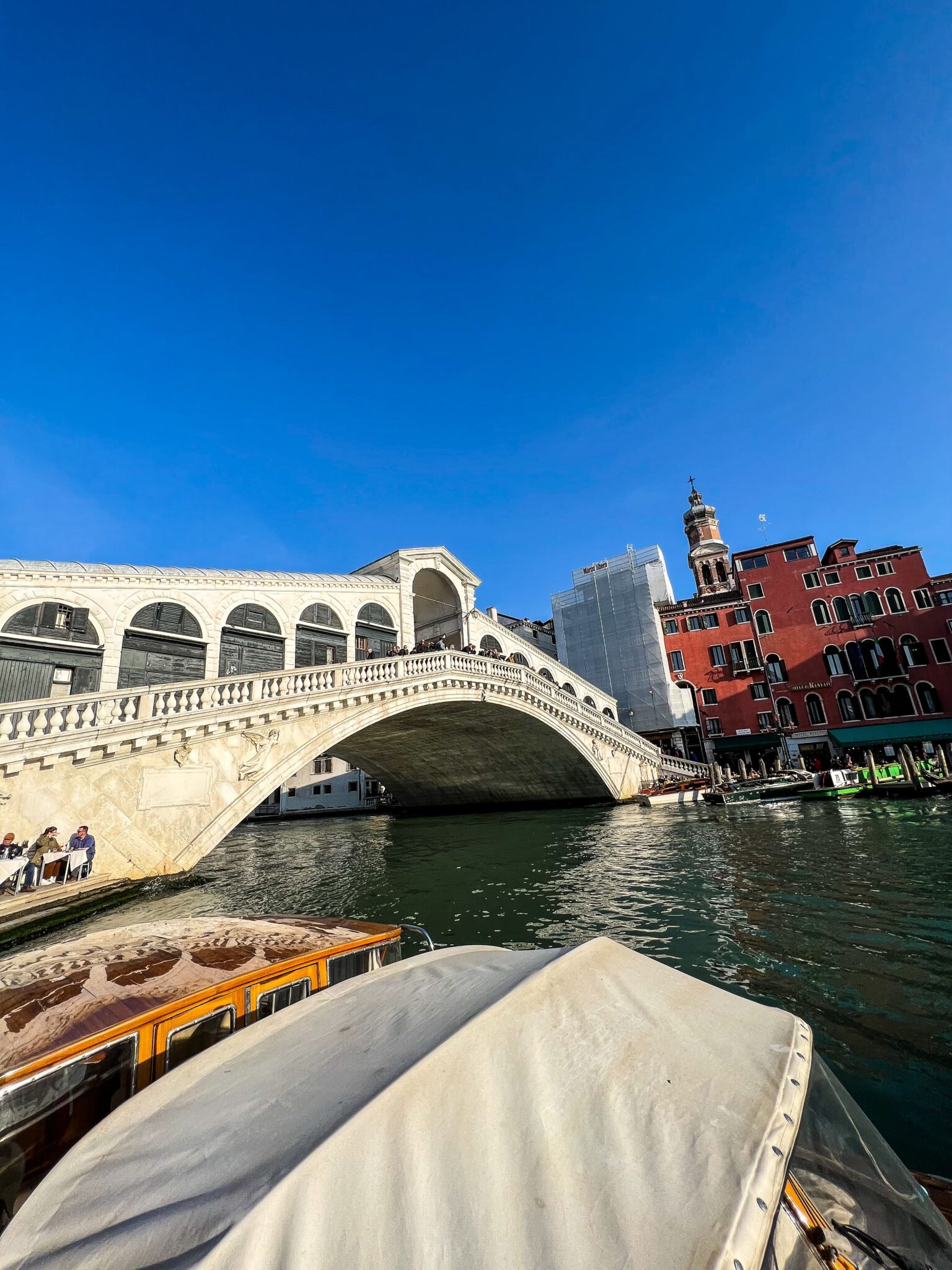 There are six different neighborhoods within the main city of Venice–Cannaregio, Castello, Dorsoduro, San Marco, San Polo, and Santa Croce districts.
On this 2 day Venice itinerary, you'll be spending a little time in each of these six neighborhoods, so you'll really have a chance to experience a little bit of everything Venice has to offer. It's very easy to walk from one end of Venice to another using bridges that connect all of these small islands to each other. However, there are a few other ways to get around.
Vaporetto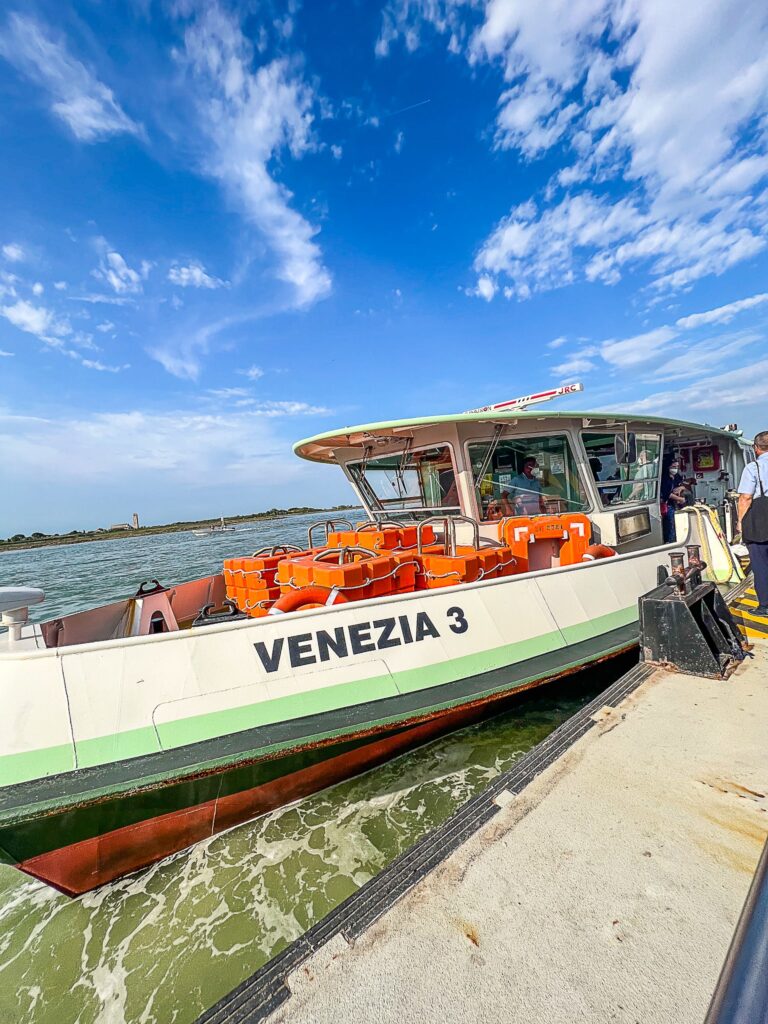 Although walking through Venice's twisting alleyways is an amazing experience, there is typically a more direct route–on the water.
A water taxi journey down Venice's Grand Canal is an incredible experience. You'll travel under the Rialto Bridge, along waterways dotted with colorful buildings and gondolas, and get a taste of Venice the way it was meant to be seen.
The city's public Vaporetto system, like any other mass transit system, is simple to operate once you understand the basics. There are 19 separate lines that run between various sites in the city and the adjacent islands like Burano, Murano, and Torcello.
On the city's transit website Azienda del Consorzio Trasporti Veneziano (Actv), you can learn more about its history, plan your itineraries, and buy tickets.
Traghetto
If you only need to get across the Grand Canal from one side to the other and you're not near one of the four crossing bridges, take a traghetto.
Venetians use traghetto gondola services for the ease of traveling from one side of the Grand Canal to the other without the hassle of the Vaporetto or the time to walk.
There are several different traghetto points along the Grand Canal–San Marcuola, Santa Sofia, Riva del Vin, San Tomà, San Samuele, Santa Maria del Giglio, and Dogana, to name a few. You'll need to pay the fare for a few euros in cash, and they only run during the day.
Private water taxis
The major private water taxi service in Venice is operated by Consorzio Motoscafi Venezia. They have more than 100 boats in their fleet, and each boat can carry up to ten passengers and ten suitcases.
If you know you'll need their services in advance, you can purchase and pay for your ticket on their website. Otherwise, they have a 24-hour call center for you to call and make arrangements.
Where to Stay for 2 Days in Venice
Venice is such a unique, must-visit place and with so much tourism that I highly suggest booking ahead of time online. Especially during the high tourism season, it's hard to find anything under €100 per night–even the hostels will run you about that much. Here are my top recommendations:
Luxury in the Dorsoduro district: Located just off the Ca' Rezzonico water bus stop and steps from the Ca' Rezzonico museum, the Palazzo Stern (Booking | Hotels) is a stunning luxury hotel in a 15th-century Moorish-style palazzo. Their outdoor garden and terrace are waterfront on the Grand Canal, or enjoy the canal views from above while lounging in the Jacuzzi on the roof. I actually stayed here a few years ago, and it was truly an outstanding experience.
Tips for Visiting Venice in 2 Days
I have a complete guide on the most important things you need to know before visiting Venice, so feel free to check that out if you're looking for more information!
Here are my top three tips you need to be aware of when you visit.
Restaurants close after lunch: In Venice, most restaurants (and even some small stores) close in the afternoon due to riposo.
Restaurants often shut around 2:30 or 3 p.m. and reopen for supper at 7 p.m.
This also means that there are no early meals in Venice. Although a few eateries are open for business in this window, you'll most likely have to wander for a bit to find them. They're usually only open to cater to tourists.
If you're hungry before dinnertime, stop in a bacaro for a spritz or glass of prosecco and have some cicchetti to tide you over.
Purchase one of the best Venice city passes to save some money: Especially if you love visiting museums when you're on a trip; I recommend you purchase the Venezia Unica Pass.
This pass includes entrance into several landmarks I'll mention in this Venice itinerary.
And, you can add on your Vaporetto passes, which gives you one less thing to worry about once you arrive.
You can read more about the different pass types and choose which one is right for you in my Venice city pass comparison guide.
Keep these apps on your phone to help you get around: Citymapper is my go-to software for learning how to navigate a new city's transit system.
The free app will show you the stations and lines and when, where, and how to go from one location to another.
It also works in several of my other favorite places worldwide, including New York City, Vienna, and neighboring Bologna.
Google Maps is also essential to have on your phone.
When you're connected to wifi, you can download your map of Venice offline to keep it with you even when you don't have service, and it's great for saving recommendations–like everything in this guide!
Prepare for a lot of walking; Venice wasn't made with accessibility in mind: There's really no other way to get around Venice than the bridges.
Because the city is several hundred years old, you won't find any elevators around.
I've seen people struggling with suitcases and parents straining to haul strollers up and down bridge stairs, and it's difficult.
And that doesn't even begin to address the difficulties folks with different mobility challenges have when exploring the city.
I highly recommend booking a transportation transfer if you can afford it.
These services will pick you up right from Marco Polo Airport, the bus station at Piazzale Roma, or the Venezia Santa Lucia train station and bring you and your luggage straight to your hotel and vice versa.
Recommended Arrival Transfers
Recommended Departure Transfers
History of Venice
La Serenissima, or the Most Serene Republic of Venice, originated around 402 C.E. when the Veneti people sought refuge on these islands amid invasions.
The autonomous Republic was founded in 421 and survived until Napoleon's invasion in 1797.
During this period, the Republic of Venice ruled over the majority of the Adriatic coast, including the Istrian peninsula.
It was also in charge of other sections of modern-day Croatia, as well as Montenegro, Albania, and Greece.
Venice, considered Europe's richest city, prospered as an economic powerhouse due to its position and abundance of a precious natural resource–salt.
The Doge, or ruler of Venice, was not a hereditary office. He was elected by a committee of affluent Venetians and reigned for life by the people's choice.
More Resources For Your Venice Itinerary
What can I do in Venice if it's raining? – If the weather is sorely lacking, take a look at my guide to the best inside activities for Venice.
Looking for more things to do in Venice? – If you're still wondering what to do in Venice Italy in 2 days, I have a massive guide with more than 55 different activities, landmarks, and activities in Venice for more ideas on how to spend your time here!
1-Day Venice Itinerary
This itinerary isn't for the faint of heart! Since you only have 2 days in Venice, plan to be up early and out late to see all of the city's most famous landmarks.
Start your 2 perfect days in Venice with breakfast along the Fondamenta de la Misericordia
Start your 2 perfect days in Venice with a stroll down the Canareggio district's Fondamenta de la Misericordia. This neighborhood is the center of local life, with several fantastic cafés right along the Canal.
Insider Tip: Today, Venice has a population of roughly 50,000 people, most of which reside in the Canareggio and Castello districts. This is the area to go to if you want to see what local life in Venice is like nowadays and have some truly authentic Venetian cuisine.
My favorite spots to grab your Italian breakfast of a cup of coffee and a pastry here include:
After your morning coffee, cross over the bridge into the city's Jewish Quarter
As the first Jewish Ghetto in Europe, you need to take a moment to visit this historic Venetian neighborhood. During the Middle Ages, Jewish residents of Venice were forced to live within a defined, walled area.
The whole neighborhood is now an open-air museum, with Campo del Ghetto Nuovo as its center. Many of the original synagogues, schools, and residences erected by the Jewish community are now open to the public.
If you want to explore more about the history of Venice's Jewish Quarter, make sure to visit the Museo Ebraico di Venezia (Jewish Museum of Venice.)
Quick History: The word "ghetto" comes from the "Italian dialect form ghèto, meaning "foundry." A foundry for cannons was once located on an island that forms part of Venice. In 1516, the Venetians restricted Jewish residence. The word ghèto became the name for the area and was borrowed into standard Italian as ghetto, with the meaning of "section of a city where Jews are forced to live." From there, it passed into most other European languages."

"ghetto," Merriam-Webster.com Dictionary. Accessed 3/13/2022.
Start your morning walking tour to learn more about the city's history
On to your guided walking tour! It's a great way to quickly become familiar with the city you're visiting, learn about its history, and get your questions answered by a local. There's really not an itinerary guide you'll find on my website that does not include a guided walking tour at some point during your trip.
On this Guided Walking Tour of Venice, you'll spend time with a local guide, learning the history behind the city's most famous landmarks like the Basilica di San Marco, Palazzo Ducale, and the Riva degli Schiavoni before taking a gondola ride.
Insider Tip: You want to be at your tour's starting point to meet your guide at least 5 minutes before the start of your tour, so make sure to plan out your walk in advance, so you know how to get there with minimal wrong turns. And remember to tip your tour guide!
Head back to Piazza San Marco and enjoy the views
When you finish your Venice Walking Tour and Gondola Ride, you'll be dropped off in Bacino Orseolo, just around the corner from Piazza San Marco. Go back into the Piazza and take some time to wander around.
Since some of the most important things to do in Venice in 2 days are in Piazza San Marco, you're not going to be leaving this area for a while!
Climb to the top of the Campanile di San Marco
Once you're done taking pictures of this photo spot in Venice, it's time to climb to the top of Campanile di San Marco!
Every magnificent church needs a beautiful bell tower, and the Campanile di San Marco is no exception. The tower's construction began in the early 10th century and took around 500 years to complete, with numerous eras of construction. Despite that effort, the structure fell in 1902 but was meticulously reconstructed by 1912.
The Campanile, Venice's highest building, provides breathtaking views of the city! Walk inside to purchase a ticket before riding an elevator to the top–one of the benefits of being rebuilt in the 20th century.
Pick One: Basilica di San Marco or Palazzo Ducale
As much as I would love for you to have enough time to see everything inside each iconic landmark, we're only human and limited by time. Of course, you'll be able to see both of these buildings from the outside but to give yourself enough time to truly explore the museums inside, your best bet is to pick one to devote your time to for a couple of hours.
Head inside the Basilica di San Marco
The Basilica di San Marco was completed in 1094. It functioned as the Ducal chapel from 836–200 years before this version of the building–through 1797. There were two earlier churches in this location before the construction of this masterpiece.
The interior houses some of Europe's most famous works of art, including works by Renaissance painters Tintoretto, Titian, and Veronese and relics of the church's patron saint, Saint Mark the Evangelist.
Explore the Doge's Palace
Palazzo Ducale was constructed in the 14th century next to the Basilica di San Marco. This palace served as the Doge of Venice's home until Napoleon conquered the Venetian Republic in 1797. The palace was then utilized for governmental offices, displays, and cultural groups until Venice was united with Italy in 1866.
Doge (n.) – The highest official of the Republic of Venice for more than 1,000 years (from the 8th to the 18th century) and symbol of the sovereignty of the Venetian state. In Venice, the office of Doge (from Latin dux, "leader") originated when the city was nominally subject to the Byzantine Empire and became permanent in the mid-8th century.

From the 8th to the 12th century, the Doge's power was extensive, but all attempts to make the office hereditary failed. From the 12th century, the aristocracy placed strict limits on the Doge. Newly developed constitutional bodies took over many of the functions of government, and the Doge, on taking office, had to swear an oath that restricted his freedom of action. During the same period, the main characteristics of the office were fixed: the Doge was chosen from among the ruling families of Venice and held office for life. By the 15th century, the office had assumed the character of prince subject to law.

Britannica, T. Editors of Encyclopaedia (2011, December 12th). doge. Encyclopedia Britannica. https://www.britannica.com/topic/doge
Inside, you'll find beautiful paintings, original furnishings, and magnificent chambers and halls where official functions were once held.
Two sights inside you absolutely can't miss? The Sala del Maggior Consiglio, or Great Council Hall, was where the doges convened to debate state issues. It features the biggest canvas painting in the world, Paradiso (1588 – 1592) by Jacopo Tintoretto. Also, crossing the Bridge of Sighs from the Doge's Palace to the ancient prisons exactly like the inmates once did.
Stop for cicchetti and a spritz from Ai Do Leoni behind the Basilica di San Marco
In Venetian dialect, the word bacaro means "a good bar" or "wine," and that's exactly what you'll find at any of the city's bacaro restaurants.
At a bacaro, you'll have cicchetti, which are little rounds of Italian bread covered with different things–baccalà, salami, gorgonzola with walnuts, parmigiana cheese with jam, and a variety of other items.
Of course, you'll sip a spritz!
Although it's true that most of the best food you'll find in Venice or any city is far away from the major monuments, Ai Do Leoni is a notable exception.
This bacaro is tucked away off to the side of the Basilica, serving up excellent cicchetti and spritz within view of the landmark.
This perfect spot was actually recommended to me by a Venetian, so I can give it that stamp of approval, too!
Pro Tip: If you miss lunch because most restaurants are closed or don't want to take some of your precious time for a sit-down meal, stopping a bacaro and grabbing a few pieces of cicchetti is a great way to hold you over until dinner! You can even create your own bacaro tour by stopping at a few as you walk around the city.
Walk the Riva degli Schiavoni to visit Giardini Reali and pass the Bridge of Sighs from the outside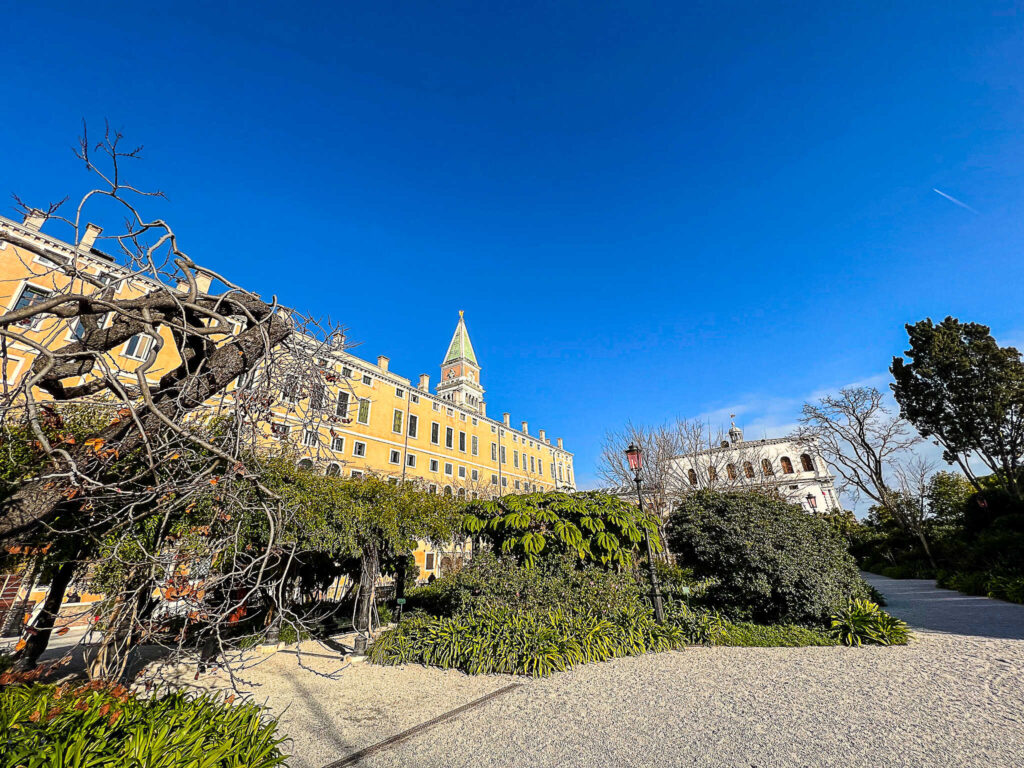 The Riva degli Schiavoni runs beside the Grand Canal. This coastal promenade has stunning views of the Canal and the Dorsoduro, Giudecca, and San Giorgio Maggiore districts.
If you start in Giardini Reali, you'll have the opportunity to see the Royal Gardens of Venice, which were built when Napoleon took over the Venetian Republic. The Austrians added the greenhouse and luxe coffee shop once they were given control of the city after Napoleon.
Once you've seen the gardens, follow the path to the side of the famous Bridge of Sighs while standing on Ponte della Paglia. Then, continue to wander by the water, taking in the scenery as you pass the Vittorio Emanuele II statue.
Head up into the Castello neighborhood to window shop at Papier Machè Venezia
The history of Venice's Carnevale celebrations intertwines with the tradition of mask-wearing and mask-making.
These customs extend back centuries; beginning in the Middle Ages, masks were used to conceal the wearer's identity so that they may participate in the Carnevale merriment unobserved.
Although you can find cheap souvenir masks at the market near the Rialto Bridge or in almost any tourist shop in the city at any time of year, not only during Carnevale, you need to see the real deal.
At the family-owned-and-operated Papier Machè Venezia, you can peek through the shop windows to see artisans still use time-honored mask-making skills and admire completed masks around the store.
Then head into Libreria Acqua Alta next door
Wandering through the Libreria Acqua Alta is one of my favorite things to do in Venice. Books and magazines are stacked to the ceilings on shelves, in a bathtub, and in one of the most Venetian sights I've ever seen–piled high in a gondola.
Because it's directly on a canal, you can check out the view by climbing up a stairway of books. They even have a gondola tied to their water-facing entrance so you can read while sitting outdoors on the water.
The bookstore is so famous now that it's quite an Instagram hotspot! If you're lucky, you could glimpse one of their adorable cats prowling the shelves.
Enjoy an excellent dinner of Venetian cuisine
Alright, it's finally dinnertime! The beauty of Italian food is that every region of Italy–heck, even most moderately-sized towns–has its own kinds of bread, cheeses, meats, and other foods that create their own very specific dishes that you really won't find anywhere else. When in Venice, you need to experience authentic Venetian foods.
If you've followed this 2 day Venice itinerary exactly, then Antico Gatoleto is an excellent Venetian restaurant a little more than a 5-minute walk away from Libreria Acqua Alta.
If you're visiting Venice in winter, they have an inside dining space and ample outdoor patio space during the summer.
Otherwise, I have several other great Venetian dinner recommendations down below in my Favorite Restaurants in Venice section.
Wander the city streets at night as you make your way to the Rialto Bridge to end your evening
Walking through Venice at night is an adventure–the streets twist and turn, and you must be careful not to wander into the water. However, as you travel around the city after dark, you'll come across little squares crowded with people enjoying a drink and a meal in the night air. Most streets in this romantic city feature streetlamps to help you find your way. Enjoy the ambiance as you make your way to the Rialto Bridge.
Even though you saw the Ponte di Rialto on your walking tour this morning, you need to come back and see it sparkle at night. It's one of my favorite places to observe the 2-mile-long Grand Canal glitter from the streetlamp light.
Once you've captured the magic, it's time to head home for the night. After all the walking you would've done today, you deserve it!
Read More
2-Day Venice Itinerary
I hope you got a restful night's sleep because you'll be walking a lot today, too!
Day 2 begins with breakfast in the Dorsoduro
Time to check out another neighborhood for breakfast! The Dorsoduro neighborhood is where you'll find many of Venice's universities are centered, so there are tons of cute cafes catering to collegiate coffee culture. A few of my favorite bars for breakfast in this neighborhood include:
Visit Basilica di Santa Maria della Salute on your way to Punta Della Dogana
The Basilica of Santa Maria Della Salute is a beautiful cathedral built across the Grand Canal in 1631 to save Venice from the plague.
The ceiling of this beautiful church, dedicated to Our Lady of Health, is adorned with paintings by Titian, a famous Venetian Renaissance artist, illustrating Old Testament events such as Abraham and Isaac, Cain and Abel, and David and Goliath. The Basilica is open to the public, and admission is free.
If you continue walking beyond the Basilica di Santa Maria della Salute, Punta della Dogana connects the Grand and Giudecca Canals at the tip of the Dorsoduro district.
It's in one of the most remote spots in Venice, with spectacular views once you get there. The Patriarchal Seminary of Venice and a modern art museum housed in the 17th-century Dogana da Mar customs house are all located here.
Pick One: Gallerie dell'Accademia or Collezione Peggy Guggenheim
With so much world-class art in Venice, you need to stop at one of these two Dorsoduro district museums for a few hours on your second day in Venice.
Visit the Gallerie dell'Accademia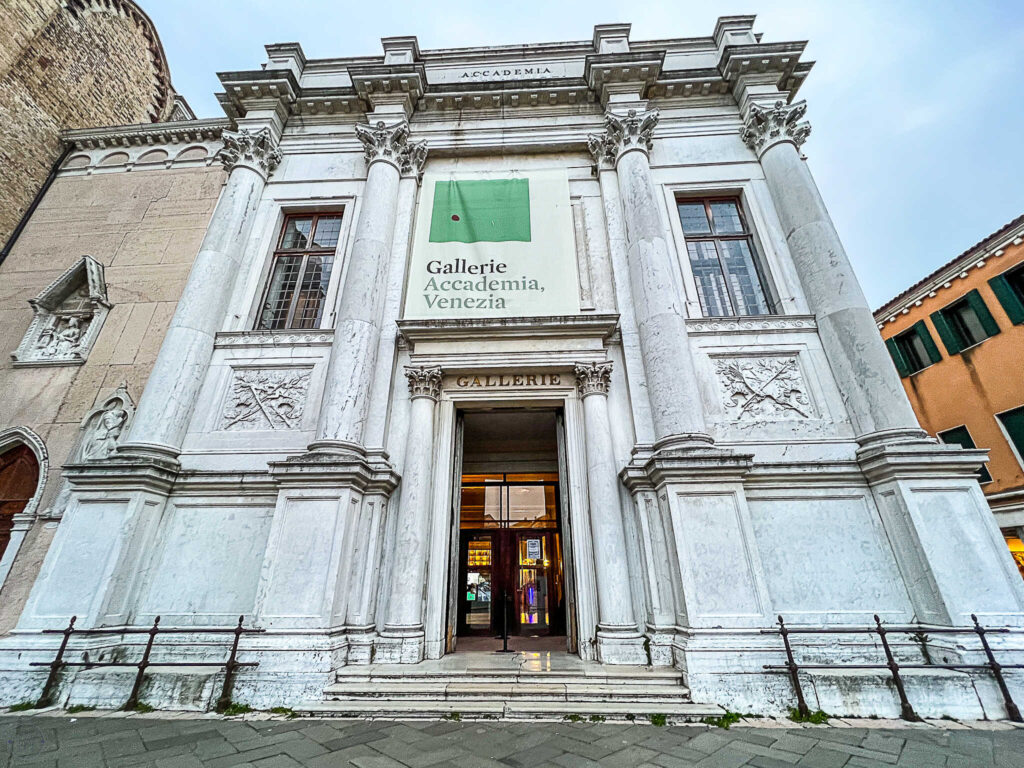 The Accademia Gallery displays an extraordinary collection of pre-19th century Venetian art and paintings. The gallery is housed in the old Scuola della Carità building, showing its treasures chronologically from when they were created.
You'll see paintings by painters like Giovanni Bellini, Leonardo da Vinci, Giovanni Battista Tiepolo, Tintoretto, Titian, and Giorgio Vasari as you walk your way through.
Explore the Peggy Guggenheim Collection
The Peggy Guggenheim Collection is housed in an 18th-century palace in the Dorsoduro area, overlooking the Grand Canal. Walk inside the estate where Peggy Guggenheim resided for over thirty years and appreciate the collection she acquired and presented publicly every year before her death in 1979.
The museum has a magnificent collection of contemporary art and sculpture, most of which were collected by Guggenheim across Europe and the United States during World War II.
Cubism, Surrealism, and abstract expressionism are significant styles represented by artists such as Gino Severini, Pablo Picasso, Marcel Duchamp, and Jackson Pollock.
Check out the view on Ponte di Accademia
The Ponte della Accademia is one of Venice's most photographed bridges. It connects the island of Giudecca to the district of San Marco.
Take a moment to appreciate the stunning views from each side of the bridge, and take a million pictures. My favorite view is the side with the Basilica of Santa Maria della Salute in the background, standing tall at the end of the Canal.
Take a self-guided audio tour inside Teatro La Fenice
The Teatro La Fenice first opened its doors in the 18th century, only five years before the collapse of the Venetian Republic. Operas by some of the most renowned composers, including Rossini, Bellini, Donizetti, and Verdi, have premiered here throughout its history.
Now, it's regarded as one of the most significant locations in the history of opera. The current theater is a replica of the original one, which was destroyed by arson in 1996.
Fun Fact: The interior of the Croatian National Theater in Šibenik was inspired by Teatro La Fenice! A photo of the inside can be seen in my guide to the top things to do in Šibenik, Croatia.
You can book your own self-guided audio tour of Teatro La Fenice online to view the venue for yourself.
See Venice from above on top of Fondaco dei Tedeschi
After you've finished your walkthrough of Teatro La Fenice, you're going to head up to the top of Fondaco dei Tedeschi.
This elegant indoor shopping center was formerly the city's primary post office. Previously, German traders in the Venetian Republic were all forced to live there.
The inside has been meticulously designed to retain the structure's historical character while providing levels of retail area.
As one of the finest free things to do in Venice, you can now enjoy panoramic views of the city from its rooftop. Although reserving a ticket to visit the T Fondaco Rooftop Terrace is free, you need to make your reservation in advance.
End your 2 days in Venice itinerary with a delicious dinner on a boat cruise of the lagoon
Once you finish viewing Venice from above, it's time to see the city from the sea. Explore the city at night with this Venetian Lagoon Tour and Galleon Meal cruise, including a romantic meal by candlelight.
As you travel into the lagoon, you'll see some of Venice's smaller islands set against a stunning sunset. Then, as darkness gives way to night, sail down the Grand Canal, watching the city lights shine on the lake to close out your last evening in Venice.
What to Add if You Have 3 Days in Venice
Visit Murano, Burano, and Torchello
Some of the small islands off the coast of Venice are almost as well-known as the city center itself.
Murano
Murano is one of the world's most prominent glassmaking centers. During the Middle Ages, the first glassmakers were taken to this little island in the Venetian Lagoon. They were not allowed to leave in order to protect their secrets of creating glass.
Murano is still regarded as a hub for high-quality glass manufacturing today, and it's home to the Museo del Vetro (Glass Museum). You can walk around the island and pop into a glass factory workshop to see how the famous glass is made today.
Burano
Burano is well-known for its needle lace and its brightly painted houses. During the 18th century, the island was admired for the quality of its lace, and the tradition was even saved from extinction in 1872 by an elderly resident of the island who recalled how the lace was made.
Unfortunately, the school no longer exists. You can still learn about the history of the art form on this island by visiting the Museo del Merletto (Museum of Lace.)
You can also walk along a bridge connecting Burano to Mazzorbo island to experience a wine tasting at Venissa Wine Resort, a one-of-a-kind vineyard unlike any other in the world.
Torcello
The smallest of the three islands is Torcello. It has the Basilica of Santa Maria Assunta, which was built in 639 C.E. It also houses some of the region's earliest mosaics, as well as the Casa Museo Andrich art museum and the Museo di Torcello.
If you're planning to dedicate an entire day to the outer islands, you can definitely have enough time to visit two of these islands. You can purchase a 24-hour Vaporetto pass to island hop between these three and others.
Spend a day on one of the city's beaches
An interesting fact about Venice is that the city is made up of 124 islands. You'd think that a gorgeous city-state constructed completely on islands would have some spot where you could dip your toes into the ocean.
Although you can't swim in the canals in Venice, you can take the Vaporetto to the lido. It's a little island off the city's coast where you can enjoy the sun, beach, and sea without traveling too far. There are several beachfront stores, restaurants, and hotels, and most of the coastline beach is open to the public.
The most popular beaches on the island are Spiaggia Lungomare d'Annunzio, Venezia Spiaggia Blue Moon, and Murazzi Spiaggia libera. If you're lucky enough to visit during peak season, expect to be surrounded by crowds also enjoying the sunny day.
Explore the Veneto on a Prosecco wine tour
Just north of the historical lagoon city, the Veneto region of Italy is famed for its own marvelously bubbly and light white wine–Prosecco.
It pairs well with Venice's signature fish and shellfish meals, but it's also refreshing on its own as an aperitivo glass.
Although it's similar to France's champagne, it uses a different technique. It can only be found here in Veneto's UNESCO World Heritage Prosecco region.
From Venice, you can easily take various Veneto wine tours, ranging from full-day Prosecco vineyard tours to half-day excursions.
It's an incredible opportunity to explore the gorgeous mainland hilly area outside Venice while learning more about the history of this wine.
If you're interested in finding one that's right for you, look at the list of my top wine tours from Venice.
Almost all of the tours I recommend will pick you up from various locations across the city and return you at the end of the day.
And since there isn't a set legal drinking age in Italy, a wine tour is a great choice to add to a 3-day Venice itinerary for adults of any age.
A UNESCO World Heritage Site is a creation or landmark chosen for conservation by the United Nations Organization for Education, Science and Culture (UNESCO) due to its cultural, historical, scientific or natural significance. It must meet a minimum of one of ten selection criteria to be considered for the World Heritage List, and once chosen, it becomes protected for preservation by various international treaties.
Read More
My Favorite Restaurants in Venice
These are my favorite restaurants and sweet shops in Venice:
Venetian Casual Dining
---
Best Bacari for cicchetti
---
Breakfast
Venetian Restaurants for a Great Dinner Out
---
Pasticceria & Gelato
---
Other Fantastic Restaurants in Venice
What is the best time to visit Venice?
The best times to visit Venice are the months of January, May, and September.
Although there really isn't ever a time when Venice is totally without tourists, January is your best bet to find the city streets almost empty. It's an interesting lull in the city, right after the Christmas rush but before the influx of tourists for Carnevale.
One of my favorite memories was walking into Piazza San Marco on a cloudy Thursday around Noon in January–and finding almost no one there! That said, since it's literally a city built on water, it can get pretty chilly in the winter months. So if you'd rather travel in the warmer weather, January isn't the time for you to visit Venice in two days.
Otherwise, May and September are my other two favorite months for traveling–pretty much anywhere–but especially to Venice. These months offer the same warm weather but without the stifling heat of the summer season in Italy. They have a bit fewer tourists than if you were visiting during the height of the summer season.
How many days in Venice?
I recommend that you spend at least two days in Venice. It's the perfect amount of time for a quick weekend trip.
However, if you have more time, you can absolutely spend an extra day or two in Venice. Not only does this give you more time to see everything, but it also gives you enough time to make day trips out of Venice (like to Padua or Verona).
If you're just passing through, you'll probably want to stick with two nights.
What should I pack for my 2 day Venice itinerary?
If you plan to visit Venice in 2 days, you should pack comfortable shoes that will allow you to walk up and down the steep steps of the Grand Canal. Also, bring layers as temperatures change quickly in Venice. In addition, be sure to bring mosquito repellent, sunscreen, a hat, sunglasses, and a money belt or cash pouch.
Where to go After Your 2 Days in Venice
Bologna, Italy
For a whole country to be famous for its food, you know it's a big deal when some say the best Italian food is found in Bologna. Just a 2-hour train ride from Venice, Bologna is the capital of the Emilia-Romagna region of Italy.
You'll find a whole different range of local Italian cuisine, as well as several notable landmarks like Le due Torri: Garisenda e degli Asinelli, two tall towers that date back to the Middle Ages, the Basilica di San Petronio with a rare depiction of the prophet Mohammad, and Teatro Anatomico, one of the oldest medical operating theaters.
And, of course–food!
Pula, Croatia
Ready to do a little country-hopping? You can take a ferry right from Venice to Pula, Croatia, a stunning Croatian city with Italian influences on the opposite side of the Adriatic Sea.
I spent a few summers living with a native Croatian family and thoroughly enjoyed my time visiting Pula–I can't wait to go back!
If you want to learn more about this Croatian-Italian city, check out my recommendations for things to do in Pula, the best beaches in Pula, and my 3-day itinerary to Pula.
And, I have a whole guide on how to take a day trip to Venice from Pula.
How would you like to spend your 2 days in Venice?
Lyndsay