This post may contain affiliate links! I will receive a commission, at no extra cost to you, if you purchase something recommended here.
If you're anything like me, you're constantly seeking out your next adventure, craving the thrill of discovering new places and experiencing different cultures.
And let me tell you, Croatia is a country that should definitely be on your radar.
From the ancient cities of Split and Dubrovnik to the breathtaking Adriatic coastline, Croatia is a destination like no other.
With lively cities, stunning mountains, and secluded islands all in one country, it's no surprise that Croatia has become a popular tourist destination.
But when is the best time to visit this Adriatic paradise?
As someone who loves to travel, I always want to make sure I'm getting the most out of my trips, and timing is a crucial factor in that.
So, I did my research and discovered that the best time to visit Croatia can depend on a few different factors, like weather, crowds, and events.
After spending several months exploring Croatia with a local family, here I'll be sharing my insights and tips on when to visit Croatia based on my own experiences and those of my local friends.
Whether you're looking for budget-friendly activities or want to experience some of Croatia's exciting events and festivals, read on to find the best time to visit Croatia!
Overall Best Time To Visit Croatia
Croatia is a stunning destination; there's no wrong time to visit this Mediterranean paradise.
However, if you're looking for the best time to visit Croatia, the overall best time is during the shoulder seasons.
Between April and June or September and October, you'll find the temperature is still warm enough to swim in the crystal-clear Adriatic Sea.
Still, you won't be surrounded by the swarms of tourists that descend during summertime.
However, the best time to visit Croatia truly depends on your preferences.
Best Time to Visit Croatia to Avoid Crowds
If you're interested in experiencing Croatia without crowds, you must visit during the shoulder seasons.
The late spring and fall offer similar wonderful weather to the peak summer season.
Temperatures are still mild from April to May and September to November, and the tourist season has died down significantly.
This means you can experience Croatian culture more peacefully and authentically.
You'll still be able to swim in the sea, hike through the national parks, and wander the historic cities–just with fewer tourists.
Best Time to Visit Croatia on a Budget
If you're looking to explore Croatia on a budget, the best time to visit is in early spring or late fall.
From May through June and October through November, you'll find lovely weather and fewer crowds, which is great if you're looking to save on hotel costs and activities such as island hopping or exploring Plitvice Lakes National Park or Krka National Park.
Best Time To Visit Croatia for the Beach
If you're all you want to do on your Croatian vacation is go swimming, snorkeling, sailing, or any other type of activity that involves the Adriatic Coast.
The summer months are your best bet.
From June to September, temperatures are warm, and the sky is almost always sunny, making it an excellent time to indulge in all Croatia's water-based activities.
The peak season runs from July through August, with temperatures reaching their highest point.
Best Time to Visit Croatia for Partying
From mid-July to mid-August, some of Croatia's coolest cities–Pag, Hvar, Brac, Dubrovnik, and Split–light up with travelers looking for an unforgettable party.
Specifically in Split, the Ultra Europe Festival is a must-attend event that lights up Split's nightlife and runs for three days every July, offering world-class DJs and amazing vibes.
Best Time to Visit Croatia for its National Parks
From the spectacular Plitvice Lakes National Park to Krka National Park and Mljet National Park, this stunning corner of Europe offers visitors a chance to explore some of the most breathtaking natural wonders.
When deciding the best time to visit Croatia's national parks, springtime is definitely your best bet.
With temperatures hovering around a pleasant 70°F (21°C) and fewer crowds than during peak season, spring offers an ideal balance of sunshine and tranquility.
You'll see nature in full bloom, and the waterfalls are at their fullest due to snow runoff–making it an unparalleled opportunity for visitors looking to really soak up nature's beauty.
Best Time to Visit Croatia for its Festivals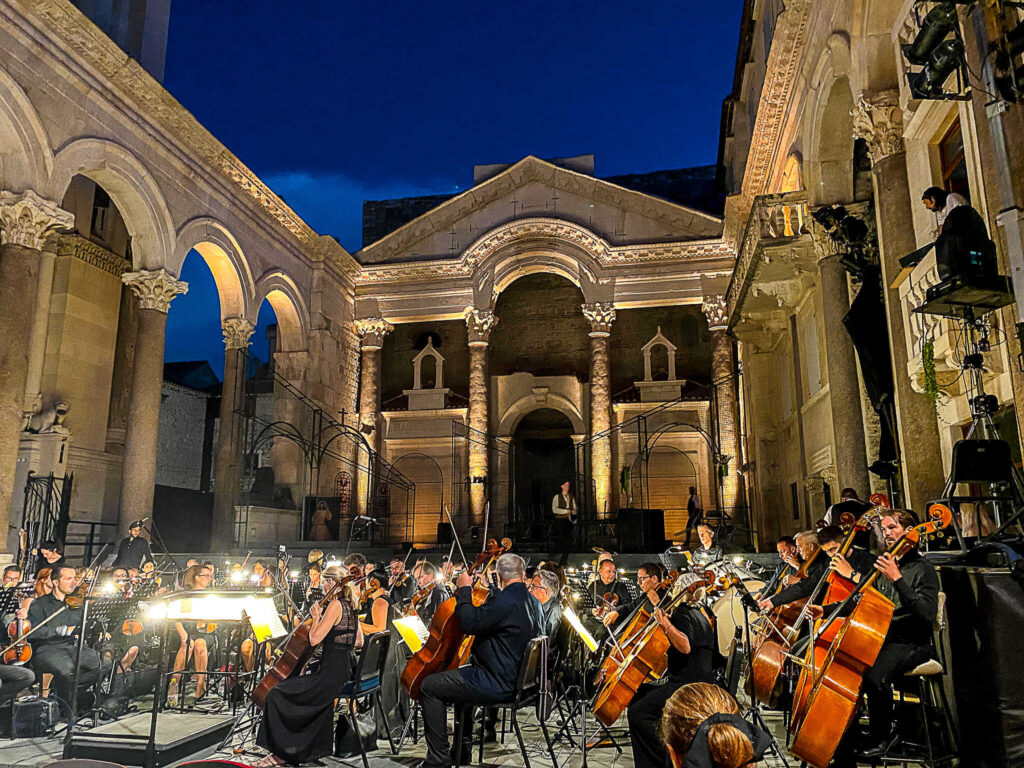 Croatia is a country full of exciting events throughout the year, but the top festival seasons are spring and summer.
During this time, you'll enjoy some of Croatia's most popular outdoor events and performances, like the Split Summer Festival, the Days of Diocletian, and the Festival of Flowers.
Best Time To Visit Croatia For Sightseeing
Summertime in Croatia is simply the best time to visit. Why?
As long as crowds aren't an issue for you, peak tourist season from June through mid-August is perfect for exploring the country's incredible attractions.
During this period, the weather is warm and sunny–you'll want to bring sunscreen, sunglasses, and a hat, as temperatures can reach up to 31°C (87°F) in Split.
Best Time To Visit Croatia: Month To Month
Croatia is a beautiful destination, no matter the time of year.
However, for those looking for the perfect time to visit, some months may be better than others, depending on what you're looking for.
January
Although Croatia is most famous as a summer destination, it also has some great winter activities!
Museum Night is an annual event where museums nationwide open free admission on the last Friday in January.
Croatia even has some excellent ski resorts in the Gorski Kotar mountains.
However, even though you'll find some great deals, remember that not all restaurants and accommodations will be open during these months.
February
In February, the weather in Croatia is still relatively cold. Still, it's not unbearably cold like in the more northern European countries.
Average temperatures range from highs of 11°C (52°F) to lows of 3°C (38°F) throughout the month.
Along with skiing, February brings several exciting festivals.
Early in the month, Dubrovnik has a massive celebration in honor of its patron saint, Saint Blaise.
Later, you can find Carnival celebrations in the cities of Rijeka, Zadar, and Dubrovnik.
March
As we finally leave winter weather for a hint of spring, March is an excellent choice if you like exploring countries without the typical crowds.
The winter crowds are gone, and the weather is mild and sunny, making it great for outdoor activities and sightseeing.
You can also score some excellent deals on hotel prices in March since it's before the peak summer season rush.
April
April is not just a great month for the weather; it's also an excellent month for sightseeing.
The weather is mild and enjoyable, with temperatures still averaging from 9°C (49°F) to 18°C (64°F).
Since it is less crowded, travelers can easily explore Croatia's stunning beauty without feeling overwhelmed by too many people visiting at once.
And I can guarantee that you will be happy taking advantage of this spell of peacefulness and taking in all the sights without having to stand in long lines or wait on crowded tour buses.
May
In May, the crowds have yet to hit their peak, which means it's the perfect time to visit Croatia.
With temperature highs around 22°C (72°F) and lows of 13°C (56°F), it's a great time for outdoor activities.
And many prices are slashed; tourists benefit from early season discounts as restaurants and attractions come alive with activity throughout springtime in Croatia.
With most major attractions still open but many beaches yet to be crowded, visiting Croatia in May can give you an outstanding balance of exploration and relaxation at the same time.
June
Summertime in Croatia is the most magical season.
June brings sun-filled days and warm evenings, making it the perfect time of year to explore Croatia's stunning beaches and ancient towns.
With average highs of 26°C (79°F), summer is ideal for outdoor adventures like hiking through national parks and touring coastal towns on a bike or kayak tour.
July
There is something special about visiting Croatia in July.
With warm temperatures and clear skies, it's the perfect month for outdoor activities like swimming in the Adriatic Sea or exploring forest trails.
The days are long, so you can make the most of your stay by making early-morning or late-night trips.
August
Well, if you want to experience the country at its finest, then there's no better time than August!
It's the perfect time of year for swimming and hiking. The weather is typically sunny and warm, with temperatures reaching as high as 31°C (87°F) in Split.
September
September is the perfect time to explore Croatia's stunning islands, from Hvar and Brac to Vis and Korcula.
The hot summer days are ending, but the weather remains mild, with plenty of sunshine.
This makes it an ideal time for swimming in crystal clear waters, relaxing on a beach, or exploring the many cultural attractions of these picturesque islands.
October
Come October, the temperature cools down, and the islands are in harvest season. Fewer tourists are around, so you can enjoy the last days of warm weather before the end of the year.
However, ferries start running on their reduced winter schedules in October. You might find many hotels and restaurants closed for the winter.
November
November allows travelers to explore Croatia's beautiful cities and local culture without the price surge that summer tourists see.
Temperatures usually hover around 14°C (58°F) for the high and 8°C (46°F) for the low, making this ideal for sightseeing without feeling chilled.
December
Tis the season for Christmas markets, and Croatia has some beautiful ones! Most notably, the Zagreb Christmas Market is the most extensive in the country.
The inland, northern region of the country even offers snow-covered mountains ideal for winter activities such as skiing, snow-shoeing, and snowboarding, providing an extra layer of appeal during the festive season.
Best Time to Visit Croatia's Top Cities
Croatia is a fantastic destination for any traveler with its stunning coastline, picturesque rivers, and lush rolling hills.
From the vibrant capital of Zagreb to the beautiful city of Split, plenty of places exist for you to explore.
But when is the best time to visit these cities?
Best Time to Visit Zagreb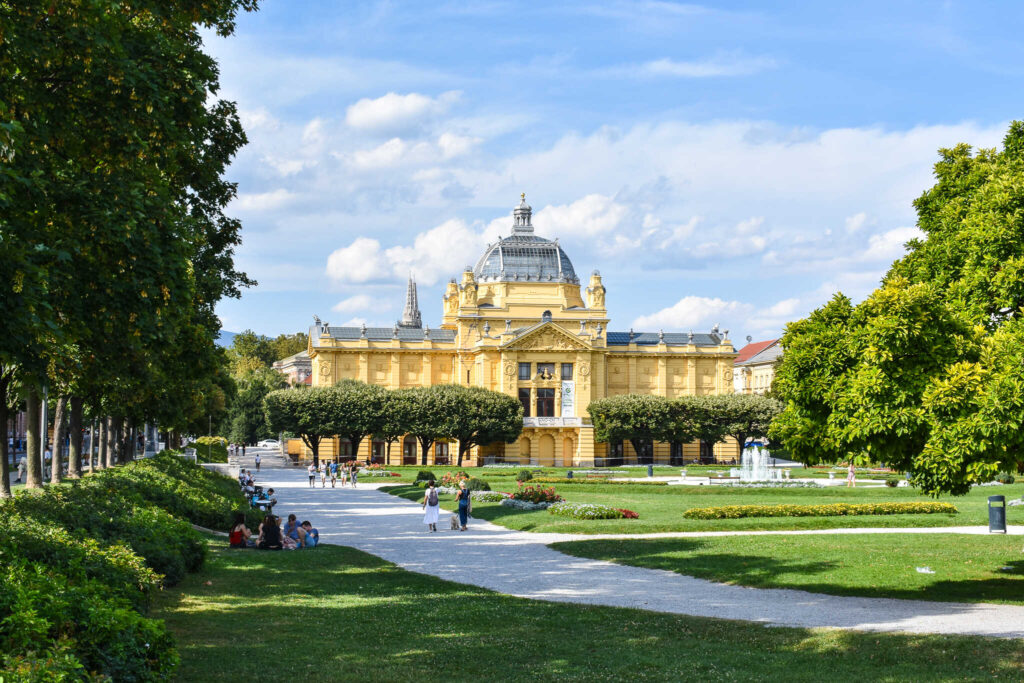 Zagreb, the capital city of Croatia, is a delightful mix of history, culture, and contemporary life.
The city's charm is evident in its streets, parks, museums, and historical landmarks–you should definitely consider visiting!
While the city is beautiful year-round, the best time to visit Zagreb is from June to August.
During this period, the weather is warm, sunny, and perfect for outdoor activities such as picnics in the park, sightseeing, and concerts.
The Zagreb Botanical Gardens is all in bloom this season, perfect for a leisurely walk in the sun.
One of the coolest Croatian summer events here is The Grič Evenings, one of Zagreb's oldest summer music festivals.
Visitors can also explore the museums and galleries with special summer exhibitions during this time, like the Museum of Broken Relationships, a quirky and unconventional museum showcasing mementos and stories of failed relationships.
Best Time to Visit Pula
Pula, a beautiful coastal city in Croatia, is a must-visit destination for those seeking history, nature, and Italian-style architecture.
The best time to visit Pula is during the summer months, from June to September.
The weather during these months is sunny and warm, with temperatures averaging around 26°C.
This makes it ideal for spending time on the city's beautiful beaches, which offer a relaxing atmosphere and a variety of water activities such as swimming, snorkeling, and boating.
In addition to enjoying the beaches, there are so many other things to do in Pula throughout the summer, like exploring the city's historical landmarks.
The most famous attraction is the Pula Arena, an ancient Roman amphitheater that dates back to the 1st century AD.
During the summer, you can enjoy concerts, film festivals, and historical reenactments in the Arena.
Another must-see attraction is the Temple of Augustus, a well-preserved Roman temple in the city center.
The temple houses an impressive collection of ancient artifacts and statues, allowing visitors to learn about Pula's fascinating history.
And with ferries running regularly along the Adriatic coastline, it's easy to take a day trip from Pula to places like Venice, Italy, or Rovinj or Poreč, Croatia.
You can check out my guide to the best way to spend 3 days in Pula for more ideas!
Best Time to Visit Split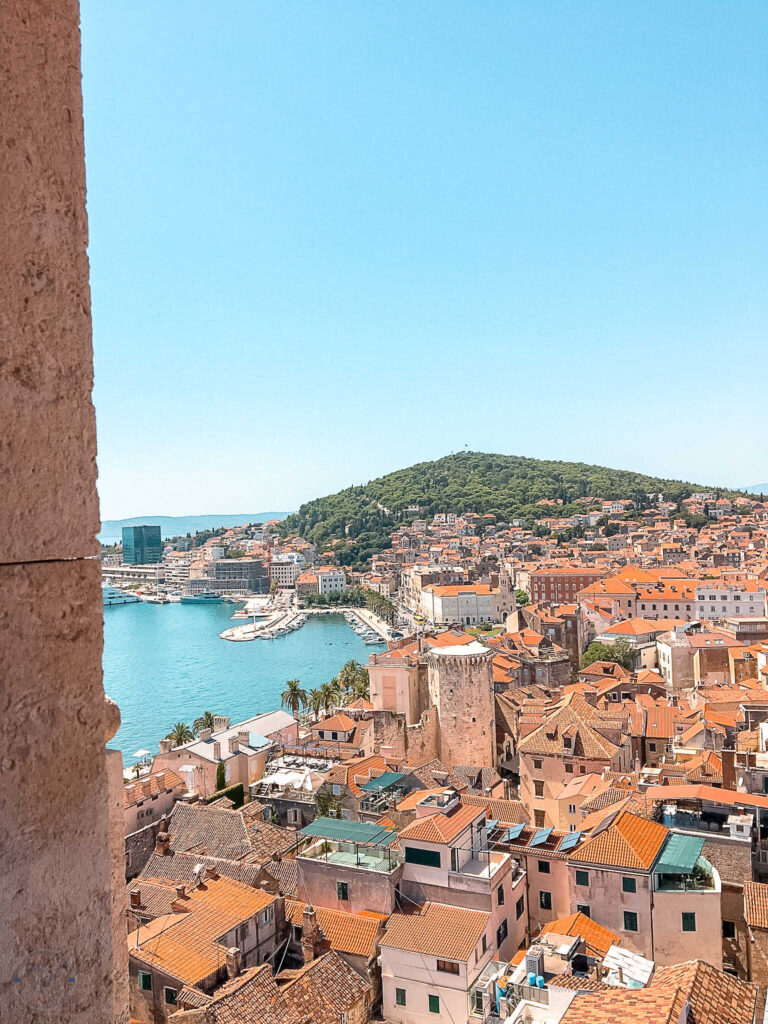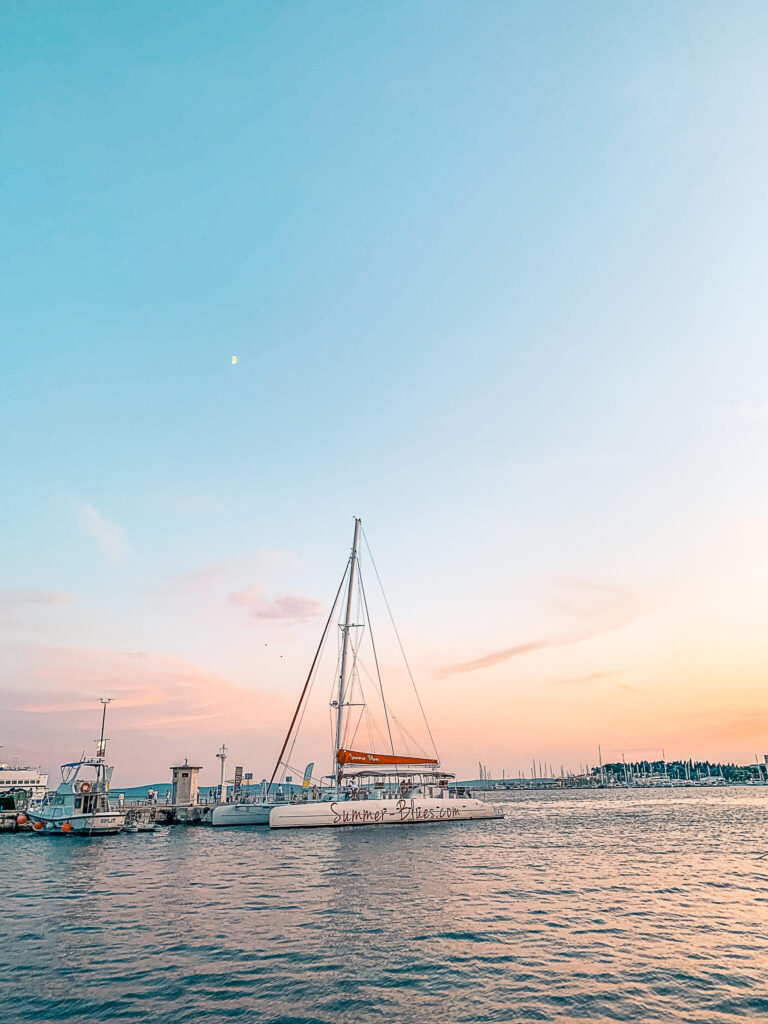 Split, a beautiful coastal city on Croatia's Dalmatian coast, is rich in culture and history.
The best time to visit Split is during the summer, from late May to early September, when the weather is warm and sunny.
This season offers the perfect opportunity to enjoy the city's stunning photo spots, crystal-clear waters, and numerous outdoor activities.
One of the must-do activities during the summer months is to visit the city's famous Diocletian Palace.
The palace, built in the 4th century AD, is a UNESCO World Heritage site and offers a glimpse into the city's rich history.
Several outdoor summer festivals, such as jazz and drama, are held within the palace.
Another one of the best things to do in Split during this period is to hike Marjan Forest Park, located on the hills above the city.
The park offers jogging and walking trails, offering amazing views of the city, making it a perfect spot for an evening stroll or an afternoon picnic.
Beach lovers can enjoy the numerous Split beaches with clear waters that line the coast. Bačvice Beach, the closest and most popular, is covered in fine sand and offers many water sports, like paddle boating.
You can find several local restaurants and cafes, which offer the perfect place to relax and enjoy the warmth of the summer months.
And it's easy to take all the incredible day trips from Split to different cities nearby, like Šibenik, Trogir, and Omiš.
I have a whole guide on how to spend the perfect 3 days in Split–but you could easily stay for longer!
Best Time to Visit Dubrovnik
Dubrovnik is one of Croatia's most beautiful cities and popular destinations–definitely worth visiting if you have a chance!
While Dubrovnik can be enjoyed year-round, the summer months of May to September are the best time to visit Dubrovnik because of the perfect weather that the season offers.
Visitors can enjoy the warm temperatures, sunshine, and long days during this period.
They can enjoy the beautiful beaches and a host of outdoor activities such as kayaking, snorkeling, and swimming.
Additionally, summer is a beautiful time to stroll around Dubrovnik's historic city walls.
Built in the 13th century, the city walls stand to this day. Visitors can witness the stunning views of the sea and the historic city below while walking around the 1.94 kilometers (1.2 miles) loop.
The Dubrovnik Summer Festival is held from mid-July to late August. It offers concerts and performances within the city walls.
For food lovers, there is no better time to visit Dubrovnik than in the summer.
Dubrovnik offers an overwhelming choice of seafood specialties and fresh local fruit and vegetables.
Weather in Croatia
The weather in Croatia is generally pleasant, with mild temperatures throughout the year.
Its coastline has a Mediterranean climate, which means it's hot and sunny throughout the summer and mild in the winter.
Inland, you'll find a continental climate, which means it has hot summers and cold winters.
In summer, the average high temperature ranges from 26°C (79°F) in June to 29°C (84°F) in August, making it an ideal place to soak up some sun and explore the stunning coastline.
In winter, the average low temperature stays around 11°C (51°F) from December until February.
The hottest months are July and August, while the coldest months are December and January.
Rainfall is generally higher during autumn, especially in October and November. Pack a raincoat if you visit during this period!
If you're looking for something a little more extreme, winter can also be an excellent time for skiing or snowboarding in one of Croatia's many ski resorts.
Why visit Croatia?
Whether you're looking for a romantic getaway or an adventure-filled holiday, you'll find it in Croatia!
The country spans the beautiful Adriatic coast, with stunning beaches and bustling cities. At the same time, the interior is home to lush national parks and majestic mountains.
There are many cultural events throughout the year, including delicious cuisine and excellent wines.
From the moment I stepped foot in Croatia for the first time, I was absolutely blown away by the sheer natural beauty that surrounded me completely.
The freshest seafood, taken out of the sea that morning and on your plate by lunchtime.
The clearest, cleanest blue water I've ever swam in, and I had to watch out for sea urchins to ensure I didn't prick my feet.
And every night, the sky becomes a brilliant, brand-new painting as the sun sets and washes the whole world with color.
Visiting Croatia: FAQs
What is the cheapest month to go to Croatia?
Visiting Croatia on a budget is definitely possible! The cheapest month to go to Croatia is usually April or October.
April has the advantage of being one of the shoulder seasons, meaning you won't have to deal with the higher prices and overcrowding that come with peak season.
You'll still enjoy a surplus of sunshine and warm temperatures during this time, making it perfect for exploring all Croatia has to offer.
In October, you can also benefit from lower prices and fewer crowds.
Plus, you'll also experience some cultural festivals during this time, like Istrian Truffle Days held in towns all over the Istria region and the Chestnut Festival in the city of Lovran.
It's worth noting that this is also one of the rainiest months in Croatia, so make sure you pack a raincoat if you're visiting at this time!
What is peak tourist time in Croatia?
Peak tourist time in Croatia is generally during the summer months of July and August.
It's hot and sunny most days, and the restaurants that are closed for the winter months are open and filled with guests.
Temperatures are at their highest, which is great when you want to spend endless days on the beach.
Plus, if you're a fan of music festivals, then you will want to experience Ultra Europe in Split!
However, this is also when Croatia sees its largest influx of tourists.
Due to demand, prices tend to be higher during these months, so be sure to research your accommodation beforehand to get the best deals.
What are Croatia's hottest months?
Croatia's hottest months are typically July and August when temperatures reach an average of 29°C (84°F).
During these months, there's tons of sunshine, making it the perfect time to explore Croatia's stunning beaches along the Adriatic Coast.
However, it's important to note that this is also peak tourist season, so if you're looking for a holiday experience where you have the beaches and historical landmarks to yourself, then visiting outside of the summer months may be preferable.
Best Time To Visit Croatia: Wrap-Up
It's hard to pick the "best" time to visit Croatia because each season offers something unique and beautiful.
However, while the winter brings fewer crowds, holiday markets, and cozy traditions, the summertime offers long days, beautiful beaches, and warm temperatures to this coastline country.
If you want to explore the Croatian islands, beaches, and cities, you must come in the summer.
Although each traveler will have their own preferences and priorities when visiting Croatia, one thing is certain–Croatia's natural beauty and varied history make it a must-see destination.
No matter when you decide to visit, Croatia will undoubtedly leave a lasting impression on you.
From stunning national parks to vibrant cities and towns, this beautiful country has something you won't want to miss.
So, whether you're planning a summer beach vacation or a winter getaway, don't hesitate to explore all Croatia offers!
Lyndsay
Read More