This post may contain affiliate links! I will receive a commission, at no extra cost to you, if you purchase something recommended here.
With the leaves changing colors and temperatures dropping, it's the perfect time to get outside and enjoy the beautiful sights and fall activities in Connecticut.
As much as I enjoy the high heat of the summer months, I'm always excited for the fall season. The leaf peeping and pumpkin picking.
Feeling the chill in the air and thinking about the months ahead.
There are tons of fun fall things to do in Connecticut during the autumn months, whether you love hiking, biking, pumpkin picking, or simply admiring the fall foliage.
Fun Fall Activities in Connecticut
1. Spend a cool far day leaf-peeping in Connecticut
Connecticut is part of New England, a region famous for its fall foliage.
Although Massachusetts, Vermont, and New Hampshire are more famous for their autumn views, the Constitution State also offers stunning seasonal foliage.
Some of my favorite towns to visit on an autumn day in Connecticut are Litchfield, New Haven, and Essex.
Enjoy the scenic drives on the way to enjoy these towns adorned with lovely scenery from the foliage season. 
2. Admire the fall foliage on a hike
Another area to admire the fall foliage? Take a hike through one of Connecticut's beautiful state parks.
The cool fall air is at a perfect temperature to enjoy a brisk hike through one of the state's protected natural areas to view wildlife and absorb nature.
A few of my favorite Connecticut state parks for a hike during fall are:
Know Before You Go: Established in 2018, Connecticut's Passport to Parks Program gives any resident with Connecticut license plates free parking in all state parks. This means many of the best beaches in Connecticut are entirely free to access for state residents, since they're located within Connecticut state parks. 
3. Go pick-your-own apple-picking
Autumn is officially apple picking season! If you've never been, you're missing out on a classic New England pastime.
First, you'll head into the apple orchard and select the specific apples you want from the tree branches. Once you've filled your bags, you can bring your bounty home with you.
Take in the scenery and autumn air during this beloved fall activity for families in the Northeast.
I have a guide on the best places to go apple-picking in Connecticut, so you can find an orchard nearby.
Some orchards are open for pick-your-own for different fruits and vegetables all year round, while others only allow pick-your-own during specific seasons.
4. Try "adult" apple juice at Yankee Cider Company
Although it's made from apples, hard apple cider isn't the same as apple juice.
While apple juice is boiled, cider is fermented and typically comes out much lower in sugar than its non-alcoholic counterpart because the yeast transforms the sugar into alcohol. It is alcoholic and frequently carbonated, giving it a fizzy taste while sipping.
Over in East Haddam, Yankee Cider Company is one of only three farm cideries in the state where they grow all of their apples and other fruits found in their ciders.
5. Attend one of Connecticut's many fall festivals
One of the best things to do in Connecticut in the fall is participating in one of the state's many fall festivals.
Everything from quintessential 4-H fairs to fish festivals, depending on where in the state you are.
I have a whole guide to my favorite fall festivals in Connecticut if you're interested in learning more!
Read More
6. Find your perfect pumpkin
Can we get more perfectly Connecticut than going pumpkin picking?
Pop over into your favorite, pick your own pumpkin patch, and pluck your perfect pumpkin. 
Many pumpkin patches are on farms with pick-your-own apples, hay rides, and corn mazes.
Some of my favorites include:
7. Visit the Trail of Terror
Located in Wallingford, Connecticut, the Trail of Terror has been one of Connecticut's premier haunted experiences every October.
Actors go all out to make you feel as frightened as possible as you walk through its 1-hour walking path outside.
You must purchase your timed entry tickets online and enter at your designated time, which operates on a first-come-first-serve basis.
8. Get lost in the corn maze at Lyman Orchards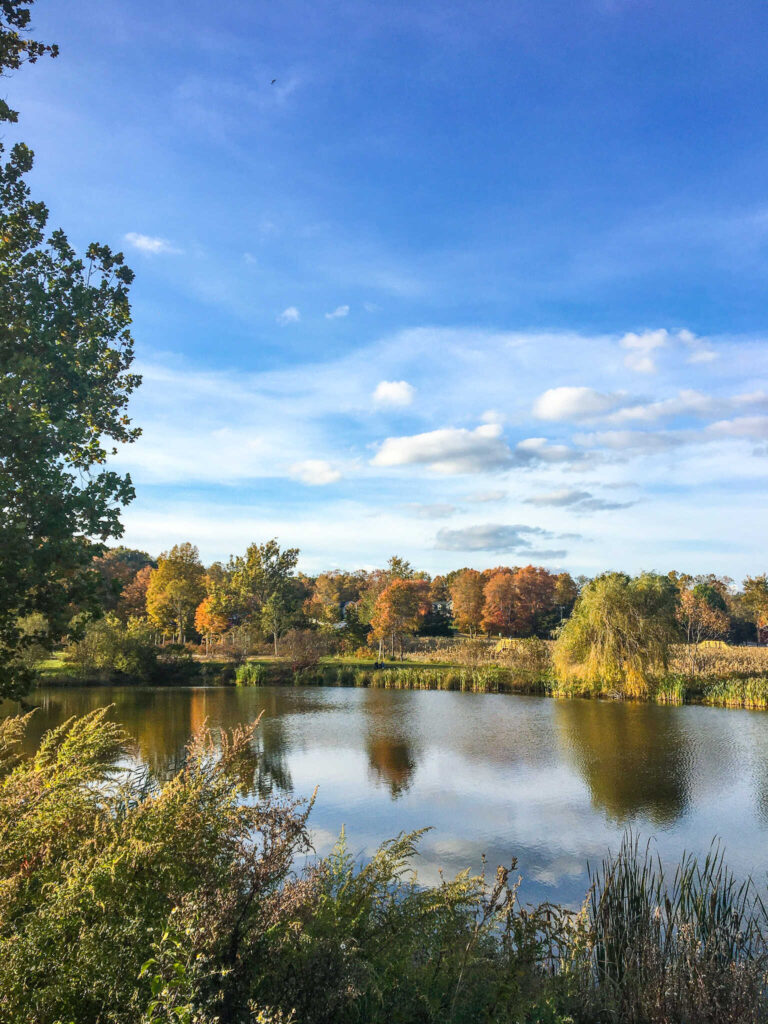 The Corn Maze at Lyman Orchards has always been one of my favorite fall activities in Connecticut.
As the largest in the state, Lyman Orchards creates its corn maze each year in honor of a different hero or historical moment.
For 2023, the labyrinth honors "The Wonderful Wizard of Oz."
Insider Tip: If you identify with a particular family-friendly group (Grandparents Day, Mommy & Me Day, etc.), take advantage of their Maze Days when you can receive a special admission package.
Lyman Orchards also donate $1 of everyone's admission fee to the American Cancer Society.
Once you've completed the corn maze, head inside the Apple Barrel store.
You can find autumn specialty foods like apple pie, caramel apples, apple cider doughnuts, and their pumpkin counterparts, all homemade on-site.
9. Shop local and in-season produce at the Westport Farmers' Market
Started in 2006 by actor Paul Newman and chef Michel Nischan, the Westport Farmer's Market has a fantastic selection of fresh produce from local farms.
Vendors must uphold high standards to sell their produce and homemade goods at the market.
You can meet local farmers who have brought their cider, baked goods, and other farm-fresh seasonal produce to sell.
If you need any ideas for what to make with the delicious seasonal produce you've purchased at the market, you can check out their Recipes page to give you a few ideas.
10. Go for a weekend getaway up north
With the Connecticut River Scenic Byway running through Massachusetts, Vermont, and New Hampshire, and tons of quaint New England towns that look beautiful in the fall, you can enjoy the season all over New England.
I have a complete guide on the best New England towns to visit during the fall months to see stunning autumn colors, or you can head over to towns like New Paltz or Poughkeepsie in New York State.
11. Sip local brews at a Connecticut brewery
Whether you're a connoisseur of fine beer or just a casual drinker, you'll be surprised at the variety of choices available at Connecticut breweries.
With more than 100 across the state, you'll find everything from small-batch craft beers to award-winning brews.
Spend a cool fall day sipping on a cold IPA at Kent Falls Brewing Company in Kent, sample some "aggressively laid-back" beers along the Branford River at Stony Creek Brewery in Branford, or enjoy a beer at Bank & Bridge Brewing in downtown Mystic this fall.
You can read my guide to the best breweries in Connecticut if you're interested in finding your new favorite spot!
12. Hop on a bike trail
Connecticut is home to many bike trails, so why not explore them?
From one end of the state to the other, plenty of scenic biking routes will allow you to enjoy the autumn turn of the great outdoors.
The Air Line State Park Trail runs almost 55 miles across Middlesex, New London, Tolland, and Windham counties. The terrain includes ballast, gravel, and crushed rock.
The trail serves as a connection point for the New England Rail-Trail Spine Network and the East Coast Greenway (which runs 3,000 miles from Maine to Florida.)
The Farmington Canal Heritage Trail starts at Yale University in New Haven and passes through Hartford county.
It's the longest paved bike path in Connecticut and shares its course with the Farmington River Trail, the New England Rail-Trail Spine Network, and the East Coast Greenway.
The Pequonnock River Trail runs for 14 miles through Fairfield county, starting in Bridgeport and ending in Newtown.
Since it follows the path of the defunct Housatonic Railroad, you'll pass state landmarks like the Beardsley Zoo and through charming southern Connecticut towns before ending the journey.
13. Be very afraid at Phantom Fall Fest at Lake Compounce
Lake Compounce in Bristol, Connecticut, is home to the notorious Phantom Fall Fest event. The event takes place every October and features terrifying haunted houses.
Although the park will operate without its scare factor during the day for families and scaredy-cats, it transforms into your worst nightmare after 6 p.m.
Each evening, new scares and special effects are added to the experience. Although actors walking around aren't allowed to touch you, they can get very close for optimal scare tactics.
You can learn more about this year's event on their website and purchase tickets.
14. Enjoy a scenic train ride on the Essex Steam Train & Riverboat
Imagine–you're sitting comfortably in a vintage train car as you admire the beautiful fall foliage as it passes outside.
Operating since 1971, the Essex Steam Train & Riverboat will take you on an adventure through the Connecticut River Valley.
You'll leave from the 1892 historic train station and take off on a 12-mile narrated ride through Deep River and Chester. Along the journey, you'll see Selden Neck State Park, which can only be reached by boat.
You can either only the train ride, which lasts about an hour and brings you back to the Essex station, or you can opt for a ride on the Riverboat after your train experience.
Before taking the steam train back to the Essex station, you'll sail up the Connecticut River, passing landmarks like Gillette Castle, the Haddam Swing Bridge, and the Goodspeed Opera House.
They also offer a Dinner Train option, where you can enjoy a 4-course meal inside a 1920s Pullman train car as it moves along the scenic route.
A Rail-Bike experience is sitting on an open-air "bike" that rides on the train tracks, and you pedal along an 8-mile route through Old Saybrook, Westbrook, and Essex.
And an interactive Polar Express experience every winter.
15. Head down to New York City for a fall activity
Even with all the fantastic fall things to do in Connecticut and around New England, New York City has some tremendous autumnal activities that shouldn't be missed!
You can try taking a fall foliage boat cruise from NYC up the Hudson River or a helicopter ride to see the city and Hudson Valley from above.
Check out the Village Halloween Parade, which leaves from Sixth Avenue at Canal Street on Halloween night every year at 7 p.m. Anyone can walk in the parade as long as you're dressed up–and you'll get to see some crazy costume creations.
Not to mention one of the city's many fall festivals, featuring everything from food experiences to Oktoberfest and books, bagels, Broadway, and comedy festivals.
Fall Activities Connecticut: Wrap-Up
Whether you enjoy outdoor adventures, visiting farms, or exploring the vibrant fall foliage, Connecticut offers such a wide range of activities and events during the fall season.
So, grab your sweater and embrace the beauty and charm of Connecticut during this stunning season!
What are your favorite fall activities in Connecticut?
Lyndsay