This post may contain affiliate links! I will receive a commission, at no extra cost to you, if you purchase something recommended here.
Florence has always been one of my favorite cities in Italy; however, since I moved to the Veneto region, Venice has become another one of my top Italy travel destinations.
Back when I lived in Florence, I would take day trips up to Venice all the time. There's something special about wandering through these beautiful streets and waterways.
Its stunning canals, palaces in Gothic architectural style, and historical traditions have persisted for hundreds of years. There really isn't another city in the world that's quite like it.
If you don't have a lot of time in Italy but still want to take the opportunity to visit the Lagoon City, it's very easy to take a day trip to Venice from Florence.
Can you do a day trip to Venice from Florence?
Yes, you can easily take a day trip to Venice from Florence, Italy. Most direct train trips from Florence's Santa Maria Novella train station to Venice's Santa Lucia train station last 2 hours and 15 minutes, or it's a 3-hour drive. A day trip to Venice is an easy addition to your Italy itinerary if you don't have enough time to stay overnight, but still want to visit this historic city.
Is taking a day trip to Venice from Florence worth it?
Yes, it's definitely worthwhile to take a day trip from Florence to Venice. You can see several of Venice's major highlights on just a day trip to give you a taste of this historic city.
However, I highly recommend you spend at least two days in Venice to truly experience this beautiful city.
How to Get to Venice from Florence
With several different train and bus companies you can take to get to Venice from Florence, it's really helpful to see all your options in one organized place.
That's where Omio comes in!
Omio aggregates all travel solutions for you to search through and then purchase, all in one place. Once you input your route–in this case, Florence to Venice and then Venice to Florence–you can explore all the different options to get you there.
Inside the Omio app or their website, you can see all the train, bus, and flight options. In this case, you won't receive flying options since there aren't flights between these two Italian cities.
Once you find an option you like, you can purchase your tickets right in the app. Edit your tickets, make seat reservations, and add passenger details before buying.
👉 Click here to check out your Florence day trip to Venice travel solutions on Omio!
Taking the train from Florence to Venice
Overall, the Italian railway system is an excellent mode of transportation.
Almost anywhere in Italy can be reached by train from Venice's Stazione di Venezia Santa Lucia train station!
I suggest taking regional trains for practically all your travels in Italy–you really don't need to worry about renting a car.
For your convenience, you can purchase your train tickets right inside the Omio app that departs right from the Santa Maria Novella train station in Florence and arrives at Venice's Santa Lucia station.
Pro Tip: Take a high-speed train ride from Florence to Venice that arrives before 11:30 a.m. to maximize your time on this day trip!
Driving to Venice from Florence
If you choose to take a bus into or out of Venice, Piazzale Roma is the bus terminal where local buses, as well as companies such as Flixbus and Italbus, drop off.
Tours from Florence to Venice
If you'd rather have everything from transportation to activities scheduled for your day trip from Florence to Venice, several guided tours will organize your travel plans and itinerary.
Before You Visit Venice
This famous walkable city is instituting a visitor city tax! Venice will establish a reservation system to manage the flood of tourists beginning in 2023.
The idea is to charge day-tripping visitors like you on a sliding scale dependent on the season. Before entering the city, you must also confirm your reservation.
The reservation system isn't yet up and running, but I'll keep this part updated as more information becomes available.
How to Get Around Venice
The Sestieri of Venice
Six different neighborhoods within the central city of Venice are Cannaregio, Castello, Dorsoduro, San Marco, San Polo, and Santa Croce districts.
It's very easy to walk from one end of Venice to another using bridges connecting all of these small islands. However, there are a few other ways to get around, too.
Vaporetto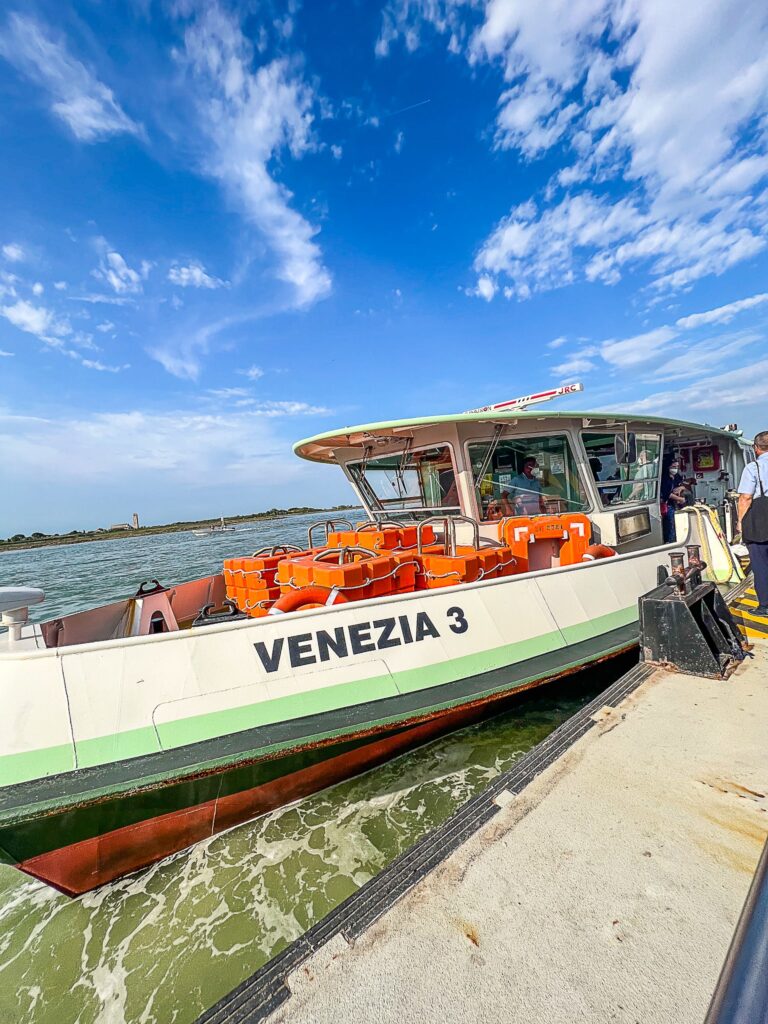 Although strolling through Venice's winding streets is an unforgettable experience, there is always a more direct route—on the water.
A ride on a water taxi down Venice's Grand Canal is an unforgettable experience. You'll pass beneath the Rialto Bridge and through waterways lined with colorful houses and gondolas, getting a glimpse of Venice as it was meant to be viewed.
Once you grasp the basics, the city's public Vaporetto system is straightforward like any other mass transit system. 19 distinct lines connect various locations in the city to neighboring islands such as Burano, Murano, and Torcello.
You can discover more about the city's transportation system, Azienda del Consorzio Trasporti Veneziano (ACTV), and buy tickets on its website.
Traghetto
Take a traghetto if you only need to get across the Grand Canal from one side to the other, and you're not near one of the four crossing bridges.
Venetians utilize traghetto gondola services to go from one side of the Grand Canal to the other without using the Vaporetto or walking.
Along the Grand Canal are six different traghetto points: Santa Sofia, Riva del Vin, San Tomà, San Samuele, Santa Maria del Giglio, and Dogana. You'll have to pay the fare in cash, and they only run throughout the day.
Private water taxis
The primary private water taxi service in Venice is Consorzio Motoscafi Venezia. They have more than 100 boats in their fleet, and each ship can carry up to ten passengers and ten suitcases.
If you know you'll need their services in advance, you can purchase and pay for your ticket on their website. Otherwise, they have a 24-hour call center for you to call and make arrangements.
Read More
Your Perfect Day Trip to Venice from Florence Itinerary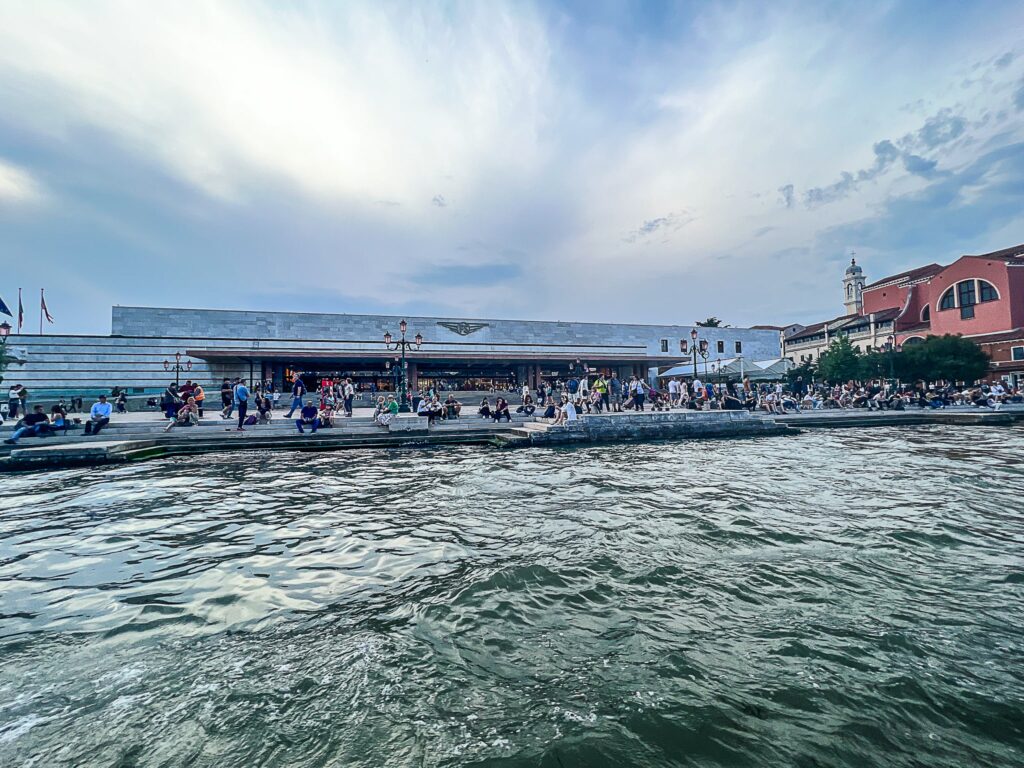 We're starting right from the Venezia Santa Lucia train station for this itinerary. If you can take a direct train from Florence in the morning, you can maximize your time by arriving before noon. That way, you'll have ample time to walk around the beautiful canal city and explore some of the most important landmarks!
Wander through the city's narrow streets
During the reign of the Venetian Republic, the primary streets were canals. This car-free city wasn't built for anything but walking.
The roads we use to roam Venice today were once utilized to transport workers from wealthy homes, everyday citizens, and animals. As a result, they were not designed with order in mind.
Although getting lost in the city is very easy, it's one of the best parts of being in Venice. As you walk throughout the city, you'll come across amazing artisan stores, bakeries, beautiful statues, and small monuments and museums that you would not have discovered otherwise.
I believe in the concept so strongly that you're reading this on The Purposefully Lost *wink*.
Fun Fact: One of the world's most narrow streets is found here in Venice. Calle Varisco is only 53cm wide, making it one of the most narrow streets in the world.
Cross the Ponte di Rialto on your way to Piazza San Marco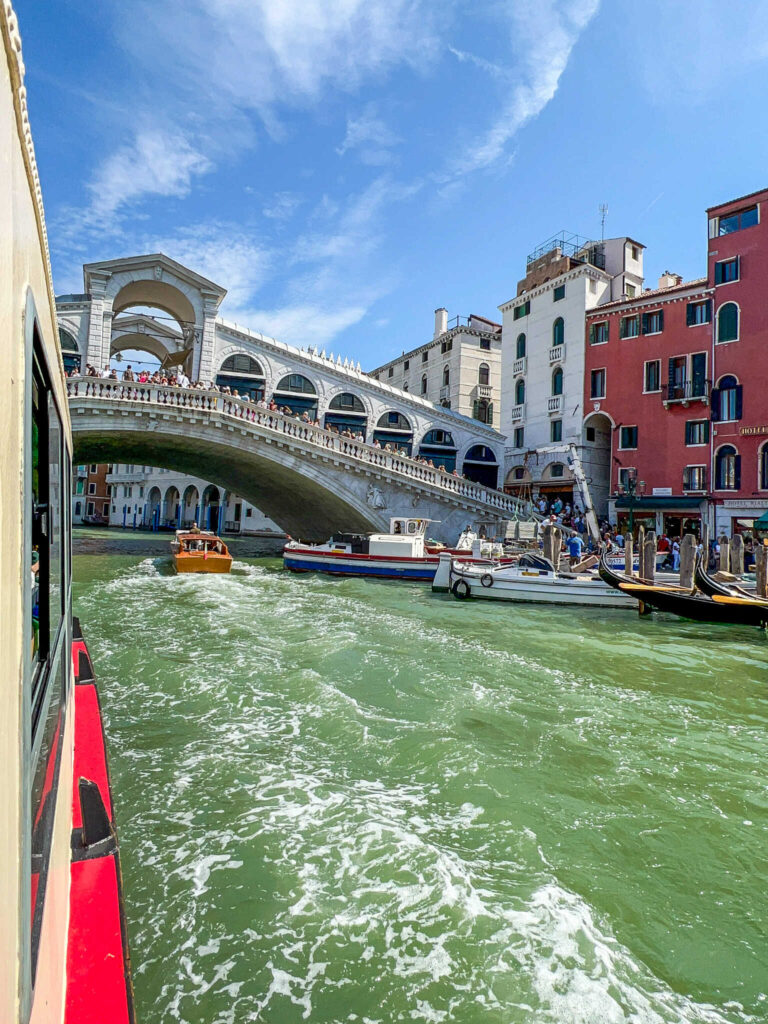 As you make your way to our first ultimate destination, you'll have to walk across one of the most famous landmarks in Venice–the Rialto Bridge.
The Ponte di Rialto crosses the Grand Canal, connecting two parts of the city. The famous bridge has witnessed some of the most critical events in Venetian history.
While the Ponte dell'Accademia and two other beautiful bridges can be used to cross the Canal, the Ponte di Rialto is the most central and well-known.
Although the original pontoon bridge was built between 1181 and 1182, the bridge's famous shops were added in the early 1400s, and the famed stone bridge we know today wasn't finished until 1591.
The Rialto remains one of Venice's most recognizable monuments today. Cross the Grand Canal from one side of town to the other and enjoy the stunning views from both sides on your way to Piazza San Marco.
Walk around Piazza San Marco
The magnificent Piazza San Marco is one of Italy's most famous piazzas. It is named after Saint Mark the Evangelist, the Basilica's patron saint, whose symbol—the winged lion—was used to signify the Republic of Venice.
Located in the heart of Venice's historical area, the Piazza is bordered by some of the city's most beautiful structures.
The Piazza is surrounded on three sides by the Procuratie. Its distinctive arcade extended around to one side into the Torre dell'Orologio and the other into the Biblioteca Nazionale Marciana.
The Basilica di San Marco and the Palazzo Ducale (the Doge's Palace) are on the fourth side.
Piazzetta di San Marco is the area in front of Palazzo Ducale that connects to the central Piazza. On this side of the Piazza, you can observe two columns–Colonna di San Marco.
The winged lion for San Marco can be seen at the top of the left column, whereas the right column showcases a statue of Theodore of Heraclea. Before San Marco, this saint with the crocodile dragon beneath his feet was Venice's patron saint and emblem.
Since you're only visiting Venice for the day, you don't have enough time to explore inside the Basilica di San Marco or the Doge's Palace and see the rest of Venice. Instead, take a moment to admire these historic buildings before heading to the top of the bell tower.
Climb to the top of the Campanile di San Marco
After you've finished taking pictures from the ground level of the Piazza, it's time to take in the view from the top of Campanile di San Marco!
Every grand cathedral requires a stunning bell tower, and the Campanile di San Marco is no exception. The tower's construction began in the early 10th century and lasted around 500 years, with many building phases. Despite this effort, the building collapsed in 1902 but was painstakingly rebuilt by 1912.
The Campanile, Venice's tallest structure, offers fantastic city views! Walk inside to buy a ticket before taking the elevator to the top—one of the advantages of being rebuilt in the 20th century.
Walk the Riva degli Schiavoni to pass the Bridge of Sighs
After you come down from the bell tower, walk along the Grand Canal on the Riva degli Schiavoni to see the Bridge of Sighs.
This waterfront promenade offers breathtaking views of the Canal and the neighborhoods of Dorsoduro, Giudecca, and San Giorgio Maggiore across the Canal.
Once you pass the Doge's Palace, you'll find the famed Ponte dei Sospiri standing on Ponte della Paglia.
Built around 1600, the Bridge of Sighs connects the former prisons to the Doge's Palace across a canal. According to legend, convicts sentenced to death would walk across the bridge between their cell and the execution site, sighing profoundly with each step.
Stop for cicchetti and a spritz from Ai Do Leoni behind the Basilica di San Marco
Once you've finished admiring the Bridge of Sighs, you'll head back through Piazza di San Marco to find an excellent bacaro to stop for a snack.
The word bacaro means "a nice bar" or "wine" in Venetian dialect, and that's precisely what you'll find at any of the city's bacaro restaurants.
Cicchetti are small rounds of Italian bread with assorted toppings like baccalà, salami, gorgonzola with walnuts, parmigiana cheese with jam, and more. And you'll definitely want to sip on a spritz to go with it!
While it's true that a lot of the best food in Venice, or any city, is located away from the famous landmarks, Ai Do Leoni is an exception.
This bacaro is hidden away to the side of the Basilica, dishing you delicious cicchetti and spritz while overlooking the monument. This little spot was recommended to me by a Venetian, so it has that seal of approval as well!
Admire Teatro La Fenice on your continued walk through the city
Once you leave Piazza di San Marco, you will continue strolling around the city while passing some famous landmarks, like Teatro La Fenice.
The Teatro La Fenice first opened its doors in the 18th century, only five years before the collapse of the Republic.
Operas by some of the most renowned composers, including Rossini, Bellini, Donizetti, and Verdi, have premiered throughout its history.
Today, it's regarded as one of the most significant landmarks in the history of opera. The current theater is a replica of the original, which was destroyed by arson in 1996.
If you're a theater lover like me, take an opportunity to explore the inside on a self-guided audio tour of La Fenice since you won't have time to see a performance on your day trip to Venice from Florence.
Or, enjoy Venice from the water on a gondola ride
Since the streets of Venice were originally the canals, it's an incredible experience to see Venice from the water. If taking a gondola ride is on your Venice bucket list, this is your chance!
You can either visit one of the Gondola stands on the Riva degli Schiavoni to find an available gondolier or continue walking through the city to find one stationed on a bridge or in a campo as you walk around the city.
If you want to ensure you have a scheduled opportunity, you can book this Grand Canal by Gondola with Commentary tour in advance.
Cross the Ponte dell'Accademia to visit the other side of Venice
Another famous bridge in Venice is the Ponte dell'Accademia, which connects the Dorsoduro district to the San Marco neighborhood.
Take a minute to enjoy the stunning views from both sides of the bridge and take a ton of photos. My favorite view includes the Basilica of Santa Maria della Salute standing tall at the tip of the Canal–which is where you'll be walking next!
Visit Basilica di Santa Maria della Salute on your way to Punta Della Dogana
The Basilica of Santa Maria Della Salute is a stunning basilica erected across the Grand Canal to rescue Venice from the plague in 1631.
Titian, a celebrated Venetian Renaissance artist, painted the ceiling of this exquisite cathedral dedicated to Our Lady of Health. It depicts Old Testament stories like Abraham and Isaac, Cain and Abel, and David and Goliath. The Basilica is open to the public and free to enter.
If you continue walking beyond the Basilica di Santa Maria della Salute, Punta della Dogana connects the Grand and Giudecca Canals at the tip of the Dorsoduro district.
It's one of my favorite places for pictures in Venice, with stunning panoramic views of the Doge's Palace, Chiesa di San Giorgio Maggiore, and Guidecca island.
You can also find the Patriarchal Seminary of Venice here and a modern art museum situated in the 17th-century Dogana da Mar customs house.
End your day trip to Venice from Florence with an excellent Venetian meal before heading back
After all this walking, you deserve to relax and sit down for an excellent Venetian meal before you head back to Piazzale Roma to catch your bus or train back to Florence.
(Or if you can plan ahead, make a reservation at Trattoria Zà Zà for dinner once you return to Florence!)
A few of my favorite Venetian restaurants on your walk from Punta della Dogana to Stazione di Venezia Santa Lucia include:
Read More
More Restaurant Recommendations for Your Florence to Venice Day Trip
Venetian Casual Dining
---
Best Bacari for cicchetti
---
Breakfast
Venetian Restaurants for a Great Dinner Out
---
Pasticceria & Gelato
---
Other Fantastic Restaurants in Venice
Tips for Your Day Trip to Venice from Florence
If you're looking for additional information, I have a comprehensive guide on the most important things you should know before visiting Venice. Feel free to check it out! Here are my top three suggestions to keep in mind when you visit.
Restaurants close after lunch – Most restaurants (and even some small shops) in Venice close in the afternoon. Restaurants often close around 2:30 or 3 p.m. and reopen for dinner at 7 p.m.
This also means that no early dinners are served in Venice. Although a few restaurants are open during this period, you'll likely have to walk a little to find them. They are often only open to serve tourists.
If you're hungry before dinnertime, stop in a bacaro for a spritz or glass of prosecco and have some cicchetti to tide you over.
Keep these apps on your phone to assist you in getting about – Citymapper is my go-to tool for learning how to use a new city's public transportation system.
The free app displays the stations and lines and when, where, and how to go from one destination to another. It works in several of my other favorite destinations worldwide, including New York City, Vienna, and Bologna.
Google Maps is also a must-have app for your phone. When you're connected to wifi, you can download your Venice map offline to keep it with you even when you're not connected to the internet. It's ideal for saving recommendations—like everything in this guide!
Prepare for a lot of walking; Venice was not designed with accessibility in mind – The bridges are really the only way to move around Venice. Because the city is several hundred years old, you won't find any elevators.
I've seen people struggling with suitcases and parents straining to haul strollers up and down bridge stairs, and it's difficult. And that doesn't even begin to address the problems that people with various mobility issues and ailments have when touring the city.
Congratulations on covering a ton of ground on this day trip to Venice from Florence! Following this itinerary, you'll have walked more than 6.5 kilometers, or over 4 miles. Although it's a lot of walking, you're maximizing your time visiting this beautiful, historic city while sticking to your Italy itinerary.
Lyndsay