This post may contain affiliate links! I will receive a commission, at no extra cost to you, if you purchase something recommended here.
Is Zagreb worth visiting? If you're wondering, I've got you covered!
If you're looking for a great place to visit in Europe, look no further than Zagreb, Croatia.
This beautiful city is full of history and culture, making it an ideal destination for travelers exploring the area.
With its stunning architecture, delicious cuisine, and vibrant nightlife, Zagreb is fantastic for a European city break.
Whether you're a sightseer or just want to relax and enjoy the local atmosphere, there's plenty to do here in the Croatian capital that will keep you entertained.
I loved my time in Zagreb and definitely recommend that you consider it for your next getaway.
Guest Author: JJ from Travel Across The Borderline
Hi, I'm JJ!
I love a good adventure and am passionate about misunderstood places, post-conflict destinations, and responsible tourism.
I love to get off the beaten path, explore some of the most unique destinations in the world, and discover hidden gems in popular destinations.
You can find me at my blog, Travel Across The Borderline, and on Instagram!
 
City Overview: Zagreb's History and Culture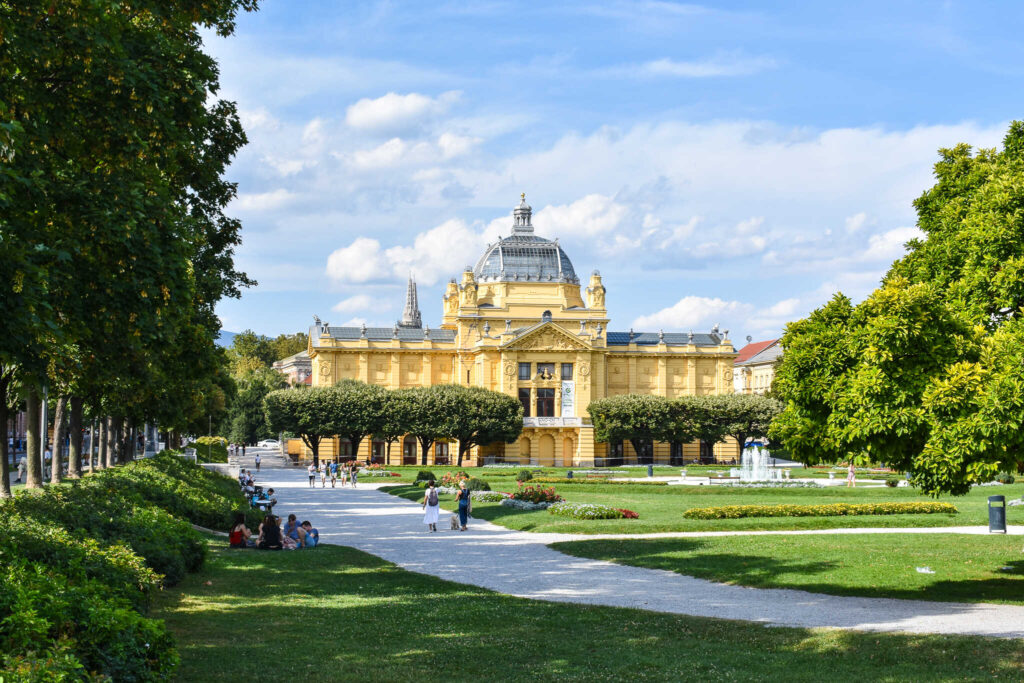 Zagreb is a beautiful city with a rich history and culture. Located in Croatia, it is the country's capital and largest city.
It is home to many historical sites, such as the Zagreb Cathedral and St Mark's Church in the Upper Town (Gornji Grad) and King Tomislav Square (Trg Kralja Tomislava) in the Lower Town (Donji Grad.)
These landmarks in the city center are evidence of its long-standing culture, having been around since medieval times.
There are also many art galleries and museums that offer insight into Zagreb's past.
Additionally, there is plenty to do for those looking for nightlife, entertainment, and delicious cuisine – making it an excellent destination for travelers who want to experience the area's culture in all its glory.
11+ Reasons Why Zagreb is Worth Visiting
If you enjoy visiting Croatia's coastal towns, you need to take the opportunity to visit Zagreb, too.
Instead of hordes of visitors from cruise ships flooding the streets, here in the amazing capital city, you'll find a different kind of authentic life and Croatian culture.
1. Fewer tourists visit Zagreb
Tons of people who visit Croatia tend to skip Zagreb and head straight for the Croatian coast to visit cities like Dubrovnik or Split.
As a result, you'll find fewer tourists here, making it feel like a more "real-life" Croatian city.
This is great news for those looking to really explore and experience local life without being overrun by other holidaymakers.
Unlike more popular European cities, such as Paris or Rome, you won't have to wait in line for hours just to see the sights.
2. Zagreb has a fantastic cafe culture
You can find a great cafe on every corner in Zagreb. Whether you're looking for a quiet spot to grab a coffee and watch the world go by or a buzzy place with live music and craft beers on tap, there is something here for everyone.
A few of my favorite cafes in Zagreb are:
I came here for breakfast on my one full day in Zagreb and had the most delicious smoothie and avocado toast.
Roots bar is located at the base of the funicular, making it a perfect breakfast stop before you spend the day sightseeing.
Located on the rooftop of the Time Out heritage hotel, this fun little rooftop bar is the perfect spot to grab a coffee while overlooking Zagreb's Old Town.
Out Rooftop Bar is also an excellent place to come and enjoy a cocktail before dinner.
3. Zagreb is affordable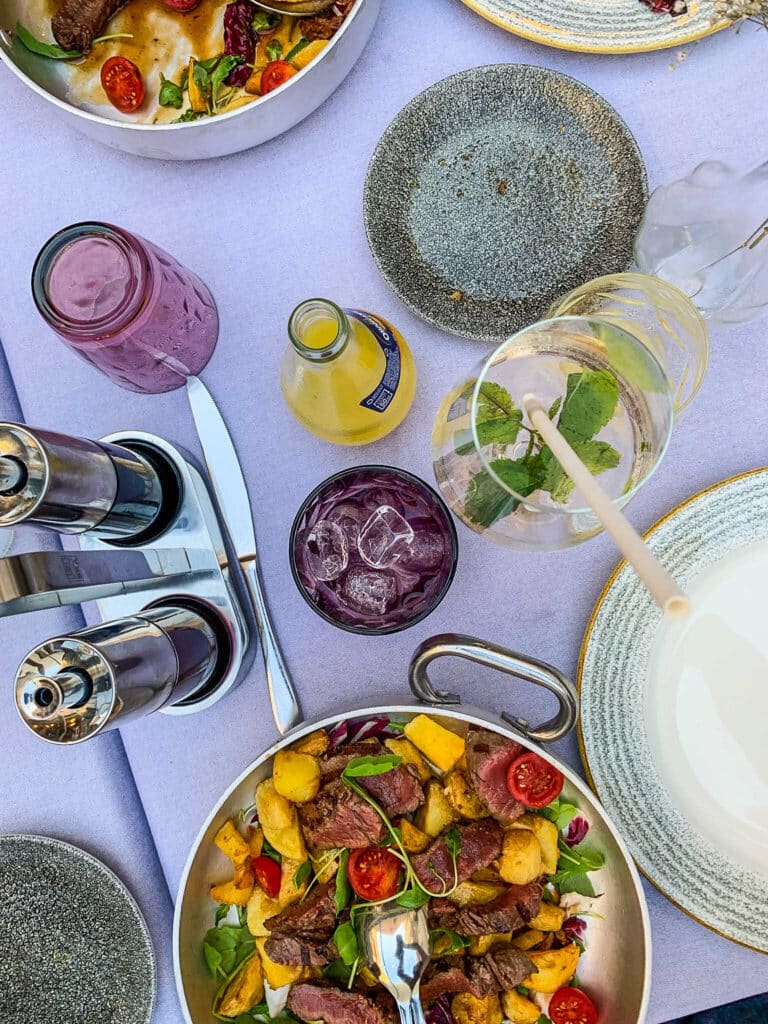 Zagreb is incredibly affordable compared to European capitals like Paris or London.
From various food and accommodation to activities, there is something here to suit every budget.
You can find decent quality accommodation for a fraction of the price you'd pay in other cities and enjoy delicious meals out without breaking the bank.
4. Zagreb is very walkable
This is a wonderful city for walking around. There is plenty to see and do without having to find transportation, making it an ideal spot for those who want to get off the beaten path and explore on foot.
All the major sites are within walking distance of each other.
Overall Zagreb is a very pedestrian-friendly city.
5. Zagreb has some world-class museums
Zagreb is home to some incredible museums. The Mimara Museum is one of my favorites and worth visiting if you have time.
This is an art museum with over 3,700 pieces from all over the world, including works by Rembrandt, Van Dyck, and Monet.
Another must-see museum that I loved was the Zagreb 80s museum, a fun little museum depicting the typical flat of a Yugoslavian family in the 1980s.
Other top museums in Zagreb include the Nikola Tesla Technical Museum, the Croatian History Museum, and the Museum of Broken Relationships, which is an interesting exploration of human relationships.
The Museum of Broken Relationships is a must-visit for anyone looking for something unique, thought-provoking, and emotionally moving.
6. Zagreb has a fantastic foodie scene
The restaurants in Zagreb all pride themselves on providing their customers the freshest and most locally-sourced ingredients.
If you want to purchase fresh fruit and other products like the locals, visit Dolac Market in the Lower Town.
From fresh seafood dishes to delicious pastries, there is something for everyone when it comes to dining out in Zagreb.
A few of my favorite restaurants in Zagreb are:
On my initial night in Zagreb, I made a reservation at this restaurant, which didn't disappoint!
With its unique combination of flavors from Sri Lanka and Croatia – their curries were simply divine. If you're ever looking for an exquisite dining experience in the city, then be sure to pay them a visit.
Delicious burgers with a plethora of choices for both vegetarians and carnivores alike. For an extraordinary local flavor, munch on the truffle oil fries to savor Istrian truffles.
Zagreb is full of quirky and unique spots that add a lot of character to the city.
From hidden art galleries to tiny bookshops to WWII-era bomb shelters that are now used for raves, to the mind-bending Museum of Illusions and the world's shortest funicular… there are plenty of opportunities in Zagreb to experience something unique!
8. Zagreb is very different from Croatia's coast
Croatia is often synonymous with its stunning Adriatic Coast, but Zagreb is an entirely different experience.
This city is full of culture and life, where you can explore centuries-old architecture and find yourself entranced by the local art scene.
Croatia's coast has a very Mediterranean vibe and can often feel similar to Italy or Greece at times.
However, Zagreb has a much more eastern European vibe. It is more similar to other Balkan cities such as Belgrade or Bucharest.
9. Zagreb is a great base for exploring the Balkans
Zagreb is an ideal starting point for exploring the Balkans.
The city is well connected to other nearby destinations by train, plane, and bus, so you can easily hop on a short journey and explore some of the amazing places in Central Europe.
Whether you're looking to visit Sarajevo, Bosnia and Herzegovina; Ljubljana, Slovenia; Podgorica, Montengro; Tirana, Albania; or Belgrade, Serbia; Zagreb is the perfect base for flights.
You can find plenty of affordable flights to these nearby countries, so you won't have to worry about breaking the bank to get around.
10. Zagreb has great day-trip options
One of the best things about Zagreb is that it is close to many other unique attractions and destinations.
Whether you're looking to visit the stunning Plitvice Lakes National Park or take a day trip to nearby Slovenia, there are plenty of options for great day trips from Zagreb.
These are a few of my favorite day trips from Zagreb.
Plitvice Lakes National Park
Plitvice is an absolute must-see if you're visiting Croatia – it is one of Europe's most stunning natural wonders. It is a great way to spend a day outdoors.
The Plešivica wine region
Croatia is well known for its excellent wine, and the Plešivica wine region is not to be missed.
Located just outside of Zagreb, this is a great place to sample some delicious local wines and explore the beautiful Croatian countryside.
Rovinj, Croatia
Rovinj is a fishing port located on Croatia's stunning Adriatic Coast.
It is one of the most picturesque towns in Croatia and is worth a visit for its stunning harbor views and cobbled streets.
Poreč, Croatia
Poreč is a charming seaside town only a few hours away from Zagreb. With its stunning views of the Adriatic and plenty of great restaurants, it is the perfect spot to relax by the beach and enjoy the Mediterranean sun.
Pula, Croatia
South of Rovinj, Pula is another stunning city on the Istrian peninsula.
Famous for its well-preserved Roman Arena and other ancient landmarks, there are so many interesting things to do in Pula.
You can check out my Pula itinerary and list of the best beaches in Pula, which includes the archipelago of Brijuni National Park.
Ljubliana, Slovenia
The capital of Slovenia is only an hour away from Zagreb.
You won't be disappointed with this charming city's vibrant cafes, beautiful architecture, and fascinating museums. It is a beautiful place to explore for a day.
11. Zagreb has some fantastic festivals
Thankfully, this beautiful Croatian city is fun to visit at any time of year due to all of its unique festivals and celebrations.
The city hosts several independent film festivals, such as The Zagreb Film Festival, Animafest, and Fantastic Zagreb Film Festival. There's also the Tuškanac open-air cinema, where independent films are screened under the starry night skies.
The oldest street festival, 'C'est is the Best,' launches the season with live music and hula-hoops in the city center; while at Upper Town Strossmayer Promenade (aka Strossmartre) you can find food stalls, performances from local artists, and even check into a mood repair station!
For something different, there's also the Dvorista Festival which showcases great music through several different genres.
Every year during the Advent season, the Croatian capital city turns into a magical winter wonderland with festive cheer and sparkling lights.
With mulled wine, licitars, and winter activities like shopping for unique gifts or riding on the Merry Christmas train, Zagreb Advent is a beautiful festival you must experience during the holiday season.
Best Places to Visit in Zagreb
There are lots of fun things to do when visiting Zagreb, Croatia. If you are short on time, many of Zagreb's top tourist attractions can easily be visited during your entire itinerary for one day in Zagreb.
Here are some of my favorite things to see and do in Zagreb.
Cathedral of Zagreb
Originally built in the mid-13th century and then reconstructed throughout the late 19th and early 20th centuries, the Cathedral of the Assumption of Mary is a stunning Catholic church in the center of the city.
The second tallest building in Croatia and one of the most impressive Gothic churches east of the Alps, the cathedral has been damaged twice due to earthquakes.
No matter where you go in the city, its two impressive spires are almost always visible.
Ride the funicular
Did you know Zagreb is home to the world's shortest funicular?
Boasting a remarkable safety record, it is also said to be the safest funicular in the world.
This funicular railway has yet to experience an accident since it first opened its doors in the late 1890s!
At only 66 meters long, the tiny funicular connects Zagreb's Upper Town and Lower Town and takes less than a minute to reach the top.
Lotrščak Tower
Right next to the funicular on the right, the Lotrščak Tower is one of the most iconic symbols of Zagreb.
Built in the 13th century, this is the perfect spot for great views over the city.
Every day at noon, a cannon is fired from the tower – a tradition that is said to have been initiated by an Austrian general.
I enjoyed visiting at the end of the day, just before sunset, to enjoy the views of the golden light over the city.
Museum of Broken Relationships
This is one of Zagreb's most popular attractions and is a unique experience.
The quirky Museum is filled with everyday objects that people have donated from their past relationships, each accompanied by a story to explain why they chose to donate the item.
It is both thought-provoking and often humorous, making it one of the best museums in Zagreb.
St. Marks Church
If you have ever browsed photos of Zagreb on Instagram, then you will probably instantly recognize this iconic church.
The gothic church dates back to the 13th century. It is immediately recognizable by its colorful tiled roof.
If you are visiting on the weekend between April and October, you can watch the changing of the guard ceremony, which is performed outside of the church at noon.
Visiting Zagreb: FAQs
Is Zagreb worth visiting?
Yes, Zagreb is definitely worth visiting.
As Croatia's capital city, the medieval old town, with its winding streets and colorful markets, is well-preserved and full of charm.
If you're a history buff, you'll love exploring the city's numerous museums and galleries scattered throughout the city, showcasing Croatia's fascinating past.
One of the most unique museums is the Museum of Broken Relationships, which has gained international recognition for its one-of-a-kind concept. It's a must-see if you're in Zagreb.
If you're a foodie, you'll love Zagreb's diverse cuisine, including traditional Croatian dishes and local wines that are not to be missed.
The city's cafe culture is also renowned, so take some time to relax and soak up the atmosphere at one of the many cafes.
Finally, Zagreb is a great starting point for exploring other parts of Croatia, including the breathtaking Plitvice Lakes National Park and Krka National Park.
Where is Zagreb?
Zagreb is the capital city of Croatia and is located in Central Europe.
It is located in the northwest of Croatia, about halfway between Belgrade and Zadar.
It is well connected to other European cities via trains and is easy to reach by car or plane.
Is Zagreb expensive to visit?
No, Zagreb is not expensive to visit.
In fact, Zagreb is a fairly affordable city to visit.
Accommodation is quite reasonable, and the cost of food is relatively cheap, especially in local restaurants.
Public transportation is also reasonably affordable and is a great way to explore the city.
Is Zagreb safe?
Yes, Zagreb is a very safe city to visit and is generally quite tolerant of tourists.
It is always best to be aware of your surroundings and keep your belonging secure, but for the most part, Zagreb is a very safe city.
Is Zagreb a good place to visit?
Yes, Zagreb is a great place to visit.
The city has a lot to see and do, from exploring its historic center to visiting some of its most iconic landmarks.
You can also sample some delicious local cuisine, explore the stunning Croatian countryside and visit other popular Croatian destinations like Dubrovnik, Rovinj, and Split.
Is Zagreb cheap?
Zagreb is a great destination for budget travelers! Despite being one of Europe's most attractive cities, it doesn't have to break the bank.
From accommodation to food, Zagreb has many affordable options that won't leave your wallet feeling light.
Basic accommodation in Zagreb can be found at surprisingly low prices, and you can find some delicious Croatian dishes without paying too much.
Street food vendors serve tasty snacks like burek (pastries filled with cheese or meat) and ćevapi (grilled meat sausages).
There are also plenty of restaurants offering traditional cuisine at very reasonable prices–so you can sample the local delicacies without blowing all your cash!
Is Zagreb walkable?
Zagreb is a wonderful city for those who enjoy walking! The streets are pedestrianized, making exploring the city on foot easy and enjoyable.
The city center is full of interesting sights and attractions, all within easy reach of one another. From the Upper Town and its ancient walls to the bustling Dolac market.
Final Thoughts: Is Zagreb worth visiting?
Is Zagreb worth visiting? Absolutely!
Whether you're looking for a relaxing getaway in one of the most unique cities in Europe or an exciting city break with numerous possibilities of things to do and see, Zagreb is a great destination for anyone looking for something different.
Although you won't be by the country's breathtaking coast, you'll enjoy another kind of authentic travel experience unique to the inland regions of Croatia.
You will be satisfied with this underrated city with its great Croatian food scene, affordable prices, and interesting attractions.
Read More