This post may contain affiliate links! I will receive a commission, at no extra cost to you, if you purchase something recommended here.
Split is an incredible city located in the heart of Dalmatia, Croatia. It's a popular destination for tourists who want to visit the Adriatic Sea and enjoy the beautiful beaches in Split.
While there are tons of things to do in Split, there are also unique sites nearby along the Croatian coastline.
After spending several summers in the city, I have had the incredible opportunity to explore many surrounding towns, cities, and beautiful islands.
Since I don't have a car when living there, most of these locations are easily accessible by public transportation–buses and ferries.
If you're looking for the best day trips from Split, here are some of my favorite options!
A UNESCO World Heritage Site is a creation or landmark chosen for conservation by the United Nations Organization for Education, Science and Culture (UNESCO) due to its cultural, historical, scientific or natural significance. It must meet a minimum of one of ten selection criteria to be considered for the World Heritage List, and once chosen, it becomes protected for preservation by various international treaties.
The Best Split Day Trips
1. Klis Fortress
A Medieval castle guards the region above the city.
The Fortress of Klis, located in the historic town of the same name, served as a crucial stronghold against Ottoman invaders throughout Europe's Ottoman Wars from the late 13th century until the early 20th century.
Originally constructed as a modest stronghold during ancient peacetime, it eventually served as the residence for numerous monarchs of the Croatian Kingdom until becoming the fortress it is today.
The stronghold itself is impressive, but the views of Split below make it stand out.
For the most part, Croatia is a country where the beachfront cities are surrounded by mountains, so being up in the hills looking down is spectacular.
Klis Fortress is a 30-minute drive from Split's city center, or take the Promet Split bus route #22 from the HNK station near the Croatian National Theatre to the Klis Megdan stop.
I've included the fortress in my guide to spending 3 days in Split if you're interested in learning more!
2. Brač, Croatia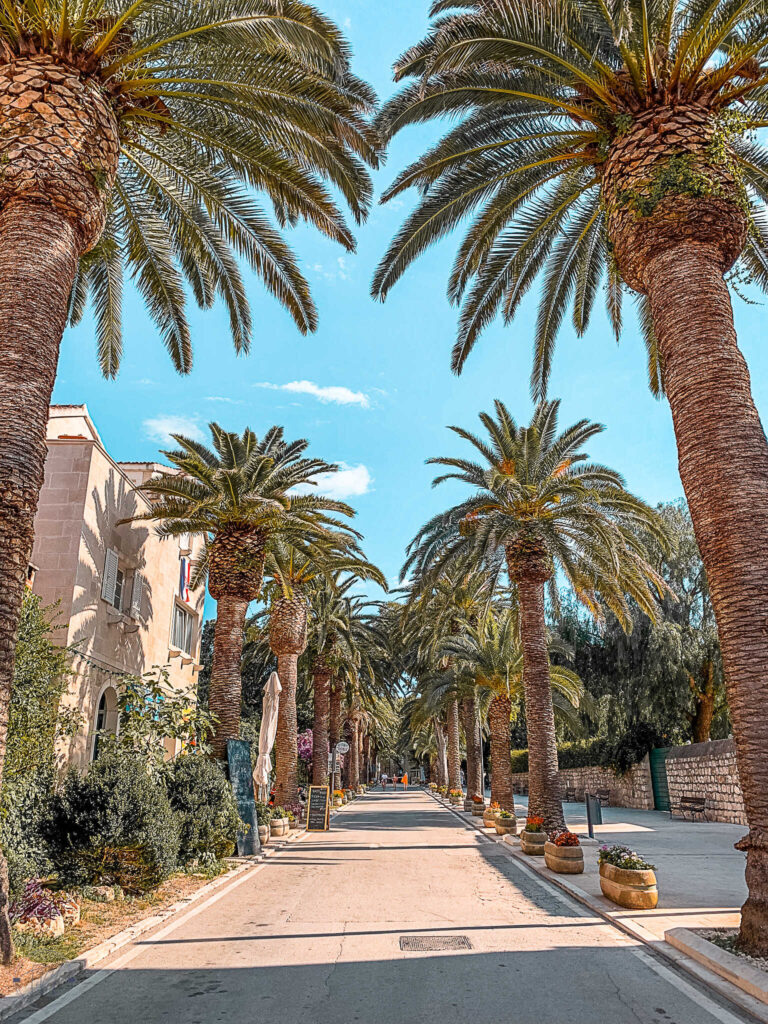 Right off the coast of Split, Brač island is a beautiful place to spend your day trip from Split.
Interestingly enough, it's the biggest island in the Adriatic Sea, but not as well-known as some other Croatian islands, like Hvar.
The island is home to several incredible landmarks, like Vidova Gora, the highest peak among all islands in the Adriatic.
While hiking is available throughout the island, you'll find sweeping views from the summit Vidova Gora offering stunning panoramic views over Brač.
You can find swimming and snorkeling around the island's clear, calm waters.
Among the many beautiful beaches along the coast, Zlatni Rat Beach is the iconic Brač triangular beach that almost changes shape with the tides.
Also known as the Golden Horn, the one-mile (2 kilometers) long shoreline is a white pebbly beach, with its two beautiful beaches meeting at a sharp corner.
Fun Fact: Brač island is very famous for a type of brilliant, white stone that has been quarried from the island since ancient times. Famous landmarks like Diocletian's Palace in Split, the Parliament Building in Vienna, and the White House in Washington D.C. have been built using this stone!
During the summer months–the best time of year to visit Croatia–car ferries leave from Split's main port to the coastal town of Supetar at least once a day, which takes about an hour.
Bus service is available on the island, but you'll need a car to get around.
You can also book a guided catamaran cruise from Split to Brač if you don't want to worry about the logistics yourself!
3. Trogir, Croatia
After a lengthy history of Venetian rule, the Croatian city of Trogir is now included on the UNESCO World Heritage list for its well-preserved Medieval architecture.
It's an easy, inexpensive day trip from Split, by bus or boat. You can take Bus 37 from Split to Trogir or a Bura Ferry that departs directly from Split's harbor.
One of the best parts about spending a day in Trogir is that most major attractions are free to see.
You may see the Town Loggia, the front of St. Sebastian's Church, and the front of Grand Cipika Palace on your own.
Take a stroll down the lovely seaside promenade to enjoy the city's harbor, or spend the day relaxing on the beach, which is only a 15-minute walk from the city center.
You can climb to the top of two separate buildings–the Town Clock Tower and Kamerlengo Castle–for amazing panoramic views of the city from various perspectives for a small admission fee.
The Town Clock tower is inside the Cathedral of St. Lawrence, which features an intricately carved entrance that dates back to the 13th-century, created by local artist and sculptor Master Radovan.
Kamerlengo Castle was once part of the city's protective walls, but now it's mostly empty, aside from its observation level.
The view from up there is magnificent at sunset!
If you're interested in learning more, you can read my complete guide on how to spend one day in Trogir from Split and the best beaches in Trogir.
4. Biševo, Croatia
The island of Biševo in Croatia, just a boat trip away from Split, should not be skipped.
With just about 15 people living on the island year-round, it's not a place to go for anything other than its nature.
Although there are several caves on Biševo, two of the most renowned are only accessible by boat or catamaran.
Monk Seal Cave is distinguished by its lofty, arched entrance. Once you get inside, the cave narrows to a tiny beach where seals used to swim, which gave the cave its name.
Biševo's most famous cave is called the Blue Cave (also known as the Blue Lagoon).
When you head inside, you'll be greeted with a spectacular sight.
The water within the cave glows a bright blue during the day because of the white sand on the ocean bottom and an opening underwater that allows sunlight to filter through and reflect back.
Locals have long been aware of the blue water's beauty, but it was brought to public attention in 1884 when an Austrian explorer published an essay on the Blue Cave.
While you can get there yourself if you're renting your own boat, I highly recommend you take a guided Blue Cave tour from Split.
The knowledgeable guides will give you facts and information about the caves, and they will facilitate your entry time to visit the Blue Cave.
Since it's a popular tourist destination, once you get to Biševo island, you will most likely be instructed by your guide to wait on land before visiting the Blue Cave.
And only one or two small boats are permitted through the channel at a time.
While you wait, you can relax at the tiny coffee shop or explore the walking trails that connect the small Adriatic island.
The higher you climb, the more breathtaking the views become! Just make sure to leave yourself enough time to return to the docking area before the entrance time for your boat ride.
I took this five island full-day catamaran cruise from Split that included the Blue Cave and stopped at other towns on nearby islands like Vis and Hvar.
5. Krka National Park
Krka National Park is another perfect day trip from Split.
The more than 109 km2 protected area is located outside the city of Šibenik, Croatia, and is named for the Krka River, which runs through the region.
The lower section of the Čikola River also runs through the park.
The park has some of Europe's largest quantities of lavender, as well as over 800 other varieties of flowers, trees, and plants.
The park also contains many protected sites, including the Krka Hydropower Plant, the Franciscan Monastery of Our Lady of Mercy on Visovac Island, and the Krka Monastery.
But the real draw to Krka is the waterfalls.
Like Plitvice Lakes National Park, Krka National Park features spectacular lakes and waterfalls.
Skradinski buk is the longest and most visited Krka waterfall.
It's easily accessible from the park's Lozovac gate, and you can get closer by walking through the marked trails.
Krka has over 22 recognized walking paths and 470 kilometers of bicycle trails, so you really can spend all day exploring this incredible natural wonder.
While you can drive to Krka, I recommend booking a tour from Split to the national park, since it includes round-trip transportation and you'll have access to a knowledgeable tour guide.
6. Plitvice Lakes National Park
Plitvice Lakes National Park is one of Croatia's most famous natural attractions.
Located near the Dinaric Mountains, this breathtaking park is a UNESCO World Heritage Site with crystal-clear lakes and flowing waterfalls, surrounded by dense forests.
The park is home to over 320 distinct varieties of butterflies and over 150 different bird species.
Though Plitvice National Park is a little bit further north than Krka National Park, its natural beauty is definitely worth seeing.
The most famous in the park is Veliki Slap Waterfall, the largest waterfall in the country.
It's an incredible feeling standing below it looking up–it feels immense.
You can walk through the park on your own, following the hiking trails along the turquoise waters, or explore with a guide.
Make sure to take a boat ride across Lake Kozjak, too.
It only takes a couple of hours to reach Plitvice National Park by car driving from Split on your own, and you'll want to be sure to purchase tickets the day before (and make a note which gate you're supposed to park and enter the park from.)
The park is open year-round, and the ticket price varies with the season.
Plan to spend all day in the park; there's so much ground to cover, and you'll want to see all of the beautiful lakes!
If you don't want to navigate Croatia's public transportation yourself, plan to take a Plitvice Lakes day tour with a round-trip from Split included.
7. Hvar, Croatia
One of the most popular tourist destinations in the country, Hvar is a gorgeous island with lots of history.
The island was first inhabited around 3500 BC, but it wasn't until the 12th century under Venetian control that the island became known for its wine production.
Although much of the island outside the main areas are still wild and rocky, several larger towns populate the island, including Stari Grad, Jelsa, and Hvar town and small villages.
Spend your day trip from Split wandering around Hvar town, with fascinating sights like the Cathedral of St. Stephen (Katedrala sv. Stjepana I.), the City Lodge, and the Arsenal & Theater (the oldest public theater in all of Europe!)
And, you can walk to nearby Bonj Beach in about 10 minutes from the town center.
In addition to all of its historical sights, Hvar island is known for beautiful vineyards producing delicious Croatian wines and lavender fields.
Once you're on the island, there are tours that you can take from Hvar or Stari Grad that will bring you further into the island to experience a tasting for yourself, or you can opt for the whole guided experience directly from Split.
You can take a Jadrolinija Ferry or Krilo Ferry right from the ferry port in Split to Stari Grad or Hvar town.
Fun Fact: Hvar is also known for its nightlife as a place to party! Yachts fill the coastal city's harbor in the summer months, and you'll find seaside bars and nightclubs still partying into the early morning hours.
8. Omiš, Croatia
On the Dalmatian coast, you'll find the small town of Omiš.
The charming town sits where the entrance of the Cetina River meets the Adriatic Sea, creating a perfect storm for the adventurous traveler looking for popular day trips from Split.
You can find outdoor activities from river rafting and cliff jumping to canyoning along the Cetina River throughout the warmer months.
There's also a crazy, incredible zipline experience where you'll soar over the river along eight sections of ziplines.
And if you aren't interested in adrenaline activities, you can lay on the beach and relax outside instead.
Since Omiš is a pretty small city, it's easy to explore its landmarks in a day away from Split–you'd even have enough time to see most of the sites on the same day you decide to zipline over the river or hike up to Mirabell Fortress.
Fun Fact: This Mirabell Fortress is unrelated to Mirabell Palace in Salzburg, Austria. This Mirabell was founded by Medieval pirates looking to protect the river's entrance.
You can take the public bus from Split to Omis. The easy bus ride takes about an hour, and you can purchase tickets on the bus with cash.
9. Šibenik, Croatia
Šibenik is the oldest Croatian city and the third-largest in the country, situated on a tiny peninsula surrounded by a natural harbor.
It's easily accessible by car or bus from other major cities–about an hour's drive from Split or 1 hour 30 minutes by bus.
Before being controlled by the Venetians, Byzantines, and Hungarians, Šibenik was founded by the Croats and served as the residence of the Croatian monarch at one time.
There are numerous ways to spend a day in Šibenik, with its lovely, ancient buildings and gorgeous surroundings.
When walking around the Old Town, you'll see many twisting pathways and staircases among the ancient buildings.
Much of the historic center was made of stone, including the Cathedral of St. James, constructed using limestone quarried on nearby Brač island.
Šibenik also has a lovely coastline Riva which you can wander along. At the end, you'll discover the city's public beach. The most outstanding views of the city, though, are from one of the fortifications.
Šibenik features four fortresses–three on the hillsides above the city and one floating out in the bay. All are open to the general public, and you'll discover breathtaking views of the city from every perspective.
There are also several ferry choices available from the Riva that will transport you to various places, including any of the gorgeous islands just off the shores of the mainland.
Šibenik is one of my favorite cities to visit in Croatia, so if you need more ideas on spending your day trip from Split, read my guide on the best things to do in Šibenik and the best beaches in Šibenik.
10. Mostar, Bosnia and Herzegovina
Ready to squeeze in a trip to another country?
Mostar, the capital of Bosnia & Herzegovina, is only a 2.5-hour drive from Split.
The city center of this picturesque town was devastated during the Yugoslav Wars in the 1990s, and there are still many scarred buildings left behind by the war.
The capital city is located on each side of the banks of the Neretva River.
The bridge that connects the two sides, known as Stari Most, was built by Ottoman Sultan Suleiman the Magnificent in 1557-1566 and was bombed during the war.
Brave locals dive or bungee jump into the river below if you want to catch an adrenaline rush.
Wander through the narrow city streets of Mostar's Old Town and grab a bite of traditional Bosnian food, crossing back and forth between the Christian side to the Muslim side by way of the Stari Most.
11. Međugorje, Bosnia and Herzegovina
Another activity you can add to your full-day trip is to stop in Međugorje, one of the most incredible religious sites in Europe.
In 1981, the Virgin Mary appeared to six children on what's now called Apparition Hill.
Even before it was deemed an official pilgrimage site by the Vatican in 2019, lots of people came from all over the world to visit the sacred ground.
You can easily drive from Split to Međugorje and then to Mostar if you have a car.
That's what we did to go from site to site on a day trip, and it worked really well.
Just remember, you're crossing into a different country, so make sure to bring your passport as you'll be encountering a customs checkpoint at the border.
If you don't want to deal with the intercontinental driving yourself, you can sign up for a guided Bosnia day trip from Split that will take you to Mostar, and some will even include a stop to see the Kravica Waterfalls, too.
12. Dubrovnik, Croatia
Can you take a day trip to Dubrovnik from Split?
Yes, you can take a day trip to Dubrovnik from Split! However, you won't have nearly enough time to explore the historic city if you only go for one day. I spent 3 days in Dubrovnik when I went, and it still wasn't enough.
From its beautiful coastal views from on top of Mount Srđ and walking around the ancient city walls to taking a day trip to Lokrum Island and visiting Game of Thrones filming sites–with so much to discover, the extra time there is worth it!
If a day trip from Split is all the time you have to visit Dubrovnik, then I highly recommend you book a guided tour that will manage the transportation for you.
If you decide to drive yourself, plan for about 3 to 4 hours with traffic each way, and make sure you have your passport handy since you might need it when crossing the border.
The ferry also takes about 3 hours in each direction.
And a guided tour will optimize your time visiting Dubrovnik's highlights to ensure you make the most of your day trip!
Top Split Day Trips: Wrap-Up
As you can see, there are so many incredible day trips to take from Split, Croatia.
Whether you're interested in history, adventure, nature, or simply soaking up the local culture, don't be surprised if you find yourself coming back time and time again for more unforgettable experiences.
Split and its surrounding areas truly are a gem in the Adriatic, and I hope you'll come and experience it for yourself.
What would you add to this list of day trips from Split?
Lyndsay
Read More