This post may contain affiliate links! I will receive a commission, at no extra cost to you, if you purchase something recommended here.
Want to know the best way to spend three days in Milan, Italy? This guide is for you!
Milan, Italy, is a city that begs to be explored. Full of incredible food, stunning city views, and high-end fashion houses; Milan has so much to offer its visitors.
However, with so much to see and do, it can be tough to know where to visit, especially if you are only there for a short amount of time.
This is one of those great Italian cities perfect for a quick getaway all year round.
Thankfully, to help plan out this Italian itinerary, I asked Lowri from Many Other Roads for her ideas, too!
From sightseeing and cultural attractions to shopping and food, you'll find plenty of activities to fill your 3 days in Milan.
The Ultimate 3 Days in Milan Itinerary
A long weekend is the perfect amount of time for visitors wanting to see the very best of Milan.
To help you make the most of your trip to the fashion capital of the world, this 3 days in Milan Itinerary makes sure you see the very best places around the city.
Day 1 in Milan
Head up to the top of Il Duomo di Milano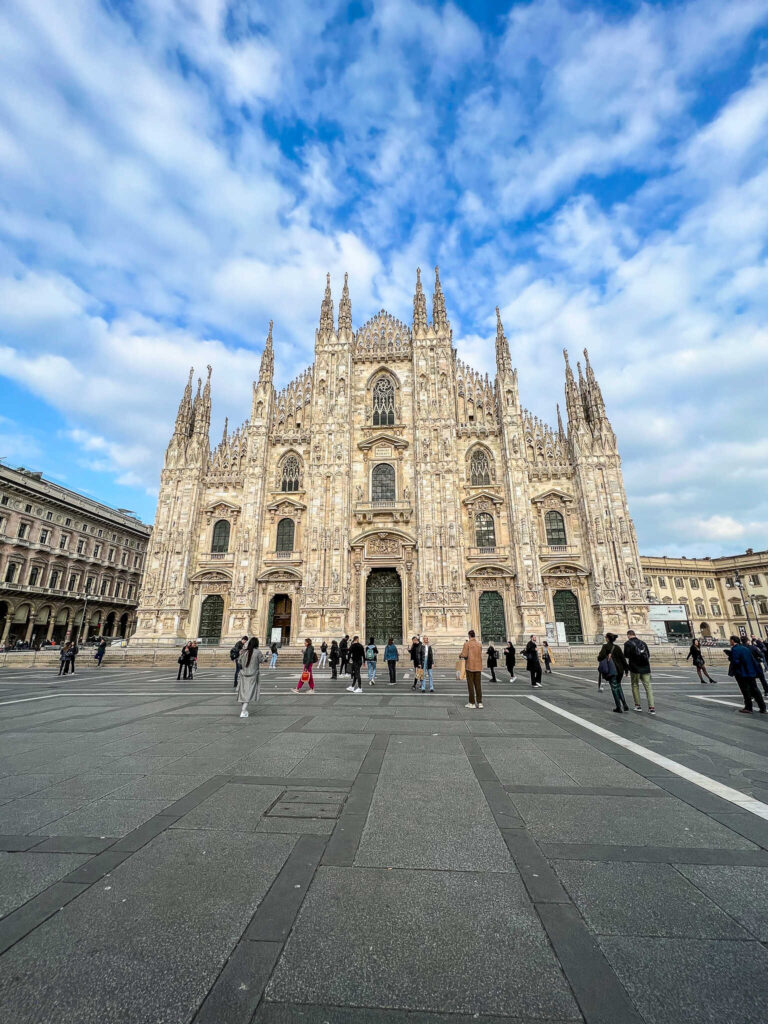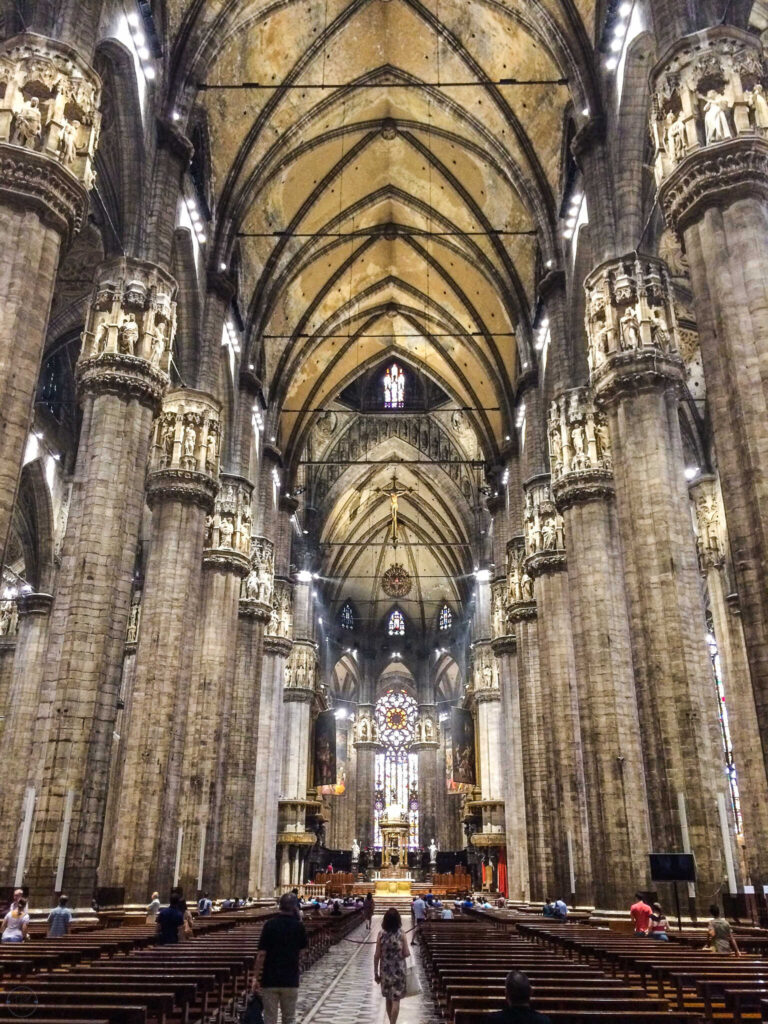 Few places in the world can rival the sheer beauty of Piazza del Duomo in Milan.
This stunning square is home to some of the most iconic architecture in Italy, including the magnificent cathedral.
Start your 3 days in Milan by visiting one of Italy's most iconic religious sites, the awe-inspiring Duomo di Milano.
The Gothic cathedral is considered one of the largest churches in Italy.
Marvel at its intricate detailing, spires, and stained-glass windows before strolling around Piazza del Duomo and soaking up the vibrant city atmosphere.
Fun Fact: It took almost 600 years to complete the church! Construction began in 1386 and only finished in 1965. Also, the beautiful cathedral has more than 3,400 statues all around its outside.
This is one of the most popular places to explore when visiting Milan. Planning a morning tour is a good idea to avoid crowds, especially in the summer.
As this is a religious building, ensure you wear appropriate clothing (your shoulders and knees are covered), or they will not let you in, even if you've booked in advance.
If you're interested in learning more about the church's storied history, you can also visit the nearby Museum of the Duomo.
It houses an impressive collection of artifacts and artwork related to the cathedral's history.
Even if you're not a history buff, it's impossible not to be impressed by the sheer scale and beauty of this building.
Do some luxury window shopping at the Galleria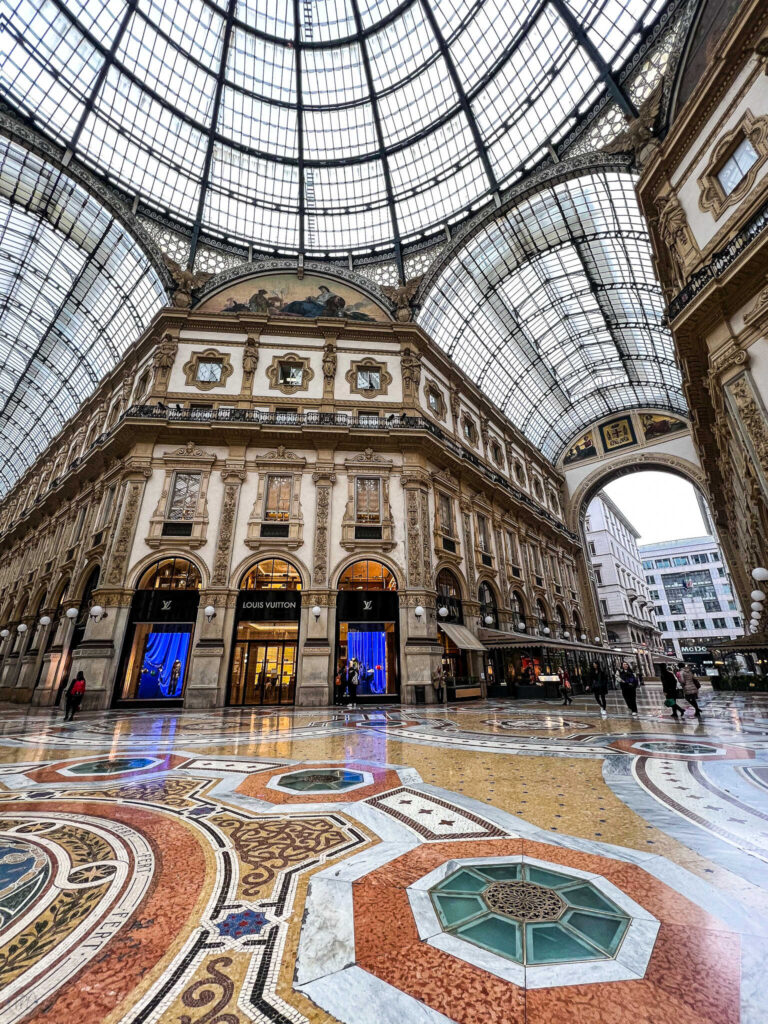 After exploring Il Duomo, you must head to the Galleria next door.
Designed by Giuseppe Mengoni, the Galleria Vittorio Emanuele II was built between 1865 and 1877 to celebrate the Unification of Italy.
When it opened, its 48-meter-high glass dome was the largest shopping arcade in Europe.
Today, the glass and iron structure symbolizes Italy's modern architecture.
The Galleria Vittorio Emanuele II has become such an integral part of local life that it's been nicknamed "il salotto" (the salon).
It is easy to see why – with its exquisite design, luxurious shops, and inviting cafés, it is truly an experience like no other.
Insider Tip: In the center of the Galleria are four mosaic emblems on the floor, representing Milan, Florence, Rome, and Turin.

For good luck, you'll need to spin with heels together over a very particular spot on the symbol of Turin–you'll know when you see it.

Although you'll see people trying various ways to complete this, the correct way, as it was explained to me by a native Milanese, is you need to complete one full rotation without pushing yourself with the other leg.
Stop for lunch at Panzerotti Luini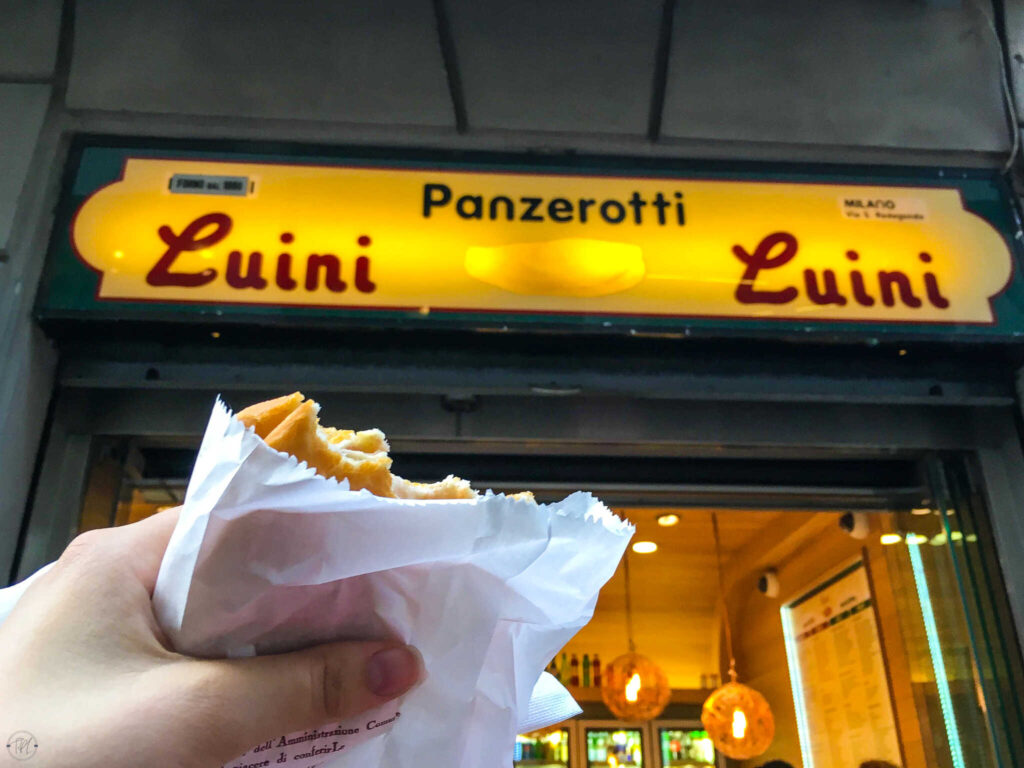 Once you've finished exploring these famous landmarks in the middle of Milan, grab a quick lunch at Panzerotti Luini before jumping on the metro.
This bakery is famous for its sweet and savory panzerotti turnovers.
Opened in 1888, the shop is still family-run, and the secrets to its panzerotti are closely guarded.
Choose from the classic fried panzerotti, baked or sweet, all with a variety of fillings, or choose from their selection of other delicious baked goods.
Once you've enjoyed this Milanese meal, head to a museum of choice!
Take your pick of Milano museums
What better way to spend an afternoon than visiting some of Milan's iconic galleries and museums?
From the Pinacoteca di Brera, home to an impressive collection of Italian art, to the Museo del Novecento, which houses works from the 20th century, you can find centuries' worth of art and artifacts here from around the world.
Depending on your interests, these are some of the top museums in the city you should consider adding to your itinerary:
Pinacoteca di Brera
Museo del Novecento
Leonardo3 Museum
Galleria d'Arte Moderna
MUDEC
Fondazione Prada / Prada Museum
Museo Civico di Storia Naturale di Milano
Stop for a coffee break at the Starbucks Reserve Roastery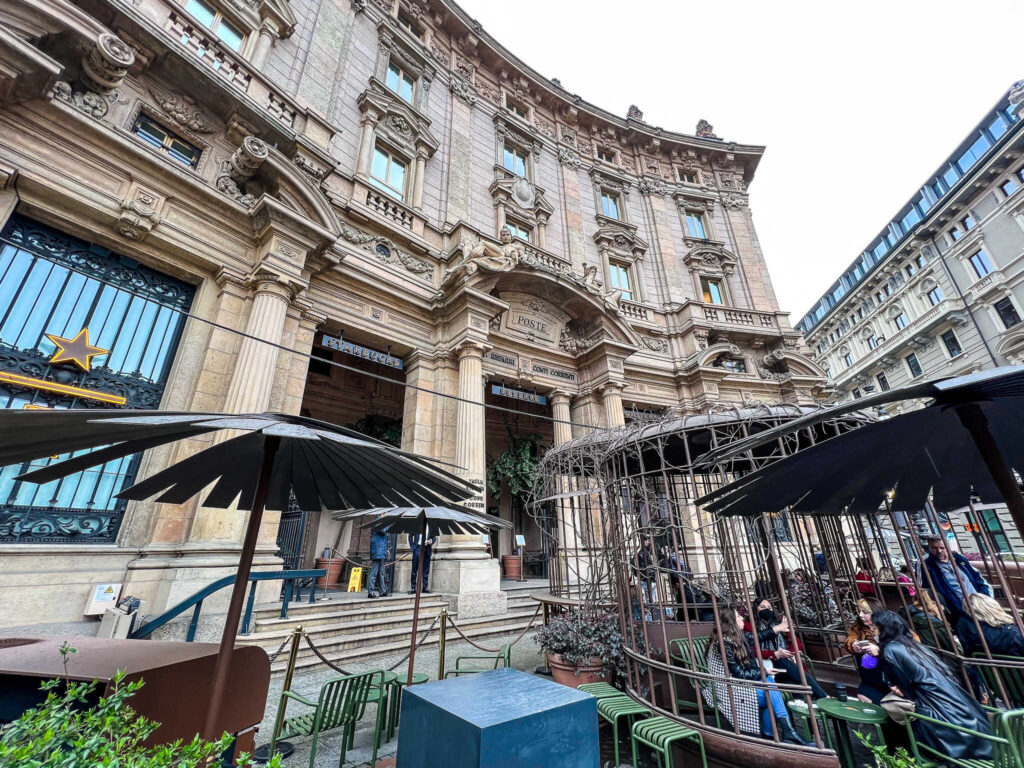 I know what you're thinking–did Lyndsay actually just suggest I visit a Starbucks in Italy?!
Yes. Hear me out!
I've now visited the Starbucks Reserve Roastery in New York City and Milan, and it's a very cool experience–especially if you love all things coffee.
This is different from your typical American Starbucks.
The Starbucks Reserve Roastery in Milan is the first of its kind in Italy, and it's a unique way for Starbucks to bring its coffee to a country with a strong coffee culture.
Opened in 2018 in the city's former post office and stock exchange, the Roastery is a multi-sensory experience that celebrates coffee with artisanal craftsmanship, immersive experiences, and exclusive small-batch Reserve coffees.
You can taste different brewing methods, watch baristas handcraft drinks, and even purchase exclusive merchandise.
It won't in any way replace the country's incredible coffee culture; instead, it feels more like the Roastery is an albeit trendy homage to Italian coffee.
Visit the Navigli canals
To end the first of your 3 days in Milan, visit the Navigli.
You will find only a few landlocked major European historic cities, like Milan. In the late 12th century, the town started digging its own river.
These man-made canals reached Lake Maggiore, which connected with the backbone of Europe's commerce at the time, the Rhine River.
This network of waterways introduced Milan to the rest of Europe and allowed it to thrive as a major city.
However, the canals were filled in and paved over to accommodate the city's growth over the years. All that's left of this massive network are the Navigli.
Today, it's a popular spot for locals and tourists, especially at night.
As you stroll along the canal, you'll find plenty of cafes and restaurants where you can enjoy a leisurely meal or glass of wine.
Day 2 in Milan
See Leonardo da Vinci's The Last Supper painting
To start your second day off, visit the Church of Santa Maria delle Grazie to witness The Last Supper by Leonardo da Vinci, one of the most iconic paintings in history and one of the best things to do in Milan.
This 15th-century mural depicts Jesus among his twelve disciples, depicting the Biblical scene from Matthew 26:17-30.
Make sure to book tickets in advance as it is a popular tourist attraction and can be sold out months in advance. Plan on spending at least an hour here, seeing one of the famous Renaissance painter's most well-known works.
Walk through La Vigna di Leonardo
LexiconKineticae, CC BY-SA 4.0, via Wikimedia Commons
Just around the corner from the Last Supper, you can find Leonardo da Vinci's vineyard, La Vigna di Leonardo, at Casa degli Atellani.
While he was painting the famous Milanese artwork, the Duke of Milan gave him the vineyard as a gift.
Observe Basilica di Sant'Ambrogio
Novellón, CC BY-SA 4.0, via Wikimedia Commons
If you can't get tickets to see The Last Supper, you can visit the Basilica di Sant'Ambrogio instead.
As one of the city's oldest churches and founded by Milan's patron saint, it was initially known as the Basilica Martryum. It was built at a location where numerous martyrs were buried.
When you visit today, you'll see a stunning Romanesque-style church from the 12th century, admire the pulpit with a late Romanesque carving, and the 4th-century sarcophagus below.
Explore Milan's history at Castello Sforzesco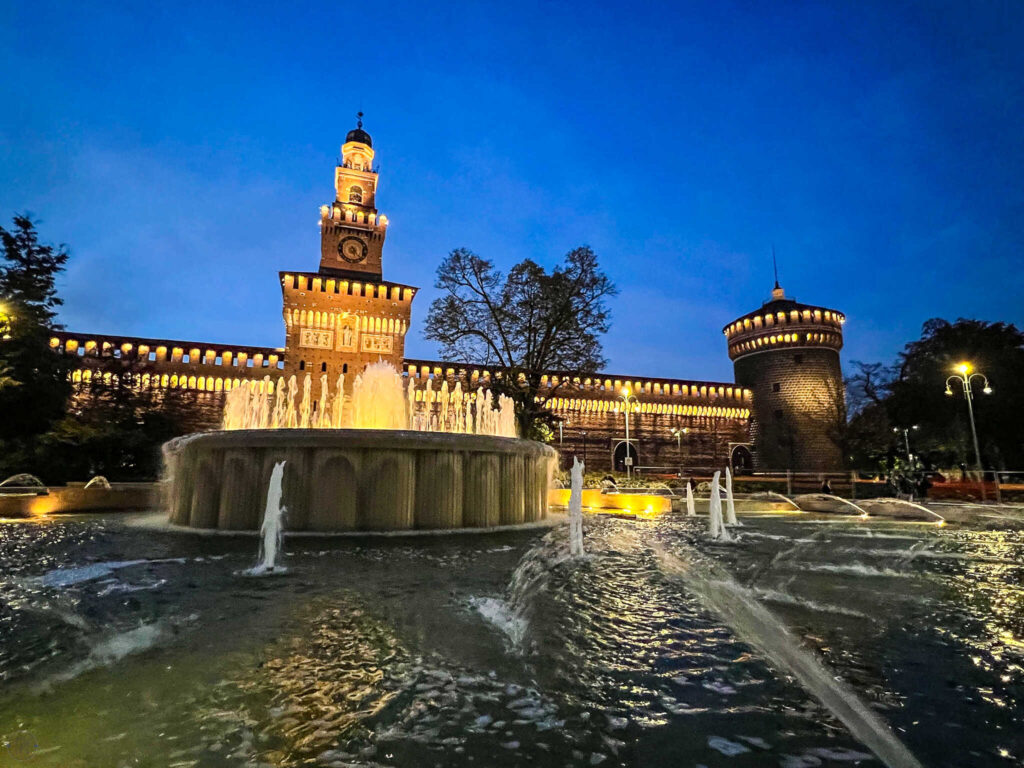 Initially built in 1368 and then rebuilt in 1450, Castello Sforzesco was home to the ruling family of Milan. The Visconti family was in power and residence from 1277 to 1447, while the Sforza family took over later, from 1450 to 1535.
As you enter, you'll pass under the 70-meter Torre de Filarete, a reproduction from the early 20th century of the original gate tower.
Today, the castle-fortress houses the Musei del Castello Sforzesco, a series of museums that feature sculptures like Michelangelo's last masterpiece, the Pietà Rondanini, artworks by masters like Bellini, Tintoretto, and Lotto, prehistoric and Egyptian antiquities, musical history, and medieval armor.
You can purchase entry to the castle with an audio guide and explore the grounds at your own pace. Or, if you don't have time for a full tour, you can still see inside the castle's courtyard for free.
This courtyard is a passage between Piazza Cairoli and Parco Sempione, Milan's largest park.
Take a break from the city in Parco Sempione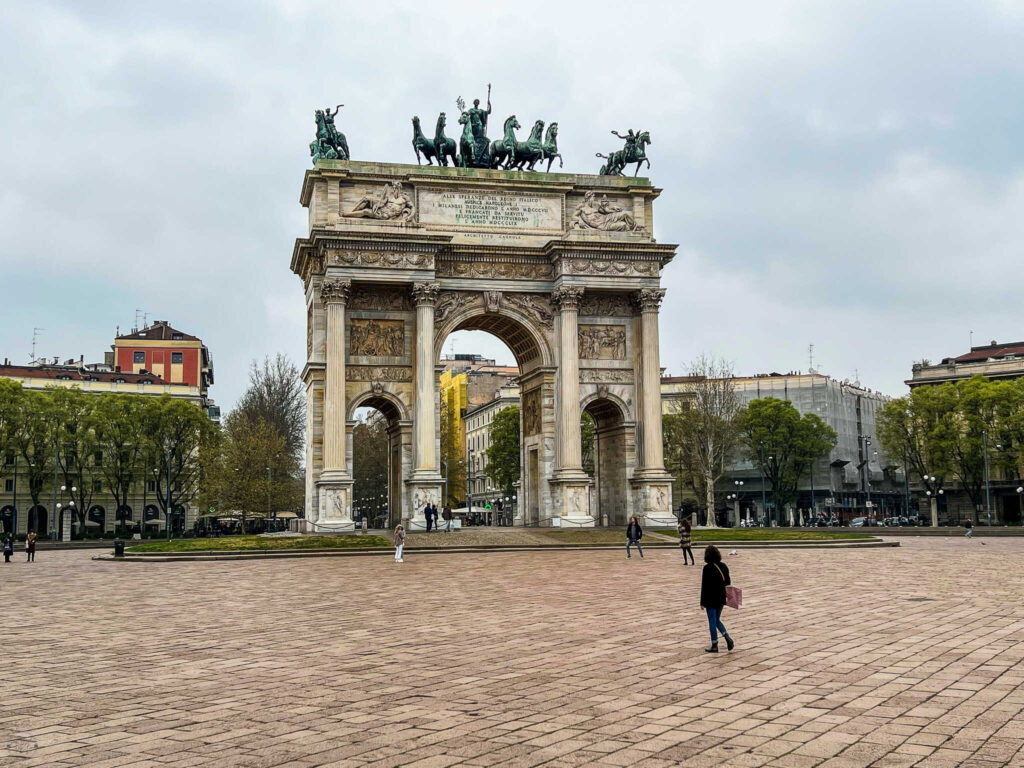 Behind Castello Sforzesco is Parco Sempione. Designed in the English style in 1888, walk or bike around the park's 95 acres to escape the city for a moment of nature.
The park is full of winding pathways perfect for walking, jogging, or simply taking in the scenery.
Parco Sempione's entrance, on the opposite side of the park from the castle, stands the Arco della Pace (Peace Arch), devised by architect Gio Ponte in 1933.
This impressive structure towers high above the park. It provides spectacular views of Milan and even the Alps on a clear day.
Observe tombs and sculptures at Cimitero Monumentale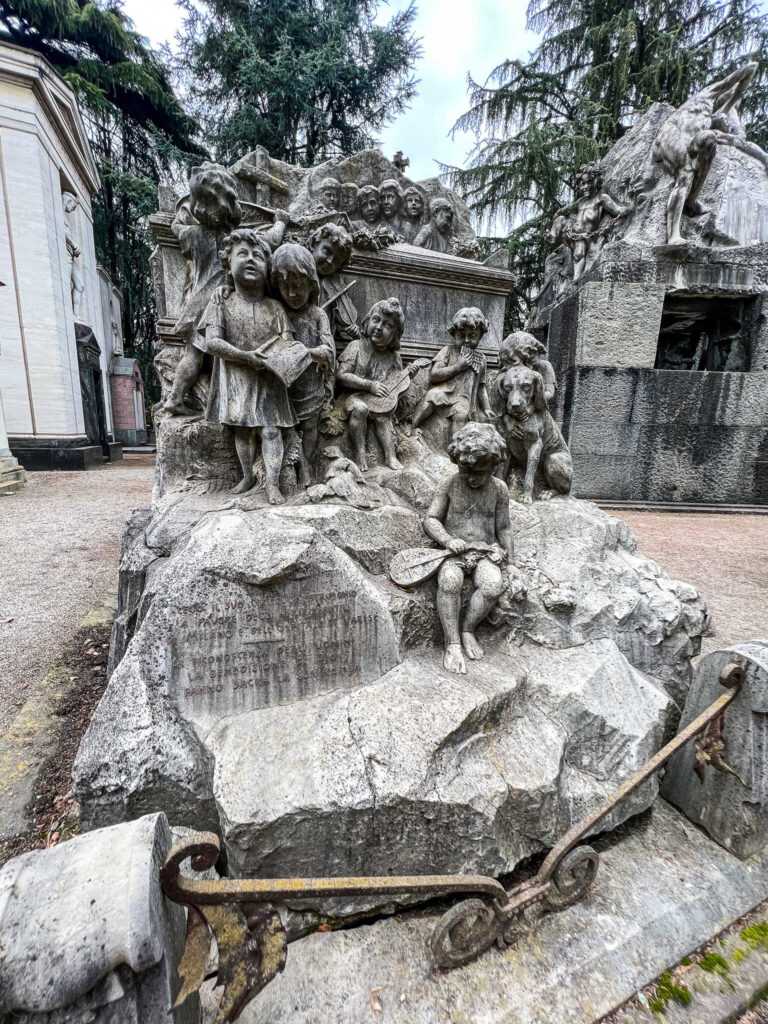 If you explore the rest of The Purposely Lost, you will rarely find me encouraging you to visit a cemetery. However, the Cimitero Monumentale is genuinely incredible.
This peaceful resting place is also an open-air museum with extravagantly decorated tombs and mausoleums that date back to the 19th century.
Many of the tomb sculptures were designed by famous artists; you can easily spend hours here observing the art.
Walk around the modern BAM – Biblioteca degli Alberi Milano
The Bosco Verticale, located in the new Porta Nuova District of Milan, is a sight to behold.
This pair of residential towers are adorned with over 900 trees, making it one of the most iconic sights in the city.
The Biblioteca degli Alberi, or "Library of Trees" public park at the foot of the Bosco Verticale, features over 135,000 plants.
Explore this new development area on foot, popping into the shops you see and stopping to admire the fountain display.
Catch a performance at Teatro alla Scala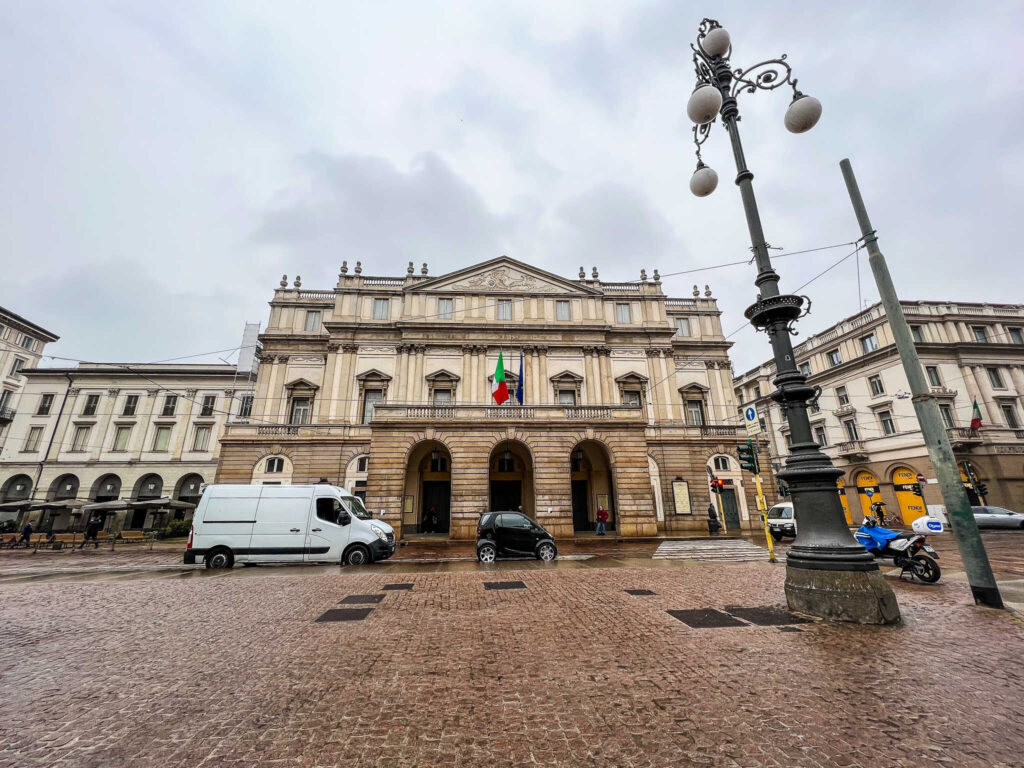 No 3-day visit to Milan is complete without visiting Italy's most famous opera house – Teatro alla Scala.
If you happen to be visiting during one of the theatre's world-renowned productions, you'll be in for a truly once-in-a-lifetime experience.
From Rossini to Verdi, this 18th-century theatre premiered operas from some of the most famous composers of the time.
Today, it offers a range of performances, from operas and ballets to concerts, as it has for centuries.
You can find their performance schedule and purchase tickets on their website.
However, a visit to Teatro alla Scala is a must, even if you're not an opera fan. The theatre's incredible architecture and rich history are sure to impress.
You can book a tour of the theatre to see inside the impressive landmark any time.
Day 3 in Milan
Take a guided walking tour in the morning
As a tour guide, I always recommend you take a walking tour of any new city to learn more about its history and get a local's perspective.
This free guided walking tour of Milan will introduce you to the city's most historical landmarks, from Piazza del Duomo, Piazza degli Affari, Basilica of San Nazaro in Brolo, and Piazza Mercanti.
Remember, since this is a free walking tour, you must tip your tour guide for a well-done job!
Window shop in the Quadrilatero d'Oro
Shopping in Milan is an experience like none other. As the fashion capital of Europe, it's no surprise that the city offers a wide variety of stores and boutiques to explore.
If you want to indulge in some serious shopping, head to the Quadrilatero della Moda.
This high-end shopping and fashion district boasts some of the most famous Italian and international designers, with their luxe shops lining the four main streets–Via Montenapoleone, Corso Venezia, Via Manzoni, and Via della Spiga.
Here, you'll find all the top Italian designer brands like Gucci, Valentino, Dolce & Gabbana, Versace, and many more.
Exploring the world-renowned Quadrilatero d'Oro is a must for anyone visiting Milan.
Remember, casual browsing inside the shops is not welcome when visiting this designer shopping street–unless you're also dressed to impress and prepared to drop a pretty penny.
Otherwise, you can admire the eye-catching window displays as dramatic as the fashions themselves.
Fun Fact: Every autumn, Milan designers showcase their latest collections at Milano Moda Donna–Milan Women's Fashion Week–just like NYC's Fashion Week, one of its best fall festivals.
​​Visit the Santuario di San Bernardino alle Ossa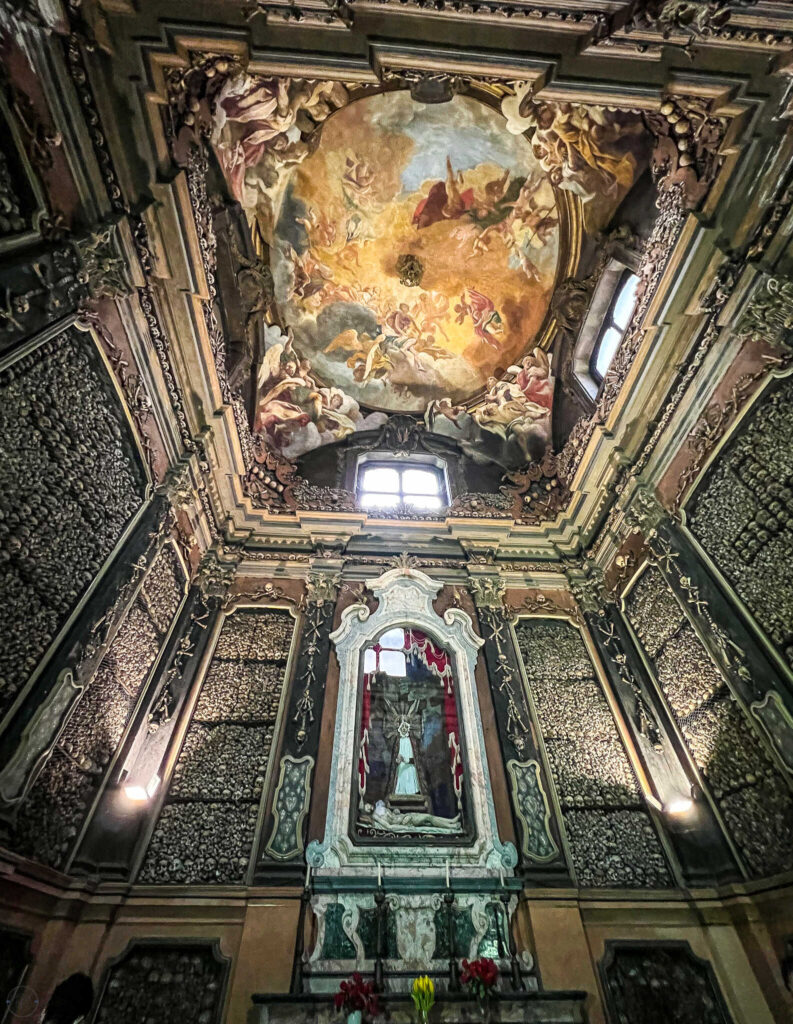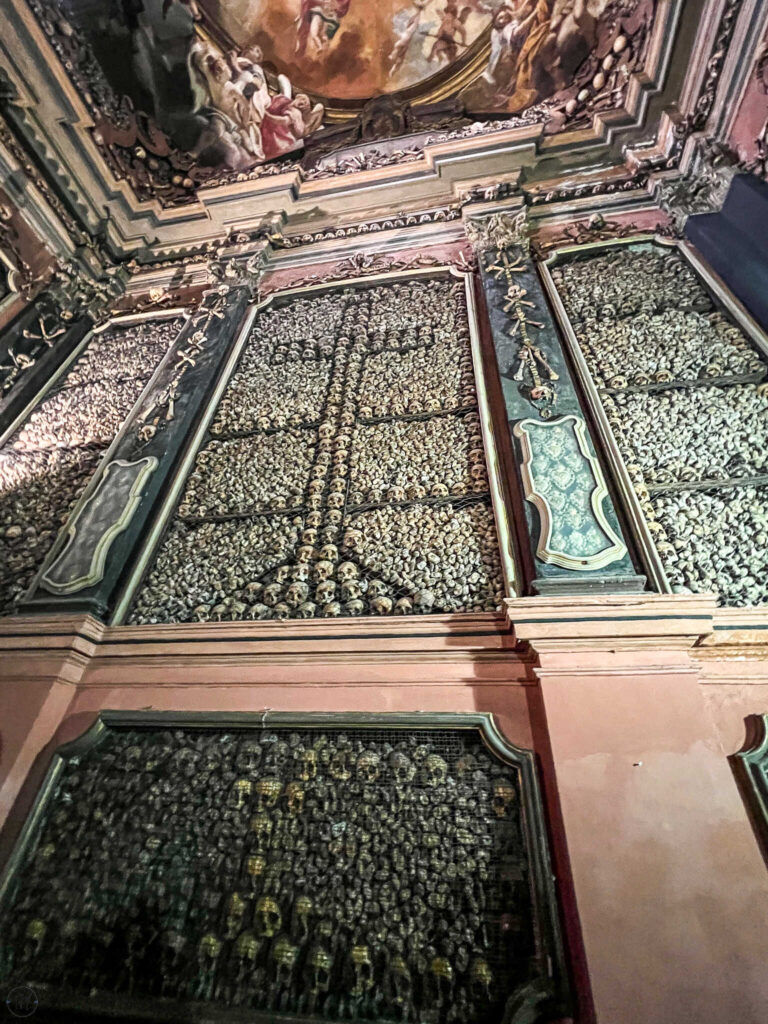 Yes, it's time to head to another church!
Tucked away on a quiet street directly next to the much larger Basilica di Santo Stefano Maggiore, inside Chiesa di San Bernardino alle Ossa, you'll find one of the eeriest sites in Milan–the Ossuary Chapel.
The inside is decorated with thousands of human skulls and bones dating from as far back as the 12th century.
Although a hospital and cemetery were initially built next to the Basilica, they were soon overflowing, and an ossuary was established to continue collecting the remains of the deceased.
Human bones are artfully arranged to cover the walls entirely.
Skulls are placed to form crosses with other bones providing additional details and decorations, all leading up to the "Triumph of Souls and Flying Angels" fresco by Sebastiano Ricci from 1695 that decorates the ceiling.
It's a genuinely chilling example of art and history.
End your last night in Milan with dinner at Diana Garden – Bar & Restaurant
For your last dinner in Milan, head over to visit Diana Garden – Bar & Restaurant.
This hidden gem in the middle of Milan is the ultimate spot to relax over a cocktail in the city.
This secret garden bar boasts an impressive selection of Italian cuisine and cocktails and is the perfect spot for your last evening in this historic city.
Be sure to take some time afterward to wander through the lush gardens before heading back to your hotel for the night.
How to Get to Milan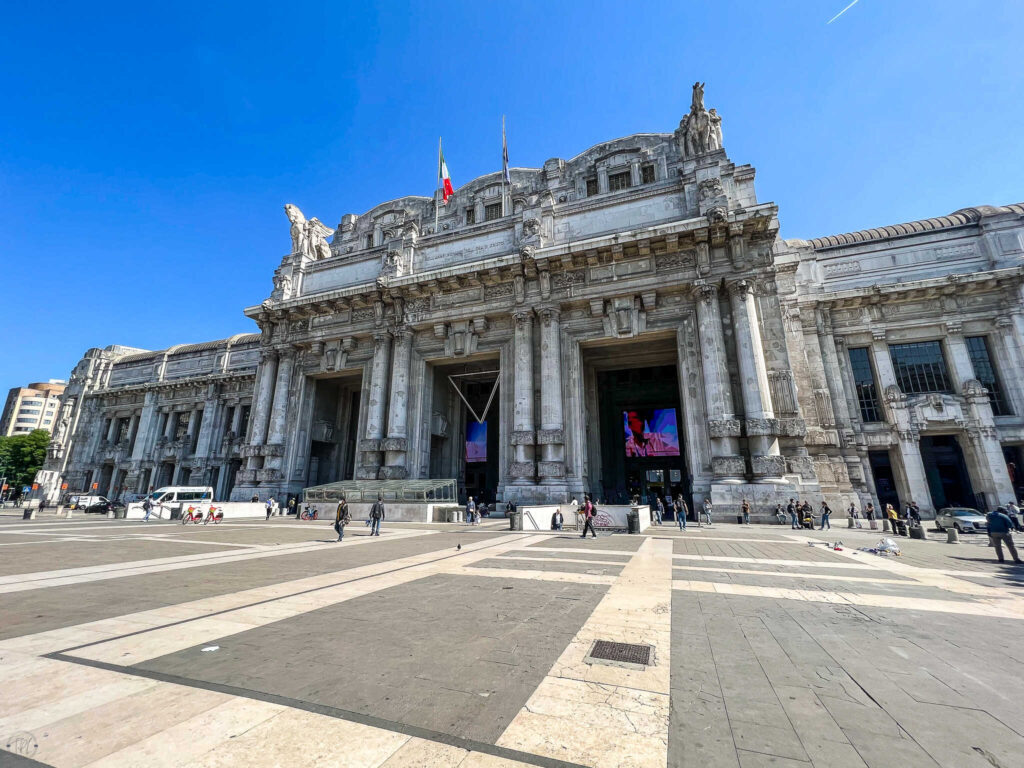 Milan has two international airports, Milan Linate Airport and Milan Malpensa Airport.
Linate is easy to access from the city center by taking the newly opened M4 metro line directly to the airport, or you can take a taxi.
Malpensa is Milan's largest airport and is further out of the city center; you'll need to take a train to the airport or book a private transfer.
You can find direct trains to and from Malpensa to the Milano Centrale train station. 
If you're flying with a budget airline, you'll probably be using Bergamo's Orio al Serio International Airport. 
Your best bet is to take one of two bus options to Milan.
The Autostradale Terravision Bus or the Orio Shuttle will make the one-hour drive directly from Bergamo airport to the center of Milan. 
Otherwise, you can take the train. You'll first need to take a public bus or taxi from the airport to the Bergamo train station and then the train from Bergamo to Milano Centrale.
If you're traveling to Milan from somewhere in Italy, you can take the train.
Trenitalia/Trenord and Italo trains both service the major Milan central train stations.
Milano Centrale is a huge train station, most famous for its stunning architecture, or you can use Milano Porta Garibaldi.
How to Get Around Milan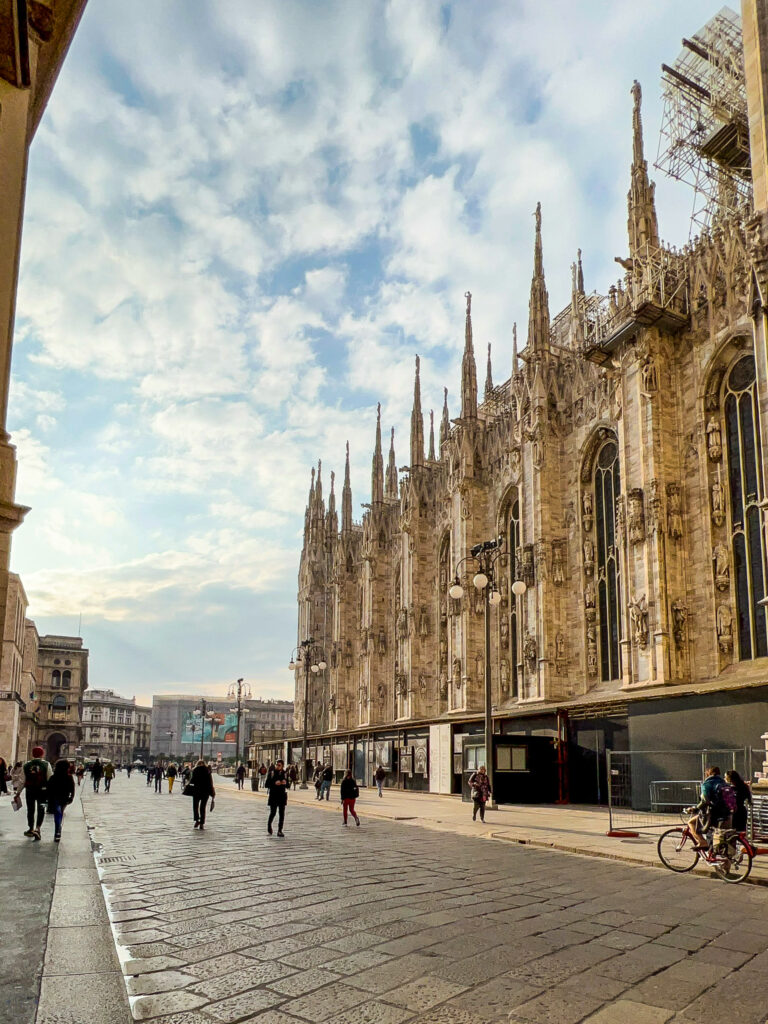 Getting around the bustling city of Milan is easy and convenient, even without a car, thanks to its extensive public transportation network.
The city is entirely walkable, and the public transit system makes it easy to get around.
The Milan Metropolitana covers the city's most important points, with five lines (M1, M2, M3, M4, M5) that can take you to many of the major destinations in the city center and to the suburbs outside the city.
However, the trams and buses will give you access to many more neighborhoods in Milan's city center than can be reached by metro. 
To use the metro system, you can purchase tickets at ticket machines in the metro stations or use the ATM Milano app. 
My favorite app to navigate Milan's entire public transport network is called Citymapper. 
What to Pack for a Trip to Milan
Knowing what to pack for your stay is essential when planning a three-day trip to Milan.
The city can be pretty cold during the winter months from December to February–you might even encounter snow.
A warm jacket, comfortable boots, and a nice coat for evenings out will ensure that you stay warm and cozy throughout your stay.
If you plan on spending time outdoors during these months, also bring a hat and gloves for extra protection against the cold.
The weather is much more pleasant during the spring, summer, and fall.
A light jacket or sweater will keep you comfortable during the day, while a pair of sandals or flats are perfect for exploring the city.
No matter what time of year you visit Milan, make sure to bring an umbrella in case of rain.
Tips for Visiting Milan, Italy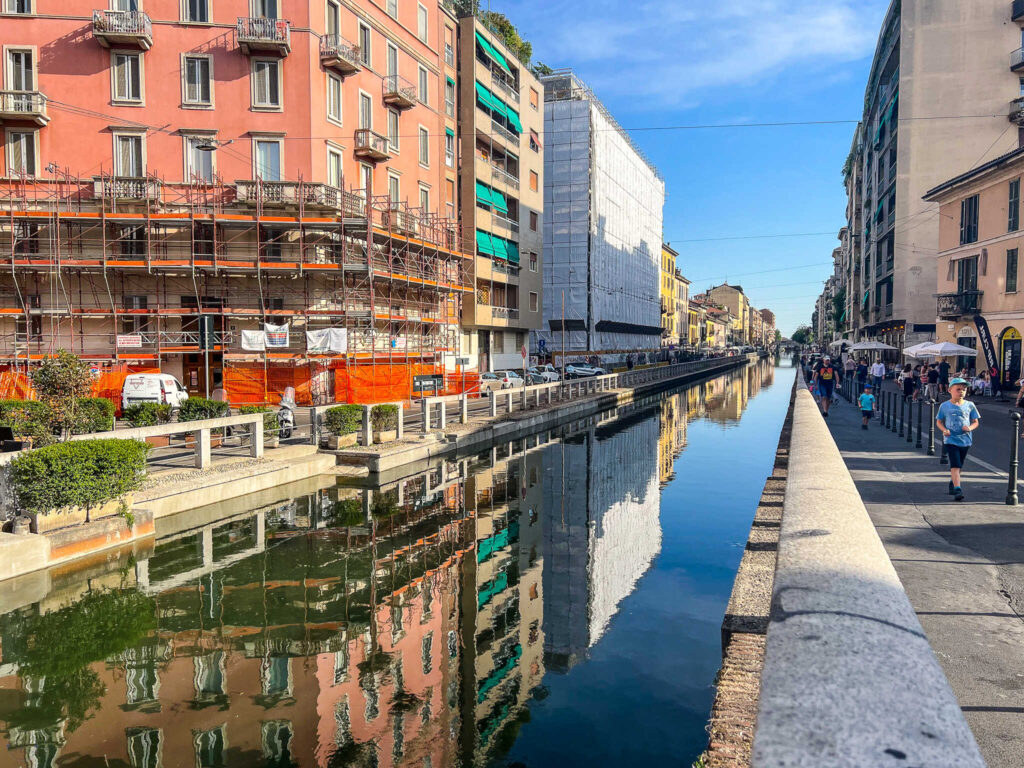 Check to see if a restaurant closes after lunch – In Italy, many restaurants (and even some tiny stores) close in the afternoon due to riposo, Italy's siesta.
Restaurants often shut around 2:30 or 3 p.m. and reopen for dinner at 7 p.m.
This also means that there are no early meals in Milan.
Although a few eateries are open for business in this window, you'll have to wander for a bit to find them. They're usually only available to cater to tourists.
However, since Milan is the most cosmopolitan of the country's cities, you'll find more restaurant options between lunch and dinner in the afternoon.
To be on the safe side, check the hours of any restaurants you definitely want to eat at, and even make a reservation if you can.
Purchase a Milan sightseeing pass to save money – Especially if you love visiting museums and landmarks while you're on a trip, I recommend you purchase the Milan Pass.
This pass includes discounts to dozens of the city's biggest museums, restaurants, and other attractions around the city and free entrance into several landmarks I'll mention in this Milan itinerary.
You can read more about the Milan Pass here.
Keep these apps on your phone to help you get around – Citymapper is my go-to software for learning how to navigate a new city's transit system.
The free app will show you the stations and lines and when, where, and how to go from one location to another.
It also works in several of my other favorite places worldwide, including New York City, Venice, and Rome.
Google Maps is also essential to have on your phone.
When you're connected to wifi, you can download your map of Milan offline to keep it with you even when you don't have service, and it's great for saving recommendations–like everything in this guide!
3 Days in Milan: FAQs
What is the best time to visit Milan?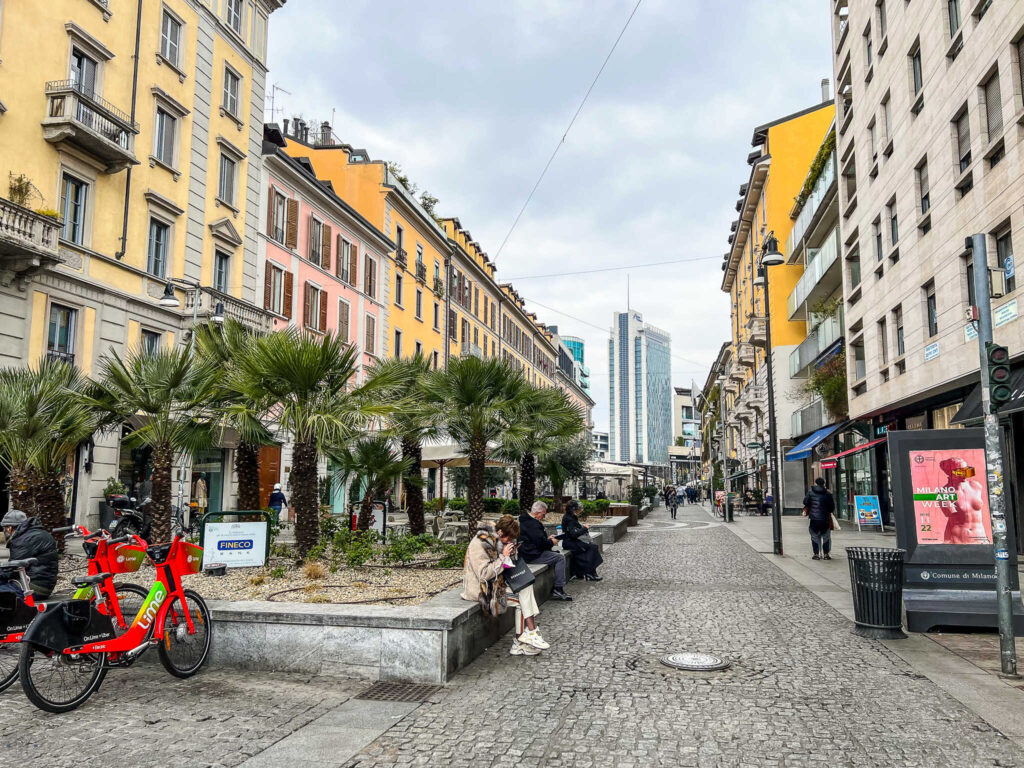 The best times to visit Milan are in the shoulder seasons of summer–spring, and autumn.
These months offer mild temperatures and fewer crowds, making them ideal times to explore the city without having to battle through hordes of tourists.
You'll also find that prices are more reasonable during these periods, giving you more bang for your buck when it comes to accommodation and attractions.
Another great time to visit Milan is in the winter. The days are short, and you'll need to be bundled up due to the chilly temperatures.
However, if you're looking for the best travel deals on hotels and airfare to Milan and can handle the cold, this is the best time to visit Milan for you. 
Although it's a beautiful time to be in the city, the summer months of July and August are the busiest time for tourism in Milan, with long lines for attractions and high prices for accommodation.
This can be a real hassle if you're not prepared for it, so it's best to avoid these months if possible.
Are 3 days enough for Milan?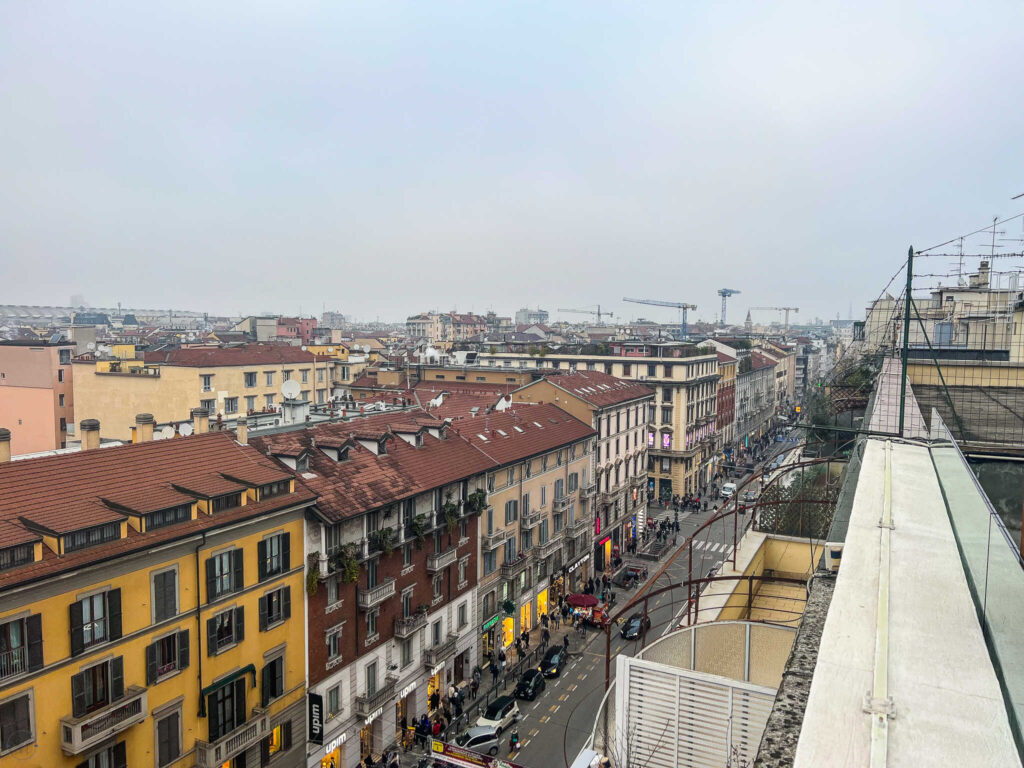 Absolutely! Milan is a city that can easily be explored in three days. This is a perfect amount of time to explore the city as you don't have to rush to see all the attractions.
You'll still have plenty of time to enjoy the sights and sounds of this vibrant city.
If you want to explore beyond the city limits, 3 days allows enough time for a day trip.
Popular destinations from Milan include the picturesque Lake Como, the stunning Dolomite Mountains, and Verona, the city of Romeo and Juliet.
If you'd rather stay in Milan, 3 days is also enough to make the most of its food and bar scenes.
Spend your time exploring different neighborhoods, tasting delicious Italian dishes in trattorias and gelato shops, and having aperitivo in the evening.
Once you've had enough of walking around the city, take a boat cruise on the Navigli canals to see Milan from another perspective.
But no matter how long you decide to visit Milan, you are guaranteed the best city break in Italy!
What should I not miss in Milan?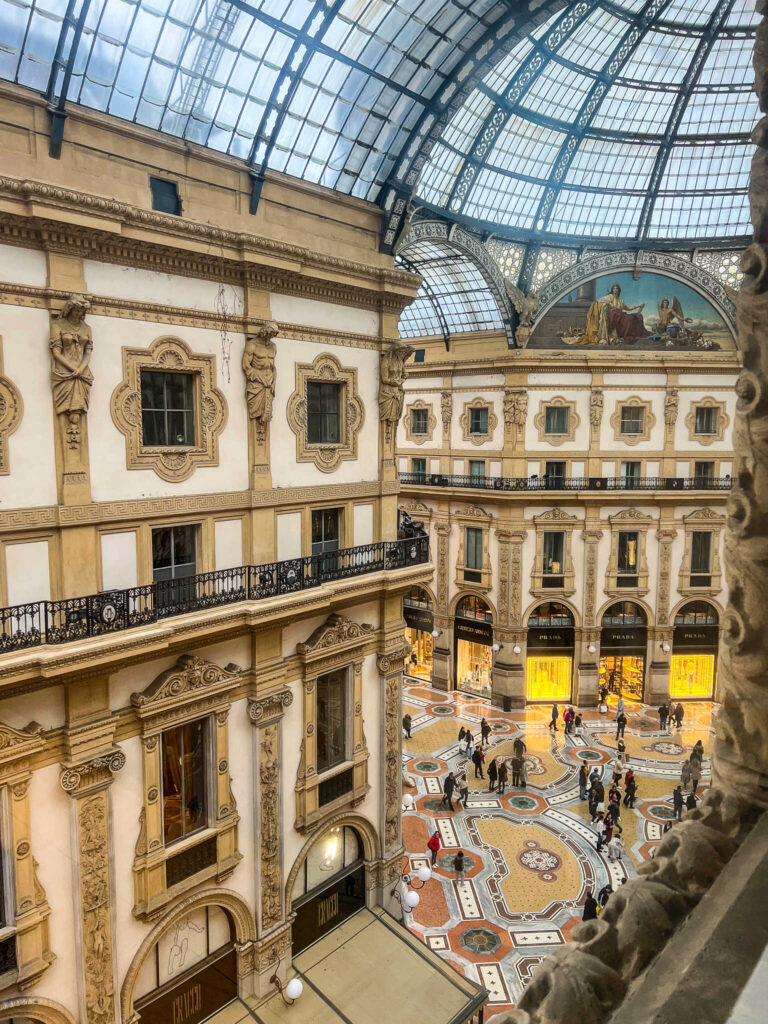 Like many Cities across Italy and Europe, there is plenty of city highlights you can't miss on your trip.
To make your 3-day visit to Milan unforgettable, here are the top activities you should consider doing:
👉 Visit the Duomo di Milano – this impressive cathedral is the symbol of Milan and one of the largest churches in the world! Climb the top for a stunning view of the city, or take a tour inside to discover its incredible art and architecture.
👉 Wander through Piazza del Duomo – this stunning square sits in the historic center of Milan. It features several impressive attractions, including the Duomo Cathedral, the Galleria Vittorio Emanuele II shopping gallery, and fascinating statues. It's also a great place to people-watch!
👉 Take a tour of Leonardo da Vinci's Last Supper – this world-famous painting can be seen with a guided tour. Make sure to buy your tickets in advance!
👉 Shop 'till you drop at the Quadrilatero d'Oro – Known as Milan's Golden Triangle, this area is home to some of the most luxurious shops in the world. Whether you're looking for designer goods or just window shopping, this is a great place to explore!
👉 Enjoy an opera at Teatro alla Scala – Milan's iconic La Scala opera house hosts both traditional and contemporary performances throughout the year.
Even if you don't have tickets for a show, you can visit the museum, take a guided tour of the building, and Piazza della Scala.
👉 Spend an afternoon in Parco Sempione – Milan's beautiful park near the Sforzesco Castle offers a peaceful reprieve from the city.
Is Milan cheaper than Rome?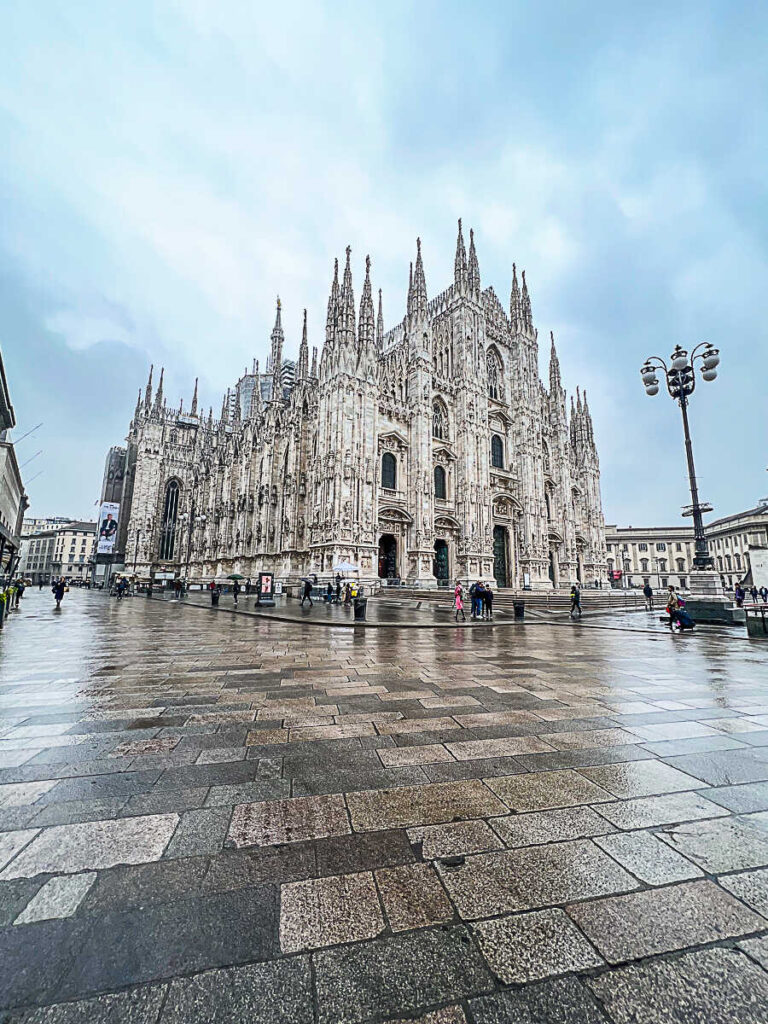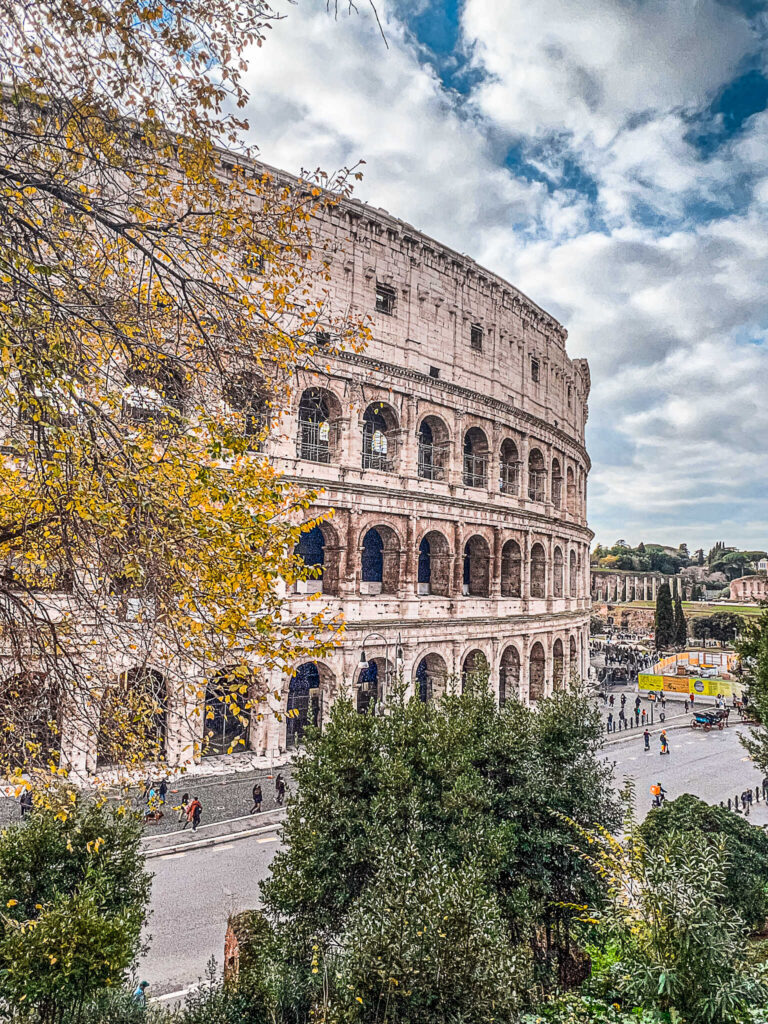 Generally speaking, Rome is a more expensive destination than Milan, mainly due to its high popularity among tourists – flight and hotel prices tend to be higher here than elsewhere.
Throughout the year, European budget airlines like Ryanair offer incredibly low fares to Milan compared to Rome, which often makes it a more budget-friendly option to book.
Visiting Milan is a great alternative for those looking for something more budget-friendly!
While it may not offer the same number of attractions as Rome, Milan still has plenty to see and do – from art galleries and cultural sights to shopping and delicious Italian cuisine.
Plus, you'll be able to find more affordable accommodation options here than in Rome.
All in all, Milan can provide a cheaper getaway and a fantastic alternative to Rome.
Where to Go After Milan
After you finish your Milan 3-day itinerary, you can explore many other incredible Italian destinations!
Venice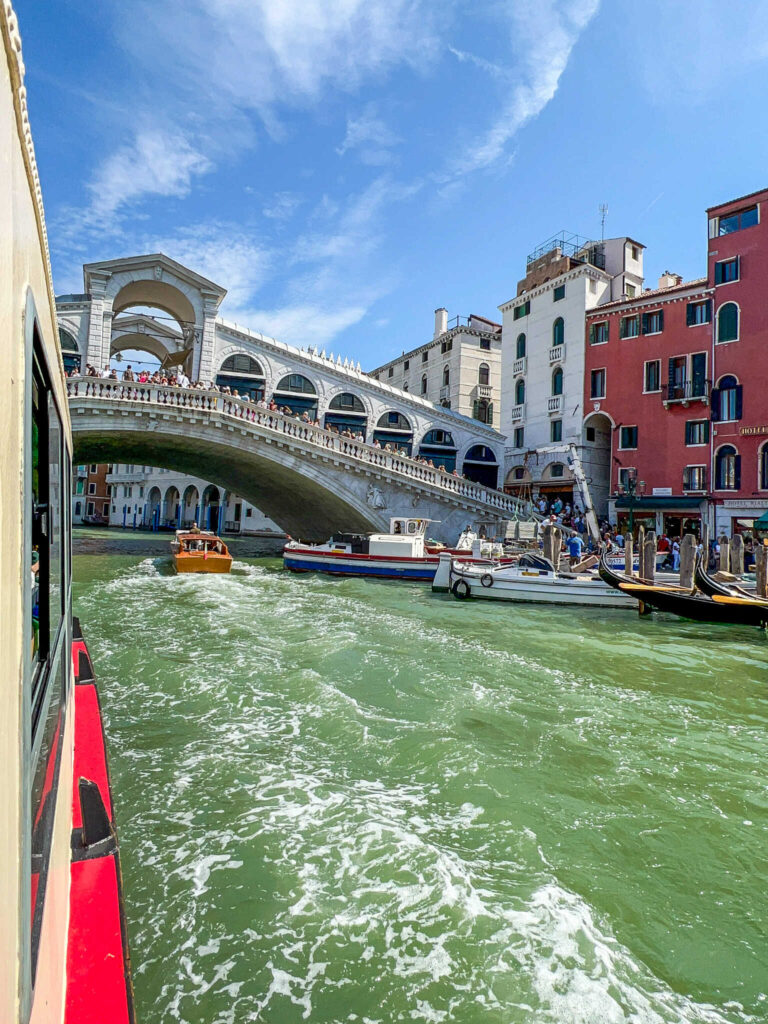 After you finish visiting Milan, consider taking a trip to Venice.
This romantic city is known for its canals, gondolas, and stunning architecture.
Take a boat tour along the Grand Canal and admire the beautiful palaces that line its banks.
Visit St. Mark's Square, explore the Doge's Palace, or ride a gondola through the canals.
I have a complete guide on taking a day trip from Milan to Venice, as well as several other articles all about exploring the best things to do in Venice, if you want to learn more!
Lake Como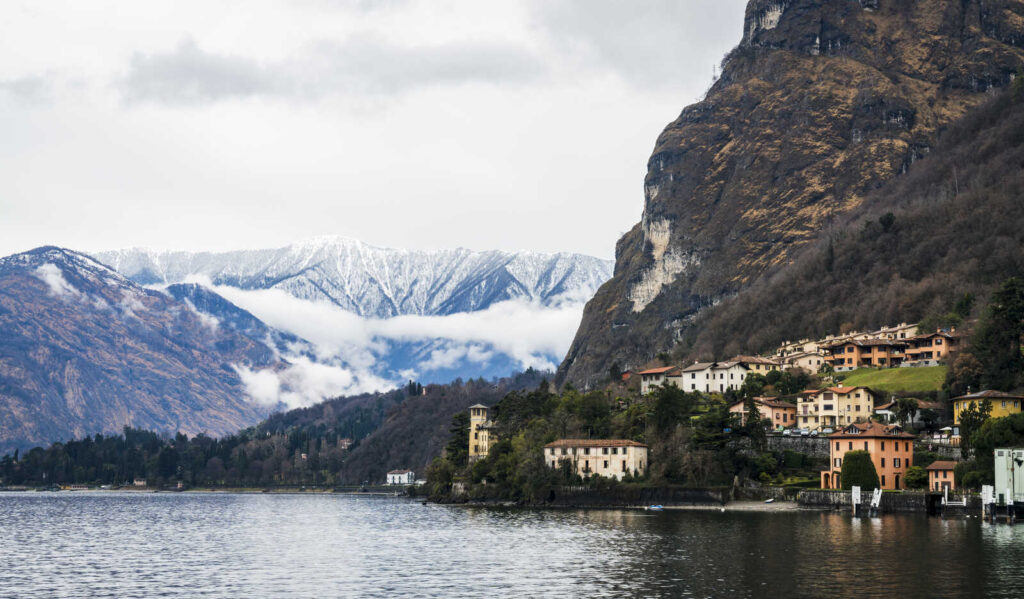 Of all of Italy's beautiful lakes, Lake Como is just a short train ride away from Milan.
This stunning lake is surrounded by breathtaking mountains and lush greenery, making it the perfect place to relax and take in the beauty of nature.
The lake is dotted with picturesque villages where you can explore local culture, sample delicious Italian cuisine, and enjoy some of the best views in Italy–and Switzerland!
Verona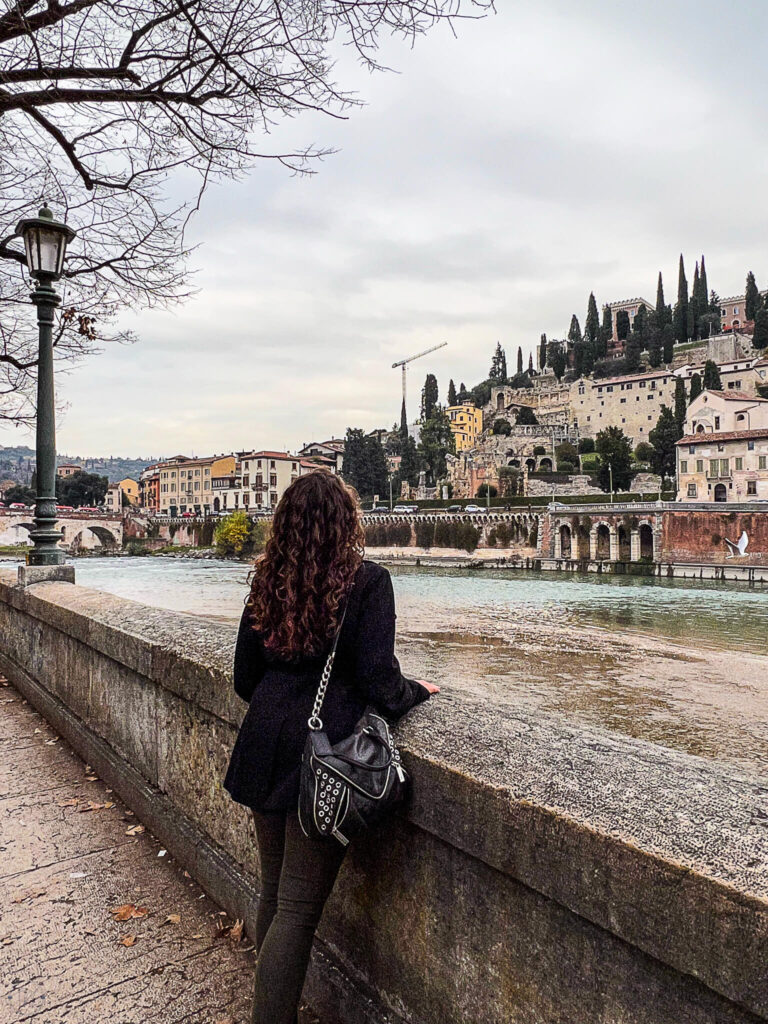 Verona is another must-visit destination after Milan.
Once you pass Lake Garda on the train coming from Milan, you'll find yourself in the romantic city.
It's home to stunning landmarks like Arena di Verona and Juliet's Balcony from Shakespeare's Romeo & Juliet. 
Cinque Terre
Cinque Terre is a stunning stretch of coastline on the northern Italian Riviera that's home to five colorful villages.
This area is known for its breathtaking views and hiking between the towns.
Spend time wandering the charming streets, taking a boat ride along the coast, and sampling some delicious seafood.
Turin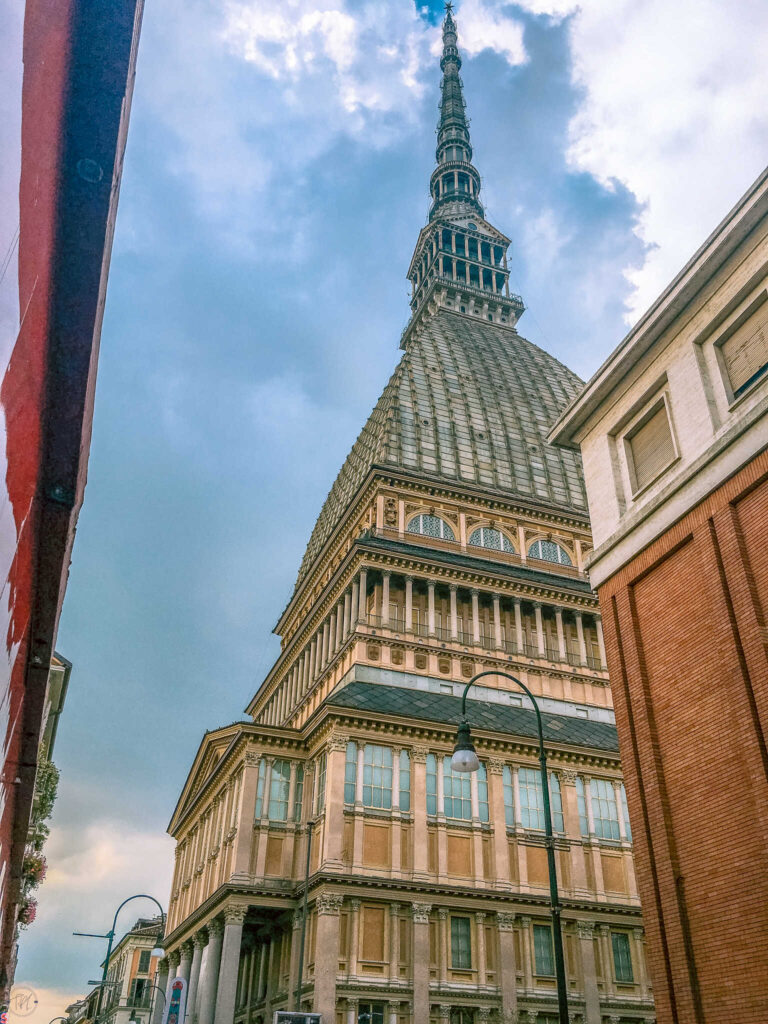 Turin offers a unique blend of culture and history.
This city is home to the Mole Antonelliana, an iconic structure that houses the National Cinema Museum and one of the largest collections of Ancient Egyptian artifacts outside Egypt.
Turin also has many art galleries, churches, and other museums to explore. 
How to Spend 3 Days in Milan: Wrap-Up
Milan is a modern, metropolitan Italian gem that offers its visitors so much value for money.
No matter what time of year you visit or what type of trip you want, Milan has something for everyone!
With this guide, you'll have no problem filling your three days in Milan with exploration and adventure.
From the Duomo to Leonardo da Vinci's The Last Supper, there's much to see and do in this incredible city.
Lyndsay
Read More