This post may contain affiliate links! I will receive a commission, at no extra cost to you, if you purchase something recommended here.
The Best Tours Around the World series highlights one-of-a-kind tour adventures told through the experiences of world travelers.
Do you enjoying small villages, or would you rather spend your time on movie sets? From the top of a mountain to watch the sunrise to cruising on the ocean, we asked travel bloggers to think back to their best tour experiences in the world–here are some of their top tours in Oceania. 
Tetebatu Village Tour
Tour Company: Mu Homestay in Tetebatu
Location: Lombok, Indonesia
Experience told by Nishu Barolia from Tanned Travel Girl
Tetebatu is a small village in the foothills of Mount Rinjani, the second-highest active volcano in Lombok Indonesia. I had added Tetebatu village in Lombok to my itinerary as a stopover before starting for the trek to Mount Rinjani. But Mu, our homestay owner, convinced us to stay a day longer and explore Tetebatu with him. 
He took us to the rice fields to see the first golden light falling on Mount Rinjani and the orange sunrise. He made us meet the farmers of Indonesia. Our breakfast, homegrown banana pancake, and cafe Lupak, Indonesia's known coffee, was made at his place. 
We then went to a secret waterfall called Sarang Walet Waterfall. To reach the Sarang Walet waterfall, we had to walk through rice fields, bamboo forests, a tunnel filled with one foot of water, and human-made bamboo bridges. I had never seen a cave-like structure and vegetation around the waterfall, and it was like being in the Amazon rain forests. I am sure that if I were alone, I would have never made it to this drop-dead beautiful waterfall. 
We had lunch with an Indonesian family, and all the local delicacies were added to the menu. I generally avoid tour guides, but the tour with Mu changed my perception. A well-structured tour and a friendly, experienced guide can really add to the experience and take you to places only known to locals.
Mount Bromo Sunrise Tour
Tour Company: Mount Bromo Sunrise Tour
Location: Malang, Indonesia
Experience told by Bradley Williams from Dream Big, Travel Far
Without a doubt, my favorite tour around the world is the one we took to Mount Bromo. Why? Well, it's easily the most stunning spectacle we have ever seen. We've done quite a few sunrise tours and treks before, with many leaving you feeling exhausted and only mildly impressed. Our Mount Bromo Tour was something else.
Leaving the city of Malang at 1 a.m., it takes close to two hours to drive to Mount Bromo if you want to avoid the true mass of crowds that gather there. Upon arriving, you have to wait a couple of hours until sunrise itself, so be sure to take plenty of warm clothing! There are lots of little huts and shelters here, and we found a small fire selling hot tea. It was lovely.
But you need to get yourself into a great position well ahead of sunrise, when Mount Bromo displays itself in the most incredible glory. It really is hard to describe, as the view looks like it was something crafted from the imagination of an artist; it's almost too perfect. It was a magical moment that I'm so glad I got to experience with my girlfriend. It's a tour I would recommend anyone to do in Indonesia.
On the way back down the mountain, there are a few other great sites to stop at, perhaps the best being a short hike up to Ijen crater. It's a hot walk up, but you get the experience of looking down into an active crater. 
Sydney Opera House Tour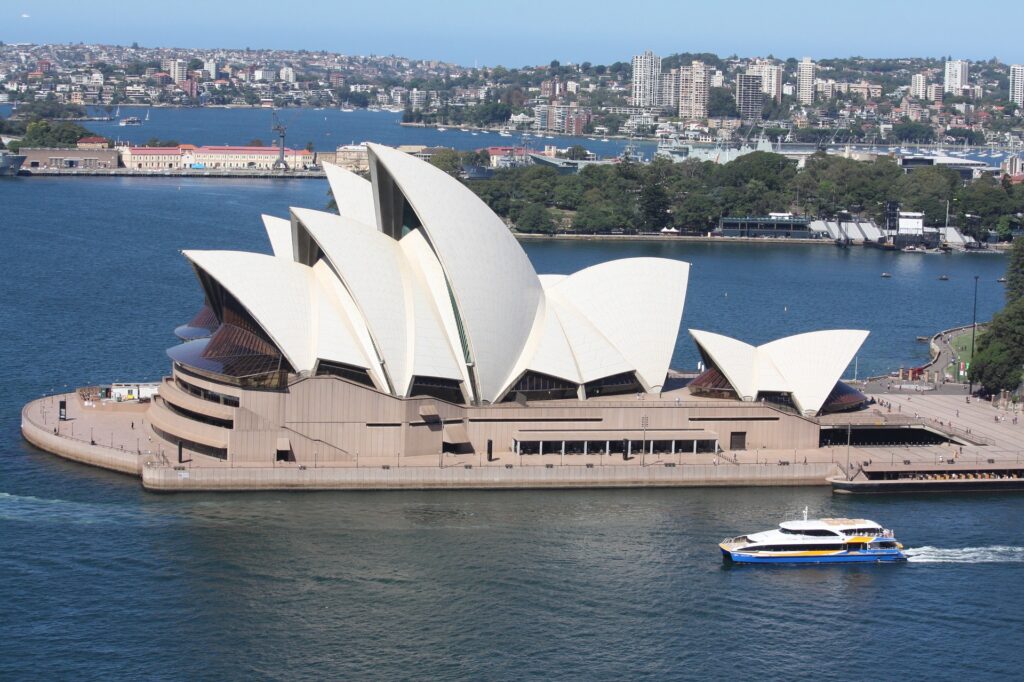 Visiting the Sydney Opera House in Sydney, Australia, was one of my top tour experiences in Oceania. 
We got to see the entire Sydney Opera House, which is actually comprised of many different buildings, with multiple performance spaces throughout the complex. Our guide explained the history behind the historic venue and the architectural engineering that went into its design. We took a one-hour tour led by guides at the Opera House but didn't go backstage. If you're interested in going backstage, you can take their dedicated tour for that.
The tour gave us the chance to see areas of the Opera House that can't be accessed by the public unless they take this tour. Our tour guide was very knowledgeable, and once my group found out that he was a trained, professional performer himself, we convinced him to sing for us! He was really cool.
It was only 42 USD, which was worthwhile for the opportunity to tour this incredible performance space. It's definitely one of the most Instagrammable places in Sydney, and the view doesn't disappoint!
Read the Rest of the Series:
Hobbiton Set Movie Tours
Did you know the Hobbit set for the Lord of the Rings movies and The Hobbit was built into New Zealand's countryside? When you arrive at Hobbiton in New Zealand, you'll remember the site from the many movie productions it played a starring role in. You'll immediately recognize the lush, green hills as the destination for the Shire.
Taking a tour of the site is really interesting. My tour guide talked about how the process of scouting locations for movies works, and how this area was decided on. The scouts loved it, so they sent in the New Zealand army to help build it! 
They take you around and show you each part of the Shire, and where all of the different characters lived in their hobbit holes, and Frodo's house. The guide also explained how exactly this original set was built, using cinematic elements like forced perspective, and artificial trees and plants.
You'll also have the chance to run up and down the same way Bilbo runs at The Hobbit's start. And, see where the cart comes through at the beginning of Lord of the Rings: The Fellowship of the Ring.
After you leave the Shire, you'll be led around to the town part of the Shire, and you can see the Green Dragon, the pub from the films. It's an operating pub, so you can go in and get a meal and drinks there and make purchases from the gift shop.
Going to the Shire set is a really cool experience if you're a movie fan, especially if you love Lord of the Rings or The Hobbit. 
Milford Sound Cruise
Milford Sound is New Zealand's most magical natural attraction. It isn't actually a 'sound,' but a fiord. This means it's a huge natural ocean inlet, flanked by gigantic mountain cliffs and stunning peaks.
Located in Fiordland National Park of South Island, Milford Sound can be approached from both Queenstown and Te Anau, the closet town. Te Anau is almost midway between Queenstown and Milford Sound.
We booked the Go Orange Milford Sound Cruise from Queenstown.
The bus takes almost 5 hours (including stopovers) to reach Milford Sound. The total time of the round trip is as long as 12-13 hours. Both ways, the bus stops at Te Anau. It is hectic but definitely doable.
The gorgeous mountain views, unique landscape, ink-dark waters, massive mystical waterfalls, and lush forests will take your breath away.
The Milford Sound Cruise from Queenstown costs 149 NZD for adults, 89 NZD for children. Children below 4-years-old are free but need a ticket. There might be a slight change in price in peak summer months.
On the way, there are quite a few scenic lookouts, which are mainly located between Te Anau and Milford Sound. Mirror Lakes, Hollyford Valley lookout, the Chasm, Monkey Creek, and Tutoko River Bridge, to name a few, along with Lake Wakatipu's beautiful views near Queenstown.
The cruise is for 2 hours. The boat is spacious with a cozy lounge area, with an open deck for all the nature lovers. Enjoy the stunning landscapes, have a quick glance at the amazing seals, and get close to the magnificent waterfalls. They'll actually take the boat just below the waterfalls for you to get drenched!
Milford Sound tops the rainfall chart in New Zealand. September to December are the wettest months. The weather changes drastically within a few hours. Pack your raincoat, umbrella, rainboot, and windbreaker for sure and enjoy the jaw-dropping beauty of Milford Sound!
Which of these top tours in Oceania do you want to try?
Read More:
Lyndsay