This post may contain affiliate links! I will receive a commission, at no extra cost to you, if you purchase something recommended here.
Whether you live in or visit New York City, one of the best parts about this place is the incredible activities, things to do, and places to visit.
And having new experiences outside of your comfort zone is really the foundation of traveling, right? They're called "travel experiences" for a reason!
New York City is overflowing with absolutely incredible, once-in-a-lifetime opportunities for you to experience when you're here.
Want to go backstage on Broadway? Done.
Love luxury camping experiences in The Great Outdoors of New York City? It sounds like an oxymoron, but it's totally possible.
Go from underground exploring the deepest parts of the city all the way to the top of the highest observation deck in the Western Hemisphere, all without leaving the five boroughs.
If you or someone you love is coming to the "Greatest City in the World" (thanks Hamilton) and you want to give them a trip they truly will never forget, take a look at this list of handpicked experiences to find some amazing New York City experience gifts. Find one that resonates and go on your adventure of a lifetime.
Editor's Choices: The Best Experiences in New York City
Incredible Experiences New York City
1. Go glamping on Governor's Island
One of the most memorable New York City experience gifts I've ever been given was a night glamping on Governor's Island.
Found just off the shore of Lower Manhattan, Governor's Island is a 172-acre isle that was utilized for US military activities until the 1990s.
Although the public park is open to the public year-round, it has never been a place where you could stay overnight–until now.
Collective Retreats has introduced a luxury camping experience where sleep in a luxury tent with beautiful views of Lower Manhattan, Jersey City, and the Statue of Liberty right outside your front "door."
Because you're far enough away from the city's dazzling lights, you might even see some stars.
Collective Retreats also operates the Fire & Water restaurant at Three Peaks Lodge. It provides brunch on weekends and lunch and supper every day and has a one-of-a-kind, chef-designed cuisine.
Ready to reserve your stay at Collective Retreats Governor's Island? (Booking | Hotels)
Insider Tip: If you don't want to stay overnight, you can make a dinner reservation at Fire & Water Restaurant instead! They have a private boat that will pick you up in Manhattan and transport you back and forth to the retreat.
2. Take a trip to the top of one of the most magnificent observatories in New York City
Name for me another perfect experience gift in New York City as iconic as visiting an observatory in NYC!
The Empire State Building, One World Trade Center, and Top of the Rock are titans of the time, while newcomers like The Edge and SUMMIT One are incredible as well.
For my partner's birthday, I gave him the tickets to go to the top of The Edge. The Hudson Yards observation deck is the highest in the Western Hemisphere, and it's open-air.
That's right–you're standing outside on the city's highest observation deck.
I swear it's not as dangerous as it sounds!
There are huge glass panes–and windows so you can see to the street below–that view out and down, but if you'd rather have a high view from inside or inside/outside, check out my complete guide to the greatest New York City observation decks.
3. City Climb at The Edge
Standing outside on the tallest observation deck in New York City not thrilling enough for you? Take it a step higher and try City Climb.
Calling itself the "Ultimate Skyscraping Experience," you'll be harnessed in as you hike up the world's ​​highest open-air building climb before reaching the top of 30 Hudson Yards and leaning out from the outdoor platform at the top.
Don't worry; if this personally freaks you out, you can watch your favorite adrenaline junkie do the climb from the safety of The Edge's observation deck!
4. Head out on a full-day walking tour
It's incredible how much ground you can cover on a tour! To discover as much as you possibly in New York City, one of the best experiential gifts you can give is a full-day walking tour of New York City.
As a New York City tour guide, I can't stress enough how crucial it is to take a guided tour. It's an opportunity to get advice from a local and learn about the hidden history of a city.
This 6-hour walking tour covers almost all of Manhattan, starting in Times Square and covering Fifth Avenue, the New York Public Library, Grand Central Station, Lower Manhattan, and ending at the 9/11 Memorial.
And remember – tip your tour guides!
Pro Tip: If you're visiting New York City during the autumn season, take one of the fall foliage tours from New York City to see how the leaves change in the Northeast. Several tours will take you up the Hudson River to experience the season's beauty; you can check out my guide to the best ones and other fall activities in NYC.

Or if you're already planning out your New York vacation for the next holiday season, take a look at my top list of Christmas tours in New York City for even more recommendations.
5. Soar high above the city on a helicopter tour
Ready for an extravagant thrill? A helicopter flight is the ultimate New York City bucket list activity.
There are several different helicopter rides you can take to fly high above the New York City skyline:
6. Cruise around the five boroughs on the water
New York City has a ton of different food tours, but nothing creates more unforgettable gift experiences than a cruise.
Delicious food, great music, and stunning views await you on the water around the five boroughs of New York City.
If you're looking for a truly luxurious morning, take a skyline and champagne brunch cruise.
There's something decidedly decadent about having brunch at an outdoor space, enjoying the warming sun rays.
You'll see priceless views of the city skyline while sipping on bubbly booze and treating yourself to the midmorning meal essential to an authentic bougie New York City experience.
I mean, really, what's better than brunch?!
Or, enjoy a romantic sunset sail in the evening.
After all, Manhattan and Staten Island are islands, and Brooklyn and Queens are technically part of the landmass known as Long Island (but yes, there are huge differences between the boroughs and the island they reside on.)
You'll see the city lights on a dinner cruise with lovely food choices and narration from a world-class guide as you sail around the water.
7. Indulge your sweet tooth on a desserts walking tour
Who has a sweet tooth? If you're visiting New York City for someone's birthday, take an opportunity to book them a delicious experience they'll never forget!
There are a few different kinds of dessert walking tours through other NYC neighborhoods where they congregate:
Read More
8. Head back to class at the Pizza School NYC
Have you ever wanted to learn how to make excellent New York-style pizza?
Book a pizza-making session at the Pizza School NYC!
You'll learn more about the process of pizza, and of course, enjoy the spoils of your work at one of their workshops.
These kinds of casual classes make great gifts for couples or date nights out!
9. Go underground on a subway tour
Whether you're just learning how to navigate the NYC subway or you're a seasoned pro, the subway has been the primary transit system for New Yorkers for over a century.
It's filled with historic moments, decommissioned stations, and secret stories that you'd only hear from living here for years–or on a guided tour.
If you love the transit systems, you don't want to miss this underground tour of the subway!
Major National Treasure vibes. Now, Nicholas Cage found the buried treasure under Trinity Church in Lower Manhattan, which you absolutely can and should visit.
But you won't be going underground under that church—instead, head inside the Basilica of St. Patrick's Old Cathedral on a Catacombs by Candlelight tour.
You'll go underground to explore the off-limits areas where famous New Yorkers were once laid to rest.
11. Learn the method behind the magic on a Backstage Broadway tour
As an actor in NYC, one of my favorite rainy day activities in New York City is attending a Broadway show!
But did you know you can go behind the scenes to learn about what it really takes to create a Broadway production?
At the New Amsterdam Theater, one of the most historic Broadway theaters right on the corner of 7th Ave and West 42nd Street, pull back the curtain on how Disney gets a show Broadway-ready.
Insider Tip: If you want insider scoop on seeing a Broadway production, I've written a complete guide to buying Broadway tickets and tips for attending a Broadway show.
This 2-hour tour will show you different backstage areas of the New Amsterdam Theater, where the Disney magic gets made.
You'll explore the space with a historian who will teach you the fascinating history of the theater and New York City's tradition of theatre.
Your favorite theatre lover will never forget this immersive experience!
You can check for availability and book the tour here.
If Disney isn't your go-to, you can also check out this backstage tour of Radio City Music Hall.
12. Attend a taping of your favorite talk show
SNL and Oliver and Noah (and Fallon and Colbert and Myers)–on my!
Many of your favorite late-night shows film here on studio sound stages throughout New York City, and the ones that film in front of a live studio audience in New York City have free ticketing rules in place to fill their venues.
However, tickets are often issued and snapped up months in advance.
That's right–this is a totally free NYC activity; the studios don't charge for live audience tickets.
If you plan your trip to New York City months in advance, you should be able to get tickets to your favorite late-night taping using websites like 1iota or TVTaping.
Or, if you're willing to wake up and stand outdoors from early morning till late afternoon, you can attempt to get a stand-by ticket day-of. This is such a cool experience gift in NYC!
13. Take a tour of the Federal Reserve Bank of New York
Money–something we all have and are always in need of more.
Here at the Federal Reserve Bank of New York, they hold gold that belongs to various world governments, banks, and other organizations.
They have a gold vault, where yes, there are literally tons of solid gold bars.
If you love American history, or money, or the history of money, don't miss an opportunity to take their Museum & Gold Vault Tour.
The 1-hour tour runs Monday through Friday at 1 p.m. and 2 p.m. for the general public.
The tour is free to take, but you do need to reserve your place online in advance.
Read More
14. Hone your secret skills at SPYSCAPE
If you're visiting New York City with an escape room enthusiast or someone who lives for spy moves, bring them to SPYSCAPE.
This immersive museum, designed by psychologists and a former head of Training at British Intelligence, offers a unique experience in New York not found anywhere else.
You'll hear stories about real-life spies, learn about gadgets and devices used in the field, and have the chance to put your skills to the test in their interactive challenges.
15. Climb to the Statue of Liberty Crown
The Statue of Liberty Enlightening the World, located on Liberty Island in New York Harbor near Ellis Island, is a sculpture by French artist Frederic Auguste Bartholdi.
It was designed and cast in Paris before being delivered to the United States as a gift from France in 1885.
And one of the most incredible views of New York City comes from the Statue of Liberty's crown.
It isn't easy to access. Not only do you have 168 stairs to climb if you use the elevator (if you choose to climb the entire way, it's 366 steps from her to her crown), but tickets to the crown generally sell out months in advance.
If you know you're going to New York City and already have plans to see the Statue of Liberty and Ellis Island, take a once-in-a-lifetime chance and try to snag tickets for the view of Lower Manhattan from the crown. You can buy tickets on the CityExperiences website.
Take the CityExperiences Statue City Cruises ferry (formerly Statue Cruises) to Liberty and Ellis Island from Castle Clinton in Battery Park.
16. Learn more about Ellis Island on a Hard Hat Tour
Ellis Island served as the primary entrance point for more than 12 million immigrants coming into the United States from 1829 to 1954.
While many new immigrants were promptly screened and sent on their way, others were found medically unsuitable and incarcerated.
Those who came with infectious ailments such as TB or diphtheria were sent to Ellis Island Hospital. When Ellis Island closed, so did the hospital.
And although the Ellis Island Museum of Immigration opened to the public in 1976, the hospital complex remained fully closed.
Decades later, a nonprofit named Save Ellis Island began raising funds with the express purpose of preserving the hospital complex's 29 structures.
For one of the most remarkable tours in the country, the Ellis Island Hard Hat Tour is one component of these fundraising activities.
When tours began in 2014, it was the first time the public had been allowed to view the abandoned hospital in more than six decades.
Guides accompany tourists on a 90-minute tour of the hospital, including the infectious and contagious illnesses ward, the autopsy room, the kitchen, the laundry facility, and staff quarters.
Windows are shattered throughout the complex, and walls and ceilings are disintegrating. Sturdy shoes are required, and hard helmets are distributed at the trip's start.
Adult tickets for the Ellis Island Hard Hat Tour cost $59.25 and include the boat trip to Ellis Island and access to the immigration museum.
You can buy tickets directly through the Ellis Island website or through CityExperiences.
17. Experience sports on the Hudson River at Chelsea Piers
Did you know–you can golf in New York City?! Chelsea Piers is a massive athletic facility on Manhattan's Pier 62 that offers more than 25 recreational sports for anyone to drop in on.
Drop-in activities such as rock climbing, open gym, open skating, the driving range, and other sports are available at their facilities, which overlook the Hudson River and Jersey City across the water.
Their website has all of the most up-to-date information and hours.
18. Sit back for the time of your life on a luxury limo tour
If you love luxury, you're in for a treat.
This customizable 3- or 5-hour limousine tour takes you all around Midtown and Lower Manhattan to see some of the city's most iconic landmarks in style.
Your driver and guide will narrate stories about the city as you go, and the tour even includes free pick-up and drop-off at your hotel–hopefully, one of these quiet hotels in New York City.
The wonderful experience is great for rainy days or anyone who wants a break from all the walking required in the city.
You can check out my list of NYC limo tours to learn more.
Insider Tip: If you're visiting NYC in December, you can enjoy a limousine ride to view the holiday lights!
19. Grab a VIP ticket to one of the city's music festivals
Our inaugural NYC fall festival is one of the final fantastic summer activities in New York City!
Pinknic takes over Governor's Island with its distinctive pink and white for two days at the beginning of every September.
This music event features world-renowned live bands and DJs and luxurious incentives for concertgoers.
After a brief boat voyage to the island, you'll be handed Pinknic packs with blankets and, of course, a reusable wine glass to refill on the event's trademark drink–rosé.
Dance the day away, eat meals from numerous New York City restaurant pop-ups, and end your night in New York City with a fireworks show–all without leaving the island.
On their website, you can purchase regular admission and or splurge for the VIP experience. You can even attend a true music festival all without leaving the city!
20. See a baseball game or take a tour of the stadium
Heading to a major league baseball game is a surreal gift experience in NYC.
The Yankees, whose stadium is in The Bronx, and the Mets, whose stadium is in Queens, are the two Major League Baseball clubs in New York City. Both stadiums are accessible on the subway.
To get to Yankee Stadium, take the B/D or 4 subway lines to 161st-Yankee Stadium, or get off on certain Metro-North trains at the Yankee Stadium station.
To get to Citi Field to see the Mets play, take the 7 metro line, the Q48 bus, or the LaGuardia AirTrain to Mets-Willets Point.
If your trip is outside of baseball season, you might be able to score a tour of your favorite team's stadium.
Both Yankee Stadium and Citi Field offer tours of their facilities, where you'll have the chance to walk around with a team historian to see artifacts and learn more about the game.
Read More
21. Relax during a spa treatment at Aire Ancient Baths
New York City has it all–including Ancient Roman baths.
At the Aire Ancient Baths in TriBeCa, you'll be immersed in a luxury experience from the moment you step inside.
Built inside an 1883 textile factory, spend some time soaking in the thermal baths before and after a tranquil massage.
I highly recommend arranging a couples massage so that both of you can rest for a few minutes and work off the muscle tension caused by hiking across the Big Apple.
It's really one of the indulgent experiences for couples and makes for a great winter date in NYC since you're inside soaking in the heated water.
This New York City experience is an expensive gift, but it's worth it.
22. Ride one of New York City's floating food shacks
You haven't lived until you've spent the day floating around on a lobster shack while watching the New York City skyline pass overhead.
The North River Lobster Company and the specialized lobster rolls they sell are a local favorite for an afternoon up and down the Hudson River.
Boarding tickets are a mere $10, and the boat departs multiple times every day from Pier 81 in Manhattan. A season pass for $25 allows you to access the ship as many times as you like during the current season.
Boarding is first-come, first-served, and once onboard, you can spend as long as you like until the final call, purchasing anything from the food and drinks list.
If seafood isn't for you, check out La Barca Cantina, their partner company. It's the first and only floating Mexican restaurant in New York City, also operating from Pier 81.
23. Dare to try a thrill ride on the Hudson River
The Beast is a brand-new jet-powered thrill ride on New York City's Hudson River.
The high-powered, 70-foot-long speed boat, operated by Circle Line, propels you through the water at 45 miles per hour, with violent twists and turns throughout the route.
The ride lasts roughly 30 minutes and concludes in spectacular up-close views of the Statue of Liberty.
From June through September, you can see The Beast for yourself on Tuesdays through Saturdays from 10 a.m. to 6 p.m., departing from Pier 83.
24. Take an EmptyMet Tour at the Metropolitan Museum of Art
One of my favorite activities to do by myself in New York City is visiting a museum; it's a great way to stay warm in the winter in New York City's snow or out of the rain while also learning about history and different cultures.
But, how often do you have one of the world's most important museums to yourself, where you can explore uninterrupted and ask a guide any question you can think of about the art and history of the artifacts around you?
During an EmptyMET tour, you'll have exclusive VIP access to the Metropolitan Museum of Art.
You'll head inside before the museum opens for general admission for the day and have an opportunity to walk through the exhibits with a museum guide.
Talk about an authentic once-in-a-lifetime NYC gifting experience!
Pro Tip: Major New York City museums provide free admission hours weekly or monthly throughout the year, allowing tourists to enjoy many spectacular exhibitions for free. If you wish to visit a couple of New York City's museums, make sure to check their calendar and take advantage of the free admission hours.
25. Ride the Wonder Wheel at Coney Island
Synonymous with hot dogs, beach days, and blowing your budget on a day at the amusement park, Coney Island has been included in novels, movies, and music for its kitschy atmosphere.
Coney Island has been an iconic neighborhood in New York City since the late 1800s, with its boardwalk, amusement rides, a wide range of carnival games, and eccentric shops.
It was formerly the largest amusement park in the United States, and it still has some well-known attractions.
Along with the modern attractions, the 1920 steel Ferris wheel, the Wonder Wheel, the B&B Carousell, and the Coney Island Cyclone, one of the oldest wooden roller coasters still functioning in the United States, are still standing and are a must-do NYC experience.
26. Enjoy fine dining in Central Park
Although picnicking in Central Park is one of my favorite spring activities in New York City, this is a moment for a little more splendor.
Central Park has two magnificent restaurants within its bounds–Tavern on the Green, and the Loeb Boathouse.
Found on the outskirts of the park's Sheep's Meadow, Tavern on the Green is a New York City fine dining experience institution.
The building itself dates back to 1880 when it used to house more than 700 Southdown sheep that grazed in the Meadow.
In 1934, famed NYC architect Robert Moses turned the humble barn into the gorgeous restaurant it is today.
With its outdoor dining, views of the park, and dance floor, the restaurant has been featured in more than 20 favorite New York City feature films.
On the other side of the park, the Loeb Boathouse offers its own excellent experience.
Back in 1872, when it was first becoming popular to go boating on The Lake in Central Park, landscape architect Calvert Vaux created a Victorian-inspired to house these rowboats.
Although the original structure was later replaced in the 1950s, investment banker and philanthropist Carl M. Loeb and his wife Adeline donated to restore the building into a restaurant, and the building reopened in 1954.
Now the Boathouse has a restaurant, outdoor bar, and express cafe for you to enjoy lakeside. They even still rent out boats to Central Park goers, so that everyone can enjoy the simple pleasures of rowing on The Lake.
27. An all-access pass to the 9/11 Memorial & Museum and One World Observatory
The 9/11 Memorial & Museum is one of the most moving sites to visit in New York City.
Following the September 11th, 2001 terrorist attacks, the area known as Ground Zero was turned into the 9/11 Memorial & Museum. It's now a space for thought and reflection.
The Reflecting Pools are located where the original Twin Towers once stood, and visitors are welcome to stroll around and observe the names of those who perished on 9/11 and in the 1993 World Trade Center bombing. You may also see the Survivor Tree and the Memorial Glade.
Once you've finished exploring the grounds, use your 9/11 Museum tickets and head inside to learn more details about the events leading up to the fateful day, as well as a complete timeline of events following. You'll see artifacts from the original Twin Tower, as well as other first-person accounts.
Before you leave the complex, see the whole area from above at One World Observatory, the observation deck at the top of One World Trade Center.
I highly recommend purchasing this New York City: 9/11 Tour, Memorial, Museum & Observatory all-access NYC experience.
It includes a guided tour of the 9/11 Memorial with a guide who has a personal connection to September 11th, skip-the-line entry into the museum, and tickets to visit the top of One World Trade Center, One World Observatory.
As a licensed New York City tour guide, I spent many days leading guests throughout the whole complex on this tour, and it's an incredible way for you to learn more about 9/11.
If you're planning to visit on your own, I have a complete guide on tips for visiting the 9/11 Memorial & Museum.
28. Walk across the Brooklyn Bridge
I mean, is there a more famous experience than walking across the most recognizable bridge in New York City?!
Walking the Brooklyn Bridge takes between 30 minutes and an hour (depending on your speed), making it an excellent afternoon exercise, especially when you only have a couple of hours.
Because the entrance on Manhattan is only a few blocks away from the 9/11 Memorial, it's easy to combine the two activities on your New York City itinerary.
Once in Brooklyn, stop for lunch at Grimaldi's, one of New York's most famous pizza joints, then an ice cream cone from Ample Hills Creamery Fireboat House location or the Brooklyn Ice Cream Factory before spending the afternoon at Brooklyn Bridge Park.
Fun Fact: P.T. Barnum walked 21 of his circus's elephants, as well as 7 camels and 10 dromedaries, across the Brooklyn Bridge a year after it opened in 1883 to demonstrate to people that it was safe and secure.
Read More
29. Ride high above the city on the tram to Roosevelt Island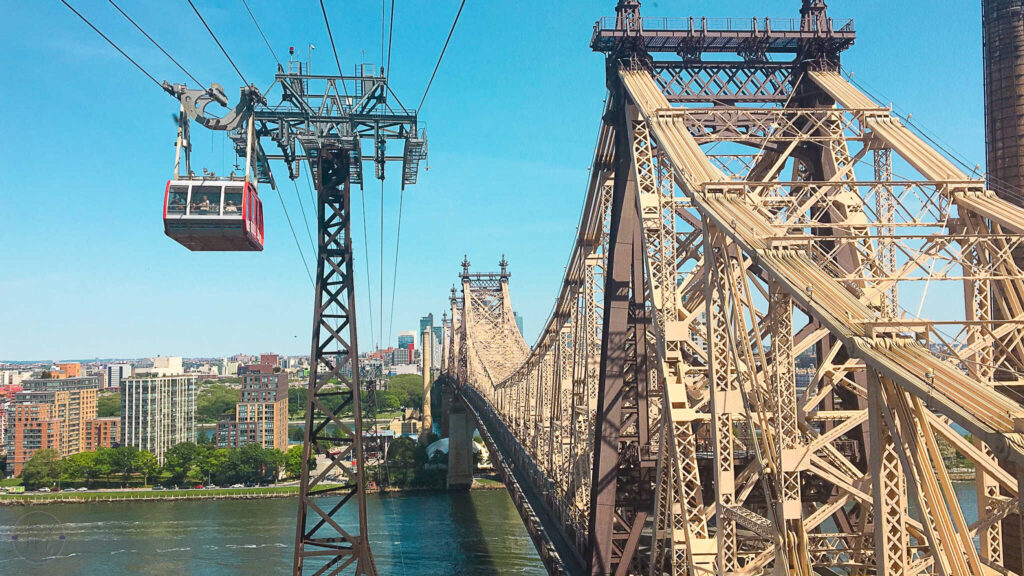 This is really one of the coolest New York City experiences that not many people have the pleasure of doing.
With a MetroCard scan, you may ride the Roosevelt Island Tramway and fly over the East River to Roosevelt Island.
It was North America's first operational commuter aerial tramway, and it lands you right in the heart of the island (next to the Roosevelt Island F train stop, if you want to take the subway).
Feel free to explore the island once you arrive. At the north end of the island, you'll discover the historic apartment structure Octagon Tower and Lighthouse Park, with its 1872 stone lighthouse towering tall close to the ocean.
On the south side, wander through Cornell University's Jacobs Technion-Cornell Institute and discover the remnants of the old Smallpox Memorial Hospital, erected in 1864, in Four Freedoms Park.
You'll also find incredible panoramic views of Gantry Plaza State Park in Queens with its famous Pepsi-Cola sign to the west and the East side of Manhattan–with the Upper East Side and the United Nations campus–to the east.
30. Learn about New York City's role in the Revolutionary War at Fraunces Tavern
Maybe you've heard of this guy–General George Washington. Future first President of the United States? Well, this fine gentleman used Fraunces Tavern extensively throughout the Revolutionary War.
The Continental Army held meetings and celebrations here, and the newly established Continental Congress leased one of the Tavern's rooms as office space for the Department of Foreign Affairs.
Step inside this still-operational restaurant and museum to find typical pub food and a diverse beer selection. You can also explore the museum upstairs to learn more about Lower Manhattan's history, George Washington, and how the region played a role in the Revolutionary War.
Fun Fact: If you're interested in learning more about how Fraunces Tavern contributed to the United States' colonial history, you can read an extensive retelling of its history on their website.
31. Watch a concert at Madison Square Garden
Never thought you'd see a stadium concert in New York City? Think again! Just because the NYC football teams don't play inside the five boroughs doesn't mean we can't host incredible concerts in an iconic location.
Found right by Penn Station on 34th Street and 7th Avenue, Madison Square Garden is known as "The World's Most Famous Arena."
The 20,789-seat arena transforms into a concert venue to host some of the biggest names in entertainment.
Long Island native Billy Joel has a long-standing residency at the Garden, where he's been performing one show a month there for years, and it's always sold out.
I had the insane opportunity to see Paul McCartney at the Garden a few years ago, and if that's not a dream-come-true experience in New York City, I seriously don't know what is. He was an amazing and generous live performer and the space was jam-packed with diehard fans.
If sports are more your thing, MSG is also the home of the NBA's New York Knicks and the NHL's New York Rangers.
Need a place to stay near the arena? Check out my review of the Arlo NoMad, just a 10-minute walk from Madison Square Garden.
32. Soar high above New York City on the virtual Rise NY ride
If you've ruled out a helicopter ride over NYC because you're afraid of physical heights–what about virtual? At RiseNY, you'll soar over the city in a massive virtual reality experience.
First, you'll walk through the museum to learn more about the city's history, before strapping into the 46-seat flight simulation ride. You'll be suspended at 30 feet, virtually whirling by the city's iconic landmarks in the "40-foot projection dome featuring 8K aerial footage."
With seats that move and turn as the scenery changes and wind blowing in your hair as you fly, it'll feel like you're really outside on one of these larger-than-life NYC experiences.
You can purchase tickets on their website; or, if you're planning to purchase a New York City sightseeing pass, Rise NY is only included in the Explorer Pass and the Sightseeing Pass.
To learn more about each of these passes and decide which one is right for you on your trip, take a look at my complete comparison guide.
Insider Tip: If you've ever been to the Disney parks in Florida, this ride is similar to Soarin' in Disney World's Epcot!
33. Race through the streets on a city-wide scavenger hunt with Accomplice New York
Part walking tour, part interactive performance, Accomplice New York is a city-wide scavenger hunt, where you're actually participating in the story as it unfolds.
Over the couse of three hours, you'll be guided by actors as you walk through neighborhoods in New York City, trying to uncover the mission from other performers who blend in with the residents in the areas to you're exploring.
You'll hunt for clues, attempt to solve the mystery, and then you and the other players all gather at an assigned bar for the big reveal.
Every game includes two drinks, and are available to book on their website.
34. Try skydiving inside with iFly Indoor Skydiving
Although this is one of those NYC experiences just outside the five boroughs, it deserves to make the list. iFly Indoor Skydiving is your chance to do simulate skydiving.
If you're too afraid to jump out of a plane (me!) then this opportunity is for you.
You'll receive all the gear you'll need when you get there as a complimentary rental, and professional flight instructors will coach you before you enter the wind tunnel.
Learn about different positions you need to hold your body before you jump in to control how you move once you're in the wind.
Then, hop inside the pressurized staging area with winds up to 185 mph for your "flight!" You can be with up to twelve other individuals for your 2-minute experience.
iFly Indoor Skydiving is accessible by taking the MetroNorth train to the Tuckahoe station and then renting a taxi or ridesharing service to drive you 10 minutes to the facility.
You can book your iFly Indoor Skydiving experience here.
35. Immerse yourself in theatre at Sleep No More
A "found space" in the world of theatre is a venue that was not originally utilized for theatrical performance but has now been repurposed into a theater.
In the case of Sleep No More, you'll be moving through the McKittrick Hotel, observing different vignettes from William Shakespeare's Macbeth.
In this deconstructed version of the famous play, as you wander through the "hotel," the performances take place all around you.
You'll find yourself right next to the actors as the play develops. It truly feels like you've become a character within the drama.
Attending a play like this is a once-in-a-lifetime opportunity. You have the potential to engage with the artists and the plot in a whole different way than you would in a more traditional theater.
If you're looking for an amazing experience in NYC, this is one to beat!
I mean, who wouldn't want to let loose in a hot tub with the New York City skyline as your background?
With this NYC party boat, you can rent out your own private hot tub boat and float down the Hudson River in luxury.
From the moment you arrive at the dock, you'll start your adventure by jumping aboard for your quarter-day trip down the Hudson River.
You can customize your trip by selecting optional add-ons, like included gratuity, and even invite up to 12 friends for this incredible opportunity to party while taking in the sights of the city.
The fee includes one of their four experienced captains (at $75 per hour) and fuel costs (at $125 per hour), with a boarding fee paid directly to the renter at boarding.
And since it has 24/7 booking availability, you can totally find the perfect time to head out!
37. Learn about immigrants from the 19th and 20th centuries on a tour of the Tenement Museum
This is truly one of the most incredible experiences in NYC I've ever had.
Spread out through the Lower East Side; the Tenement Museum offers a range of tours and programming to showcase what life was like for different immigrant populations throughout the early years of New York City.
The museum has modeled several real tenement apartments all throughout the Lower East Side, and knowledgeable guides lead tours to show you what life was like for the people who actually lived here.
The kind of history preserved here is outstanding, and with 9 different tours, you have an unparalleled opportunity to walk into history and learn about what often gets overlooked by textbooks.
Through primary sources and research, you can discover incredible stories as you explore hallways, kitchens, and parlors for a glimpse into immigrants' daily lives as they adapted to new environments.
With different tours operating each day, you can take a look at the calendar of events on their website to schedule.
Insider Tip: If you're moving to New York City or interested in taking several of the Tenement Museum tours, become a museum member! Membership includes free admission to all of their in-person and virtual tours, as well as members-only events and discounts in their gift shop.
Best Experiences in NYC: Wrap-up
No matter what your budget, everyone deserves to enjoy the incredible excitement and fun of visiting New York City at least once.
With one-of-a-kind activities like dining at five-star restaurants, watching world-class entertainment, and the best in fashion and shopping, New York City is a place that can accommodate every taste and style.
Your New York experiences are sure to be adventures like none other.
What are your favorite experiences in New York City?
Lyndsay