This post may contain affiliate links! I will receive a commission, at no extra cost to you, if you purchase something recommended here.
Venice is one of the most popular tourist destinations in the world.
Known for its romantic gondola rides and stunning architecture, the City of Canals is a city that attracts millions of visitors every year.
However, something people often wonder about before planning their trip to Venice is–does Venice smell in the summer?
Many rumors and myths surround Venice's smells, especially during the summer months.
Some people claim that the canals in Venice emit a foul odor that can ruin your vacation.
Others say the smell is not bad and is just a minor inconvenience.
So, what's the truth–does Venice smell?
Does Venice smell bad?
No, Venice does not smell bad. Venice does not have a particularly bad smell in the summertime, and most visitors won't even notice it.
The smells of Venice are better than some people make them out to be.
While an unpleasant odor can come from the canals, it's usually not very strong.
It dissipates quickly when you move away from the canal water.
And many parts of Venice are quite fragrant, thanks to the abundance of flowers and plants growing throughout the city's parks.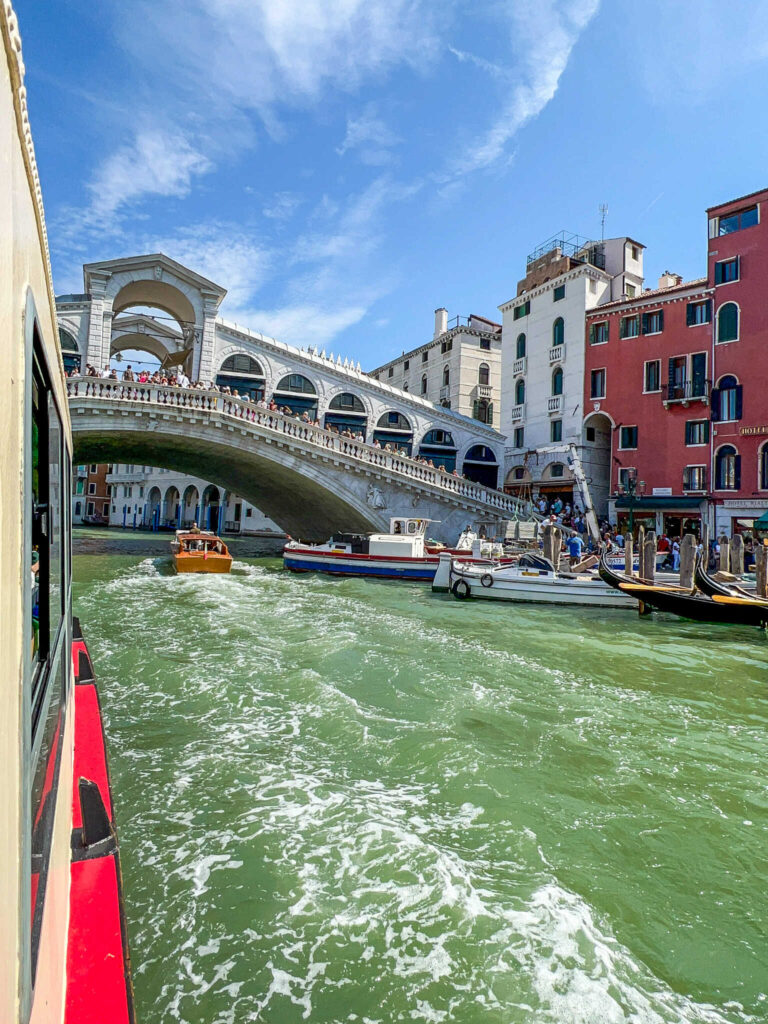 Does Venice smell in summer?
Venice does not smell particularly bad in the summer or any time of year.
While there may be occasional bad smells due to garbage rotting in the summer heat, the canals are tidal salt water, meaning there is not more of a smell in the summer than at any other time of year.
Most people who visit Venice in the summer do not notice any unpleasant smells, and the city remains a beautiful and romantic destination.
Climate in Venice
Venice is a beautiful city in northeastern Italy, known for its canals, architecture, and art.
The city has a humid subtropical climate, meaning summers are hot and humid, while winters are cold and damp.
During the summer months, Venice can get very hot, with temperatures reaching up to 95 F (35 C) or above.
The high humidity can make it feel even hotter, which can be uncomfortable for some visitors.
And the city can get crowded during peak tourist season, which is during the summer months.
Hotels charge a premium for rooms, and canals are packed with tourist-filled gondolas day and night.
Despite the heat and crowds, many people still choose to visit Venice during the summer months.
The city has a unique charm that is hard to resist, and there are plenty of indoor attractions to escape the heat, such as museums and churches.
Causes of Smell in Venice
While Venice has a reputation for being a city with a distinct smell, it is not necessarily bad.
The city's canals are filled with tidal saltwater, which gives off a seaside smell that many find pleasant.
However, there are some smells that visitors may encounter in Venice during the summer months.
Algae
One of the most common scents in Venice is the smell of algae, which can build up in the canals during periods of hot weather and little rain.
Algae smell is like a musty odor that some find unpleasant.
Garbage
Another smell that visitors may encounter is the smell of garbage.
With so many tourists visiting Venice each year, the city's waste management system can become overwhelmed, leading to the occasional whiff of trash in certain areas.
However, Venice has taken steps in recent years to improve its waste management system and reduce the amount of garbage on its streets.
Sewage System
Venice's sewage system is one of the leading causes of the smell in the city.
The system needs to be updated and can no longer handle the volume of waste produced by the city's residents and tourists.
The high tide also affects the sewage system, which causes the canals to overflow, leading to sewage water entering the streets and buildings.
Tides
Venice's tides are another factor contributing to the city's smell.
During high tide in the cold winter, the levels of water in the canals overflow onto the city's streets, known as acqua alta.
Venetian Canals
The canals in Venice are another source of the smell in the roadless city.
Unless it has boat traffic, water in the canals is stagnant.
The canals are also affected by pollution from boats, which release fuel and oil into the water.
Drained for Repairs
When a canal needs to be cleaned or repaired, a section gets drained to make it easier to access the affected area.
However, when the water levels drop in this small part of the ancient city, it can leave behind the aroma of salt water coupled with a strong sewage smell.
Don't worry, though; as you pass by the area, the smell will quickly fade. Or, you might not notice the smell at all!
Fun Fact: Although you can't swim in Venice canals, you can visit any of the nearby beaches in Venice to enjoy the coastline during the summer months!
Effects of Smell on Tourists
While Venice may have a unique smell, it is not necessarily a bad one.
In fact, many tourists find the salty seaside aroma charming and part of the city's character.
However, the smell can be overwhelming for some visitors and detract from their overall experience.
It is important to remember that the smell in Venice is not constant, and it can vary depending on the time of day, the weather, and the location.
The tides flush out the lagoon twice a day, which helps to keep the smell under control.
For tourists who are particularly sensitive to smells, it may be helpful to plan their itinerary to mitigate their exposure, like the time of year they want to visit.
While the summer months may be the most popular time to visit, they are also the hottest and most humid.
This can exacerbate any smells that may be present. Spring and fall may be more comfortable options for those concerned about the smell.
Preventing Unpleasant Smells in Venice
Waste Management
Venice is a city built on water, and managing waste is challenging. The city has implemented several measures to prevent unpleasant smells, including:
Separating organic waste from non-organic waste and recycling as much as possible
Regularly cleaning the canals and streets
Providing public trash cans and encouraging visitors to use them
As a visitor, you can help by disposing of your waste correctly and not litter.
Avoid leaving garbage in the streets or canals; use provided trash cans.
Tourist Behavior
Visitors to Venice can also contribute to preventing unpleasant smells by being mindful of their behavior. Here are some tips:
Avoid using perfumes or heavily scented products, as they can mix with the city's natural smells and create an unpleasant odor.
Don't feed the pigeons; their droppings can contribute to the city's waste problem, and you will receive a fine.
Respect the city's historic buildings and monuments by not defacing them or leaving graffiti.
Be mindful of your impact on the city's infrastructure, water supply, and sewage system.
By following these guidelines, visitors can help maintain the beauty and cleanliness of Venice and prevent unpleasant smells from becoming a problem.
Tips for Dealing with Smells in Venice
While Venice is a beautiful city to visit, it's no secret that the canals can produce an occasional odor, especially during summer.
Here are a few tips to help you deal with any potential canal odors:
👉 Avoid peak summer months: Try to visit Venice during the spring or fall when temperatures are cooler, and the canals are less likely to produce a smell.
👉 Stay near the sea: Venice is surrounded by the Adriatic Sea, so staying in a hotel or apartment along a canal can help reduce the impact of any odors.
👉 Take a break: If you do encounter a smell, take a break and step into a nearby shop or restaurant. Most indoor spaces in Venice are well-ventilated, relieving any unpleasant odors.
👉 Use a scarf or mask: If you're particularly sensitive to smells, consider bringing a scarf or mask to cover your nose and mouth while walking around the city.
👉 Be mindful of waste: While exploring Venice, be aware of where you dispose of waste. Litter and garbage can contribute to unpleasant smells, so make sure to use designated trash cans and recycling bins.
By following these tips, you can enjoy all that Venice has to offer without being bothered by any potential smells.
Does Venice Smell?: Wrap-Up
Although any smells you might encounter in Venice are primarily due to the city's unique sewage system and the stagnant water in the canals, they can vary depending on the time of year and weather conditions.
All that said, any potential bad odor won't be overpowering and definitely should not deter you from exploring this beautiful city.
If you can't beat 'em, join 'em! Take a boat ride to get some fresh air on the Venetian Lagoon, or simply embrace the unique scent of Venice as part of the city's character.
Lyndsay
Read More